Reddit user thann3 asked: 'What is the weirdest thing your partner did that turned you on?'
Part of the fun of dating and being in a relationship are the unexpected, impulsive moments.
What's funny is how these could be equally arousing moments, too, even if they're moments that we never expected to make us feel that way.
Redditor thann3 asked:
"What is the weirdest thing your partner did that turned you on?"
Backing Up
"When he backs into a parking spot, he puts his right hand on the back of my seat when he looks behind him."
"Hnnnngggggghhh. Gets me going and I don't know why."
- evilpinkmoney
"Every time someone mentions this, I am reminded of the time I did it and accidentally backhanded this girl in the face."
- kingoflint282
That Reading Voice
"In high school, this girl had a soothing voice. Every time she read out loud, I had goosebumps and she gave me butterflies."
- donbruh
Overwhelmingly Happy
"I can't think of anything weird my husband did, but the first night of our honeymoon, we were talking about the wedding and our future, and I started crying because I was so happy (and told him that's why I was crying)."
"He was smiling and gave me a kiss and then whispered, 'I don't know why, but you crying just now turned me on.'"
"Lol (laughing out loud), it didn't turn me on, but it did make me laugh, and I thought it was weird-cute."
- snarkylarkie
Safety First
"On the first date, he put my seatbelt on. It surprised me because I heard of men opening doors for their dates but not putting their seatbelt on. It just showed a very caring yet masculine side of him."
"The tension of knowing we wanted of each other but agreed to take it slow just made me go feral in my head."
"A year and a half later, he still does it to this day. He even gets 'mad' when I don't let him. I still blush when he does it, especially when other people are in the car with us."
- eeeeriemarie
Certain Accessories
"It wasn't my girlfriend, but over a Skype call maybe a decade ago when I was a teenager, I was on a call with a female friend I had the hots for."
"I casually mentioned that I had a thing for girls in glasses."
"She gasped, told me to wait there, and scurried downstairs. About 20 seconds later, she rushed back up, jumped onto her bed with her jaw resting on her fists, and low and behold, she was wearing glasses."
"We laughed, I didn't know what to say, but that was the cutest and sexiest way of letting me know she liked me."
- GemoDorgon
Good Chemistry
"I know it sounds weird, but her breath is intoxicating. It's naturally somewhat sweet, and of course, she thinks I'm crazy."
"Edit: We know it's not diabetes, ketosis, or any other medical issue. We've been together for over 30 years and it's just good chemistry."
- yoooozername
That Deep Stare
"An ex-girlfriend of mine looked at me in a certain way every now and again that just did something to me, like a bit of a stare deep into my soul knowing she wants all of me. Every day I hope someone will recreate and enhance it."
- SamCham10
The Perfect Sweater
"When she wears THAT sweater, I'm powerless."
- wastedmytwenties
"Can someone link a pic of this type of sweater? Asking for a friend."
- schnaizer91
The Sleeve Roll Trick
"My boyfriend rolled up his sleeves kind of slowly the other day, and I felt like I couldn't hear anything for like a solid minute, lollllll (laughing out loud)."
- farrah_barra
The Corniest Jokes
"This man will make the corniest joke in the whole world, and then his whole face lights up as he giggles at it. Gets me every time."
- Hobbbitttuallly
The Perfect Wine Pour
"We had our honeymoon in Italy and he noticed the waitstaff poured wine really beautifully, so he replicated it. Now I have him pour all my drinks for me."
"For some reason, the way his wrist moves when he pours really gets me going."
- chicken-and-awfuls
Specific Arm Movements
"Two things."
"When he's working on something mechanical and he starts getting serious, he'll flip his cap backward. It's an absent-minded thing and F**K is it sexy. And when he's working overhead, the way his arms flex. Watching him lift things into our attic is an instant turn-on. It's f**king weird, but godD**N does it do it for me."
"Also when I wear something sexy or low cut and he's not expecting it, he'll stutter if he's mid-sentence. We'll be talking from another room for instance, and I'll toss on a revealing shirt and walk in there and he'll lose his train of thought. Or shake his head like he needs to clear it. Your man making you feel sexy is the ultimate sexy move."
- shimmydownnow
Love Language: Physical Touch
"It's the gentle physical touch in public. That little 'Love you' touch as they scurry away to do a thing. Those random touches turn me on so quickly."
- 1beeratatime
Totally Saved It
"He fixed the shower in my truly horrible, low-rent grad school apartment and changed the oil on my car. Not sure why, but that just did things to me."
"If you were to ask my husband, self-deprecating humor would probably be his answer."
"On our first date, he and I went to see this stage production of 'Jekyll and Hyde.' At the bar, they were selling these cute little shots of Bailey's/Kahlua, with each liquor on separate sides of the glass. Me, being incredibly graceful in all things always, completely dumped the Bailey's half onto my blouse."
"His eyes got all big, not sure how to react, and I just sighed, turned to him, and reintroduced myself like, 'Hi, I'm (my name). This kind of thing happens a lot.'"
"He busted up laughing, I ordered a scotch, and we've been together for the past 11 years."
- anyesuki
Simply Existing
"Exist. My girlfriend could literally just stand there and I could and would get a chill down my spine."
- andytheloser12
While we were expecting these responses to be, well, weird, most of these were actually pretty cute or heartwarming.
Sometimes when it comes to relationships and intimacy, something can feel weird simply because it's unexpected, but maybe the unexpected moments are among the best parts of the relationship!
"Reddit suer Overall_Wish_912 asked: 'What is the most attractive thing about you?'"
What makes someone a 10?
It ain't all about looks, baby.
Looks are fine.
But charisma is everything.
There are a ton of ingredients that make up attractive, though.
That's why it's good to know your strengths.
Redditor Overall_Wish_912 wanted to hear about how hot everybody thinks they are and why, so they asked:
"What is the most attractive thing about you?"
I think my eyes sell the whole package.
Light blue with a slight dusting of gold.
Connections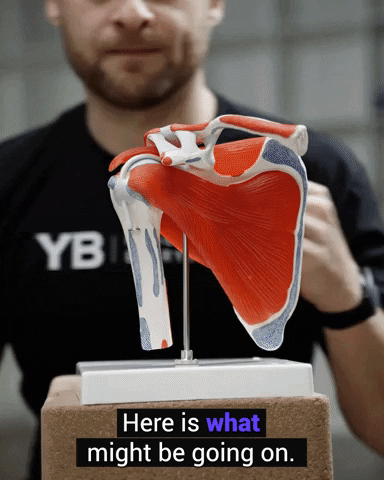 Yoga Anatomy GIF by YOGABODY
Giphy
"More than a few radiologists over the years have told me I have nice connective tissues, ligaments in particular. Makes a fella kinda proud."
Southern_Snowshoe
Lashed
"I have exceptionally long and beautiful eyelashes. I'm working on my flutter. I'm also a guy."
bleepbloopmunchmunch
"I get complimented on my eyelashes too as a guy! Women often tell me they're jealous. I never had a clue that was something women noticed until I reached college/university."
EasterButterfly
"I started getting compliments in high school. I remember freshman year, I was sitting at a round table and this really cute girl at the table just randomly asked me to close my eyes. I thought it was weird, but I did. Then she told her equally cute friend to look at my eyelashes, that they were so long and pretty like a girl's. At the time I wasn't sure if they were being nice or making fun of me (since they compared them to girl's lashes). I now get the compliment, though, and appreciate it."
DesertRat012
Beauty
"I'm not totally hideous, but easily the most attractive thing about me is my kindness. I hear all the time that people are just magically drawn to me/feel comfortable with me/like being around me. I'm charming, I guess."
StrangersWithAndi
"That's such a good quality."
Overall_Wish_912
Look Up
"I'm 6'2 and the internet tells me that's like the most incredible and attractive thing ever apparently."
ConflictFast8743
"I'm 6'6 and wish I was shorter. My long-term girlfriend tells me I get checked out all the time but I literally never notice, I'd give up all the attention if it meant I'd never hit my head on a doorframe again."
CaptainLongshorts
"I'm only 6', but a woman and I have a 36' inseam. I love having long legs, they walk so fast and are my favorite physical feature!"
abqkat
Light as a Feather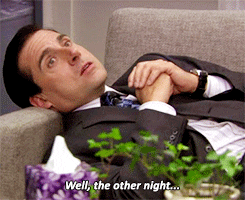 the office therapy GIF
Giphy
"My therapist said I'm a good egg, so there's that."
CheddarBurgers
"Mine told me she never feels heavy when I leave her office. We've talked about some heavy sh*t so I took it as a compliment."
random_username3184
Not being the scariest and worst patient is definitely a gold star moment for the mind.
Perfect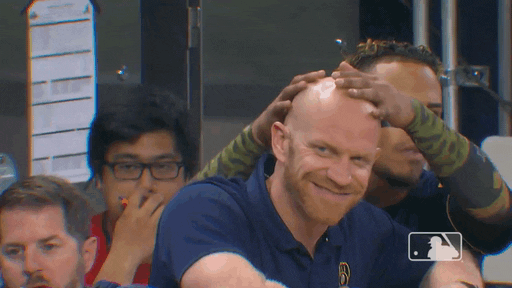 Regular Season Sport GIF by MLB
Giphy
"I've been told I have the most perfectly shaped head for a bald man."
KilnMeSmallz
"My dermatologist recently told me I had a great shaped head if I were to ever shave my hair off. It really got me thinking."
Weeziir
For the Boys
"The only attractive thing about me is my hair. Even that is debatable since most women don't like men with long hair."
SlayzorHunter
"Haha for me it's my bald head! I look a million times better without hair than with it even when my hairline wasn't balding that bad. I think the pics of me at 28-30 I look better than my 18-25 pics."
OkSwitch470
"Some men just have the cranial and facial structures that make them look better with bald head. I shave my head every 3 years, so I know how I look with every single hair length there is. It only starts looking decent after at least 9 months of growth."
SlayzorHunter
Share With Me
"I'm very nonjudgemental; it's amazing the things people will share with me!"
PeterGivenbless
"Same. I've had people share some pretty personal things with me soon after meeting them."
Krissyfox_7
"Yup, same. I have 'tell me all your secrets' stamped on my forehead. I do like it, though. Nice to get to know who people actually are and what they've been through, as opposed to the robotic small talk. Makes me happy that people see me as a 'safe' person."
East_Satisfaction242
Streaks
"I have bright blue eyes that get me plenty of compliments. The only other thing that gets close is my beard, and now especially the silver streaks lacing it."
fuqaduck
"The Silver helps. I was accused of dying it to look more dignified by a coworker, which was puzzling. Not quite a compliment, but compliment adjacent I guess."
604Ataraxia
The Nuzzle
"My long nose, it's perfect for nuzzling the bean while dining out 🤤."
sussyboingus
"I had an out-of-the-blue compliment about my nose. A woman approached me and said I had an envied Roman nose. Noticing my confusion, she explained she was an art historian, and my nose was in the mold of Roman marble statutes. I've never heard another compliment about my nose, so who knows."
TWH_PDX
The Body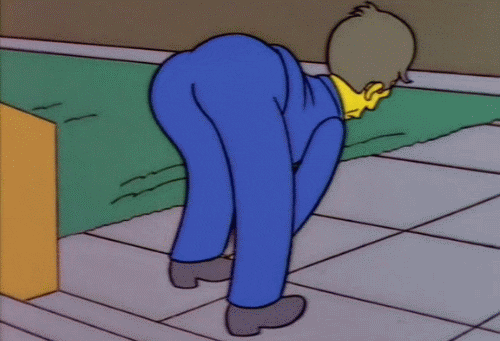 The Simpsons Dance GIF
Giphy
"I'm short but I have a very nice figure. I get complimented for my butt a lot. I'm 5'2." I like attention so I don't mind the compliments for the most part. I don't get bothered by that as easily as some people do. But I have no respect for men that complement my body when they're in relationships."
DrWiskers
Well, there are a lot of definitions for attractive.
Thank goodness.
More often than not, when men try to do something "sexy" in an effort to impress a woman, it tends to backfire on them.
Perhaps it is the visible amount of effort behind what they're doing or the fact that they don't do it as well as the movie star they took inspiration from.
Either way, despite their best efforts, women tend to find this sort of behavior anything but sexy.
In fact, more often than not, men have a way of turning people on without them even realizing it.
As it's often the little things that can make someone blush, anything from opening a door or slicing into a ripe tomato.
Redditor finnjakefionnacake was eager to hear all the sexy things men do without their even realizing it, leading them to ask:

"What things do men do that are sexy that they don't realize are sexy?"
When They Don't Even Know Their Own Strength

"Was getting busy with a girl one time and her head was too close to the headboard, trying to save her a potential concussion, I moved backwards and grabbed her under her hips and pulled / lifted her about two feet down the bed towards me."
"The sound she made and the look she gave me is still in my head lol."
"Afterwards she brought it up and said it was incredibly sexy how I could just handle and move her around so easily with so little effort."- Mage2177

So, So, Hot...
"I once changed a radiator in my house and that, without doubt, got me more attention and flattery from the women in my life than anything else I've ever done."- Jasper-Packlemerton
It's The NOT Knowing...

"It's a trap fellas, just live in ignorant bliss."
"Once you realize something is sexy, you will become a self-conscious dork about it and it will no longer be sexy."- PMMeUrHopesNDreams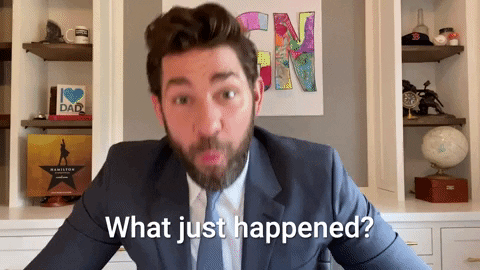 What Just Happened Wtf GIF by SomeGoodNews
Giphy
Magic Fingers

"My bf and I went to eat at this restaurant before we knew we had feelings for each other."
"While I would talk he would either laugh or smile and once while doing so he circled the rim of his glass with his finger."
"I later found out that he did it unconditionally but I short-circuited while he did it."- AsasLowkey
To Each Their Own...
"An ex of mine once got turned on when I told her I put a hand on the wall when I pee."
"I'm not sure I fully understand that one."- PaleAleDale
One Hand, One Heart...
"My wife has told me taking my shirt off with one hand is a thing."
"That kind of blew my mind."- trugrav
"One- handed steering wheel grip, reverse parking with their arm resting behind the passenger seat."- getupandstudy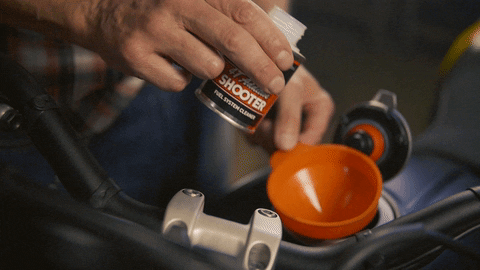 motor oil shot GIF
Giphy
Doing It For The Thrills... And Then Some...
"My girlfriend was locked out of her apartment and I picked her lock."
"I picked the hell out of that lock."- paulo39Atati
Hits The Spot...
"My heart does a little flip each time my significant other, ever so slightly puts his hand on my back when we're walking (to guide me), or if he's trying to squeeze by behind me."
" I don't know why that gets me fired up lol."- princess19977
Knowledge Is Power!
"Being booksmart."
"If I ask my boyfriend a history question and he randomly knows the answer to it or if I ask about a math problem and watching him figure it out is the hottest thing, like yea you divide those numbers baby."- maneaterlex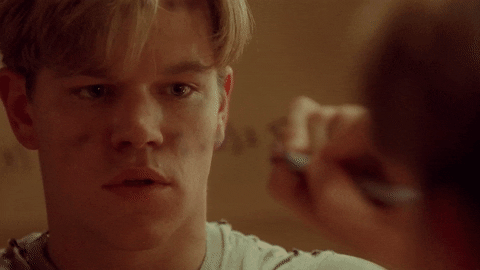 Matt Damon Math GIF by MIRAMAX
Giphy
Nice And Oily...

"An ex said it was hot watching me change her car's oil."- SafeAndSane04
Compassion Is Always The Answer
"Caring for helpless things."- Maleficent_Scale_296
Speed Can Be A Turn On...
"There was a study done in Japan to see what school-aged ladies saw as attractive in their male counterparts and 'running fast' was like number one or two for elementary and middle schoolers."- Embershot89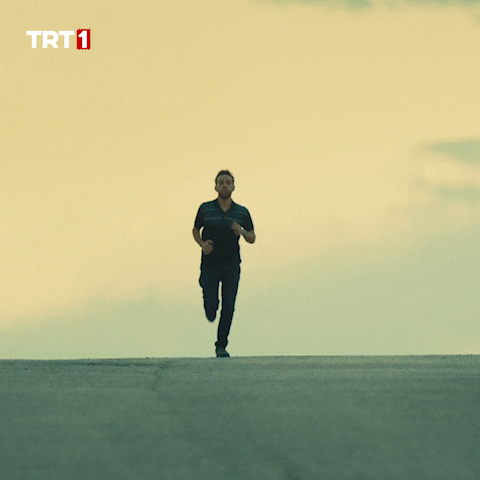 Run Fast Running Man GIF by TRT
Giphy
There's Someone Out There For Everyone
"I heard one million power in 'Rise of Kingdoms' gets you any girl you want."- Key_Vermicelli_3138
Strong And Efficient...
"Carrying as many folding chairs as you can at once."- KbossDPT2019
Most of the time, the sexiest things are also the most unexpected.
That being said, any good boyfriend knows that a wet t-shirt now and then can't hurt...
Beauty is in the eye of the beholder.
That has always been one of my favorite life sayings.
Whether it's true or not is all subjective.
Maybe it's a truth.
Maybe it's a lie unfortunate people sell themselves.
And at some point in life, we're ALL unfortunate, here and there, now and again.
What is sexy to some is a stomach-turner to others.
Who hasn't been out with friends hunting for love interests and then been left shooketh by certain people's choices?
Redditor aloe_veracity wanted to discuss simple turn-ons and turn-offs, so they asked:
"What common 'sexy' thing is a turn-off for you personally?"
I do not get and will never understand skinny jeans.
Whoever thinks they are sexy is blind.
Use your words...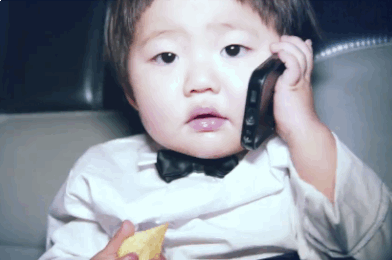 baby talking GIF
Giphy
"Baby talk, is that supposed to be sexy? Because it kinda makes me wanna take them to daycare."
kaeyasimp420
"I baby talk with my partner, but it's less of a sexy thing and more of a cute n' cuddly thing when we're embracing each other."
H2OhYeahh
Off Color
"In Ireland, fake tan is very popular among women of all ages. But any guy I have talked to about this topic hates it, it's okay when done right but 99.9 percent of the time it is orange and patchy and looks like baby diarrhea smeared all over your body."
"Any woman I have discussed this with insists it looks amazing and that the boys love it, but I and any guy I have talked to about it are turned off majorly by the sight and even smell of it."
john_lemon7812
"My sister just shamed me for going somewhere without a fake tan. Don't mind being pale in Ireland anymore though. Just too much effort to smell like fake tan, and have fake tan on my bed, and clothes. All just to look orange ha."
Kaza-beo
Just Howl
"Ripping off clothes during sex. Just take them off, no need to be a werewolf."
SuvenPan
"Did this twice. The first time I knew ahead of time that it was on the table, so I wore an old shirt that probably should have been thrown out by that point anyway. The second time, though, was totally on impulse and popped the buttons off of a really nice button-down blouse I'd worn for a job interview that day. At the time, it was hot af but once the hormones wore off and I couldn't find all the buttons to sew them back on, I was miffed about it."
mokutou
Be Normal
"Aside from all the physical turn-offs, I am turned off by someone who's acting sexy, it's too ridiculous to me. Just act normal."
_Norman_Bates
"Ugh my husband used to do this, admittedly he can be incredibly socially awkward sometimes which cracks me up and is a reason why I love him, but man do I hate it when he tries to be sexy, squinting his eyes and slightly while raising his eyebrows, biting his lips and all. Gives me the ick so bad."
urscndmom
Unsexy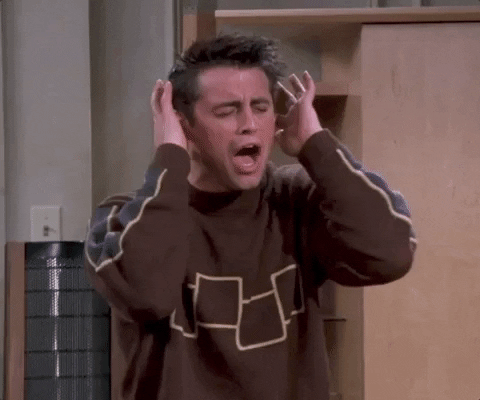 Not Listening Season 5 GIF by Friends
Giphy
"Dated a girl who was really into anime once, she did the hentai cries to be sexy and it was just the most unsexy thing I've ever experienced."
GemoDorgon
This anime craziness is taking over.
To each their own.
Clothes On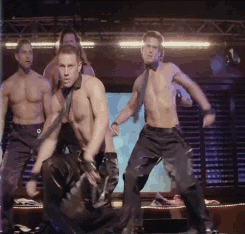 dance party GIF
Giphy
"Male strippers. Just not for me and if I ever got a lap dance, I would probably just end up laughing lol."
semisweetdreams87
So Arrogant
"When confidence turns into arrogance."
DeerZealousideal7423
"Agreed. There's a difference between giving off the impression you know how to handle anything thrown your way and thinking that any communication with you is me thinking I'm hot crap and you think I'm unworthy of your attention."
patrickwithtraffic
"I struggle with this, but not because I am arrogant lol. I looked down on my abilities so much that I faked arrogance to be funny. My friends get the joke and we laugh, but I forget the joke doesn't land when the person has just met me."
jedadkins
I Still Cringe
"Oh, God. I KNOW this isn't common outside of like, the 11th grade, which makes it worse. I have a 6'7 ex who would wiggle his eyebrows and do that tongue flicker thing. Something about something that off-putting being done by a towering beast of a man just made it 1000x worse. I still cringe."
No-Photo8763
"My ex used to do this lick/slurp noise and kinda hang his tongue tip out when he talked about hot people. It legit made me gag more than once. That particular gesture has stuck with me more viscerally than anything else he did."
LeSilverKitsune
Flavored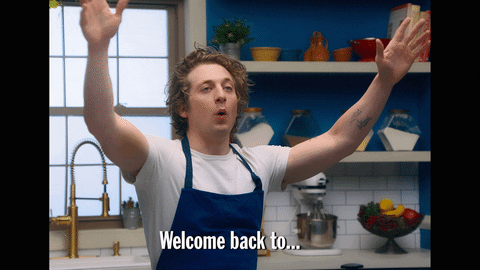 Tv Show Hulu GIF by The Bear
Giphy
"Girls calling me 'Daddy,' it's gross and incestuous. I prefer to be called Chef, it's professional and implies we going to flavor town."
​BicycleMinimum4629
Grow Long
"These stupid short beards which are way too symmetric and that everyone gets from the barber. Like someone drew it with a marker."
Kampfzwerg0
Again, sexiness is all subjective.
Our tastes are clearly all over the map.
Enjoy.
I embarrass myself in the search for love constantly.
Or in the need to try and impress.
I can't help it.
And I know I'm not alone.
Every time I come face to face with a crush or someone that intimidates me, all of my wit, wisdom, and self-respect flies out the window. Suddenly words are just sounds that make no sense. I also laugh at the most inappropriate moments.
Trying to impress someone should be easy.
Well, maybe not easy, it can be a challenge but it shouldn't land anyone in the ER.
When did trying to gain someone's attention become a sporting event?
Thank God for Xanax.
I have found a little calm goes a long way.
A deleted Redditor wanted everyone to share about the times we've been left red in the face, so they asked:
"What is the most embarrassing thing you've ever said to someone you were trying to impress?"
I once fell off of a treadmill trying to flirt with my high school crush.

I was running way too fast to show my "stamina."
I destroyed my Discman and my dignity.
Oh My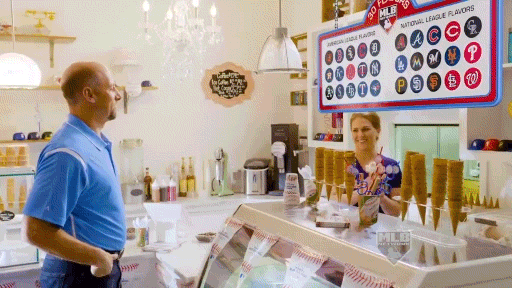 Licking Ice Cream GIF by MLB Network
Giphy
"Crush in High School worked at an ice cream store. When she asked for toppings I said 'I'll have Reese's penises please.' The store laughed."
WhaleyWino235
Tom Morello's Hometown
"I worked at the local guitar shop in town in high school. It happens to be Tom Morello's hometown (of rage against the machine fame). The owner used to babysit him when Tom was little and he'd always stop by to say hi when they were in town on tour. This was around the time of the evil empire and they were at peak popularity."
"He came in one day while I was there and asked if John was in. 16-year-old me just looked at him and asked 'Do you know who you are?!?!' He just laughed and said yes. Humiliated I went and got the owner and then tried to hide and die from shame."
matthewmichael
Echoes
"I was around 15, going through the receiving line at my cousin's wedding. This was my first 'grown-up' wedding and I wanted to act it. As I hugged my cousin I blurted out 'I'm so excited to be here! The last wedding I was at was your first one!'"
"That has echoed in my head for 30 years."
"E: This was my cousin's second wedding. The groom's first."
LGBecca
No Tip
"A server trying to get a tip: I went to clear a shared dessert dish from a table of 4 - mom, dad, and 2 sons. One son jokingly pointed at his mom and said 'She ate most of it.' I, the braindead server who was/is terrible at banter, but trying to get a tip said the first reply that came to mind: 'I can tell.' No idea why. Terrible reaction, as expected. No tip."
1nd1anaCroft
Snap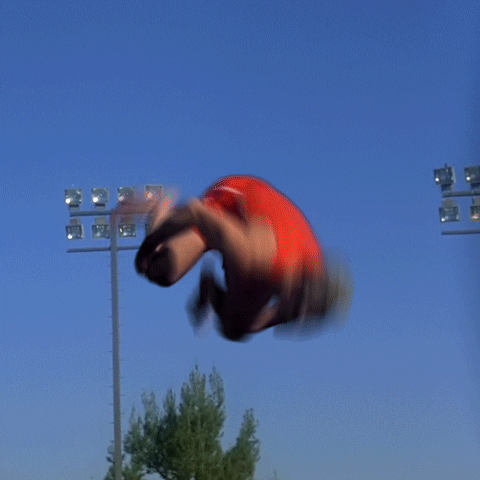 Buffering Back To School GIF by Rodney Dangerfield
Giphy
"I can do a Kickflip, then proceed to elegantly snap my ankle."
Mrlightyboy
Why do we risk our lives?
Have we really lost the ability for a simple flirt?
Where?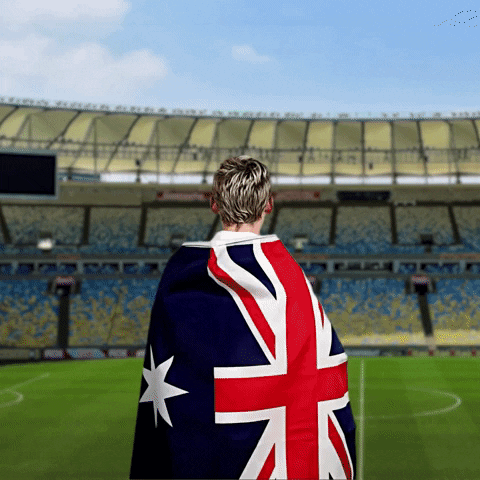 The Beautiful Game Thumbs Up GIF by World Cup
Giphy
"I did once (truthfully) tell a girl from Austria that I didn't know what the capital of Austria was - which wouldn't be too embarrassing, except that I was wearing a t-shirt which said 'Vienna Rocks' on it at the time. She thought I was joking."
Ok-Fudge8848
The Red Lights
"I told everyone I knew about my plan to go on a trip to Europe. I had planned to tour different countries by train with a special visit to… Amsterdam. My intention was to visit a marijuana cafe, but in my ignorance, I thought that these were all located in the red lights district. I would tell people I was going to the red light district and they would understandably pause and ask me… why?"
"Trying to be sly I would say something like 'to do what the locals do of course,' believing that this meant smoking marijuana in a cafe… I was actually telling everyone I knew, friends, teachers, relatives, coworkers, that I was going to cross the Atlantic so I could hire a sex worker."
Virtual-Elderberry31
How Far You'll Go
"Was on an airplane years ago with my girlfriend and her parents. My girlfriend couldn't get a seat next to me and sat directly behind me. During the flight, I thought I would surprise her and reached my hand back onto her knee. Slowly I kept extending it up her thigh until I heard giggling."
"Looked behind through the seats and saw that my hand was on the leg of the guy next to her. He saw my face and said, 'I just wanted to see how far you'd go.' Of course, my girlfriend was in on it and started laughing along with the rest of the row. Was so embarrassed."
Ladon1949
Not Cool
"I was skating at a school and my girlfriend calls me and says she wants to hang out. Tell her I'm skating but she can meet me at the school and we can figure out what we're doing from there. She shows up looking cute AF, so clearly I need to impress her. There was a little two stair where she was waiting for me and I went to do a BS 180 down it. Instead of just landing normally, I thought I would look more bada** if I stomped the landing."
"As I landed my lead foot came off the board and I landed with all of my weight on that ankle... Immediate excruciating pain ensued and I'm on the ground rolling in pain. My sad attempt to look cool skating had turned into one of the worst injuries I received and an extremely embarrassing moment. The pain was so bad I could barely drive my car back home because I severely injured my right ankle."
"Didn't break my ankle but I did have a severe ankle sprain. I've had surgery on it and it's much better, but it just has never been quite the same. As far as the girlfriend goes, we're still together and have been married for 10 years."
DJAXL
Listen Again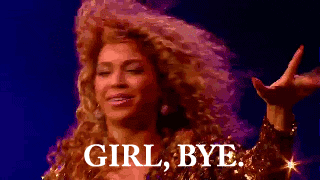 Go Away Beyonce GIF
Giphy
"I told a musician I like that I liked a specific song. It was not his song."
Naca-7
We are so silly.
Why can't we just say 'Hey' and get on with it?
Such drama.