Parenting is known to be one of the hardest jobs on earth. There's a major life shift from having freedom to do what you want to having to dedicate countless hours to raising your child and doing everything they need.
Not everyone is cut out to be a parent. There isn't a manual that comes with the baby that tells you exactly what the next 18 years is going to be like. Most people seem to make it up as they go.
We wanted to know if there were parents out there that regret having kids and why they felt that way so we went to Ask Reddit for answers.
Redditor BlessedAFx777 asked:
"Parents who regret having kids:, why?"
Here are some reasons that might surprise you.
She wanted babies, not children.
"Some people should NOT have children even when they desperately want them. My mother intensely regrets having a normal child that actually grew up. My mother wanted babies, NOT children. She spent the first 30 years of my life ceaselessly punishing me for growing older and taking her baby away from her. We haven't spoken in over 20 years and I STILL have to hide from her online and IRL to avoid continued punishment."
- Limitless_Throwaway
"Gosh I know a woman like this and it's been very sad to watch. She bad two boys in quick succession into a marriage that was already bad. Once the boys got past baby and toddler age she lost interest. She then spent 8 years badgering her husband for another baby because she had to have a baby girl. She got what she wanted, baby girl, who she will lose interest in once she's past toddler age."
"The parents are both jerks and all three kids have lost out because of their selfish behaviour. Kids are not accessories to fix things in your life. If your marriage is bad, kids will make it worse,and they will also pay for it. It's so wrong. Needless to say said couple is currently divorcing."
- stuckwitharmor
Her daughter's life will be difficult.
"My daughter is severely disabled, to the point where she will never live a normal life. She can't walk or talk, has a feeding tube and a wheelchair, is legally blind (she can see lights/shapes/colors, but that's it) and has seizures from an unknown cause, and she's 6. I'd say her mental development isn't much more than a few months/to a year old at most. If I'd known that she would be born this way (she starting having seizures at 3 weeks old) I would have had an abortion the moment I found out I was pregnant."
"She was planned and wanted, and I regret her every day. Not that she isn't a beautiful person, she's got so much spunk and personality and she's got my attitude, but I don't think for a second that she deserves to live the life that's been laid out for her. I wish I could do more for her."
- Kitteneater1996
"My sister is in the exact same position with her second. Severe physical defects due to unknown reasons. Constant trips to children's hospital and no real answers."
"She has an older daughter who unfortunately is neglected for attention, and that's causing it's own problems. Her husband simply doesn't get involved with any of it. Works hard to support them financially, but is disconnected emotionally."
"She loves her daughter, but also has the feelings sometimes that it would have been better for her to not have been born…or not to have lived."
- Crakkerz79
The social pressure.
"I had friends who regretted having kids. They told me it was the social expectation to get married and have kids, relatives pressured them into it and I guess they didn't have the strength to do what they wanted. They resented the loss of freedom, the work it takes, the cost. Their kids were horrible, too, due to bad parenting. Some people just shouldn't have kids and they knew they didn't want to, but felt obligated. Everyone loses."
- Redditor
"I'm the kid. My mom was pressured to have kids and was also made to feel like she shouldn't ask for help. She still openly resents us and holds grudges for things we had no control over. Every single time she complains about how much I cried as a baby from colic, she treats me as if I chose to be terrible to her personally. Childhood was toxic and she said and did some very damaging things to us. All we want is for her to own up to her choices and understand that as children we looked to as the example for how to behave. It will never happen but a girl can dream."
- sleepyonetwothree
They'll drain your bank account.
"My coworker has 3 kids, she is constantly telling me not to have kids because they are a drain on her bank account. She also never has free time after work or on weekends."
- strawberry-bubble
"Someone I know, entire time raising her kids: 'Do not have kids it is a huuuuuuge burden. seriously it will F*CK up your life.'"
"Now the kids are approaching middle age, 'Why did you not have kids? when will you marry? I want grand-kids!'
Kids are like NOPE lol."
- redditsavedmyagain
The sacrifices are huge.
"I love my son. He's 1.5 years old and currently sleeping in my arms, still knackered from Christmas eve."
"I wanted kids, I just grossly underestimated how relentlessly f*cking hard it is. It never stops. The sacrifice is absurd. If I want him to grow up right, I need to keep up those sacrifices for many years to come."
"We will not have another, on that we agree."
- Lamoron
"For what it's worth, my mother felt the same way with me at that age. But as I grew up and gained independence, she felt the sacrifice and time loss was greatly lessened. Obviously financially not much changes, but emotionally it grew easier. I hope it does for you, and wish your family all the best."
- caffeineshampoo
Had a kid too young.
"Had a son when I was 19. No condoms, no brain. Me and her were some promising teens, met in high school, top of the class, kept dating in college. When we found out she was pregnant I got jobs, started failing classes, eventually dropped out. She got her degree, got a job, had to quit, couldn't get another one."
"She was living with her parents, still does. Two brothers, three sisters, all of them judging me all the time, it wasn't easy for her either. It was hell, absolute hell. I deeply regret having a kid at that age."
"I constantly think about the life I wanted, the youth I will never have. It's all gone. I could read entire books in hours, debate with my professors, my English is crap but I learned all of it on my own. Had friends, quirky projects, silly goals and obsessions. And then I had to wash vomit and sh*t just to buy diapers."
"I hate my life so much. He's happy though, my son, a really warm kid, hugs me every time he sees me, even pulls jokes on me, the little. I do love him. I just wanted to be...me, for a while, just a little bit."
- MaeSolug
"I think you nailed why protection is so important. Young adulthood is arguably the freest period of your whole life. Having a kid early skips that entire chapter and forces you into full-blown adulthood early on."
"You can still love the kid deeply, but there's no denying it sucks to be robbed of your remaining youth."
- thomthehipposlayer
"I'm sorry, friend. You've sacrificed a good portion of your life for someone else. The positive side is that you will still be young as your son gains more and more independence. It's not over for you."
- Impressive_Till_7549
The regret of losing her child.
"I had a daughter in 1985, she was my sunshine. Her dad and I had problems but who didn't, and they weren't bad problems, just 'getting married a bit too young' problems (he was 24 and I was 22 when she was born). And we had a good life, all that. And then when she was 7 she was diagnosed with AML, fought it for two years, and then passed away."
"After that, we split, got back together, developed addictions, fought, there was DV, on both sides, all of it. I got pregnant twice more but opted for abortions because I didn't want to ever lose a child that I loved again. He finally passed away ten years ago, so he's at peace now."
"But yeah, I regret every day having her. It was so good, it was like, I had it all, good kid, good husband, good life. And then it all went away in a minute. I'd rather have never had her than only been allowed to keep her a few years."
- Ok_Stargazer_333
There is no freedom.
"My life feels like it's no longer mine. I feel as though I'm constantly under someone's thumb now and the freedom I once had to say f*ck this, this isn't making me happy, isn't available to me anymore. Because what feels best for me isn't necessarily what's best for my family. It's tough and I've had a hard time reconciling with that. Some days I feel like I've got this and everything will work out in time, but more often I find myself feeling pretty hopeless and that this life I've been trying to build and maintain for the good of my family is nothing but a ticking time bomb…"
"I do, however, want to make it clear that I love my family, and my struggles are in no way a reflection of them. I plan to speak to counselor about my feelings at the start of the new year, in the hope of finding new, healthy ways to cope. Parenting is not for everyone, and I wish I would've known this about myself before diving in head first, but I truly thought I would feel differently. Despite my feelings, I know that I have a responsibility to my child first and foremost. To give her a life that equips her for the road ahead, that allows her to be happy and know that despite my shortcomings, I love her very much."
- jsjames9590
Parenting isn't for everyone, and it sounds like the feeling of regret is pretty common. What we hope readers can glean from this is that the duality of regret and love for your child is okay, as long as you're still taking care of them the best that you can.
Want to "know" more? Never miss another big, odd, funny, or heartbreaking moment again. Sign up for the Knowable newsletter here.
Keep reading...
Show less
Life has a steep learning curve and one poor decision can drastically alter the course of your own.
This isn't to say that it's impossible to get back up even stronger—many people do this each and every day—but many more will have to settle for being older and wiser even if the way they originally wanted things to go didn't come to pass.
People shared their experiences after Redditor SweatyBag99729 asked the online community:
"What is the decision you regret the most?"
"Not being able to..."
"Not being able to communicate my thoughts in a clear manner. Not being able to show much emotions or being able to show any kind of affection. It's cost me many a relationship."
unwanted_species
We're sorry to hear this. Therapy can work wonders, especially with being more open about your feelings.
"Not trying what I want..."
"Not taking chances and seeing it compound. Not trying what I want because I might fail. Not asking that girl out because she might say no. Not living, I spent too much fearing what might go wrong and not enough time pursuing life."
accidentlycelibate
This can be very debilitating but you are not alone. Many struggle with this. Why not try? You have nothing to lose.
"I was bullied at school..."
"Not sticking up for myself more. I was bullied at school and abused at home. It took some time for me to recover from it all. If I had been able to spend that time and energy on other things, so who knows what I might have accomplished."
skunkwaffle
Bullying can scar children for life and the fact that society often looks the other way is horrible.
"Letting myself be isolated..."
"Letting myself be isolated and get really sad and overweight before doing something about it. Only really started living at 32 feels like i wasted a lot of my life."
CJNitroSpark
Many people have shared that their 30s are their best decade. You can be you! It's not too late.
"I was pressured into it..."
"Going to college. Like most millennials I was pressured into it, to the point that I never even considered careers that didn't require a college education. Now I'm working as a cook after giving up my teaching career, and I love it."
mgraunk
College isn't necessarily for everyone–it's great to hear that you're happy doing something you enjoy!
"My quality of life..."
"Not looking after my physical health. My quality of life would be many times higher now if I just did 30 minutes of exercise, ate more then once every two days, and brushed my teeth."
"Waking up in pain every morning can set your whole day up to be bad if you let it and also I can't remember the last time I smiled and wasn't immediately depressed, embarrassed and self conscious about my teeth."

"I'm not even 25 yet either."
Everyday_Hero1
The best time to start is now. Unfortunately, dental care can be so expensive in this country, so we feel you there.
"My family not going into the room..."
"My family not going into the room with my dog when he had to be put down. My dad told me it would be too hard to handle and I shouldn't have listened to him."
"I was the closest to him and I should have been there for his last moments. I let my dad know how much I regretted it and convinced him to go in with his dog years later. He's glad he did."
j1ggy
Now you know, and knowing is half the battle. Glad you were able to give your dad good advice.
"Doing so..."
"Not being honest about my depression. Doing so won't get me the help I desperately need. It's been getting worse over the years."
FromWhereAlien
If you're struggling with depression, there are many great resources out there, including SAMHSA's National Helpline.
It is a free, confidential, 24/7, 365-day-a-year treatment referral and information service and is available at 1-800-662-HELP (4357).
"Looking past all the red flags..."
"Looking past all the red flags with my wife's oldest kid, and getting in a committed relationship with her in the first place. I count the years I spent living with him among the worst of my life."
mryoudidntask
Being a step-parent is hard–and even more so when you're dealing with kids who don't want you around.
"Failing to acknowledge love..."
"Failing to acknowledge love when it was right there in front of me. Also ignoring the personal issues I have that have slowed me down and prevented me from becoming a better man/human."
GreenSleeves7
We've all been there. Sometimes you're just not ready to accept it.
If you're struggling with feelings of regret, you need to know that you can acknowledge your feelings but that dwelling on the past won't do you any good in the long run.
Show yourself some kindness. You deserve that. And don't be afraid to craft new goals.
Have some stories of your own to share? Feel free to tell us more in the comments below!
Want to "know" more?
Sign up for the Knowable newsletter here.
Never miss another big, odd, funny, or heartbreaking moment again.
Keep reading...
Show less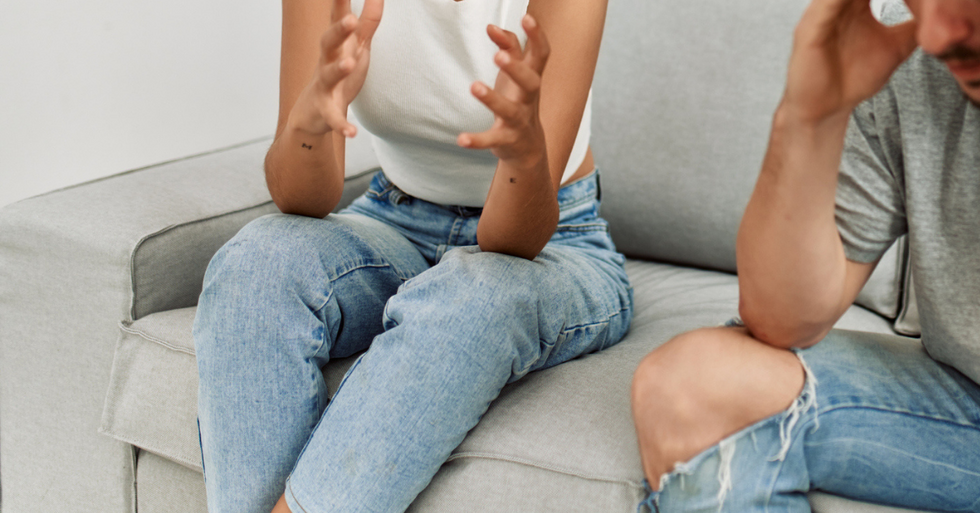 Regret can be a difficult emotion to deal with. The memories of those moments we regret stick with us and when we're reminded of them, they can be particularly painful. What happens, then, not only reminds us of that thing we regret but then seems to endorse it? This was the situation that brought Redditor […]
More
They say it's never too late to try new experiences in life. But to what extent is that actually true?

Our physical capabilities only diminish as we are generally not as agile as we used to be in our late teens and early 20s.
There are exceptions for some people, of course, but I think I missed the window of learning how to skateboard in my wisened years. I'd like to keep my knee cap intact, please.

Curious to hear about all the coulda, shoulda, wouldas from strangers on the internet, Redditor Eddings_06 asked:

"For the adult users of Reddit: What is something you regret not doing while you were young, that you wish you did when looking back?"
Not all responses involved physical activity.
If only these Redditors embraced the power of knowledge when they were younger...
Intellectual Growth
"Wish I had taken education more seriously, and protected my creativity from the opinions of others, cause in the final day, noone else cares."
– skaote

Being More Inquisitive
"I wish I took actual education more seriously - rather than the game of education."
"Things have generally worked out pretty well for me school / career wise but I definitely approached it all as a challenge to win rather than really a learning experience."
"I think I'm still pretty smart (I hope) but especially once I got to college, what I struggled with most was the next-level thought. I struggled a lot in seminar courses where you just roundtable discussed because I just felt like I had no input. I read the assigned text. I could tell you whatever you needed to know about the assigned text but I hadn't learned how to really take in the information and *make* something of it. Even studying, I always did fine on most exams but it literally wasn't until my senior year of college where I studied with someone in a way that was just more than re-read your notes and regurgitate what you memorised and took the exam and thought like, 'holy sh*t - this is what it means to fully understand.'"
"Also an environment in which you're implied to need to show no weakness to be competitive. So I have a huge aversion to asking questions. It's not that I'm shy but I just don't have questions. If I don't understand something factually, I'll look it up later. Which was also a huge loss in college re: office hours or again seminars. I wasn't scared to ask or anything, I just didn't think I had any questions that I didn't think I could answer on my own. I didn't have that curiosity or next-step thought that my peers had."
"And that set-back I think still follows me now. I find I'm still less 'questioning' about stuff."
Communication Expansion

"Learning more languages / technical skills when my brain was still fresh."
Taking better care of their bodies sooner was something these people regretted not doing.
Standing Tall
"Develop good posture and establish an exercise routine."
Eating Habits
"Also, a healthy diet. 'I can eat junk food and drink cola and booze all the time without getting fat! Guess I just have amazing genes lol.' Flash forward 10 years later and my doctor tells me to lose weight before it's getting dangerous. It's incredibly hard to change your habits after not giving a f'k for most of your life."
Improved Regimen
"Yeah, I had almost no clue how to work out until I was in my mid 20s. I love working out now and do it almost every day but I get depressed knowing how far behind I am on my physical fitness and how much I've missed out. But I just did not have it in me to care or know how to put in the effort to lift weights."
Starting to secure your financial future early in life would definitely pay off in dividends.
"Investing money instead of spending it on stupid sh*t that I no longer have anyway."
Establishing Credit
"Build my credit. At 25 I still don't really have credit. So many things I could do if I would have just built it."
Get That Credit Card
"I wish I could go back to like 16 with a credit card. Be smart and buy a pack of gum or something small and pay it back right away."
"When I was car shopping for the first time, they told me my low credit time and no car history meant I need to pay 5%."
"If I ever have kids, I'll make sure they do that."
My friends are generally impressed I'm bilingual. I'm also fluent in Japanese, although my communication skills have waned over the years as I don't get to practice much beyond everyday casual discourse with my immediate family.
My biggest regret is not working hard enough to have become tri-lingual. I loved learning French in middle school and high school. It's a beautiful language, but I kept making excuses not to practice it when I graduated.
I've forgotten most of it, and getting back on that horse at this point, is an insurmountable task. Quel dommage.

Keep reading...
Show less
Bittersweet moments are usually wonderfully pleasant but yet wrapped in a blanket of sadness, longing or even regret. These experiences are uniquely human and often intertwined in nostalgic memories.
Human emotion is complex. The duality of bittersweet is what makes life interesting.
The comments from BlaasianCowboyPanda's post on Ask Reddit are filled with tearful moments from people's memories. Often, they involve loss, love, or regret.
Redditor BlaasianCowboyPanda asked:
"People of Reddit, what is the most bittersweet situation you've experienced?"
Better grab your tissues before reading any further!
Last moments in a hospital.
"About ten years ago just before she died of lung cancer, my mom called me by my childhood nickname, told me she loved me and then fell asleep. That was the last thing she ever said to me. I was 35 when she died and she hadn't called me that nickname in maybe 30 years. I still tear up thinking about it."
"Sitting in the hospital room, mom was about ready to pass away from cancer, everything was shutting down internally. The date was my parents' 40th wedding anniversary. The last thing dad said to her was 'Thank you for 40 wonderful years.'"
"Oh man. I'm always a sucker for the long love."
"Amidst a loooong illness in hospice and dementia, that meant he recognized no one, my Grampie still lit up every day when my Grammie showed up. He would turn to whoever else was in the room and say 'ah, I'm just the luckiest fella in the world to have the most beautiful woman in the world to love. I love you, Dolly.'"
"She got to be there when he passed away and she died a few months later. I think she was just waiting for him to go first."
Watching someone in pain pass.
"Holding my grandfather's hand as he passed away. It was incredibly sad to see him go, but also relieving to see that it was peaceful and that he had been released."
- mejok
"The only thing I can say is that being there with him at the end is a blessing. When my grandpa was dying in hospice care, nearly all of the immediate family (his wife obviously, his kids, and us, his grandkids) flew out to Tucson immediately. We spent days there, being with him (even though he was completely out of it), talking, reliving memories of him, and sharing stories that not all of us knew."
"Then when we were getting ready to head back to the hospice the next morning from one of the family members who went back earlier that morning, we got a call that he was doing worse, and that we should get back there ASAP. We all missed his passing, and his wife, my grandma, just completely broke down, saying that she gave him so many years, and he couldn't give her 20 minutes to get there to be with him at the end...god, that was so hard to hear."
"The only good thing about that day was that he was no longer in pain. But holy sh*t, it crushed all of us. We adored that man."
​Moving on, permanently.
"Breaking up with my then girlfriend because her dream of moving abroad permanently was coming true. I was happy for her but sad to see her leave."
"You are not alone my friend."
- SamOwl77
"Well.."
Bittersweet longing.
This is a longer story, but we promise it's worth it.
"I always looked back so longingly on my first love. It was the summer we both turned 18 and it was my first time falling in love and everything seemed magic. She was a lifeguard and I still remember her long legs splayed over the lifeguard chair, her long blonde hair, her tan skin, her movie star sunglasses. On that lifeguard stand up high she was a shrine to everything summer. And I loved summer. I had a manual labor job putting in swimming pools, damn that was so hot down there laying plaster with that Kansas City humidity."
"We fell in love that summer and did everything together, every waking hour we could we spent together. In the day we would go down to the creek together and wade in the water and swim and lay on the shore, she always wanted to ride on my back across the creek to get to the other side, our side, where no one ever went but us. Sometimes we would climb on those oversized hay bales by my house and stare up into that cloudless summer sky and talk about what the future would be and going off to college and running track and the Olympics and how we would always love each other."
"My favorite days though, God damnit I loved these days so much was when it rained. We both got off work when it rained so I would get an early call from my boss canceling my work and I would just lay there and smile and look at the ceiling and wait for my phone to ring, it was always her telling me to come over and we could spend the day together. Movies or the mall sometimes but usually we would climb over the gate to the swimming beach and go swim in the lake and feel the warm rain and dive under the water and come up over the dock. Best times of my life."
"I've always looked back on them so longingly. I've been in love since and been married and divorced and dating but it seems my thoughts always came back to her. Even though we live in the same city it was 15 years since I had seen her. Back when I got married to someone else I had an outdoor wedding and even from the front I could hear her sobbing when I said the vows that I wanted to grow old with my wife, that was from a movie my first love and I used to watch together sometimes when it rained. She left right after the wedding and I hadn't seen her again for 15 years. I longed to see her, I even contacted her one time and suggested meeting up but she said she was happily married and would never meet up with me, even to just talk and reminisce. I longed to see her again just one more time."
"Well it happened, I saw her again for the first time in 15 years. We were both at a U2 concert and we hugged and laughed and even danced when they played With or Without You. That night we all had a great time and we walked the women all the way to their car before going to ours. I realized when I saw her Honda minivan and sippy cups from her kids and saw her face that had gotten older that I didn't long for her. Don't get me wrong, she was still beautiful, incredibly beautiful. But she wasn't the girl on top of the lifeguard stand anymore. She had gone on with her life and had kids and drove a sensible minivan and wore sensible mom shoes."
"And then I realized I didn't long for her at all. What I had a longing for was me. When I was 18 and athletic and handsome, with my whole life ahead of me, that was what I longed for more than anything. A life before mortgages and bills and small backyards in the suburbs with fences, I longed for that part of me that was still back there with her at the creek. What it was like to fall in love and swim under the dock in the rain and laugh and hear the words I love you for the first time. I didn't miss her at all. I missed me. It was the most bittersweet realization of my life."

People Share Their Best 'Whoa, It Worked' Moments | George Takei's Oh Myyy
Watching them grow up.
"Watching my babies grow. Obviously I want them to grow well but if I could just pause time for a bit."
"I thought this same thing this weekend. In Kansas City we have an amusement park and a water park that have combined into one now so its Oceans of Fun and Worlds of Fun. Its such an awesome day! You can ride a roller coaster and then go jump in the wave pool and go back and forth. My kids are getting older now and they don't need me as much, in fact there was an hour or so where I was sitting there all by myself."
"Don't get me wrong, I don't mind it, I read a book and even had a nap. But its bittersweet because they don't need you as much anymore. I tell them how I feel though. I tell them I love being with them. I get just as excited as they do to go to the waterpark. At the end of the day we went to the old time diner place in the park and had French fries and milkshakes and in the booth when we were all drinking milkshakes I told them, ah, this is one of the good parts of life!"
A tender moment with a mother-in-law.
"My fiancé's funeral. It was literally the first time I got to meet his mom. And she was such a sweet lady. When I tried to give her back my ring because it had belonged to her mother. She refused to take it, she told me 'My son chose you to give it to. And it would be rude of me to take back his choice.' She probably still has no idea how much it meant to me."
"I literally have no pictures or anything of him. But I still have my memories and my ring I keep in my jewelry box."
One final childhood moment.
"Recently had one last sleepover with my childhood friend before he passed from leukemia. It was just like being kids again."
"He couldn't do much at the point he'd reached, but we listened to music, watched Luca (which he hadn't yet seen), and just talked about life. And of course we stayed up way past bedtime haha."
It can be difficult to parse out feelings of loss, love, and nostalgia. There's longing wrapping up a lot of these sentiments. Longing for more time, whether it be with a loved one who's passing, a child growing up too quickly, or a lover that needed to move on.
What really ties it all together is love. Hold onto those moments tightly but know that you must let go.
Keep reading...
Show less