No one wants to be alone.
But that doesn't mean we should settle when it comes to choosing a romantic partner.
When people rush into things without letting love flourish, it could lead to problems down the line that can inevitably lead to difficult breakups.
Those who've learned this the hard way shared their experiences with love when Redditorlastknownstar asked:

"What common mistakes do people make when choosing a life partner?"
Discussing Life Issues
"Not discussing big life issues: your preference for having kids, parenting styles, deep religious beliefs, career aspirations, significant traumas…anything that may affect how you make decisions together later on."
– AwkwardFortuneCookie

Outdated Notions
"My parents were like this. Dad grew up in a standard midcentury 'men run the house, women stay in the kitchen' family, but Mom came from a long line of domineering southern matriarchs who had their husbands whipped. Dad was naturally a good cook and Mom hated cooking, but once they got married, Dad insisted she make all the food because that's what wives are supposed to do. No warning, total 180 on their relationship up to that point."
"He's learned his lesson and now happily cooks for my stepmom, but man... That's not something you can just spring on your new spouse overnight!"
– shebbsquids

What About Kids
"Having kids is a really big question that absolutely needs to be communicated. I've also heard that it's a topic that would make the man a big red flag if asked early into the 'relationship' as in first date and/or texts are off limits."
"Wouldnt it be a lot nicer to 'speed date' these big topics early on?"
– Leaping_Turtle
These Redditors realized ignorance of financial responsibility in a relationship came at a cost.
Finances
"Finance is the number 1 leading cause of divorce."
"Edit: this popped up in my YouTube recommendation (Is your relationship struggling because of finance? - Dave Ramsey https://youtu.be/XuU7oabGqjk). Google is not monitoring us or anything"
– strangemanornot
Spending Habits
"This is such a big issue in relationships. Knowing each other's spending habits is equally important. My ex would be extremely judgmental when it came to my 'fun money', but when he bought a new TV or a new gaming console, he was not to be questioned on it."
– RewardNo3000

Fixing Their Flaws
"Thinking, 'I know this person has flaws, but when we're married I can help fix them.'"
– DoctorExtra9060
"Ok marriage isn't working but if we have kids things will change because it will bring us closer."
– Mrepman81

Parasitic Love
"I personally had this issue dating someone who was as sweet as could be, but not the brightest bulb in the socket, and they relied on me for knowledge on everything from health to history to housework. All perfectly googleable or troubleshootable questions, but always defaulted to giving up and asking mommy the girlfriend for help. Admittedly it was kind of an ego boost to have someone always telling me how smart I was and deferring to my judgement on everything, but that's not what a healthy romantic relationship should be like."
"I thought I could nudge them gently into being slightly more self sufficient, but it only got worse as they grew accustomed to relying on me for every little thing. And of course the flip side was I felt like I could never rely on them when I needed help... I knew I was SOL if I couldn't do everything myself, because I was dragging around a parasite instead of a partner."
"Next time I want to spend years working on a fixer-upper, I'm just going to buy a crumbling Victorian house. It'll cause me less stress in the long run."
– shebbsquids
Taking An Emotional Toll
"I was in a similar boat with an ex, wasn't so much her fault as she had a learning disability and epilepsy."
"Every other weekend we also looked after her kids from past relationships, one of which had autism, and due to my ex's condition she wasn't allowed to be on her own with the kids meaning I had to be there as the capable, responsible adult."
"We were together for just shy of 4 years."
"After she broke things off it took a good few months for me to get used to the fact that I could actually let my guard down, switch my brain off and relax. Without needing to constantly worry that someone would need my help or that I needed to ensure her safety."
"She didn't quite realise the toll it was having on me or the amount of responsibility was on my shoulders. She would constantly suggest things like holidays abroad with just us two and the kids, and all I could think was that it would be far from a relaxing holiday for me as I'd have her and two kids to look after and be responsible for the entire time."
– ShadowSurgeGaming

Managing expectations is key.

Never Settle
"Choosing someone they think they should be with instead of someone they're actually compatible with."
"I feel a lot of people have a picture in their head of who they think they'll end up with and chase that ideal, instead of acknowledging their own personality and aiming for someone compatible with that. Easier said than done, but yeah."
– Viminia7 ·
Importance Of Value
"I talk with my partner about this all the time. We think its important to have shared values not shared interests."
"Yes it's important to share things you both like to do, but just because your partner likes One Punch Man, like you do, doesn't mean they are on the same page as you with resolving conflicts."
– scsm

Elvis Presley reminded us that only fools rush in, despite his intense romantic feelings towards his object of affection.
But the wise men he was referring to were on to something.
It's best to ease into things and let love grow, and not force relationships without really getting to know the person with whom you plan to devote yourself to.
If it's meant to be, it'll be worth taking things slow by getting to know a prospective significant other's dreams, what makes them, and their values to see if there is enough chemistry to develop meaningful relationships.

With more people exercising their right to live a childfree life, or to at least start their families later than people used to, it's important for people to have access to forms of birth control that work for them.
For some, that means getting a vasectomy, but there are aspects to the procedure that most wish they had known before making the appointment.
Redditor jaqeacc asked:
"To men who have gotten a vasectomy, do you regret it, and how has it changed your life?"
Avoiding the Risk
"I'm 30 with three kids and got a vasectomy earlier this year. My wife almost died in childbirth for the last one. Can't risk that again. No regrets."
- DesertDelirium
Enough Kids
"No regrets. Had it done after our third child was born. We definitely couldn't cope with a 4th child, and my wife was told sternly that she should not have another."
"It hasn't changed my life. It has helped my wife in that she no longer takes birth control."
"Interesting that some other commenters in this thread have had life-changing situations where they went for reversal. The health worker tried to talk me out of the vasectomy, saying I was very young (I was 35). She kept coming up with these scenarios in which I might want to have more children. I would reply, 'I still have three children.'"
- WitShortage
Pain Management
"I had one at 43 years old and didn't have any pain at all after the procedure. It was fully covered by insurance as well. I recommend making sure they give you the Xanax 30 minutes prior."
- Specific_Albatross63
Respect the Recovery Time
"You need five to seven days to recover. I just did it. The last thing you want to do is pop the internal sutures and bleed into your sack. Then you have to walk around with grapefruit or cantaloupe-sized balls."
"Don't rush it. After seven days, you're good to go. Hit it sooner (especially lifting) at your own risk."
- jbrad194
Preventative Care
"I got mine, no regrets, and my sex life vastly improved. Just make sure you get a sperm count post-OP."
- Cebonite
Prepare the PlayStation
"I just want to add a warning from a friend of mine who had it done."
"He had the operation and went home to recover for a few days, unfortunately, he had not foreseen that he wouldn't be able to set up the new PlayStation he'd bought himself as a 'reward.' He didn't feel up to all the awkward bending and f**king around behind the TV. Instead, he had to sit there on the couch for days wishing he was playing it!"
"So a careful warning to anyone else reading this: plug your self-reward PlayStation in before you have the operation and not after. Learn from his mistake!"
- not_right
Rare Issues
"I had one back in 2014 and have been part of the one percent of people who experience pain every day after. Last year, I got it reversed because I didn't want to be in pain anymore but that did nothing but cause me more issues."
- Slugs86
Stress Free
"My partner got his vasectomy in January. Neither of us have kids, and both of us turn 30 this year. Of course, no OBGYN would entertain sterilization for me (a female), but he was able to set up the appointment with no problem. I'm just now getting the birth control out of my system and it's life-changing. We're ecstatic to be able to enjoy each other and not worry about pregnancy."
- PayMeToRedditMmkay
Moving On
"I've had one some nine years ago when my then-girlfriend and I broke up and I decided that I'm too old now to find somebody to have kids with (which was/is totally okay)."
"My urologist really took the time to explain to me how it all works and to make sure that that's what I want. The procedure only hurt a little bit, even though some dude sticking a long hypodermic needle in your sack is probably a rather acquired taste. The greatest inconvenience was the ban on bathing."
"As for the effect, I would definitely do it again. My long-term (=long enough to get tested and do it without a rubber) partners all appreciated it a lot, and even in connection with other forms of contraception, it gives a certain peace of mind. Besides that, the sex itself hasn't changed at all."
"If you're sure you don't want any more kids, I can totally recommend it."
- Radiant_sir_radiant
Potential Complications
"It has changed my sex life significantly. Posts like these are disheartening, because I remembered scrolling through similar posts and disregarding those who were not so lucky and ended up with PVPS (Post-Vasectomy Pain Syndrome) or other changes in their sex life. So many men say it's the best thing they did and never regretted it: no change in orgasms whatsoever."
"The intensity of my orgasms has changed a lot. It isn't as good as it used to be. It's like stepping on a garden hose where water wants to escape but it can't. I never feel relaxed after an orgasm anymore or fulfilled. There's a feeling of congestion after."
"I am not experiencing any pain, luckily. I do feel my testicles are more sensitive. I already feel the tenderness when I go to the bathroom just to pee. I loved it when my partner held them, but I don't anymore."
"Everyone will say it's psychological; your urologist and the people around you. I have posted a couple of times on Reddit about it, but most people thought I was trolling."
"Maybe it is only psychological, but that doesn't change how I perceive my orgasms."
- ThrowRabedeezled
Motivations for the Procedure
"One of my mates got married at around 20 and had two kids by the time he was 23. Got the snip when the second kid was born. Turns 30, and found out his wife had been sleeping with every guy at the gym, divorced, remarried, but the new wife is only 25 and wants kids of her own. He went in for the reversal, but I haven't heard if it was successful yet."
"Another mate was single, got the snip around 35 to make casual sex less stressful. Got married at 40, decided they wanted kids, got a reversal, but it was unsuccessful (that was about 10 years ago though)."
- Michael_Scott247365
Electrifying Experience
"I guess I'm one of the unlucky few..."
"Had mine done, went in, just like most: Small opening, went in, numbed... This is supposed to be the only part that's uncomfortable... I'm pretty sure he hit the wrong spot somewhere."
"Everything was fine for the one side, and then I felt stuff on the other... Not unbearable, but I will never NOT remember feeling whatever he was doing."
"My doc, however, didn't ground the tool that's supposed to cauterize the area. I got shocked to f**king kingdom come. It was the single most painful experience of my life. I put it above almost dying in a car accident or the time I got shot in the eye with an airsoft rifle."
"Recovery: Over a month."
"Walking made me scream. Sleeping was pretty much impossible and it was absolutely miserable. The doc didn't believe me and finally gave me pain medication on my 3rd+ visit. Which was a constant need so that I didn't get fired."
"Ended up behind on every bill I had."
"I'm fine now."
- D3Dragoon
Childfree Choice
"No regrets. Done it this year with 31 without having children."
"The chance of regretting having a child is too high and I do not want it to feel or even suffer from it. I can live with the regret of not having one."
"As for the question, 'And what if your girlfriend wants children?,' I only date women that do not want one. And even then, when all the planets align and h**l is frozen, there are too many children in children's homes growing up without parents. Adopt them and give them a home and more importantly a loving family."
- Cruso91
Open Communication
"Got the snip around age 36 after my then wife and I were done having kids. My health insurance covered it 100%, not even a deductible. The pain wasn't too bad. Felt very much like when you've been kicked in the nuts."
"We later divorced. It made post-divorce sex life great. Women were really into the security of not getting pregnant. Let me tell you, life was pretty sweet."
"My girlfriend now has no kids. I was very upfront with her very early on in the relationship about the fact I didn't want more kids, and didn't want to hinder her from pursuing having children if it was a desire of hers."
"I basically told her if we needed to end the relationship so that she could find someone else to have kids with, I'd understand. She said she was ok not having kids and we've been together ever since."
- wizkee
Dad Jokes
"I was told that after a vasectomy I wouldn't have kids anymore, but when I got home, they were still there..."
- CommentToBeDeleted
While there are certainly risks, and even regrets, involved, most Redditors argued that the ends justified the means when it came to getting a vasectomy.
For most, it removed the stress and pressure of possibilities of pregnancy that some people are not interested in, and it's difficult to put a price on something like that.
Being the boss can really suck.
I've done it a few times.
One of the worst things is terminating people.
It might sound glamorous and it can be a slight power trip.
But in the end it sucks.
Even when people deserve it, being the messenger is stressful.
Nobody wants to ruin another person's day or life.
Let's see who else agrees.
Redditor sirdigbykittencaesar wanted to hear from the bosses of the world about the terminations they wish they could take back, so they asked:
"Bosses of Reddit, have you ever seriously regretted firing someone, and if so why?"
It must suck when you're duped into firing the wrong person and then you find out too late.
That Day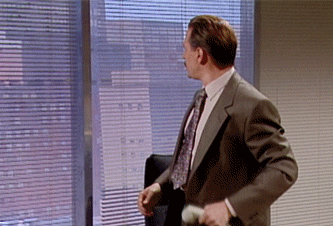 Kids In The Hall Comedy GIF by CBC
Giphy
"A long time ago I was asked to fire a salesman. He was kind, but not good at selling. It was a week before Christmas. I told my boss I would fire him on Jan 3. The boss said no and fired him that day. I regretted not giving him the holiday."
Tootalllewis
The Picker
"I had an assistant for about a year, who was a pretty good assistant for a difficult working situation. My boss, the district manager, hated him, though. She kept trying to catch him screwing up when I wasn't around. The trouble was, the company paid poorly, so talent was hard to come by, training was difficult, and the hours were 48 a week MINIMUM. This guy was the only assistant I had who didn't quit in less than a year."
"My stores were so undermanned, if this guy left, I'd be working 80-hour weeks like before I got him. The only reason it wasn't more than 80 hours was because the store's malls or shopping centers actually closed at night."
"Finally, one day, she wrote him up because she said 'a secret shopper' said he was picking his nose. This guy, who at least had SOME dignity, refused to sign the disciplinary paperwork. 'I want proof: I am not sitting in the showroom, picking my nose.' My boss said, 'he won't sign it, insubordination.'"
"'Fire him.' I really tried to reason with her, but she wanted him gone one way or another. 'Either you fire him, or I'll come in and fire both of you.'"
"I had to fire a man for picking his nose. I quit shortly after that because I knew this was just the lowest I had ever sunk in management. I still feel bad about all that."
punkwalrus
This Guy
"Years ago I got a call from a competing engineering company. They screwed up a job and rather than own up, decided to blame a senior technologist as the scapegoat. His immediate boss was against it but the partners demanded it. He phoned us and said 'You should hire this guy.'"
"We did and he was an excellent employee until he retired 20 years later. Our gain, their loss."
"The best part is that the guy who called me (who was a senior engineer) quit shortly thereafter and the company closed down a couple of years later - Karma I guess."
somewhat_random
The Team Member
"Someone else hired someone with no experience after I voted 'no.' I knew he would be in over his head and he had a good job already. They didn't train him or coach him. And then after about 6 months my boss's boss comes to me and tells me to build a case against him... my team member... and to fire him."
"I quit within the next two months. F them... I'm not doing their dirty work to solve a problem they caused and enable them to keep their hands clean in the process."
AdUnfair3836
It's just a puff...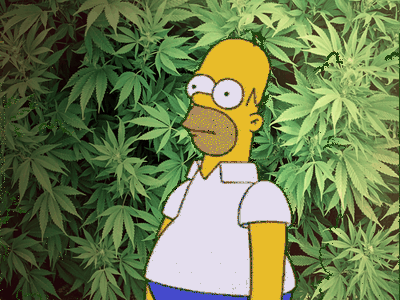 4-20 Weed GIF
Giphy
"I was once forced to fire an awesome employee for failing a drug test (weed). And just a few years later it was legalized."
PsiOryx
When will we just let people smoke freely?
Bad Vibes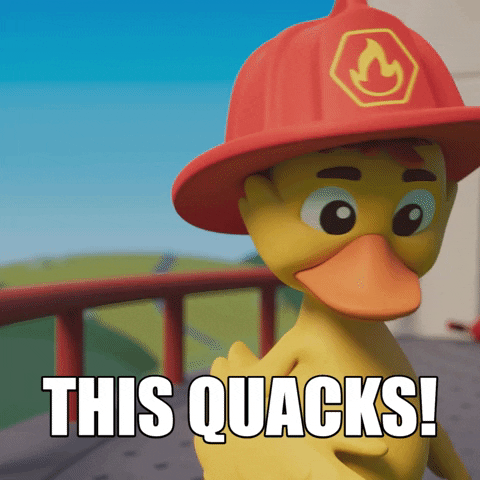 Duck Reaction GIF by PLAYMOBIL
Giphy
"I had to fire someone on my actual last day once. And right beforehand, everyone was making a joke about the person I fired getting fired. That sucked. Not a good vibes last day at all."
​backyardvegas
Terror
"I had an employee about 4 years ago now who had chronic attendance issues. I kept her MUCH longer than my boss was happy with because she was decent and very genuine. But eventually, I just couldn't put it off anymore. When we were in the room talking she burst into tears and looked terrified and told me her husband was NOT going to be happy with her. She said he wouldn't hurt her and she didn't need me to call the police for her, but even still I'm worried he was physically abusive. The level of terror was up there."
AlisonChained
Merry Christmas
"About 20 years ago I was running a bar Christmas Eve - chaotic night as we were incredibly short-staffed due to heavy snow and a lot of our workers being from a different area. Bar downstairs was closing up and the staff was being moved to the upstairs. We were £200 short in the bar and the main manager interrogated three out of the four - conveniently not the supervisor he was having an affair with."
"That supervisor was also in charge of the float and was generally sh*t at her job. That float for one until was convenient £200."
"Main boss wouldn't consider his fling could do wrong (a common occurrence) and he didn't want to deal with it. So it became me (the lowest of four managers) to sack three people for suspected theft. On Christmas Eve knowing I wasn't in any position financially or in terms of job security to say no."
"Only joy was that his wife finally caught him in the affair and his whole life went to sh*t soon after."
geekhalla
Regrets
"I was forced to fire a junior person on my team, my boss gave me no choice, because she had used a competitor's idea as inspiration (working in design). But it was our intermediary boss who told her to use the idea. I wish I would have taken a harder stand but I was afraid of being fired myself, I was only a few months on the job. I still regret it to this day but the other woman has had a good career so that's a plus at least."
Keyspam102
Awful
"Had an underperforming employee, tried a pip, coaching, moving to a different job role with the team. Eventually came to terms with not being the right person for the job/team terminated employee. A week later her child dies in a house fire where they lost everything. I donated 1000 to the go find me but still can't help but wonder if my termination set off the events that caused this."
smallboxofcrayons
Phony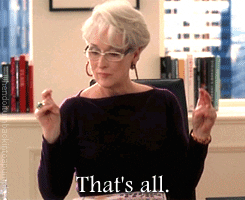 That Is All Meryl Streep GIF
Giphy
"Nope. There's a long process before it gets to that point and almost nobody does get to that point. Except for the guy who got the job using fake identity papers. There was no long process to fire him, it went very, very fast once we found out."
AdmiralBofa
I hated firing people.
There is never a great time.
No matter how happy we are with our lives, most of us can think of at least one thing that we wish we could have done differently.
Even if that just means starting to do the same things a little bit sooner.
Feeling reflective, Redditor AbortiveBases1 asked:
"What's something you wish you started doing sooner?"
Letting People Go
"Learning that just because someone is your friend for a long time doesn't mean you have to deal with their toxicity or narcissistic behavior."
"You can leave those friendships. It sucks at first but it's worse staying friends with people like that."
- SadStone2265
Getting Divorced
"My mom and dad got divorced in 2022 when my siblings and I were all between the ages of 27 and 31."
"We couldn't be happier. It could (and should) have happened way earlier, like 10 to 15 years earlier. Our childhood definitely suffered for it."
"I have no complaints about my mom, she's the best lady ever, but things would've been a lot more pleasant at home if they divorced then."
- doomed_danny
Creative Outlet
"Making things."
"I 3D print, do woodwork, and do home renovations. It's made me more self-confident (I now usually believe I can do anything), more creative, and changed the way my brain works."
"I can't imagine what kind of person I'd be today if I had been doing this all throughout my 20s."
- AirZurk
Sugar Intake
"Weaning myself off sugar."
- CouldMurderACarvery
The Perfect Partner
"My wife. She's the granddaughter of a friend of my aunt, so I could have met her a lot sooner, but we only met when I was 29."
"The way we clicked together and got lost in conversation with each other... I only wish it had started sooner."
- netheroth
"You can't guarantee that you would have clicked earlier."
"It was the same with my wife, I had met a bunch of her close friends over the years through friends and vice versa. There are pictures of us at the same events when we were 17, 18, and 20, but we just never met. Ships passing in the night."
"We met finally at 29 and realized we had all the things in common and clicked immediately and are happily married with a beautiful two-year-old."
"Looking back, had we met at 17, I don't think we would have gotten together. We both had a lot of growing to do before we were right for each other."
- sirhcdobo
Ditch the Hustle
"Focusing on friends instead of the grind."
"I worked two jobs through the 2010s. As a freelance digital artist at night, I made a lot of 'friends' through conventions, online chat groups, and social media."
"However, the pandemic hit, and the conventions closed. Freelance business dried up. Our clients disappeared. With my evenings more open, I focused more intently on ascending in my day job, and now only have one or two contacts left from my digital art years."
"They're all I have left. And we don't even talk that much."
"I'm working on rebuilding a friends circle, trying to reconnect with everyone who still remembers me, lives close enough, and didn't die years ago unbeknownst."
"It's an awkward process, trying to again find similar interests now that everyone has a wife, kids, and home to take care of, while I seem to have dropped out of a time portal from 2003."
- QuarantineTitans
Understanding Mental Health
"My wife."
"But seriously, endorphins."
"And understanding the importance of endorphins on mental health."
"Even a small amount of physical activity has a major improvement on my mental health, energy, and moods."
- ksozay
Work History
"I wish I'd started working sooner."
"My mom sent me money for food and essentials while I was in college because she said a job would just distract me from getting good grades. Unfortunately, she simply forgot to send the money, a lot."
- stellathewizard
Home Yoga Sessions
"At-home yoga. It's free AND my back doesn't hurt anymore!"
- mekkimegz
Prioritizing Sleep
"Enforcing my own bedtime. My mood is 1,000% better on days when I get enough sleep."
- lights_camera_pizza
The Value of Therapy
"Therapy. Seriously, if you are considering seeing a therapist, then just do it."
- Avjycjc8ttghu478
Exercise Routine
"Two-a-day workouts. Once you figure out intensity pacing and treating one as a 'light' workout, it's not hard."
"Getting up at 5:30 most days isn't awesome, but I get 14, 45-min hits of exercise almost every week, and I've never had as much energy, positivity, and overall health. Plus, weight management-wise, I can eat d**n near anything I want to. I had a 'mostly' clean diet before, so I wasn't going bonkers. But it makes eating pretty enjoyable."
- superstarrrr99
Better Self-Talk
"Replacing self-depreciative jokes with sarcastic compliments on myself."
"For example, instead of saying, 'My hair looks like something died in it,' say, 'I was born a queen. Look how great I look on a bad hair day too!'"
"Fake it till you make it kinda works. Eventually, I'm not feeling as insecure about myself as I used to."
- saagarammm
Sentimental Photos
​"Taking pictures with my husband and kids. I hate the way I look in pictures so usually, I'm the one behind the camera. It wasn't until last year that I read a post here on Reddit that made me change my way of thinking."
"It said something along the lines of, kids don't see wrinkles, extra fat, or bad hair. You know, all the things we nitpick about ourselves. They just see Mom."
- Dazzling-Nature-6380
The Next Phase
"Retirement. Did it at 68 but was enjoying running my own publishing business, so I stayed on."
"Now in retirement, I'm having a blast doing so many things I never previously had time for that I wish I'd taken the plunge at 60, or earlier. (Let that be a lesson to all you young 'uns out there.)"
- SkepticalSenior9133
While it's so easy to regret things in our lives, sometimes it's important to think about the things we're doing right.
Sometimes we'll be so proud of what we're doing, we'll only regret not getting a jump on it sooner.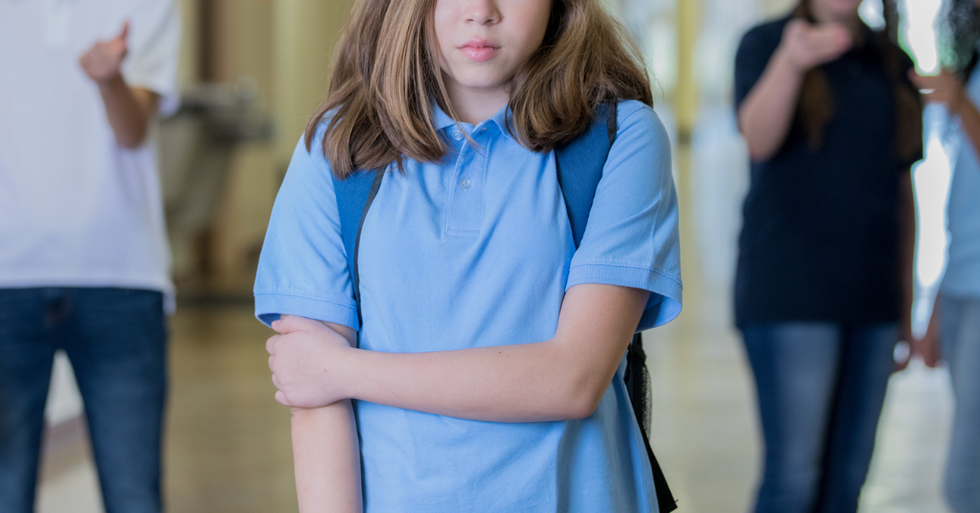 High school is a rough time for a lot of people and a series of years that some really do not like to look back on. But there are some people at the other end of the spectrum who are the reason why high school was so horrible, pointed out the "Am I the A**hole?" (AITA) […]
More