Thirteen year old Daylin Campbell got a surprise from the Polk County Sheriff's office after his bike was stolen.
For Christmas, Daylin received a new bike. Though the gift was one he'd never forget, the joy was bittersweet.
Daylin was battling leukemia and didn't have the strength to ride the bike. When he found out he was in remission, he was excited to finally have the chance to take it for a spin.
But before he could take even one ride, the bike was stolen from his family's front porch.
But Daylin wasn't miserable for long. Polk County sheriffs showed up at Daylin's house with a brand new bike and helmet for the teenager.
The good deed was caught on video:
The sheriffs posed for photos with the family. They said they hope this gift allows Daylin to be a normal teenager.
Canice Jordan, Daylin's mother, was truly moved by the actions of the sheriffs and took to Facebook to express the family's thanks:
People were overjoyed at the actions of the sheriffs:

Facebook

Facebook

Facebook

Facebook
Sheriff Grady Judd, the man behind the act of kindness, is well known for doing things like this for his community.
Many people expressed their gratitude and admiration for Judd and the other sheriffs:

Facebook

Facebook

Facebook

Facebook

Facebook
And of course there was lots of love and appreciation of Daylin:

Facebook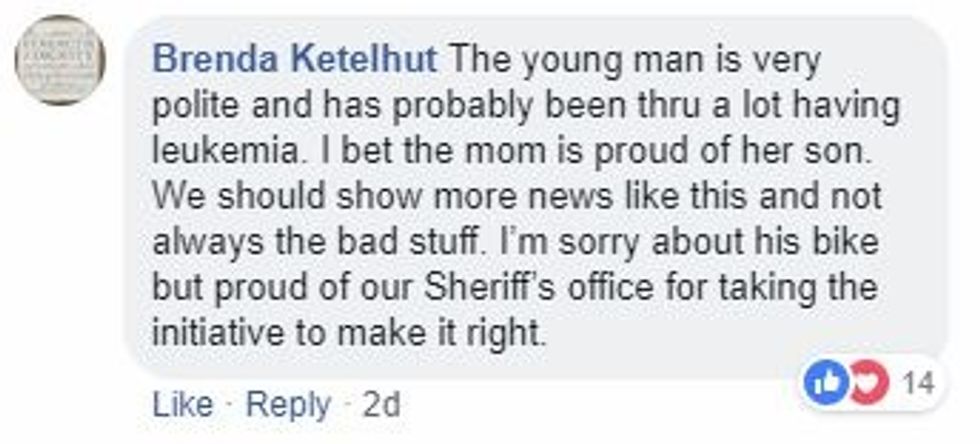 Facebook

Facebook
Keep up the good fight Daylin. And keep up the good work, Polk County Sheriffs.

As they say, not all heroes wear capes.
Keep reading...
Show less