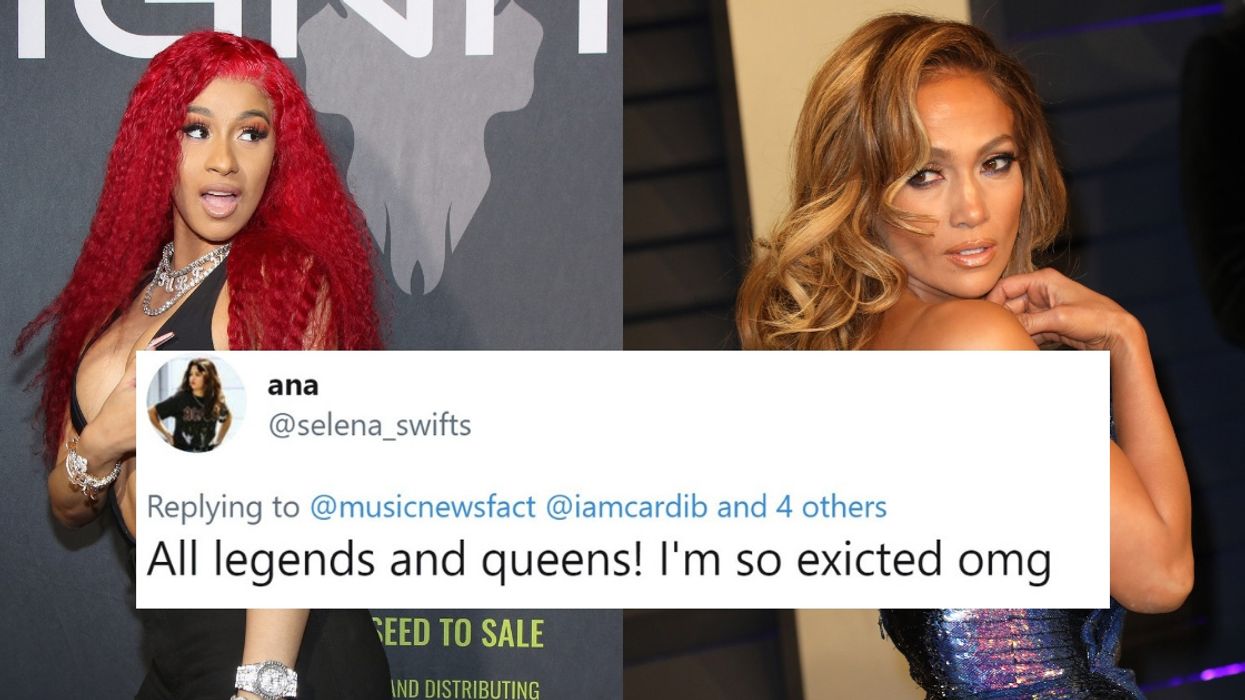 Randall Michelson/Getty Images for Ignite; Tony Barson/FilmMagic/Getty Images; @
selena_swifts
/Twitter
Cardi B is going to the movies!
Deadline has just reported that Cardi B is making her big screen debut along side Jennifer Lopez in a movie about strippers getting revenge on their Wall Street clients. The film is called Hustlers, and will be written and directed by Lorene Scafaria.
Cardi has previously worked with Lopez on the song Dinero, but this will be their first time in a movie together.
This is a pretty big step for the recent Grammy winner.
@Collider @HustlersMovie @iamcardib @lilireinhart @KekePalmer @ConstanceWu @JLo @LoreneScafaria Cardi you're gonna KILL IT SIS! ❤️

— Cardiana 🔥 (@Cardiana 🔥) 1553029335.0
@musicnewsfact @iamcardib @ConstanceWu @JLo @KekePalmer @HustlersMovie All legends and queens! I'm so exicted omg

— ana (@ana) 1553027589.0
@Collider @iamcardib @lilireinhart @KekePalmer @ConstanceWu @JLo @LoreneScafaria Love this cast

— Trash Panda 🗑🐼 (@Trash Panda 🗑🐼) 1553015852.0
@XXL 'Dat's dope. Keep winnin' queen.

— Talksho (@Talksho) 1553084351.0
The movie is about a group of former strippers during the aftermath of the 2008 financial crisis. The women are working together to scam their Wall Street clients out of money
Adam Fogelson, chairman of STXfilms which is producing the film, said,
"We could not have asked for a more exciting or talented lineup of performers to join our cast."


They will be joined by an all-star cast, including Constance Wu, Keke Palmer, Julia Stiles, and Lili Reinhart. More names are in talks for the film as well.
@musicnewsfact @iamcardib @ConstanceWu @JLo @KekePalmer @HustlersMovie Constance underrated

— 🅢🅔🅣🅗 (@🅢🅔🅣🅗) 1553041712.0
@PopCrave I'm so happy for Cardi, it's always good to see a women be a badass & turn the tables. I love me some Kek… https://t.co/CF18Fz4MLf

— Tay (@Tay) 1553122664.0
@shadowandact @iamcardib @JLo @ConstanceWu @KekePalmer @lilireinhart + you're doing phenomenal huntaaayyy!! https://t.co/0pfFnbcHGs

— levauni, (@levauni,) 1553027560.0
Cardi has a little history with acting. She starred in seasons 6 and 7 of Love and Hip Hop: New York. More recently she guest starred on an episodes of the BET drama, Being Mary Jane.
This movie will be the rapper's first film, and it feels poignant that she is playing a stripper. Cardi has made no secret of her previous profession, and would like to see it better respected.
In an interview with Cosmo last year she said,
"People ask, 'Why did you strip?' I don't really want to say, 'Oh, because I was in a relationship with a guy and I needed money to leave.
"People say, 'Why do you always got to say that you used to be a stripper? We get it.' Because y'all don't respect me because of it, and y'all going to respect these strippers from now on."
@PopCrave this is gonna be epic

— Pooja! (@Pooja!) 1553049159.0
@shadowandact @iamcardib @JLo @ConstanceWu @KekePalmer @lilireinhart I can't wait for this

— Tiffani (@Tiffani) 1553112868.0
Filming for the new movie is scheduled to begin at the end of the month in New York City. This movie about dynamic women scamming rich men out of money cannot come soon enough.
Keep reading...
Show less
Riverdale actress Lili Reinhart has always been open about her struggles with battling depression and anxiety.
After taking a break from social media, the 22-year-old returned to engage with her 15.9 million Instagram followers with an important update.
In a series of heartfelt posts on Instagram Stories, Reinhart told fans she is seeking professional help and is going back to therapy to treat her mental illness.

"I'm 22. I have anxiety and depression," she wrote in her fleeting Stories post. "And today I started therapy again. And so the journey of self-love begins for me."
Reinhart, who plays Betty Cooper in the popular CW drama, also informed fans there is no shame in anyone admitting they need help.

The advocate for mental health continued:

"Friendly reminder for anyone who needs to hear it: Therapy is never something to feel ashamed of. Everyone can benefit from seeing a therapist."
"Doesn't matter how old or 'proud' you're trying to be."
She also encouraged anyone suffering from depression to reach out.
There is always someone available who will listen.
"We are all human. And we all struggle. Don't suffer in silence...Don't feel embarrassed to ask for help."
Those suffering similar battles shared their stories and commended the actress for her courage.

In a Valentine's Day post, the actress declared her love for her co-star and boyfriend, Cole Sprouse, who plays Jughead Jones. The two have been enamored of each other but haven't spoken publicly about their budding romance.
"You make me very happy," she wrote. "Happy Valentine's Day, my love."
Sprouse later posted his own declaration of affection for his girl, writing, "Quite actually the only thing keeping me sane is @lilireinhart."
Based on the post above, that should give Reinhart something smile about.
Hang in there, Lili. You will get through your "journey of self-love."
You remain an inspiration to us all.

Keep reading...
Show less