Some of us might have done an activity in school where we were asked to write a letter to our future self. This was done to give us a plan, a road map you might say, that has us consider our future and what we hope our lives were like.
However, now that many of us are "grown-up," we can see that things we hoped and wished for when we were 10-years-old are not quite what we could have imagined.

Reddit user, yourfavbrownguyy, wanted to know how we've all changed when they asked:
"What would 10-year-old you never believe about adult you?"
As a child, your understanding of money might be a little misguided. Responsibility isn't even a word many of us could spell when we were ten, but it certainly is something we have to know about when we're grown up.
You Can Play Anything, But You Can't Play Anything
"All the video games I have but the lack of time to play them. Alas, we weep"
deecro3000
"I thought I'd outgrow them. Instead I just have less time for them."
Delta_ASP
"Man, 10 year old me would be absolutely mindblown at the idea of just pushing a couple buttons and having basically any video game or movie or TV show you want show up on your TV (which is friggin HUGE compared to the console box TV of the 80s). Same problem though - so many movies, so little time. Sigh."
TenaciousBe
What Are You Spending Your Money On?
"I don't eat candy all day."
tomNJUSA
"10 year old you: "then what's the point in having a job?""
abramcpg
This Is What I'm Spending My Money On
"that 35 year old me bought the ninja turtles arcade cabinet of my 10 year-old self's dreams."
BurnedOutStars
Jobs have a way of making you understand the value of a dollar. While some of us are able to work our "dream jobs," not all of us hit those heights, and that's a lesson we're still learning.
Having $100 Doesn't Make You A Millionaire
"That $100 is not that much money."
AnchoviePopcorn
"Holy sh-t I feel this. When you're 10 a $20 bill feels like an endless pile of money. Then you're an adult, and buying food is $100"
Steff_164
Numbers Are The Most Fun
"Math is actually kind of fun. And we work with numbers all day."
Bells87
"10 year old me "math is stupid and I can't wait to never have to do it again". Current me, an accountant, and I like it."
Individual_Lemon_139
There Aren't Explosions Everywhere
"I didn't end up being a ninja-spy-gangsta lady who can throw knives and rides motorcycles. Honestly, the fact that I don't do cool martial arts stuff nowadays would probably break 10yo me's heart. I don't even have a sidekick or some dangerous pet. Generally, the lack of life threatening Action and how little I enjoyed any dangerous action I ever saw would horrify 10yo me."
"I desperately wanted to be a hot antihero from a kids movie and in adult life there are shockingly few superweapons to steal, villains to counter monologue and a total lack of escaping my enemies through third floor windows in black latex suits. I don't even ever punch people in the face and the few times I had to in my life, no cool one liners were dispersed."
rat_with_a_hat
And then there's these, realizations that we've truly aged, there's no way to go back to who we were, but that's the way life is.
Not Everyone Sticks Around
"I don't talk to anybody I knew when I was 10. It's like they don't even exist anymore."
gwaaadit
"My best friends at 10 were a set of twins, Matthew and Wesley (we're 27 now). I was close with them till the end of high school when they started getting into drugs. I haven't talked to them in years (they don't even respond to birthday texts). But I talk to their dad every now-and-then for updates."
zed910
The Whole Country Has Changed, Really
"I would be scandalized if 10 yo me found out I've gotten high."
jzmk3
"All those hours in D.A.R.E. gone to waste. Such a shame."
LilDudeOnBoard
"Ten year old me would be SO SHOCKED to learn that I regularly drive my mom to the dispensary so she can buy weed."
Sunshine030209
I'm Going To Be A Grandpa?
"Considering how old I thought my parents were when they were 30 is the fact that I'm a grandparent now and mostly retired would blow my ten year old mind. Ah, perspective."
dbuck1964
We Are Going To Keep Aging And Aging
"That I lived to be 58 years old. I thought 30 was old."
joszacem
"nah when I was 10 I thought 14+ year olds were basically adults. Becoming older than that was practically inconceivable."
Cheesy_Potato_Soup
"When I was a kid, for some reason I always subconsciously assumed that becoming an adult turned you into a completely different person with different interests that you wouldn't be able to relate to. I'd be really into a game I liked or a particular thing I was interested in and I'd sometimes wish "man, I really hope I still like this when I'm 25, that'd be so cool"."
"Of course I still like it. I'm the same person, just older! Getting older is a slow and gradual process, it's not like you just wake up one day and forget everything you liked when you were younger. Chances are if you found something you liked, you liked it for a reason and you can at least relate to that thought process and look back on it with nostalgia as an adult. Yes I liked Zelda games as a kid, and yes I'm sure as hell buying every new main console entry in the once-per-5-year event when a new one comes out. 10-year-old me would be surprised to hear that, even though it makes complete sense."
flameylamey
It's All Okay
"That I'm good. I'm happy. I have the family I always dreamed of having, an occasionally exciting job that gets me occasionally labeled a "hero" (such moments in reality are few and far between, but that's okay), and that I have the opportunity to pursue the things that make me happy."
"I always worried I'd grow up to be poor, jobless, or stuck working some job I couldnt stand. But somehow things have worked out."
"I'm not rich, and my life is far from perfect, but I'm happy."
"...I'm happy."
DrStrangeLoveOHILTSW
Growing up is okay. Maybe that's the thing we should be explaining to our younger selves. It's not always going to be how we like, but if we change our thinking, it'll be how we can handle it.
Want to "know" more?
Sign up for the Knowable newsletter here.
Never miss another big, odd, funny, or heartbreaking moment again.
Keep reading...
Show less
One second. One moment. One decision.
They can change... everything.
Change happens with and without notice. Life happens instantly, so we have to learn to keep up.
These are all lessons we learn too late. We need more wisdom when we're younger.
We can make our lives better from the smallest decisions without knowing. But, let's start knowing.
Life will be the better for it.
Redditor ChrisVIII wanted to discuss the best ways to make living better, in the most simple of ways.
They asked:
"What improved your quality of life so much, you wish you did it sooner?"
Pay attention in school.
Don't drink and drive.
Two very small and life altering decisions I wish I could've done better.
Walk Away
"Walking. After years of trying to run, I simply started walking. 5-7 miles a day in good weather. It is literally life changing in terms of mental and physical health." ~ Merlin560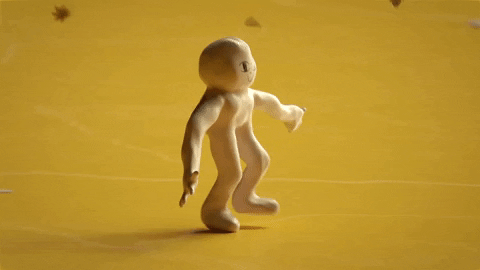 Giphy
Adopt...
"Adopted my block. (adoptoneblock.org) Instead of being sad about trash everywhere, I go out a couple times a week with a grabber and a bucket and just clean it up. Fresh air, a chance to connect with neighbors in a positive way, eyes on the street, neighborhood looks nicer and feels safer, zero downside."
"Adoptoneblock might only be in Oregon, but a picker is like 20 bucks for a good one (I recommend Arcmate brand; they're metal inside and last forever) and 5-gallon buckets are everywhere. Even if you only do the block around your house, it makes a huge difference. Imagine if every block got adopted." ~ binkkit
"helping people out"
"I stopped saying yes to things I didn't want to do." ~ VinnyRuns
"Holy sh*t me too! I used to do hair and eventually once I was working for myself I would say yes to literally everything all the time. Including 'helping people out' and stuff like that. I loved making people happy but I eventually got more and more miserable and ended up with a pretty heavy drug addiction."
"A bunch of years later and some really helpful therapy and I work a job that I actually love and no longer do hair for anyone other than my girlfriend or very close family. Only took 16 years of doing something I didn't really love to finally break and make the changes I needed to get what I want out of life." ~ arcaneresistance
Sail Away
"Taking a yearly vacation. My family never traveled growing up so I didn't know what I was missing out on but I have a good paying job with time off benefits and my wife and I have been taking a vacation every year since we got married, even if it's just something simple the time away from the usual day-to-day does wonders." ~ brshimp
Push No
"Turning off all push notifications except for essentials like financial apps or important contacts." ~ cyan_reynolds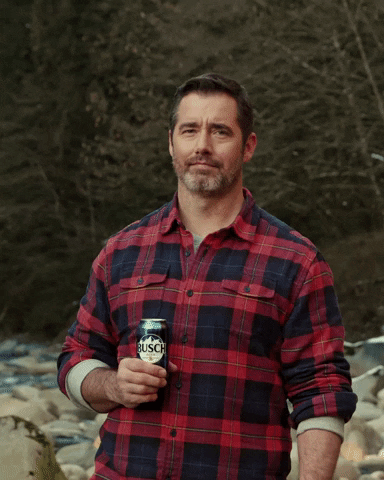 Giphy
I'm learning so much already.
And HOW do I turn off those notifications?
Drink Up
"Drinking water first thing in the morning and through the day." ~ FuriousBebocho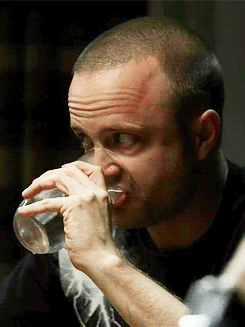 Giphy
Swallow
"Swallowed my pride and got a blue collar job. For almost 20 years I followed my mother's advice, work inside so it's warm when it's cold outside and cool when it's warm outside. Now I deliver packages outside and the weather doesn't bother me. I have no boss on my shoulder and I can do my job however I want." ~ veldrinshade
Restful Nights
"CPAP machine. If you snore at all, you owe it to yourself to get a sleep study and see what is going on. It literally changed my life getting one. I went from constant caffeine throughout the day just to function to feeling rested for the first time in years. Especially if you are overweight like I am, your heart is stopping multiple times an hour as you struggle to breathe while snoring."
"It sucks getting used to the machine (especially if you have to wear the full face mask), but man that first night of actual deep sleep will be life changing. I cannot recommend it enough and I have convinced at least 5 people that I know to get one and they all say the same thing, should have done it years ago." ~ bonez59054
The Top View
"Quit my job and moved to the mountains. I realized I cared more about what I did with my free time than whatever work I did, so I got a job where my SO and I wanted to live. We live in a cute mountain town now and every day watching the sunrise at home gives me 1000% more happiness than anything ever in Illinois." ~ starciv14
For the Zzzzzsss....
"A good bed. Game changer." ~ Dividebynegativezero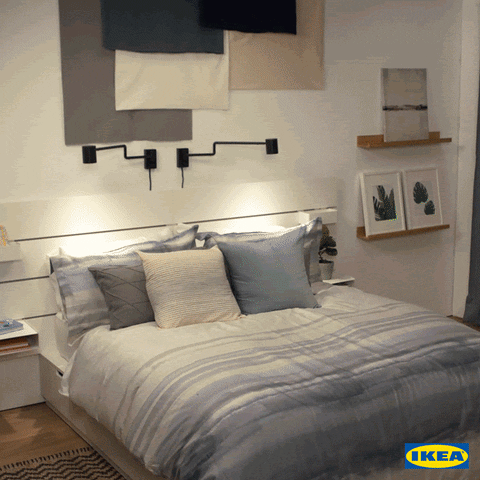 Giphy
Water and bedding are essentials to happy living.
Don't be afraid, you can always start doing better now.
Want to "know" more?
Sign up for the Knowable newsletter here.

Never miss another big, odd, funny or heartbreaking moment again.
Keep reading...
Show less
Life can get the better of us sometimes, and it often takes a pretty extreme situation to help us realize it's time to make a change.
Humans are creatures of habit; we sometimes need a different perspective or major situation to help us see our lives how they really are.
*Content Warning: this article contains mentions of suicide, substance use, and abuse*
Keep reading...
Show less
Life can get the better of us sometimes, and it often takes a pretty extreme situation to help us realize it's time to make a change.
Humans are creatures of habit; we sometimes need a different perspective or major situation to help us see our lives how they really are.
*Content Warning: this article contains mentions of suicide, substance use, and abuse*
Reddit user u/oddsalamander asked:
"At what point did you look at yourself or your life and think 'I really need to make a change'?"
10.
I was in a really bad spot in life, beginning to wonder what the point of it all was but realizing my thinking was getting a bit dangerous. I went through my text messages to find someone to try to talk things through with and realized I didn't have a single person I could reach out to for help anymore. All of my text messages for the three years I had my new phone had been work related. It made me realize that I wasn't doing anyone any favors killing myself with a job. You have to learn to balance things or you'll lose everything that makes life worth living in the first place.
9.
After the mother of my child cheated on me and left me with full custody I was not about to let her feel like she got the better deal by leaving. So I got on anti depressants and made such intense lifestyle changes that I was among the most toned and appropriately muscular people I knew. Along with that I finished my undergrad and now am nearly finished the equivalent of a masters degree, all while raising our kid without her. It all comes from that point of thinking "I want you to regret robbing my child of a mother". Revenge bod is good but I went full revenge life on her.
8.
First time: When I woke up naked, in a backyard koi pond, in a neighborhood I had never been in, without any belongings.
Shortly after the koi pond incident: Woke up in the middle of the woods. Luckily found my cell phone nearby. Friend figured out where I was and came to get me. Both times I ended up in a place without my car. Finding it was tough.
I quit doing drugs and stopped drinking after that and got help for my CPTSD. I tell people that I was lucky that I didn't end up dead in a ditch somewhere. They think I'm joking...but I'm not. Childhood trauma will try and kill you as an adult.

7.
The day my now ex-husband and I started a verbal argument and I saw that each of my three kids had picked up something to use as a weapon to defend me, in case he got rough with me. That broke my heart and I knew it was time for a change.
6.
I was working in a restaurant and they were rolling out this fancy new menu so for 2 weeks they had us all come in every evening to try the food with wine pairings. I'm not sure how it happened exactly but we ended up taking the excuse to all go out together after. So for 2 weeks we had our tastings and then went and partied together.
Before then my whole world was the guy I was dating and the friends we shared. These two weeks messed my head up real bad. People were nice to me, they wanted me around, they wanted me to participate. They laughed at jokes and sincerely listened if the chats got serious.
They were essentially strangers and they treated me better than anyone in my life ever had. And my god... I was happy. Do you have any idea what it feels like to realize what happiness truly feels like? When you haven't felt it in years?
2 weeks later I left my bf at the time. My "friends" decided that made me a bad person. So I cut them out too. I cut out my family as well, cause screw being their scapegoat.
I didn't just jump to the new friends either. I'm now married to one, and another I call my "music mom" but I didn't jump right in to it. I had finally realized I hated myself and that was wrong. I went all on hermit for a bit and got therapy and got my life together.
Then I rebuilt, and even though you can't escape struggles or the the mental illnesses I have my life is infinitely better. It's not even worth comparing.
5.
​I woke up naked in a bathtub. Not knowing how I got home, how I got naked, or why the shower was running and pleading with myself. "I dont want to be my parents."
I called the suicide hotline, told them. I am not suicidal but I cannot control my own thoughts. They gave me a list of resources for help in my area and the next morning I called every one. One of them was a non profit and wouldnt cost me much since it was sliding scale fee. I had to get an evaluation done, but in the past I always lied or hid information. I told myself, "not this time." I told them everything.

All the abuse I suffered as a child, physical, mental. The failed murder of myself by my biological grandfather on my mom's side. And more. Spared no details. An hour evaluation turned into 3.5 hours. I was Diagnosised with PTSD and that therapy changed my life. Sure I screwed up a bunch of stuff. But I am much happier now and still mess up. Just not as badly.
4.
At a Denny's.
Late at night I was there with a girl I was pursuing and her friends. One of which sent back a bagel several times for not being toasted enough then being too toasted then being white bread then being not white bread.
The group was about 7 including myself. While the girl I was pursuing was amazing herself her friends were obnoxious but I had typically chalked that up to being youthful, it takes all types, various other excuses, but that bagel situation made the scales from my eyes fall away.
I was suddenly aware of just how loud our group was, how the servers avoided us, how rude the group was openly and loudly complaining of "such bad service." I started evaluating what it was I was doing and if this was a path I wanted to go down.
I gradually faded out of the girls life, I didn't want to be confrontational and don't think it's right to use ultimatums of "your friends or me" at that time.
There was another more personal experience that happened a bit later that only further confirmed my decision was the right one.
3.
I had to crawl literally crawl over a mountain of trash and clothes the same size as my bed, if not bigger to go to sleep. Half of my king size bed was full of trash. Roaches started showing up. For weeks, I let them crawl on me. I was so depressed and immobilized, I couldn't even care about roaches crawling all over my body. Remembering that time makes me want to throw up. I'm glad to say I'm somewhere else now doing much, much better.
For perspective, during this low, low time I was an attractive, fit commercial model. My nails and hair were always done. I didn't smell. I did not look like who someone would imagine slept in roaches. Mental illness does not discriminate, nor does it have a look. Sometimes it doesn't even change your appearance. We really have no idea what others are going through.
2.
When I met a transgender woman in Colorado who was confident, happy and successful, and realised that I couldn't be any of those things if I was lying to myself about who I was.
Two days later she helped me come out of the closet.
So yeah that was how I started this month.

1.
When I stopped my bike in the middle of the freeway at midnight coming off of a brutally hard shift at a job I hate and contemplated whether or not I wanted to die right there and then.
Also known as yesterday...
It's really scary to suddenly contemplate suicide when you're in a bad place both mentally and physically. I didn't realise how messed up I've been feeling for the past three years until I looked at the darkness and felt that I didn't want to see the light anymore.
I'm handing in my two-weeks-notice on Friday.

If you or someone you know is struggling, you can contact the National Suicide Prevention Lifeline at 1-800-273-TALK (8255).
Transgender people can get help through the Trans Lifeline at https://www.translifeline.org/ or call US: 877-565-8860 Canada: 877-330-6366
To find help outside the United States, the International Association for Suicide Prevention has resources available at https://www.iasp.info/resources/Crisis_Centres/
Keep reading...
Show less