It's 2021, and the Karens are still running rampant. In fact, oftentimes their public tantrums are even worse than their children's', which is embarrassing. But that's unfortunately a sign of our times.
Even worse, usually these people don't even have a good reason to freak out. Like, is this REALLY the hill you want to die on? Here's a list of the worst public meltdowns that full-grown adults have had, courtesy of Reddit.
The worst offenders manage to embarrass their own families.
Worked for a cellular company and a woman was in with her parents and they were making her get off their plan. She was non-stop complaining how unfair it was. Parents were matter of factly being like this is happening. Tried to tell them she'd just pay for her portion, parents calmly replied she'd said that before and hadn't. Complained that they could afford it. Parents calmly ignored her. Whined about how much more it cost for her to have her own plan than stay on theirs.
While she's over loudly whining to her father across the store I start talking to the mom. She tells me it's not that they can't afford it or anything like that but that they are retired and on an okay but fixed income. The daughter was earning six figures at her job according to mom. She was also 30.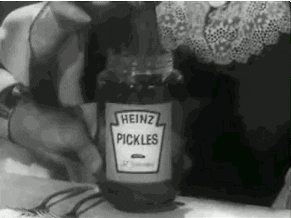 pickle GIF
Giphy
My mom threw a burger back into the drive-thru window at McDonald's because it had pickles on it. She told them no pickles. She was screaming at them and they threatened to call the cops. I sank so low in my seat.
Senior year in high school, was playing soccer, and the goalkeeper on the other team was being looked at by a few Pac-12 schools. When our team scored a goal in overtime to win it, the girl's mother (I assume) ran onto the field to console her daughter, then looked over at us celebrating and began calling us all sorts of names I won't type here. She even accused us of intentionally scoring just to make her daughter look bad, not to win or anything like that, we just wanted to make her look bad in front of the scouts.
Technology seems to be the biggest catalyst for grown-up temper tantrums.
Worked at Gamestop, guy came in complaining his PS3 didn't work and he wanted a new one covered by the warranty Gamestop provided. Well the warranty he bought was in 2009 when it came out, and being 2017 we couldn't cover it, he threw a massive fit and left the store, came back 3 hours later with the PS3 just decimated, screaming "look what you did, I shot this with my gun because of you" threw the console across the store and left.
I think he used a shotgun cause there wasn't much left to it, like it was shredded.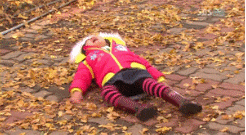 Sad Baby GIF
Giphy
This girl wanted to get her own cellphone plan. She needed proof of residency to do so. She came in with a bill in her name, unfortunately, she didn't come with it address to her. We needed the actual mailing address on the bill, not just her name.
Cue her screaming, crying, calling me a cnt, btch, and doing everything but throwing herself on the floor. She stayed in the store for 5 hours, calling customer service 6-7 times while with us, and just refusing to accept that we needed it addressed to her.
Multiple times she would start crying again on the phone with customer service and go "and then there's this b*tch here in the store and she's just insert tantrum groan".
I used to be a teller in college. Before chips in cards, we could swipe your card for you and you would enter your pin. After the chip, they took away our ability to swipe. So naturally, we would have the customer insert their card. At this time, they also added rims to the numbers to avoid people looking at your pin.
One guy complained to management about this and screamed in the lobby that it is unjust to have him insert his card.
Another guy told me that banks clearly don't want to service "normal" sized people because he couldn't see the number when he typed. I said, "that's ridiculous. We don't want people stealing your pin. Fraud is expensive and hard on everyone." He just replies with "riiiiigghhht." You cracked the code, clearly bank managers want to lose money by excluding a large majority of the population.
The poor retail employees put up with so much.
Once had a thirty year old woman throw a screaming tantrum with tears and threaten to sue my company because we had been out of FarmVille gift cards for weeks and her crops or animals would die or something.
Temper Tantrum GIF by memecandy
Giphy
A grown woman berate an innocent Walgreens employee because they were out of Hilshire Farms baskets and she NEEDED them. The holidays are not fun for retail workers.
Worked at a common American food chain fresh out of highschool and had a grown man scream vibrations through my molecular structure about there being a 25 minute wait on baked potatoes, which I had absolutely no control over as a cashier.
After he finished his tantrum he left, then came back ~30 minutes later to order his meal without a baked potato. Had he been a reasonable human being, I would've told him we now had them available, but he was a d*ck, so I did the bare minimum. I hand him his food, give him a lil nod, and off he goes...but on the way back to his table he spots another guest enjoying, of course, a baked potato.
This man RAGED back to our counter, hurled his burger at me, and had to be escorted out of the building via police intervention after several minutes of uncomfortable confrontation with our entire staff. I consider myself rather empathetic, but I will never understand that man's rage. F**K YOUR BAKED POTATO, CHRISTOPHER!
This middle-aged woman wanted to buy a TV from the store I used to work at. For some reason, there was an extremely cheap price tag on the box. I don't remember the exact price but it was less than $20, while the TV actually cost a couple hundred. She insisted the price tag had always been there and therefore we had to sell it to her for that amount (even though all the other tvs of that type had the correct price on them.)
When the employee said no, she demanded to see the manager. When the manager said no, she threw a tantrum, screaming all her way to the exit while threatening to call the police because we wouldn't sell her this brand new large flat screen tv for like fifteen dollars.
Moral of the story? Essential workers need to be paid more to deal with these peoples' BS. We should learn something from these Karens- it costs literally nothing to be a good person and treat other people like human beings.
Keep reading...
Show less
Over the past few years, but especially the past few months the video parade of Karens has been non-stop. The phrase-which is now an infamous part of our lexicon-labels a person due to their hideous public behavior. Too many moms (and dads) seem to believe the world is beholden to them and they let the world know it with each breath they take. These people seem to have no shame with such actions, but the people who know them and have to claim them as a loved are embarrassed and cloaked in shame. Children of these people are especially affected.
Redditor
u/Matster04
wanted the children of "Karens" to share how they tend to the day to days with their moms by asking....
Children of "karens", what is it like to be their child?
Want to "know" more? Never miss another big, odd, funny, or heartbreaking moment again. Sign up for the Knowable newsletter here.

Keep reading...
Show less
Karens are ruthless. They will stop at nothing until they get their way.
And they do not care who they embarrass. Their children, themselves--anybody. They will rampage and rant and rave all the live-long day all while maintaining that they are right and that they are entitled to be right.
But children are watching. Children will listen.
Keep reading...
Show less
Remember when a name was just a name? You could walk into a room with your head held high, a grand smile and say "Hi. I'm Karen or Chad (or a few other now infamous names)," and people wouldn't snicker or sneer. Now thanks to pop culture and the popularity of a few high profile tv shows and films, some names have taken on meanings to describe people in a "certain" unflattering light. It has to be wearing on the nerves for Karens and Chads and their peeps. But also, there is some truth when it comes to a few of these people.
Redditor u/BringBackWaffleTaco wanted to hear from all the people out there who know some Chads and Karens and what the life effect is by asking.... To all of those actually named Chad, Stacy, or Karen, how does it make you feel knowing that your names are used as insults?
Keep reading...
Show less