A pensioner with dementia has stormed the UK download charts with her cover of Frank Sinatra's "My Way" - beating the likes of Ed Sheeran, Justin Bieber, and Ariana Grande.
Margaret Mackie, 83, lives in a care home, and while she struggles to remember names, she stunned residents with a word-perfect rendition at the Christmas party.

A video of her performance with home worker Jamie Lee Morely, 31, went viral - so he decided to record the tune professionally and release it as a single.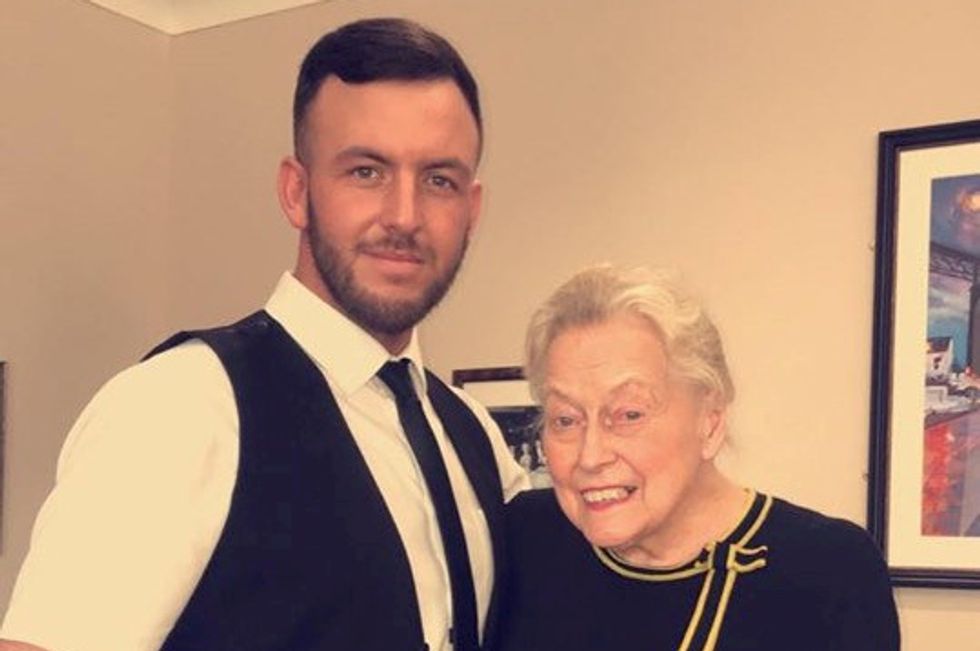 SWNS
The song, which raises money for Alzheimer's Society and Dementia UK, is now sitting at number five in the Amazon best seller chart - above Lewis Capaldi and Dua Lipa.

In the iTunes Top 40 UK Pop Songs chart Margaret and Jamie are at number 27 - beating Ed Sheeran, Justin Bieber and Ariana Grande.
Margaret, who used to work in PR, is a mom of two.
She has no grandchildren.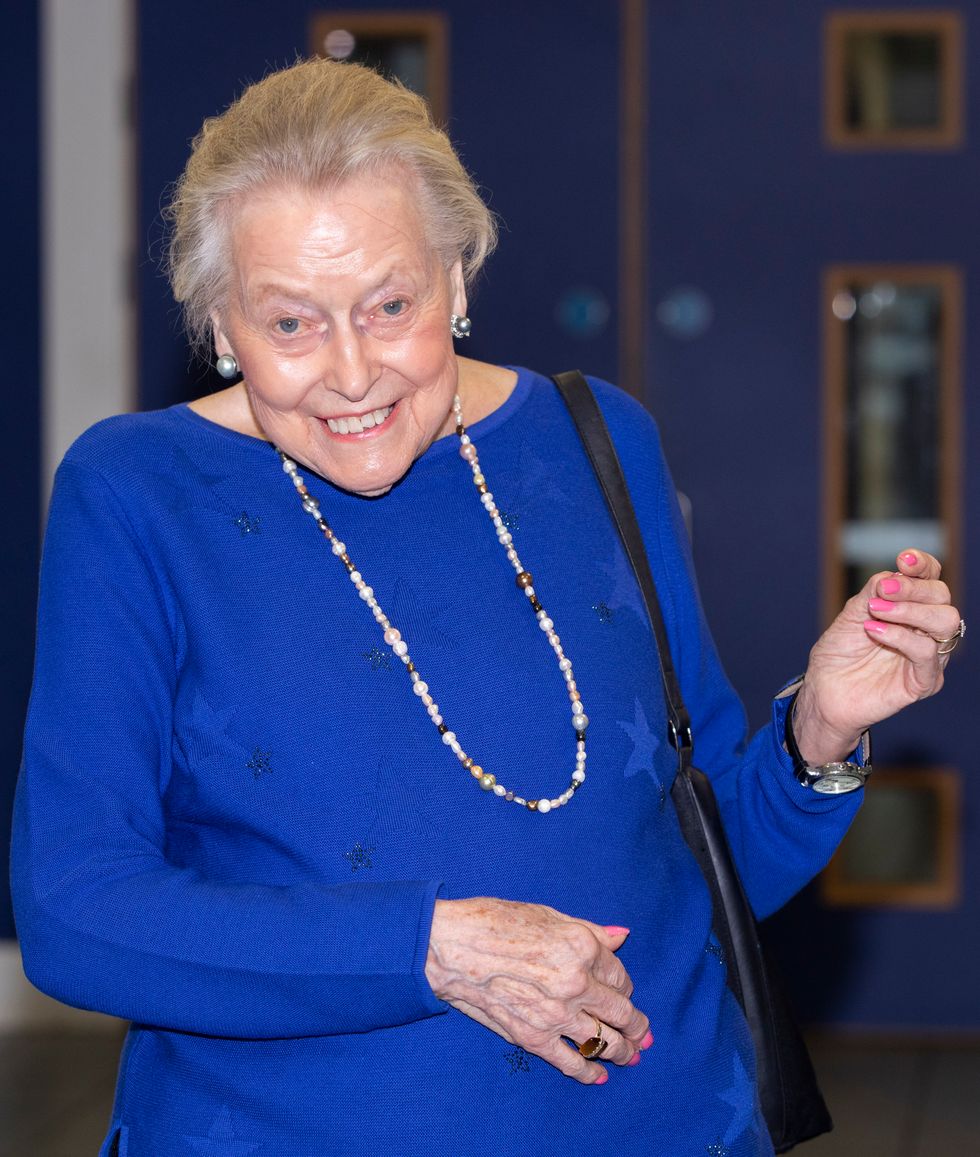 Katielee Arrowsmith/SWNS
Her daughter Mairi Hunter, 55, said:

"We put mum in another care home before the one she is in now and she went downhill really fast. But since we moved her she has just bounced back. We have got our mum back with Jamie and the singing."
"She has always loved to sing and as she can't read her books or the paper anymore, the singing has just taken over. Seeing her singing with Jamie was incredible, they get on so well and sing around the home a lot, but to actually see them together was lovely. She thinks so much of him."
Of the song's success, Margaret remarked:

"It is just amazing. I feel so happy about everything. It's great we can raise all this money for charity."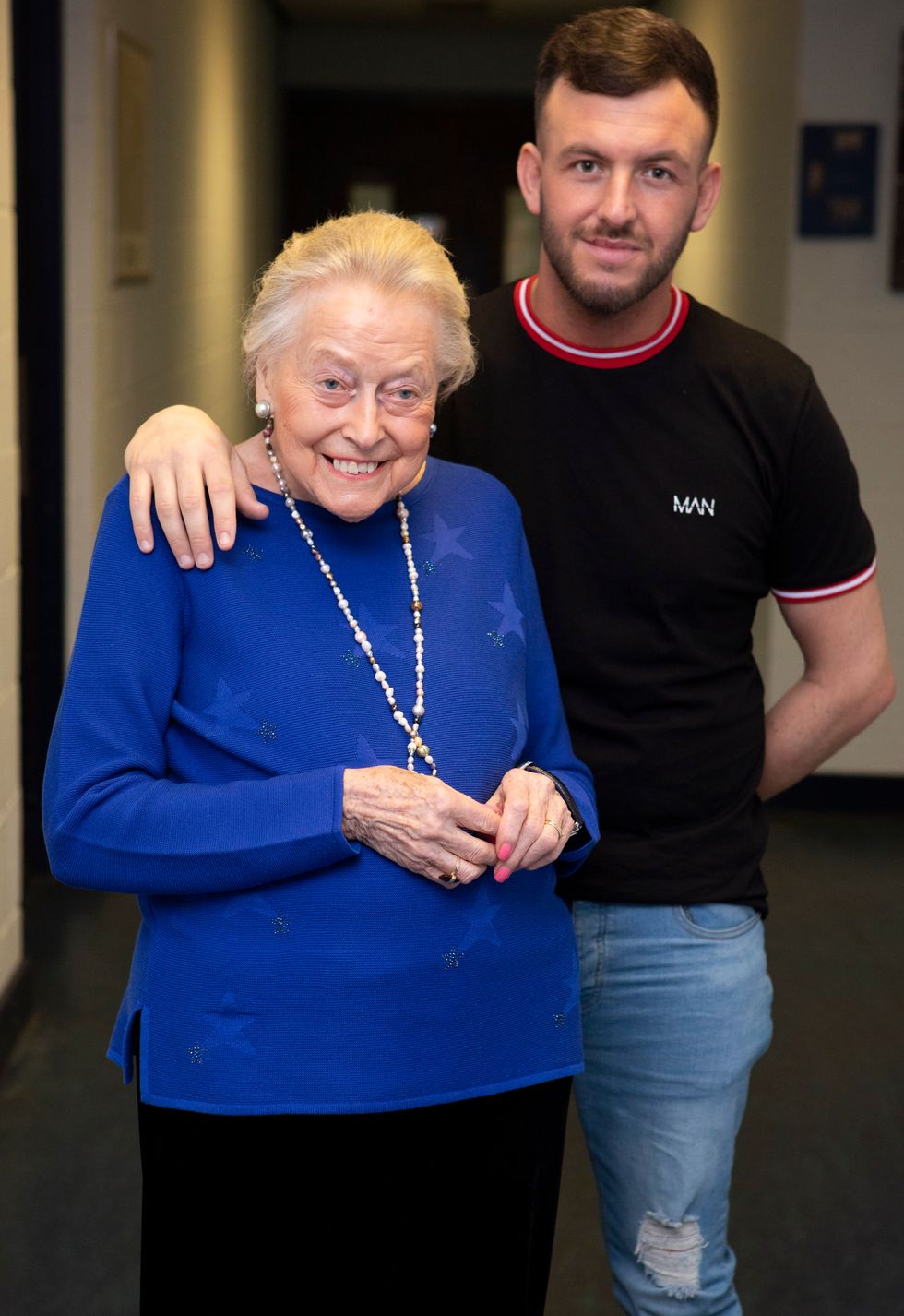 Katielee Arrowsmith/SWNS
Proud Jamie, a singer, added:

"It was the first time that she'd been in the studio, but was like she had done it a hundred times before. She's got such an amazing voice. The fact that she can do that while living with dementia is mind blowing. It's just crazy."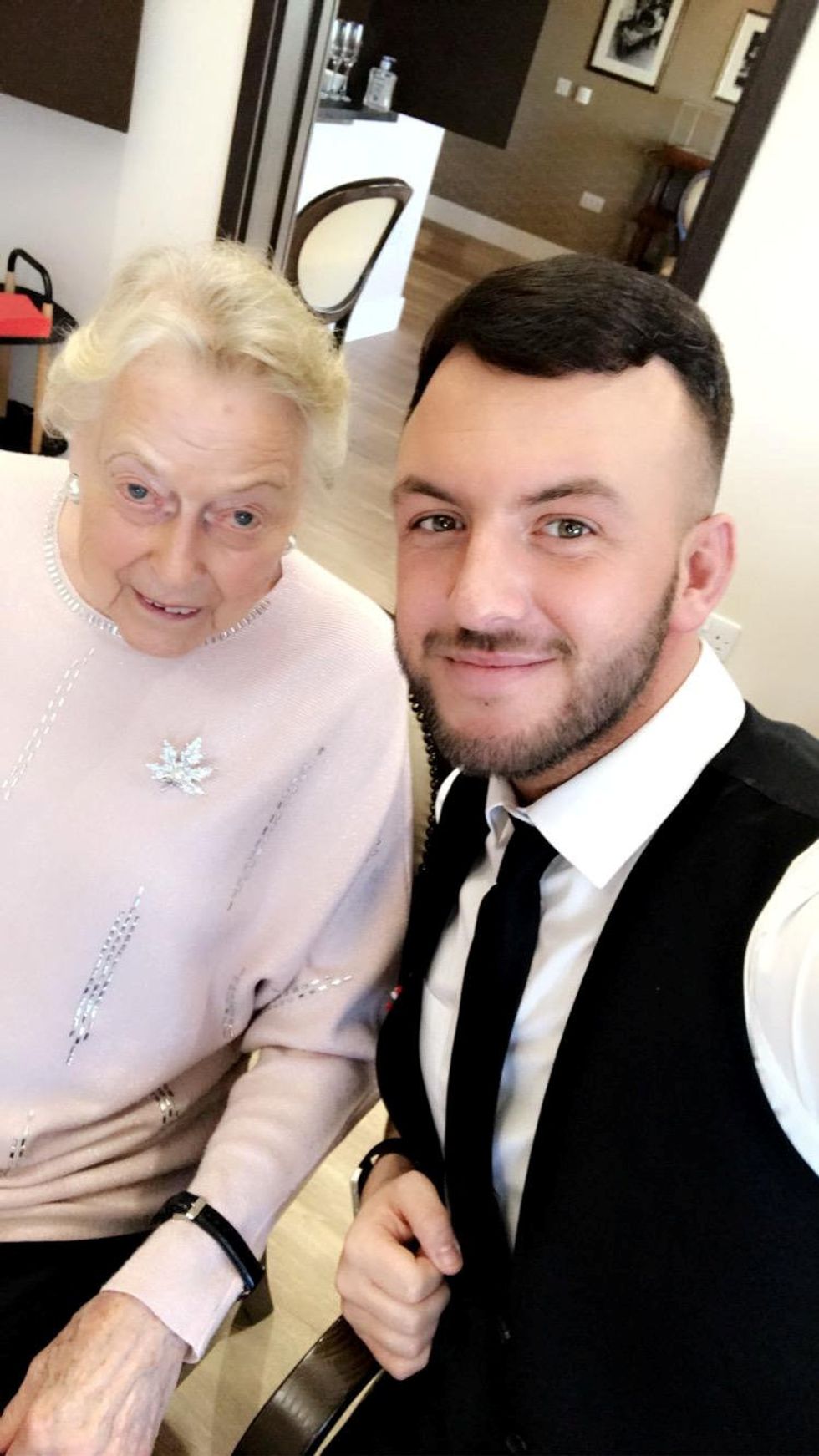 SWNS
He remarked:

"It's like the music is the therapy for her. You just see the change of the look in her face when she starts singing or she hears music that she likes. You can just see it in her."
"Music is my passion. It can change your mood instantly and with her it's exactly the same. She comes alive when she sings and she looks so happy, it is beautiful to see. It is the power of music and proves how amazing it can be for people."
Margaret moved into Northcare Suites Edinburgh care home just weeks after it opened last September, and Jamie said she is always singing and dancing.
Katielee Arrowsmith/SWNS
Jamie, who is also a part-time singer, was asked to arrange the Christmas show for the residents and asked Margaret to join him for a duet.

He said:
"You never know how they are going to react. She is living with dementia. All I knew was that she loves music and we always sing 'My Way' together and I just thought it would be a great moment."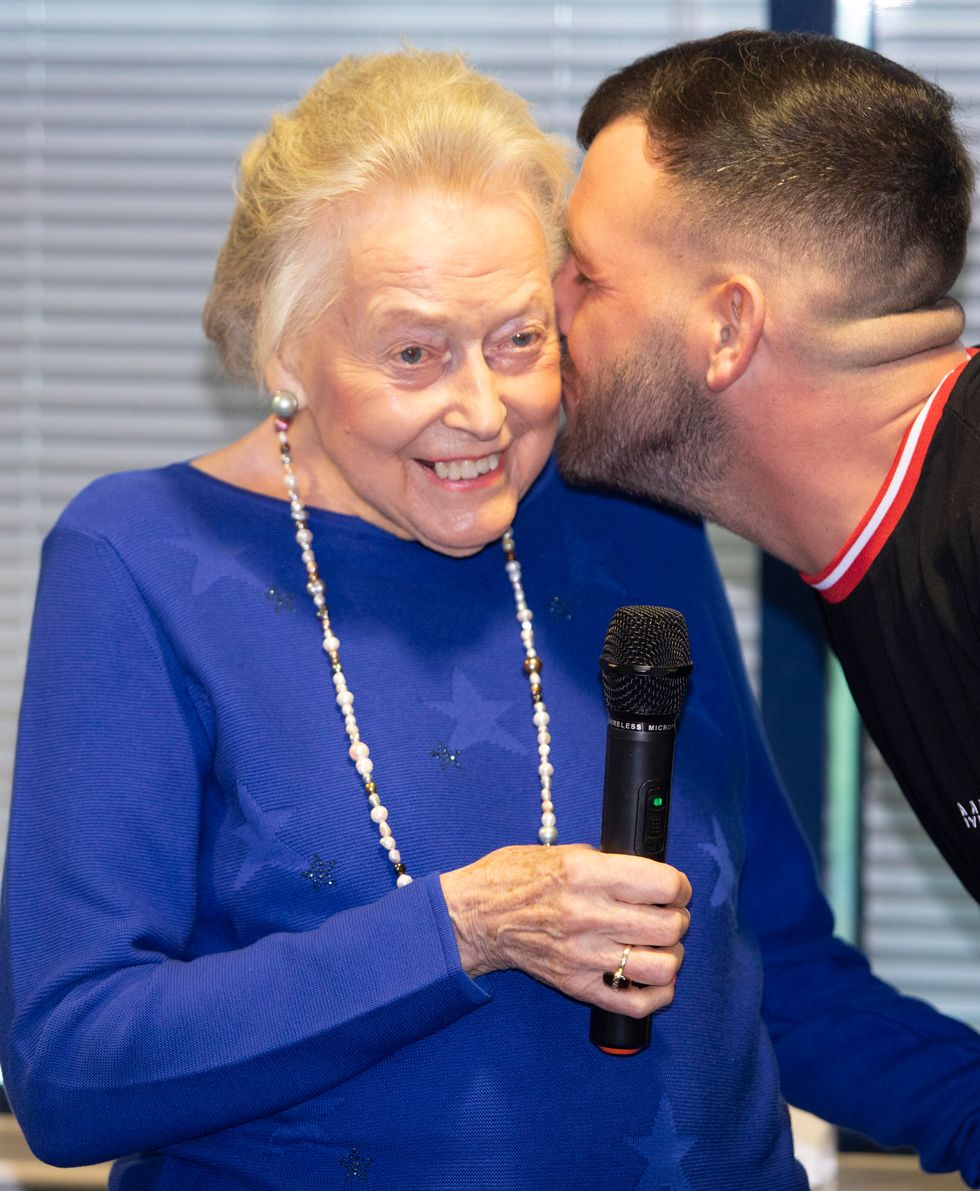 Katielee Arrowsmith/SWNS
He added:

"My granddad passed away - he had Alzheimers and that was his favorite song so it had a connection to all of us. I just wanted to enjoy the moment with her and get her up there, and she sang every word absolutely amazingly."
"The whole audience erupted. The whole place was in tears. Everyone just burst into tears - she stole the show. The response was unreal. The whole place was crying, we got a standing ovation, everyone was clapping. Everyone was blown away."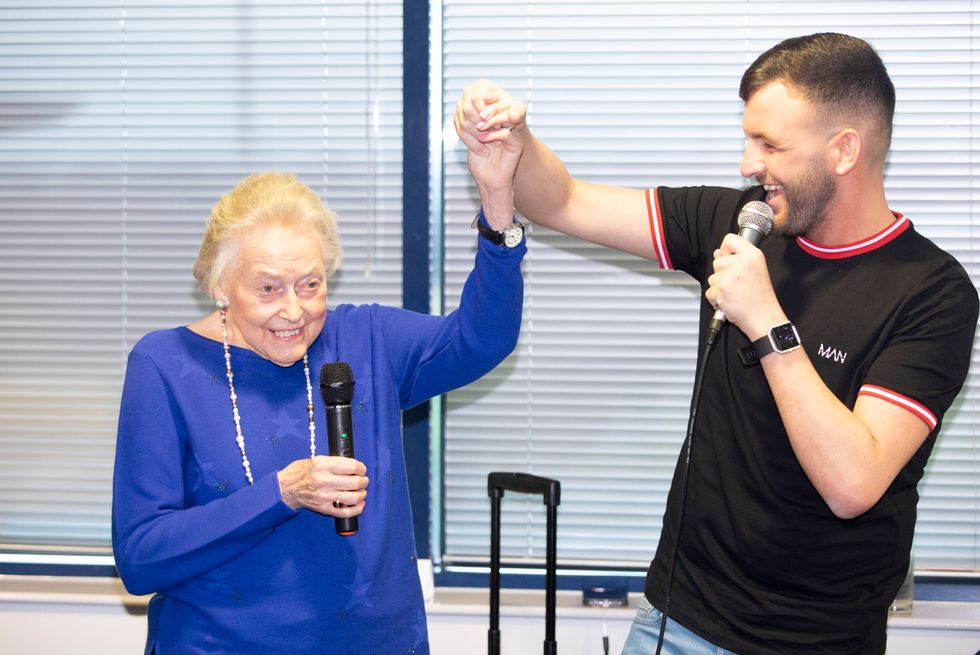 Katielee Arrowsmith/SWNS
It was filmed by her daughter, Mairi, who put it on social media, and within 24 hours it had gone viral.

They headed into the studio in December and Jamie said it took just 45 minutes and two takes to record.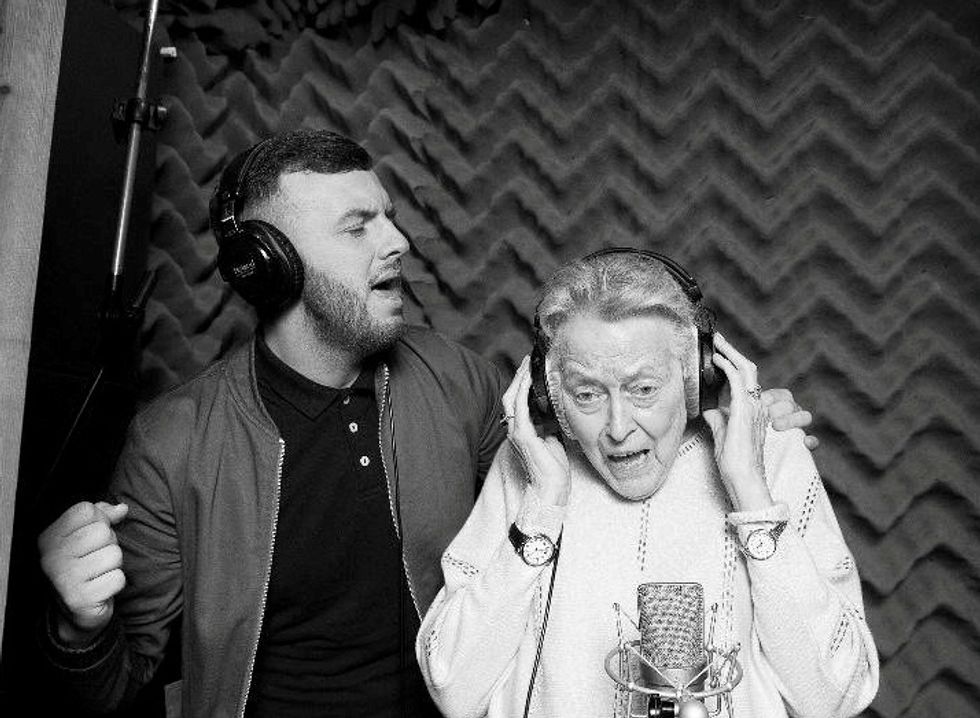 SWNS
Jamie gushed:

"For someone with dementia, it fascinates me how amazing music makes her feel. She becomes a different person. It's just incredible. She has definitely got the music in her blood."
"It's so refreshing to see someone living with dementia acting the way she does. She is an inspiration to so many people - especially me! I just love her."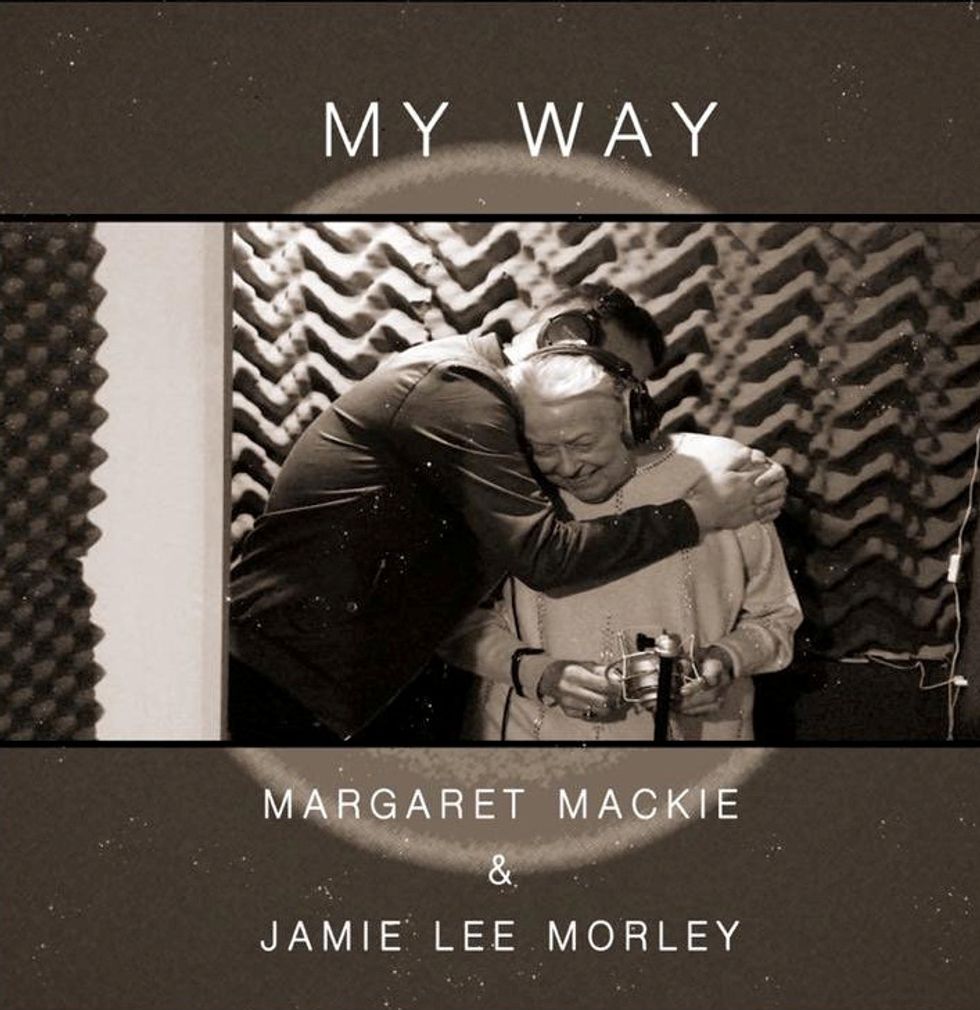 SWNS
You can listen to the version they recorded in the studio below:

Keep reading...
Show less
This is the adorable moment a six-year-old boy sang a Justin Bieber love song to his newborn brother with Down syndrome.
Little Tripp Grieve spent his first month in hospital after being born with the genetic condition.
His big brother Rayce, six, assured his mom Nicole Powell, 29, he'd always look out for his precious brother - and asked to give him a cuddle one morning.

And the mom-of-five was left smiling when the schoolboy started singing "their song" — "10,000 Hours" by Dan + Shay & Justin Bieber.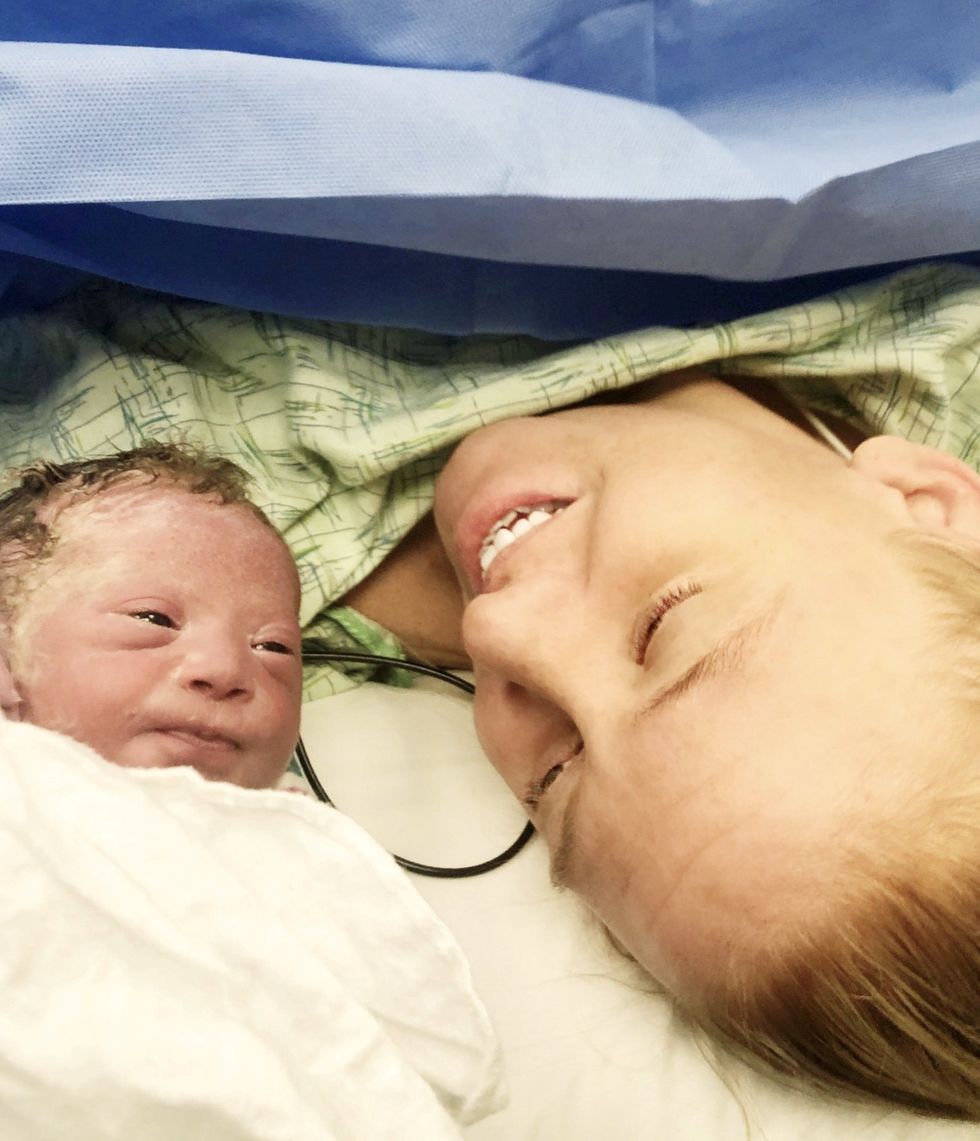 Nicole Powell / SWNS
She captured the touching moment on her phone, to send to husband JJ, 39.

Police officer Nicole also posted it on her Facebook - where the clip amazingly racked up more than 8 MILLION views.
Nicole, from Cabot, Arkansas, said:
"It's amazing. I had wondered our purpose - of why now do we have a baby with Down syndrome. I think maybe it was to bring love and awareness. People are so terrified of what can happen. But he's perfect. It's super scary, but parenthood is scary in general. I'm so proud of my sons."
Nicole and husband JJ, who owns a car sales business, found out Tripp would likely have the condition during scans before he was born.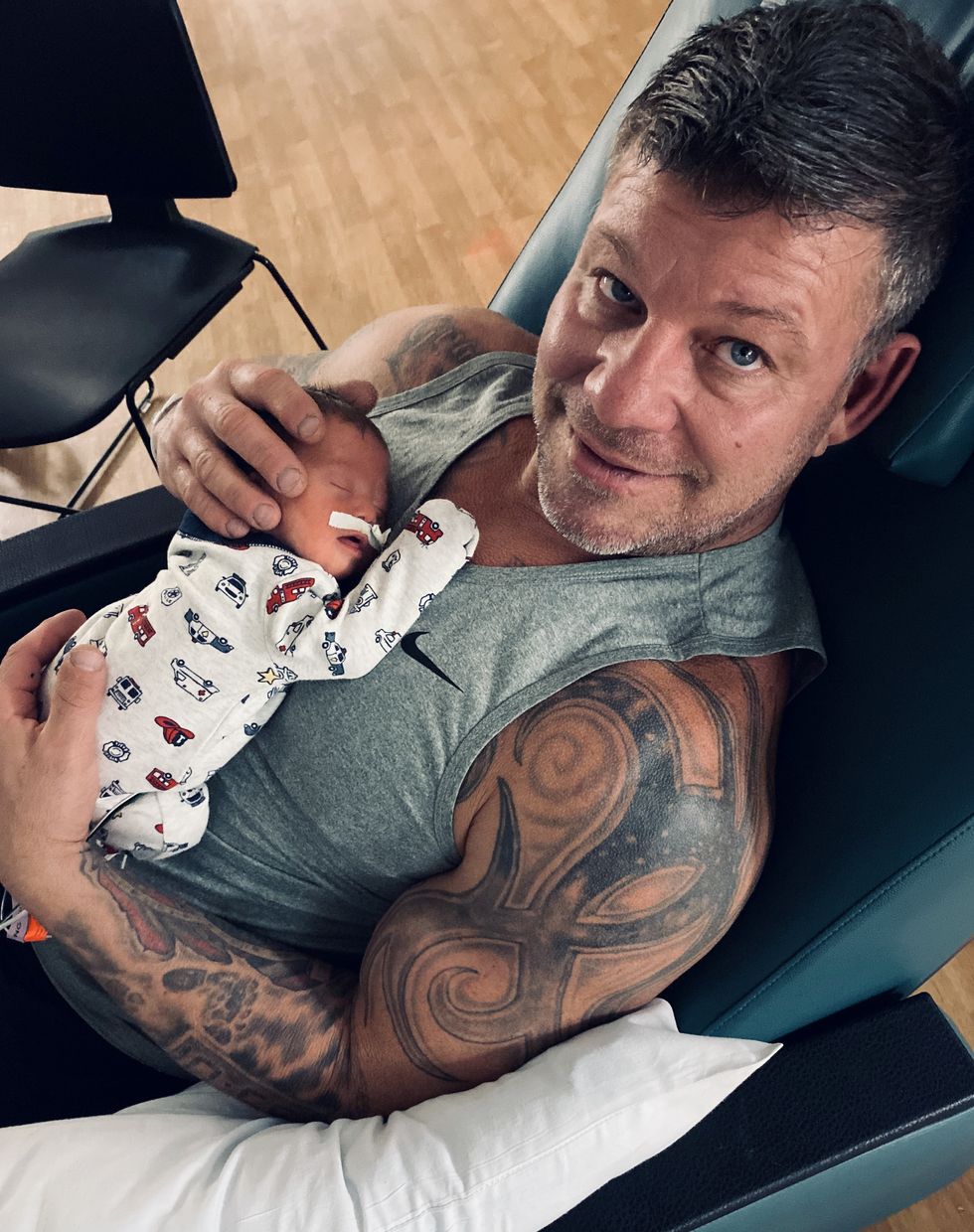 Nicole Powell / SWNS
She admits they were "not educated" about Downs syndrome and said doctors warned he could have major heart problems.

"Honestly I was really terrified because I wasn't educated at all about Down syndrome, and I hadn't been around anyone with Down syndrome," she said, adding:
"I had this horrible picture in my head and I was thinking the absolute worst. My biggest fear was I was afraid of the future. I was uneducated and didn't understand. I thought 'I have four other children, they all love each other, I just want them to love him the same way they love each other.'"
"We explained to them early. I didn't know much but I told them what I did know. We told them it just means he will be different but he's still your brother. The boys answered and told us 'but we're all different.' And we were like 'ok, this is going to be fine.'"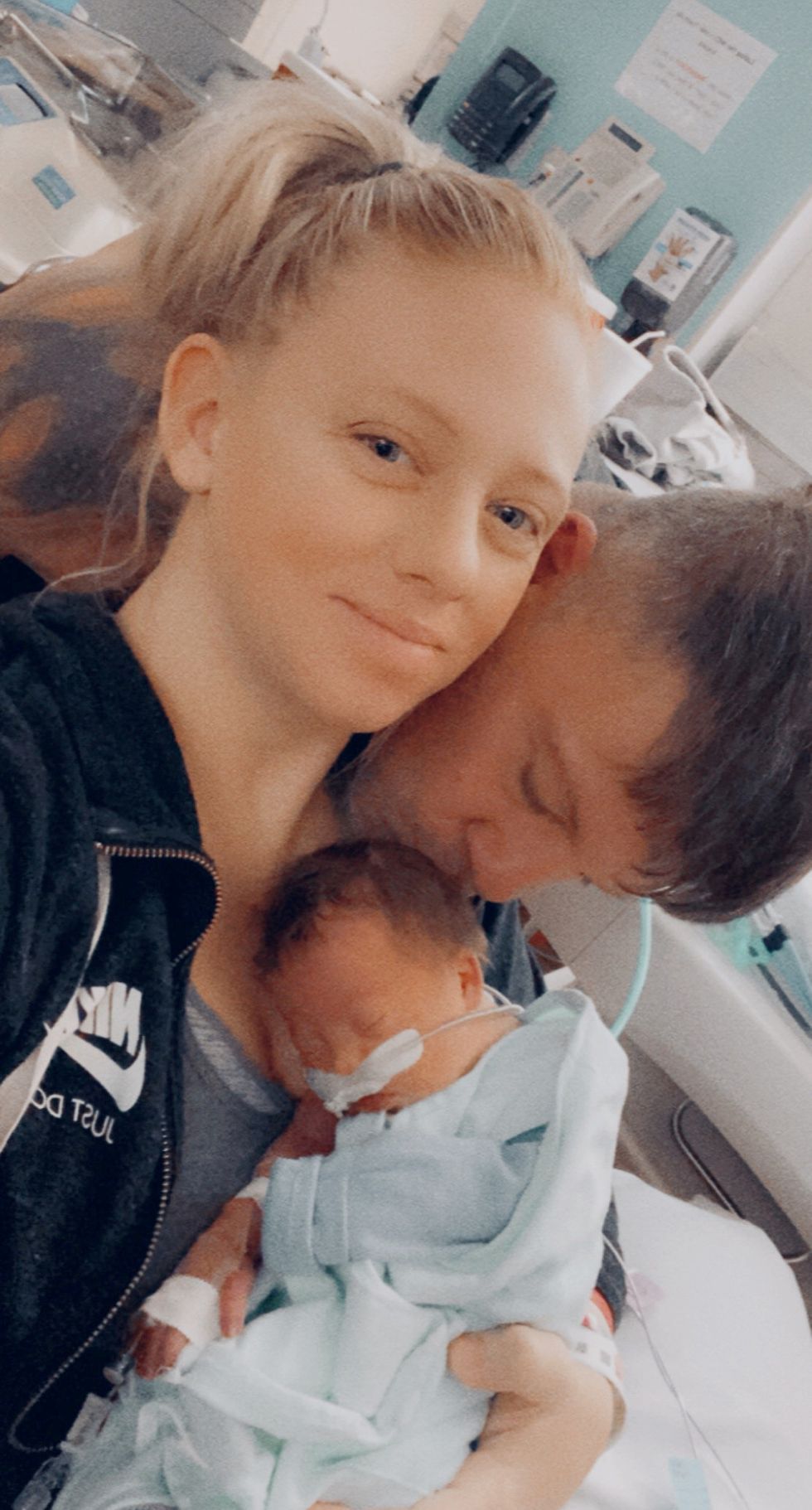 Nicole Powell / SWNS
She said later scans revealed his heart was healthy, and when she finally saw him when he was born via c-section on November 21 he was "absolutely perfect."

After a month in the hospital he came home to the family - including Jayce, nine, Rayce, six, Grayce, two, and Reese, one, on Christmas Eve.
On the way home in the car the love song "10,000 Hours" came on the radio, and Rayce started singing it to his little brother.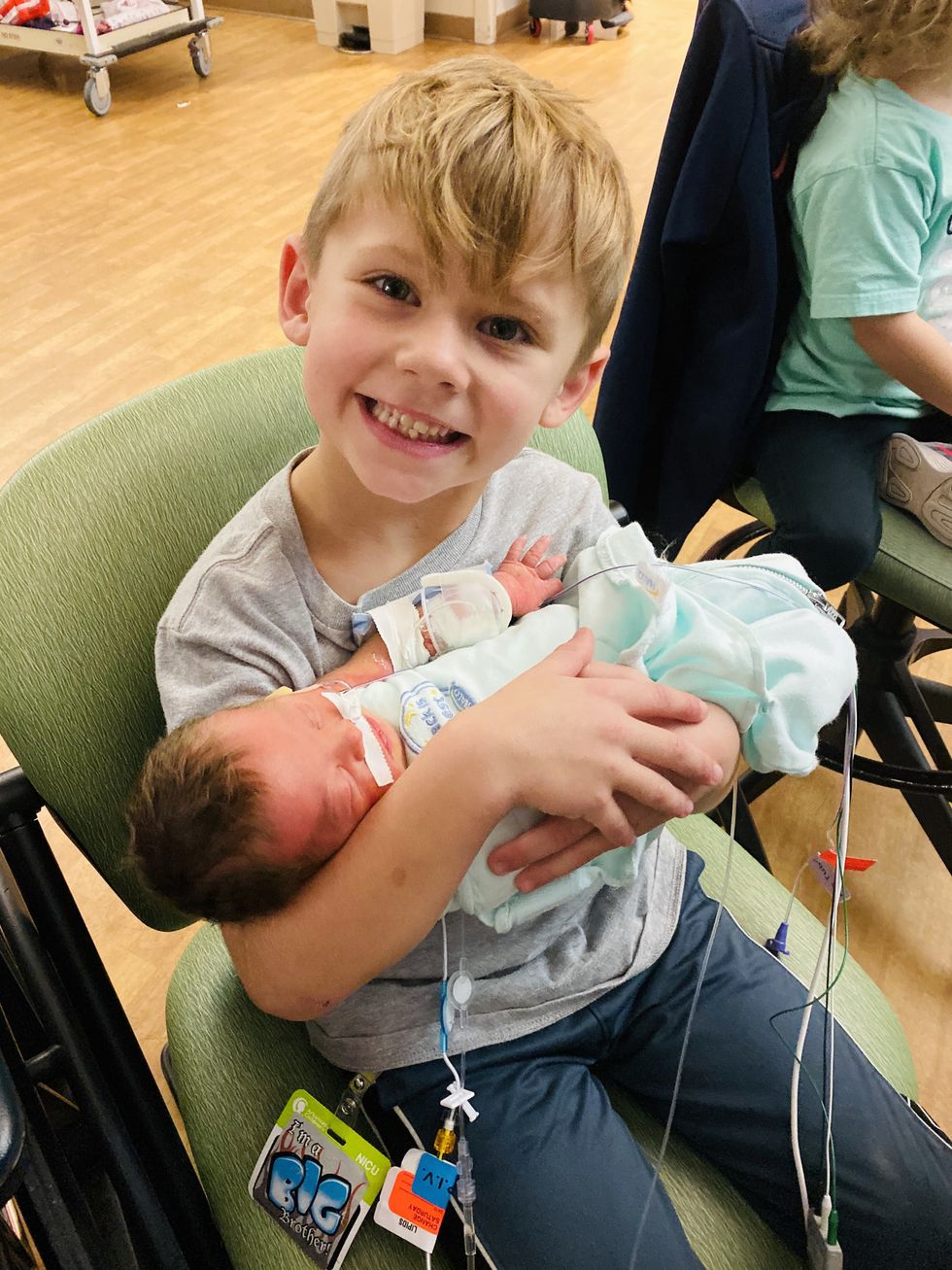 Nicole Powell / SWNS
"Both the boys love music," said Nicole.

"Rayce was saying 'this song is about me and you' - he doesn't know it's about a husband and wife. He decided it was 'their song.'"
She woke up on December 30 and took Tripp in to see Rayce and Jayce, and the eldest was listening to the song on YouTube, and asked to hold his brother.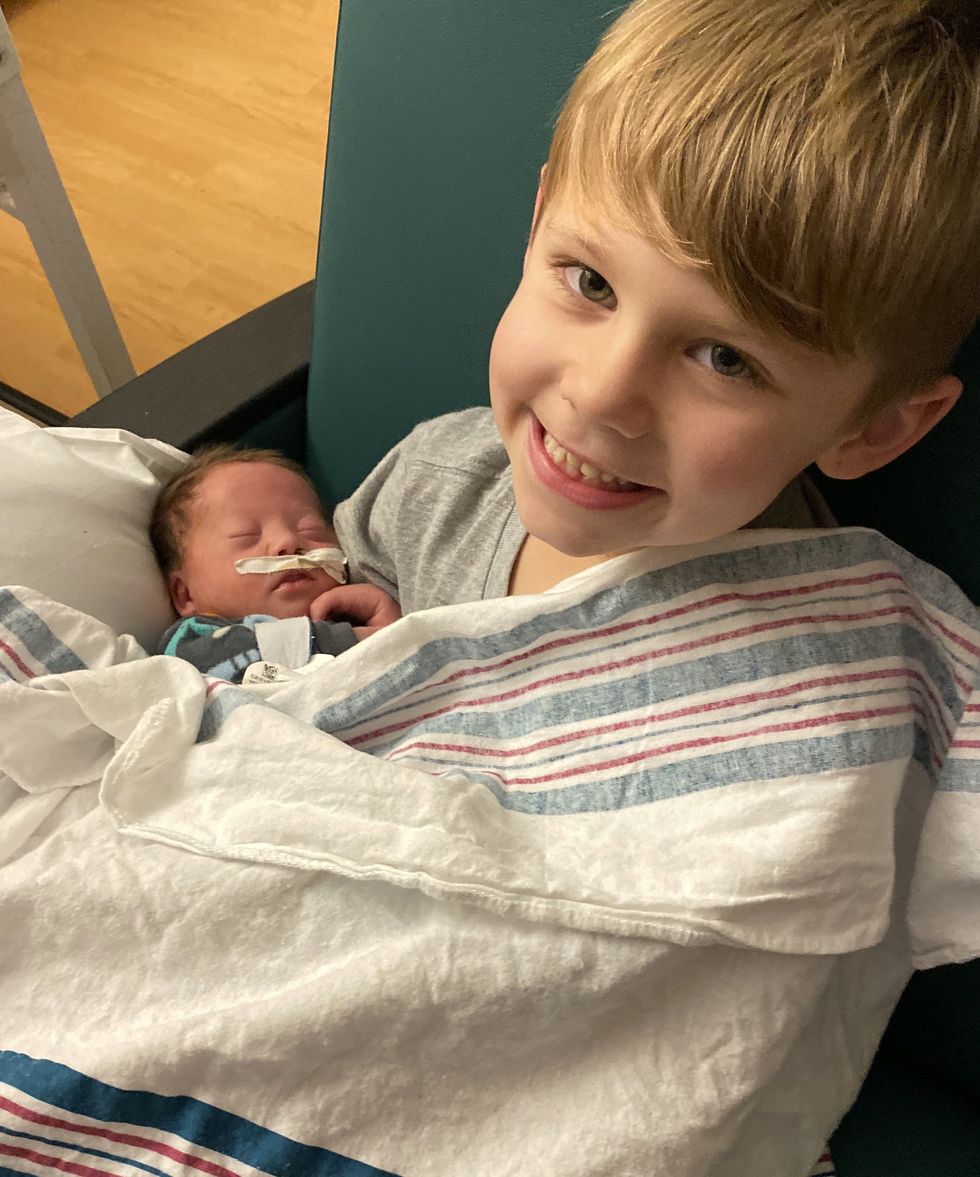 Nicole Powell / SWNS
He cradled him and stared into Tripp's eyes while he sang the song:

"I'd spend ten thousand hours and ten thousand more. Oh, if that's what it takes to learn that sweet heart of yours. And I might never get there, but I'm gonna try. If it's ten thousand hours or the rest of my life.I'm gonna love you."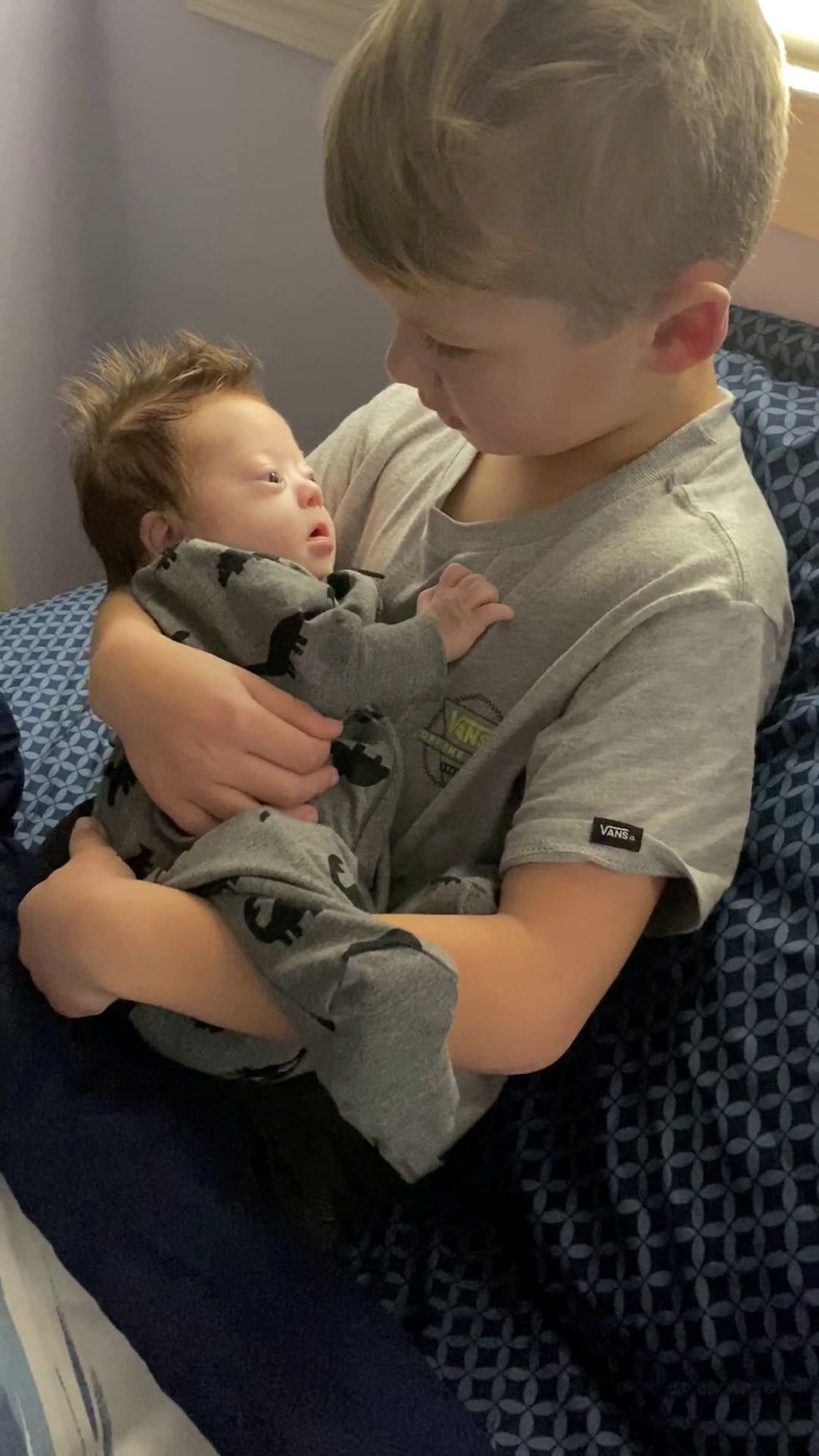 Nicole Powell / SWNS
She posted the video online before she went to bed, and was surprised when it received 90 likes before she fell asleep.

But she woke up to see it had been viewed a million times overnight, and a week later it has more than 8,000,000 views.
You can check out Dan + Shay and Justin Bieber's official "10,000 Hours" music video below:
Keep reading...
Show less
Justin Bieber is at it again.
Despite seemingly backing down in his initial challenge of an MMA fight with Tom Cruise, the star has once again called out Tom Cruise for a fight.
Can anyone tell me what Tom Cruise did to Bieber? Anyone?
I'm at a loss here.
The popstar took part in the bottle cap challenge that has been going around the internet. He uploaded a video to Instagram to demonstrate his ability.
It's less impressive than some of the videos you've seen.
While the caption is an innocuous nomination of Cruise and Bieber's wife, Hailey Baldwin, for the challenge, the video itself tells a different story. Before he runs up to the bottle, he says,

"This could be Tom Cruise's head."
Could the Biebs really take Tom Cruise in a fight?
Despite his backpedaling, it really seems like he wants to.
His Instagram comments were a mixture of support and telling him to back off.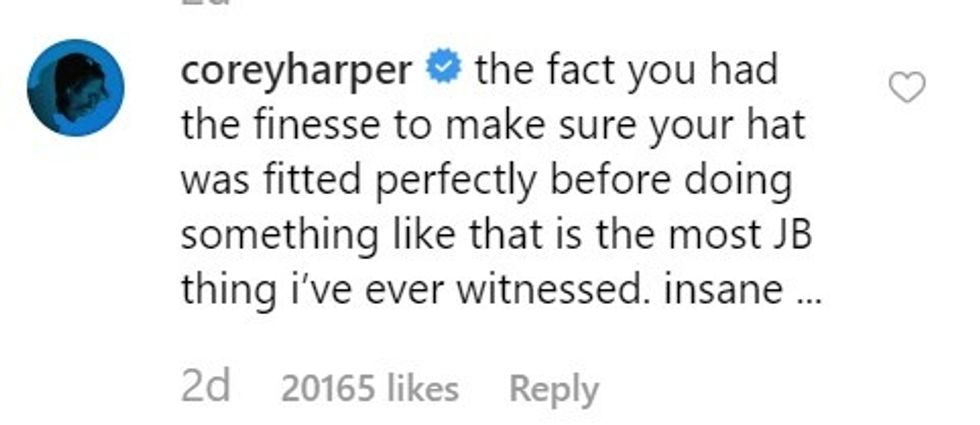 @justinbieber/Instagram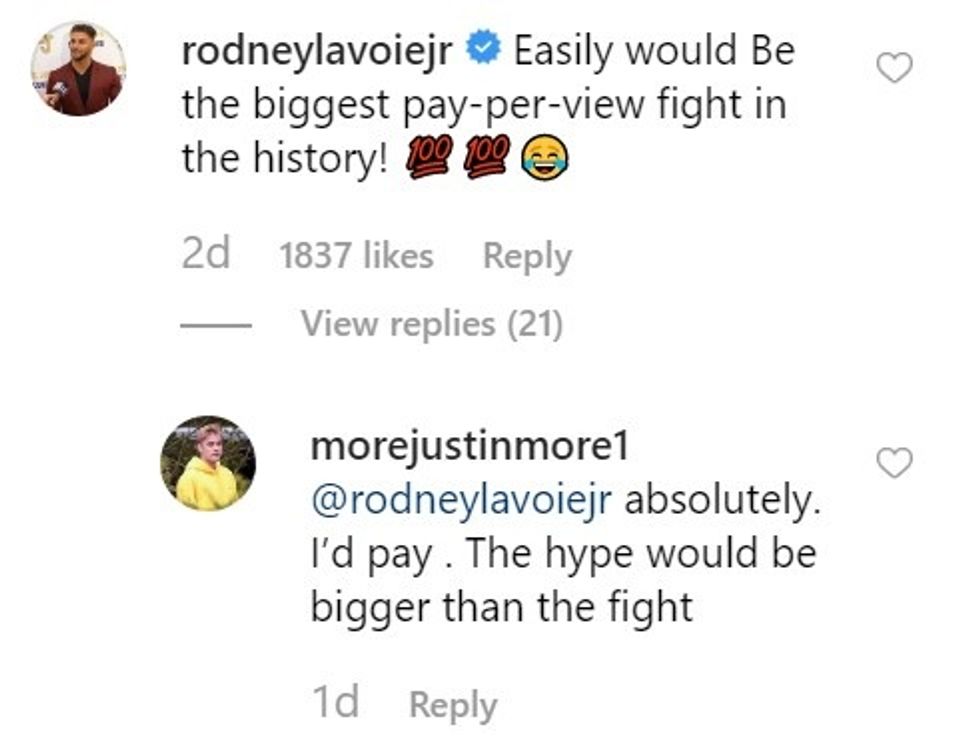 @justinbieber/Instagram

@justinbieber/Instagram

@justinbieber/Instagram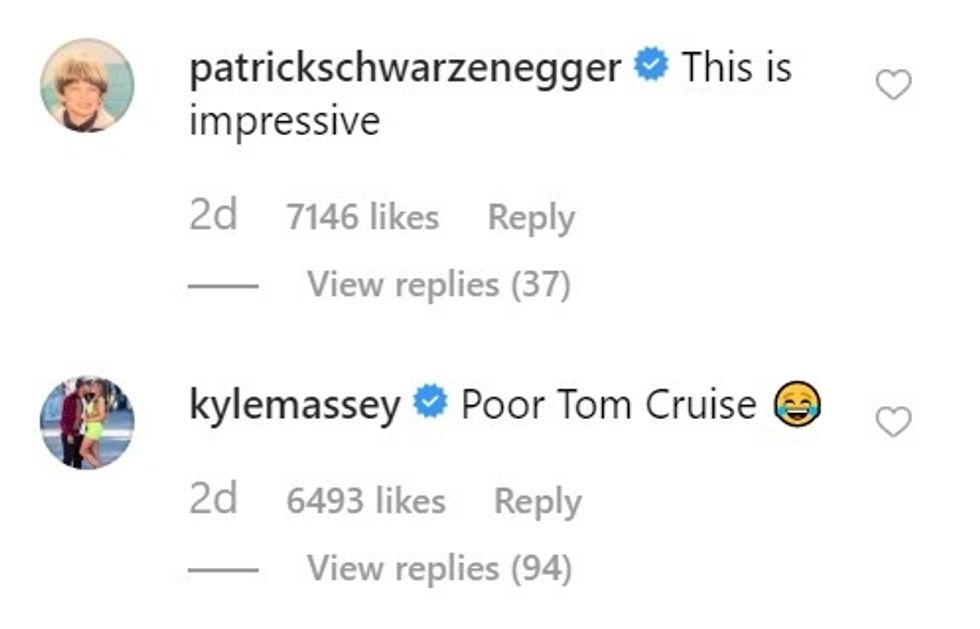 @justinbieber/Instagram
Obviously, this is Bieber having a bit of a joke at the expense of himself. He knows by now the original challenge was a weird one to make.

He even said the Mission Impossible star would "whoop [his] ass" in a fight. However, the fact he keeps bringing it up has some people really wanting to see it.
And I mean, REALLY want to see it.
I just really wanna see Tom Cruise and Justin Bieber fight

— Bill Hill (@Bill Hill) 1562708743.0
@people Man I can't stand this kid. Team Cruise

— Jennifer (@Jennifer) 1562611539.0
The initial tweet led to a spate of challenges against other stars who are 31 years older than their challengers. This was a strange mix as people called out the likes of Sam Waterson, Sally Field, and Jackie Chan.

(Side note: Sean Bean, if you're reading this, my challenge still stands. Anytime. Anywhere.)
Bieber has claimed it was just a bizarre joke, a random tweet like he sometimes does. But I'm not buying it.
This is too often and specific.
We gotta ask: Why Tom Cruise?
@enews Why is he so obsessed with fighting Tom Cruise ? 🤷🏻‍♀️😂😂

— Yailin kropfelder (@Yailin kropfelder) 1562613939.0
Justin Bieber's random beef with Tom cruise is funny af

— 薩利赫 (@薩利赫) 1562720884.0
@TMZ Tom : https://t.co/LXjzGcpTdh

— Larissa C. (@Larissa C.) 1562548347.0
@HubbOnTheBird @ChicksInTheOff @barstoolsports Yea forreal. What is this whole thing about?

— Dennis Reynolds (@Dennis Reynolds) 1562545558.0
In the strange month since the initial challenge, Cruise has not responded or commented on the possibility of a fight with Justin Bieber. Which is understandable.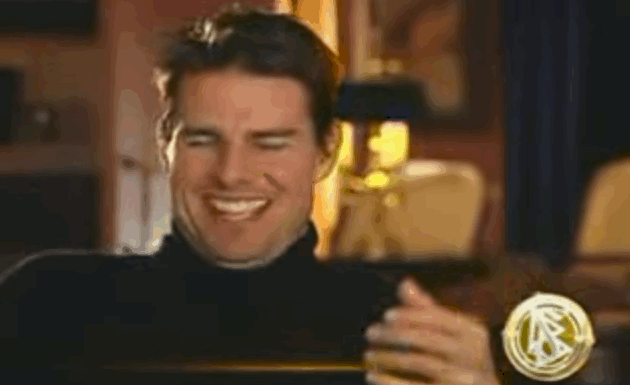 Giphy
That said, Hailey did take the challenge her husband gave and performed her own bottle cap kick from a four-wheeler.

Maybe she could fight Tom Cruise in Bieber's place?
Keep reading...
Show less
It looked like Justin Bieber was in trouble with the police earlier this week.
However it was just a misunderstanding, and a quite amusing one at that.
While out and about Wednesday, the pop star was stopped by a police officer. The cop was concerned about the singer's sneakers.
Bieber was wearing limited edition Nike Air Max 90, part of a collaboration with the Off-White brand. The sold out shoe includes a white zip tie looped through the laces, giving the appearance of a security tag.
You can see where this is going.
@JBCrewdotcom He's such a goofball 😂😂😂

— bernadette 💍👰🤵💒 (@bernadette 💍👰🤵💒) 1553777259.0
@people That seems like a significant flaw in the design.

— J. Reid Sheppard (@J. Reid Sheppard) 1553773916.0
@people 'Design Feature' 🤣how fucking stupid.

— Poppi (@Poppi) 1553746096.0
It was pretty convincing, apparently.

Bieber began the Instagram story where he talked about the encounter with this:
"Virgil, my God, bro. You're freaking — you're killing me, man,"

Virgil Abloh is the founder of Off-White and helped design the shoes.
Bieber continued describing the encounter, saying:
"I had to tell him, 'Bro, it's just fashion."

The cop wasn't so easily convinced.
"I don't know. He's like, 'It sure looks like a security tag.'"

It's a pretty understandable mistake, right?
"I'm like, 'Nah, bro, you can check it out.' It looks like it though… but you're getting me in trouble!"

Honestly, how different is this from leaving the tags on clothes?
@VanityFair Kids are leaving the tags on, again?

— carneinsideyou (@carneinsideyou) 1553816391.0
@JBCrewdotcom @JBCrewposts can I laugh at this dork 😂😂😂

— YouKnowBTS? (@YouKnowBTS?) 1553770022.0
@thisisinsider If he's so into fashion, why does he try so hard to look homeless?

— Angelo (@Angelo) 1553803094.0
@thisisinsider Not news. Not fashion.

— Leon Pringle (@Leon Pringle) 1553788756.0
The shoes were part of a limited edition run. While they initially retailed for $160, they're found on the second hand market for a few hundred more.

Bieber and his wife, Hailey Baldwin, are both big fans of Off-White and its designer, Abloh.
Though maybe next time they can get something that doesn't give the impression it's stolen.
I mean, you had to have known the kind of reaction this would get.
@thisisinsider How is this fashion?

— Jason Pottinger (@Jason Pottinger) 1553788640.0
@thisisinsider How is this news

— Carlos (@Carlos) 1553788542.0
Bieber has his own clothing brand he should have stuck with wearing.
Drew House launched in January with shirts, sweatshirts and sweatpants, emblazoned with his logo.
The pieces quickly sold-out.

Keep reading...
Show less
After a turbulent year of touring, a new marriage and a baby on the way, Canadian singer-songwriter Justin Bieber says he's taking some time off from music to focus on his mental health and family.
It's been almost four years since the release of Justin Bieber's 2015 album Purpose and patient fans have been eagerly awaiting the next project from the 25-year-old pop-star for a while now. Sadly for them, they're going to have to wait a bit longer.
On Monday, Bieber took to social media to announce that he's taking a break from music.
In a heartfelt message posted to Instagram, Bieber explained to fans that for the time being he plans on focusing on his marriage and what he called "deep rooted issues."
Bieber wrote in part:
"So I read a lot of messages saying you want an album .. I've toured my whole teenage life, and early 20s, I realized and as you guys probably saw I was unhappy last tour and I don't deserve that and you don't deserve that, you pay money to come and have a lively energetic fun light concert and I was unable emotionally to give you that near the end of the tour," Bieber wrote.
"I have been looking, seeking, trial and error as most of us do, I am now very focused on repairing some of the deep rooted issues that I have as most of us have, so that I don't fall apart, so that I can sustain my marriage and be the father I want to be."
Although disappointing, Bieber's announcement is unlikely to surprise fans familiar with his recent troubles.
Earlier in March, Bieber shared with fans on Instagram that he had been "struggling a lot" and "feeling super disconnected and weird."
Later on Monday, after announcing his sabbatical Bieber, mixed it up with a troll account on Instagram in the comments of a post he made about his wife Hailey.
Bieber tore into the user behind the troll account @jaileyisajoke, which is dedicated to criticizing the couple's marriage.
After accusing Justin of marrying Hailey to get back at his ex Selena Gomez, Bieber admitted to still having feelings for Gomez but denied the claim and asks fans to stop sending hurtful messages to his wife.
Although fans may have been expecting a new album from Bieber on the horizon most were glad to hear that Bieber would be taking the time to focus on himself and his marriage.
Even though he's stepping back from music for now, Bieber assured fans he'd be back and better than ever soon.
"Music is very important to me but Nothing comes before my family and my health," Bieber wrote. "I will come with a kick ass album ASAP."
So while it may be a while before some new music fans can keep on "Beliebing."
Keep reading...
Show less