After the controversy behind this year's Super Bowl Halftime Show, Jennifer Lopez has finally spoken out about the response.
She responded to the criticism during an interview with Variety at the Spirit Awards, to which she had a powerful response.
While the performance was a clear hit amongst most fans, some viewers felt the performance was "too sexy" and even "pornographic."
J-Lo, of course, responded with class.
Jennifer Lopez has to laugh off the critics who called her #SuperBowl performance with Shakira "too sexy," saying t… https://t.co/NBoGxv9Va9

— Variety (@Variety) 1581203691.0
Lopez was able to laugh about the criticism before delivering her answer.
"That's honestly silliness," said J-Lo.
"Both of us are really respectful performers who are moms, who have kids, who are very conscious of what we do."
"We did a show that I believe was a celebration of women and our Latino culture that was really well received. And that small faction of people who want to be negative about it, it's not something I can even let in because it was such an amazing night, and so many beautiful things came out of it."

"The message of standing up for yourself, being a woman – that's what I want to pass on to little girls. You're strong, you're beautiful — everything about you, be proud of it."
She's not alone.
In fact, many people were quick to jump to her defense on Twitter, citing the hypocrisy and double standards in comparison to last year's halftime show.
@bawbbysdead @stupidlovegaga2 Well they didn't have a problem with POTUS's Access Hollywood video "just grab their… https://t.co/B0aAMoaex8

— Decency+Democracy Win! Biden-Harris2020 💙🇺🇸 (@Decency+Democracy Win! Biden-Harris2020 💙🇺🇸) 1580756297.0
@bawbbysdead If they raise a stink and we are stuck w maroon 5 type boring again I'll be livid

— tina d (@tina d) 1580740342.0
Others thought the judgement was just plain dumb.
@Variety THIS IS HER ART. Her professional life.

— LadyB (@LadyB) 1581206076.0
@Variety @KaiseratCB she doesn't 'have' to laugh, but I suppose it's better than saying "don't choke on your clutched pearls"

— 🦇 LadyBatGirlKimberley 🐝🌹🕯 (@🦇 LadyBatGirlKimberley 🐝🌹🕯) 1581208185.0
@Variety Wouldn't it have been easier just to change the channel?

— Not Melania's Husband (@Not Melania's Husband) 1581203809.0
J-Lo had no regrets regarding the performance. In face, she's extremely happy with how it went.
"I'm very proud of the performance that night," she said.
Keep reading...
Show less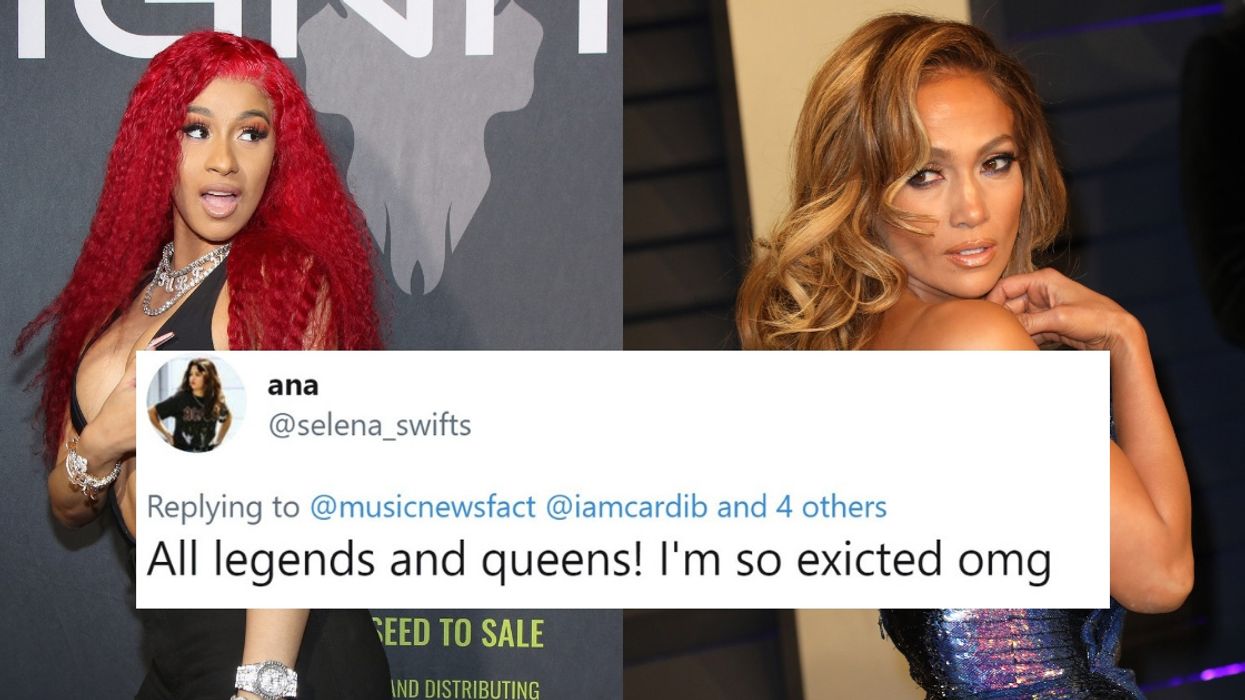 Randall Michelson/Getty Images for Ignite; Tony Barson/FilmMagic/Getty Images; @
selena_swifts
/Twitter
Cardi B is going to the movies!
Deadline has just reported that Cardi B is making her big screen debut along side Jennifer Lopez in a movie about strippers getting revenge on their Wall Street clients. The film is called Hustlers, and will be written and directed by Lorene Scafaria.
Cardi has previously worked with Lopez on the song Dinero, but this will be their first time in a movie together.
This is a pretty big step for the recent Grammy winner.
@Collider @HustlersMovie @iamcardib @lilireinhart @KekePalmer @ConstanceWu @JLo @LoreneScafaria Cardi you're gonna KILL IT SIS! ❤️

— Cardiana 🔥 (@Cardiana 🔥) 1553029335.0
@musicnewsfact @iamcardib @ConstanceWu @JLo @KekePalmer @HustlersMovie All legends and queens! I'm so exicted omg

— ana (@ana) 1553027589.0
@Collider @iamcardib @lilireinhart @KekePalmer @ConstanceWu @JLo @LoreneScafaria Love this cast

— Trash Panda 🗑🐼 (@Trash Panda 🗑🐼) 1553015852.0
@XXL 'Dat's dope. Keep winnin' queen.

— Talksho (@Talksho) 1553084351.0
The movie is about a group of former strippers during the aftermath of the 2008 financial crisis. The women are working together to scam their Wall Street clients out of money
Adam Fogelson, chairman of STXfilms which is producing the film, said,
"We could not have asked for a more exciting or talented lineup of performers to join our cast."


They will be joined by an all-star cast, including Constance Wu, Keke Palmer, Julia Stiles, and Lili Reinhart. More names are in talks for the film as well.
@musicnewsfact @iamcardib @ConstanceWu @JLo @KekePalmer @HustlersMovie Constance underrated

— 🅢🅔🅣🅗 (@🅢🅔🅣🅗) 1553041712.0
@PopCrave I'm so happy for Cardi, it's always good to see a women be a badass & turn the tables. I love me some Kek… https://t.co/CF18Fz4MLf

— Tay (@Tay) 1553122664.0
@shadowandact @iamcardib @JLo @ConstanceWu @KekePalmer @lilireinhart + you're doing phenomenal huntaaayyy!! https://t.co/0pfFnbcHGs

— levauni, (@levauni,) 1553027560.0
Cardi has a little history with acting. She starred in seasons 6 and 7 of Love and Hip Hop: New York. More recently she guest starred on an episodes of the BET drama, Being Mary Jane.
This movie will be the rapper's first film, and it feels poignant that she is playing a stripper. Cardi has made no secret of her previous profession, and would like to see it better respected.
In an interview with Cosmo last year she said,
"People ask, 'Why did you strip?' I don't really want to say, 'Oh, because I was in a relationship with a guy and I needed money to leave.
"People say, 'Why do you always got to say that you used to be a stripper? We get it.' Because y'all don't respect me because of it, and y'all going to respect these strippers from now on."
@PopCrave this is gonna be epic

— Pooja! (@Pooja!) 1553049159.0
@shadowandact @iamcardib @JLo @ConstanceWu @KekePalmer @lilireinhart I can't wait for this

— Tiffani (@Tiffani) 1553112868.0
Filming for the new movie is scheduled to begin at the end of the month in New York City. This movie about dynamic women scamming rich men out of money cannot come soon enough.
Keep reading...
Show less
Jenny from the block is ready to walk down the aisle once again with her beau, Alex Rodriguez.
The gorgeous pair had been dating for two years, and fans have long awaited the announcement of their engagement.
Alex Rodriguez, 43, officially broke the wonderful news of his engagement to J-Lo, 49, on his Instagram page and captioned the photo of their hands, simply with, "She said yes."
Rodriguez popped the question while they were on a romantic beach getaway in Bakers Bay, Bahamas.
Lopez also shared the same photo on her Instagram page and also kept it simple with a number of black heart emojis.
The former MLB player's rep Ron Berkowitz confirmed the forthcoming nuptial and told PEOPLE:
"They are on vacation and got engaged today."
The photos themselves spoke a thousand words. But what's really got the public buzzing is that glorious rock on J.Lo's finger.
In response to Jessie's tweet, below, yes, we shall.

Can we talk about how HUGE J.Lo's engagement ring is https://t.co/JsS3TOnqjT

— Jessie (@Jessie) 1552188641.0
Now, about that diamond ring. Andrew Brown, the President of WP Diamonds, estimated that the ring is worth about a million buckaroos. And we thought J-Lo's love don't cost a thing.

Brown confirmed with E Online:

"I would imagine Jennifer Lopez's engagement ring to have a retail value approaching a million dollars. It looks to be an emerald cut around 10 carats, likely an extremely good stone—VS in color and clarity."
J Lo's ring is wild. I'm jealous

— emmy (@emmy) 1552195774.0
J Lo's ring, my goodness. 😍😍😍

— Carebear👸🏽 🐻 (@Carebear👸🏽 🐻) 1552184561.0
J lo's ring. Omg. Its perfect.

— Ashley Marquez (@Ashley Marquez) 1552235565.0
Lauren McCawley, another jewelry and style expert, vouched for the ring's worth.
"J. Lo's new emerald cut stunner is what engagement ring dreams are made of. An approximate 15-carat diamond sparkles in a platinum solitaire setting and could easily retail for $1 Million."
At that price, the ring must serve another purpose other than blinding people.
@enews Is the ring to stop people looking at her ass?...

— Richard Moore (@Richard Moore) 1552227078.0
@enews What about it?! Has it got magical powers or something??! Nope just a ring!

— Trace (@Trace) 1552189451.0
Ira Weissman, founder of The Diamond Pro, thinks the emerald cut stone could exceed the million dollar mark in value.

"This approximately 20 carat emerald cut diamond is exquisitely cut and of superb quality. When you have an extremely rare and timelessly breathtaking stone such as this one, the goal of the ring should be to show off the rock naturally with as little embellishment as possible - the perfect compliment to the ageless enduring beauty of J.Lo."
"The ring is worth approximately $5 million dollars."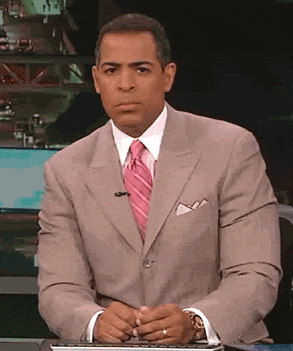 media1.giphy.com
The ring hits both of these criteria, sufficiently.
@enews It's expensive and heavy. That is all I have to know

— Mari dos cachos (@Mari dos cachos) 1552188843.0
That size, tho.
J Lo's engagement ring is bigger than my head #goals

— Allison Lavergne (@Allison Lavergne) 1552192780.0
@aaammmberD How she's gonna walk around with that on her hand!!!! That's insane😳😳😳

— Allison Lavergne (@Allison Lavergne) 1552193059.0
J.Lo's engagement ring is the size of a small town.

— Kara Devanney (@Kara Devanney) 1552184955.0
J Lo's engagement ring is bigger than my future https://t.co/MKguy3r3Xp

— ~Brittany~ (@~Brittany~) 1552186469.0
The Second Act star first met Rodriguez in 2005 at Shea stadium when the Yankees were playing the New York Mets. Fate brought them together 11 years later when Lopez approached him at the same restaurant in Beverly Hills where she was enjoying her lunch. Later that evening, he asked her out on a dinner date at the Hotel Bel Air, and the rest is history.
This would be A-Rod's second marriage after Cynthia Scurtis filed for their divorce on July 7, 2008; and it will be Lopez's fourth. She was previously married to waiter Ojani Noa (1997 to 1998), dancer Cris Judd (2002 to 2003) and singer Marc Anthony (2004 to 2014)
The couple had already introduced their children to each other early in their relationship. Lopez retains primary custody of her 11-year-old twins, Maximilian David and Emme Maribel, with whom she had with her ex-husband Marc Anthony; and Rodriguez has two daughters – Ella Alexander, 10, and Natasha Alexander, 14.
The retired athlete told Extra in a 2017 interview:

"Our kids get along really well. We're both from New York, we're both Latin, we're both in our 40s, we're really enjoying life, but she really is one of the most impressive and smartest human beings I have ever met."
Congratulations to the happy couple!

Keep reading...
Show less
Jennifer Lopez is an icon. She is a celebrated singer, dancer, actor, and host. She's also drop-dead gorgeous, to boot. And now she's showing off that body-ody-ody in a Valentino cape.
She shared the photo on Twitter this past Wednesday.
The look was put together for In Style's December issue.
J. Lo slayed everyone.
Others thought about trying this look on their own.
And most couldn't get over how flawless she looked.
And Lopez even shared some life tips with us.
Jennifer Lopez is undeniably gorgeous, but she is also an entrepreneur and one of America's greatest success-through-grit-and-determination stories. Brava, J. Lo!
The blockbuster movie "The Hangover" is just entertainment, not a blueprint for a fun night out before your I Do's.
Keep reading...
Show less