But unlike most celebrity coming out stories, Jamil's wasn't inspired by a new relationship or a moment of self-actualization. Rather, it comes on the heels of a fiery online backlash over her role in a new project.

Earlier this week, streaming platform HBO Max announced that Jamil will be the MC and one of the judges of its forthcoming series Legendary, a reality competition show that will center on the competitive vogueing found in LGBTQ drag ball culture. An immediate backlash ensued over Jamil, an outsider to ball culture, being an inappropriate choice for the show.
It was this backlash that prompted Jamil to come out, in a post on Twitter.
In the post, Jamil addressed both the backlash and why she never came out previously:
"This is why I never officially came out as queer..."
"...I kept it low because because I was scared of the pain of being accused of performative bandwagon jumping, over something that caused me a lot of confusion, fear and turmoil when I was a kid."
So why the backlash?
For the uninitiated, Ball culture, which has recently enjoyed pride of place in the mainstream consciousness due to the FX series Pose, centers on groups of LGBTQ people, especially people of color and transgender individuals, who arrange themselves into associations called "houses" and compete—at vogueing, fashion shows and other exploits—before a panel of judges at events called "balls."
Ball culture also arose as a safe haven for queer people in a time when society was even more openly violent and hostile toward the LGBTQ community than it is today. As such, ball culture is deeply important to and fiercely guarded by its members.

Which is where the backlash comes in.
Many LGBTQ people felt Jamil was an inappropriate choice for Legendary, especially since prominent LGBTQ people from the ball scene itself, like Transparent actress Trace Lysette, a trans woman, were passed over in favor of Jamil, a total outsider to the ball scene.
And many felt Jamil was appropriating a culture that was not hers.
People were especially angry about Jamil being the MC rather than one of the show's other stars like ballroom legends Dashaun Wesley, Leiomy Maldonado or DJ Mike Q.
Jamil called this a mistake on the part of Hollywood news outlet Deadline...

...as well as the HBO press department.
Jamil clarified that she is only a judge, along with rapper Megan Thee Stallion and America's Next Top Model judge Luxury Law.
Jamil further underlined her reason for joining the show in her coming out post.
"I know that my being queer doesn't qualify me as ballroom. But I have privilege and power and a large following to bring to this show..."
"Sometimes it takes those with more power to help a show get off the ground so we can elevate marginalized stars that deserve the limelight and give them a chance."
It was a sentiment that her costars shared.
Pose star Indya Moore, after speaking with Jamil directly, also echoed the sentiment.
But, naturally, the wider internet's responses to Jamil's announcement varied quite a bit.
Some gave heartfelt support.
But many others were not having it.
In any case, Jameela is who she is, and the show goes on—filming starts today according to Jamil's post. Soon the media landscape will have a bit more LGBTQ representation, which can only be a good thing.
Keep reading...
Show less
Jameela Jamil, an actress and activist who plays Tahani Al-Jamil in NBC's The Good Place, is speaking out against Georgia's recent anti-abortion legislation.
The law makes all abortions illegal after a fetal heartbeat can be detected, generally around 6 weeks—often before a pregnancy is even discovered.
Jamil took to Twitter to voice her opposition to the law, and the damage that it will do.
She called the law:
"upsetting, inhumane, and blatantly demonstrative of a hatred of women, a disregard for our rights, bodies, mental health, and essentially a punishment for rape victims, forcing to carry the baby of their rapist."
This anti-abortion law in Georgia is so upsetting, inhumane, and blatantly demonstrative of a hatred of women, a di… https://t.co/MC6bhzzzHv

— Jameela Jamil 🌈 (@Jameela Jamil 🌈) 1557774247.0
She went on to reveal that she had an abortion when she was younger and called it "the best decision I ever made."
She wasn't prepared emotionally, psychologically or financially to support a child, and decided not to bring a child into the world under those circumstances.
She also cited the increase in children who will end up in foster care because of the law.
An already overcrowded foster care system isn't prepared or able to deal with a sudden influx in children needing placements.
I had an abortion when I was young, and it was the best decision I have ever made. Both for me, and for the baby I… https://t.co/IzQmHBHgJS

— Jameela Jamil 🌈 (@Jameela Jamil 🌈) 1557774248.0
She clarified later in the thread that she meant nothing against foster parents. They provide valuable care to children who are in need of a loving home.
Further taxing an already overtaxed foster care system won't help anyone, least of all the children needing foster homes.
Ps.. this isn't any diss at ALL to foster homes. I'm in awe of people who take in children in need of a family and… https://t.co/xkGOy53edi

— Jameela Jamil 🌈 (@Jameela Jamil 🌈) 1557775367.0
The comments on Jamil's thread were largely people criticizing her for her decision to have an abortion or attacking her character.
There were some who appreciated her candor, though.
@jameelajamil Thank you for sharing your story. I appreciate your candor and courage.

— Super Left Democrat (@Super Left Democrat) 1557935471.0
@jameelajamil Thank you for being brave enough to share your story.

— WilyOtter (@WilyOtter) 1557933558.0
@jameelajamil Thank you for saying what so many women have been shamed into keeping secret. Choice not only gives u… https://t.co/HRJIcBdocJ

— Deborah Edwards (@Deborah Edwards) 1557932096.0
A few people had words for those that were being willfully obtuse and missing the point of Jamil's message.
@jameelajamil It's her decision. That's the point. Everyone should make the decision that best for them instead of shaming women.

— Connor Justice (@Connor Justice) 1557925400.0
@jameelajamil @YNB What is wrong with people? If you don't agree with abortion then don't have one. And wait, doesn… https://t.co/qn6p9lVKUI

— Ricky Quarequio (@Ricky Quarequio) 1557799897.0
@jameelajamil It takes a lot of courage to be open about this - thank you. I know at least two women for whom this… https://t.co/CXElWcoDiH

— Droooooooooo (@Droooooooooo) 1557941920.0
@jameelajamil I think people are missing the point that you were trying to make about a child ending up in foster c… https://t.co/BhOMfXXJHJ

— Precious (@Precious) 1557923352.0
It is a fact that there are many loving foster and adoptive families, but it is also a fact that there are many less than stellar ones. Children placed in foster care don't have the luxury of choosing only to live with the good families.
Many of the arguments against Jamil's message also ignore a pregnant person's right to bodily autonomy.
Laws like this are not going to make people suddenly stop having unwanted pregnancies; they are much more likely to just make people seek unsafe alternatives when safe, legal abortions are not an option.
Keep reading...
Show less
Jameela Jamil, star of NBC's The Good Place and advocate for body positivity, recently responded to an Instagram story from Khloé Kardashian on Twitter. Though Kardashian was likely only posting the meme to get a few relatable laughs, Jamil believed it was propping up a harmful mindset women are pressured into having.
On her Instagram story, Khloe posted a meme which read:
"2 Things a girl wants: 1) Lose Weight 2) Eat"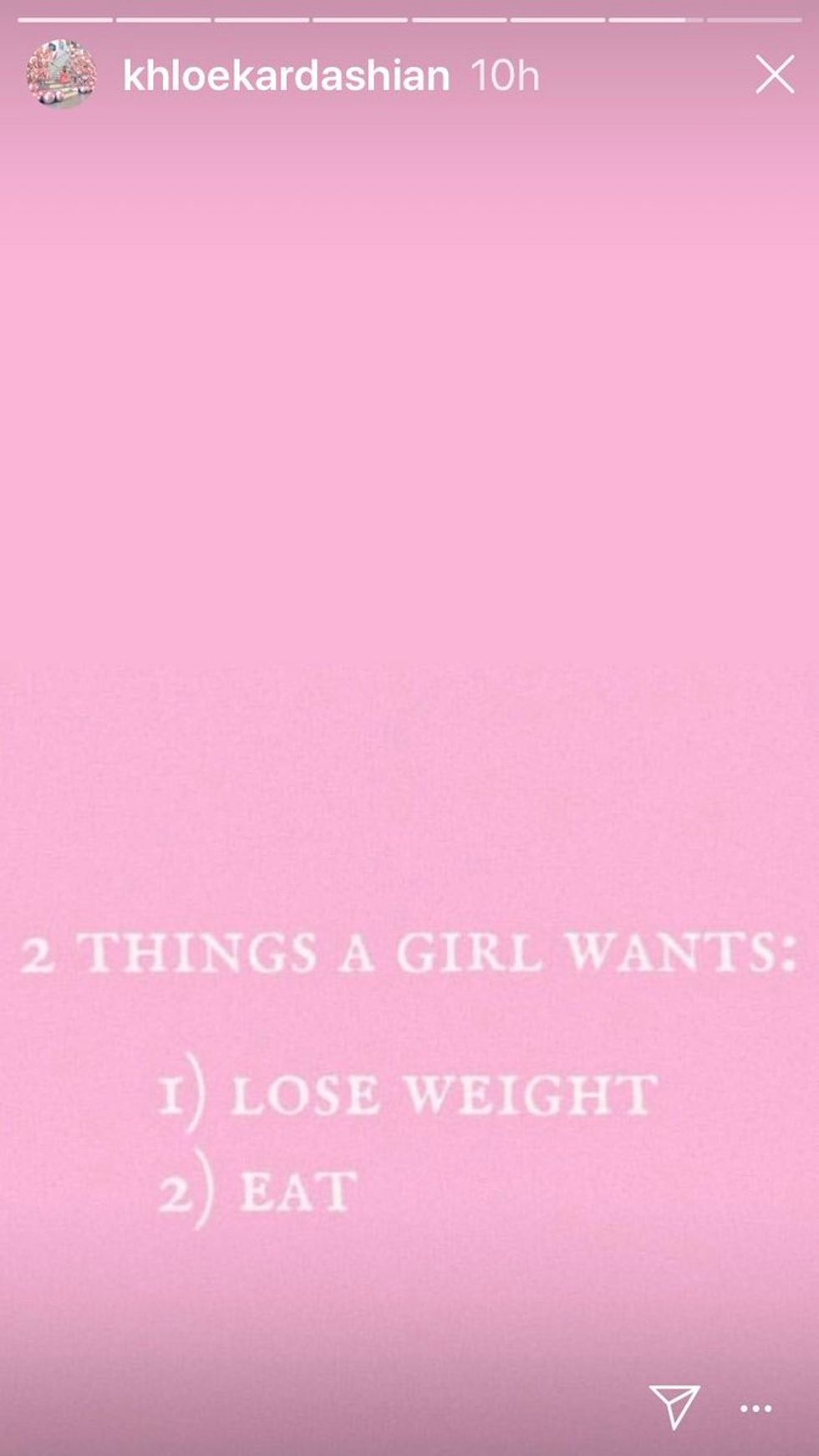 Twitter: @JameelaJamil
Jamil responded, saying:
"This makes me sad. I hope my daughter grows up wanting more than this. I want more than this. Sending love to this poor woman. This industry did this to her. The media did it to her. They fat shamed her into a prison of self critique. Dear girls, WANT MORE THAN THIS."
Twitter was loving Jameela's perspective:
Some people, however, thought that Jamil was taking what was meant to be a joke a bit too seriously:
Jamil is known for standing up for body positivity whenever she can. She's clapped back at celebrities like Iggy Azalea, Cardi B., and Amber Rose for selling "shady diet products," once going so far as to tweet:
"When will these women who are covered in plastic surgery stop telling their followers to drink a laxative to look like them? It's so embarrassing and it's so encouraging of eating disordered behavior. BE BETTER ALLIES!"
Jamil has a history with the products many of her fellow celebrities endorse, and she doesn't want to see any young girls fall into the same path she did.
At one point, Cardi B tried to respond to Jamil, writing in a comment:
"I will never sh*t my pants cause there's public restrooms everywhere… oooo and bushes."
Jamil did not let the joke slide.
When some online began accusing Jamil of wanting to "cancel" women, she responded thoughtfully:
When all is said and done, Jamil seems to have the right take.
Keep reading...
Show less