When I was younger I hated the stars. Not the Hollywood kind, the space kind. Before I truly comprehended gravity I thought they were just electric shocks if you will that would one by one fall from the sky to kill us. It's why I also detested lightning, I swore every strike of lightning was an Earth blow scorching the ground. Yeah.... rainstorms at night were traumatizing. Now I adore the rain and the stars but lightning can still send me running for vodka. Oh the things that send us reeling as children.
Redditor
u/Shay_da_la
wanted to know what things deemed inconsequential by others left an emotional scar on others when they were younger by asking....
What's a harmless thing that terrified you as a child?
The Death Beep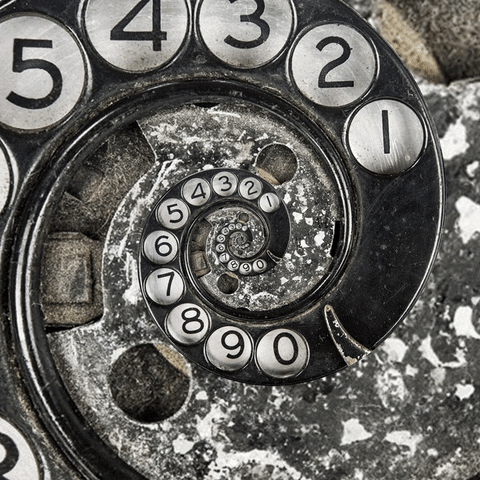 calling phone call GIF by Feliks Tomasz Konczakowski
Giphy
The busy tone when a call went dead. That used to scare the crap out of me.
I think we're conditioned from scary movies. Like that white noise static tv. Thank God those things no longer exist.
Wrath
That damn alligator under my bed that wanted to eat my feet. You gotta turn the lights out and jump in bed quick to avoid its wrath.
And tuck the sheets in under you with no limbs exposed so it couldn't get you?
The sheets. Stay. Tucked. Also, I always imagined a hand or demonic mouth getting me from under the bed.
Falling....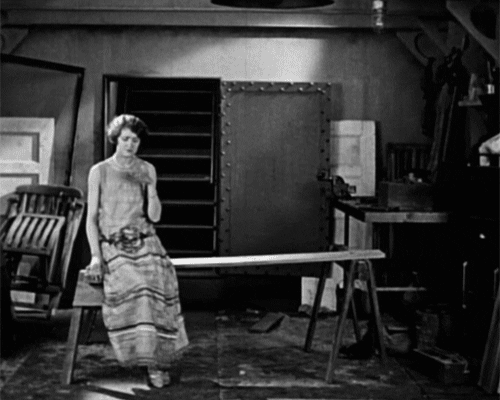 buster keaton kathryn mcguire GIF by Maudit
Giphy
Whenever the floorboards creaked, I imagined myself or my bed falling through the floor into the basement.
Happened to a neighbor's daughter. 13 year old girl, chilling in the bath. There's a creak and next thing the bath is in the kitchen. She wasn't hurt.
Shallow....
That little rope of buoys that separated the deep end from the shallow end in the pool.
Yes! I'm 35 and those still creep me out. Not to mention those large buoys in lakes/oceans. I'm not much of a swimmer bc pretty much anything in the water (including dark water itself) creeps me out.
EDIT : I do already belong to submechanaphobia and thalassophobia subs. Creepy stuff!
drained...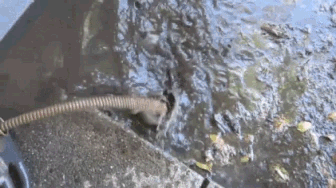 drain Draining GIF
Giphy
I thought the bathtub drain would suck me down with the water.
'it's what took Terry's leg'
Terry Fox.
So in Canada we have Terry Fox Day and the Terry Fox walk because this guy, Terry Fox, tried to run across the country on one leg to raise cancer awareness.
My child brain however didn't quite understand why. I didn't really understand what cancer was and nobody would tell me anything more than 'it's what took Terry's leg'. I assumed it was a person or something.
So all I knew was that we were walking because a dead man with one leg said we should spread word about Cancer who stole his leg and giving him money. I was so scared that if I forgot to donate or if I missed the walk that Terry Fox's ghost would come with whoever Cancer was and take my leg too.
Edit: I'd just like to say thank you all so much for all the upvotes and rewards! I've never had a comment blow up like this before, so just- Thank you! Glad you all enjoyed my silly childhood story. 😊
Choppers....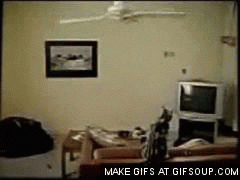 cat flying GIF
Giphy
Ceiling fans. I was afraid that it would come off the ceiling still spinning and chop me up like a helicopter blades. That and millions of bugs crawling through the windows and covering my bed like the plastic casket things people used to lay in on fear factor.
Into Oblivion....
Escalators scared the crap out of me. Trying desperately to fit within a rectangle before it becomes a step, jumping off of them at the end to avoid being sucked down into oblivion. And there was one or two anecdotal stories from the news to convince me that they were, in fact, killers.
The Glow....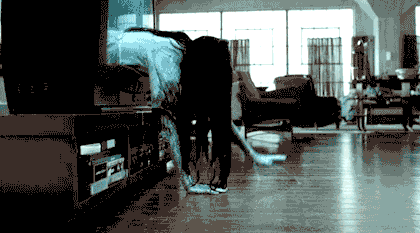 scary the ring GIF
Giphy
Old televisions right after you turned them off, they would glow for a bit. That's when the monsters could come out of the TV and get you.
Why Hulk? Why?
I was on the toilet, and for some unthinkable reason i was scared that the hulk would come out the toilet and shove a knife up my butt. Why the hulk? either way, it freakin confuses me.
Want to "know" more? Never miss another big, odd, funny, or heartbreaking moment again. Sign up for the Knowable newsletter here.

Keep reading...
Show less