You've probably heard intuition described in a number of different ways.
It can be likened to a "gut feeling" or "a little voice in your head" and you've likely been told to listen to it when it speaks.
Why?
Because it can get you out of trouble, most likely.
Intuition has been defined as the ability to understand something immediately, without the need for conscious reasoning, and it's saved people more than once.
People shared their most impactful experiences with their intuition after Redditor throwawaystheway asked the online community:
"What has been your most spine-tingling, bone-chilling, 'I have a bad feeling about this' experience? What happened?"
"I was walking to get groceries..."
"I was walking to get groceries and expecting a message from my gf with a shopping list. Felt a phantom vibration from my phone, stopped for a second to check it and right then a chunk of ice the size of a grapefruit smashed into the street directly in front of me, where my head would have been."
ToxicosisJones
Ice is terrifying – I narrowly missed getting clobbered on the head by a piece of ice once myself.
It freaks you out!
"One week later..."
"Me and my friends were waiting for a bus when a group of guys came along. One asked us for a dollar (which we gave him) and then they just stayed to chat."
"They were perfectly nice, but all 3 of us had a really bad feeling. They asked us if we wanted to come to a party with them, we said oh no thanks, gotta get home."
"One week later, one of the guys was on the front page of the newspaper. He had just been released from prison for stabbing someone, and had done it again that night."
lorealashblonde
Thankfully you listened to your intuition and got out of there!
Terrifying.
"The one that was the most impactful..."
"The one that was the most impactful was the time everything in my body was telling me to go see a sick friend. They'd been diagnosed with cancer, and it wasn't looking great, but last time we spoke they were getting by. I sat at my desk, gritting my teeth, and then went 'f*ck it,' and bolted from work."
"In a house full of people, I was the only one with them when they passed."
Teacher_too
Hopefully the fact that you were able to be with them gave you some closure.
"I was solo backpacking..."
"I was solo backpacking within Inyo National Forest, I had just set up camp and was walking beyond this lake and up above the tree line. After walking about a quarter mile up this meadow the hairs on my neck began to stick straight up, instant chills."
"Didn't know what reason but the gut reaction was enough for me to return to camp. Next morning on the way back to the car a Ranger asks me to be careful, mountain lion sightings in the area. I think I found out why my internal alarm went off."
Trav_Nasty
Mountain lions are terrifying and it's not likely you would have made it out of there alive or without, at the very least, serious injury.
Good thing you listened to your intuition!
"A few years ago..."
"A few years ago a group or friends and I went out clubbing. We went into this one bar, and the moment I stepped in the door I felt a sense of dread. Every cell in my body was telling me, 'Get the hell out of there!' so after about 20 minutes, I convinced my friends that something felt really wrong, so we left and went home.
"The next day there was a news story about the club. There had been a shooting on the street in front of it and the people who had committed the shooting had been inside the club while we were there."
100aliens
Assuming you are in the United States and considering how many mass shootings there are, it's a good thing you got out of there.
"I work in a bar..."
"I work in a bar in Southern California and while I was pouring a beer during the day shift I had this very weird feeling about an earthquake happening. Nothing was shaking or anything... I just got this weird image of everything coming down briefly."
"Seven hours later the shift is over and I'm at home on the couch watching TV (completely forgot about earlier) and WHAM massive earthquake hits and knocks a ton of stuff down in my apartment."
"Creepy to me!"
Grahf88
Earthquakes do not last long but they can be really unsettling!
"When I was 17..."
"When I was 17, I was hanging out with a friend and a decent looking college guy started talking to us."
"We both had this weird fantasy of wanting to date one of the guys from the local college (a decently well known college that caters to music/movie/animation/game design type stuff ---- I eventually married one, its not THAT cool, but I digress...)."
"Anyways, he invited us up to his apartment to watch one of his film projects and we agreed (like idiots). First off, he had NO furniture in his apartment. Just a couple pillows on the floor, and a TV and DVD player... also on the floor."
"The film was really REALLY uncomfortable to watch and I got really sketched out so I told my friend we needed to leave."
"A few days later she told me she hung out with him again. In a very serious tone, he asked her if he could film himself killing her and having sex with her corpse for a project."
"Maybe he wasnt actually serious, but who the f*ck asks that??? She managed to leave and we never did see this guy again. I wish I knew his name to see what he got up to."
StreberinLiebe
This is pretty terrifying and let's just say I'm glad your friend did not end up on an episode of Forensic Files or Dateline.
"He ended up being suspended..."
"I was always uncomfortable around a mutual friend at university. Nothing specific but whenever he was around, the hairs stood up on the back of my neck. He was friendly enough, but always felt off. When there was only a seat left next to him at lunch, I would go eat by myself."
"He gave me a hug once and it was like touching a dead spider, I felt disgusting afterwards. He ended up being suspended from campus due to sexual assault allegations."
manlikerealities
Some people can't help but give off a creepy vibe and if you do get that, run.
"On a random day..."
"On a random day, I don't even remember what I was doing, I suddenly had a very horrible feeling. I immediately thought of my grandfather, but I brushed it off because I sometimes have random bad thoughts for no reason."
"I kid you not, an hour later, my father calls me. He never does that. He goes 'I have bad news' and I just new it was my grandfather. It sounds mean when I say it, but I was relieved to hear he was just in the hospital and not worse. He had an emergency surgery and made it."
"He's still with us today, but that was quite the experience for me, especially considering I wasn't with him and I just knew."

MEsyas
Glad to hear your grandfather survived!
What a relief though this was certainly an unsettling experience.
I guess the moral of the story is always trust your gut.
Want to "know" more?

Sign up for the Knowable newsletter here.
Never miss another big, odd, funny, or heartbreaking moment again.
Keep reading...
Show less
Sixth sense, hunch, spidey senses tingling, or gut feeling: no matter what you call it, we all have had that feeling at one point or another. Not everyone is as in tune with that feeling as some, but when we have that feeling it's important to listen to it. It could be life or death.
Science tells us that there's actual physical feelings associated with the gut feeling due to our gut-brain connection. Signals from our brain can actually cause intestinal signals to bubble up. It can come in a moments notice. Sometimes feeling a little like anxiety or even "hearing" a voice in your head telling you something might be off.
Healthline says:
"Research links these flashes of intuition to certain brain processes, such as evaluating and decoding emotional and other nonverbal cues."
Want to "know" more? Never miss another big, odd, funny, or heartbreaking moment again. Sign up for the Knowable newsletter here.
My number one rule in life has always been "trust your gut". Your body and brain know you better than anyone, and are able to warn you when something just isn't right. Your gut is there to warn you- listen to it. Here are a few examples, courtesy of the kind people over at Reddit.
u/IChronoI asked: Hey Reddit, when did your "something's not right here" gut feeling ever save you?
A good save.
I went to hospital with shortness of breath and my heart racing. They did a chest x-ray, blood test for blood clots, ECG, and a few other tests but all came back normal. After observing me overnight everything still looked good, oxygen saturation was perfect, my heart rate was still a bit elevated but nothing too crazy, and it seemed that it was likely leftover symptoms from a bad virus that I'd had a week or so earlier.
The ER doctor asks me how I would feel if they sent me home and I just had a bad feeling about it all. I told him as such and that I had no real basis for it except that I just felt off about it. He said fair enough, let's try one more test and if that comes back negative then we'll send you up to General Medicine and see if they can track something down.
That test was a VQ scan that found despite all other tests showing no results for blood clots, I actually had a whole bunch of them in both lungs. I ended up with a diagnosis of unprovoked bilateral pulmonary embolisms and am on blood thinners for life.
Super grateful both for the bad feeling and the ER doctor who was willing to listen to it!
Stupid deer.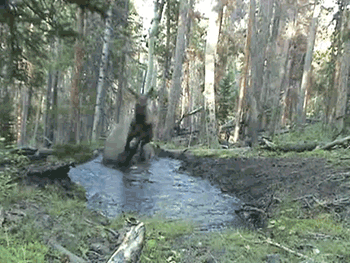 Giphy
I used to just drive around country roads when I would feel stressed out or sad as a way to just get away and listen to music. One evening I was driving with my best friend in the car and we're on a gravel road that has a huge hill. We were driving towards the sunset but it was winter and the light was fading fast. As the car started down the hill I had this moment where I thought to myself "my brights should be on" and I flicked them on and at the bottom of this super steep hill stood 6 deer on the road.
I slammed on the brakes and the car turned sideways and skidded to a stop like 4 feet from the deer. Those stupid deer didn't even move, they just stared into the passenger side of my car and my best friend pointed at them and said "hey, deer". The car was fine, we were fine, and Bambi was all good. I don't drive around like that anymore.
Glad the parents listened.
I was learning violin when I was about 10 from an instructor at my local music shop. I got the weirdest feeling from him even though he didn't do anything out of the ordinary. I wanted to vomit every time I looked at him, especially his hands. After 4 lessons I told my parents that I had a terrible feeling about him and I never wanted to go back. Luckily, they listened and didn't make me ever go to him again.
A few years later he was arrested for assaulting multiple of his students. I have no idea how I knew something was off. He never did or said anything but I just felt it.
Poor pup.
I woke up from a deep sleep at like 2AM during a winter storm, something wasn't right... I immediately went looking for my senior dog and couldn't find her anywhere in the house. My roommates had had let her out for a walk and closed door. I ran to the front of the house and found her laying on the welcome mat, she was hardly breathing and covered in snow... She had been outside alone for at the very least 5 hours.
Good intuition.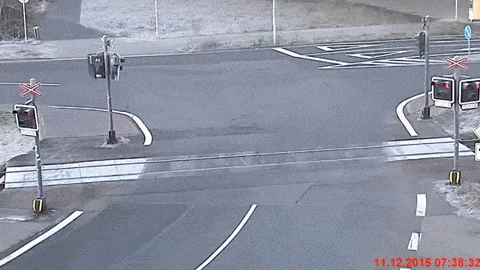 Giphy
I was walking out of a grocery store when I saw this kid about to cross the road. Something came over me and I yanked him back onto the sidewalk. Not even a second later a truck came flying past. He was probably around 7 or 8ish.
No more late night strolls.
When I was in college, I lived in a sketchy part of Chicago (Humboldt Park/Logan Square before gentrification).
I liked to take late night strolls, even when I was living in that neighborhood as a 20-year-old woman. Yeah, I know. Pretty dumb of me.
One night, I was feeling stressed out so I embarked on one of my late night strolls.
I was walking along a somewhat busy road. Cars were zooming past me. Pretty normal. I wasn't paying much attention because I was too wrapped up in whatever was stressing me out that night. Suddenly, a chill shot up my spine. Hypervigilance washed over me and I became more alert than I had ever been. Something was wrong. Someone was watching me.
I quickly spotted a car. It was driving in the opposite direction, a little slower than usual. It was too dark for me to see anyone inside the car, and the car was pretty unassuming. But I still knew something was off. They were watching me. I just knew.
The car drove past me and then made a u-turn. Now it was right behind me, creeping along the curb.
Luckily, there was a Walgreens a few blocks ahead. I started walking faster, and the car eventually sped past me and disappeared into a corner. I somehow knew I wasn't safe yet, so I still sprinted to Walgreens.
I told the security guard what happened, and we both went outside. The car was parked up the street, about 50-100 feet away. The security guard was a big guy who looked intimidating. He marched toward the car, and the car immediately backed up, made a u-turn, and then booked it out of there. The security guard called the cops, and they drove me home.
I never took a late night stroll again.
My gut made me more alert, but it was really the security guard who saved my life. I'm positive that if he wasn't there that night, something bad would've happened to me. I wish I could find that security guard to thank him.
A freak accident.
Not me but my science teacher, when she was a teenager she was standing near some lights at a pedestrian crossing with her and her friend. Very chill but out of nowhere she had this gut feeling that both of them had to move.
They moved just a couple metres away and the next moment a car had hit another car and had hit one of the street electricity utility poles and it had fell and exploded (minor explosion enough distance away that it didn't hurt the girls) exactly where they were. One of the wires had also snapped and hit it exactly where they were standing as well.
They basically were in a scene of car wreckage and snapped wires and electricity explosions and the pole collapse. Just real insane. If the pole had missed them, the wire would have hit them and if not that then most likely the cars.
That gut feeling of moving away saved both of them. I remember this story so clearly from high school science class because it was such a WTF, pity I only paid attention to these things and not actually science hehe
That's terrifying.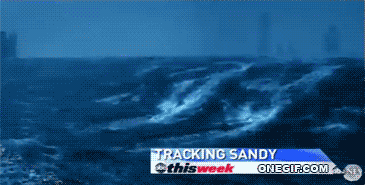 Giphy
My sister since she was about 5 was always obsessed with Tsunamis and would always ask my dad every night before she went to sleep if there would be a tsunami that night (we lived on a beach)
About 5 years later when our family was holidaying in Samoa an earthquake struck at about 6am. It was only a dull low rumble but went on for over a minute. Everyone at the resort woke up and went outside for a few minutes then went back to bed. My sister having been obsessed with Tsunamis ran down to look at the water and noticed the sea going out and saved a lot of lives including my own.
There was about a minute from her noticing till the Tsunami hit. Luckily for us there was a cliff right behind the resort if not a lot more people would have been killed.
So something like a gut feeling 5 years in the making
That is horrifying.
My mom and her entire family were saved from dying from Carbon Monoxide poisoning by her dad. He left for work, got a weird feeling and drove back home. Everyone in the house was unconscious, and he had to drag or carry them all outside one by one. They all survived.
It could happen to anyone.
I went out with my best friend on new years last year and were having drinks with her friends when I realized I was out of cigarettes. I left for a few minutes to walk over and grab a pack and ended up talking to a homeless guy for a while, and when I went over to the entrance of the bar she was outside and said something mean to me for no reason and walked off. I was confused so I decided it would be good if I took a walk to let her cool off and then figure out what she was upset about.
I was going to walk down the street for a bit but something told me to turn left, walking behind the bar and then turning to the side of the bar when I see a girl laying down on the sidewalk and people walking by her. As I'm walking over to help I realize its my friend and she's not very conscious. She was probably drugged while I was getting smokes and who knows what would've happened if I hadn't decided to go that way!
Scares the sh*t out of me.
Earthquakes are no joke.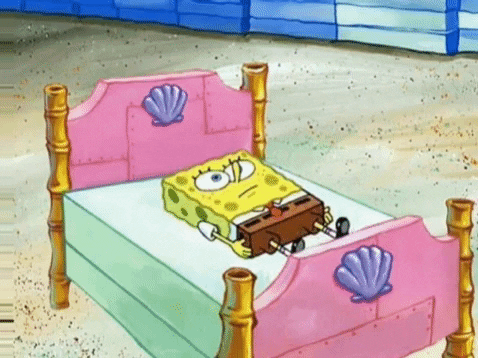 Giphy
This also wasn't too bad of a something doesn't feel right, but an ehh it can wait till later in the morning.
November 30, 2018. Me, my husband and our kids drove down to Anchorage, Alaska. (We live in Palmer about an hour away and my husband's work is in Anchorage). We left at 7 am because we had an event at 5 in Wasilla, closer to Palmer but an hour out of Anchorage, so he needed time to drive back out.
The reason me and my kids drove down was because one of my sisters and her family were down and had a hotel with a pool (luxury to most people here). So that day we planned on buying swimsuits for the kids so they can go and swim.
As soon as we make it to my husband's work I contemplated whether I should head to Walmart then or later to buy swimsuits for my kids. I decided on later as I was still tired.
As some of you may know, we had a 7.2 earthquake that morning at 8:29 am. I watched as the trees sitting in front of me swayed back and forth, same with the huge lights in the parking lot. I looked over to watch all surrounding buildings swaying.
Had I headed out when I wanted to I would have been in Walmart with three children under the age of 5 with the shelves flying everywhere. Idk if anyone has seen pictures or videos, but the Fred Meyer Video made my stomach churn as I thought of us being in Walmart at the same time.
Had my husband left at his regular time that day he would have been near one of the larger road destructions.
That's devastating.
Wife called me while I was at work, just to say she was home from her night shift and planning to go to bed.
She had worked night shift for years and never called me just to say she was home and going to bed before. She also sounded weirdly detached on the call. I asked her if she was okay, she said yes — just really sleepy.
I got a weird feeling and told her I was going to leave work and come home. She told me I didn't need to, I said okay...and then I left work and rushed home anyway.
Found a suicide note taped to the garage door.
I got to her in time, rushed her to the ER, and got her the help she needed. A week of inpatient psych, followed by changes to medications and doctors.
This was about five months ago, and she is so much better now.
Always trust your gut.
Not mine, my old 5th grade teacher.
One day she was driving down the freeway on her way to the store, she was in the far left lane, traffic was light. Then she said she heard a voice saying to turn out of the lane, she ignored it and it went on a few more times before she finally gave into it and turned into the very next lane to her left. A few minutes later a car is speeding down the lane she was just in going the opposite direction. She had said she never listen to her gut before and after that day she said she doesn't doubt her gut for a second.
Always use your EpiPen!!!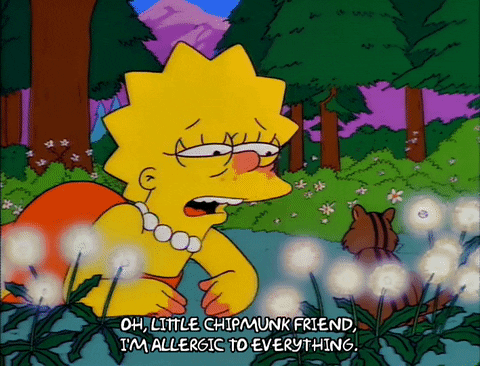 Giphy
Accidentally ate something I'm allergic to at a family get together. Never been one to use my EpiPen immediately (I know, stupid), so I just took a bunch of Benadryl in the hopes it'd be enough to curb the anaphylaxis that was starting. Luckily, it was. After that ordeal, I asked my father to give me a ride home so I could rest. At this point my only symptoms were intense nausea and cramps. Half way home, I get a "sense of impending doom" and immediately say "go to the ER."
He obviously asks why, and I just say "I don't really know, but something's wrong." He protests a bit, but I insist. Sure enough, probably like 30 minutes later I have a horrible relapse reaction, and end up stuck in the ER for roughly 8 hours because of it. Needless to say, never will I ever ignore that "sense of impending doom."
Never trust a white van.
When I was 13, I was walking home from school with my little sister and my best friend. We lived in a extremely safe neighbourhood, where nothing ever happened. While we were walking, I noticed something out of the corner of my eye. It was a white delivery van parked about 100 meters from us. Something about that van irked me and made me feel sick to the stomach. I told my friend and my sister to walk a bit faster.
About 10 minutes later I turn around and the same van is there. At this point my gut is screaming at me to run, so I grab the others and we sprint towards the mall, now that we are off the road, we are safe.
The next day we hear in the news that there has been several cases of vans trying to grab children and kidnap them. Two kids from a nearby school are missing. If I hadn't trusted my gut feeling, the girls and I probably would've been kidnapped.
Keep reading...
Show less