In honor of Pride month, the London Zoo proudly featured gay resident penguins Ronnie and Reggie, who have been together since 2014.
The zoo marked their enclosure with a banner declaring:
"Some penguins are gay, get over it."
The phrase reflected Stonewall's similar "Get Over It" campaign.
Unfortunately, not everyone celebrated the two Homboldt penguins with a "Yasss!"
The controversy on social media began when the ZSL London Zoo's Twitter page wrote:
"Penguin Beach is home to the Zoo's most famous same-sex couple, Ronnie and Reggie, and our #penguins are joining in on the #Pride celebrations! Discover more about our pride-themed activities at the Zoo!"
Catholic journalist and commentator Caroline Farrow insisted the zoo refrain from subjecting children to what she deemed was an offensive agenda.
She asked like-minded followers to think about the following:
"Imagine taking your 6 year old to London zoo and them asking you which penguins are gay?"
She contradicted herself after saying the pushback wasn't due to "hatred."

"It's nonsense like this which is causing a pushback. Which isn't hatred but people saying enough. Stop pushing your values on my children."
She tasked followers with imagining another scenario.
And she contradicted herself again after stating that zoos are for "fun and quality time together."
Apparently, "rubber dog" costumes are all the rage at Pride events.

Twitter schooled her on how positive and uplifting Pride can be.

They asked her to imagine a few things that are less diabolical about the love birds.

As a species, humans can learn a few things from animals.
We've had enough.
Caroline was not finished with her rant.
She backed her previous claim by reiterating that families are subjected to the zoo's "confrontational propaganda."
Reverend Kate tried to show Caroline the light.
But she chose to remain in the dark and underestimated her autistic child's capacity for understanding and acceptance.
She exhibited hatred through hatred.
And as far as she was concerned, it was game over.
A year after the two Homboldt penguins started their courtship in 2014, Ronnie and Reggie adopted an abandoned egg and raised Kyton until he left the nest.

The London Zoo remains prideful of the happy couple.
According to a statement from the zoo's spokesperson:

"They remain as strong as ever and are often found snuggled up in their nest box together."
"Visitors will be able to learn about gender and mating in the animal kingdom at a Pride-themed talk, where they'll discover just how common same-sex pairings are – from penguins and pandas to goats and giraffes."
Ronnie and Reggie are not the only penguins to raise a chick. In New York's Central Park Zoo, Roy and Silo famously raised Tango. The story of Roy and Silo's parenthood became the award-winning best-selling children's book, And Tango Makes Three, available here as a picture book, as a soft cover book and as a board book.
"The heartwarming true story of two penguins who create a nontraditional family. At the penguin house at the Central Park Zoo, two penguins named Roy and Silo were a little bit different from the others. But their desire for a family was the same. And with the help of a kindly zookeeper, Roy and Silo got the chance to welcome a baby penguin of their very own."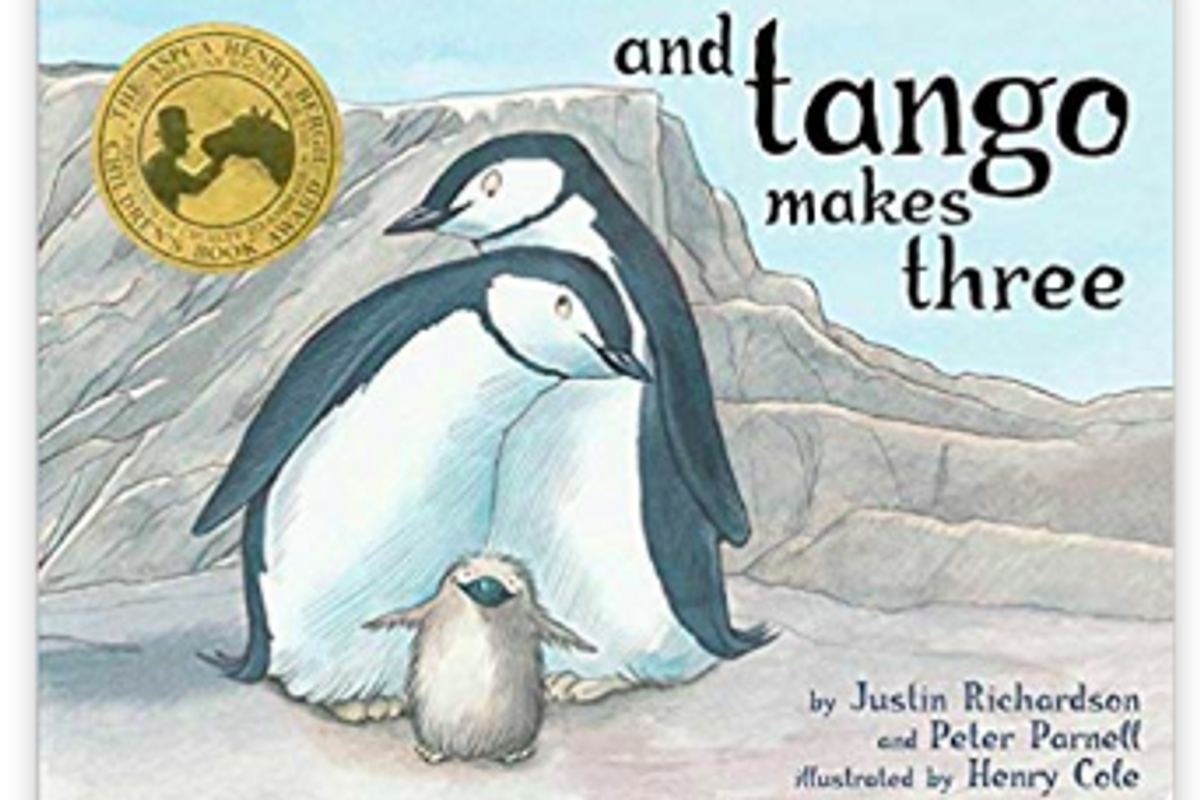 Amazon
Keep reading...
Show less