Former professional basketball player Dwyane Wade just opened up about parenting his queer child.

And his powerful message was a slam dunk for the LGBTQ community.
In Wednesday's moving interview on Showtime's All the Smoke podcast, Wade said that his 12-year-old child, Zion Malachi Airamis—who is openly a part of the LGBTQ community and prefers the pronoun she—has "way more strength and courage" than he has.
In November, social media users expressed their objection to Thanksgiving photos that his wife, actress Gabrielle Union, posted on Instagram, which revealed Zion's long finger nails and her sporting a cropped top.
The photo sparked a lot of hate-filled messages, with narrow-minded people being more fixated on Zion's nails and outfit over reasons to be grateful during the holidays.

When asked to comment on the backlash over having a queer child, the former Miami Heat player touched on unconditional love, being transparent and the importance of visibility and allowing kids to be "seen."

"Me and my wife, we talk about making sure our kids understand the power in their voice."

"We want them to be whoever they feel that they can be in this world. That's our goal. Understand you can be whoever and you can be whatever."
You can watch the full All the Smoke interview, here.
Dwyane Wade | Ep 9 | Big 3, Zaire, Retirement | ALL THE SMOKE Full Podcast www.youtube.com
In his conversations, Wade prepared Zion about the reality of growing up and facing negativity, not only as a queer person, but also as someone who is Black.

The 37 year-old is also a father to Kaavia James, 13 months; Xavier Zechariah, 6; Zaire Blessing Dwyane, 17 and is a guardian to nephew Dahveon Morris, 18.

The proud father explained why he chose to respond to the backlash instead of staying silent.
"When I respond to things socially, I'm not responding because you're hurting my feelings. I'm not responding because I care about what you're saying, because as we say in the in the hood it's 'ignant.'"
"Why I'm responding is because I understand my platform. I understand that I'm speaking for a lot of people don't have the same voice that I have.
"As a father, I'm even speaking for my 12-year-old because I haven't allowed them to sit in front of a microphone yet. But I'm speaking for so many others in the LGBTQ+ community. For me it's just my version of supporting."
He admitted he had to educate himself on the LGBTQ community after noticing Zion was on a different "vibe" than his older brother, Zaire.
Wade also used the pronoun she in reference to Zion.

"I had to look myself in the mirror when my son at the time was 3 years old and me and my wife started having conversations about us noticing that he wasn't on the boy vibe that Zaire [Dwyane's older son] was on."
"And I had to look myself in the mirror and say, 'What if your son come home and tells you he's gay? What are you going to do? How are you going to be? How are you going to act? It ain't about him. He knows who he is. It's about you. Who are you?'"
"I've watched my son from day one become into who she now eventually has come into."
Many people were moved by Wade's powerful and inspired speech and praised both him and Union on Twitter for their unconditional love.
Wade did not stay silent when his child was under attack on social media for the Thanksgiving photos.

He fired back on Twitter:

"I've seen some post-thanksgiving hate on social about my family photo. Stupidity is apart of this world we live in—so I get it."
"But here's the thing—I've been chosen to lead my family not y'all. So we will continue to be us and support each other with pride, love & a smile!"
At one point in the interview, Wade commented on the increase in visibility of queer people and queer issues.
"This is the new normal, everybody needs to get used to it."
"If anybody is different, we're looked at as different; the ones who don't understand it. The ones that don't get it and are stuck in a box, you're different. Not the people that are out there living their lives."
He closed out on the subject with:
"For me it's all about, nothing changes with my love. Nothing changes with my responsibilities. Only thing I have to do now is get smarter and educate myself more, and that's my job."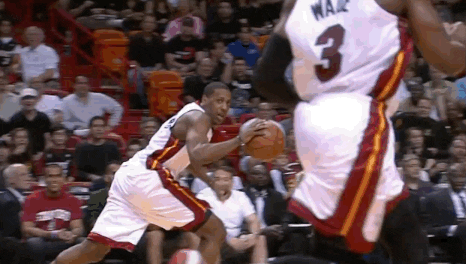 Giphy
Wade is also known for his philanthropy.

In 2013, he founded The Wade's World Foundation—which supports community-based organizations that provide education, health and social skills to children in at-risk situations.
He is also an avid supporter of St. Jude Children's Research Hospital.

Wade may be immortalized as a 13-time NBA All-Star in his professional career, but at home, his kids will always see him as their ultimate MVP.

The book Unconditional: A Guide to Loving and Supporting Your LGBTQ Child is available here.
Keep reading...
Show less
We are no strangers to talking about Chrissy Teigen. She is highly relatable and also absolutely hilarious. However, she shines the most when she's both.
Teigen was with her husband, John Legend, to watch the Miami Heat in Florida. It was the final regular season home game for Dwayne Wade before he's set to retire.
And he must have wanted to go out with a bang, because he took a dive into in the audience, ending up in Teigen's lap.
Hey @chrissyteigen, let us know if you want a copy of this one. Photo by @CTJPhoto #OneLastDance #HEATCulture… https://t.co/U1dTYu8VAW

— Miami Herald Sports (@Miami Herald Sports)1554864552.0
I'm not a professional athlete, but I have a feeling you aren't supposed to do that.
Lucky for Wade, Teigen was a good sport about the whole situation. It probably also helped that she was there with Gabrielle Union, famous actress and Wade's wife.
It looked like she was ready to chew his ear off after he crashed into her friend.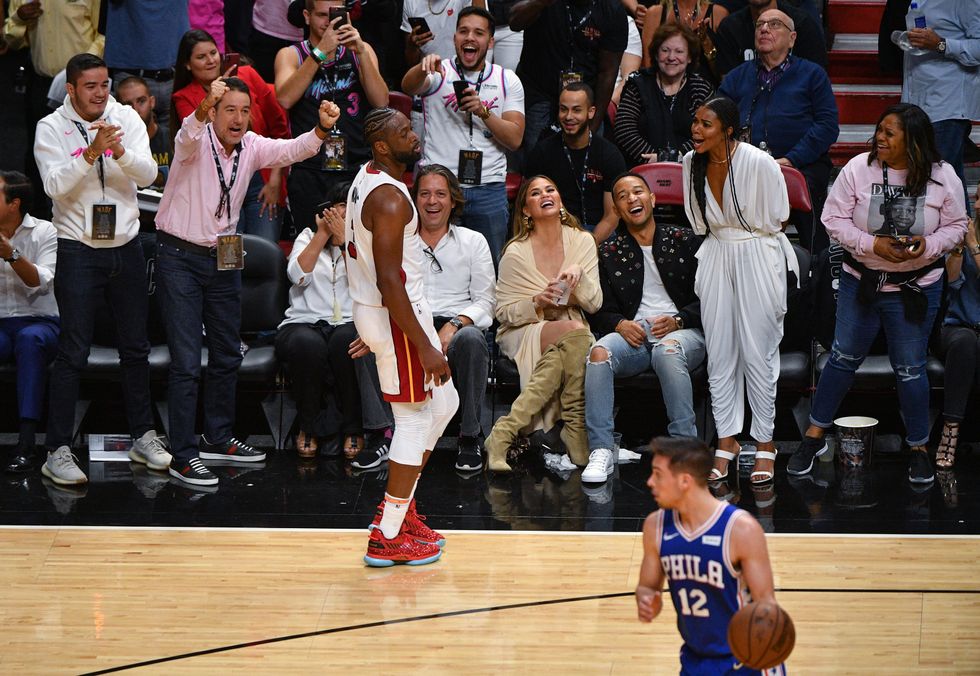 Mark Brown/Getty Images
The internet also enjoyed the photo so much. It was caught at just the right moment, with Teigen and Legend reacting as most anyone would in the situation. However, Wade's expression is still so focused on the game.
It creates the kind of dynamic you don't find in a normal photo. It's like a lightning strike. It's a work of art.
Or as everyone else says, a renaissance painting.
😂 a renaissance painting https://t.co/ZKlD1Ch2gJ

— christine teigen (@christine teigen)1554865025.0
Okay, y'all know that picture of @chrissyteigen, @johnlegend, and @DwyaneWade that everyone's saying looks like a R… https://t.co/3bvecgIiSB

— anna (@anna)1554964893.0
This portrait of @DwyaneWade falling on @chrissyteigen and @johnlegend is hilarious 🤣 https://t.co/cBYIfTxnFD

— James Rawl (@James Rawl)1554904893.0
LEFT: "The Raising of Lazarus" by Caravaggio (1609) RIGHT: "The Raising of Dwyane Wade" by Chrissy Teigen and John… https://t.co/SlkPoMkYe2

— Mike Beauvais (@Mike Beauvais)1554867756.0
If you focus on any one portion of the moment of impact, you're bound to find something new. I personally enjoy the near perfect symmetry between Teigen and Legend as an athlete lands in their laps.
Maybe you're the romantic type, and instead, I'll draw your eye to Wade's left arm, which is being cushioned by Union. She's obviously ready to catch her hubby.
It's the kind of photo that could be studied for ages.
But this is the internet, so let's just turn it into a meme.
@HeraldSports @chrissyteigen @CTJPhoto Could this be a meme? https://t.co/y6aRT4arjP

— Andrew Hunt (@Andrew Hunt)1554866024.0
a vibe. @chrissyteigen @johnlegend @DwyaneWade https://t.co/MfhE6N7tbX

— Chelsea Glosser (@Chelsea Glosser)1554999487.0
Chrissy Teigen and John Legend catching Dwayne Wade falling is the renaissance-level meme template we've all been n… https://t.co/D4TPD460En

— gentle png file (@gentle png file)1554952119.0
#OneLastDance @DwyaneWade is that over protective young brother your father tells you to go with on your first dat… https://t.co/bWrjscaxsY

— Mutebi Alex Kato 🐐 (@Mutebi Alex Kato 🐐)1555007099.0
This is so amazing!!!! 🤣😭 @chrissyteigen @johnlegend @DwyaneWade #LastDance #WadeCounty https://t.co/WwUNCIZazJ

— Phillipa Stephenson (@Phillipa Stephenson)1554949307.0
The photo is sure to be remembered in the annals of history as a moment of pure art. Either that, or it's going to be the reaction image people use for a day and a half and promptly forget about until someone makes a "Best of 2019" article.
Whatever the case, it's great it can bring some joy to the internet. I just hope the next time Teigen makes the internet laugh, it's a little more on purpose.
Gabrielle Union, who you 90s kids probably remember from Bring It On, and her husband Dwayne Wade, from the Miami Heat, showed some supreme stanning for their son Zion, who was marching in Miami Beach pride, which took place on Sunday April 7th.
Zion, dressed in a yellow tank with a rainbow ribbon, looked fly for Pride, and he posed for a great pic with his stepmom, Union.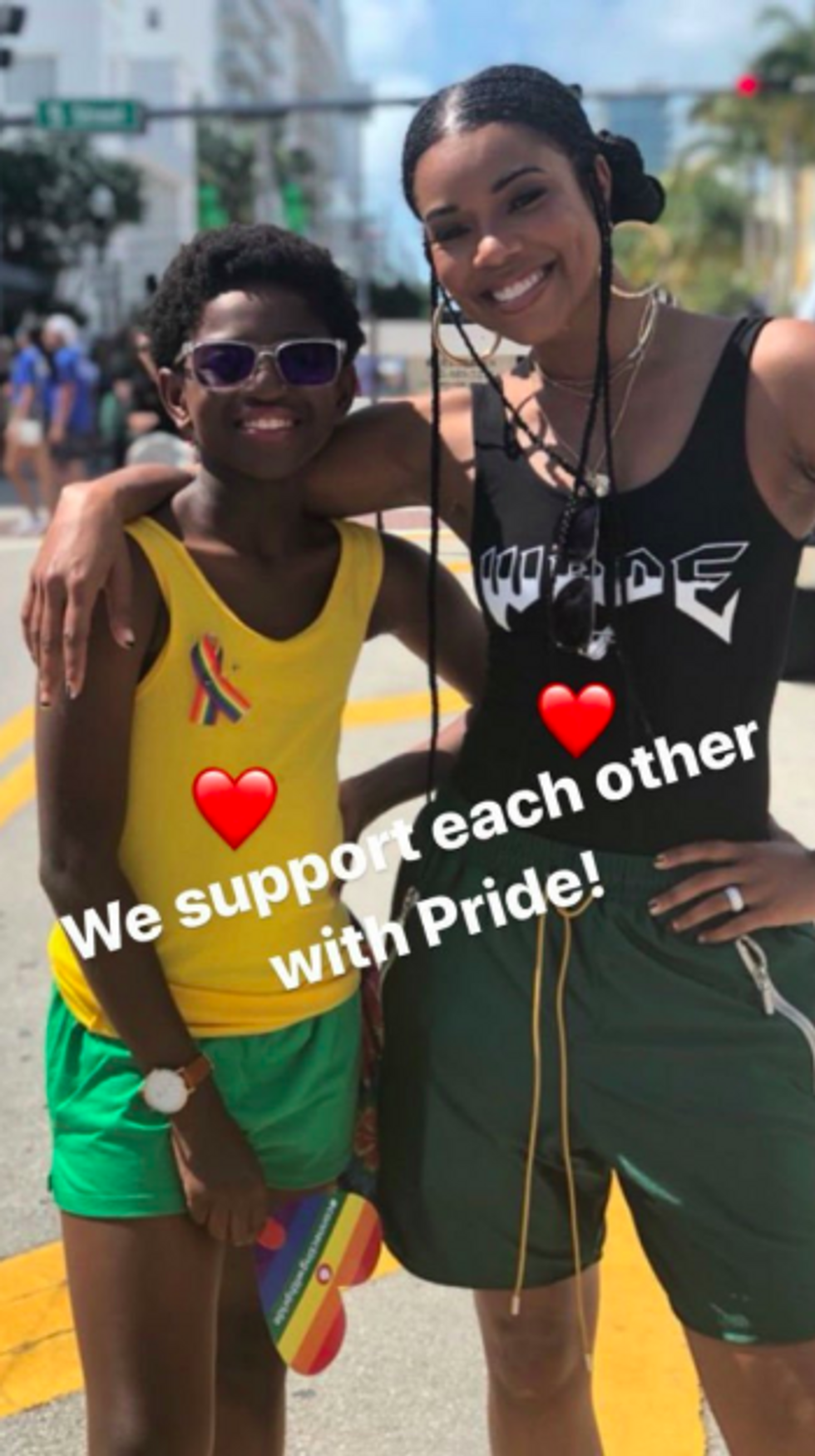 @dwaynewade/Instagram
"We support each other with Pride!" Wade captioned the pic.
Pictures also surfaced of Union and Zion on the floats at the parade: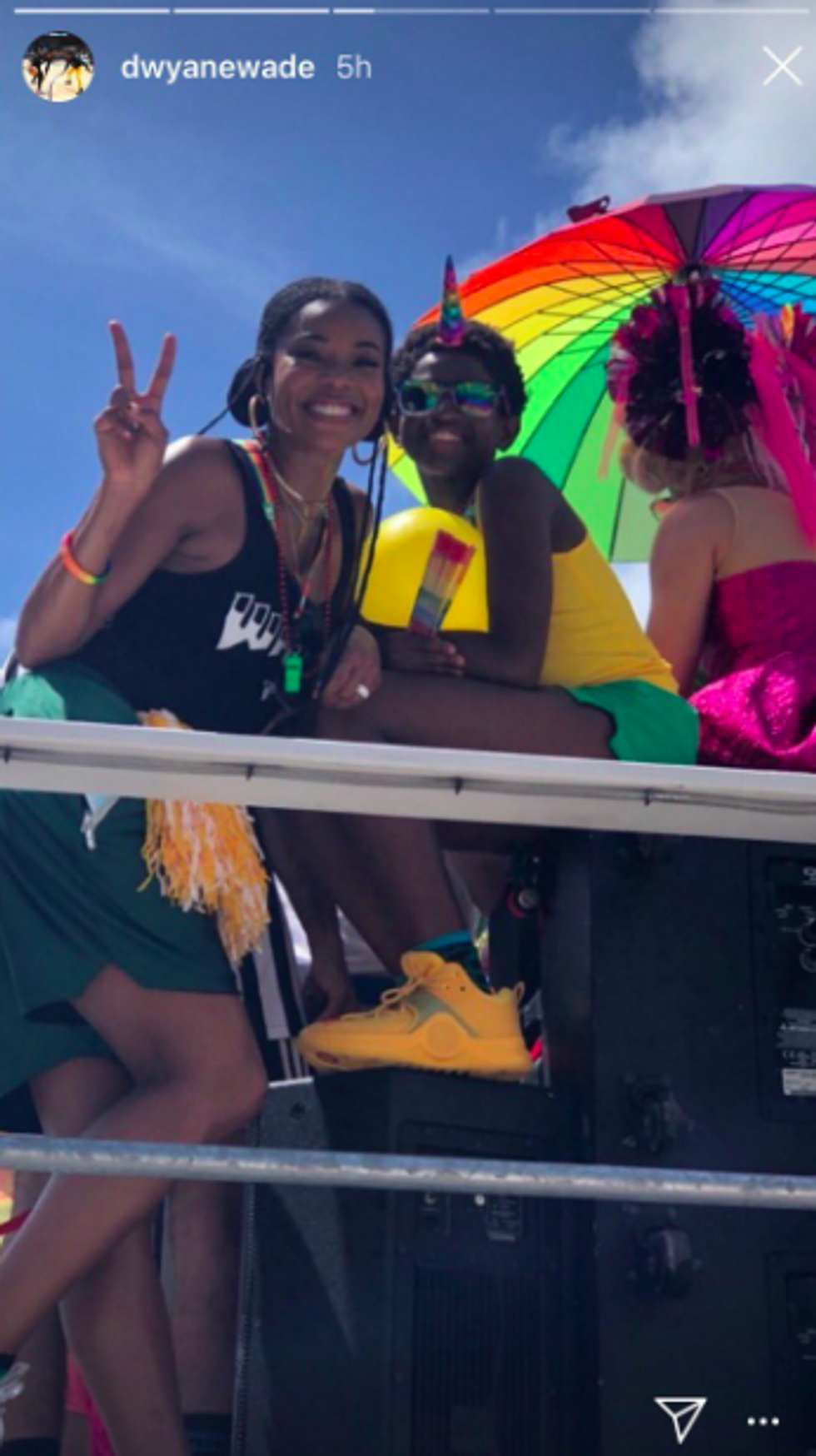 @dwaynewade/Instagram
And it wasn't just stepmom and dad who showed up to support--but Zion's siblings.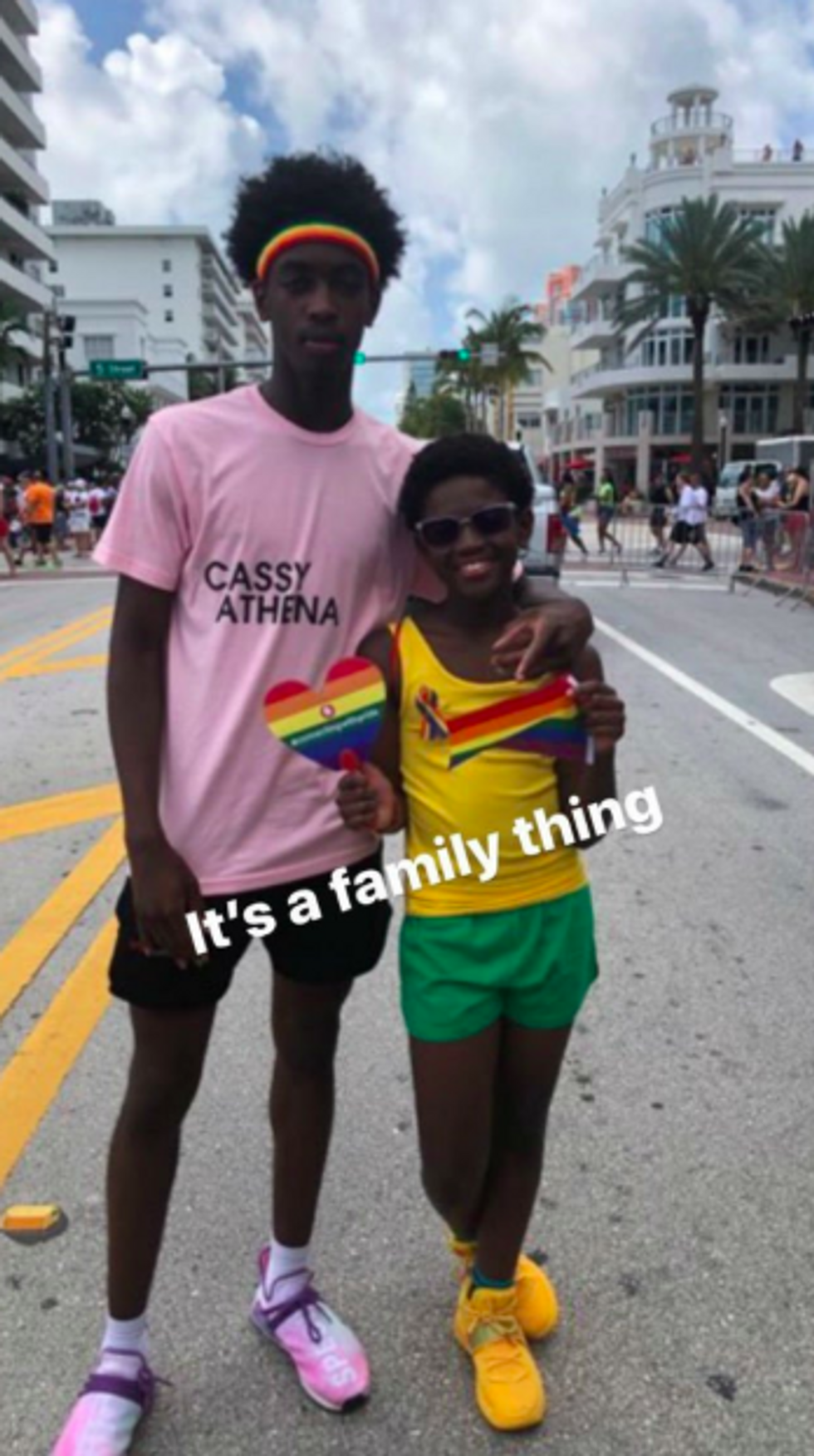 @dwaynewade/Instagram
"It's A Family Thing."
And even more people showed up to support Zion's first pride: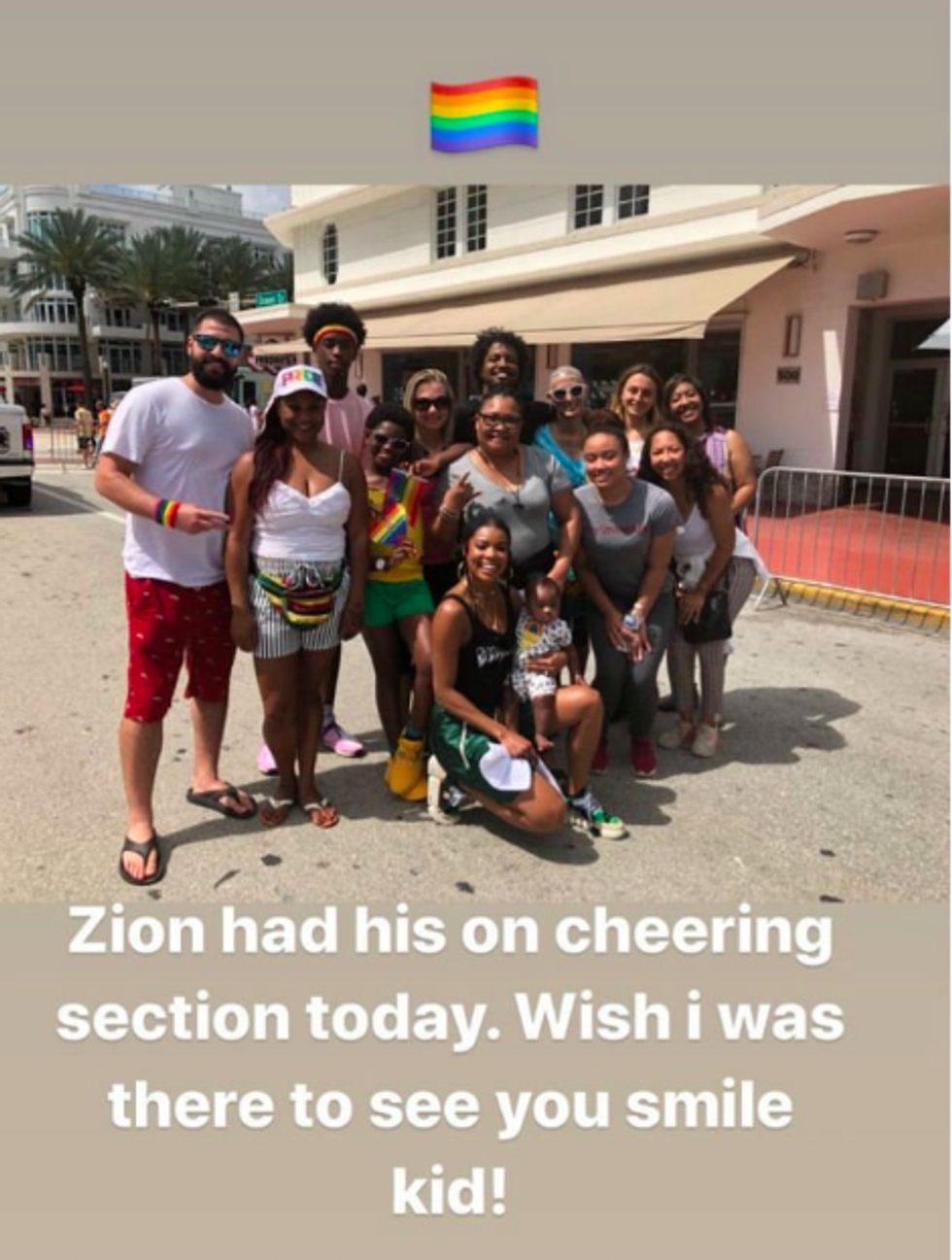 @dwaynewade/Instagram
And people are getting emotional to see two parents so supportive of their young child who recently came out, noting that it is something often lacking in both the country at large but also in the black community.
It really is heartwarming.
"Every kid deserves to be accepted and supported and loved like this," wrote one user.
Union and Wade have been married since 2014.
Zion was born in 2007--he will turn 12 at the end of May.
We stan supportive parents.
Keep reading...
Show less
Going to the gym and keeping up with fitness goals is anything but easy. That's why people so often find themselves looking for the support of group workout classes, personal trainers or accountability buddies. Gabrielle Union just proved that celebrities aren't the exception to that rule, and her workout team is literally goals.
Wednesday, the Being Mary Jane actress and recent mom posted about her 8am workout.
Not only does she look like a badass babe, she also pictured her two workout buddies and the photo has us all living for her chosen crew.
The image shows Gabrielle, herself, along with girl squad members Mary J. Blige and Tracee Ellis Ross.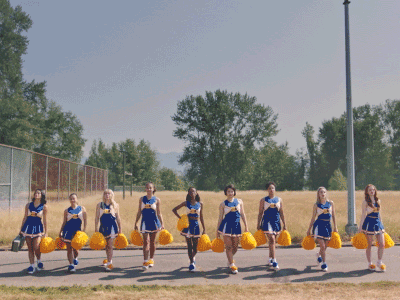 media1.giphy.com
Union claims that the trio is
"STRONGER TOGETHER."
She goes on to say,

"You mess with one of us, you gotta problem with all of us. 8am reminder of our collective strength and badassery in this dancery called life. I walked in in a funk and walked out floating on the wings of sisterhood. Let us remember to extend that compassion, love and encouragement to all mankind. Love & Light good people. Thank you @therealmaryjblige & @traceeellisross @heartandhustlegym ❤️"
I don't think anyone would be fool enough to mess with this crew.
Instead, the photo has everyone "floating on the wings of [their] sisterhood" too.
@Essence @TraceeEllisRoss @itsgabrielleu @maryjblige GOAL!!!!!!

— VetteB (@VetteB)1548899708.0
@Essence @TraceeEllisRoss @itsgabrielleu @maryjblige Yaaass ladies come thru!

— KhaziLove4AllPeople (@KhaziLove4AllPeople)1548892870.0
Okay Okay! https://t.co/DJGTtXesQP

— Kael Kaels (@Kael Kaels)1548951904.0
They're all in their 40s, and damn they look good. https://t.co/gzGmTa36Ay

— - Coach Jr - (@- Coach Jr -)1548921774.0

@massy.arias (Instagram)

@photosbylnicole (Instagram)

@jonathanmcdougle (Instagram)

@futureceo86 (Instagram)

@mpeo.nkuna (Instagram)

@jameela_curvedbyj (Instagram)
More of this content, please.
Keep reading...
Show less