All languages have certain words that roll so beautifully off the tongue.
It's no wonder why listening to vocal arias from operas and oratorios–which are typically in languages other than English–can be such a satisfying experience.
Examples coming to mind that are pleasant to the ear include, "Un Bel Di Vedremo" from the Italian opera Madame Butterfly and "Au fond du temple saint"–a duet from the French opera, Les pêcheurs de perles.

Curious to hear from strangers online, Redditor candela1200 asked:

"What is your favorite word in a foreign language?"
People found these words fun to say.
Not Always, But...
"Tokidoki - 'sometimes' in Japanese, just really fun to say lol"
– rogue_rocketeer_

It Flutters
"Papillon. Means butterfly in french and its fun to say."
– kk1289

Der Emergency Vehicle
"Krankenwagen"
"German for ambulance."
– 8thFurno

A Childhood Memory
"When I was a kid, the first Xbox 360 game I ever got was a Spanish copy of Halo 3 (I don't speak Spanish). At the beginning of the campaign, the characters keep saying 'careful' over and over again. Because of this, 'cuidado' has become one of my favorite Spanish words, and the voice they used has become my default voice to say other Spanish words. My other favorite has to be 'resbaloso'. A large, exaggerated r roll and a boisterous tone just makes this one of the most fun words to say in any language."
– AdriftMusic

A Favorite Pasttime
"Winkel. It means 'shop' in Dutch."
– MrRonObvious

These words are not compliments.
Those Darn Kids
"Gowniaki - polish for 'Sh*tling' in reference of annoying kids."
– BmMjO

Referring To Contemptible People
"Pendejo."
– Broccoli_Vivid
Like The F-Bomb
"'Tabarnak!' I love how, instead of being bodily-function based like English swear words, French Canadian sacres are mostly related to Catholicism. This one is my favourite as it's the rough equivalent of the versatile 'f''k' swear in English, so many uses."
– jerrys153

You may want to sound these out slowly.
Well, We've Tried
"Verschlimmbesserung - German noun for an attempted improvement that only makes things worse."
– JR_0507

The Translation Doesn't Track
"Meerschweinchen, it's German for Guinea Pigs, I like it because it literally means 'little sea pigs'. Which makes no sense."
– AdvantageBig568
What An Inebriate Would Say
"kalsarikännit - originating in Finland, in which the drinker consumes alcoholic drinks at home, dressed in as little clothing as possible, mainly in underwear with no intention of going out."
– evendronesflyaway

My favorite word or phrase really, is "Oh la, la, c'est cher"–which means, "Oh my, it's expensive," in French.
It was one of the first phrases I learned in middle school when I started taking French as an elective.
When I went home and shared with my mom what I learned, she was so amused by how the alarming phrase sounded. She couldn't stop laughing.
This led to her constantly asking me to repeat it whenever we were in the presence of her friends, and I milked it.
This is one of my treasured memories of my mother.

Keep reading...
Show less
If one were to really think about it, the villains might be the true hero of any story.
Of course, their actions remain indefensible and their behavior appalling, nor should we ever be rooting for them to succeed.
However, without the villains, where would any story go?
It's the villains who create conflict in our favorite books, films, and television series, and ultimately draw us into the story and keep our attention.
Even if we don't find ourselves sympathizing with villains portrayed by certain actors, it's hard not to find ourselves fascinated by them!
Sometimes, it's hard to even take our eyes off them.
Redditor doktaAce was curious to hear everyone's favorite villains from film and television, leading them to ask:
What Keeps Everyone "Watch"ing...
"'You don't think I'd explain my plan if there was the slightest chance you could stop me do you? I did it 35 minutes ago'."

"Purely based on that, Ozymandias from Watchmen."- Reddit
What keeps everyone going down the "Portal"...
"GLADOS" .
"'We both said a lot of things you're going to regret'."- nitol91509
Beware the "Chicken Man"

"Gus Fring."- ulyssesss91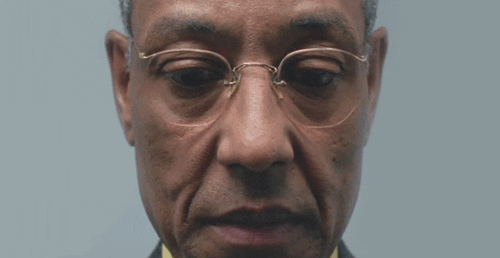 Breaking Bad GIF by Maudit
Giphy
The Nurse No One Wants On Call...

"Nurse Ratched, just because of how implicitly she tortured the inmates."- soladi6766
You Never Know What You'll Get From Him...
"Gul dukat."
"He goes from evil Hitler type to loving father on the run from his government to crazy possessed madman in a single series."- soladi6766
His Smile Makes You Quake In Your Boots
"Christoph Waltz in 'Inglorious Bastards' is the first that came to mind."- jwps28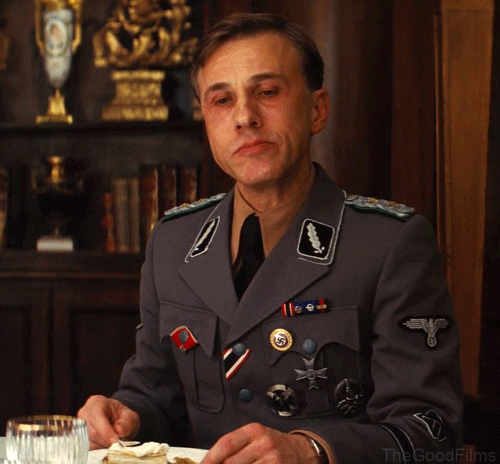 inglourious basterds eating GIF by The Good Films
Giphy
Definitely Not One Of The Boys
"Homelander is definitely one of them."- PrettyMuchDeceased
Perhaps The Greatest Of All

"Hans Gruber."
"Alan Rickman portrays him so well."- rirop27057
Even If His Behavior Is Anything But Justified

"Boyd Crowder (played by Walton Goggins) in 'Justified'."
"He's not particularly strong in season 1, but by season 2, you just want him to keep getting away to have more."
"The fact that he's Raylan's frenemy, and not just a generic evil guy was such a nice touch."- dvoecks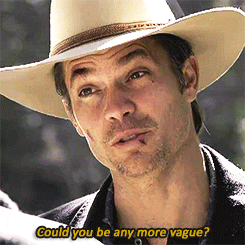 Timothy Olyphant GIF
Giphy
FOUR!
"Shooter McGavin."
"Do I need to even describe why?"- xacayeg163
Effortlessly Creepy
"V.M. Varga in Fargo Season 3."
"I think he gets forgotten a bit because most thought the third season as a whole was a step down from the first and second seasons (and everybody loves Billy Bob in Season 1), but every time Varga was on screen was incredible."
"The teeth, the bizarre yet intimidating manner of speaking, the general weirdness and obscurity of who exactly he is and his background was so well done."
"Thewlis is amazing."- TJTrapJesus
Tragic And Horrifying

"Magneto."
"There are times when you are able to sympathize with him and his actions almost seem justified."
"Most likable villain in my opinion."- rirop27057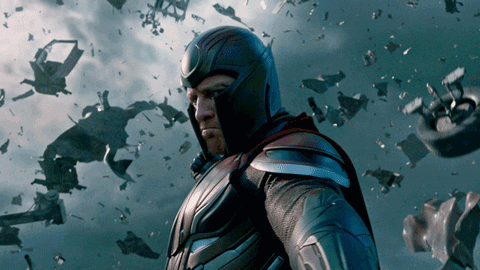 x-men apocalypse GIF by 20th Century Fox
Giphy
"Wrong LEVAAAAAAAAAAAAAAAAAAAAAAH!"
"Yzma from 'The Emperor's New Groove'."- phantom_avenger
That Quill Though!
"Dolores Umbridge."- soladi6766
In His Defense, He Was Defending His Home...
'Al Swearengen from 'Deadwood' played by Ian McShane."
'It's the story of a villain defending his village."- fallonyourswordkaren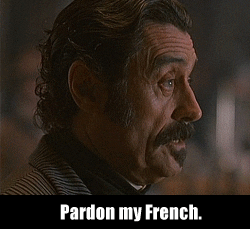 ian mcshane deadwood GIF
Giphy
Sometimes a smile can be even more terrifying than a scream or a yell.
Honestly, who's been able to get any sleep after seeing Pennywise smile through the sewer?
Keep reading...
Show less
There are few better feelings than being in the middle of a good book, finishing a chapter, and realizing that you don't want to put it down.
Be it Howards End, Catcher in the Rye, or any mystery by James Patterson purchased at Hudson News. That moment you realize you have found a book that might be your favorite, if not the all-time best book you've ever read.
It's a sensation similar to, if not better than, falling in love.
Discovering your favorite book introduces you to characters you wish you knew in real life, hits on themes or experiences you can relate to all too well, and perhaps most deliciously, enrages you when you see how they ruined the story or botched the casting when it is adapted into a film.
Resulting in your going back to read your favorite book all over again, and discover elements which somehow escaped you the first five times you read it.
Redditor AechTMS was eager to learn the best books people have ever read bibliophiles and merely occasional readers alike, leading them to ask:
The Book Thief
"The Book Thief."
"It made me laugh and it made me cry, but most importantly it made me view life very differently."
"How easy the world is when you don't have to worry about the war /world of war around you."
"I've heard equally Thousand Splendid Suns and Kite Runner are very good and both are on my TBR."- LanternCove3
The Lies Of Locke Lamora
The Lies of Locke Lamora."
"That book just hit all the right notes for me."
"Fantastic prose, developed and atmospheric setting, drama that pulled me in, humor that had me laughing out loud, great pacing, incredibly charismatic and charming characters."
"It just had it all."
"I might even like the sequel more, the only thing it did worse was the pacing."- Corey_Bee
The Things They Carried
"The Things They Carried, by Tim O'Brien."
"I had just lived abroad for a couple of years in a highly regimented experience that kept me at some distance from the local population."
"There were a lot of similarities that I appreciated, and a lot of difference due to his experience being military in nature."
"But a lot of his thoughts regarding home nailed how I felt, and the idea of 'real truth' getting in the way of 'story truth' feels especially poignant in today's society."- mourningdoo
Endurance
"Endurance: Shackleton's Incredible Voyage, Albert Lansing."
"The fact that it's true allows it to hit that much harder."- JimJamYimYam
East Of Eden

"East of Eden."- mojojojo_joe
"East of Eden."
"One of those books that I simply adored from beginning to end."- KimDShortt
Hyperion
"Hyperion by Dan Simmons."- Warlornn
Me Talk Pretty One Day

"Me Talk Pretty One Day by David Sedaris."
"Stupid me keeps letting people borrow it and I've bought it 3 times now."- ATXKLIPHURD
The Pillars Of The Earth and The Passage
"The Pillars of the Earth, by Ken Follet is quite good, as are its prequel/sequels."
"The Passage, by Justin Cronin is also one of my faves."
"Even the tv adaptation with the 'Saved By the Bell' guy was pretty good."- Ecstatic-Appeal-5683
The Picture Of Dorian Gray
"The Picture of Dorian Gray."
"Such a compelling read!"- FlyPrudent4292
It's easy to understand why people question the fact that Pride and Prejudice, Jane Eyre, and Great Expectations seem to get film or television adaptations every two years.
When these same people actually read the novels for the first time, however, they will likely stop complaining.
As a truly good story can be told over and over in a myriad of new ways.
Keep reading...
Show less
Who doesn't love a good villain?
If we really stop and think, we might realize that it's the villains, not so much the heroes, who have all the best lines.
Not to mention, often the most striking wardrobes as well.
Which doesn't mean that we don't cheer and feel vindicated to see them pay for all their awful deeds.
Most of the time.
In some rare cases, we might find ourselves siding with the supposed antagonist.
Leaving the theater wondering what exactly is so bad about them, and scratching our heads as to whether or not they got what they deserved.
Redditor thatredgirl19 was eager to hear which films people find themselves sympathizing with the villains over the supposed heroes, leading them to ask:
"In what movie did you like the bad guy more than the good guy?"
WRONG LEVAAAAAAAAAAAAAAAAAAAAAAAAAAAAAAAAAAAAAAAAAH!
"Emperor's New groove. Yzma and Kronk, they're entertaining to watch until today."- EarlyNeedleworker
"Kronk was pretty loveable in 'The Emperor's New Groove'."- jonny_orange
That Explains The Sequels...
"There's just something about Predator that keeps me interested."- bignuncedboy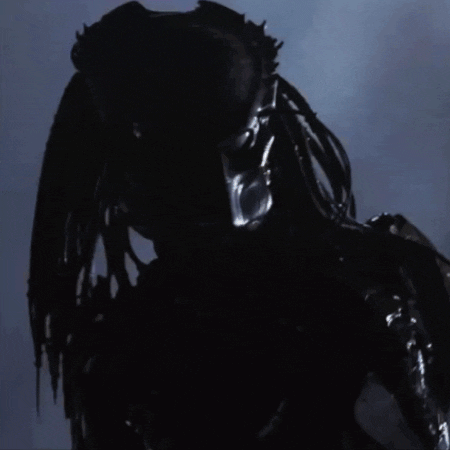 Alien Vs Predator GIF by foxhorror
Giphy
Their History Is Complicated...
"The Rock."
"Nicolas Cage, Sean Connery and Ed Harris."
"Harris assumes control of Alcatraz prison, a now tourist destination, and uses it as a missile launch site to threaten the US government for ransom."
"On the surface he looks like a bad guy, so Cage and Connery have to go stop him."
"Later in the movie it's revealed that he only wants the reparations his dead men and their families are entitled to."
"He doesn't hurt any prisoners and though he's given the opportunity, when the government declines, he admits he was never going to actually use the weapon."
"The movie is well written and the characters have depth enough to garner empathy for even the villain."- TwilightsHammer
No Explanation Needed...
"'Muppet Treasure Island'."
"Come on."
"Tim Curry."- ZecoraNightshade
The Dangers Of Revenge...
"I rooted for Gerard Butlers character Clyde Sheldon in 'Law Abiding Citizen'."- traco93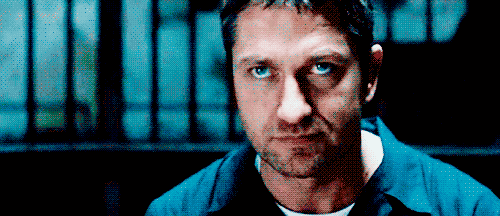 sexy gerard butler GIF
Giphy
If You Can't Take The Heat
"Heat."
"De Niro > Pacino ."
"'Don't let yourself get attached to anything you are not willing to walk out on in 30 seconds flat if you feel the heat around the corner'."- beachhike
Survival Of The Fittest...
"Wiley Coyote."
"Dude was starving in the desert and just wanted to eat."- enrtcode
Those Wings Are Hard To Resist...
"The Monarch in venture brothers."- Drunkmast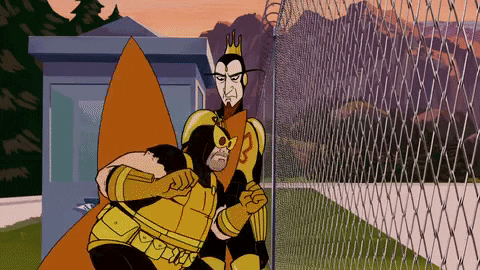 GIF by The Venture Brothers
Giphy
Has Has Power Over Someone...
"Labyrinth."
"I mean, it's David Bowie dancing around with a bulge."
"TIL the bulge was the hero of the story."- PonchiBear
All villains have a seductive charm about them which makes them hard to resist, which helps them get away with their dastardly plans...
Though in some cases, maybe they simply are that charming, and their plans aren't that dastardly.
After all, thanks to Miranda Priestly, Andy Sachs will NEVER not notice when a belt is cerulean ever again.
Keep reading...
Show less
Fictional characters always say the best things.
It's always perfect and spot on, but in real life we normally say things wrong and messy.
Maybe that's why so much great dialogue resonates...
Redditor AmOdd asked:
"What did a fictional character say that stuck with you?"
"The love Molly. You take it with you." - Sam Wheat/Patrick Swayze (Ghost)
I still weep.
POV
"Many of the truths we cling to depend largely on your point of view. - Ben Kenobi"
taloncard815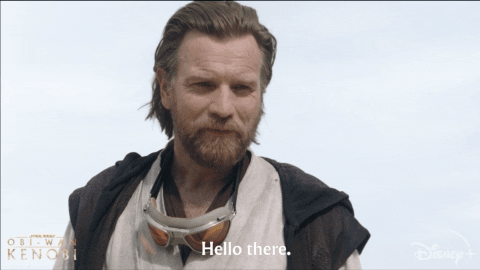 Ewan Mcgregor Hello GIF by Disney+
Giphy
Acceptance
"'We accept the love we think we deserve.'"
"'I think that if I ever have kids, and they are upset, I won't tell them that people are starving in China or anything like that because it wouldn't change the fact that they were upset. And even if somebody else has it much worse, that doesn't really change the fact that you have what you have.'"
"(Perks of Being a Wallflower, I Don't Know if i'm a cliche)"
itsacalamity
steeped in blood...
"A boy who idealizes war is perplexed why a war hero wants to retire to become a farmer. He asks the wise warrior why he seems to despise war and this is his response:"
"There is more honor in a field well plowed than one steeped in blood."
oWatchdog
"Lloyd Alexander the Black Cauldron. Read it in elementary school and that has always stuck with me. Good thing too, because the indoctrination and glorification of the military is very strong in my country and starts at an early age."
oWatchdog
Sober
"When Vimes says about his alcoholism, 'One is too many, two's not enough.' That's when I knew that cutting down wouldn't work, I would have to completely stop. Been sober nearly five years now."
ahhtibor
"I always tell people 'Drinking-wise, you are like a car; you have an accelerator and a brake. You can start and stop or go fast or slow. I'm the space shuttle; I can only light the rocket or not light the rocket, that's it, those are the choices I have."'
"I haven't lit the rocket in a decade."
picksandchooses
Burning
"'I survived because the fire inside burned brighter than the fire around me.' -Joshua Graham, Fallout New Vegas"
Wrayo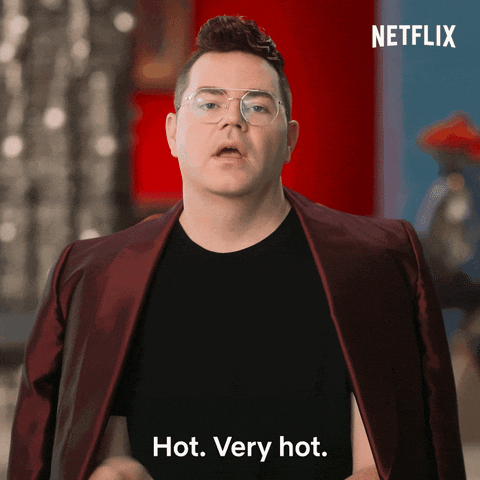 Summer Burn GIF by NETFLIX
Giphy
Great words from great characters will haunt you forever.
Picard
"'It is possible to commit no mistakes and still lose. That is not weakness, that is life.' - Jean-Luc Picard"
martinsonsean1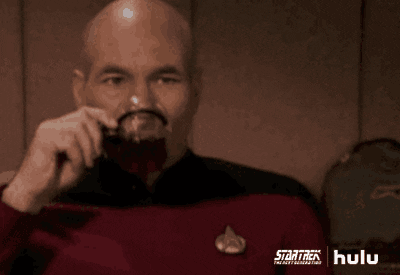 Star Trek Drinking GIF by HULU
Giphy
'tomorrow never comes'
"Tomorrow's the day you'll pay the bills! Tomorrow's the day you'll grow up and start acting responsible. But tomorrow never comes for you, because it's always so conveniently a day away.' Suzie, Hey Arnold. Had to copy and paste because I forgot the original quote verbatim but the 'tomorrow never comes' part always stuck with me despite me being a massive procrastinator."
fernadoreddit
Sacrifice
"'The hero decides to give their life to save the day, and because of their sacrifice the good guys win, the survivors all cheer, and everybody lives happily ever after. But the hero never gets to see that ending. They'll never know if their sacrifice actually made a difference. They'll never know if the day was really saved. In the end they just have to have faith. Ain't that a *itch? - Epsilon from red vs blue.'"
REDDIT
Marston
"'Be loyal to what matters.' - Arthur Morgan"
MemeMachine2468
"Roger Clark killed that role. It's not often that a video game voice actor gives a genuinely Oscar-worthy performance."
"I remember thinking before the game was launched 'Huh, this guy seems like a total *ick, there's no way R* can make him a more likable character than Marston'; now that I've had a few months to stew on it I honestly think he may be my favorite video game character of all time, probably top 5 protagonists in all fiction."
Hypergolic_Golem
Help
"'Some people will always need help. That doesn't mean they're not worth helping.' -Meera Reed from Game of Thrones"
Nachodoo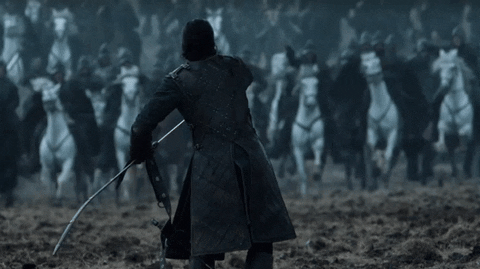 Come At Me Bring It GIF by Game of Thrones
Giphy
I do love good dialogue. It's the key to everything.
Keep reading...
Show less