The rule of thumb when eating fast food is very simple: put on the blinders, enjoy the meal, and try not to do it too often.
But what if you work in the kitchen?
In that case, there's simply no escaping a complete understanding of the several horrors that each assembled burger or french fry encounters on its way to that front counter.
Keep reading...
Show less
There is a clear reason why the insanely unhealthy--and inhumane--food of McDonald's continues to draw long lines at the drive-thru and entire sports teams on the bus ride home from a game: MARKETING.
The McDonald's brand is synonymous with comfort, consistency, and even family.
Nowhere is that core essence reflected better than in the "Happy Meal."
Introduced in the mid-70s, the "Happy Meal" was conceived as a way to drive business in one of the most effective ways imaginable, by making kids love McDonald's so much that they scream at their parents about it from the back seat of a car.
A complete fast food meal with a little toy thrown in, all served in a fun cardboard box that looks like a little smiling face, the "Happy Meal" has stood the test of time, albeit with some healthier changes in the recent years.
But a recent Reddit thread ran a thought experiment. They imagined a 180: a "Sad Meal." People from far and wide offered interpretations of the very opposite of fun, family, and delicious.
lukeamotion asked, "If McDonald's sold a 'Sad Meal,' what would be in it?"
Some people offered up ideas that still had a foot in the McDonald's universe.
They imagined what shocking preparation faux pas might be at hand, or they modified existing meal choices to be only composed of their very worst elements.
Bad Toys and Worse Food 
"Cold fries, an apple pie that's been under the heat lamp so long the filling has dried out, and a warm flat coke. The toy is a used game pass code." -- score_
"Same stuff just the stuff that's been sitting a couple hours under a hot lamp, with a broken Jar Jar Binks toy." -- adanipse
"Nuggets are burnt, fries are cold, unsalted, and the bag is only half-filled. Soda has too much ice and the toy is just a note that says :(" -- Avicii_DrWho
All About the Buns 
"Two buns that hold nothing but a fat slop of mayo" -- turquoisepurplepink
"Just the weird middle bun from a Big Mac" -- octupleunderscore
"and the juice from a mc rib lol"
"I'll take one to go. But idk if I want it stale or still frozen, or maybe just untoasted. and a moldy frape for the drink" -- Idabro
Repulsive Imagery
"A large container crammed with french fries and chicken nuggets that are lathered in ketchup."
"It doesn't come with any utensils - you'll have to place the container on the floor, get on your knees and eat it like a dog."
Other entries left the boundaries of the McDonald's food world. They imagined other foods that kids--and even plenty of adults--would hate to receive at a fast food joint.
Brace yourself for healthy boredom and truck stop favorites.
Quinoa Quips 
"A container of plain quinoa, and a cup of heavily chlorinated, room temperature water" -- D3vilUkn0w
"'Ever snorted up a big loogie that had some weird hard bits in it? Quinoa is pretty close' -original quinoa marketing campaign" -- loptopandbingo
All Enjoyed While Cruising Down the Highway 
"A cup of water served at room temperature, fruit slices, onion nuggets, and a mislabeled sauce packet." -- ReadingReddit66
"Natty Ice and a slim jim" -- tmcg6
And then there were the entries that took a broader approach.
These Redditors put the "Sad" in "Sad Meal." But for them, sadness relied on an extensive context surrounding the meal. They developed character sketches and relied on tropes of middle age apathy.
The Decisions That Led There 
"Exactly what's in a Happy Meal but you're 36, divorced, and ordered it by accident when you forgot that you don't have the kids this weekend." -- wanderweather
"Hey, what's wrong with someone in their 30s wanting a collectible kid's toy? ;)" -- Some_Random_Android
"I was gunna comment something but yours blows mine out of the water" -- I_Nocebo
Bombshell To Go 
"A 23andMe report showing your real dad never loved you." -- wheniwascake
"How does McDonald's know this?" -- strangehitman22
"The fact you're in McDonalds is proof enough." -- wheniwascake
Earning Your Meal 
"The cashier would ask you what happened and caused you to buy it."
"And then gives you a note inside the sad meal box that roasts you about the problem that you told the cashier that caused you to buy it."
-- Arvindjor
We're happy to report that you don't have to worry about receiving anything quite like this the next time you swing by the McDonald's drive-thru.
Perhaps it might make you feel a touch more grateful to have that 1000 calorie beast in a bag.
Want to "know" more? Never miss another big, odd, funny, or heartbreaking moment again. Sign up for the Knowable newsletter here.

Keep reading...
Show less
PSA: the drive-thru microphone hears EVERYTHING, ALL THE TIME.
The drive-thru at a fast food restaurant is a one-of-a-kind social experience. Just about every step is a weird form of human interaction that occurs literally nowhere else.
And, oh yes, there are robot speakers that look alarmingly like sci fi trash cans.
Want to "know" more? Never miss another big, odd, funny, or heartbreaking moment again. Sign up for the Knowable newsletter here.
Keep reading...
Show less
Fast food workers encounter customers from a variety of backgrounds and situations that make each transaction unique.

But those who are positioned at a drive-thru window experience interactions that are even more oddly exclusive.
Tellers see customers inside their own environment, and therefore, get a peek into their personal lives.
To hear interesting anecdotes, Redditor Reach-n-Teach asked strangers:

"People who have worked the drive thru, what's the weirdest thing you've seen in someone's car?"
Some Redditors mentioned witnessing (or hearing) NSFW scenarios, seeing a mammal – and in one case – was attacked by something slimy.
One thing is certain. You can't make this stuff up.
Please proceed to the next window and be prepared to guffaw.
Drunk Gym Teacher
"My gym teacher, drunk. He started eating the tacos at the drive through window. He was there for over 5 minutes, just eating. I saw him the next day in school, we both acted like nothing happened."
The Inflated Passenger
"Dude had a full on sex doll dressed up in his passenger seat. Sunglasses, dress and even a hat. I couldn't even tell it was fake until I asked for their order. Coworker and I looked at each other simultaneously and we both said 'was that a sex doll?' This is in a 'wealthy' area of my city as well so it was definitely a first."
Not Gay
"Two guys naked on a bench seat. Driver made sure to tell me they weren't gay."
– shizuye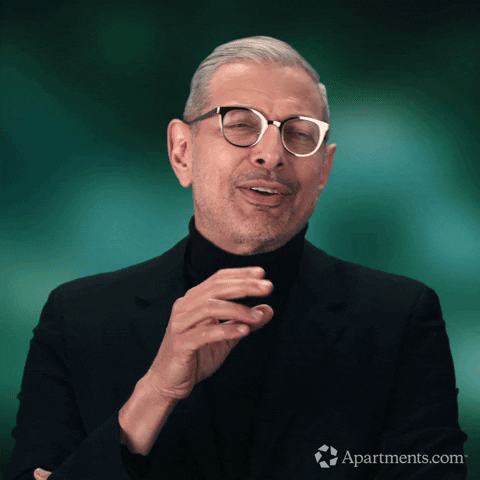 Giphy
Hungry Pet
"Only worked drive-through for a year but the weirdest thing I saw was an alpaca in a minivan. They asked at the window if they could order some apple slices for the alpaca. I just gave them two packs on the house."
"Private Peters"
"Had a guy consistently come through the drive thru with his pecker out. He would always order the same thing, large mellow yellow no ice, always on a sunday, and always wearing military fatigues. Then he stopped showing up for a bit, we called him private peters, as our little sign to call the cops if he showed up again. A month later we get an order for a large mellow yellow no ice, so I decide to take over the window. We convinced the car in front of him to stay in the lane and we called the cops, he got suspicious and left but they caught him and was charged."
Comfortable In Their Own Naked Skin
"I had 4 women that came through a few times. I'm 16. They're all like 45+. Not made up. Just naked and completely casual. Never acted like they were even slightly concerned they were naked at all. One of the girls there said they came through about once a week. We didn't have a nudist colony nearby that I knew of. Just these same ladies."
He Had Time
"Had a customer come through with a giant grandfather clock in the back seat. The thing was so huge it was sticking out the side window, which just so happened to be on the left side of the car. Which meant dude couldn't get close enough to the window to reach his food and had to step out, cursing the whole time."
Flying Fish
"Someone threw a fish at me once. Didn't order anything, just a drive by fish attack."
– PsyPup

What's In The Egg Cartons?
"I worked at a Tim Hortons and once saw an old lady with like 50 cartons of eggs in her car, I made a joke saying 'looks like you could make your own breakfast' and she got real straight faced and said 'oh honey those aren't eggs.' Still have zero clue what else you would store in egg cartons..."
– BoltzTV

So That's What Was In Those Egg Cartons
"Golf balls. I used to steal gold balls from a golf course water hazard and the woods around the course. Sold them in egg cartons for $5"
Keep reading...
Show less
It is called fast food. It is not called hasty food.
And yet, hasty is so often the experience.
We have all been there. First, we politely greet a metal rectangle that bears a mesh speaker face. It responds to the timid hello with fierce, garbed gibberish.
That puts us on our heels. So we escalate to a violent, aggressive scream about the kind of sandwich and drink we'd like. The robot tube remains loud and terrifying.
We're herded through the drive-thru lane alongside the brick wall until we arrive at the window: our only glimpse of the faceless void that we've given the reigns to for our lunch.
Finally, a hand flies out of the portal, we, panicked, absorb it into the vehicle and simply hope that the screaming rectangle did us good.
So often, as a recent Reddit thread illustrated, it did not do us good. It did us very very bad.
Fazi_Snaxxx asked, "What's the most wrong your fast food order has ever been?"
Want to "know" more? Never miss another big, odd, funny, or heartbreaking moment again. Sign up for the Knowable newsletter here.
Keep reading...
Show less