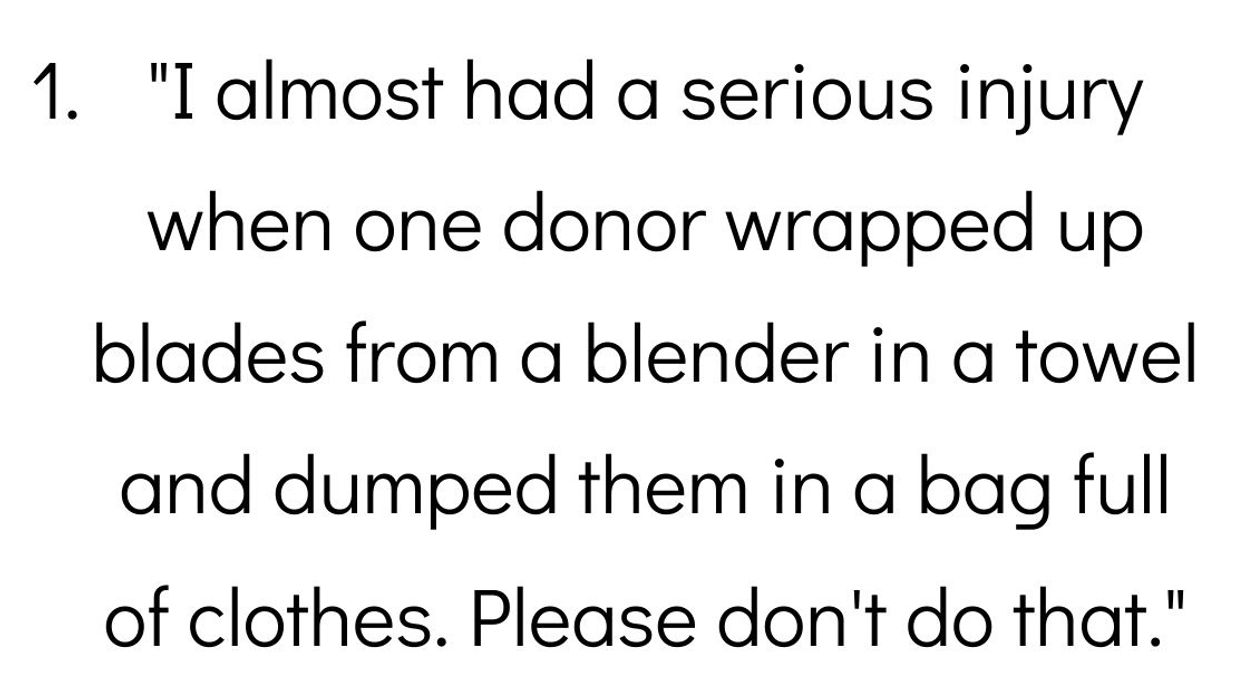 Another's man's trash is not always another man's treasure.
Instead of just throwing things away, donating the stuff that you don't want anymore sounds like a generous and sustainable option. You might figure, if you had use for it then someone else must, too.
But some people's donations do more harm than good. If you're trying to get rid of something because it's now in poor quality, then it won't be good enough for someone new to use either.
Redditer u/Indianfattie asked Goodwill employees the things that they wished people wouldn't donate to the store, and thrift store workers informed everyone what items are useless and what will probably go straight into the garbage.
Keep reading...
Show less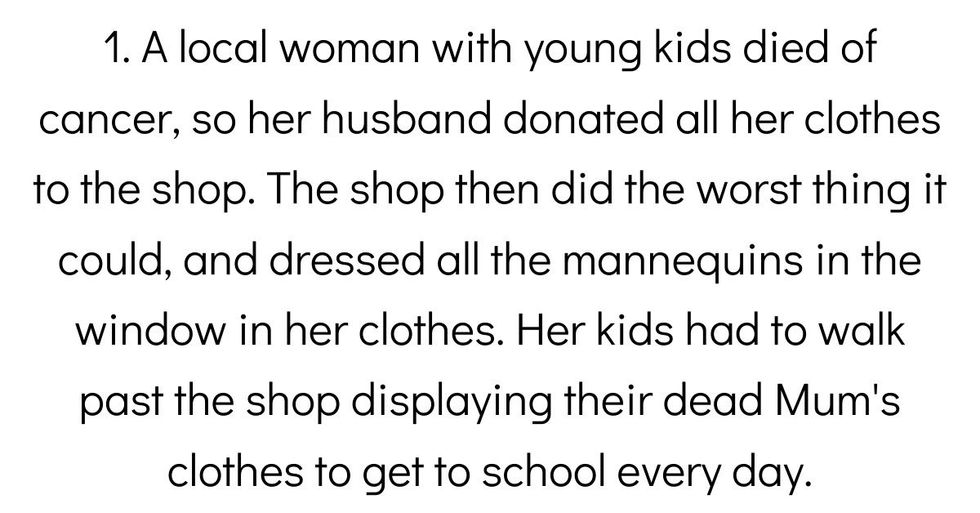 Thrift stores abound with killer clothes that only exist in that one place, a strange amount of used electronics, and extremely cheap ways to outfit your entire kitchen with silverware, mugs, pots, and pans.
But the whole time you're there you feel a keen sense that most of the items around you have been neglected in an attic for the last two decades and dusted off very recently.
Usually, that's no big deal. But sometimes things that old and given away are given away for a reason.
u/NormalBlogTM asked, "Charity shop volunteers of Reddit, what's the worst/saddest thing your shop has been donated?"
Keep reading...
Show less
Mike Pence isn't seen as an incredibly tolerant figure in the world of politics...unless you visit the version of him that often strolls through Times Square, collecting money for various charities like Planned Parenthood.
If you've encountered the Times Square Pence, you likely won't forget it.
Not only is he more open and loving than his White House counterpart, he also happens to wear short shorts.
This is Mike Hot-Pence.
Mike Hot-Pence, embodied by 51-year-old graphic designer Glen Pannell, burst into public view after being photographed and profiled by Howard Sherman in 2016.
Sherman is a blogger who takes photos of Times Square performers and shares their stories online.
Pannell spoke with Buzzfeed about how, following the 2016 election, he felt he needed to do something. That's when he decided to take advantage of something many friends had surely commented on: his resemblance to the new Vice President.
He commented:
"The depression kept feeding on itself so I finally decided I had to do something, and it had to be bold and immediate, something I could point to at the end of the day and say, 'Here's what I did to make change.'"
Hot-Pence has already collected tens of thousands of dollars for "Planned Parenthood, the Natural Resources Defense Council, and the Trevor Project."
Pannell's alter-ego is also active on Twitter, where you can follow the account @MikeHotPence for updates on how our spiritual VP is doing.
Pannell noted a spike in his popularity again in December 2019.
Pannell made it clear this activity was more than just a hobby.
"These are all groups and causes that suffered when Pence was in office, so I worry about them in the next few years under a Trump-Pence administration."
Since Pannell has a full time job, Hot-Pence can only be found during the weekends, and will hope to find an indoor place to operate as the weather gets colder in NYC.
Pannell is confident, however, that his silly work is making a real difference.
"People want to give and they want to talk. I'm 51. I never expect anything I do to go viral online. I do understand why people respond to it. It's funny, and it's hopeful, and people need that right now."
There's only one thing left to say: Mike Hot-Pence 2020.
Keep reading...
Show less
Thrift stores are kind of a catch-all for all the unwanted stuff that people don't know what to do with.
This can lead to some very interesting finds for the person processing those donations.
Keep reading...
Show less