What's on the menu?
Not all foods can be served in varying degrees of temperature. But some have a sort of multi-tasking consumption ability.
Certain foods MUST be hot, and others cold as ice.
And then some... you can eat any moment of the day and at any temp.
I love those foods.
Redditor FattyGobbles wanted to talk about the best of menus, no matter how it's prepared, they asked:
"What food tastes great cold as it does hot?"
Chinese food.
I can eat chinese food frozen.
OK, that's exaggerating, but it is just as good cold as hot.
That's a scientific fact.
Aloha
"Those sweet Hawaiian rolls." ~ tsundereed
"King's Hawaiian is the brand name. They are the sh*t." ~ OnTheEveOfWar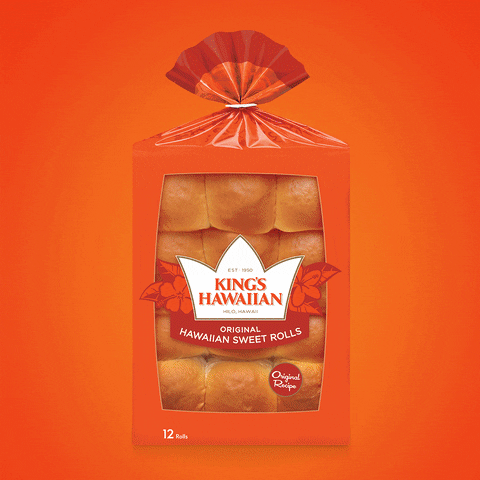 Giphy
phyllo dough
"Baklava." ~ t1dogsandweights
"As long as you use store bought phyllo dough, making baklava from scratch is actually not particularly difficult."
"Just layer the dough sheets in a baking dish with melted butter and a nut/cinnamon mixture, slice it, bake it, and then pour the syrup over it just as it is out of the oven. The sound of it crackling when the syrup is poured on is just. Wow. One shouldn't eat it just then, though, because you want to wait for the syrup to be fully absorbed." ~ HootieRocker59
Soups on...
"Soba noodles. Cold soba in the summer is refreshing, and hot in the winter to keep your warm." ~ Sasazaki222
"Soupy noodles in general seem to fit the bill (at least from my Japanese standpoint). Soba, udon, hiyashi chuka/ramen... I'm starting to get hungry." ~ sassafrankimberly
"I get the soba sauce and noodles from my local H Mart and then just takeout tempura from the Japanese place near me when I want soba. Incredibly low effort for the payoff, and you can totally make an individual serving size fresh a few nights in a row instead of a large one for your family." ~ waterfountain_bidet
The Best of Life
"Chocolate." ~ CupOk3383
"Many years ago I found myself in Madrid visiting a friend. I didn't know this before hand, but if you ever get the opportunity to go to Madrid, stay up all evening eating tapas and end the night with hot chocolate. My initiation into this involved going down to a basement level establishment in central Madrid around 3 in the morning,."
"Walked past a guy stirring a huge pot of chocolate, aromas of cacao beans and flickers of candle light bouncing off stone walls escorted me to a solid wooden table. Sit, talk, drink amazing chocolate. If there was a choice to live in a world with either chocolate or coffee. I choose chocolate." ~ bayous2mountains
That Hour
"2 am snacks." ~ TheFriendlyDrunks
"I'll crush 11 Oreos and a glass of milk at 2am no problem." ~ letsgobruins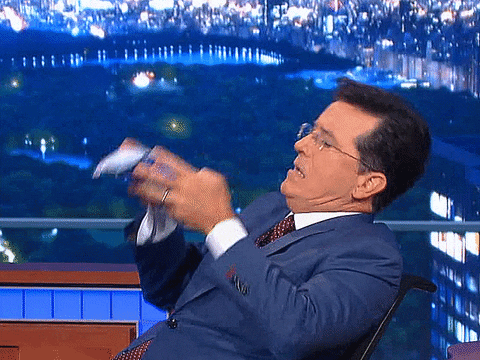 Giphy
Why do things taste better at 2am?
The exact hour we should NEVER eat?
It just all goes down so smooth, though.
It's All American
"Pie." ~ anb1017
"I don't think anyone enjoys hot and cold pie equally but I do think both sides have large and loyal fanbases. I'm team cold." ~ basedlandchad14
Giphy
BOOM. Delicious.
"Soft bread." ~ frenchjolynekujo
"I mean this works a couple ways too. Like a piece of bread and butter, with good bread, and a quality butter, is delicious on its own Toast that up first, BOOM, delicious! But a fresh slice, from a fresh baked loaf thats still warm, well." ~ Aksi_Gu
Such good dairy...
"Cheese." ~ Yippyskippyhippy
"I like (almost) every kind of cheese more when it's melted. But my mother hates when cheese is melted on anything but pizza. Like, years back, she asked if I would make her a sandwich when I was going to go make one for myself."
"I said sure, made them both, heated them just enough to melt the cheese, and she reacted to it in disgust. Not in a rude way, I don't even remember if she asked me to remake it or not, but I was left always remembering that she cannot stand melted cheese." ~ waltjrimmer
Meats
"Ham."
~ Sceptile4president
"Among meats, also chicken and corned beef. As for ham, I sometimes cut it into 1/2 inch slices and broil on each side. It's supposed to be for sandwiches, but I snack on them cold. Only works with cuts from a 1/2 ham, pre-cut ham slices are too thin. Does anyone else hate that pre-cut ham slices are slicing off the best part before you buy your rump end ham?" ~ JustaRandomOldGuy
Just gimme...
"Brownies." ~ SpectralDM
"'A nice warm brownie' and 'a nice chilled brownie' sound equally delicious in ways most other foods do not." ~ TheAndorran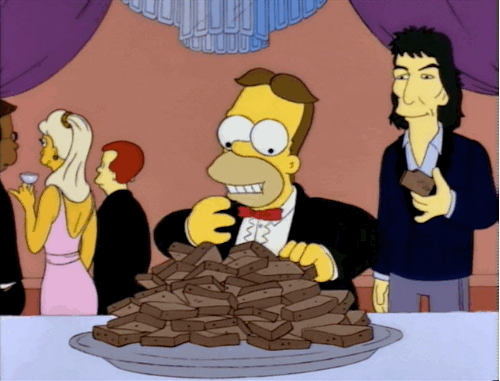 Giphy
Brownies.
Eat brownies, wherever, whenever, however you can get them.
And pasts, pasta is great in all states.
I love carbs.
Want to "know" more?
Sign up for the Knowable newsletter here.

Never miss another big, odd, funny or heartbreaking moment again.
Keep reading...
Show less
You can deduce plenty about people just from the things they have in their home.
Not that I rummage through people's homes... much. But there are certain items that are present or missing that let you know there may be trouble in some areas of a person's life.
For instance... all writers have pens. It's a thing. And a computer. And they have books, because they read and research.
If they're missing more than one of these items, it's a poser.
Redditor Tarrabyte__ wanted to send up the red flags we should be on the lookout for when rummaging in kitchens. There are just somethings only a bad cook would have.
"What food in someone's cabinet screams, 'I'm bad at cooking?'"
There are basics to every field and desire.
You have to have the basics or not have what doesn't belong.
Poisons
"I've seen someone store their bleach, dish soap, and bath soap right beside the potatoes." ~ jcn143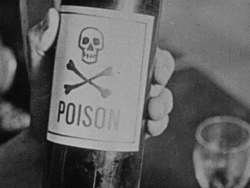 Giphy
Dr. NOOOO
"My mom has had a can of Dr.Pepper flavored beans in the cabinet for about 6 months so I'd have to go with that." ~ mini-maggit
"I bought those once more as a novelty. They weren't good. It's like the sauce is supposed to be made with Dr Pepper. But they just tasted bad. So be glad she left them in the cabinet and didn't serve them to you." ~ Acrobatic_Succotash
"You might be surprised how many BBQ recipes call for some kind of dark soda in the sauce/marinade. Dr Pepper, Cola, Root beer; I've seen everything from beans to pulled pork call for one of those." SocratesBalls
"oh it's still good"
"My parents have spices in the cabinet from before they were married. They just celebrated their 50th wedding anniversary last week. It's a known fact amongst my kids, you don't eat anything in grandmas house without checking an expiration date."
"We've also started a new game of trying to find the oldest expiration date we can. The refrigerator has stuff from the year I graduated high school in 1999. Ice cream toppings and things like that. The response from my mom and dad is always 'oh it's still good.'" ~ oaksso7880
Bad Flavors
"To balance out the 'lack of seasonings.' Only massive amounts of garlic and onion powder. I met someone who insists you'd be a fool to not pack every recipe with these, to the point where everything has this weird, overpowering fake taste." ~ Doobledorf
"They're easy to lean on because they smell good as is. It takes a little experience and experimentation to learn how to unlock the other flavors through combinations and actually cooking the herbs. Like I could just huff a bag of onion powder all day that stuff is amazing!" ~ Abrahamlinkenssphere
Get Wood
"A glass cutting board. only people who have no clue what they're doing in the kitchen would use one." ~ kittenswithtattoos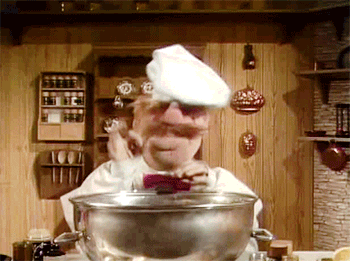 Giphy
Storage is key.
You don't store chemicals with food.
Choose to live.
What's Missing?
"I think it's more about what's not there. If you don't own a cutting board, you probably can't cook. I'm surprised at how snobby some of these comments are. I'm a great cook, but eat instant/shortcut convenience foods all the time. My time and energy are finite resources, sometimes those convenience items are a lifesaver!" ~ strikingsapphire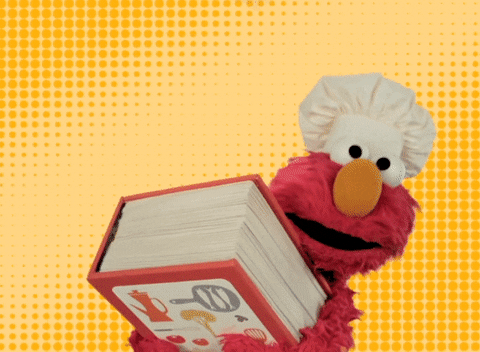 Giphy
Cut it Up
"The lack of a larger, sharp, knife. If all you have are paring knives, I will assume you don't cook much." ~ Bananaman612
"Whatever size they are, if all your knives are dull, you either don't cook much or have some kind of weird fetish for frustrating yourself. Lots of people can't afford fancy knives, but most can afford a sharpener and a few seconds every now and then to give them a quick run through." ~ Fortherealtalk
What's Lacking
"It's more the lack of salt in the cabinet. My family doesn't believe in seasoning food and they don't think it is possible to overcook something. I have heard my mom complain about how pepper is too spicy. They're like the stereotype of white people." ~ Either_Road_5538
"Sounds like my friend when we were growing up his mom cooked chicken by boiling it and don't season it at all. Dude way blown away when I cooked him and myself chicken with a homemade pan sauce one time, that's when he told me about his childhood of bland boiled chicken." ~ subaru_natsuki337
Reasons for Seasons
"I see a lot of people here ragging on instant food but damn I work full time. Sometimes I make Butter Chicken from scratch and other times I make hamburger helper for dinner. I consider myself a good cook but I'm also a person who gets tired. Just because you have lazy meals ready to go does not make you a bad cook." ~ TheCylonsAreHere
History
"None. Check their DoorDash history." ~ Lucky-Refrigerator-4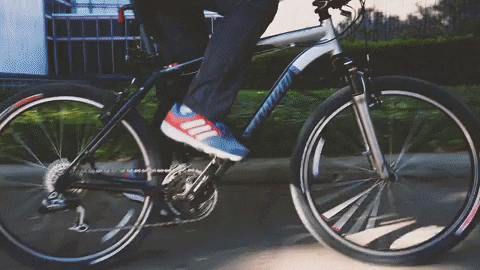 Giphy
I think I may be a bad cook.
That's ok, I have DoorDash.
And I'm temperamental with spices so take that as you will.
Want to "know" more?
Sign up for the Knowable newsletter here.

Never miss another big, odd, funny or heartbreaking moment again.
Keep reading...
Show less
The solution to healthier eating habits and saving money is cooking at home.

The past year has certainly pushed our limits by mastering our nascent culinary skills in the kitchen, as many of us tried to avoid ordering take-out on a nightly basis.
But while following recipes are pretty self-explanatory, not everything turns out the way we expected, and adding more salt was not the answer.
To help out us amateur cooks, Redditor tmariexo enlisted the help of strangers on the internet by asking them:

"What is your best cooking tip?"
A Proper Prep
"Read through the entire recipe before you begin to make the item."
– Indycam
"I also like to pick one recipe I'm going to mainly follow, and then look at a bunch of other recipes for the same dish to see what they all have in common, and see if any have ingredient suggestions/helpful tips that the one I'm using doesn't have."
– edie_the_egg_lady
For Efficiency
"Cut/Prep everything first. Keeps the work area clean and you're able to add thing exactly when they're supposed to be added. Instead of burning something because you still have to cut or prep an ingredient."
– cmfreeman

Start With The Pepper
"Get a pepper grinder, freshly ground black pepper is a completely different taste to the powdered stuff."
"Have a hunt around You Tube, there's some good guidance out there."
"Food Wishes is probably a good start as is Americas Test Kitchen."
– Moneia

Master The Basics
"Learn cooking techniques."
"For instance, if you know how to roast vegetables and steam vegetables and stir-fry vegetables, then you can usually find something to do with whatever veggie is this week's special deal."
– doublestitch

'Tis The Season
"Adding salt at the beginning of cooking helps to draw oils and juices out of ingredients so their flavors permeate through the dish. Do not fully cook a meal then salt at the end."
– M0ck_duck

Take notes for these helpful pointers.
If You Use A Cast Iron
"If you're using cast iron, the spot on your stove where it says medium...that's as high as that spot goes now."
"Also,a big strength of cast iron is it can hold that heat for you, but you should really give it time to heat up...like 5 whole minutes is a good start."
– midelus
Difference Between Methods
"Cooking is an art. Get in there, make mistakes, don't be scared."
"Baking is a science. Be afraid, do not improvise, triple check."
– DarthDregan

People Explain Activities They've Added To Their Post-Pandemic Bucket List | George Takei's Oh Myyy
While we've all been cooped up for the better part of two years, many of us have been dreaming up exciting plans for the future. Maybe it's finally time to s...
No Shortcuts
"Do not try to cook everything on high. Learn to moderate your temperatures."
– Eirikur_da_Czech

All Ears
"Heat your pan hot before you add oil. Listen to your food cook. The sizzle changes when it's ready to be flipped."
– PenisPapercuts

Stretch Your Meals
"When making burgers/meatballs make an extra portion and freeze it (raw). Stews also freeze really well, it's worth making a bigger batch. Cook once, eat twice."
– island-breeze
Lard, Help Us
"If you have to measure similar (or divisible by the same measuring cup/spoon) amounts of oil and anything that doesn't come out of the measuring cup easily (like lard), measure the oil first, then the use the same cup for the lard, and the lard will just slide right out"
– dpsouthwell

It Burns Fast
"Minced garlic in a hot oiled pan cooks damn near immediately. Like less than a minute. If you're adding it to anything cooked in a skillet (stir fry, etc.) throw it in at the very end right before you turn off the heat [edit: or before you add water or wet ingredients such that the heat is effectively reduced to boiling]."
– SonOfMcGee
These help make a smooth and safe cooking environment.
Mind The Handle
"Don't leave the pan handle hanging over the edge of the stove. Even more important if you have kids."
– K-Kraft

Being A Multi-Tasker
"Clean up as you cook. You get stuff out of your way and don't have a bunch of sh*t to do afterwards."
– Sandpaper_Pants

Let It Go
"A falling knife has no handle."
– sisforsharp
"I literally throw my hands up and jump back whenever my knife slips. Old habit from working at a sashimi bar."
– owlbehome
A Suit Not Recommended
"Do *not* fry food when you're naked."
– driving_andflying

Go By The Signal
"When the fire alarm activates, that means it's done."
– K-Kraft

While I'm by no means a master in the kitchen, I found through trial and error how to adjust the flavoring of some of my favorite things to prepare.
In an effort to cut down on my sugar intake but still satisfy my sweet tooth, I learned how to bake what ended up being some of my favorite treats, like gooey coffee cake without too much of the gooey, during the pandemic.
But when the recipe called for an excessive amount of sugar, I reduced the amount by a third and replaced refined cane sugar with brown sugar.
The result was a chef's kiss from my and my friends in the neighborhood who got to sample them while we were all in lockdown.

Want to "know" more?
Sign up for the Knowable newsletter here.

Never miss another big, odd, funny or heartbreaking moment again.
Keep reading...
Show less
Whether you're an at home parent, a college student just leaving the nest, or a Food Network junkie, there are a few basic tips that everyone should know.
Chef's gave us some of their top tips for amateurs and beginner at home cooks that will really make a difference. They are trained professionals with years of experience in the kitchen, so they definitely know what we're all missing.
If you're looking to improve some of your cooking skills and techniques, but you're still learning how to boil water correctly, this list is for you.
Redditor BigBadWolf44 wanted in on the secrets and asked:
"Chefs of Reddit, what's one rule of cooking amateurs need to know?"
Let's learn from the masters!
What a common mistake!
"A lot of the time when people add salt to a dish because they think it tastes flat, what it really needs is an acid like lemon juice or vinegar."
"Instructions unclear I drugged my dinner party guests and now they're high on acid."
"Yes! Or tomatoes. They're pretty acidic too and go with so many things. Our dinners are so much better once the garden tomatoes are ripe. Or if a dish is too acidic, oil/butter or a little sugar can help add balance to it."
"Like tomato and eggs. Every Chinese mom makes those slightly differently and I haven't had a tomato egg dish I didn't like yet."
"There's a book called 'Salt Fat Acid Heat' that comes highly recommended to amateur cooks."
- Osolemia
"Reading even just the first chapter about salt made a lot of food I cooked immediately better, because I finally understood salt wasn't just that thing that sat on the dinner table that you applied after the meal was cooked."
"Salt is important for sweets. A batch of cookies without that little hint of salt doesn't taste quite right."
- Osolemia
Unfortunately, this tip might not be accessible to everyone. Many people who contracted COVID can no longer use their sense of smell the way they used to.
"Have a friend that lost his smell from COVID, and now he only recognizes if food is salty, sweet, sour or bitter."
"Just wait until he gets his sense of smell back and a ton of foods smell like ammonia or literal garbage now. Yeah, that's fun... It's been 7 months for f*cks sake just let me enjoy peanut butter again!!!!!!!!!"
You can't take back what you've already put in.
"You can always add, but you cannot take away."
"I find people's problems usually are they're too scared to add rather than they add too much."
"I see you also grew up white in the mid-west."
Safety first!
"Not really a cooking tip, but a law of the kitchen: A falling knife has no handle."
- wooddog
"I'm always so proud of my reflexes for not kicking in when I fumble a knife."
"If I drop anything else, my stupid hands are all over themselves trying to catch it (and often failing). But with a knife the hardwired automatic reaction is jump back immediately. Fingers out of the way, feet out of the way, everything out of the way. Good lookin out, cerebellum!"
- sonyka
Teachers Describe The One Student That They'll Never Forget | George Takei's Oh Myyy
"Speaking of KICKING in. On first full time cooking job I had a knife spin and fall off the counter. My (stupid) reflex was to put my foot under it like a damn hacky sack to keep it from hitting the ground. Went through the shoe, somehow between my toes, into the sole somehow without cutting me. Lessons learned: (1) let it fall; (2) never set a knife down close to the edge or with the handle sticking out; (3) hacky sack is not nearly as cool as it could be."
"Similarly, NEVER put out a grease or oil fire with water. Smother with a lid or dump baking soda in there (do not use flour, as it can combust in the air making things worse)."
How else will you know it tastes good?
"Taste the food."
"Also don't be afraid to poke and prod at it. I feel like people think the process is sacred and you can't shape/flip/feel/touch things while you cook them. The more you are hands on, the more control you have."
"No, this does not include situations where you are trying to sear something. Ever try flipping a chicken thigh early? That's how you rip a chunk out of it and leave it glued to the pan until it's burnt."
- Kryzm
Here's one just for laughs.
"When you grab a pair of tongs, click them a few times to make sure they are tongs."
"People really overlook this one. You've gotta tong the tongs a minimum of 3 times to make sure they tong, or else it can ruin the whole dish."
If you're looking to get into cooking or to improve you technique, pay attention to these few tips.
Salt generously, add an acid to brighten things up, and don't forget to taste your food!
If all else fails, you can always order take out.
Want to "know" more? Never miss another big, odd, funny, or heartbreaking moment again. Sign up for the Knowable newsletter here.
I love food! Maybe a little too much. It's been an especially amorous relationship over this pandemic. And I know I'm not alone.
All of our palettes are tuned to our own personal tastes. And sometimes certain items and combinations of tastes can leave others less than enticed.
I've lost track of all the side-eye I've gotten when I declare how much I enjoy PINEAPPLE on pizza. I said it. I meant it. Fight me. Let's discuss who else has eclectic tastes.
Redditor u/CatVideoFest wanted to discuss the mixing of certain ingredients that don't leave the best taste in one's mouth by asking:
Want to "know" more? Never miss another big, odd, funny, or heartbreaking moment again. Sign up for the Knowable newsletter here.

Keep reading...
Show less