Whether you're an at home parent, a college student just leaving the nest, or a Food Network junkie, there are a few basic tips that everyone should know.
Chef's gave us some of their top tips for amateurs and beginner at home cooks that will really make a difference. They are trained professionals with years of experience in the kitchen, so they definitely know what we're all missing.
If you're looking to improve some of your cooking skills and techniques, but you're still learning how to boil water correctly, this list is for you.
Redditor BigBadWolf44 wanted in on the secrets and asked:
"Chefs of Reddit, what's one rule of cooking amateurs need to know?"
Let's learn from the masters!
What a common mistake!
"A lot of the time when people add salt to a dish because they think it tastes flat, what it really needs is an acid like lemon juice or vinegar."
"Instructions unclear I drugged my dinner party guests and now they're high on acid."
"Yes! Or tomatoes. They're pretty acidic too and go with so many things. Our dinners are so much better once the garden tomatoes are ripe. Or if a dish is too acidic, oil/butter or a little sugar can help add balance to it."
"Like tomato and eggs. Every Chinese mom makes those slightly differently and I haven't had a tomato egg dish I didn't like yet."
"There's a book called 'Salt Fat Acid Heat' that comes highly recommended to amateur cooks."
- Osolemia
"Reading even just the first chapter about salt made a lot of food I cooked immediately better, because I finally understood salt wasn't just that thing that sat on the dinner table that you applied after the meal was cooked."
"Salt is important for sweets. A batch of cookies without that little hint of salt doesn't taste quite right."
- Osolemia
Unfortunately, this tip might not be accessible to everyone. Many people who contracted COVID can no longer use their sense of smell the way they used to.
"Have a friend that lost his smell from COVID, and now he only recognizes if food is salty, sweet, sour or bitter."
"Just wait until he gets his sense of smell back and a ton of foods smell like ammonia or literal garbage now. Yeah, that's fun... It's been 7 months for f*cks sake just let me enjoy peanut butter again!!!!!!!!!"
You can't take back what you've already put in.
"You can always add, but you cannot take away."
"I find people's problems usually are they're too scared to add rather than they add too much."
"I see you also grew up white in the mid-west."
Safety first!
"Not really a cooking tip, but a law of the kitchen: A falling knife has no handle."
- wooddog
"I'm always so proud of my reflexes for not kicking in when I fumble a knife."
"If I drop anything else, my stupid hands are all over themselves trying to catch it (and often failing). But with a knife the hardwired automatic reaction is jump back immediately. Fingers out of the way, feet out of the way, everything out of the way. Good lookin out, cerebellum!"
- sonyka
Teachers Describe The One Student That They'll Never Forget | George Takei's Oh Myyy
"Speaking of KICKING in. On first full time cooking job I had a knife spin and fall off the counter. My (stupid) reflex was to put my foot under it like a damn hacky sack to keep it from hitting the ground. Went through the shoe, somehow between my toes, into the sole somehow without cutting me. Lessons learned: (1) let it fall; (2) never set a knife down close to the edge or with the handle sticking out; (3) hacky sack is not nearly as cool as it could be."
"Similarly, NEVER put out a grease or oil fire with water. Smother with a lid or dump baking soda in there (do not use flour, as it can combust in the air making things worse)."
How else will you know it tastes good?
"Taste the food."
"Also don't be afraid to poke and prod at it. I feel like people think the process is sacred and you can't shape/flip/feel/touch things while you cook them. The more you are hands on, the more control you have."
"No, this does not include situations where you are trying to sear something. Ever try flipping a chicken thigh early? That's how you rip a chunk out of it and leave it glued to the pan until it's burnt."
- Kryzm
Here's one just for laughs.
"When you grab a pair of tongs, click them a few times to make sure they are tongs."
"People really overlook this one. You've gotta tong the tongs a minimum of 3 times to make sure they tong, or else it can ruin the whole dish."
If you're looking to get into cooking or to improve you technique, pay attention to these few tips.
Salt generously, add an acid to brighten things up, and don't forget to taste your food!
If all else fails, you can always order take out.
Want to "know" more? Never miss another big, odd, funny, or heartbreaking moment again. Sign up for the Knowable newsletter here.
I love food! Maybe a little too much. It's been an especially amorous relationship over this pandemic. And I know I'm not alone.
All of our palettes are tuned to our own personal tastes. And sometimes certain items and combinations of tastes can leave others less than enticed.
I've lost track of all the side-eye I've gotten when I declare how much I enjoy PINEAPPLE on pizza. I said it. I meant it. Fight me. Let's discuss who else has eclectic tastes.
Redditor u/CatVideoFest wanted to discuss the mixing of certain ingredients that don't leave the best taste in one's mouth by asking:
Want to "know" more? Never miss another big, odd, funny, or heartbreaking moment again. Sign up for the Knowable newsletter here.

Keep reading...
Show less
What's the sign of a great restaurant? Well, the most likely to know are the professionals. Reddit user ballinlikemyname wanted to know how the rest of us home cooks should select our next dinner date location.
ballinlikemyname asked:

"Chefs, what do you look for when you select a restaurant to dine at?
Not only did people share their red flags, but also how they know a restaurant is going to be good.
Here's some helpful hints from professional chefs and food industry workers to help you pick your next meal.
Go to places you could never recreate the menu.
"My dad was a professional chef his entire life. As a kid if we went out to eat, he would never want to go somewhere he could do himself. IE steakhouses, pub food, seafood, etc."
"He would want to go somewhere that would be difficult for him to cook authentically, so we frequented a lot of ethnic restaurants."
"This also was vice-versa. He cooked me Thai food once or twice at home but didn't like doing it because he knew he'd never be able to accurately recreate it like a Thai restaurant."
- patlaska
"This is why Olive Garden is such a sh!tty casual restaurant. I'm no chef but I can make pasta better than they make there for next to free with my eyes closed."
"My mac N Cheese also blows the pants off of any I've ever had ever."
"My favorite go-to place is this local Irish breakfast place. I don't have time or energy to make fresh hollandaise sauce, poached eggs, or corn beef hash at 8am."
Cleanliness was a reoccurring theme in the answers to this question.
Never thought to look there.
"Number 1 red flag is the spouts on the soda fountain. Those things are one of the easiest things to clean in the entire place, so if they're mildewy that kills my interest in eating there. I'm fine with a bit of mess elsewhere, especially in a high volume place since it will get messy over the course of the day. But those spouts take multiple days of no washing to get to a point where they are noticeably disgusting."

- wejivedc
"As a former chef, cleanliness and appearance of staff. If any one thing visible to the public that would be easy to clean is dirty, chances are the kitchen is dirty. The appearance of the dishes and utensils as well. There is a specific way that the dishes should look and even smell if they have been cleaned properly. When the machine is not being run correctly, the dishes will have a specific stale water smell to them and there will be a coating on them. The more basic and streamlined the menu, the more likely your food will be fresh due to frequent replenishment. Washrooms are an indiction of cleanliness as well."
This was surprising.
"When I was food service manager at a large company I asked the health inspector where she ate. She said fast food because their cleanliness rules were more stringent than regular restaurants."
- beadsis
"A mom and pop restaurant? Yeah, held to no standards but whatever they choose to set. A multinational fast food chain? You can bet corporate has a book of health rules that each store has to follow."
"But here's the thing, coming from an insider in the fast food business: health inspectors, private health auditors, corporate giving the public the appearance that everything is being cleaned - it's all a sham. I'm a cook and I've been told to cook up rotting meat before. Our line cooler was broken so the manager told us to put everything on ice, which isn't going to keep a pan full of chopped steak cold. Our line freezer also breaks down a lot so sometimes we serve thawing frozen-to-fried product to all our customers as well. Dishes don't get sanitized properly."
"Dumb teenagers don't change their gloves after hand placing raw chicken on the grill. Raw meat gets panic thawed in hot water. Everything is held to lesser standards until it's announced that the health auditor is making the rounds. At my previous job, a manager dropped food on the floor and still served it because she was afraid of the customer getting mad for having to wait for a new one."
People Share The 'Dirty Secrets' That Their Bosses Don't Want Customers To Know
There's a lot businesses hope their customers believe, and there are many business practices you wouldn't dare believe. These are some of the secrets Reddit ...
This chef has a check list.
"Clean. Bathrooms should look & smell clean. Run my fingers under the edge of the table/bar, no gum and no grit. Clean glasses and cutlery (amazing how many places don't do this... Here's looking at you place I went to in Manhattan where the server licked his fingers and tried to rub/scrape dried orange pulp off the lip of my glass and then give it back to me). And if the entrance is dirty then everything is dirty."
"Menu that I feel is manageable at a good quality for the type of restaurant."
"Social media - a few places have ended up on my eat it list because of their instagrams and such. Hell yes I'll check out your cafe if you post pictures of drool worthy croissants. Showing off your meat locker is a good way to make me interested in what I might dismiss as a run-of-the-mill steakhouse."
"Reasonably busy - everywhere has off days/nights, but if a place is never busy there's probably a reason and that reason is likely that it's not a great restaurant."
"Industry friend recommendations. Reputation goes a long way - someone I trust says it's good? I'll check it out."
Keep it simple.
"A restaurant that does just a few things well. I don't need a place that serves burgers AND eggs Benedict AND seafood AND pasta AND meatloaf, etc."
"The problem is there probably isn't enough turnover to get all that stuff out in a timely manner, so some ingredient might be past it."
"I am particularly picky about seafood. The odds that those fried clams are fresh in a diner, for example? Not great. They've either been sitting there for a while or are frozen."
Avoid the mayo based salads.
"I was a chef. I've since moved on from the industry, but I'll eat anywhere. Clean or dirty, busy or slow, working in the kitchen took a lot of those judgements out of my head. It might be great, it might be terrible, but you never know unless you try. Some of the best food I've ever had has come from places you'd least expect."
"So I'd pick whatever is close and I haven't tried yet."
"Oh, and avoid mayo based salads. They have low turnover. That applies to everywhere no matter how fancy."
The menu can tell you a lot about the quality of the food.
"A menu thats max 2 sides - places with long book like menus are guaranteed to be using frozen/microwave stuff."
"Unless those are 25 combinations made with 5 different meats and 5 different sauces (typical of some Asian restaurants)."
- RNBQ4103
Sometimes a line is a good sign.
"I think the answer is pretty well known: open so late it's early, full of other chefs because that's the place they've always congregated."
- scolfin
Check with the server.
"If you ask the server what they recommend, and they're hesitant, you may as well just get up and leave."
"They know what's fresh/good and not. They know if nothing is."
- nessie7
Big takeaways include short menus, long lines, try something new, keep it simple, but above all else: make sure the place is clean.
Want to "know" more? Never miss another big, odd, funny, or heartbreaking moment again. Sign up for the Knowable newsletter here.
Keep reading...
Show less
Being a chef is way harder than it looks. Trust me, I've watched ten seasons of Hell's Kitchen, so I'm basically an expert. Cooking for an entire restaurant of people, while doing so in a timely fashion, isn't the easiest job in the world. And of course, not all dishes are created equal.
Every chef has that one item on the menu that they can't stand making. Wanna know what they are? Keep reading!
u/ShylocksBloodyBond asked: Chefs of reddit, what is that one dish on the menu you absolutely hate making?

​Depending on which restaurant you go to, there are times when what may seem like the easiest dishes, are actually much more annoying than they look.
​Eggs can be tricky.
Former chef, it's some of the simplest dishes that are the most annoying. I always hated working breakfast rushes, people are very particular about eggs, and it is very easy to accidentally break a yolk.
Outside of that, while pastry and desserts were some of my favorite things to make, working with phyllo dough is a major test of patience
Also f*ck cleaning mussels.
​A lot goes into those tasty soufflés.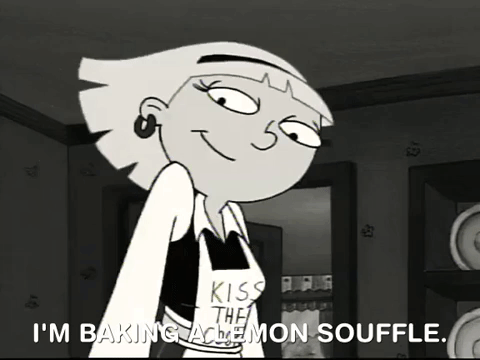 Animated GIF
Giphy
Soufflés. We make the creme pate in advance but when it's ordered the process is: Warm creme pate over a double boiler, while that is warming you need to hand whip a fresh meringue. Once the creme pate is warm, you have about 3 minutes to fold in the whites, fill your molds to make sure you don't touch the edges(as it makes them rise crooked). Into the oven for 3 minutes, open oven and rotate for 2 minutes. In those 5 minutes you have to plate the rest of the tables desserts, which all have 8-10 components. Soufflé comes out to a waiting waiter, has to go to the table immediately or deflates.
While it's not the most difficult thing in the world, when you're busy and have 4-6 on order and each one needs to pass a 3 finger test(height above rim of mold or it gets sent back and you need to restart), it can get quite hard and demoralizing when they don't work.
And then you send out 4 at once and someone at the table gets up to go to the bathroom or have a cigarette and the tray comes back and you start again and cry inside.
​Gross.
Slightly different take, but I was a chef at a nursing home and anything puréed for people who are on that dietary restriction was gross to me. I literally had to take whatever meal I made, throw in a blender and put it in a bowl. I always felt so bad.
​Fancy dishes are even worse. If everything isn't just right, it may be at risk for starting all over again, making for some very impatient customers.
Please don't order this ten minutes before close.​
Our German Apple pancake.
First you sauté Granny Smiths in clarified butter.
Then add three ladles of our German batter into sauté pan.
Throw in oven for 15 minutes.
Remove from oven and add clarified butter and cinnamon sugar.
Flip delicate pancake with spatula and a dash of learning curve.
Return to oven and cook 5 more minutes.
Flip pancake onto plate and insure it makes it to the table in less than a minute as it deflates rapidly.
Bonus points for when it's ordered 10 minutes before we close.
Edit: those who are apologizing for ordering it, don't it's our job. Kitchen staff are gluttons for punishment.
Some customizations are actually impossible.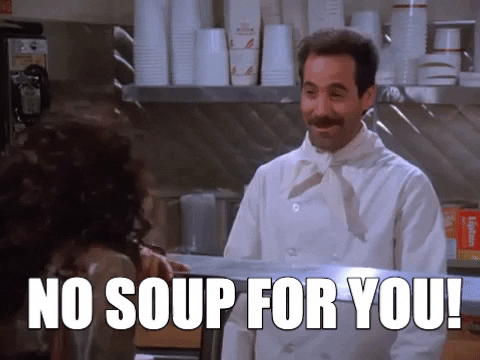 Seinfeld Soup GIF
Giphy
​Customizing the soups. I used to work at a Michelin star restaurant. WE ALREADY HAVE THE SOUPS PREPARED BEFORE YOU WALK IN. I can't just take out the shrimp taste of a paella soup that I prepped before you walked in here.
I don't know what that is, but it sounds like a nightmare.
Not working in a traditional restaurant anymore but the f*cking ringmold stacked beet salad. It took like 3 minutes to make just one and if a table of four all ordered them it slowed down the entire salad line.
​Even the chain restaurants have their own sets of issues when it comes to their dishes.
​Don't underestimate the fruit boxes.
I used to work at a grocery store and I was the person who made all those pre-cut fruit boxes. I didn't particularly mind any of them all that much except clementines. We had to peel clementines and put them in a box. First, it was a huge waste because no one ever bought them (why would you pay $5 for 6 peeled clementines when you could buy a whole bag unpeeled for the same price) except for old people who couldn't peel the fruit themselves, and secondly because the acid would eat through our gloves and then destroy our nails and leave orange smell on your fingers for days.
The only other thing I hated making was 5 mix. We have a mixture called "six mix" which is just 6 different kinds of fruit together, but this one guy would come in and ask for six mix without the cantaloupe in it. We actually started calling him 5 mix. When he walked in someone from a different department would ring us and let us know 5 mix was there and to start making some 5 mix. I hated it because when he asked we'd have to go get a whole watermelon, a whole honeydew, and 3 other fruits and cut them all up just so he could have like 5 cut up pieces of each instead of just eating around the cantaloupe. And he always showed up right as our department was starting to close down for the night too. So we had to them rewatch all our surfaces after five mix came in.
​Microwaved McDonald's is no bueno.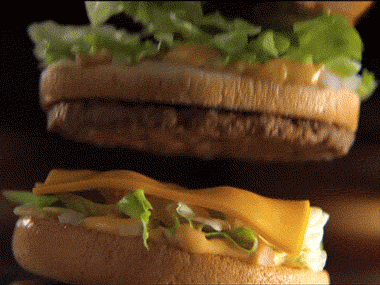 Food Drink Mac GIF
Giphy
I used to work at McDonalds. Years ago we had this promotional burger we called the 'lean beef burger'. It was aimed at people who wanted to be more healthy.
Normally the meat patties are cooked on the grill, but this one was nuked in the microwave. When it was heated, it looked grey, and it smelled so putrid no one wanted to work near the microwave so they wouldn't have to smell it.
Subway can be a tough gig.
Not a chef but I worked at Subway, whenever people wanted guacamole, we always spread it on one side of the bread before adding the rest of the veggies but the way the counter was designed the avocado was the last ingredient so people would always add all their veggies and then want avocado on top. This was a nightmare to spread across the uneven veggie surface and would generally just stick in clumps.
Some vegetarian customers also wanted us to change our gloves to serve them but everytime we change gloves we have to wash our hands which makes the gloves near impossible to wear - this would grind our whole production line to a halt while all staff members struggled to change their gloves. I mean I'm vegetarian too so I kinda understand but like if you're so strict about it you want fresh gloves then you shouldn't work at subway because the "contaminated" gloves from before still went in all the veggie boxes.
​Peanut butter is tricky.
Worked in a sandwich shop for a bit in college. Not fine dining by any stretch of the imagination, but a couple steps above Subway.
Every time someone ordered a PB&J off the kids menu we had to clear off both lines, change our gloves, wipe down every surface the peanut butter got close to, and wash the knife we used to cut it. Like, I get it. But having to treat peanut butter like nuclear waste in the middle of a lunch rush was never fun.
Plus, the peanut butter was too thick for the bread we used for the PB&J, so the bread ended up tearing half the time.
Most of these chefs have made clear- it is 100% ok to order these items off the menu. But it doesn't make them any less of a pain in the butt.
Show appreciation for the chefs at the restaurants you go to! They work even harder than non-food service workers would expect
Keep reading...
Show less
Now as much as many of us love food or are self-professed, proud foodies... there is no reason to eat anything and everything. Some foods, particularly when you visit other countries need to be researched before consumed. You know there is a blowfish (fugu) that is popular in Tokyo that can kill you? You should look up menu items you can't pronounce before you're pronounced deceased.
Redditor
u/PanBijo
wanted to hear about the times food... became the enemy by asking...
What's the most dangerous food you've ever eaten?
I've never really been food adventurous so I don't have to worry. I won't even touch a pepper whose color I haven't looked into. And when it comes to hot sauces, once the name on the bottle starts getting convoluted... I'm out. Apparently some people like to throw caution to the wind with meals.
Orchard Issues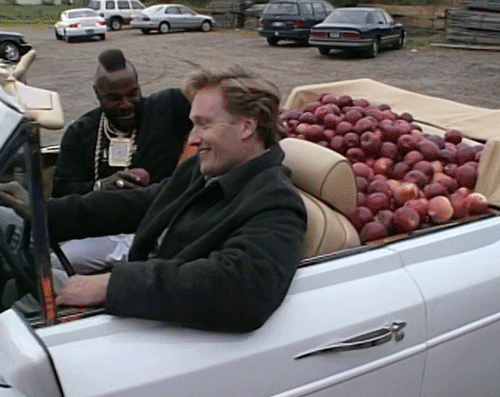 mr t conan obrien GIF by Team Coco
Giphy
Turns out, I'm allergic to apples!
My kid has OAS too. She reacts to certain apples, but not others, which sounds totally crazy. It's such a weird one. She can't have peaches which gives her the sads.
Shroomed...
Accidentally ate a poisonous mushroom on vacation when I was 5. I was non responsive and ended up in the hospital for a couple of days.
To clarify: Nobody knew it was poisonous until I didn't react to anything later that night when I was already laying in bed. Yeah exactly. I though the hospital was a dream at first and tried to take of my IV and walk away lol. I was on vacation we got a pan full of mushrooms from some friendly locals for dinner. All of them were fine except the one I ate.
Potassium Fail
Bananas. Apparently, I'm allergic to them and didn't know for the first 28 years of my life. My daughter was describing how bananas make her throat itchy and that's when my wife told me that wasn't normal... still love them I'm just a bit more careful as to how many I consume.
Lethal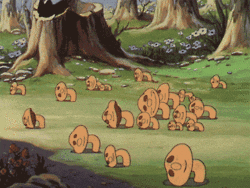 psilocybin mushrooms shrooms GIF
Giphy
Gyromitra esculenta. Poisonous mushroom that can be lethal if not parboiled correctly, but I trust my mom. She makes AMAZING mushroom sauce from them. One of the best thing I've eaten.
Rattled
Fried rattlesnake! The guy didn't tell me it was still filled with dozens of tiny ribs which lodged in the back of my mouth.
I had to reach in with my hand and pull them out before I felt safe to breath again.
Edit: It was lightly flavored and flaky like fish
I'd eat it again.
See now, half of those it just makes common sense to be sure about before stuffing your face. I get wanting to try something new... but come on. You know what else is new for a one and only time? A coffin. Just saying. Let's see what else is on the menu.
Like a Kardashian
Those round red and white striped mints they give out at some restaurants. Choked so bad my dad had to stop the car on our way home and check if I was alright. Then my parents banned me from eating those for a few years.
Oh and a few years ago while eating sushi, I accidentally ate a big chunk of wasabi, I didn't see it on my chopsticks. My lips swelled up so much I'm sure the Kardashians would've been jealous. This almost happened again on Saturday.
Eating Jaws
Fermented shark. The taste itself was enough to make my stomach quiver, but worse were the flavor burps that lasted for two days that no amount of toothpaste/mouthwash could destroy.
So my husband and I tried it on our honeymoon in Iceland. We tried it because that's basically the only place in the world we'd try it and it's a traditional food there.
The guy who is us try it told us to imagine it being like a super funky cheese. I had an immediate gag reaction, as soon as it hit my tongue my body said it absolutely wasn't food. However my husband, while it's not a thing he'd just snacks on, didn't think it was bad. But he also like funky cheeses like limburger.
Swole Up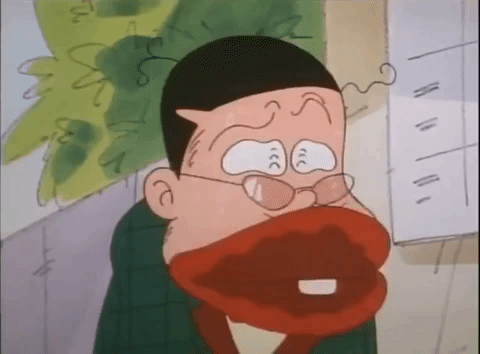 Giphy
This one time I had a turkey sausage and I guess I was allergic to something in it because my lips swelled so big I looked like a botched lip filler surgery victim. I ended up going to the hospital and now I carry an epipen.
MSM
Methylsulfonylmethane or MSM. It's a dietary supplement that some people take to treat joint issues. My FIL was taking it and wanted me to try it because it has a very peculiar taste. He gave be a spoon that probably only had 1/8-1/4 teaspoon of the powder on it. I took it, tasted it, it was very bitter, and swallowed.
Within a few minutes my throat began to swell, I had some tightness to my chest and some wheezing plus some hives awhile later. I had started into anaphylaxis. Luckily it didn't proceed too far.
That's how I discovered I was allergic to sulfur and/or sulfur compounds.
It's also what I joke about with my FIL - the time he tried to kill me for marrying his daughter.
Nuts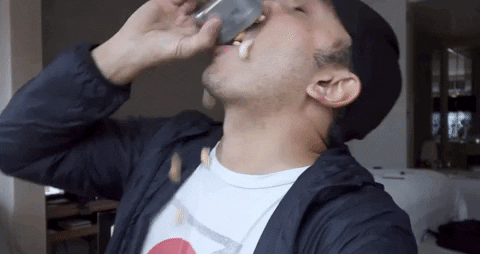 Hungry Lets Eat GIF by youngnailsinc
Giphy
Cashew bar. Didn't know your tongue could itch. Or that you could feel your throat closing up. First time I cried in front of my mom in years.
Yeah, I'll stick with my less "sophisticated" palette. My biggest adventure is different sushi roles and even then I'm super careful. But at least I live another day to try something else. And without a debilitating reaction.
Want to "know" more? Never miss another big, odd, funny, or heartbreaking moment again. Sign up for the Knowable newsletter here.

Keep reading...
Show less