Some people dream of a perfect, square-cut wedding ring.
Others just want a simple, solitaire setting, or perhaps a halo cut.
For any couple that's truly in love, however, it doesn't matter how the diamond looks, as long as it's made out of a Burger King Whopper.
Wait, what?
In a new German advertisement, the fast-food company helped out LGBTQ couple, Dima and Alvar, who are from an unnamed Eastern European country that doesn't allow gay marriage.
In honor of Pride month, Burger King flew the pair to Germany, where gay marriage is legal, and presented them with a wedding ring made from the ashes of a severely scorched Whopper.
BURGER KING | Whopper Diamond youtu.be
Klaus Schmäing, Director of Marketing of Burger King Germany, wants it known that Burger King is on the right side of history:
"Guests can choose their Whopper in any country, and together with Dima and Alvar, we want to show that everyone should have the freedom to make their own decisions, especially in love."
And the King didn't stop there!
The company will also be sponsoring Germany's version of Pride, Christopher Street Day on July 7!
Twitter couldn't help but give Burger King some props for paying for the couple's entire wedding.
Twitter felt a little strange about getting teary over a burger commercial.
Though many companies take advantage of Pride month to try and increase their sales, most people agreed Burger King's spot went the extra mile to show they actually cared.
There's no shame in crying through your burger.
It's also worth noting that Burger King is now capable of real world magic?
Congrats, Dima and Alvar!
May your days be filled with happiness and love!
If you're planning a wedding, an anniversary or other gathering, and looking for a unique alternative to a guest book, this heart drop frame, available here, offers a beautiful option.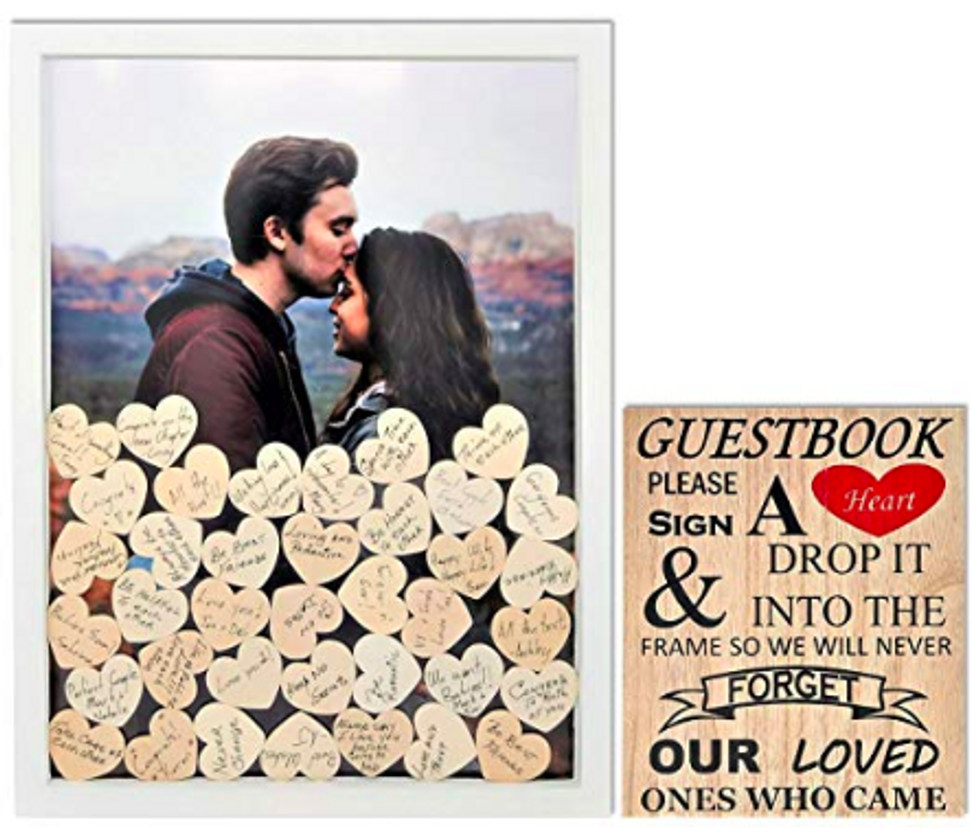 Amazon
Keep reading...
Show less
We all know fast food isn't really good food. It's more like fried something on top of fried something else with a touch of oil, butter, and salt for taste.
But what we don't see is the behind the scenes stuff. We don't see where those patties come from, or how those chicken nuggets are cooked. We don't get to see what the employees see. But they are trying to warn us about the perils of eating their products. We best listen.
Keep reading...
Show less
Los Angeles resident Boyce Harvey got the exact opposite of what he was expecting when he went to Burger King hoping to capitalize on the restaurant's online one-cent Whopper deal.
According to UPI, customers who bought their Whopper via the Burger King app within 600 feet of a McDonald's would be charged only $0.01 for the sandwich.
When Harvey arrived at the counter to pick up his food, however, he found that was not the case.
I secured my one cent whopper thx Burger King and McDonalds

— minie (@minie)1544579604.0
As he made it to the counter, the Burger King's manager told Harvey their system was not showing his order. Slightly disappointed, but hungry more than anything, he decided to order something else instead, paying with a card without worrying about the price.

Hey @BurgerKing I am LITERALLY in the @McDonalds parking lot & your app won't unlock the "whopper for 1 cent". Nice… https://t.co/Nvbgvkxe14

— Penny Lane (@Penny Lane)1544606123.0
It was only after Harvey had already paid that he glanced at his receipt and saw something shocking: He had been charged $1,093.91 for the meal.

Man charged for more than $1,000 for penny Whopper deal youtu.be
Harvey didn't have enough funds in his account to cover the massive charge, which resulted in an overdraft fee.

A thousand bucks for a Whopper? Hey @BurgerKing , is that part a value meal? Do I at least get fries with that?… https://t.co/wPhjEi0ZSA

— Grumpy Dingo Radio (@Grumpy Dingo Radio)1544466610.0
Burger King is now working with Harvey to make sure the issue gets straightened out. No burger is worth over $1,000.

Thats a lot of beef!...https://t.co/oPztG33xyh

— BigB (@BigB)1544523269.0
People on social media are just glad this isn't happening to them!

@ABC7 Whopper of a bill 😳

— Kevin Brown (@Kevin Brown)1544515065.0
Given the true cost of Burger King to the public health and our environment, this may not be such an absurd charge. https://t.co/1mGmXhpEE7

— Mateusz Tomkowiak🏳️‍🌈🎄 (@Mateusz Tomkowiak🏳️‍🌈🎄)1544540144.0
@ABC7 I've eaten at Burger King and no way is it a thousand dollar burger. A penny, maybe.

— California Riot (@California Riot)1544521184.0
@MusaTariq @BurgerKing The idea is indeed great as long as the tech works fine: https://t.co/WCd4bCiCqj

— Andrea Disperati (@Andrea Disperati)1544533257.0
Check out the Burger King app and head to your nearest location for a one-cent Whopper...if you dare.
Coming up in #KruzNewz a man got charged $1,000 for a whopper from @BurgerKing 😱😱😱 @Jkruzonair https://t.co/5UcY3CD6aY

— 97.9 The Beat DFW (@97.9 The Beat DFW)1544535071.0
Keep reading...
Show less