The sultanate of Brunei is set to enact laws that will punish adultery and gay sex with death by stoning, according to an announcement by the country's attorney general.
The attorney general made the announcement in December 2018, but it has received little international notice until now; the laws will take effect on April 3.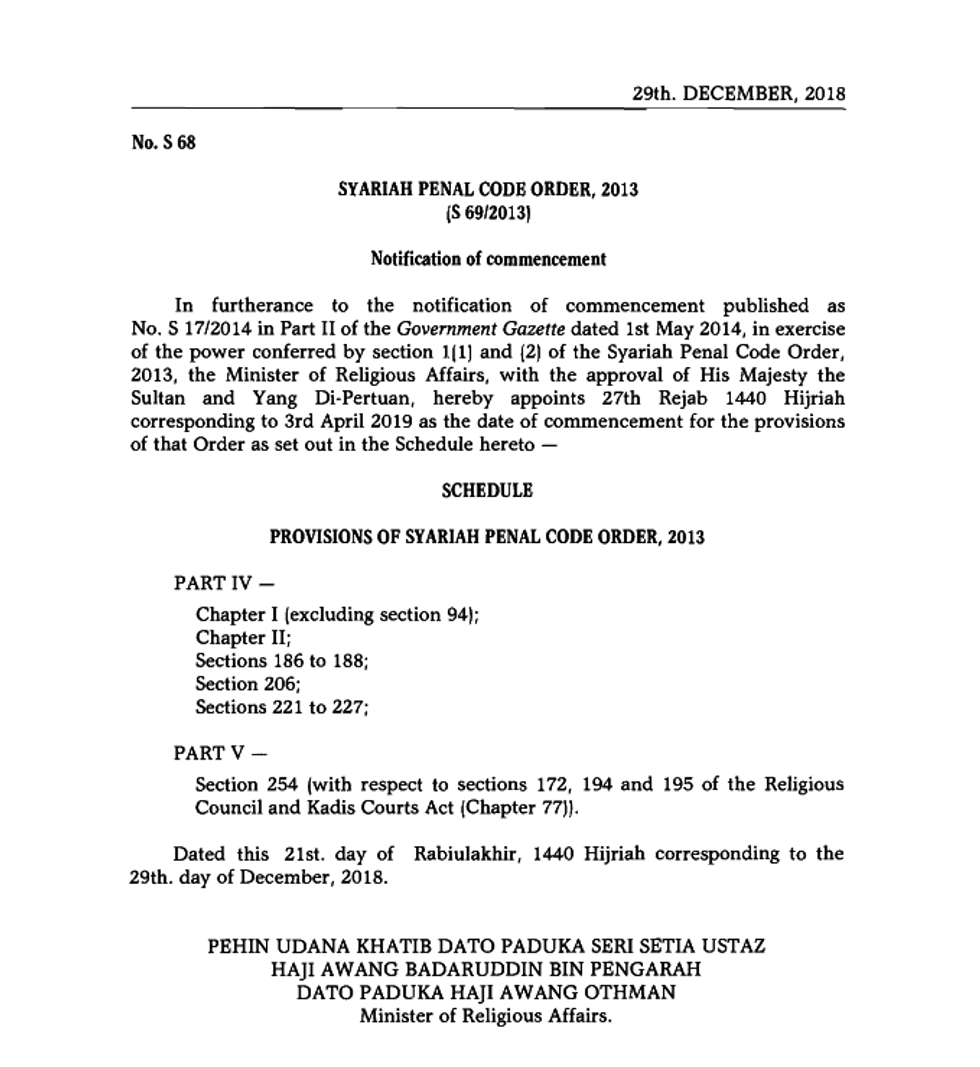 agc.gov
Homosexuality is already illegal in Brunei, and those in violation of the penal code can receive a punishment of up to 10 years in prison.
At the time of a 2013 announcement criminalizing homosexuality, the government website quoted Sultan Hassanal Bolkiah as saying:
"His Majesty the Sultan and Yang Di-Pertuan of Brunei Darussalam, in the [command], asserted that in carrying out the Laws of Allah, the nation does not expect other people to accept and agree with it, but that it would suffice if they just respect the nation in the same way that it also respects them."
The new laws "allow for penalties including whipping and stoning," according to a report from The New York Times, and "also introduce amputation of hands or feet as a punishment for robbery."
A person can be convicted by of adultery or having gay sex only if there are multiple Muslim witnesses. The law applies to Muslims and non-Muslims alike.
The announcement has been met with an outcry from human rights groups.
In a statement, Rachel Chhoa-Howard, a researcher for Amnesty International, said:
"Brunei's Penal Code is a deeply flawed piece of legislation containing a range of provisions that violate human rights. As well as imposing cruel, inhuman and degrading punishments, it blatantly restricts the rights to freedom of expression, religion and belief, and codifies discrimination against women and girls.

To legalize such cruel and inhuman penalties is appalling of itself. Some of the potential 'offenses' should not even be deemed crimes at all, including consensual sex between adults of the same gender."
Others have taken to social media to condemn the new legislation.
Actor and advocate George Clooney has responded to the news by calling for a boycott of Brunei's hotels. Brunei owns the following hotels around the world:
The Dorchester, London
45 Park Lane, London
Coworth Park, UK
The Beverly Hills Hotel, Beverly Hills
Hotel Bel-Air, Los Angeles
Le Meurice, Paris
Hotel Plaza Athenee, Paris
Hotel Eden, Rome
Hotel Principe di Savoia, Milan
In an op-ed for Deadline, Clooney says that in "the onslaught of news where we see the world backsliding into authoritarianism this stands alone," and makes the case for a boycott:
A couple of years ago two of those hotels in Los Angeles, The Bel-Air and The Beverly Hills Hotel were boycotted by many of us for Brunei's treatment of the gay community. It was effective to a point. We cancelled a big fundraiser for the Motion Picture Retirement Home that we'd hosted at the Beverly Hills Hotel for years. Lots of individuals and companies did the same. But like all good intentions when the white heat of outrage moves on to the hundred other reasons to be outraged, the focus dies down and slowly these hotels get back to the business of business. And the Brunei Investment Agency counts on that. They own nine of the most exclusive hotels in the world. Full disclosure: I've stayed at many of them, a couple of them recently, because I hadn't done my homework and didn't know who owned them.

They're nice hotels. The people who work there are kind and helpful and have no part in the ownership of these properties. But let's be clear, every single time we stay at or take meetings at or dine at any of these nine hotels we are putting money directly into the pockets of men who choose to stone and whip to death their own citizens for being gay or accused of adultery. Brunei is a Monarchy and certainly any boycott would have little effect on changing these laws. But are we really going to help pay for these human rights violations? Are we really going to help fund the murder of innocent citizens? I've learned over years of dealing with murderous regimes that you can't shame them. But you can shame the banks, the financiers and the institutions that do business with them and choose to look the other way.
The Sultan of Brunei is one of the richest men in the world, with a fortune valued at $20 billion. He is the world's longest-reigning current monarch after Queen Elizabeth II, having held the throne since 1967, following the abdication of his father.
Could an international boycott be the answer? More to come as this story develops.
Keep reading...
Show less