Nora Lum, better known by her stage name Awkwafina, is someone you might recognize from the cast of Ocean's 8 or Crazy Rich Asians.
The actress and rapper is also well known for creating her own feminist content, as evidenced by her track "My Vag," the response to Mickey Avalon's "My Dick." Now, Awkwafina is creating her own Comedy Central show, and she has some cool announcements about how her show is going to be exactly her brand.
The show, which is also entitled Awkwafina, has been greenlit for a ten episode order.
In addition, the show will have an all-female writer's room.
The show will be "a show about being raised by my grandma and dad in Queens, living at home and finding purpose."
According to the Huffington Post, the cast is already set to include some of the most prominent Asian-American artists currently working, including B.D. Wong (most recently seen in the Netflix horror-thriller film Bird Box) who will play Awkwafina's father, Lori Tan Chinn from Orange Is The New Black who will play her grandmother, and Bowen Yang (a writer on Saturday Night Live who also recently appeared in the romantic comedy satire Isn't It Romantic starring Rebel Wilson) who will portray her more successful cousin.
People are already super hyped for the show.
Specifically, people are hyped that the all-female writers' room is a thing.
It will be, after all, one of the very few shows on television to have an all-female writers' room.
The show does not have a release date yet, but Comedy Central expects it to happen sometime in early 2020.
The show is expected to succeed and fill the niche of NYC-style humor brought on by Broad City, which will end this year after its fifth season.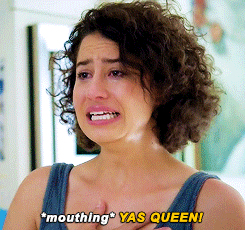 Giphy
We just can't wait.

Keep reading...
Show less