We're not all going to think the same thing. "Beauty is in the eye of the beholder," and all that. However, we can recognize when someone has clearly taken the time to focus on their looks, through working out, how they dress, or how they style their hair. This is no judgement, and it's perfectly fine if you want to feel fabulous some days, but there is an unfair stigma that comes with that.
The world thinks a lot of things about you if they find you "conventionally" attractive.

Reddit user, Zestyclose-Detail791, wanted to know what it's like to walk around pretty when they asked:
"What are the dangers of being very attractive/beautiful?"
There's a lot that immediately comes to mind if you're considered traditionally attractive, problems that you'll encounter any time you meet someone new.
What Are My Traits?

"Not knowing if you're actually funny. Or well spoken. Or talented. Or charismatic."
stink3rbelle
"On the opposite end, some attractive people (mostly women) who are really smart aren't taken seriously because people only focus on their looks."
powerlesshero111
No One Knows You're Real Self
"If you're really attractive and also quiet, people think you're snobby. Also, you get unwanted comments from creeps a lot."
Appropriate_Day_8721
"I constantly was accused of being stuck up and a prude when I was a teenager while I was most definitely neither. I was always nice to people, but I was super shy because I had painfully low self esteem as a teenager and thought I was hideous and boring."
"My high school self and my grownup ego thank you for this lightbulb moment."
partway-chrysalis
Making All The Heads Turn
"you get a lot more attention than you probably want, lots of staring and sometimes people following you. Tension within your own gender as you're seen as competition."
CandidGuidance
Social interactions or cues will be the most difficult wall to overcome. People you know and people you don't will assume lots about you, making a simple conversation that much more challenging.
Misinterpreting Signals
"People will often mistake friendliness for flirting"
Immediate-Cow6875
"I work at a hotel front desk, and the other night a man came down to ask for something and said, "every time I passed through here, someone else was hitting on you. Do you deal with that all the time?" Yes, and it's obnoxious."
faerie03
Never Knowing Where To Draw The Line
"Friendships falling apart when their partner is attracted to you."
Illustrious-Fly9586
"Friendships falling apart when you're genuinely trying to be friends with someone of the opposite sex & they end up falling in love with you:("
Zaiya53
"How much I feel this one. I lost all my male childhood friends because at some point all of them ended up falling for me and made everything uncomfortable or left after being rejected. Specially because well, everyone knew I had a boyfriend anyway (now fiancé, so yeah, a very solid, healthy relationship. Noone else had a chance)."
"Now I began to befriend a really cool guy and just the other day he tolds me "he needs a girlfriend like me" in a pretty evident flirty tone. I joked about "my fiancé finding the limited edition" to make sure he knows I have a partner. He tried to hide his dissapointment but I still saw a bit of it on his face after that."
"I find it so frustrating... I just want a bunch of friends to celebrate the Holidays with and prepare them special meals and surprise birthday parties and plan trips and recomend them songs or movies and send them memes. Not having to deal with unwanted attraction towards me."
Chikizey
You're One Or The Other

"People think you are flirting if you are being anything other than nasty to them. Then if you're are nasty, you are a b-tch/a--hole. No in-between."
SpikedBubbles
Whatever the case may be, you'll find a lot of people think the worse of you.
Or on a level below that, you'll see that people act the worst when you're around.

Unable To Handle The Switch
"If you become "unattractive" for any reason you may find it difficult to reconcile that you are no longer attractive."
"Examples: car wreck, injury, aging, disease, becoming obese. I'm sure there are more."
"If you're used to being attractive and you identify as such (consciously or subconsciously) it can be really hard to come to terms with a change in that."
goldensnooch
Too Bad. Not Anymore.
"You cant pick your nose in public anymore with all the people staring at your attractive/beautiful face"
noob_akk
Pain Is Going To Be Involved
"regardless of gender, i think some people would get obsessed with you to the point they'll harm other people to just get your attention"
Independent_Mall_78
"Or themselves."
anniewolfe
Conventional beauty standards are bogus. Be happy with who you are in whatever way you want, so long as you're not hurting anyone.

Want to "know" more?
Sign up for the Knowable newsletter here.
Never miss another big, odd, funny, or heartbreaking moment again.
Keep reading...
Show less
There's no denying that the world is easier for attractive people. There have even been studies done on this phenomenon.

Attractive people get paid more, get considered for more jobs, and they're likelier to have much stronger social skills than someone who is considered unattractive. This isn't to say that attractive people do not succeed on the basis of their efforts and talents, but the hill is much tougher to climb if you're considered less attractive.
Suppose you wake up one day to find that you're drop dead gorgeous.
Just kidding – you already are!
But what would you do?
People shared their their ideas with us after Redditor _Lanaaaaa asked the online community,
"You're now the most attractive person in the world, what would be the first thing you'd do?"
"Probably..."
"Probably still find something about my body or face to be insecure about."
too_annoyed
Ouch! This is probably the realest response here. We all felt this.
"Replace..."
"Replace my online avatar with my actual face, instead of some anime character."
[deleted]
How liberating! Poor anime characters... they didn't realize they'd be retired so quickly.
"Strip nude..."
"Strip nude in front of a full length mirror and worship my immaculate jawline and my perfectly structured body."
FinancialCounty710
Whoa, I feel like I intruded on something personal... get a room!
"Get..."
"Get a free coffee from McDonald's."
IndividualUse6959
Wait a minute, they do that? I guess I'm ugly...
"Get dressed..."
"Get dressed and go walk through a huge crowd to see how they react. Nobody ever notices me."
Iride3wheels
That's what you think! You'd be surprised. You might have a secret admirer somewhere.
"Walk around..."
"Walk around complimenting people and telling them how gorgeous they are."

[deleted]
Aww, this is sweet! They'd no doubt appreciate it. Go ahead and make someone's day!
"I'd go..."
"I'd go into acting. Why not?"
[deleted]
Why not, indeed. If you are most attractive person you will get some work even if you aren't Daniel Day Lewis. And you can take acting classes after getting some small parts.
"I'd wonder..."
"I'd wonder how in the f*ck the world became so ugly."
KPWrath
I mean, fair. It'd probably shock you, being such a hot god among mere mortals.
Whoa!
"I already am."
BlueIsAGreatColor
I think many aspire to have this degree of confidence.
"Same thing..."
"Same thing I do every day. Try to take over the world!"
scjjay
What's that sound? Is that the Pinky and the Brain theme song I hear in the distance?
Given all this, I'm surprised no one said what seems the most viable option: Secure a plethora of sugar daddies and modeling contracts to make bank before it all ends.
Work smart.
Have some suggestions of your own? Feel free to tell us more in the comments below!
Want to "know" more?

Sign up for the Knowable newsletter here.
Never miss another big, odd, funny, or heartbreaking moment again.
Keep reading...
Show less
Pretty people have problems, too.
But when you get to look like you've stepped off the cover of Vogue and you've never once bought your own drinks, feeling sympathy is hard to summon.
But being attractive is not everything. Physical attributes still don't make life perfect. Which is why I'm skipping the gym today.
It is good to know though, that even people gifted with physical perfection can still be as unsure about life, just like the rest of us average looking gnomes.
Redditor u/pauseitron_ wanted to know how life can be not so perfect for those picture perfect types, by asking:
People who're considered physically attractive, what are some of the things that you feel insecure about?
Insecurity is a horrible affliction. It holds us all back from fulfilling our greatest potentials and nobody is immune. We often feel like we're the only ones walking about with these issues but we're not.
if only...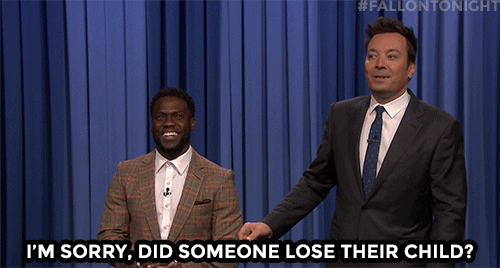 Jimmy Fallon Lol GIF by The Tonight Show Starring Jimmy Fallon
Giphy
"I'm short. As a 5'5 male compliments are nearly always followed up with something along the lines of "if only you were taller."
"status"
"My job and income. (I'm a receptionist)."
"You're not alone. I wouldn't consider myself really attractive, pretty average. However, I have trouble feeling confident with people I believe are in the same attractiveness range as me because so many of my peers have achieved "status" and I'm still not there."
It all Matters
"Whether I mean as much to the people who mean so much to me. I took a friend out for dinner for his birthday recently and he said something that made me realize he was having as good a time as I was. It made me tear up for a second, remembering that the people I love also love me."
"They want to be included by me as much as I do by them. Sometimes this thought process has led me to treat people I love as an afterthought because I didn't think it would matter to them. But it did. I do."
Face It
"I'm considered "physically attractive" from the neck down, which is fair, I agree. So, my face is what I'm insecure about."
"Bruh some guy once came up to me and said "me and 'guy group' rated all girls in our year from 0-10 (yes they actually gave someone a zero), wanna know your score?" after unpolitely declining he went ahead anyway and said "your body is an 8 but your face is pulling you down"... Well... Tf am I supposed to say to that?"
- Nylnin
Anxiety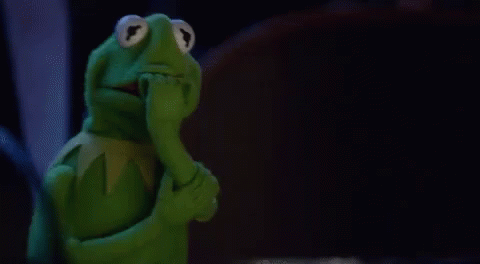 kermit worry GIF
Giphy
"I worry about how I look without clothes, my personality flaws, and my income (guy btw)."
How can the flawless feel so many flaws? I wonder how many are in therapy. I worry about all of those things every day.
"get someone better"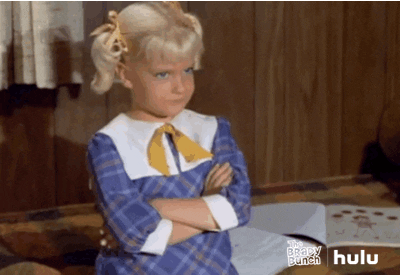 GIF by HULU
Giphy
"When I was thin and hot, my boyfriend told me he was scared I'd cheat on him because I could "get someone better." He ended up cheating on me, saying he couldn't take the pressure. I worry about that still. Even though I'm single I have a hard time trusting someone's loyalty."
is it me?
"I was considered quite attractive in my 20s and never had much trouble meeting guys. But I had real trouble keeping boyfriends. I was told more than once that I was boring. I'm quiet and a huge introvert and am perfectly happy spending a day reading or watching movies. But I guess that wasn't fun for the men I liked. So as a result I was, and still am quite insecure about my personality."
Never Enough
"Never feel good enough."
- USMCseth
"This. No matter how attractive you are there is always someone that looks better. The grass is always greener. I get told I'm attractive and I'll agree to an extent that I'm not ugly but I will never be perfect. I will constantly pick at my flaws no matter how small they are."
"My hips are too square, my teeth are yellow and crooked, my boobs aren't perky enough, my butt isn't fat enough, my lips aren't big enough, my eyes aren't perfectly equal... that's just scraping the surface. People I love and want to have loved me will tell me they think I'm beautiful and I won't believe them. Like it's a lie. I'll get mad sometimes when my boyfriend tells me I'm the most beautiful woman in the world."
"He might believe it but it's not true, and it's too much pressure to keep that up. I have wide hips a small waist and big boobs. I'm symmetrical and proportionate but there is no way I can ever compete with the thousands and thousands of Instagram models or pornstars or even beautiful strangers that my partner will be exposed to every day. Why even bother with me?"
Bad Partners
"My partner not really loving me."
"Oh that hit home. I have this but I am female, guys will date me for months saying all the things I want to hear and sleep with me, only to then tell me they've found someone else and they're together. I have been told numerous times I was used as an ego boost by guys I generally liked, I'm actually still friends with one. Now I have been single for 7 years (I've had some dates) with huge trust issues, knowing the older I get as a woman the less attractive I become and it's a never-ending cycle."
Being Blah...
"How cool I actually am. I'm a good looking guy but I've had a boring life in some capacities."
"When the world shut down last year I found out other people had to give up a lot more fun and exciting plans than I did. That really hit home and I'm working to change it."
No matter who you are, or what you're feeling, you're not alone. There is a life lesson we seem to cross paths with everyday. And now we know those we envy are in the same boat, they're just in a prettier one.
Want to "know" more? Never miss another big, odd, funny, or heartbreaking moment again. Sign up for the Knowable newsletter here.
Keep reading...
Show less