When you see Jason Momoa and Peter Dinklage starring in a movie together, what genre comes to mind?
Drama and Fantasy?
They've been there and done that.
A wacky buddy comedy?
Now, we're talking!
During the "Aquaman Live" panel discussion at Celebrity Fan Fest in San Antonio, Texas this past weekend, a fan suggested a movie pitch for Momoa, who starred as Khal Drago in Game of Thrones.
The fan asked if the Aquaman star would reunite with his GoT co-star Peter Dinklage for a remake of the 1988 buddy flick, Twins. The original starred Arnold Schwarzenegger and Danny DeVito as, well, twins.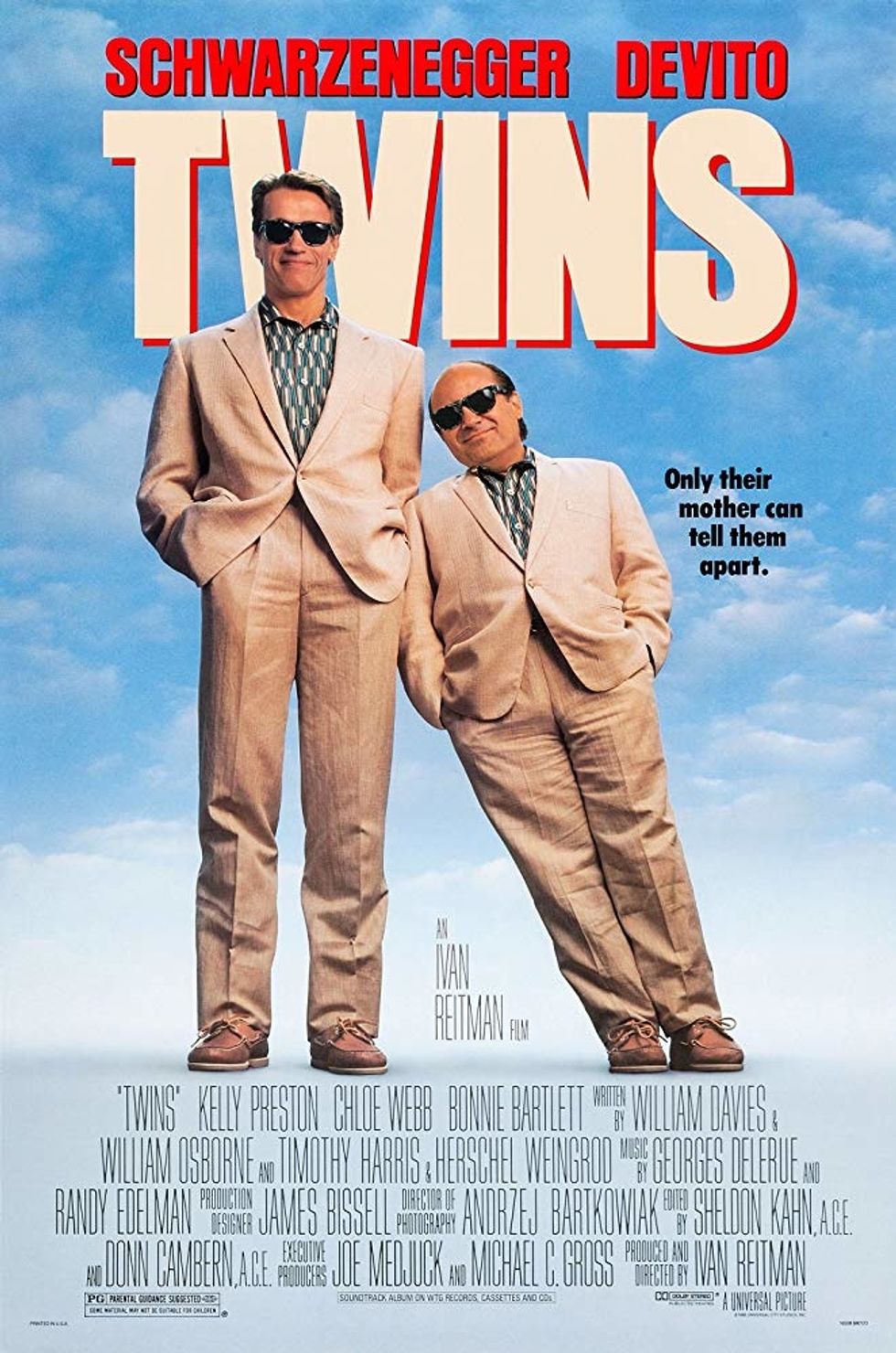 Twins/Universal Pictures
The original 1988 film, Twins, is available here.
Someone already reimagined the original 1988 movie poster.

Perfect #Twins !! @PrideOfGypsiesJ #PeterDinklage https://t.co/uTV2Iu9V8F

— Salman Artworks (@Salman Artworks)1560868149.0
Momoa, 39, was enthusiastic for the prospect and revealed he is a fan of the comedy about unlikely twins separated at birth.

"F****n' tell me where to sign! Absolutely. That'd be amazing. I love that movie."
You can watch his reaction at the 17:52 mark from the video of the interview, below.
WATCH: Celebrity Fan Fest 'Aquaman Live' panel with Jason Momoa www.youtube.com
Did you hear that, Hollywood?
Fans are already on-board.

@SalmanArtworks @PrideOfGypsiesJ Take my money I'm in!

— Richard Welze (@Richard Welze)1561001966.0
@SalmanArtworks @PrideOfGypsiesJ Absolutely Amazing LOL

— CavegirlSGA (@CavegirlSGA)1560885598.0
🗣️Do it. Do it, Now! https://t.co/sImi8k8AUV

— FrostyBoot (@FrostyBoot)1561037158.0
@TheNerdFu I'm sold!

— Big Chris Spirito (@Big Chris Spirito)1561036231.0
Momoa raved about Dinklage, calling him "amazing." Now that fans got his blessing in public, the moderator said it was up to the "people on Twitter" to make that happen.
According to The Huffington Post, Momoa has not mentioned exploring that prospect. But with so many movies being revisited with a modern take, a Twins remake is not a long shot.
The 1988 movie, directed by Ivan Reitman, was a commercial success at the box office, opening at number one in the U.S. and earning $11 million during its first weekend of release.
Schwarzenegger and DeVito played fraternal twins–Vincent and Julius, respectively–who were created via a biological experiment in which the scientists involved told the mother (Bonnie Bartlett) that her babies died. Years later, Julius (Schwarzenegger) finds out information about his mother and brother and heads out to Los Angeles to reunite with his family.

In 2012, Universal announced a development of a sequel titled, Triplets, that would bring back Schwarzenegger and DeVito and would co-star Eddie Murphy as their long-lost brother.
It has yet to come to fruition, but the possibility of a sequel hasn't been scrapped, entirely.

Ivan Reitman confirms Triplets, the sequel to Arnold Schwarzenegger and Danny DeVito's Twins, is still in the works… https://t.co/4nE12eaXso

— Consequence of Sound (@Consequence of Sound)1479955210.0
DeVito told MovieWeb:
"I mean one of the ideas that was floated around was Eddie Murphy. So it would be Arnold and Eddie and I. He's a fun guy. We're talking about doing 'Triplets.'"
"If you remember Twins there was a cocktail, we mixed it together, and then you wound up with these two gene pools, Arnold and I. It was a strange little movie. We figured you could probably have another portion of that cocktail turn into somebody else."
The project is still on the back-burner, and bringing Triplets to the big screen is dependent on one important factor.
DeVito added:
"Everybody would be up for it. The main thing is you have to have a screenplay. We're looking. We're figuring it out."
Maybe there's a reason why Universal has been circumnavigating the sequel.
Were they waiting on an idea for Quadruplets?
To see Momoa's star turn in Aquaman, the film is available here.
To relive all of Game of Thrones, you can pre-order the complete series boxed set here.
Keep reading...
Show less
A recent video was uploaded that shows Arnold Schwarzenegger being hit from behind with a flying kick to the back. Likely due to Schwarzenegger's celebrity status, it quickly went viral.
Schwarzenegger talked to Today about the incident, and had a request for people.
He wanted people to focus on the reason that he was in South Africa in the first place: the fourth annual Arnold Classic Africa competition.
The Arnold Classic Africa is a gathering of over 24,000 athletes of all ages and abilities participating in various and athletic events.
Schwarzenegger said he appreciated everyone's concern, and he was not significantly injured by the attack.
Thanks for your concerns, but there is nothing to worry about. I thought I was just jostled by the crowd, which hap… https://t.co/XhLJ1Qyjq6

— Arnold (@Arnold)1558192702.0
Instead, he highlighted one of the athletes competing, a young para archer.
Do me a favor: instead of sharing the video of the guy who wants to be famous, watch some of our @ArnoldSports athl… https://t.co/AE0EY2YsxS

— Arnold (@Arnold)1558199706.0
There are no shortage of other determined athletes who competed at the event to focus on.
We have 90 sports here in South Africa at the @ArnoldSports, and 24,000 athletes of all ages and abilities inspirin… https://t.co/Bnz7jDuR7y

— Arnold (@Arnold)1558199795.0
Looking forward to visiting a lot more great athletes today at @arnoldsports Africa. Starting with karate, naturall… https://t.co/AsZrYpbtFn

— Arnold (@Arnold)1558255457.0
In addition, he said that if you do still feel the need to share the video, share a blurry one.

People were still pretty impressed by Schwarzenegger's ability to take a kick, and his attitude about the whole situation, though.
@Schwarzenegger holy shit dude, i hope i can take dropkicks that we'll when im your age. absolute legend.

— Prince_Of_Fish (@Prince_Of_Fish)1558344981.0
@Schwarzenegger You are my hero. Thanks for being generous and gracious too.

— Graciela Bielma (@Graciela Bielma)1558324385.0
@Schwarzenegger Pretty bloody good to get drop kicked in the back and still be standing especially when you don't k… https://t.co/0XOT1a4ACH

— Klondike (@Klondike)1558275759.0
Schwarzenegger's message is clear: Don't focus on the person trying to disrupt the event, focus on the amazing athletes there to compete and show off their skills.

The Arnold Sports Festival promotes physical activity and fitness throughout the world, and has regular competitions for those athletes wanting to compete. There are prizes for some of the events, but promoting general fitness is a big theme.
The Arnold Classic Africa competition is only one of several throughout the world. There are also Classic events in Australia, Spain, Brazil, and Hong Kong.
If you think you might be interested in attending or competing in one of these competitions, you can find more information on the Arnold Sports Festival website.
Keep reading...
Show less
Former bodybuilder, actor, and California governor Arnold Schwarzenegger celebrated an important milestone with his son, Joseph Baena last weekend.
The young man graduated from Pepperdine University this past weekend, where he studied business.
A photo of the proud father and his son accompanied heartwarming words of congratulations from Arnold:
"Congratulations Joseph! Four years of hard work studying business at Pepperdine and today is your big day!"
"You have earned all of the celebration and I'm so proud of you. I love you!"
Joseph also posted photos from his commencement to Instagram, including photos with both of his parents.
Pepperdine University is located in Malibu California. Their mission statement says that the university is committed to:
"the highest standards of academic excellence and Christian values, where students are strengthened for lives of purpose, service, and leadership."
Other notable Pepperdine alumni include former Disney Chief Creative Officer John Lasseter, and actresses Tamara and Tia Mowry.
Baena attracted a bit of attention online earlier this year as he really got into bodybuilding and recreated some of his father's most iconic bodybuilding photos.
Social media was full of congratulations for Joseph.
@Schwarzenegger LOVE This! Congratulations Joseph!

— Karen Stein (@Karen Stein)1556475492.0

realchefrush/Instagram
@Schwarzenegger Great job Joseph. You have earned everything you have accomplished. Congratulations.

— Fernando Salazar (@Fernando Salazar)1556467251.0
@Schwarzenegger Your son resembles you not only in looks but also in spirit. He believes in the ethic of hard work… https://t.co/x98Y7yT1e6

— Loyda Perez (@Loyda Perez)1556455529.0
Graduating from college is a monumental achievement in anyone's life. We hope that this accomplishment will lead to much success for Joseph in the future!