A pensioner with dementia has stormed the UK download charts with her cover of Frank Sinatra's "My Way" - beating the likes of Ed Sheeran, Justin Bieber, and Ariana Grande.
Margaret Mackie, 83, lives in a care home, and while she struggles to remember names, she stunned residents with a word-perfect rendition at the Christmas party.

A video of her performance with home worker Jamie Lee Morely, 31, went viral - so he decided to record the tune professionally and release it as a single.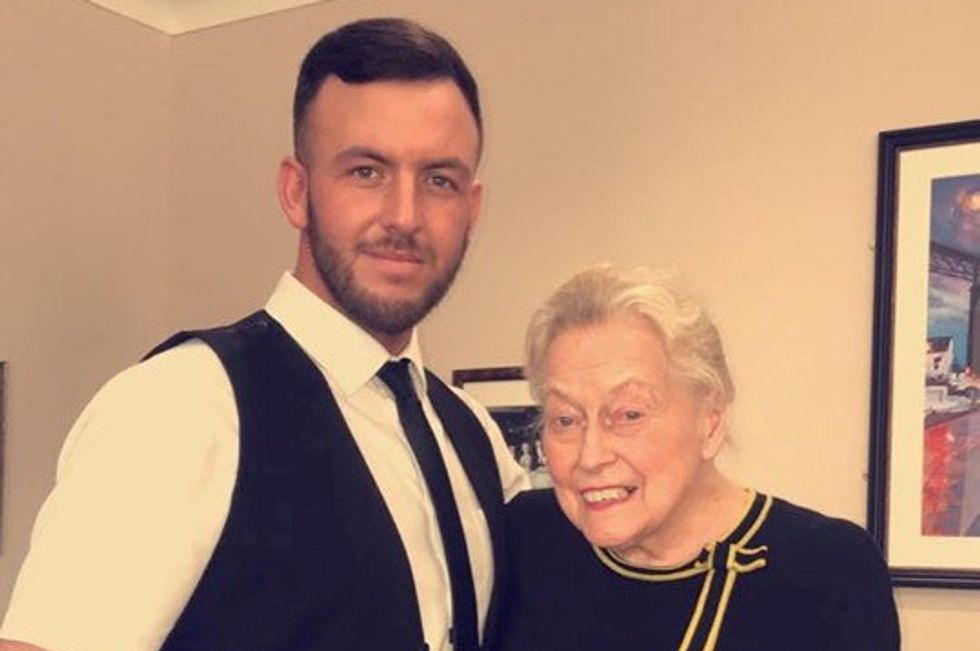 SWNS
The song, which raises money for Alzheimer's Society and Dementia UK, is now sitting at number five in the Amazon best seller chart - above Lewis Capaldi and Dua Lipa.

In the iTunes Top 40 UK Pop Songs chart Margaret and Jamie are at number 27 - beating Ed Sheeran, Justin Bieber and Ariana Grande.
Margaret, who used to work in PR, is a mom of two.
She has no grandchildren.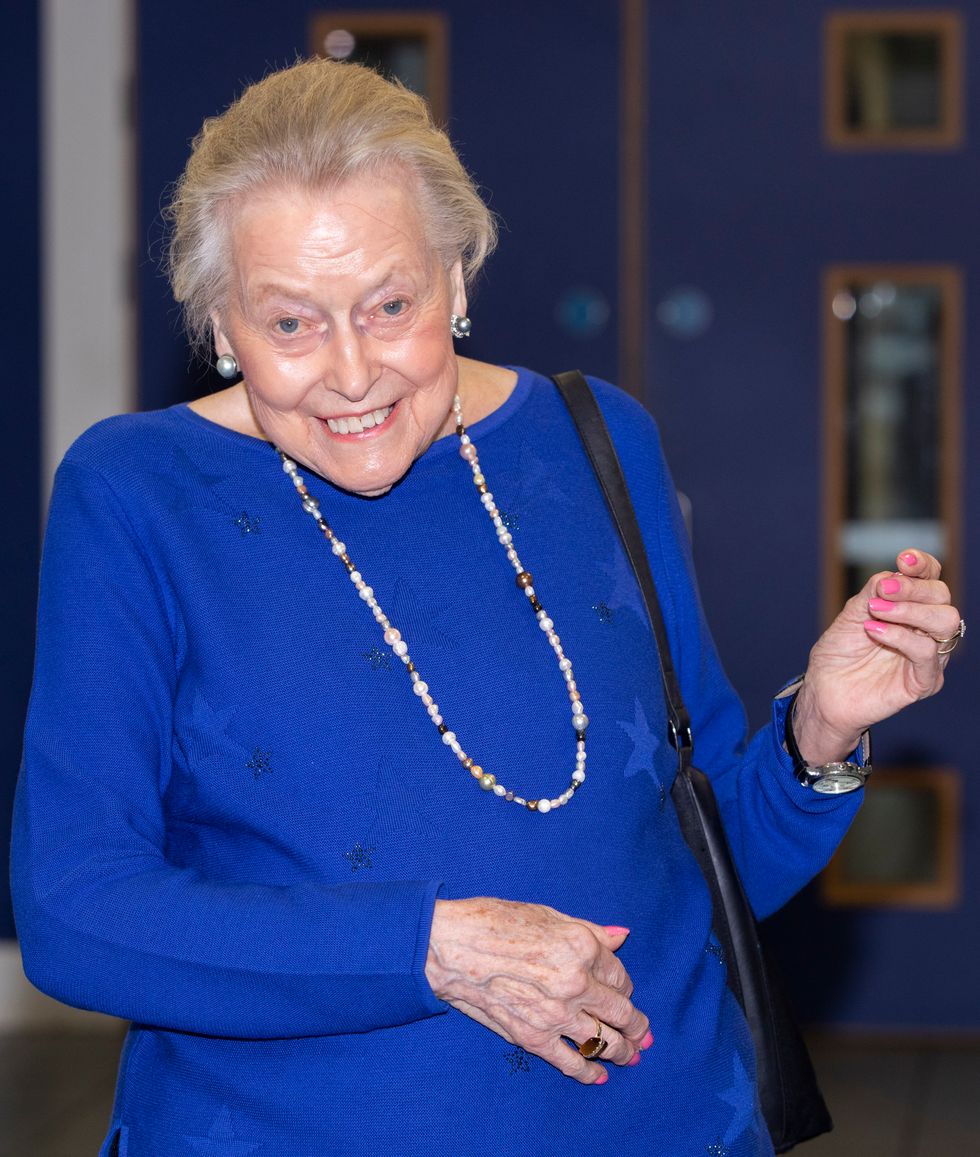 Katielee Arrowsmith/SWNS
Her daughter Mairi Hunter, 55, said:

"We put mum in another care home before the one she is in now and she went downhill really fast. But since we moved her she has just bounced back. We have got our mum back with Jamie and the singing."
"She has always loved to sing and as she can't read her books or the paper anymore, the singing has just taken over. Seeing her singing with Jamie was incredible, they get on so well and sing around the home a lot, but to actually see them together was lovely. She thinks so much of him."
Of the song's success, Margaret remarked:

"It is just amazing. I feel so happy about everything. It's great we can raise all this money for charity."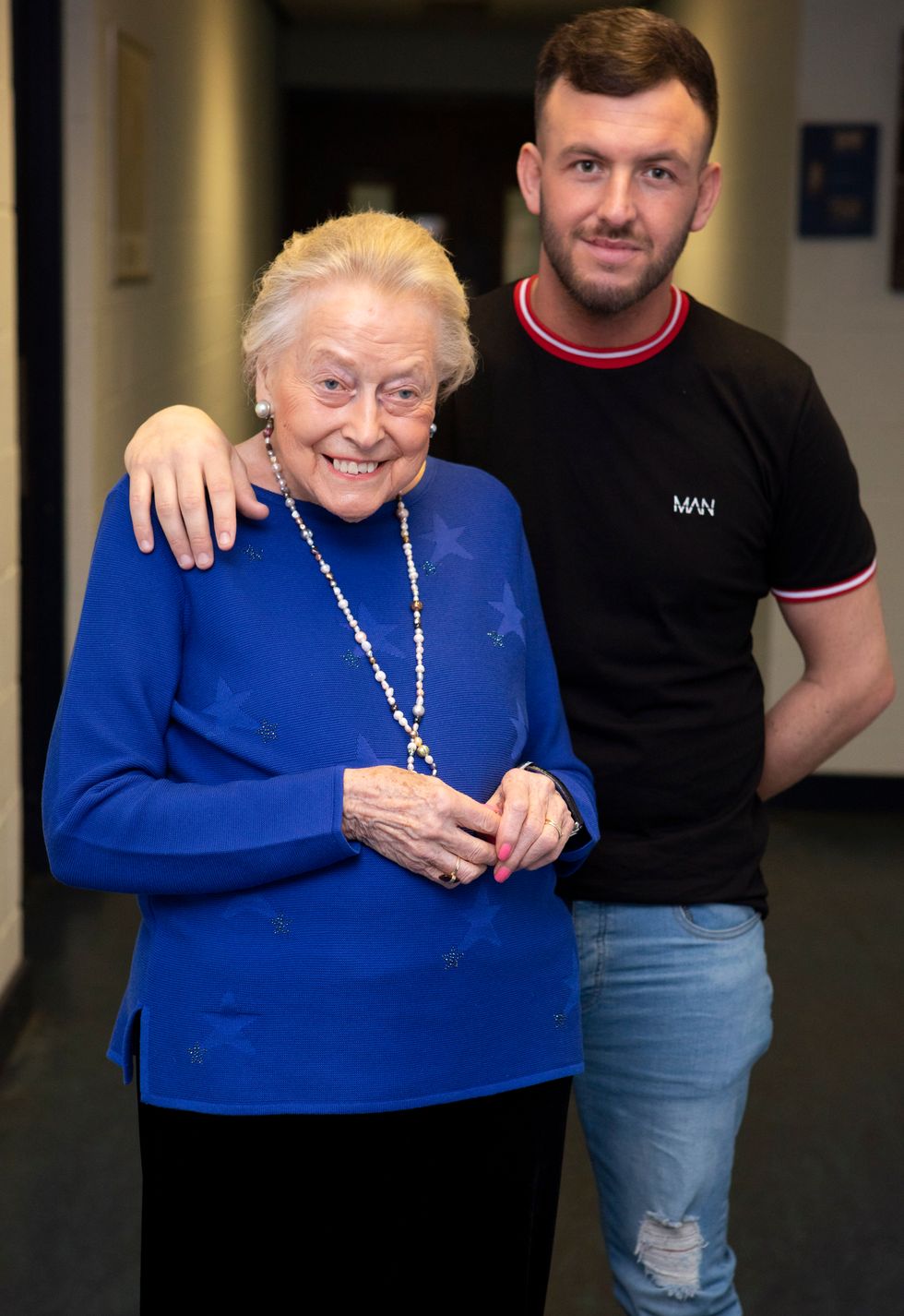 Katielee Arrowsmith/SWNS
Proud Jamie, a singer, added:

"It was the first time that she'd been in the studio, but was like she had done it a hundred times before. She's got such an amazing voice. The fact that she can do that while living with dementia is mind blowing. It's just crazy."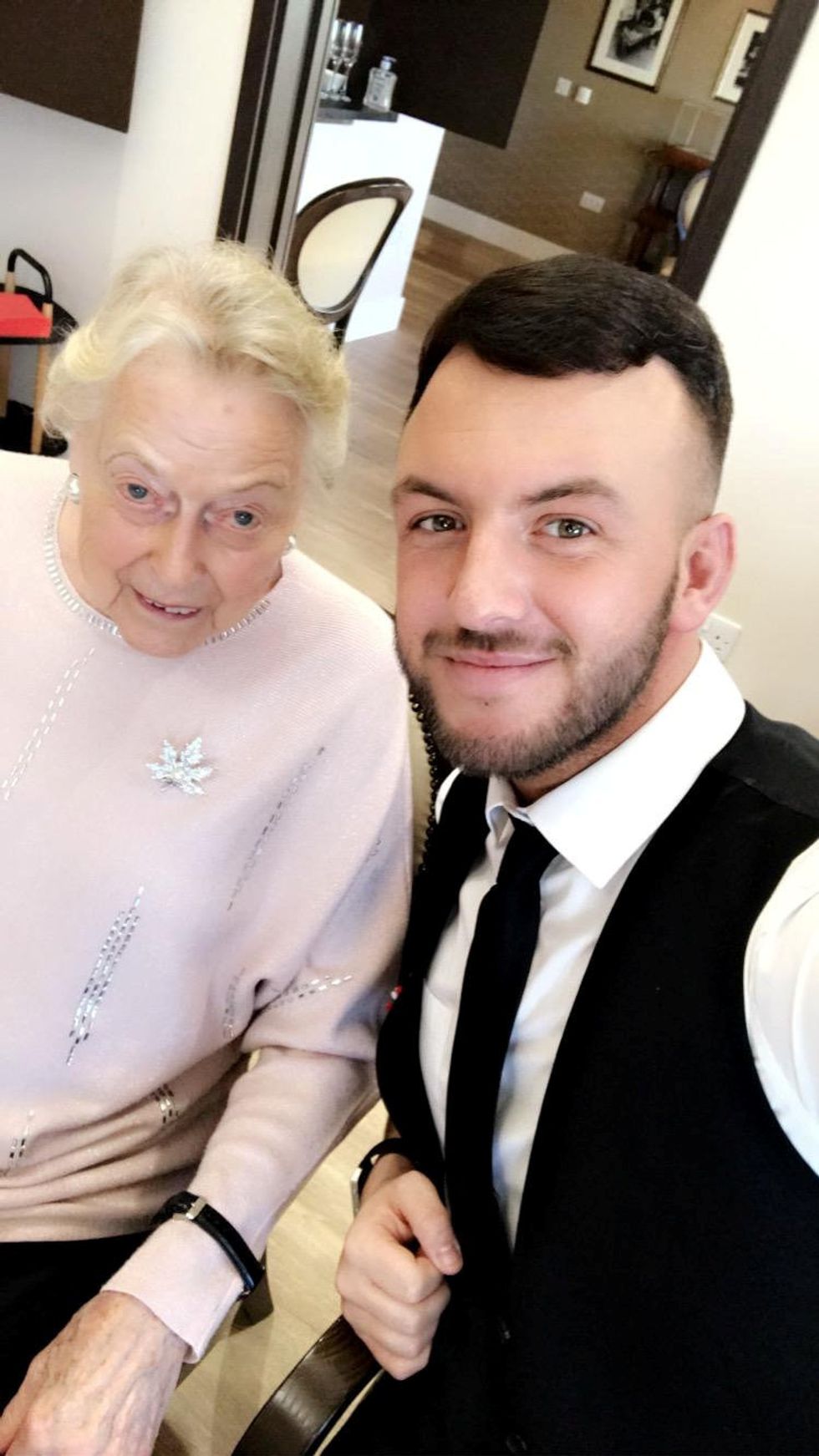 SWNS
He remarked:

"It's like the music is the therapy for her. You just see the change of the look in her face when she starts singing or she hears music that she likes. You can just see it in her."
"Music is my passion. It can change your mood instantly and with her it's exactly the same. She comes alive when she sings and she looks so happy, it is beautiful to see. It is the power of music and proves how amazing it can be for people."
Margaret moved into Northcare Suites Edinburgh care home just weeks after it opened last September, and Jamie said she is always singing and dancing.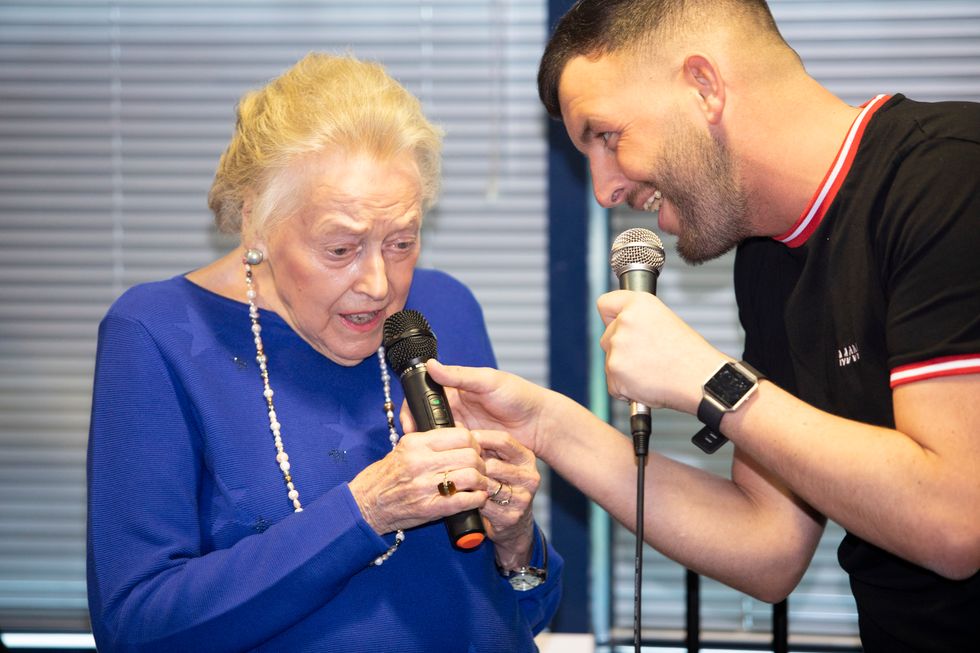 Katielee Arrowsmith/SWNS
Jamie, who is also a part-time singer, was asked to arrange the Christmas show for the residents and asked Margaret to join him for a duet.

He said:
"You never know how they are going to react. She is living with dementia. All I knew was that she loves music and we always sing 'My Way' together and I just thought it would be a great moment."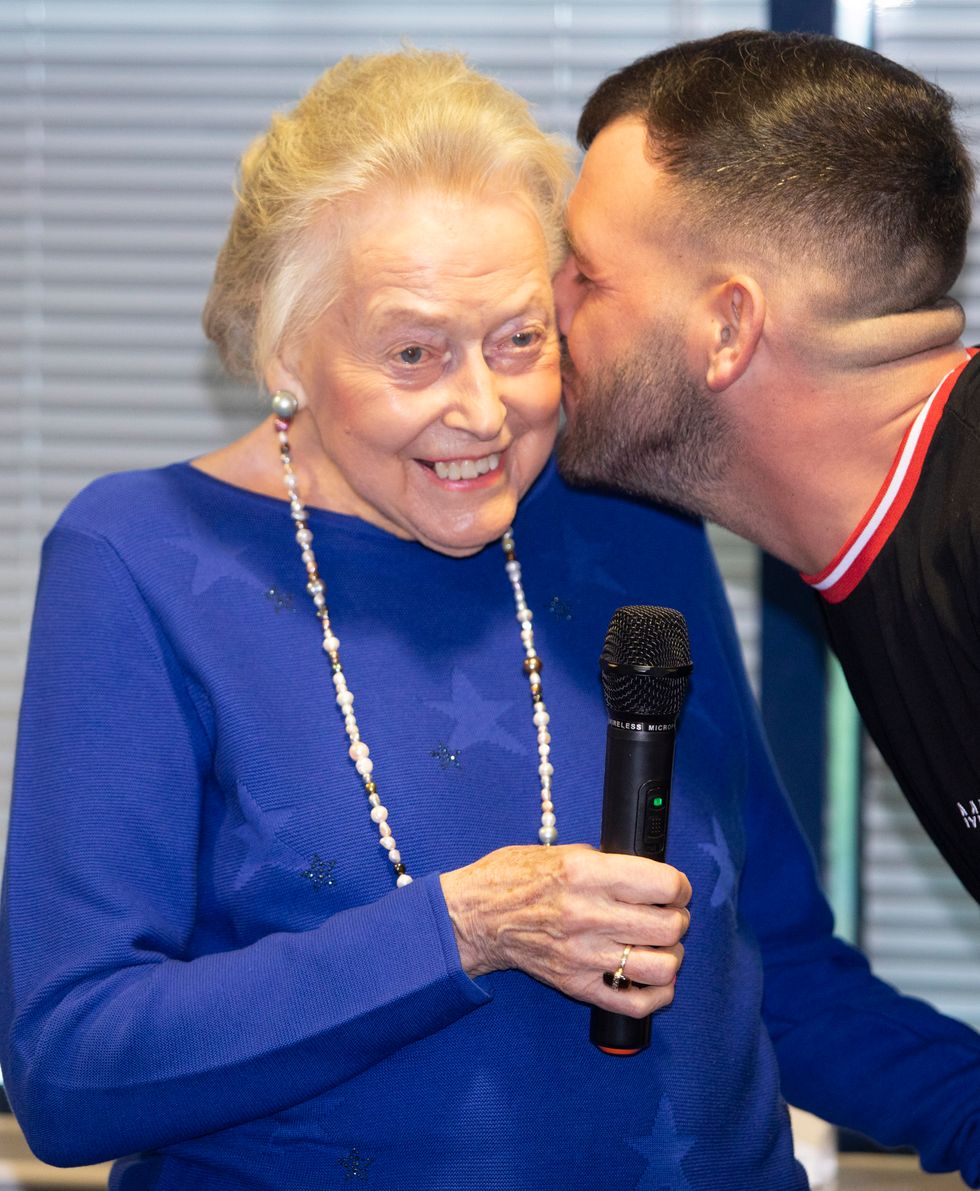 Katielee Arrowsmith/SWNS
He added:

"My granddad passed away - he had Alzheimers and that was his favorite song so it had a connection to all of us. I just wanted to enjoy the moment with her and get her up there, and she sang every word absolutely amazingly."
"The whole audience erupted. The whole place was in tears. Everyone just burst into tears - she stole the show. The response was unreal. The whole place was crying, we got a standing ovation, everyone was clapping. Everyone was blown away."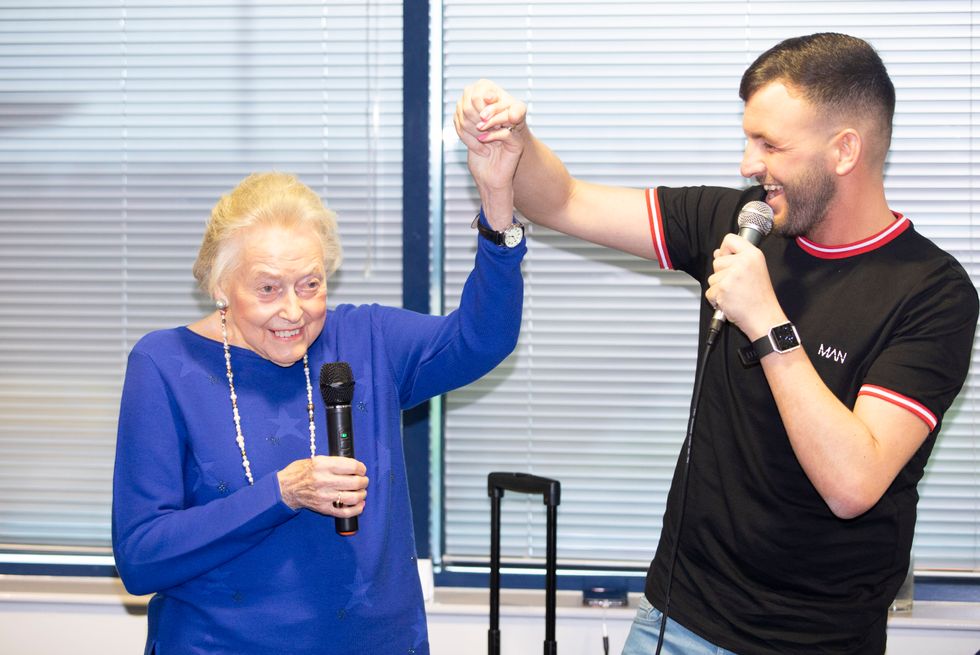 Katielee Arrowsmith/SWNS
It was filmed by her daughter, Mairi, who put it on social media, and within 24 hours it had gone viral.

They headed into the studio in December and Jamie said it took just 45 minutes and two takes to record.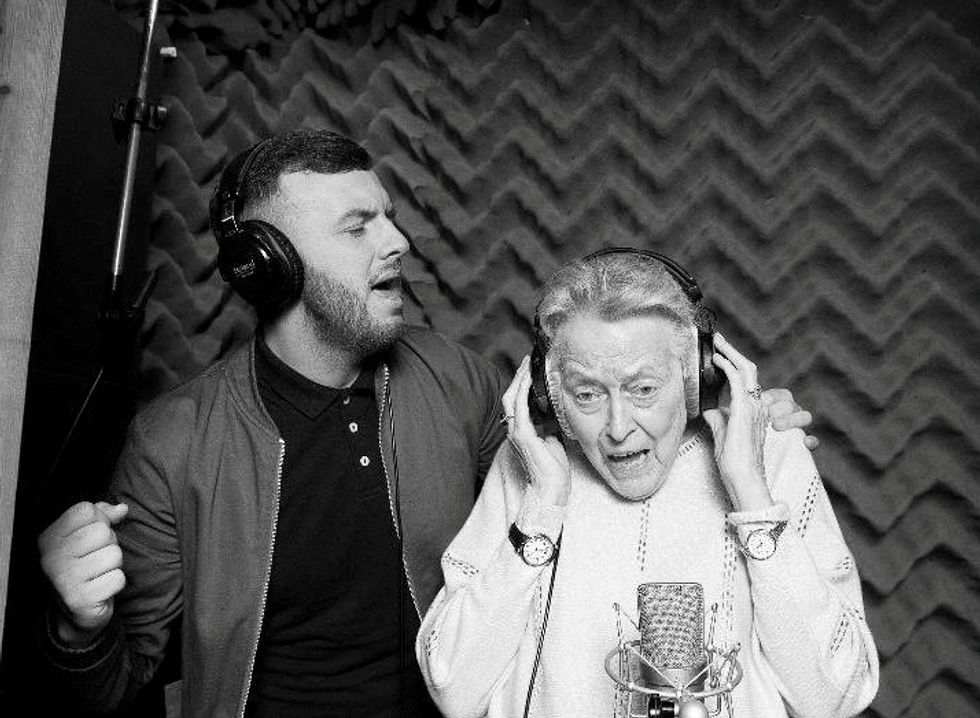 SWNS
Jamie gushed:

"For someone with dementia, it fascinates me how amazing music makes her feel. She becomes a different person. It's just incredible. She has definitely got the music in her blood."
"It's so refreshing to see someone living with dementia acting the way she does. She is an inspiration to so many people - especially me! I just love her."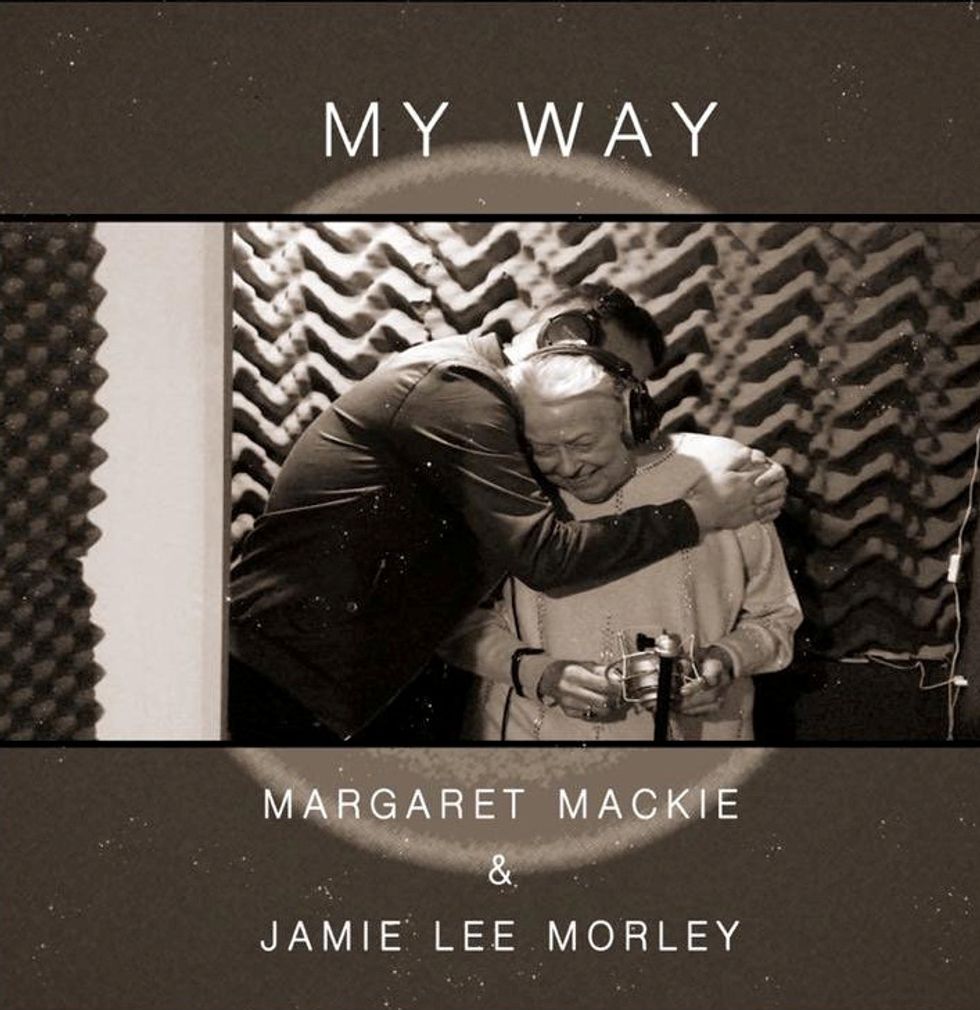 SWNS
You can listen to the version they recorded in the studio below:

Keep reading...
Show less
Ariana Grande is one of—if not the—biggest pop stars in the world.
It was only a matter of time before she got a wax copycat.
Madame Tussauds in London has revealed its newest addition to their museum. Their statue of Grande is a little, uh, divisive to say the least.
However, in my opinion, it's a lot closer than some of their other attempts.
You chose Classic Ari! Now we have her style nailed, you can see @ArianaGrande at Madame Tussauds London for 5 we… https://t.co/ASOHD4MF4j

— Madame Tussauds (@Madame Tussauds) 1558454321.0
However, you can definitely tell it's somewhat off. The nose isn't quite right.
Lips aren't all there. It has all the hallmarks of a wax statue.

This did not sit right with fans of the pop star. Twitter was flooded with messages of people who had to let the world know that this wax statue did not look like their Ari.
Which, in fairness to them, why do we keep letting these wax museums get away with sub-par doppelgangers?
@MadameTussauds @ArianaToday @ArianaGrande The facial features don't match too welll

— [ nightmare! ] (@[ nightmare! ]) 1558468722.0
i look more like ariana grande than this wax figure of ariana grande https://t.co/YuRsiEvnOH

— daisy (@daisy) 1558552230.0
@PopCrave @MadameTussauds @ArianaGrande they literally had one job... a whole mess🤢 https://t.co/60TnmN4yMY

— victor💋 (@victor💋) 1558668416.0
@enews It looks like someone doing an Ariande Grande cosplay

— Grigiogirl (@Grigiogirl) 1558719064.0
Ariana has been on a rollercoaster of a year. Her album Thank U, Next debuted as an absolute powerhouse, with 11 songs breaking into the top 40 of the Billboard Hot 100.

She's also been very open with her own struggles with mental health, at one point, quoting actor Jim Carrey. Carrey returned the kindness with his own message of support.
But what does Ari herself think about the statue?
Ariana Grande reacts to her Madame Tussauds wax figure 😂: "I just wanna talk" https://t.co/Ehw951ZtsE

— Pop Crave (@Pop Crave) 1558917258.0
I'm sure many of us would "just wanna talk" too.

@PopCrave she said what we were all thinking

— d s a 🌙 (@d s a 🌙) 1558917291.0
@PopCrave Anybody who were in her place would wanna talk😍

— roshani (@roshani) 1558919490.0
Sometimes you get some really bad wax figures. It just happens.

Sometimes you get Ed Sheeran's statue, which lends credence to my theory that Sheeran is, in fact, a wax statue brought to life by a curse.
It's all in the luck of the draw. This hasn't stopped people from trying to figure out why Grande's statue looks the way it does.
The most common explanation was "Emery Bingham."
@FADED2AM @MadameTussauds @ArianaGrande future emery @ 25y/o

— fan acc•shay saw endgame 4x (@fan acc•shay saw endgame 4x) 1558474211.0
Because on weekends I enjoy reading garbage celebrity news, I've learned that Ariana Grande's fans are upset that h… https://t.co/eFKlpP8uWs

— Tina Vasquez (@Tina Vasquez) 1558813830.0
@MadameTussauds @ArianaToday @ArianaGrande i thought this was emery bingham for a minute we-

— 𝐡𝐚𝐫𝐳𝐚𝐥 🐝♡ (@𝐡𝐚𝐫𝐳𝐚𝐥 🐝♡) 1558468767.0
omg this wax figure looks like ariana grande...on crack https://t.co/N24UpsNbz4

— Togepi (@Togepi) 1558724881.0
We really shouldn't have been surprised at the London location's attempt at a wax figure of Ariana Grande. In 2017, the Las Vegas location unveiled their version of the singer and it was received just as poorly.

At the very least we can say it looks like the new figure is an improvement over the older one.
If you want to see it, the new statue is on display at the Madame Tussaud's in London for five weeks. I'm sure you'll be booking your ticket first chance you get.
Keep reading...
Show less
Ariana Grande has always been a big fan of actor and comedian Jim Carrey, and she sang his praises on Instagram Stories over the weekend.
On Saturday, the "7 Rings" singer attributed a quote about depression to the venerated actor on one of her posts.
It read:

"Depression is your body saying, 'I don't want to be this character anymore. I don't want to hold up this avatar that you've created in the world. It's too much for me. You should think of the word 'depressed' as 'deep rest.' Your body needs to be depressed. It needs deep rest from the character that you've been trying to play."
She wrote under the quote, "The whole LOML [love of my life] forever."
Carrey received the message and responded to the singer with much admiration.
"I read your lovely mention of me and things I've said about depression. A brilliant teacher and friend, Jeff Foster was OG on the 'Deep Rest' concept. I admire your openness. I wish you freedom and peace. I feel blessed to have such a gifted admirer. Happy Easter!"
Grande needed a moment after Carrey's heartfelt response.

According to E! News, Grande posted and deleted many posts about her "headspace" on Thursday, several weeks into her Whirlwind tour.
"I don't mind the app. I'm just not in a headspace to handle it like I used to u know, like in general. That's all," wrote Grande in a tweet that was later captured via screenshots. "I'll be back. It's ok! Love y'all. Thinking of you."

The 25-year-old is always open with her fans. One devoted fan wrote, "Music is your therapy and I love seeing it heal you," but Grande responded that that's not always the case.
She wrote back in a deleted tweet:
"Making it is healing. Performing it is like reliving it all over again and it is hell."
Fans reminded Grande of her positive effects on people who admire the person behind the music.
After gathering her thoughts, Grande wrote Carrey back.
"Thank u so much for your kindness. i don't think u understand how much i adore u or what u mean to me. thank u for taking the time to share this w me. you are such an inspiration. i can't wait to tattoo this tweet to my forehead. sending you lots of love & all things happy."
One Arianator remembered Grande's love for Carrey during the early days of online chatting on AIM.
"My first AIM username was jimcarreyfan42 when I was in like 4th grade," she admitted.
Their beautiful exchange delivered all the needed feels.
The mutual support between artists is an example of how we can all be there for each other when we're not feeling our best.
Deep rest is something we may all experience at any given time, but it's nice to know that we all eventually rise.

Keep reading...
Show less
If you don't already believe that God is a woman, maybe Billboard's newest chart will prove that the powers-that-be are cheering for their fellow femmes — one in particular.
As of today, Ariana Grande made history as the first-ever solo act and second artist ever to claim the top 3 spots on Billboard's Hot 100 Chart.
In the chart's 60-year history, only one band has ever claimed the honor before Grande.
That band was The Beatles, and they held onto the top three for five whole weeks in March and April of 1964. Their record of holding the top 5 songs of the Hot 100 Chart still stands.
The songs that made Ariana an officially historic singer are "Thank U, Next" at number three, "Break Up With Your Girlfriend, I'm Bored" at number two, and "7 Rings" at number one.
The number one title has maintained its spot for four weeks now.
Drake got close to hitting the record last summer with "Nice for What," "Nonstop" and "God's Plan," but he was only able to nab Numbers 1, 2 and 4.
The pop princess is completely blown away by her accomplishment.
Her reaction was perfection.
i laughed when i saw this bc i thought y'all edited it. thank u from the bottom of my heart. for so many reasons. f… https://t.co/HVpCXyOTWr

— Ariana Grande (@Ariana Grande) 1550597424.0
The singer, herself, may have laughed, but her fans have known for years she would someday make history.
@ArianaGrande Alexa play successful by Ariana Grande

— Ƒ 🌪 (@Ƒ 🌪) 1550597452.0
Congratulations, Ariana, on your truly "insane" and amazing accomplishment!
Keep reading...
Show less
Ariana Grande's distinguishing look is tied together with her high ponytail. He iconic look—straight hair with extensions flowing down her shoulders—is incredibly well curated.
A user found an older photo where she was rocking a more natural look. Grande responded with an interesting hair update.
@aintgotnotears @arianashijabi they gotta grow first ! that blonde last year ........ tarnished. BUT they're like halfway back. :)

— Ariana Grande (@Ariana Grande) 1549830679.0
WE NEED TO SEE IT!
@grandedarIing @aintgotnotears @arianashijabi 🥺 https://t.co/rlFhrbC1Ly

— Ariana Grande (@Ariana Grande) 1549830930.0
Fans were excited to see it. Seeing how curly her hair naturally is, they can now appreciate how much work goes into maintaining her iconic look.

While she has featured several hairstyles over the last several years besides the high top ponytail, she hasn't publicly embraced this kind of curly.
It's really cute.
@ArianaGrande @grandedarIing @aintgotnotears @arianashijabi ur so cute I literally love u

— gabriel ☾ (@gabriel ☾) 1549839577.0
@eliralsei @ArianaGrande @grandedarIing @aintgotnotears @arianashijabi she looks so cute !!

— chard (@chard) 1549939819.0
@ArianaGrande @grandedarIing @aintgotnotears @arianashijabi WOAH ITS SO PRETTY

— Melissa 💍 ♡ 51 (@Melissa 💍 ♡ 51) 1549840036.0
Grande has seen a few ups and downs lately, with her songs "Thank U, Next" and "7 Rings" topping the billboard charts. However, she got a little embarrassed when she tried to commemorate the latter song with a tattoo that came out wrong.

She had tattooed Japanese characters on her hand that she believed read "7 Rings"; instead, they translated to "barbecue grill finger." But Grande has a good sense of humor about it.
This whole conversation started when she shared a photo of herself as a little kid with curly hair, poking fun at her looks and tattoo misspelling.
if i'm honest ..... this is still exactly what i look like without lashes and my pony ..... anyone who knows me kno… https://t.co/OU9Xnpzjiu

— Ariana Grande (@Ariana Grande) 1549829924.0
She has an upcoming tour starting in March, and fans think she should wear it like this for the performances.
@ArianaGrande please bring this look along on tour 🙏🏼🙏🏼

— 𝚖𝚒𝚛𝚝𝚑𝚎 (@𝚖𝚒𝚛𝚝𝚑𝚎) 1549840508.0
i know her long high ponytail is her trademark but,,, i rly want her to try short hair and/or curly hair perhaps in… https://t.co/tCMWTJWPap

— nina (@nina) 1549831427.0
@ArianaGrande @grandedarIing @aintgotnotears @arianashijabi pleaseeeee wear your hair like this all the time i'm begging do it for the gays

— jaden (@jaden) 1549833272.0
Some couldn't vocalize their feelings.
@ArianaGrande @grandedarIing @aintgotnotears @arianashijabi https://t.co/yCNr94Sdzk

— gisele (@gisele) 1549835010.0
hello, i still can't believe that she replied this video to me... she's such a gift from god. wow. https://t.co/6L9E9Yz6lw

— mélissa (@mélissa) 1549903205.0
@ArianaGrande @grandedarIing @aintgotnotears @arianashijabi https://t.co/RYgCmjzggV

— gisele (@gisele) 1549835003.0
It's great that Grande wasn't afraid to share what she looks like without hair extensions. The natural look really works for her. Maybe we'll get to see it more often.

Keep reading...
Show less