Long term relationships almost seem to have this way of creating their own culture. You end up with words, habits and patterns that belong uniquely to that relationship and nothing else. When the relationship ends, it can be daunting and eye opening to look around and realize your "normal" doesn't exist anymore.
---
Checking In
I texted my then-new girlfriend about where I was and who I was with about every 30 minutes. After the 3rd time, she told me that she didn't need to get updates on what I was doing, and to just let her know when I got home safe.
I remember feeling almost a physical weight being lifted off my chest because I didn't have to worry about my girlfriend freaking out if I didn't update her. I learned what trust felt like that night.
Two Holes?
He had a birth defect which left him with two holes in the tip of his penis. I thought one was for pee and the other was for sperm. My next boyfriend was very confused when I asked him why he only had one hole.
My school's sex ed program was separated by gender, so I only learned female anatomy. I never went out of my way to look at a penis up close until I met my boyfriend. Much confusion ensued.
The Cling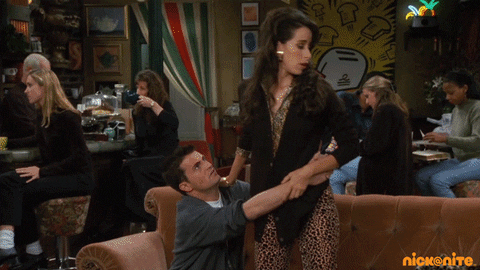 Giphy
My ex was a very clingy dude, sweet but would follow me around every social gathering and get jealous of me spending time with my friends. When I say he would follow me around I literally mean he never left my side. And these were parties and things where he knew everyone as well.
At one point my friend was upset, so I went into a bedroom with her and another friend to talk to her and within five minutes he came into the room and even though this was obviously private he just ... stood in there. I did tell him multiple times that we didn't constantly have to be beside each other.
If you and your partner like to hang out at parties that's fine but it was suffocating to me. He was jealous of my friends and complained when I would make plans with them.
When I started dating the guy who is now my husband I remember looking around at a party early on of mostly my friends that he hadn't met before and I couldn't find him. I asked someone where he was and he was out by the fire with a group of people chatting and hanging out. I was astonished that we could just go our separate ways in a social setting and that was totally fine, we didn't have to be attached at the hip the whole time.
My first boyfriend was so ridiculously clingy. Like if we were in bed together we would HAVE to cuddle otherwise he would cry and think that I was mad at him, when in reality I was just hot and wanted some space.
I just thought that's what relationships were.
My relationship now is nothing like that. It is so nice to be in the same room but doing completely seperate things and not have to worry about each other.
Endless Bickering
This is morbid but I thought it was normal to argue every day. I thought 'all couples have their bickering' and it was just a regular thing.
I was astounded when I went into my next relationship and actually got on with the guy and went weeks and weeks without having any issues. It always felt like the bubble was going to burst. Goes to show - don't stay in a relationship just because you've already invested a ton of time. You get one life, spend it with someone who makes you laugh every day.
My Responsibility
My ex put her happiness on me making it my responsibility. Would demand I stay around and cut my work hours back and then be upset when we wouldn't have money to go out. Every time I would try and leave I was coerced with sex to stay, because I was young and stupid. After 8 years I had enough I moved 5 states away.
Had a chain of bad relationships that ended, took some time to work on myself and I'm now engaged to an amazing woman I can communicate with, share feelings about issues, and who values a healthy relationship.
Like A Dog
I would lick the side of my first girlfriend's face like a dog and she loved it. My second girlfriend slapped me when I tried it.
Not Equal To Normal
Being cowed into an "open arrangement" = Normal.
Him introducing me to "friends" while hanging out or going to parties and then him telling me later in the evening after the ice had broken that they were actually the girl(s) he was sleeping with. Capitulating to his insistence that we continue to hang out even though I was uncomfortable with knowing this new information. = Normal.

Him making unwelcome and uncomfortable comments to other women I was friends with in front of me to attempt to orchestrate threesomes that I was not ok with = Normal
If you love me, you'll chase after me = Normal
If you love me you'll leave face time up at all times so I can see whats going on in your dorm = Normal
If you love me you will not show any sad or mad emotion because it ruins my mood = Normal.
Good Christian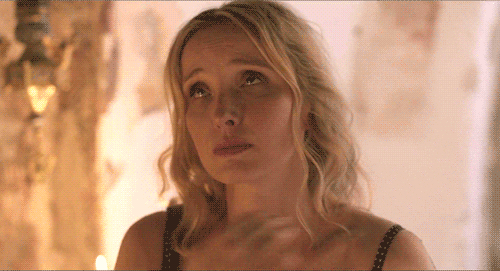 Giphy
I grew up in a pretty strict Christian home and was taught that sex before marriage was a sin.
My first teenage boyfriend and I were together for 5 years and never came anywhere close to having sex. At the time, I thought it was because I was a good Christian. Since sex before marriage was wrong, I didn't want to have sex with him. All my friends were either having sex or struggling not to. I didn't understand this because I didn't have the desire to do "wrong," just as I didn't have the desire to hurt people or lie or steal.
He and I broke up as our lives went in different paths. My next relationship became sexual pretty quickly, and it was only then that I realized that I was never really attracted to my ex, which is why I didn't want to have sex with him.
Manipulative Tears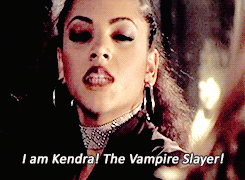 Giphy
Crying. All. The. Time.
She would use tears to the point of manipulation. This was in high school btw. I thought that was just "a girl thing" but no way. My current gf and I have been dating for 3 and a half years and she only cries when she's in pain or having a panic attack. Both of which are not my fault and I can help her through.
Damn I thought every girl cried like 3 times a day. If any of you are dating a Kendra from Southern California, get the hell away.
Bedtime Routine
Not me but the girl I'm currently dating said that her first long-term boyfriend would stare at himself in the bathroom for an hour or so before going to bed each night.
- chiefk240
Drink The Gay Away
Daily binge drinking until I realized a) I'm an alcoholic and b) hetero relationships don't work when one partner tries to drink the gay away
Only took me 9 years but I got there eventually.
Puzzling
It's not normal to insist that your significant other post photos of your face onto an online jigsaw puzzle site because you're jealous they're doing puzzles of a fictional character.