Young Professionals Share The Craziest Things Their Coworkers Have Done Without Getting Fired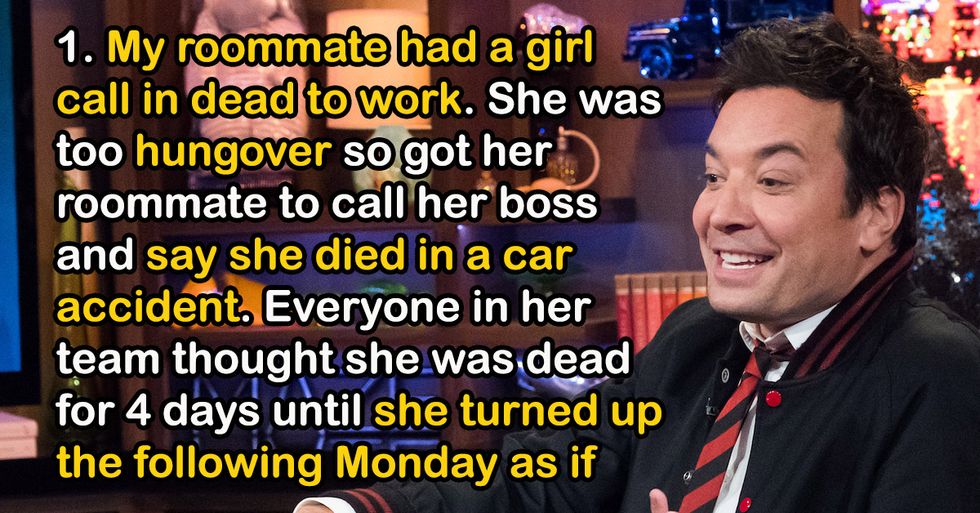 Young Professionals Share The Craziest Things Their Coworkers Have Done Without Getting Fired
[rebelmouse-image 18362192 is_animated_gif=
dam=1 expand=1]

"How were you not fired for that?!" we often want to know. People do things you'd think would jeopardize their jobs but then end up just being a passing misstep. The things people get away with at work, I swear...

thatonegirl127 asked, What's the craziest thing you've ever seen someone do and NOT get fired?

Submissions have been edited for clarity, context, and profanity.
Sounds like she needs a raise.
[rebelmouse-image 18362193 is_animated_gif=
dam=1 expand=1]

A girl at the place I used to work at sold weed on the property and got caught, only suspended one day.
Everyone is entitled to one on-the-clock meltdown, right?
[rebelmouse-image 18354550 is_animated_gif=
dam=1 expand=1]

A co-worker asked to leave early, was told it was busy and she was needed. Proceeded to cuss out the supervisor and stormed out. Supervisor calls her back a few minutes later to write her up for her little meltdown, the co-worker has a bigger screaming meltdown, is threatening supervisor, security has to come and escort her from the building. She walks back in an hour later swearing at everyone, security quickly escorts her out again.

She was back the next day like nothing ever happened, she still works there. She's usually a sweet lady too.
Are you serious? Right in my stairwell?
[rebelmouse-image 18345594 is_animated_gif=
dam=1 expand=1]

2 sales reps were caught red-handed having sex, I don't think they even got in trouble. If anything, there were a few jokes about "why would you go in the sex stairwell if you didn't want to see people having sex?" It was a high-stress sales job, a lot of people, myself included, found ways to blow off steam.
Something tells me there's more to this story...
[rebelmouse-image 18362194 is_animated_gif=
dam=1 expand=1]

Kid came in an hour late, still drunk from the party he'd attended the previous night. He fell asleep on the floor in the middle of the office. He was sent home to sleep it off.

I was fired two weeks later for washing my uniform wrong. Government work, everybody! Never again.
'It wasn't me' seems to go a long way at this company
[rebelmouse-image 18362195 is_animated_gif=
dam=1 expand=1]

Worked shortly at a place that packed wood shavings and there was a guy there that had no sense of safety. Repeatedly drove around the lot at full speed in the tractor hitting vehicles multiple times. Left the handbrake off a truck and it went through a shed, ripped off both doors and launched off a loading ramp. Rolled a semi-trailer because he fell asleep at the wheel. Smashed support struts of a customer's trailer and laughed in their face about it. The worst one was when he backed out of a shed with the bucket of the tractor up and ripped out the central support beam and proceeded to pile up wood shavings all the way to the roof so no one would see the damage then went home for the weekend. When confronted he denied it, myself and everyone else were blamed but we could prove it wasn't us. The shed alone cost $20,000 to repair and as far as I know, he still works there.
Points for creativity, I suppose?
[rebelmouse-image 18362196 is_animated_gif=
dam=1 expand=1]

My roommate had a girl call in dead to work. She was too hungover so got her roommate to call her boss and say she died in a car accident. Everyone in her team thought she was dead for 4 days until she turned up the following Monday as if nothing happened. She didn't get fired and works in HR ffs.
After ten years at the same job, I'd check out too.
[rebelmouse-image 18362197 is_animated_gif=
dam=1 expand=1]

She did nothing---NOTHING---for six months. Boss noticed and just gave her a brief talk that was basically "Uh, you've been here ten years, you know that's unacceptable."
Welcome to tending bar.
[rebelmouse-image 18362198 is_animated_gif=
dam=1 expand=1]

Me actually.

Second day of bartending training the bartender had a family emergency. Manager told me to make the drinks and learn the system fast. I messed up many drinks that day and rung everything up as $3 happy hour special as I did not know the drink system... it was taking me minutes to find one drink with so many people waiting. Owner said he lost so much money but understood The situation. Let me keep the job and didn't ask for any $ back.
Well this is really unfortunate.
[rebelmouse-image 18362199 is_animated_gif=
dam=1 expand=1]

Drop an entire pallet of mail into the ocean from a helicopter.

Good job navy helo pilot.
Sorry about that last one. Anyway, being drunk on a ladder is no big deal, right?
[rebelmouse-image 18362200 is_animated_gif=
dam=1 expand=1]

Worked in an Amazon-style dispatch warehouse. Guy came into work stinking of booze, got a big stepladder and climbed up it, wobbling. Started calling people out for a ladder match (WWE style). The manager walked in, saw him, rolled her eyes and walked back out.
Everybody gets one almost-negligent death.
[rebelmouse-image 18362201 is_animated_gif=
dam=1 expand=1]

Working doing some tree removal. Partner and I have gotten the tree down and segmented, now we're loading it up into the scoop of a front-end loader. We hear him pulling in behind us, guide him in, and when he gets within three feet of us he slams the bucket down on the sidewalk to 'see if it would scare us'. Hearing a deafening sound from point blank and feeling the Earth shake beneath your feet is terrifying. The bucket is well over 6 feet tall across the mouth, his little prank could have killed us if he misjudged the distance.
Hopefully this person got the help they needed.
[rebelmouse-image 18362202 is_animated_gif=
dam=1 expand=1]

Dude overdosed on heroin in the meat locker. I got written up the same week for being 10 minutes late when I had an emergency and had to let off-hours maintenance into my apartment.
SHOCKED, I tell you, SHOCKED.
[rebelmouse-image 18362203 is_animated_gif=
dam=1 expand=1]

A man brought a male prostitute to the basement office and was caught in the act by a security guard. He was only verbally reprimanded and asked to turn in his key to the basement.

Welcome to Los Angeles County government.
Sounds pretty personal, you mad?
[rebelmouse-image 18362204 is_animated_gif=
dam=1 expand=1]

This one kid at my work signed off for 11- 13 hours every shift (we only ever work 8 hour maximum shifts), showed up late every day by at least an hour (he lives a 5 minute walk away from the job site), stole other peoples lunches, and tried to physically fight his supervisor.
Hey boss, I'ma let you finish your tour but...
[rebelmouse-image 18362205 is_animated_gif=
dam=1 expand=1]

Guy interrupts my tour to a group of investors and board members to ask me (over the microphone) how often I accidentally swallow flies.

Probably not worth firing someone over but pretty f_cking stupid.
There's a whole lot of blame to pass around for this one.
[rebelmouse-image 18347764 is_animated_gif=
dam=1 expand=1]

One of my co-workers who passed 9 pm meds until I was certified to do so, didn't notice that one of our guys had a prescription for 300mg of an antipsychotic medication and that we only had the 100mg pill packet. He was missing 200mg of his dose every single night for a month until I was certified and noticed on my first pass. Her excuse was that she "didn't actually read the med book", she just passed the pills in the box.
A corporate cover-up? Well I never.
[rebelmouse-image 18354897 is_animated_gif=
dam=1 expand=1]

Employee at Barnes & Noble stole an excess of 15k embezzling and corporate swept it under the rug and let him quit because customer credit cards were involved. He was allowed to just walk.
Here's how the government can ruin Christmas and get away with it.
[rebelmouse-image 18362206 is_animated_gif=
dam=1 expand=1]

My FIL is a postal carrier. He told me a story recently that during the Christmas season, one of his coworkers did a night run and set all the packages in front of the garage of the house he was delivering. Next morning, the person ran over all their packages leaving for work because he didn't see them. I think the damage was over $2000. Dude still works there.
Maybe she's cooking the books and the boss likes having her around.
[rebelmouse-image 18362207 is_animated_gif=
dam=1 expand=1]

Stealing money and not actually taking inventory, but writing down some random numbers that don't even align with what has been made for the day. We (other people in management) have written and photographic evidence and the computer system's records for when our boss finally listens or realizes that the record-breaking missing items are the result of her. I don't know how she gets away with it. That'd be my job.
Many of us have been in a toxic friendship before—those relationships that somehow always make us feel worse after hanging out with the person, even if we can't quite put our finger on why. Well, as these Redditors found out, there usually is a reason for those gut feelings, and their fake friends revealed themselves to be true enemies.
For unemployed people who have been out of work for any number of reasons and are ready to be proactive again, job-seeking can be arduous.
But once they land a position and earn a livable wage, they can be assured that a consistent paycheck is the end of their problems.
But not so fast.
Not all jobs are what people thought they signed up for.
Curious to hear from strangers about work expectations, Redditor KaitlinKitty04 asked:

"What is the worst job you've ever had?"
Typical occupational hazards.
Annoying Coworkers
"Silverado Plumbing in Tucson. It was a bunch of 40 year old women who acted like they were the mean girls in high school."
– slappy_mcslapenstein

Priorities
"Concert security. I was a huge fan of the artist and couldn't turn around to watch. It was so tempting and an overall bad time."
– Dependent-Prune-7714
"My brother worked security for Ozzfest one year, and being as big as we are into metal, I felt really bad for him not being able to watch his free Ozzfest show."
– T1NF01L
Daycare Nightmare
"I worked at a daycare center, and the building was so old and run down. My classroom carpet was disgusting, it had pee and vomit spots all over. Broken toys, ripped up books. No supplies. Just horrible! Mice would run around the children, while they slept on their cots at nap time. I ended up quitting, and calling the state on them."
– PlanktonSharp879

We all gotta start somewhere.
Golden Arches
"Cleaning toilets at mcdonalds."
– Glittering_Offer_69
"People drunk enough after the bars and all they want is some greasy McD's. Used to go to this burrito place that was open until 3am on weekends because the bars closed at 2am. It looked like that McD's sometimes because of all the drunk immature college kids. I knew the owner and he said it was worth it, because between midnight and 3am on Friday and Saturday nights they made more than they did the entire rest of the week."
– vonkeswick

Working With Tobacco
"Hoeing tobacco. I was 14 and it was a summer job for $40 a day. 7am to 4 pm. I did it for one day."
– EggRamenMan
"Cutting\hanging tobacco was worse for me. Cutting it wasn't horrible but the barns we hung it to dry in were sealed with black plastic. So 95F outside becomes 140F inside the barn. No breeze. Had to keep drinking water and have a barn buddy as people could and did pass out from the heat inside the barn."
– nebelhund

Sexist Tactic
"I worked at a DVD store, doing floor stuff - organizing shelves, putting out new stock, that sort of thing, fun job for me."
"We had a rewards program you could sign up for. Very few people did, and our numbers were bad. So my boss got the brilliant idea to put cute little 19 year old me in a low cut top to stand in the anime section and encourage the dudes to sign up for it. I guess he figured dudes who buy anime are sad and lonely and would be pleased at any attention from a girl. The sad thing is that it totally worked."
"It was super degrading and I only worked there for a few more weeks before I got another job that didn't depend on my cleavage."
– KnittinAndBitchin

These jobs can really take an emotional and physical toll.
Big-Box Store Reputation
"Walmart Distribution Center. When Amazon was under fire for their mistreatment of employees, i watched an interview and the distribution center I worked at was SO much worse."
– itsrainingmelancholy
"My worst job was at a Home Depot distribution center. These places treat human beings like a number. You have to meet quotas or face retribution. I destroyed my back for life at that place for $12 an hour. To this day I avoid the tile aisle because it gives me a phantom twinge in the back."
– Phxician

Constant Streamer
"Had to engage with people's YouTube content and watch their videos fully including ads and send them proof. A 100 videos a day."
– Minnie-Chuu-4062
Pandemic Hustle
"A testing covid site having to test 100s of people a day was A LOT of stress because it was peak covid had a great team though which made it better but sneezing kids and adults and boatloads of schools and the management was horrendous I got covid three times working at that place"
– False_Grape_7485

These positions didn't help with self-esteem.
Phone Company Shyster
"Worked for a third party company that sells AT&T service (so basically your typical AT&T store)."
"First store I worked at the manager would drink on the job and would throw tantrums in front of customers. I actually felt afraid to be with him by myself."
"I was then told I had to transfer to another store that needed help. The manager would not accept anything less than the top service plan we offered. She'd have me purposely add things to peoples plans without asking. She would meddle with peoples plans in order for us to make money off of it. I ended up walking out of that job."
"So if you have AT&T, really look at your plan and what they're charging you. People will do shady sh*t just to get a small commission off of it."
– Kai-Tlyn
Low On The Academic Totem Pole
"A school counselor. You are essentially the school's dumping ground for things no one else wants to do and you barely get to do any counseling. I left after 5 years but looking back, I should have left after the first year."
– ksw90
Sticking to a job no matter what is admirable, but to what extent?
If you're miserable and not feeling productive or fulfilled, there's no shame in walking out and seeking a better opportunity somewhere else to make money.
It's not worth the stress to be stuck in those situations.

Better jobs are out there.
You just have to dedicate time to looking for them.
The older we get, the more fascinated we become with our bodies and how much they change and evolve with each passing year.
Once we start taking human biology in high school and middle school, we become equally, if not more fascinated by the opposite sex, and the genetic differences and similarities.
Of course, the most interesting discoveries we make about genders different from our own are not always found in a textbook.
Sometimes the most fascinating things we learn about gender come from observations of our friends and loved ones.
That can often lead us to discover things that should have been obvious to us, and other times leave us shocked by what we were completely oblivious to.
Redditor zenithjonesxxx was eager to hear the most surprising discoveries people made about a gender different from their own, leading them to ask:
"What's the most interesting revelation you've had about the opposite sex?"
Likely A Case By Case Scenario

"It's all fun and games until you put her favorite bra in the dryer, even accidentally."- TheLonelyScientist
Men Will Likely Never Fully Grasp This Concept...
"I was 16/17 when I found out periods happen over time, not an instant gush of blood that comes out at some random point over a one-week time period."
"I blame adverts for panty liners where they poured all the blue liquid out at once."- samdd1990
Shampooing Must Quite The Burden...

"As a dude I grew my hair really long and the amount of hair I had to pull outta my butt while showering was shocking."
"Crazy that so many long-haired ladies had been pulling hair out their butts most their lives."- KillerGoose
Who's "They" Though?
"That they don't care much about our flaws like we think."- quarterlife94
"They can withstand you lying on top of them."- FlatulentParamecium
A Universal Truth
"That nothing stands the test of time in a relationship more than kindness."
"It can't be faked long term."
"It's literally the most important quality in a mate."- trulyfreely
Well... DUH!
"I learnt on Reddit that they don't stick those pad things to themselves."
' They stick it to their underwear."
"I guess it's obvious in hindsight"- TokiStark
Give Me A Small, Medium Or Large Any Day...
"Their pants don't have a waist size and leg length."
"Just an arbitrary number."
"The f*ck is a size 3?"
"I had no idea a size 3 was tiny."
"It was the first number that popped into my head."- PewpyDewpdyPantz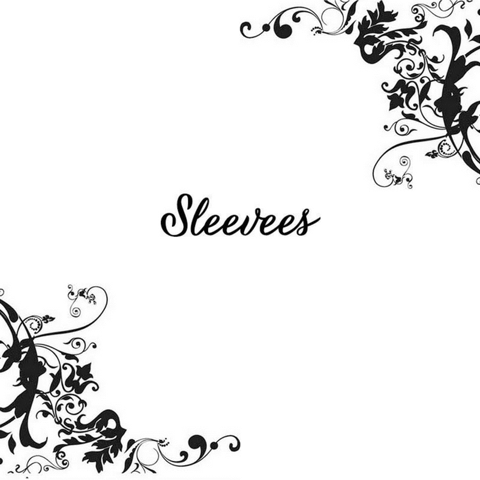 Giphy
Maybe They Were...
"I truly thought the hoodies were mine."- pavonearse
Among The Many Injustices Women Suffer...
"It was decades ago, but until I lived with a woman I had no clue how expensive bras were."
"I honestly thought they were like underpants -- maybe $10 for a three-pack."- RetroactiveRecursion
That Is, If They're Thinking At All...

"Men really do sit there and think about the most random things."
"You think they're mad at you, but they're seriously just contemplating what would happen if oxygen just suddenly disappeared for a brief moment."- Ill_Pumpkin8217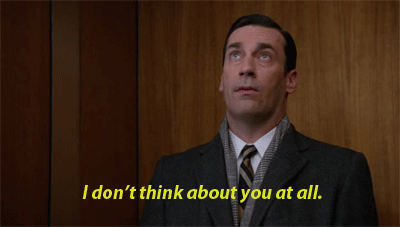 Think Mad Men GIF
Giphy
Reverse Psychology?

"Shirt buttons are on the other side?"
"But, why?"- Fr8tliner
"The wealthy used to be dressed by servants."- scornflake
Even If They Don't Always Like To Show It...

"Men are incredibly emotional humans in a way that deserves so much showing up for and gentleness."
"I used to believe the stereotypes and didn't always hold space for men to bring their emotions."
"But once I began clocking into how some men show up in their emotions, I was able to see how awesome they are in that space."- sahipps
Everyone has an opinion on the real differences between men and women.
Even so, be it in their DNA, brain function, clothing sizes or habits, finding a key difference is futile.
As in one way or another, all people are unique.
There are a lot of strange foods out there.
It could be food we've eaten before with a twist, like pickle ice cream (yes, that's real)! Or it could be multiple foods we've eaten before that are put together in a combination we'd never thought of.
And of course, it could be something you've never heard of and would never try.
Redditors know this all too well, and they are ready to share the weirdest thing they've ever eaten.
It all started when Redditor Tyroneous13 asked:
"What's the weirdest thing you've ever eaten?"
Does It Make You Smarter?
"Moose brain"
– ssandhanitizer
"Hello prion disease my old friend, I've come to talk to you again"
– be-nice-or-else
Delicioussssss
"Western Diamondback Rattlesnake."
– Scrappy_Larue
"I've eaten Eastern Diamond Back, I nearly stepped on him about an hour before we ate him. It was during survival training."
– hems72
"Sooo much better than the eastern! /s"
– Eyfordsucks
We All Scream
"Curry & coconut icecream. It was interesting but got very uninteresting pretty quickly."
– stuloch
"Pear and bleu cheese ice cream is the strangest combo I've ever had. Finished the whole cone."
– CheeseburgerKarma94
"Had black pepper ice cream in Richmond, Virginia once. I do not recommend."
– Maverick_1882
Not Even For A Chocoholic
"Chocolate flavoured baked beans."
"They were disgusting."
– Marmitecashews
Yum, Yum
"Gator and it's damn good. Vacationed in Florida for a week and a half and tried it. My god is it good it's like heaven."
– Apple_turn_over12
"We made gator tacos cooked in Achiote sauce last week and it was delicious."
– PsychologicalIce106
Me Too
"My own words."
– lukeoutside
"Lmao I hear it's hard to swallow"
– Tyroneous13
Ick!
"Baked crickets. Taste like sunflower seeds."
– darlayoupieceofsh*t
"You can substitute a portion of your regular flour for ground up crickets in baking. I've even made cookies and pancakes using cricket flour a few times. Insects are an excellent protein source and taste good too."
– Naive-Button3320
"NASA is studying termites as a food source on long space missions. The termites would help recycle organic matter and be ground into flour for boosting the astronauts' diet."
– Renaissance_Slacker
How Upsetting!
"I thought it was weird at the time and I was so upset: Bubble tea."
"I was in Grade 1 and was invited to my old besties' family picnic. They're from the Philippines. I'm a white-looking girl...the only blondie at the (very large) gathering."

"Her older boy cousins handed me a glass of this red liquid with gooey little spheres in the bottom of the glass. They told me it was fish eyeballs and flavoured blood...and I had to drink the blood amd eat the eyeballs, otherwise I'd insult their family."
"I was so scared I tried the liquid and it tasted like strawberry but I was so confused."
"Anyhow, the cousins got in huge trouble when the aunties realized the prank they'd pulled on me."
"So yeah."
"Fish eyeballs and strawberry-flavoured blood."
– ZookeepergameSea3890
Yikes!
"I had escargot as a kid. I figured a garden snail was the same thing, so I ate one. I quickly found out it was not the same."
– Jack915
"You might have dodged a bullet, some slugs and snails carry Rat Lungworm, read a horror story about a kid who ate a slug on a dare and ended up with worms in his brain. No bueno."
– Renaissance_Slacker
I Never Wondered Either
"In the grand scheme of things it probably isn't that strange but the first time eating Kangaroo felt a little as close as it gets. Growing up i never thought "i wonder what it tastes like" but there i was eating some, at least that is what they told me it was."
– JeffreyJWhitea
How Much Wood Would A Woodchuck Chuck...
"woodchuck goulash"
– Merrader
"When the woodchuck wouldn't chuck wood anymore..."

– AirCautious2239
Ew!
"Deep fried Pigeon feet"
"It was at a fancy LA restaurant, I think it was called Animal. I also had a bone marrow appetizer, and chicken hearts with a pomegranate glaze. It was great, but the pigeon feet had a texture I didn't like and will never forget. Like eating soft plastic bones."
– rollercoastertyc
Poor Unfortunate Sebastian
"A whole dried candied crab. Tasted like someone had sprinkled sugar on the ocean's a**hole. Got stuck in my teeth and wouldn't go away."
– nearlyatreat
If I Had Known...
"Ostrich steak, pretty good."
– 96vette
"I had this too, texture of a steak with the flavour of steak and bacon combined, it's amazing 😍"
– NTB1997
Ostrich steak actually is pretty good, but if I had known that's what I was eating, I wouldn't have continued eating.
Sometimes, ignorance is bliss.
In the words of Lorelai Gilmore, "Eat in ignorance and enjoy..."