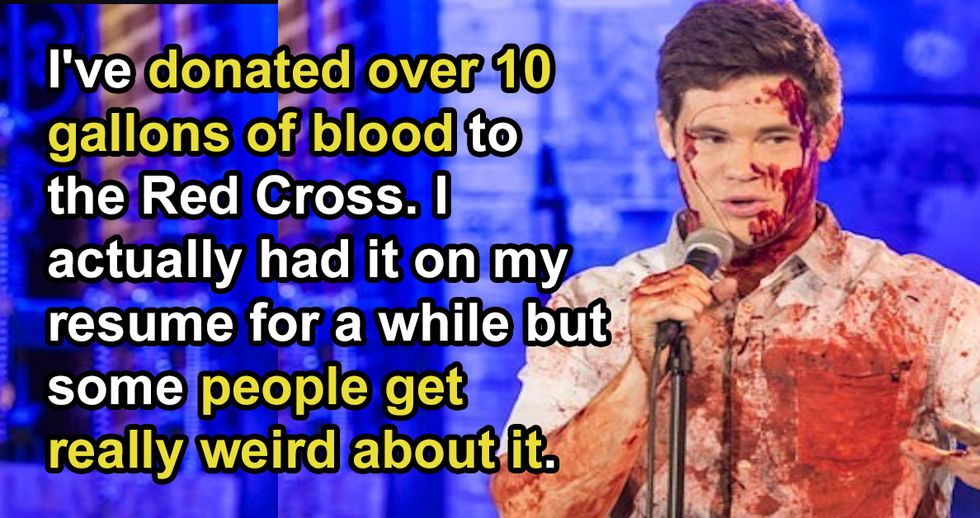 Young Professionals Reveal What They're Proud Of But Can't Put On Their Resume
[rebelmouse-image 18362186 is_animated_gif=
dam=1 expand=1]

The things the young workforce is proud to admit in this day and age leaves everyone dumbfounded. However, accomplishments come in all forms so whose to judge? The odd, quirky things we're all capable are things that set us apart from the pack. It's unfortunate that alot of the time we keep our personal wins to ourselves.

Redditor _u/Shore20 wondered aloud "What's one thing you're deeply proud of --- but would never put on your résumé?" __Start preparing that special skills section... tons of employers may love this. _

THE MIDAS TOUCH....

I got a call from a friend who also raised goats, she had a 5 month old who had a bum leg and the older kids were picking on her. I picked her up, but it was the start of a long weekend and every vet was closed for the next several days.

Turns out, she had broken her hind leg, about 3" above her ankle. Clean break, no broken skin.

I set it, then splinted it with a soda bottle cut so it would roll on itself. Wrapped it in vet wrap, planning to stabalize it through the weekend.

Couldn't get an appointment until a week later, where an x-ray showed that the leg was healing perfectly.
SHOW ME THE RED...
[rebelmouse-image 18362187 is_animated_gif=
dam=1 expand=1]

I've donated over 10 gallons of blood to the Red Cross. I actually had it on my resume for a while but some people get really weird about it.
I RATHER KALE...
[rebelmouse-image 18362188 is_animated_gif=
dam=1 expand=1]

Ate a whole head of iceberg lettuce in under 11 minutes. Most of my friends didn't even finish but I'm the Lettuce King.
BRAVO!!
[rebelmouse-image 18362189 is_animated_gif=
dam=1 expand=1]

I have over 11 1/2 years clean and sober. It's a good thing but I'm not telling potential employers about it.
KEEP THE ENTERTAINMENT GOING...
[rebelmouse-image 18362190 is_animated_gif=
dam=1 expand=1]

I'm fantastic at making balloon animals. I've got no good reason to be good at it.
WHAT ABOUT THE SOUP AND SALAD?
[rebelmouse-image 18980283 is_animated_gif=
dam=1 expand=1]

I ate 6 bowls of pasta at the pasta deathmatch challenge AKA the Olive garden never ending pasta bowl.
GOTCHA!
[rebelmouse-image 18980284 is_animated_gif=
dam=1 expand=1]

Back in 2008, I was a news photographer for a local CBS station. We were doing a story on a lady known regionally as "The Black Widow" - every husband she'd ever had mysteriously wound up dead, and she'd collected some 3 or 4 massive life insurance payouts over the course of her life. She had finally been caught and was appearing before an official in the local prison - it was some kind of small hearing in a tiny room, but I don't know the exact details. I had my camera on her with the top light turned on, and she kept putting her hand up in front of her face to block my shot. I'd turn it off, she'd put it down. Turn it back on, hand went up. I soon realized we're not going to have a single usable shot of this lady in our story that evening because the hearing was going to be over in no time, so I turned the camera on to record her, but shut the top light off. This made the shot a bit darker than I wanted, but it fooled her - she put her hand down and I got plenty of video of her. But not before she looked right in my camera lens, gave me a glare, and said, "You are very inconsiderate." Part of me wanted to ask her where"video taping a criminal" fell on the scale relative to "murdering a bunch of husbands," but I held my tongue.
YELL FIRE AND SWING!!
[rebelmouse-image 18980285 is_animated_gif=
dam=1 expand=1]

I'm a 5'4 110 pound lady and I managed to stab an assailant in the face with my keys.

Although it makes me seem crazy, it was my first physical altercation with someone 4x my size and I am proud that I didn't die or cry.
SERENA AND VENUS STILL LOVE YOU!
[rebelmouse-image 18352192 is_animated_gif=
dam=1 expand=1]

I used to be a really good tennis player! I would play on international circuits and everything! But now the only thing that applies to my resume is that I was a captain for one year on my college team :(