Not all Tinder dates are created equal, we're sorry to say, and after Redditor vaginalbiopsy asked the online community, "What was your worst Tinder date experience?" we admit it piqued our curiosity.
It's nice to know, once you've returned home from another disastrous or disappointing date, that you're not alone, that other people have also had trouble meeting people.
Then there are the stories that are downright crazy.
Let's just say we're glad we haven't run into at least a few of these people. Our deepest condolences, friends!
---
"Then he laughs..."
We have really great conversation and set up a standard happy hour drinks after work date. He starts with, "Obviously," I cannot emphasize enough how not obvious this was at the time, "I'm a huge fan of horror and like to role play," takes out a small stylized curved pocket knife, "all," taps my bare leg with it, "the," taps my bare arm with it, "time," and slides it up to my shoulder.
Then he laughs, and I make desperate conversation for four minutes and then "go to the bathroom" and slip out the side door. I've never been explicitly more afraid for my life than in those moments.
"I once went over..."
I once went over to a guy's house I met on Tinder, put together some ikea furniture (willingly) and then left right after. Never spoke to him again.
"Ended up going out..."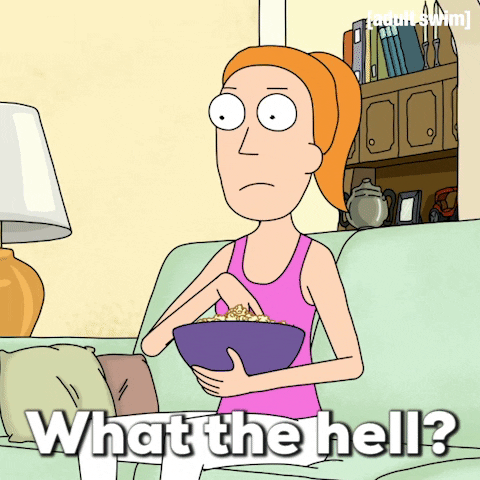 Giphy
Worst: Ended up going out with a cute goth girl... She ended up being a cute Nazi girl.
Bugged out after she said my skull looked very Aryan.
"When I got to the table..."
Went on a date with a guy from tinder.
We arranged to meet at a coffee shop. I arrived 10 minutes early and the guy was already sat at a table, he had already ordered a coffee and some food that he had started eating.
When I got to the table he told me not to bother sitting down and to go and order myself something.
Now I wasn't expecting him to pay, but at least wait for me to get there?
He then spent the next hour talking about how he cleaned his oven and microwave.
Was a pretty strange experience.
"Girl used deceptive photos..."
Girl used deceptive photos on her Tinder profile and barely looked anything like her photos when I met her in person. She was nice, so I still gave her a good date, but I just honestly lost interest the moment I found out she was using deceptive photos and basically catfished me. What made it awful is that she really enjoyed the date and told me that it was her first date ever. I felt like such an awful human being for rejecting her.
"Date ended..."
I met this guy who didn't even know what the word 'suspicious' meant. Date ended with him asking to see me again and me asking him to get his money back for his degree.
I wouldn't have been like that about it but he was so egotistical and self-important. He was treating me like I was completely thick but he honestly didn't have two brain cells to rub together. He wouldn't stop bragging about his crappy BS degree too
"She didn't know that..."
My worst Tinder date was when I got catfished, decided to stay anyway, and in the restaurant we had to go up and order? She didn't know that and after 15 minutes of waiting she slammed her fist on the table and said where the f*** is this waiter, to which point I stood up, put down £15 so she could buy some food, and I left. Safe to say I unmatched.
"We clicked..."
A few years ago I matched with this woman who seemed great. We clicked and hit it off. She lived about an hour and a half away from me, so we talked for about a month before finally agreeing to meet. The plan was for her to drive down and we would meet at the zoo, before going back to my place to watch a movie and talk. I got to the zoo first because I lived close, and when she showed up, I immediately realized that there was no spark. Like, at all. I didn't want to be rude though, and I was still determined to give it the good ol' college try. So I stuck it out.
The date at the zoo was just...blegh. I had more fun playing with the animals in the petting zoo. After the zoo, we still went to my apartment because I would've felt bad just sending her away. What proceeded next was the two most awkward hours I've ever spent in my own apartment. Finally, and thankfully, it was over, and I walked her out to her car. She tried to kiss me, but I turned it into a hug instead. When she got home, she texted me and asked why I didn't kiss her. I finally had to tell her that I just wasn't feeling it. I know many other people have much worse/better stories, but this one still makes me cringe.
"I had hooked up..."
I had hooked up with a girl a bit older than me (maybe 3 years) but she still lived with her Mum. I ended up having to hide behind a door for like 45 minutes after her mum came home before I could sneak out.
"Out of nowhere..."
My worst tinder "date" experience was pretty traumatizing for me at the time. I put date in quotations because we never went on a real date. I was a sophomore in college and she was a junior or senior at the same school. The first time we ever hung out, I went over to her apartment and we just watched some Netflix and hung out. Nothing crazy. I was thinking this chick is super cool, we may have something here. So I leave telling her I'd like to see her again if she's down. She told me she would love to and just hit her up whenever and we'll make some plans.
We start texting/snap chatting throughout the week and organize some plans for the following weekend. Out of nowhere, she starts sending me unsolicited nudes. Never once asked for them and when we were hanging out the weekend prior, there was no sexual activity at any level. We quite literally Netflix and chilled. It caught me off guard, but I was more than cool with it. I'm a young college guy and this hot older chick wants to send me nudes after only hanging out one time? Say less.
Fast forward to the weekend, she comes to my apartment and we're hanging out with my roommates watching something on TV. She asks me if she can stay the night, and after sending nudes to me all week, I kind of figured what was up, so in my head I'm like "....uhh f*** yes". But I tell her of course and to be polite I offer to sleep on the couch because we've only known each other for all of about 2 weeks and have only seen each other in person one time prior. She tells me she'd rather me sleep in my bed with her, so I know it's on.
We get to Netflix and chilling in my room and I make a move. We start to hook up and eventually wind up having sex. I wore a condom and after tossed it off to my side of the bed. As we're laying there after a few minutes, she gets up abruptly, comes around to my side of the bed and grabs the condom off the floor and runs into the bathroom. I'm a little confused, maybe a little concerned but kind of brush it off.
As I'm laying there in my bed I hear a loud crash in my bathroom she yells "fuck" I ask if she's okay and get no response. I'm a little concerned thinking this girl just fell in my bathroom and cracked her head open or something. I go to open the door and she is standing in my shower with one leg propped up trying to shove the condom up her vagina after she flipped it inside out. I freak out, no clue what to do. She's clearly freaked out and probably embarrassed? I have no clue. I shut the door and she immediately comes back out, says she's gonna leave and I say sounds good. I never hear from her again.