Did you know that many governments out there prohibit you from naming your child something ridiculous? It's typically done to protect the child from being given an offensive or embarrassing name.
That hasn't stopped some people, though. In the United States, for example, restrictions vary from state to state.
Behold and CRINGE with the rest of us thanks to Redditor azure_flame1990, who asked the online community, "What would be the absolute worst name you could give your child?"
---
"I went..."
I went to high school with a girl named Cherish Precious Freedom [Last Name] so I gotta day that's the top of my list.
"I worked for 12 years..."
Abracadabra.
I worked for 12 years for the courts where traffic tickets were paid. Legit a traffic ticket came across my desk with this as the girls first name. As luck would have it, a couple weeks later she came to my desk to pay it! I asked the last name and when she replied with it, I knew instantly who it was. It was a really common last name so I had to ask the first name in order to not be obvious. When I asked her first name she sighed and put her head down and shyly and quietly said "Abracadabra". I didn't laugh on the outside but on the inside I was dying.
"There was..."
There was a very attractive guy that had a great personality but I had to stop talking to him because I could never date a male named "Skeever."
"In a drug-induced state..."
Plaxico. (Actual name of a former NFL player.) I've always imagined mom giving birth and the doctor saying; "What are you naming him?" In a drug-induced state she looks up at her IV bag and reads the manufacturer's name.
"Looking back..."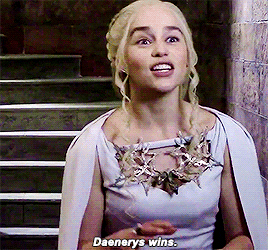 Giphy
Looking back, "Khaleesi" was an unfortunate choice for new parents to make.
"I went to school..."
I went to school with a girl named Anida Wang. Pretty unfortunate that younger brothers name was Harry.
"It forecasts..."
Jayden. It forecasts a life of trailer parks, mullets and menthol cigarettes.
"A friend knows someone..."
Mary Christmas.
A friend knows someone who named their kid this because - you guessed it - she was born on Christmas Day.
"Common names..."
Common names with alternative spelling to make it unique. Example: Emily to Emmalee. You have sentenced your child to having to spell out their name for the rest of their lives.
"There was a girl..."
There was a girl named "Živa Groza" which translates to "Living Horror" in my elementary school. Parents must be nice.
Do you have something to confess to George? Text "Secrets" or "
" to +1 (310) 299-9390 to talk to him about it.