People Break Down Which Jobs Would Be The Worst On A 'Go To Work Naked Day'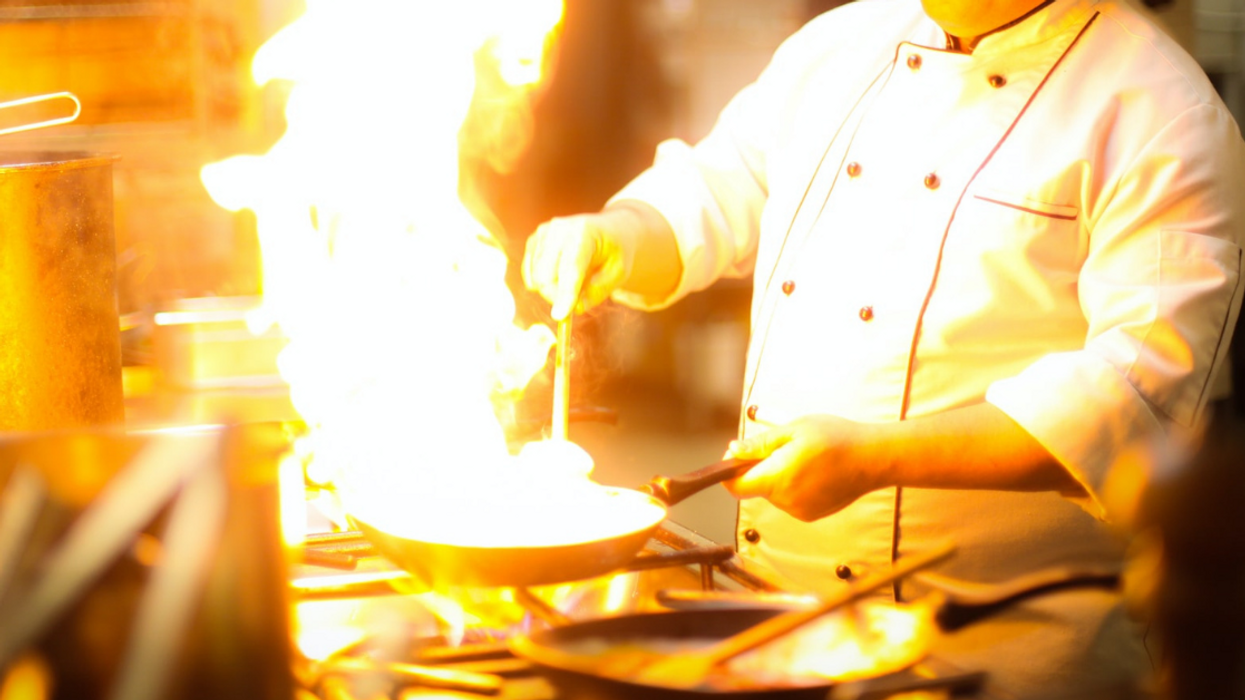 Going to work naked is literally a thing I have nightmares about.
It's also literally a thing I could do because I work from home writing weird articles on the internet and nobody has seen me in the real world since, like, 2016 anyway?
---
So if, for whatever reason, my nightmare scenario were to come true I'd be fine. Cold, probably very annoyed with my dogs, but fine since I'm alone on home turf.
Reddit user willtrent16 asked:
" 'Go to work naked day' is now a mandatory national holiday. Which jobs have the worst outcome from this? "
I used to work with kids. 5th-8th grade kids.
I don't know if you've ever met a middle schooler but they are possibly the most terrifying predators in all of natural history. My old job working with middle schoolers gets my vote; but Reddit had some awful ideas, too!
Spicy Rain
"Welders."
- Cold-Ruin-3973
"Ooh spicy raindrops"
- saltyboi6704
"Am a welder. Tig is the only one I'd do naked haha. Mig and stick have too much spicy rain coming from them lol"
- MarionberryNo3166
"Overhead Flux would have your pecker looking like Anakin at the end of episode 3."
- BigPapaNurgle
Pink Would Stink
"Insulation installers; pink fibreglass everywhere."
- JimmyJazz1971
"As an electrical apprentice who has been crawling around an attic all day, I can comfortably say f*ck pink insulation and who made that sh*t so itchy!"
- Brothersunset
"I can feel this everywhere right now."
- TotallyInOverMyHead
On Company Time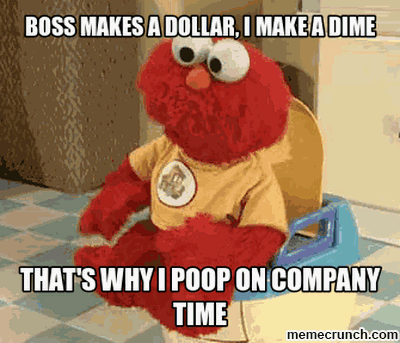 company GIF
Giphy
"Septic tank divers."
"But on the upside, if they need to take a dump they can just do it without having to stop working!"
- RiddlingVenus0
"Always sh*t on company time."
- wananah
"I physically GAGGED."
- Mrs_Watzitooya
Teacher Trauma
"Grade school teachers."
- Lallner
"People who are homeschooled are freaking out right now."
- Bobbyjoethe3rd
"Specifically, brand new high school teachers."
"When I was student teaching, I was 22. I was teaching 17 and 18 year old seniors. It was bad, but it would have been even worse with no clothes."
- TheLonelySnail
The Source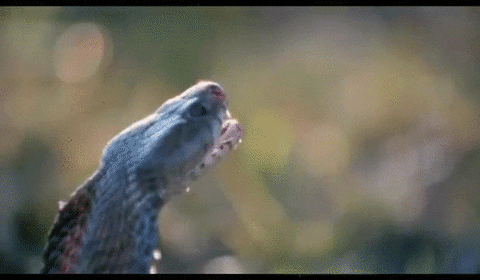 glory cobra GIF
Giphy
"I'm a biochemist in a venom analysis lab."
"When I'm not in lab isolating venom proteins in DMSO and other chemicals that can help facilitate the passages of normally non permeable molecules through cell membranes, then I'm harvesting the venom from the source."
" 'The source' being venomous snakes."
"Blue jeans are basically the best armor that doesn't compromise mobility. I mean, tromping through tall grass probably SHOULD mean chaps but they don't work against large enough snakes and not getting struck at all will always be 99.999% of the effective safety practices we have developed against snake fangs."
"So even if I'm ok with wearing thinner long pants in the field I'm gonna keep that layer of mesh between my family jewels and strikes. I've had 2 close calls in that exact region."
- craftmacaro

Cranberry Spiders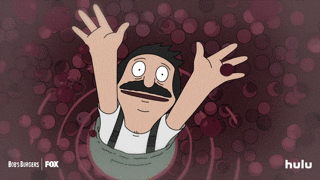 dig in bob's burgers GIF by HULU
Giphy
"Working in a cranberry marsh seems like a really bad one."
"I've never been in a cranberry bog, but I know rice fields. If you're walking in water the goes up to your hips and it's full of foliage or crops, it's gonna wrap around you and it's gonna get in some places."
"I would imagine trying to walk through a cranberry bog naked would not be fun."
- FlysDinnerSnack
"Also, cranberry bogs are filled with wolf spiders."
- Slant_Juicy
"I read an article about this that said:"
"'It turns out there's a reason they ask prospective employees if they're comfortable with spiders, and it's a pretty wild one. You're going to have a hundred wolf spiders trying to climb your eyebrows during harvest.' "
"And now I want to know the spider leg quality control cut off point of cranberry products."
- CandiBunnii
"Today was the day I gave up eating all cranberry products for the rest of my life, thank you."
- dances_with_corgis
Hair Splinters
"God awful being a dog groomer. I get enough hair splinters wearing clothes…"
"Hair has a lot of structural integrity when its not long or old. It slices deep."
- Illustrious_Way_5241
"Hair splinters are SO annoying."
"I'm a Vet tech, I have to shave down pets for their surgical sites as part of the prep, I get them from that. I literally feel your pain."
- NurseMcStuffins
Nurse!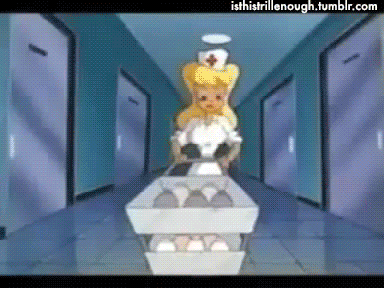 hospital hello GIF
Giphy
"Nurses, especially female nurses with all the creepy old men/altered mental status patients in hospitals."
- Less-Dirt-1673
"My germophobic self would rather get fired than have to go to work on this mandatory day."
- wankProcyon
An Hour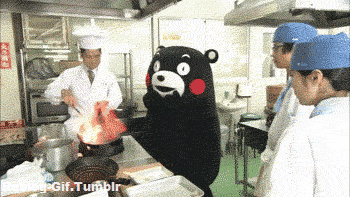 Excited Bear GIF
Giphy
"Kitchen work in general."
"I'm a chef. Judging by the amount of burns on my arms, I would burn my penis off in like an hour."
- atx00
"Once, at the end of working in a seasonal cooking job, I made good on my promise to show up to work in nothing but apron and Crocs."
"I lasted ten minutes on the line before bailing to get something between my skin and hot grease. So I can confirm that cooking naked is a terrible idea."
- kdubmaps
"For line cooks, the amount of time we spend bending over to reach coolers and pans and whatever would be absolutely revolting, and aprons don't solve that."
"Apparently a former cook at my job never wore underwear and while standing beside the very hot grill, it heated the zipper of his pants enough it caused some minor burns on his member."

"That is how we ended up having in the employee manual for uniforms, that the employee must wear underwear."
- tachibana_ryu
"I had a coworker that was wearing the fire retardant chef's pants, and he accidentally leaned up against the edge of the flattop for a couple seconds."
"He was fine, he literally didn't even feel heat, but his pants were scorched to hell."
"It probably would have been 2nd or 3rd degree through normal clothes… naked, you'd literally be cooking yourself…"
- Toss_Away_93
That's hot!
"Firefighters"
- RTwhyNot
"Use your hose! No the other one!!"

- ami2weird4u
"YOUVE TRAINED YOUR ENTIRE CHILDHOOD FOR THIS!"

- GolgiApparatus1
"There would be a lot of people attending that fire."
- lasvegaswil
Down to clown?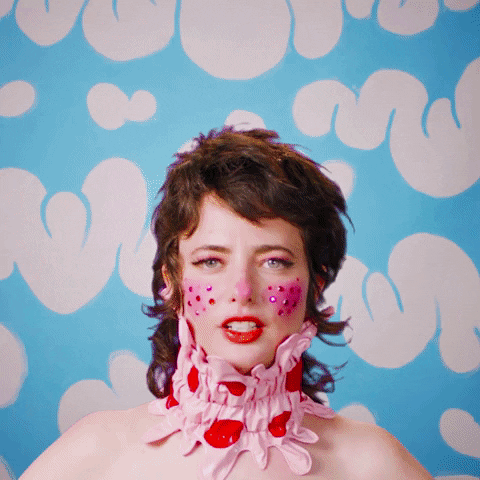 Eyes Reaction GIF by Sarah Squirm
Giphy
"Party clown, even worse if it is for a child's birthday"
- jaeger3344
"I'm not down with clowning, but where else are you inviting party clowns? Adult birthdays?"
- GavinBelsonsAlexa
"I seen clown getting hired for promoting stores and for events also"

- jaeger3344
" 'Look, children, a dachshund!' Squeaky noises 'and now it's a giraffe!' Squeaky noises 'And now it's a teddy bear!' Screams of horrified children"
- Kiyohara
"I feel like if you're hiring a party clown on the mandatory "go to work naked" day, you know exactly what you're getting. Could be their busiest time of the year"
- Lazy-Koala
Can we call in sick?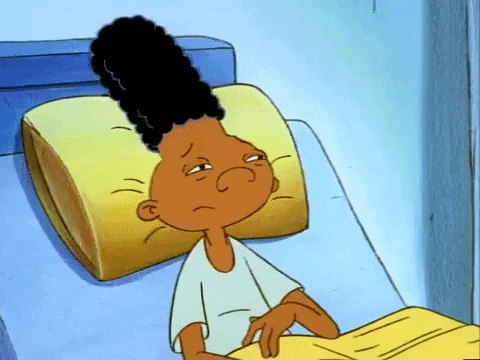 sick hey arnold GIF
Giphy
"As a chemist, I think I'll just call in sick…"
- Bloorajah
"Bruh, molecular biologist checking in, I'm calling in sick too"
"I'm probably mostly EGFP positive at this point but still..."
- Durph08
"I work in a microbiology lab. Antibiotic-resistant infectious organisms galore. Right behind you."
- confictura_22
"I'm an environmental chemist. If we're putting it in the environment it probably wouldn't be that bad for my bare skin, right? …right?"

- aureliaxaurita
"As an industrial chemical vendor, I am also calling in sick. Partially because I don't want to see all of the old naked men, partially because I don't want my balls to be burned off by one thing or another."

- stepheno125
Now you see it...
"Magician"
- Corndog881
"Hey mister, where were you hiding those handkerchiefs?"

- 3CH0SG1
"Stripper Magician isn't far from it"

- HugoStiglitz007
"A stripper magician would be a wonderful addition to parties and funerals"

- calimbus
"All I can think of now is c*ck magic from south park"
- LuminaryOfTheStars15
That may be fun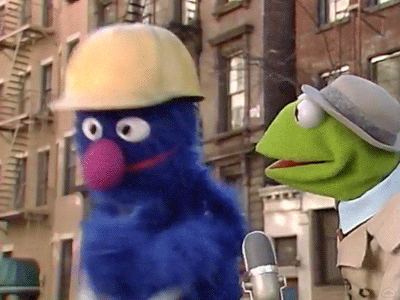 Ignoring New York GIF by Muppet Wiki
Giphy
"Jackhammer operator."
- Various_Cricket4695
"I think the unhindered jangling of your bits while operating a jackhammer would be mesmerizing. Maybe even like a fan that goes at the exact right speed so that it appears to not be moving at all."
- Absenceofavoid
"You've got a beautiful way with words"
- BrokeInService
"A co-worker took a slow-mo of me running a jumping jack. If my noodle-arm in that vid is an indicator I'd have to say it'd look hilarious"
- BrokeInService
"That sounds like a jolly ol time"
- PoeLaHa
Insecurity guard.
"I think I'd have it pretty rough as security..."
- jluponeage
"Idk nobody wants to fight the naked guy"
- somebigdog
"Might you be... insecure?"

- CallMeABeast
"Same line of work man, though on night shift sometimes I feel I'm the only one who ain't nekked"
- EricWolf
More like "no no no!"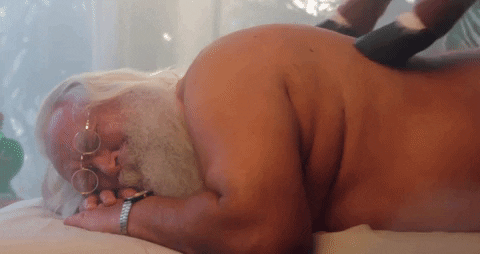 Christmas Santa GIF by Katy Perry
Giphy
"Mall Santas"
- LegendEchidna
"Bravo, this one got me"

- willtrent16
"Santa brought the North Pole with him this year!"
- felixfelix
"I imagine them only wearing a hat, the beard and the boots. LMFAO horrific"
- xccrunky
"They arent supposed to be naked?"
- SexyWomanNotMan
Dressers
"Strippers. Less business that day, probably. Everyone is at Hooters."
- NoAlternative2913
"They'd be called dressers for the day."
- Kom4r
"Yeah baby put it all on."
- ParisGreenGretsch
"That's when you make a business model out of putting clothes back on slowly. If anyone comes in late they miss some of the nudity and may wanna try and pay to get something back. Who knows I can see something coming of this"
- Got_It_Memorized_22
"5D response right here"
- crubbyDoubleNuts
Sargent!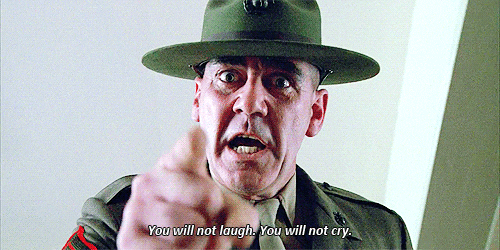 full metal jacket GIF
Giphy
"Military, especially in an active warzone."
- WoXihuanKoujia
"I dunno man, if a dude is crazy enough to charge at me nude my first instinct might be to run and not let the nude dude wrestle me to the ground."

- 2_Facebook_Zucks·
"General Buttnaked did exactly that."

- thorpie88
"It's genius. They'll be looking for army guys and completely skip your naked ass"
- czs5056
"Idk why I found this so funny. But I immediately thought of the fact that instead of hearing the ominous sound of a thousand people marching with those heavy military boots it would be a thousand of the slaps you get when you run with bare feet"

- Lobi-Wan
So... Florida man?
"Alligator feeder at zoo"
- triniazhole
"This is normal in Florida, it's hot and Florida man aint got time to get dressed before wrangling him some gator."
- 2_Facebook_Zucks
"This is normal in Florida" is not a very convincing argument."
- TheUnholyRomanEmpire
"I live there; can confirm"
- TchaikenNugget
"Eh, is that beige vest and those khaki shorts really gonna make the difference between a pay check and death?"
- Current-Area-4291
Reddit brings up a lot of good points and fun new things for me to have anxiety induced nightmares about.
What other jobs would you add to the naked nightmare list?
Want to "know" more?

Sign up for the Knowable newsletter here.

Never miss another big, odd, funny or heartbreaking moment again.
Reddit user AdditionalDentist100 asked: 'What's something you confessed to your partner that ended your relationship?'
When it comes to romantic relationships, it's a lot harder to maintain a relationship than it is to start one. And unfortunately, it's all too easy to end that relationship.
A lot of things can end a relationship, and sometimes, it could be as simple as a single comment. Sometimes it's so hilariously stupid that you can't fathom being with the person any longer. Other times, the person says something so cruel that you know it's time to run. And sometimes, the comment isn't even necessarily bad -- just ill-timed.
Redditors know all about this and are ready to share.
It all started when Redditor AdditionalDentist100 asked:
"What's something you confessed to your partner that ended your relationship?"
Faking It
"Not me, but someone I know was finally told that her husband was faking his English heritage, background/upbringing in England and fake accent. Dude kept it up for years, eventually admitted that it was all a lie and that he grew up on West Coast."
– NE_Golf
"I would think that was a lie but there are people who have faked being a 9/11 survivor. Apparently this type of stuff happens more frequently then I'd imagine."

– jdefr
Oh, The Humanity
"That I didn't rinse off the Mac and cheese noodles. This isn't even a joke it's a true story."
"They were done cooking and I didn't rinse them off. And yes this was a break up waiting to happen I guess lol."
– Ohlookavulture
"It says right on the box not to rinse them."
– Strong-Solution-7492
"The starch is good for the sauce. Dodged a bullet, I'd rather die alone than eat sh*tty mac & cheese."

– pleachchapel
The Past Is Not The Past
"Didn't happen to me, but a guy I knew married a girl I knew (both a bit older than me) and everything seemed great. However, they were at a party and someone mentioned that the guy used to smoke weed in high school (he admitted it, didn't think it was a big deal). She divorced him a month later, claiming that she couldn't forgive him for smoking weed. 😳"
– bomland10
"There had to be something else going on with her because this is so ridiculous. It's not even something he was currently doing."
– woodenmittens
But Faaaamily
"I didn't want us to move in together with 6 other relatives."
– Ne0nGalax-E
Three Words, Eight Letters
"I believe it was "I love you.""
– AssistantManagerMan
"How f**king dare you!"
– Illustrious_Cancel83
"Oh yeah, I was out of line."

– AssistantManagerMan
And She Communicated
"I wanted better communication sooo she broke up with me."
– Plus-Bunch-4265
"I mean….."

– Outrageous_Egg6340
"Loud and clear."
– EchtGeenSpanjool
Run!
"I said, while crying because he got angry with me at a restaurant, that "I am sometimes afraid to tell you how I feel because I'm afraid of how you'll react." And he said, "well, thats f**king pathetic.""
– internetgoth
"My partner had a habit of starting a convo by asking how I felt about something, then would criticize me for feeling what I felt. It always ended up being a debate about why I felt the way I did. It was never okay for me to feel sad, worried, scared, etc."
"Over time I started to feel anxious when he'd ask questions, and purposely responded vaguely, or just straight up said that I didn't feel comfortable sharing (which would incite anger or more judgment)."
"Eventually my response became exactly that. A teary "I don't know if I want to share because I'm worried about how you'll react/respond" and his responses were along the lines of "that's stupid" "you're ridiculous" "don't be an idiot" "seriously?""
"I don't know if it's because I got so used to it, or from being distracted by all the other bigger things in the relationship…but for some reason I didn't even notice that this was another bad thing until reading this comment. It was just…normal."
– alexanteros
Looks Always Matter
"It's not necessarily what I confessed, but I showed him my picture from 8th grade and he couldn't handle that I used to look like I did in 8th grade."
"If I knew that I had to peak in middle school I would have at least plucked my eyebrows 🥴"

– aero_love
""Sorry babe, you just weren't hot as a middle schooler. Gotta end it here.""

– bobbitdobbit
Happy Ending
"True story. I confessed that I wanted to do more for her. I thought I was neglecting her and working too much."
"That next week, she sat me down and told me that I was threatening her independence and that she needed a week to think about us. The week after that, she broke up with me."
"I later got the real reason from her former best friend. She never had a guy who wanted "all in" like I did and panicked."
"At the time I was destroyed. LOL I thought I was going to marry that woman. Turns out I was one woman off and my next relationship would turn into my current family. So all's well that ends well."

– Salty-Technology8912
Better This Way
"Broke down crying during a more realistic war movie. She told me to suck it up."
"After she confronted me for drinking too much I finally sought VA disability. Diagnosed with depression, PTSD, anxiety, among other things. Bills started pouring in and I told her we can't afford certain luxury things because I was the sole breadwinner. I said I felt like I was drowning and my head is slowly slipping under the surface. She told me to "figure it out.""
""So, I did. We divorced. And I'm much more happy and no longer on the train of "be a man and tighten your boot straps." I got help and know that it's okay to do so."
– NyetRifleIsFine47
"So much easier to keep your head above water without the anchor around your neck."
– Probably_Not_Evil

The Cards Don't Lie
"That I didn't believe in astrology and tarot cards. She then said her tarot cards told her to break up with me. Sure dodged a bullet there."
– Zenith_21
"The tarot cards were right! And still you don't believe!"
– TDLMTH
Let's Hear It For The Boy
"I didn't confess, I just went to a couple bars with her to dance. She left me because "YOU CAN'T DANCE!" Of all the things that she could've said that was the weirdest reason ever. Like, I had no response. I was 28. I'm happily married for 22 years now to someone who I constantly do bad dancing for because she thinks it's hilarious. I mean, since I was told I can't dance, I developed a habit of dancing badly when celebrating ANYTHING. It's a real crowd pleaser. I am loved for my bad dancing now."
– generic230
I can't dance either! But this is exactly why we all need to find someone who loves us for our quirks, not despite them.
I have been left utterly bewildered by what some people believe is acceptable thought, conversation, and behavior.

Like... "Do YOU hear you?"
It shows when a person lacks life experience and/or brain cells.
Words expose everything.
And sometimes shock is all that is left to grapple with.
Redditor nlwfty wanted to hear about all the things people have overheard that left them utterly stunned, so they asked:
"What's the most out-of-touch thing you've heard someone say?"
I once a friend's friend moan about how she and her husband were nearly destitute.
Almost penniless.
All while she was straightening up the house for the new au pair they had just gotten from Columbia.
The Who?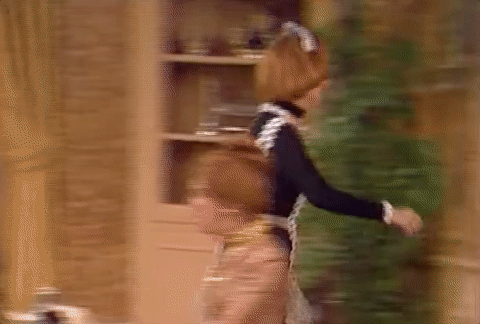 Over It Maid GIF
Giphy
"My boss once told me to have 'the maid' drop my car at the shop. WTF!!"
amboomernotkaren
Be Happy
"'You won't be happier at work if we pay you more, but we need to figure out why workplace happiness is so low.' This coming from a guy that made 10x what I did and was born into old money."
Dirac_comb
"I had a job that was paying below market rates and 'expected' daily overtime (unpaid, natch) and was trying to figure out how to improve morale. They were considering bringing in consoles and having video game nights after work... as if we weren't stuck there too long already."
"I did have the fun of leaving, then being asked to come back as a contractor to help out, and taking advantage of being on a short-term contract and giving no f**ks to suggest that maybe they should consider at least TRACKING the overtime people were working, even if they weren't going to pay for it since there was probably a whole extra job's worth of hours in there and maybe hiring another person might improve morale and reduce the risk of the kind of errors tired people make."
"Didn't stay long as a temp. Apparently telling the truth and discussing facts with your co-workers isn't good for morale >_< They told everyone I was leaving because I got a better offer (!), but I told everyone exactly what was really happening when they asked XD."
princess_ferocious
It hasn't?
"My dad (who is now the Director of Accounting for the school district I teach for) was talking about how my starting pay was way more than his starting pay."
"I said, 'Well, yeah... The cost of living has increased a ton since then.' This motherf**ker straight up said, 'No it hasn't.'"
"He started working there in 1992. This conversation happened in like 2017 (about a year after I started working there). Again, he is the director of accounting."
pjsans
Move On
"'You seem sad.'"
"My mother to my sister, at her husband's funeral."
blarg-zilla
"My sister's son was murdered. Two weeks later my mom asked her if she was over it yet."
NeverCallMeFifi
"One of my sons was murdered 12 years ago. Many people started telling me that I needed to 'move on' after 4-6 weeks. My brother refuses to say my son's name, so I no longer speak to him. Sending my deepest condolences to your family from a mom who understands losing a child to homicide."
PDXer328
Good Idea!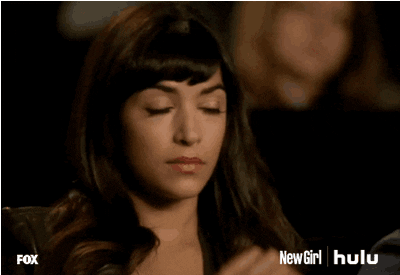 New Girl Facepalm GIF by HULU
Giphy
"'I don't know why people get big mortgages. Just save up for a few months and pay cash for a starter home!'"
Hopeful-Moose87
People with money always seem to have a plan, unless the plan is sharing.
FInd the Treasure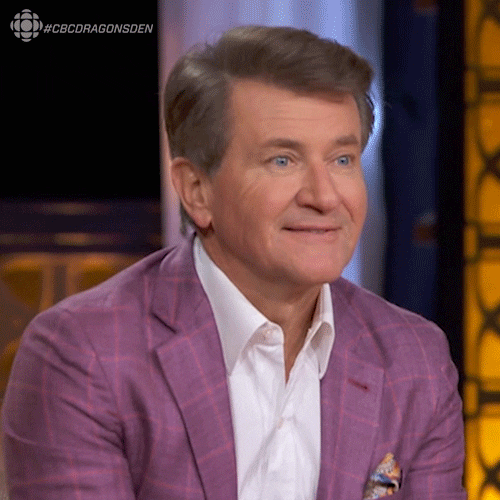 Dragons Den Television GIF by CBC
Giphy
"When people were complaining about not being able to afford housing/food/living in general, one of the Dutch ministers (I think he was a minister or at least the leader of a party) said something along the line of 'well, find a rich boyfriend then'. ah, yes, that will solve the crisis!"
pastelchannl
Dumbfounded
"I went to an Ivy League college with lots of children of extraordinarily wealthy families. When discussing inequality and its effects on housing, my professor briefly mentioned how mortgages are out of reach for a growing number of Americans. The girl next to me stopped the class, and with a confused face asked the professor why people don't just buy their homes in cash outright because 'surely the interest means it will cost them more over time.' The professor was dumbfounded. I found out later that she is the heiress to a major luxury brand that you have all heard of."
wildblue2
The Increase
"My former landlord and his wife dropped by to tell me and my financially struggling 20-something roommates that they were raising the rent, by nearly 25%. They said, 'We noticed on Craigslist that neighbors had higher rent so we're doing the same.' The wife then earnestly reminded us that we've been great tenants but maybe we just needed to find some higher-paying jobs. 🙃."
agingcatmom
Not Me
"I was waxing a woman's eyebrows once and she was complaining that sometimes after she gets a massage the pillow leaves a circular indent on her face and she can't go out to lunch after. She then asked me if that ever happened to me? I was like ma'am I wax people for eleven bucks an hour; I'm not going out to lunch lol, let alone getting massages."
lomi08
Investments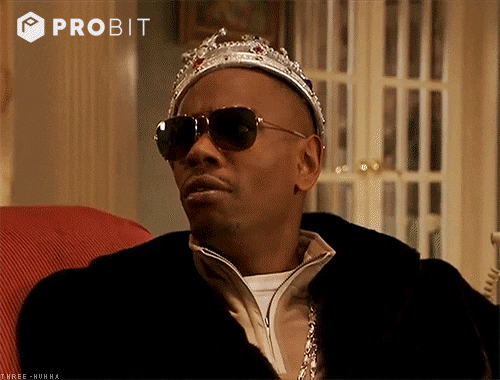 Money Invest GIF by ProBit Global
Giphy
"Something like: Give a rich person $500 and they will invest it into $1000. Give it to a poor person and they will spend it in a week."
"Yeah exactly give it to someone who's needs are met and they can save… give it to someone who needs to eat/pay rent etc they will spend it to survive!"
ExaminationLucky6082
You need money to make money.
One of life's biggest lessons apparently.
So someone give me some money.
Do you ever wonder what it must've been like to experience major events throughout world history when reading about them in text books?
But if you take pause and actually think about it, we're living through many newsworthy current events that succeeding generations will be talking about long after we're gone.
Reading about them online or in newspapers is one thing. But seeing them happen unfold before our eyes is another.

Curious to hear from those who'll have anecdotes to tell in the future, Redditor FictionVent asked:
"What is the most historically significant event you witnessed IN PERSON?"
People recall the natural disaster events they've witnessed.
Tremors
"1964 Good Friday Earthquake 9.2 Richter. Was a boy in Cordova, Alaska at the time."
– KitchenLab2536
"My father was skipper of the USCG cutter stationed there. He was inport, and when the quake struck shortly before 5:30pm, he and my mom gathered me and my three siblings on the front porch. At first, it felt like the house was crumbling at the foundation, but on the porch we could plainly see our whole world was shaking. I remember watching telephone poles swaying, and the wires snapping and crackling in the street. The quake lasted about five minutes initially. My dad got his ship underway to avoid the tidal wave which was sure to come. We had several aftershocks in the coming weeks, some of which were quite strong, though nowhere near as strong or as long as the quake itself. I was seven at the time."
– KitchenLab2536

Collapsing Freeway
"October 17th, 1989. I watched the 880 Nimitz freeway collapse during the San Francisco earthquake. The Honda in front of me had the upper deck crush her front-end engine compartment. The mother and her daughter were shaken up but completely fine."
"I was driving a convertible Triumph Spitfire, which was scratched up slightly from debris. However, I walked away unscathed. Aside from the fact I pissed my pants, which I didn't notice until much later."
– CatDaddyWhisper

Thar She Blows
"I sat on the roof of our house and watched Mt. St. Helens erupt less than 100 miles away."
– stinkykitty71
"This must have been fascinating and terryfing in equal measure. What a thing to witness."
– runrossyrun
"It was amazing! The ash that covered everything like snow was interesting to kid me, but less so to my parents."
– stinkykitty71

People recall seeing major catastrophes as a result of malfunctions or judgement errors.

Bomber Crash
"The b-52 crash that led to changing what large military aircraft are allowed to do for airshows."
"I didn't see the plane, but immediately saw the fireball. It was just a perfect, bright red turning to black mushroom cloud."
"Fairchild is a nuclear air base and there were a few minutes there where I was sure the world was about to end."
"A few years before a KC-135 doing the same thing crashed near the school while we were in class."
– goffstock

Tragic Takeoff
"I was standing on my front porch watching the launch of the Challenger."
– StarChaser_Tyger
"Was riding in my parents car to a basketball game in the next town over in north texas when we saw a shooting star and thought that was neat."
"It was the Columbia..."
– Misdirected_Colors
Demolition Gone Wrong
"The failed implosion of the Zip feed mill in Sioux Falls, SD in 2005."
"They hyped it up, sold tickets to it, had a big 'BOOM' marketing thing, and broadcast it live on TV."
"The explosives took out the main supports on the first floor, and the rest of the building above it just plopped down 10ft or so and came to a rest. It was a massive failure, and was a funny little blurb on news stations around the world that day. Definitely not major news, just the rest of the world taking 20 seconds to laugh at us."
"The building sat like that (the leaning tower of SuFu) for quite a while until they figured out how to safely demolish it."
"Here's a clip of the failed demolition."
– KitchenBandicoots
These well-known historical events were seen by very few who are alive today.
Historical Remnant
"The tumbling of the Wall in Germany… along with people selling bits and pieces of it on tables in lobby in front of commissary and px in the following weeks and months. I had picked up a chunk about the size of an oreo and kept it… has blue spray paint on the flat side. Wonder if anyone is buying them now?"
– SingedPenguin13

Major Upheaval
"I would have to say the LA riots. I lived about two blocks from where it started. I was on my way home from school and saw someone throw a brick through a window. I didn't even wait. I just started running the whole way home."
– Scarlaymama0721

Day Of Infamy
"9/11, I could SMELL the collapse of the towers."
– go4tli
"A friend of mine was there. One day in the warehouse we worked in together there was an odd electrical burning smell. He stopped in his tracks and went 'this is what 9/11 smelled like.'"
– mantistoboggan287

I didn't physically witness the fall of the World Trade Center but I was living in New York City at the time.
However, I did see the smoke.
I was living up north in Washington Heights at the time and knowing what happened, uncertain of what was to come, and seeing the plumes of smoke from the attack site was the most ominous sight I've ever seen in my life to date.

Have you ever lived through a historic moment or witnessed something sure to be noted in history books? Let us know in the comments below.
A job search is not fun, so most people will tolerate a lot to keep a job.
But everyone has their limit.
Sometimes that limit is reached right in the middle of a work day and people are forced to walk off the job with no prior notice.
Reddit user thann3 asked:
"Have you ever gotten up and quit your job in the middle of a work shift? If so, why?"
Hands Off
"I was a bar back in my 20s, and I had an incredibly abusive boss. It was a weekend night, and the bar had two floors, and I was the only bar back that night, and there was only one bartender on each floor."
"At about midnight, food orders would start coming in left and right, and that night was no exception."
"Between having to empty out ashtrays, pick up dirty glasses, clean tables, wash dishes, and make all of the food orders, I couldn't keep up."
"My boss got very angry with me because I was behind on food orders and people were starting to get upset about having tables with empty glasses and very delayed food orders."
"She summoned me over to the bar, grabbed me by the shirt collar, shook me, and screamed in my face, 'Just get me through the rest of the f**king night and then you can quit!'."
"I was in disbelief, and went back upstairs."
"I looked at all of the tickets I had left to make, and just decided that job wasn't worth it."
"I turned off the grill and the fryers, turned the light off in the kitchen, threw my towel in the dirty towel hamper, and walked out."
"That was the night I stopped taking other peoples' sh*t."
~ ConspicuousCat80
Tech Crash
"Dell computer sales 1998."
"They fired 90% of all the commission making sales people and replaced them with hourly workers from a temp agency."
"They then asked me to train them. I was like, 'maybe you should have trained them before firing everyone— why would I train them so you can fire me in 2 weeks?'."
"I then grabbed my sh*t and noped out of there!"
~ Raspberries-Are-Evil
Fight Club 🥊
"Temp agency sent me for assignment to a small factory making furniture."
"7am start time. At 7:03 or :04 , while still waiting for some sort of foreman/ supervisor to come over & say hello, here's what we do here ........ coupla dudes start shouting at each other & it breaks out into full blown fisticuffs."
"Yeah, I'd seen enough."
"Funny how I have a completely crystal clear memory of looking at the clock in my car as I drove away. 7:12am."
~ thrwawaythrwaway_now
At the Car Wash
"I worked at a car wash during the winter in the wet tunnel."
"Manager got in my face for wearing a coat that didn't have the company logo on it, but they didn't make uniform coats. Told him to eat my entire a** and choke on it, and then left."
"It gets below zero here regularly, I'm not risking my life or even my comfort for $12 an hour."
~ BoobsCirca1942
All Day, All Night
"Dishtank. Only job I ever walked off of mid-shift."
"We had a new manager who was lazy and chased the women waitstaff. I cooked, did expo, prep, dishtank, and in a pinch I did waitstaff but new manager always tossed me in to dish tank."
"One day I opened the store at 430am as prep, then cooked until about 3pm; new manager comes in and tells me as I am leaving to 'get my a** back to the dishtank, that I am closing there tonight'."
"I told him I opened, preppeqd and cooked until now, and that I had sh*t to do tonight (I had a date)—to which he laughed."
"I told him to f*ck right off and walked out."
"Got a job delivering pizza for more money and better hours. F*ck you, Mark."
~ tigerbreak
Scrubbed
"I was a cook and new manager kept making me cover the dish pit cuz dishwasher was not showing up. They refused to hire another one and were making him work 7 days/week."
"I told him if he kept making me close dish pit I was gonna put my 2 weeks in."
"He said 'good' and went back to cooking. So I went and grabbed my shoes and backpack, got his attention, he turned around and I gave him a peace sign and left."
"Keep in mind I had been there for three years, worked as a busser, dishwasher, server, host, cook… I did everything they asked."
"He had only been our manager for 2 months."
~ Tensonrom
Nepo Baby
"I was 17 and just finshed mopping the floor at closing time and was walking out the door."
"The owner's son walked across the floor in boots covered in motor oil and told me to 'mop this sh*t up'."
"I dropped the mop on the foor and told him to do it himself."
"I was being paid minimum wage and wasn't going to deal with that sh*t."
~ Dead_Hours
Not Lovin' It
"I started at a McDonald's because I was desperate."
"First day, it's already 2 hours past the time I was supposed to go home, but they kept telling me I had to stay and wait (for what exactly?)."
"Finally they said to sweep the kitchen and go home. I swept everything into a big pile, was about to put it into the dustpan when the shift lead came by and said 'looks good!' then she kicked the pile out and said 'now do it again'."
"I made myself an ice cream cone and left."
~ dark_wolf1994
Customer Service
"After I retired early (at 50) I thought that a job at the local Tim Hortons would be perfect. Part time, no stress, and I enjoy seniors and our sleepy town of 2000 had a high percentage of seniors."
"Most of 'training' was me fixing the computers to get them to work so that I could actually watch the training videos. That was week one."
"Week two I realized how slow the location was, despite being on the highway. We had a lunch rush and it was pretty slow other than that."
"Two days into week two and I was already recognizing the regulars."
"Seniors in their 70/80's who would come and get one coffee in a China cup and ask that I fill it as much as I can because we didn't give refills."
"No problems, it drove me nuts to dump coffee after 20 minutes and not offer it to them."
"Problem was, very few of them could carry these full cups to the tables. No worries from me, I'd bring their coffee to them.
"As I said, the location was slow and days were long and boring. It was no big deal to carry coffee cups for a few seniors and make them smile.Twice that second day working the floor I got in sh*t for doing that.
"I pointed out that there was no one else in the store and it just took me moments. Their response was 'we are not a full service restaurant, let them carry their own coffees'."
"I stood like a useless fool behind the counter when the next group of seniors came in, feeling like an idiot."
"Break time came. I grabbed my coat and went out back for a smoke. Halfway through my break, with one of the managers, I said 'f**k this. I can't treat people like this. Sorry.' and walked home never to return as an employee."
"On the rare occasion that I go there as a customer, I'll jump up from my table to assist any seniors that I see and now they can't do a damned thing about it."
~ borborhick
Feeling Hot, Hot, Hot! 🥵
"I was a dishwasher, had worked there 2 weeks."
"The air conditioning (A/C) for kitchen and office both broke the day before I started."
"Office A/C was fixed the following day, kitchen A/C 'wasn't priority '. It was a heatwave in August, hitting 115° outside."
"The whole kitchen staff walked out."
~ handandfoot8099
Ring, Ring
"I was looking for work and took anything I could find, unfortunately the job I found was telemarketing."
"Anyway the work sucked and I hated it, I always took no for an answer and that got me in lots of trouble."
"They kept putting me in a room with this old VHS tape on pressure tactics and never taking no for an answer. The tape went for an hour so I just had a nap instead."
"Thankfully I was also looking for work on the side and found/got a job at the local supermarket, so I knew I had a backup plan."
"The next time they put me in that room with that tape, I had a nap again."
"When I came out they said 'if you have to go in there again your position will be terminated'."

"I just said 'I'll save you the trouble, I quit'."
"That really pissed them off because they were already understaffed."
~ TheRealReapz
"Same thing happened to me."
"Everyone yelling at me or hanging up."
"Boss pressuring me to make more calls."
"Took my lunch break and never went back."
~ MiltonRobert
Don't Mess With the IRS
"Day 2. Owner tells me that he pays taxes for us so he pays cash and it is after taxes."
"So $7.50 and not the $10/hr we agreed to."
"I walked out and called the IRS hotline to report fraud."
~ Reddit
Have you ever quit a job in the middle of the work day?
Share your story in the comments.