With all the frustrating updates on immigration policies and Donald Trump perpetually touting his impractical border wall cluttering our newsfeeds, the story of Vilma Carrillo will warm your heart.
However, her story had a horrific beginning.
Carrillo is an indigenous Guatemalan woman who lived with her husband in the U.S. for a year as undocumented farm workers in onion fields and warehouses. While there, she gave birth to their daughter, Yeisvi.
The family returned to Guatemala in 2007 to care for Carrillo's ailing mother. That was when the nightmare began.
---
Over the years, Carrillo's husband grew violent, and she was subjected to frequent physical abuse, including having four of her teeth punched out and being dragged around naked by her hair. The violence made her daughter fear for their lives.

As a victim of extreme domestic abuse and with no legal protections in her country, Carrillo wanted to return with Yeisvi to the U.S. and seek asylum at the Mexican and U.S. border on May 10, 2018.
Mother and daughter arrived at the border around the time Trump's zero tolerance immigration policy was enforced, and they were forced to separate.
ICE agents detained Carrillo, and after discovering her 12-year-old daughter was a U.S. citizen, Yeisvi was taken to live under the care of a foster family in Georgia.

Yeisvi's American citizenship complicated matters. U.S. District Judge Dana Sabraw ordered U.S. immigration officials to reunite the separated families within 30 days. However, as a citizen, Yeisvi could not be detained with her mother and was not subject to the federal ruling. As a result, their reunion was delayed for 8 months.
Finally, after 246 days, Carrillo was reunited with her little girl.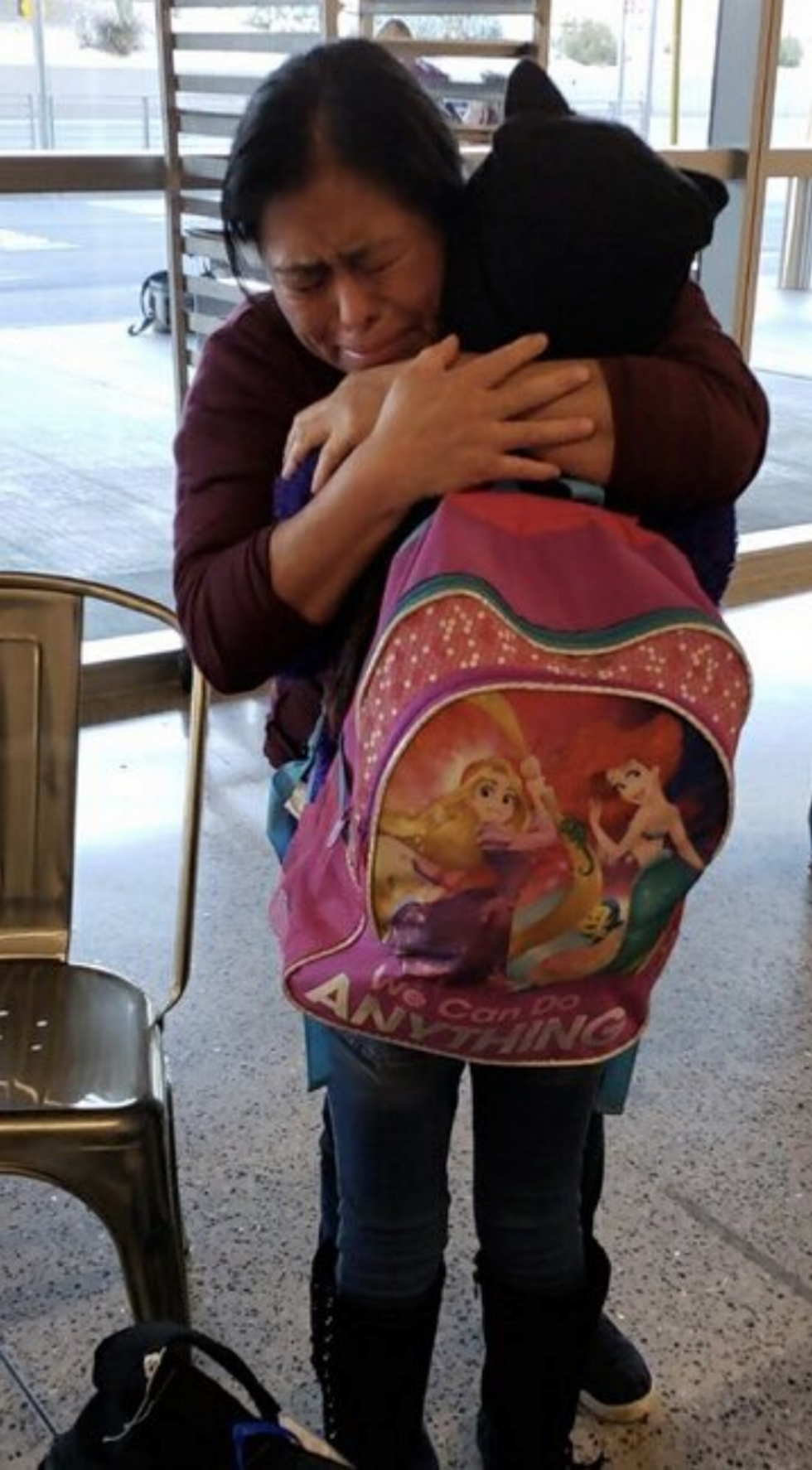 @PennBadgley/Twitter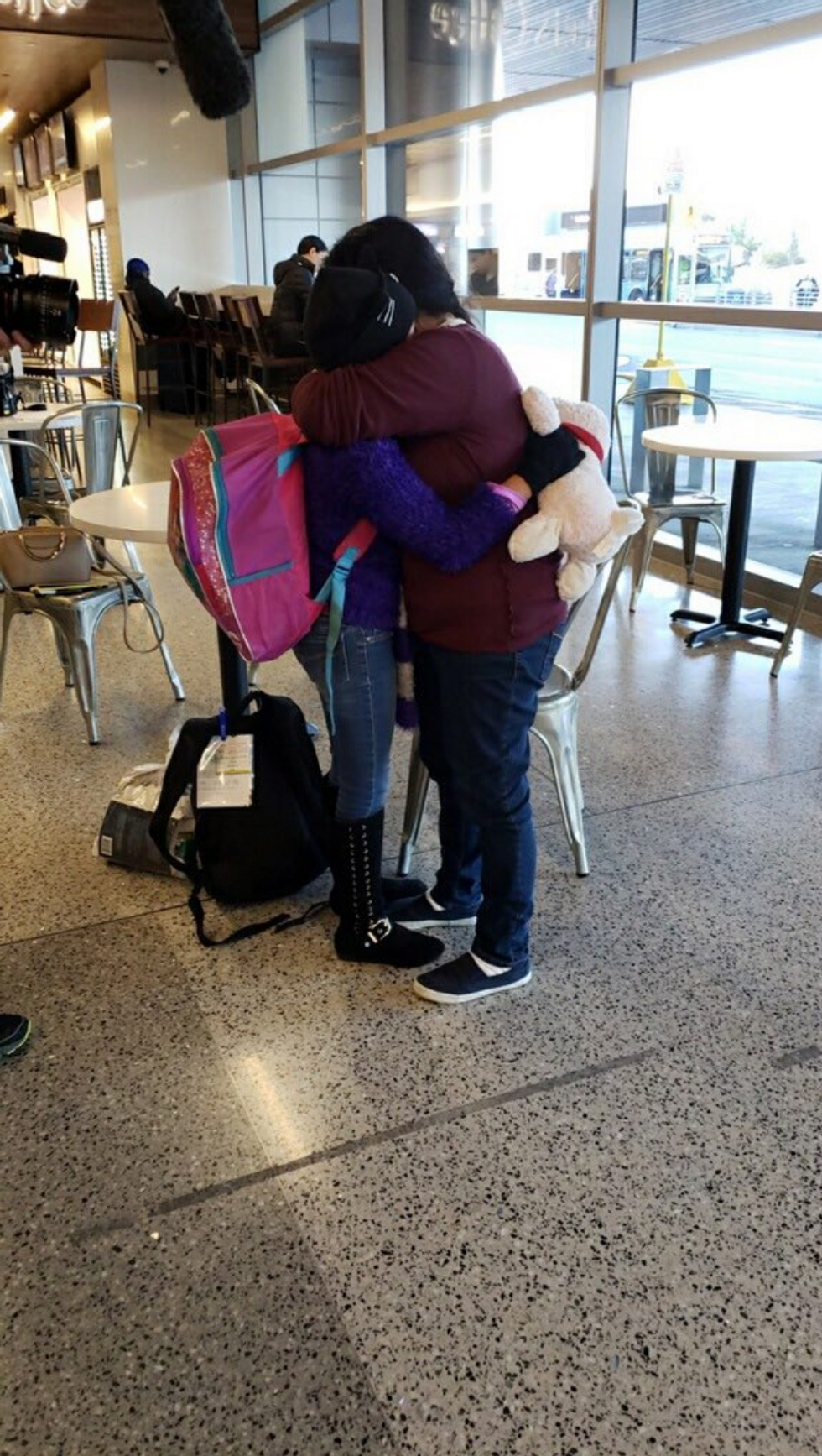 @PennBadgley/Twitter
While she was separated from her daughter, Carrillo's story caught the attention of the media, and in particular, a Hollywood personality.
Actor Penn Badgley (from Netflix's You) teamed up with Atlanta's Tahirih Justice Center and even visited Carillo at the detention facility with her immigration court lawyer, Shana Tabak.
Badgley helped raise awareness with Carillo's story by writing an article for Teen Vogue, writing:
"Her treatment reflects the explicit use of fear as a tactic in certain U.S. policies. Vilma was being made into an example."
Carrillo's emotional reunion photos tugged at everyone's heartstrings.
Some felt ashamed that our country was responsible for forcibly tearing many families apart like this.

We're just happy to see mother and daughter reunited. The joy spilling from the both of them in the photo cannot be contained.

Tabak said that Carrillo is ready to return to work in the onion fields in Vidalia, where she was previously, and is "eager to have the opportunity to contribute to society in that way."
Carrillo will apply for a work permit, which asylum seekers are allowed to do after 150 days after applying for asylum.
Tabak told Upworthy that Carrillo's faith is keeping her hopeful. "I'm praying for the best. Everything is in God's hands," she said.