State Representative Jonathan Brostoff is taking an unconventional approach to advocating for legislative protection for the deaf community.
The Democrat who represents the UW-Milwaukee area in Wisconsin is refusing to cut his hair until lawmakers pass a measure he co-authored in 2017 that addresses the state's shortage of qualified sign language interpreters.

---
The measure never made it beyond the committee in the Senate despite unanimous bipartisan support, so Brostoff is letting down his hair to make an important statement.
So far what he admitted to as a "spur of the moment" decision has turned into a year-long standoff with shears.

"I'm making a commitment, and it's kind of a visual indicator to the community," he told the Huffington Post.

Jonathan Brostoff is adjusting to being hairy. No scissors or razors have been near his scalp since last February. https://t.co/hymKtmNjK7

— JSOnline - NewsWatch (@JSOnline - NewsWatch)1550627107.0
Aware of his unkempt appearance, he is hoping he can take shears to scalp in the not-too-distant future but is willing to hold off for as long as necessary.
"My looks are important to me, but this is a priority and I'm not stopping this until we get it done. And we will get it done. For my sake, we have to get it done because I look ridiculous."
His mission is a personal one, according to Journal Sentinel. While he worked in Washington as an intern for Sen. Tom Harkin (D-Iowa), the Democrat, then sporting a buzz-cut, became close friends with two other interns who happened to be deaf, and he even took up sign language.
He is using his growing locks as a visual reminder to fulfill his promise to crack down on illegal interpretive services and to strengthen protections for deaf citizens with high-quality sign language services in medical and legal situations.

"I said, look, I'm not cutting my hair until we get this done. Every time you see me, it's a visual indicator that we're going to keep working on this. And for myself, it's a daily reminder that I'm not going to forget this."
The Facebook photo of the state Assembly Rep. below is from three years ago, before his decision to grow out his locks.

His wife Diana Vang-Brostoff used to trim his hair on a monthly basis, but as far as she is concerned, his new look has grown on her.

"It's cute. I really want him to put it in a ponytail, but he won't do that."
Jonathan Brostoff is always on the right side of everything and fighting the battles that need to be fought to make… https://t.co/t4Zmq01gjv

— Rob Hansen (@Rob Hansen)1550627805.0
@Jonathan Brostoff you're an amazing person and a Policymaker we wholeheartedly approve!! https://t.co/OMVaoVHTHB https://t.co/OMVaoVHTHB

— The Peer Association INC (@The Peer Association INC)1550626006.0
"But you gotta keep your head up, oh, And you can let your hair down, eh" 😍😍😍

— Jbrosty (@Jbrosty)1428116524.0
Former Rep. Joel Kleefisch, a Republican who worked on the 2017 measure, commented that Brostoff's hair was "channeling the spirit of Bob Ross," referring to the famous Joy of Painting artist with similarly dark and curly locks.
A very self-aware Brostoff even dressed the part for Halloween. His wife Diane is pictured here as a gumball machine.
Despite commenting on the resemblance to the famed painter, Kleefisch wholeheartedly endorsed his former colleague's important mission.
"It's a commitment, is what it is. That hair is a commitment for him."
His friends expressed how proud they were. One even gave a hair tip.

Jonathan Brostoff/Facebook

Jonathan Brostoff/Facebook

Jonathan Brostoff/Facebook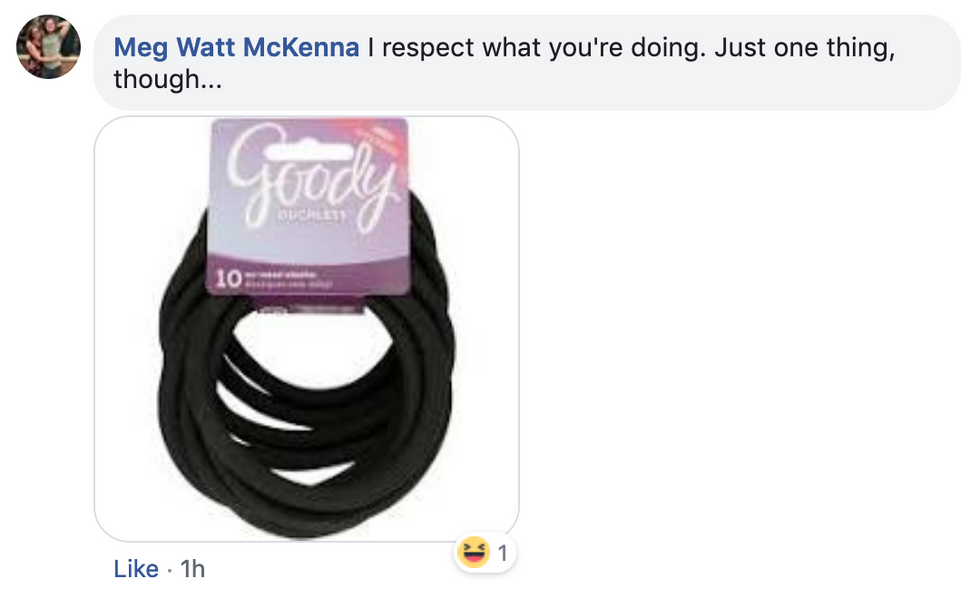 Jonathan Brostoff/Facebook

Jonathan Brostoff/Facebook
Brostoff is hopeful the bill gets passed in the upcoming months, and he's planning ahead.
"In fact, we're going to have a party for it. I've told some of the stakeholders I've been working with, we're throwing down! And I'll let you guys cut it."
Let's get this bill passed soon, shall we? Chop chop!