Believe it or not, Will Smith has been on social media for just a touch over a year. He's made sure to do it big, though. In his first year on Instagram with the rest of us, he's managed to go viral a few times, dance on top of some monuments, hit us with several amazing duck face selfies, bungee jump from a helicopter, help encourage and highlight inspirational young people from all over the world, and give us all some serious behind-the-scenes access to his family life.
He was really new last year so, let's be honest, his holiday game was kind of weak. Funny, but weak.
See, Christmas is Jada Pinkett Smith's jam. It's been pretty well known through most of her career that homegirl loves Christmas.
Will, on the other hand...well, he tries, but it's hard to compete with the holiday cheer of someone who might be an actual elf. This year he decided he'd had enough with everyone leaving Jada to handle the holly jolly by herself. The Smith clan was gonna feel this holiday season whether they liked it or not! And of course he made sure to catch as much of it as he could for the 'Gram. Things started when Jada went ham on the lights in the living room and it snowballed from there. Will decided there was no way the family could stand in that living room with all those lights and not join in. So he bugged everyone until they got decked out appropriately. Even his eldest son, Tre, tried showing up late thinking that he'd be safe...but nope!
Parents out there will be quite familiar with Jaden's total disinterest.
Not to worry, though. Jaden perked up and joined the fun when his dad decided to make everyone sing Christmas songs. He proposed singing "Baby, It's Cold Outside" and even went so far as to make cue cards (extra is as extra does, you guys) but Willow refused. She said the song sounded like a bad night to her. Will asked why, and Jaden grabbed a camera. You can hear Jaden chuckle in the background and go "let me film this conversation." He absolutely knew what was about to go down.
Dad and daughter laughed and made points back and forth but Willow emerged victorious.
Jaden held the camera to Will's face and said, "That's round one." Will jokingly asked, "How'd I do?"
Having failed at the singalong, he moved on to making fun of Jada, her height, and her love of the movie Elf. He made a movie poster inserting her where Will Ferrell would normally be. Honestly, it's pretty well-done and I'd be down to watch a version of Elf where Jada Pinkett Smith kicks people in the face a lot and drops some sassy-but-hilarious one liners. If anyone can turn this into a reality it's the Smith family.
Jada looks really excited about kicking stuff.
Eventually they got it together enough for a family portrait, and this is possibly one of the greatest celebrity couple holiday photos we have ever laid eyes on.
People loved the "Christmas with the Smiths" updates.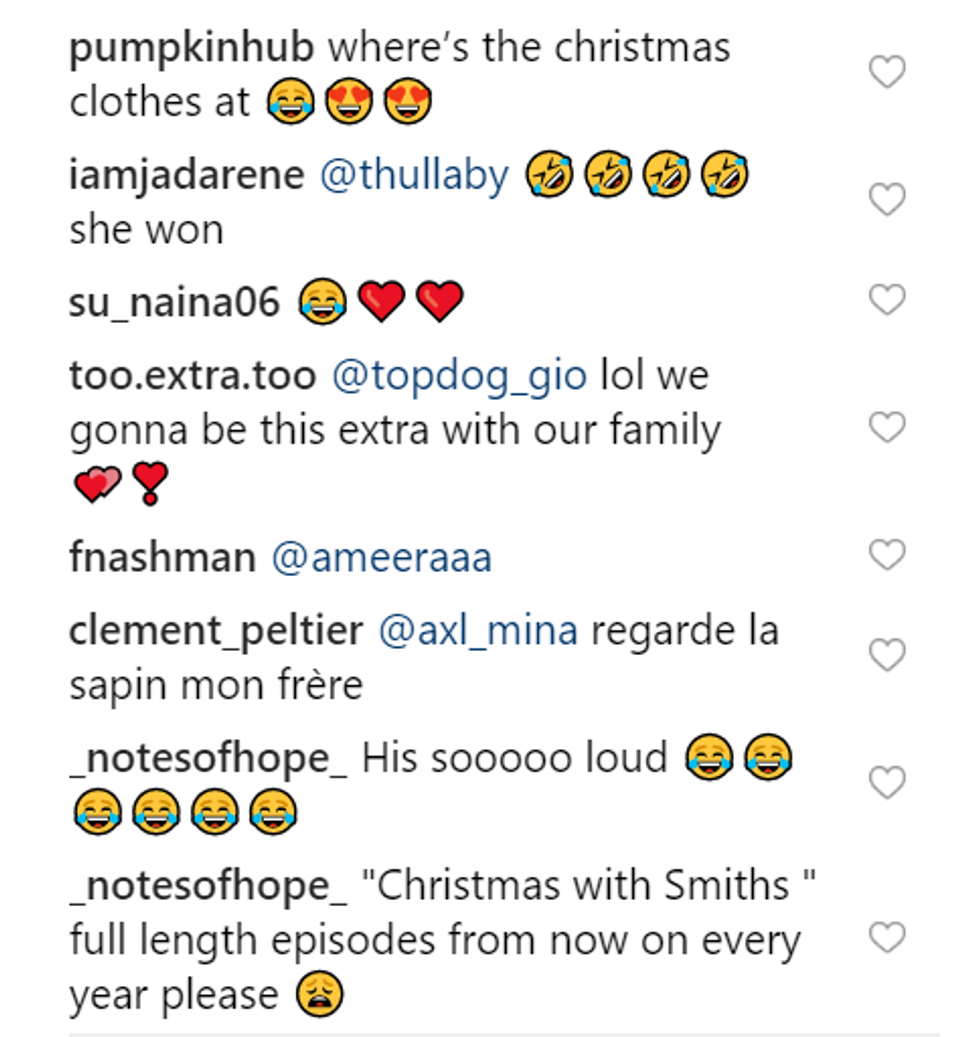 Instagram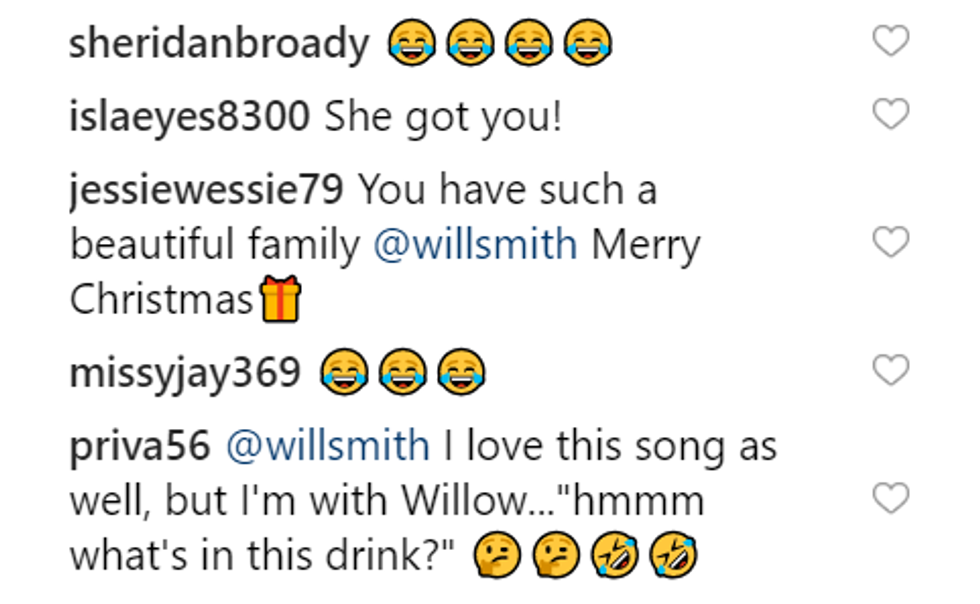 Instagram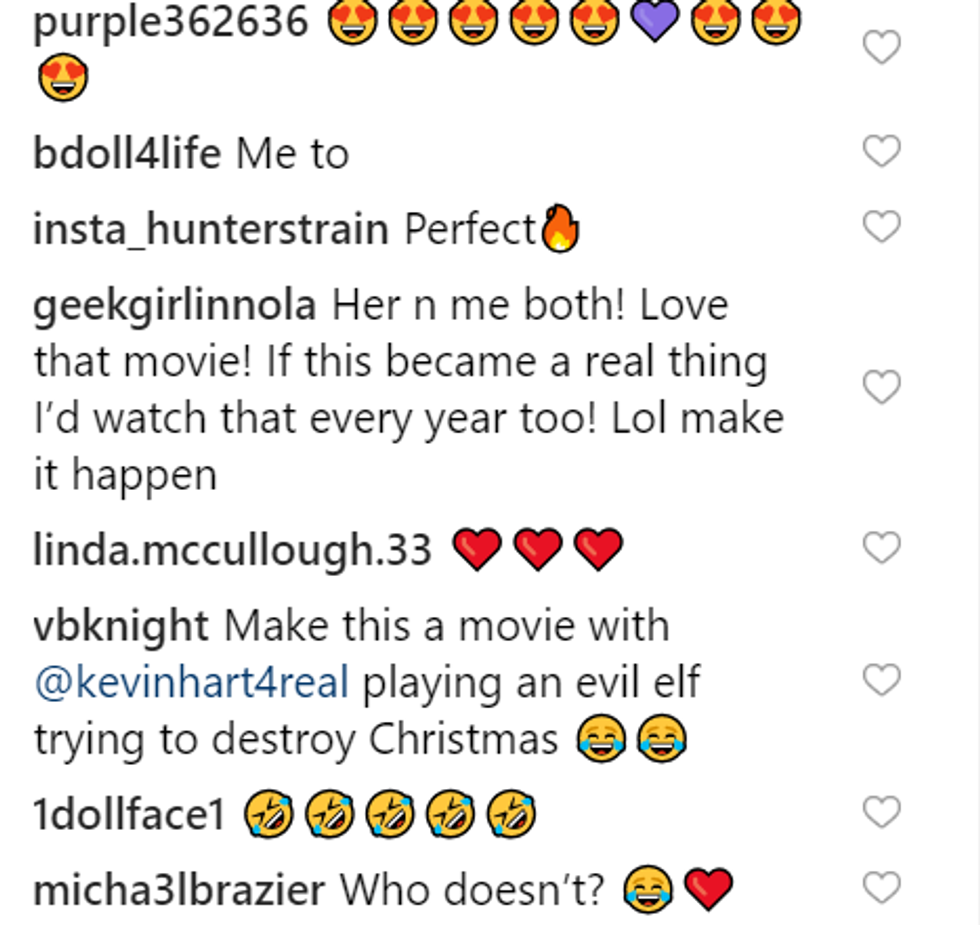 Instagram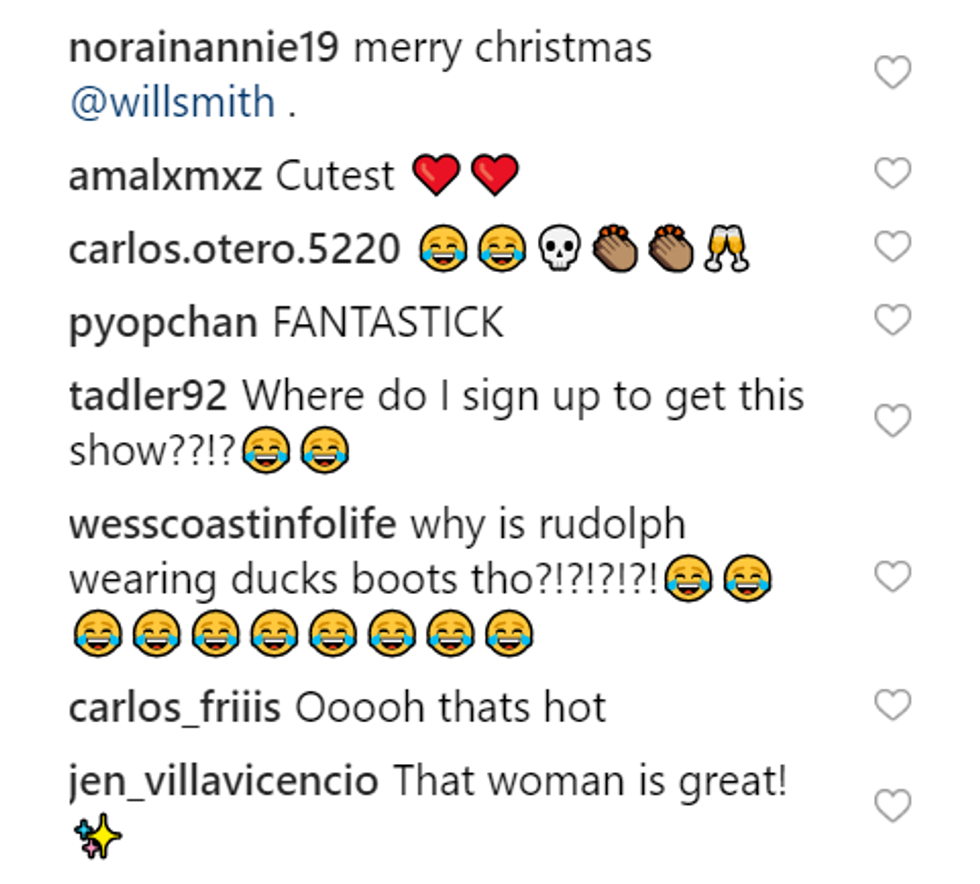 Instagram
So do we! We can't wait to see what shenanigans they get into next year...and if Jada manages to snag a role in a karate-themed Christmas movie.