Will Ferrell isn't one of those actors that people typically associate with tearjerker roles. Unless, of course, you count roles that make you laugh so hard that you cry. Ferrell's got that down. His comedic timing and full-on commitment to his characters are incredible...but are his movies really cry worthy? For Ferrell, there's at least one that absolutely made him cry while watching. Believe it or not, it was the neo-holiday classic, Elf.
---
Ferrell sat with Rotten Tomatoes and explained a bit about how things went down. To understand the emotions of the moment, you have to think back to what was going on in New York City at the time.
Director John Favreau explained:
"When it came out what we really wanted a movie like that. It wasn't too long after 9/11, it was filmed in New York, I think it brought some nice energy to us at a time when – if you think back that far – it was a really challenging time and it was nice to bring a nice breath of innocence to the world and especially to the city at that time."
So Favreau and Ferrell were trying to bring a little bit of jolly and warm back to a city, and a world, that was in the midst of some seriously heavy and sad stuff. They were hoping that audiences would connect with the film and that, even for an hour or two, they would find a little bit of holiday magic. It worked.
Seriously, take a look at how much Twitter loves this movie! Even if they hate it...
OMG... Elf the movie is on... https://t.co/O5ameTFDBo

— Val Bayliss-Brideaux (@Val Bayliss-Brideaux)1545592994.0
Watching one of my favorite movies tonight💪😁 #Elf #cottonHeadedNinnyMuggins #doesSomeOneNeedaHug #worldsBestCoffee https://t.co/4RdaiLtHs3

— Coach Myers (@Coach Myers)1545611912.0
Watched Elf for the first time tonight and, I'm sorry, that is a great movie.

— Chris Hayes (@Chris Hayes)1544930121.0
I watched Elf and cried 3 different times throughout the movie. It's. Just. So. Good.

— Katrina Stuart (@Katrina Stuart)1545444548.0
friend: *has never seen the movie Elf* me: https://t.co/RWYpjGyNtU

— mayli rafael (@mayli rafael)1545627143.0
Elf is one of those holiday movies that contains so many elements that I hate (schlocky, contemporary, full of sill… https://t.co/9kZ3pmKJl2

— Anne Thériault (@Anne Thériault)1545614625.0
Elf is 100% the best Christmas movie of all time. No debating It.

— Evan (@Evan)1545520587.0
The cast wasn't sure if the film would work. Amy Sedaris, the actress who played secretary Deb, said:
"You never know when you start. You do a scene here, you do a scene there, and I can never see the big picture. I don't really think about the final product at all. If I'm having fun and everyone's having fun, the chances are it's going to turn out okay."
So which part brought Will to tears? The realization that the reactions we just showed were going to be possible. Amy Sedaris was right. The film turned out very okay. It worked on multiple levels, it made people feel happy and festive, and Will realized it sitting in the theater during the film's L.A. premier.
As the movie wound to its conclusion, Will found himself getting misty-eyed along with the rest of the audience.
"I knew it was working at that moment where Buddy is in the back of the sleigh and everyone's singing in Central Park and there's enough Christmas spirit to get it lifted off, and he's waving goodbye. I'm like, Oh, I can't let everyone see me cry here at my own movie. I was like, Oh gosh, this is working on a level that I didn't anticipate, and that was pretty cool."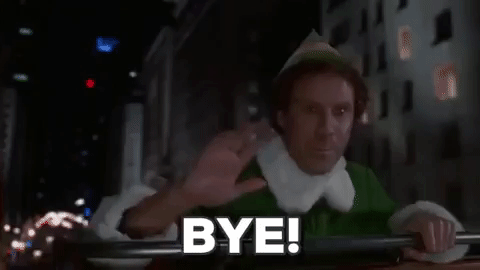 Giphy
Pretty cool indeed. And don't worry, Will. We won't judge you for crying at your own movie. Buddy would never let that sort of thing happen and we're not cotton-headed ninny muggins.