Wild Near-Death Experiences
Reddit user yuckyduckph asked: 'How did you almost die?'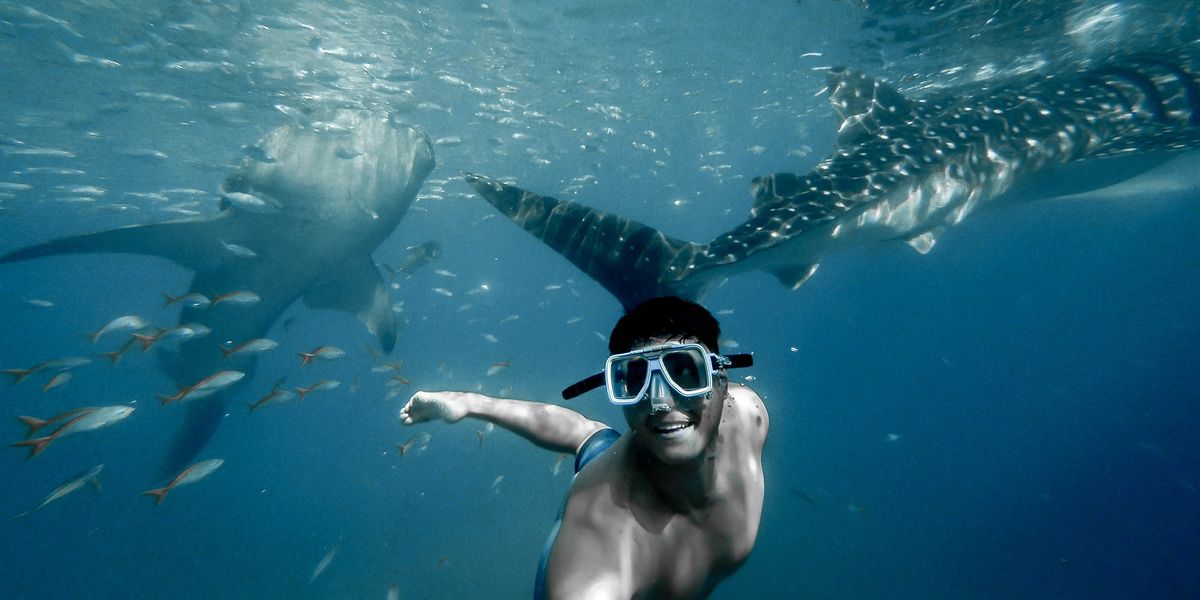 The Final Destination movies are not good for those who have any phobias, as the franchise taps into all your fears.
In spite of the films making audiences paranoid about cheating death, it does make you think about our mortality and of the many times we may have had brushes with death.
No matter how hard the characters tried to avoid it, they could never change their fate because any attempt to do so would only result in death striking back with an unforgiving vengeance.
However, there are exceptions.

Strangers online reflected on their evasiveness when Redditor yuckyduckph asked:

"How did you almost die?"
Beauty grows in nature.
But don't be fooled, for risks abound.
Potent Bloom
"Got lost in the Bolivian rainforest for three days after consuming tea made from angel trumpets."
– Leftsuitcase
"I have Angel's Trumpets (Datura) in my back yard, and everywhere in my neighborhood / around town. I don't know how many people realize how toxic they are. In some areas in S America, people refuse to even stand near them. They're quite beautiful in full bloom, tho. NS if all the species (inc hybrids) are dangerous. Cue: botanist."
"I've never understood you people who go drink random plant potions in the jungle, far from hospitals, with 'shamans' 'n' sh*t. Half of my friends have done that. But another friend of mine recently died that way. He was super smart and cautious, too. Had a family. Always be skeptical, wary, and weigh out risks.""
– manlypanda

Warning Ignored
"I was leaving a restaurant with my boyfriend one night and saw a couple in the parking lot messing around."
"She was dancing seductively with a big bunch of Oleander flowers gripped in her teeth."
"For those that don't know, Oleanders are very popular for hedges, hard to kill, but are extremely toxic. You're not supposed to trim them without gloves."
"I stopped in a panic screaming at her to spit it out while telling her boyfriend they were toxic and she should go to the ER immediately."
"They thought I was kidding and told me to basically f'k off. My boyfriend dragged me away and said we should get out of there because we didn't want to see how it ended..."
– flavius_lacivious

Rare Respiratory Attack
"Caught an incredibly rare fungus that attacked my lungs and would have attacked my other internal organs. Took two years to diagnose because it's so rare. Only patient my respirologist has ever seen with it. Dropped to almost 80 pounds. I could literally feel myself slowly dying."

"Infectious aspergillosis. Extremely rare. Almost everyone has some aspergillis in their system because it's everywhere."
– KathAlMyPal

The ocean holds many secrets.
Dangerous Stunt
"In the fall of '91 I was in Hawaii and dove into this blow hole in Hanauma Bay. (That's not me in the video, but it's the blow hole.)"
"My buddies were doing it and it was no problem for them."
"The problem for me was that I was a lot bigger than them, so my lats got stuck as I was face down in the hole."
"The concept is you time the waves and dive in just as the water recedes and the flow pulls you through."
"Well, I got stuck and had to wiggle my way down, ripping up the skin on my lats and ribs."

"So I finally get down and I have to swim like a mofo, but it's too late...the next flow is coming in."
"I'm at the edge, almost there, so I have to grab onto the edge with both hands like a kidnapping victim holds the doorframe so as not to be abducted."
"The wave cycle is not very long, but when you're doing something new and panicking, it feels like an eternity."
"I've heard they have closed off this portion of the bay."
"I know I don't need to do that again!"
– saleswhisperer

Massive Rip Tide
"I swam under the diving rock at Waimea Bay and almost didn't make it to other side (smoker). Same day they dug out the lagoon channel to make the endless wave. My 'friend' took me out to learn bodysurfing the shorebreak and it was about 8 foot sets which were HUGE and heavy. We go to swim out and get absolutely pummeled and pulled out. Then trying to get back in we got sucked into that lagoon river outflow and it was basically a massive rip tide. In about five minutes we were 400 yards out in the bay with out a boogie/surf board. We had to swim east towards sunset Bay to get to shore. I still can't believe we made it."
– Brutusmatic

Place To Avoid
"Exploring tidal cliffs, accidentally slipped into the water. Went in sideways, narrowly missed hitting my head. Just barely clawed my way out of the rough tidal zone; it was way over my head & was so choppy I was being slammed against rock. Please be careful around tidal cliff zones!"
– beachblanketparty

Grateful For Jellyfish
"When I was about 14 I slipped on a tidal cliff hit my head and went into the water, luckily I didn't go unconscious but I was caught in the under current and couldn't see which way was up because it was so f'king cold and dark (Oregon coast, pacific ocean), and just as I was about to give up I saw all these tiny jellyfish above me and swam towards them, got me to the surface and I was able to make it back to shore because I was a pretty strong swimmer at the time."
"Thank you Jellyfish"
"Several years later two people I know were hit by a sneaker wave very close to the same spot and they both died being crushed up against those rocks."
– CurseofLono88

Things don't get any better on terra firma.
Nearly Skewered
"T-boned by a cement truck. Guy at the tow yard couldn't believe I was still alive."
– psharp203
"I can't believe you are still alive either, I've watched two of those cave a road and heard horror stories about them tipping. You good? Got all ya bits n pieces?"
– FlyerOfTheSkys

The Major Rescue Operation
"Went on a high elevation alpine hike on Mt. Rainier with an out of town friend. At around 10,000 feet we decided it was time to head back down the mountain. About five minutes into the descent I was in an uncontrolled glissade across a snow field."
"Even though I knew better, after I was unable to slow myself I put my feet down. That's when my crampons bit into the snow and stopped me, sending all of the force into my legs. I heard an unsettling pop and felt excruciating pain. As soon as I stopped I looked down and saw that the heel of my left boot was where the toe should have been."
"I had severely broken my leg and I was at least a 3 hour hike down with sunlight (and warmth) declining. We were not equipped to be there after dark. Within a couple of minutes I could feel my extremities beginning to tingle. Was going into shock. Fortunately, I had some glucose gel packs which I began to suck on. And that seemed to keep the shock at bay."
"Which was a good thing because the radiating pain was quite enough. Our cell phones weren't working well but another stroke of luck was that I had put a GMRS radio in the bottom of my pack and as such we were able to get word out on the radio that we were in trouble and needed help."
"Ham radio operators heard us and relayed our position and the details to the rangers. The National Park Service couldn't get a helicopter that was willing to fly to that elevation so late in the day (on a Sunday in early October). So they had to gather a party of climbing rangers to come get me."
"A couple of other climbers on the way up the mountain really saved me by giving up their climb and assisting me, covering me with sleeping bags and making tea while one of them went back down the mountain to meet the rangers coming up. Shock and hypothermia very likely would have done me in that night if they hadn't happened upon us and helped."
"It was pitch dark and freezing cold by the time the rangers arrived four hours later. They strapped me into a litter and had to carry me off the mountain. Unfortunately, the climbing rangers are not EMTs and do not dispense meds. So even though they were doing all of the work on the climb down it was absolutely excruciating for me. It was almost 9 hours between the time of the accident and the time I checked in to the emergency room."
– cjboffoli
The one time I casually got certified as a scuba driver was when I was in Cozumel, Mexico, I almost drowned.
I went exploring in an underwater cave, where I probably shouldn't have gone as an amateur diver. I remember swimming upwards and smacking my head pretty hard on some rock work. I felt like I was about to pass out.
I tried my best not to panic, which probably saved my life. I slowly found my way out of the darkness and eventually out of the waters. I felt dizzy the rest of the day.
Yeah, I haven't gone scuba diving since.

Reddit user CampDreamy asked: 'What advice would you give someone starting their first job?''
Starting your first job is always nerve-wracking. The start of anything new usually is. That's why it's helpful to get some advice.
Before I started my first job, a friend of mine told me that there were a lot of things I should be willing to do in order to become indispensable, but one thing I should never do is give up lunch.
Even if it's a busy day and everyone is working through lunch, take five minutes to buy something at the deli next door or pop something in the microwave. You will not do your best work if you do not eat a meal.
I was very glad to get that advice, and it was something I always followed.
I also followed my own personal rule of writing down the process to do anything at work, even if it was as simple as where to look for a particular file. Anytime I thought 'oh, I'll remember,' I ended up having to ask again. It's always better to write it down so you not only know how to do it, but are the one that people come to when they need to know how to do it.
I'm not the only one that has good advice for someone starting their first job. Redditors are full of advice and are ready to share.
It all started when Redditor CampDreamy asked:
"What advice would you give someone starting their first job?"
Think Positive
"95% of success is showing up on-time and not having a bad attitude."
– Firebolt164
"There's a quote that goes something like: you don't need an advanced degree to show up on time, work hard, and have a positive attitude."
"I basically used this as my mantra as I built my career (and still do)."
– tyrannosean
"This has been my experience in my first ~5 years of employment. Being someone that people enjoy interacting with, sticking to deadlines, and broadly trying to make lives easier rather than harder will get you pretty close to the top, and it's a lot easier than working overtime every day."
– 2catsinatrenchcoat
"Yep, when I was younger I always thought that just showing up on time, being a decent person to work with, and doing a good job were the bare minimum that everyone did....I learned later that this will put you above approximately 90% of your co-workers."
– raoulduke212
Sound Advice
"Poop on company time."
– 1320Fastback
"Well, sh*t."
– CampDreamy
"Boss makes a dollar, I make a dime. That's why I poop on company time."
– mrselfdestruct066
Everyone Makes Mistakes
"Don't worry about f**king up. You're going to f**k up. We all f**k up. Constantly."
"Learn from it when you f**k it up so you do it better next time and you'll be the best employee in any job."
– MaximumZer0
"And when (not if) you f**k up, own up to it, and do your best to fix it. It's way easier to fix a mistake when it first happens than 3 weeks or even hours down the line. This applies to basically any field."
– super5aj123
Gossip Girl
"Listen to gossip if you want, but never spread it."
– GamerMomLife
"Yep. I worked in a private pool snack bar kitchen last summer, and nearly all of my coworkers were high school girls. The amount of sh*t they talked on each other was insane, but I just tried my best to not get involved. It never became anything other than sh*t-talking, but it's just a good idea in general to keep your head down."
– super5aj123
"I work in a kitchen with majority middle-aged women, and it's simular to what you described."
– DeadStar800
Do It All
"If they tell you to sweep, just sweep. You still make the same amount. Unless you're an MD or something else, in that case you're f**ked!"
– PublicEnema11
"A programmer consultant I knew in the 90s lived by the motto "it all pays the same.""
"You want him to spend his $50/hr time doing things that an unpaid intern could handle? Sounds like an easy day."
– Cacafuego
(Don't) Let It Burn, Burn, Burn
"Don't burn bridges if you quit or get fired."
– kbrown423
""Never cut what you can untie.""
"- Robert Frost"
– sophistt_
It's All Public
"Assume everybody in the company plus clients will read every email you send."
– CouchieWouchie
"Yeah this is genuinely a great rule that will save your @ss. Write every email as if it will be read by the whole org."
– FrungyLeague
"Also speak as though anything you say is being recorded."
– squished_frog
Protect Yourself
"Document EVERYTHING. Every time punch. Every direction from your supervisor."
– DejectedDonut
"Do this if you are working outside your duties/responsibilities as well, or directed to do things. You want a paper trail of why you did what you did if something screwy happens."
"Ideally, the work place should concentrate on policy, protocol, training, engineering and admin controls and such... but well stuff isnt always ideal."
– Zech08
Work Friends
"You're going to feel tempted to make strong relationships with your coworkers - but remember that you shouldn't share with anyone what you wouldn't want known by everyone. You may think you can trust someone, but you should have a bit of caution."
"A lot of work relationships feel a bit like a friendship, but they are not. If they move on, or you do, it is rare that you will stay in touch. Accept it for what it is."
– Mobtor
Education
"Take advantage of tuition reimbursement to get degrees/certifications that will benefit your career and don't worry about "owing" the company for it."
"Many industries have pretty generous tuition reimbursement programs where they cover your school but you owe them time after they cut those checks. A typical program might have a requirement that if you leave the company you need to pay back anything they had paid out in the last two years."
"The thing is that you want to leverage that degree for a salary jump and the current company won't give it to you because they have you "locked" in now, right?"
"So you interview for your next job and when that company gives you an offer you explain that you're on the hook for the tuition reimbursement at your old company "and since you will be getting the benefit of that education I will need a signing bonus to cover my financial obligation to my current employer.""
"Keep in mind that the signing bonus will be taxable income so you need to shoot for an amount that will have taxes taken out and leave what you need to pay back the tuition."
"I've known too many people who didn't get a degree that could have really helped them but they didn't want to be "on the hook" to their employer. I even know one guy who spent close to $30k out of his own pocket to get a master's degree because he didn't want to "be stuck here" when he was done."
– tacknosaddle
The Little Moments Matter
"Don't miss any major life events (or the major life events of close family/friends) for work. You might feel pressure from your employer not to take the time off."
"The family/friends will still be around for many years, the first job probably won't."
– mxxiestorc
Learn To Save
"Pension! Pension! Pension!"
"Put as much as you can afford to into your pension. Retirement might seem a lifetime away but the sooner you save for it the sooner you can achieve it."
– Grayzo
Money, Money, Money
"Pack a lunch! Eating out can put a huge dent in your paycheck!"
– awileycat
"Can't stress this enough. For the price of eating out unhealthy food for 1 day you can usually pack healthier lunch for 2-3 days."
– QuantumExileMusic
Oh, yes! I found out about that last one the hard way...and still haven't learned!
When it comes to the dating scene, most of us have a pretty low opinion of people who choose to cheat on their partners, not to mention serial cheaters.
But that doesn't seem to stop some people from doing the deed.
Curious, Redditor miaah214 asked:
"People who have cheated before, why did you do it?"
Revenge Cheat
"He cheated first, and I was young, petty, and thought revenge would make me feel better."
- Witch_on_a_moped
Immature and Selfish
"Unbridled ego, unsatisfying regular sex life, and a girl who threw herself at me."
"I was an idi*t, I acted like an a**hole, and I will regret it for the rest of my life."
"It was a hard truth to face. It was a dark time in my life where my ego and my immaturity caused me to hurt several people I loved."
"Fortunately, I learned from it, and while I can't take back the pain I caused, at least now I know that I am 100% capable of being an a**hole and so can choose not to be one."
- Seba_King
Insecurity
"Insecurity. I was always on the lookout for someone who would make me feel more desirable than the last. It was a serious youthful lack of judgment."
"Once I grew up emotionally, I realized what a piece of s**t I was and the hurt I caused. Hard to live with, to be honest."
- Penfold_for_PM
Just Desire
"100% pure lust. That's it. I'm not proud of it."
- mydepressingpoems
Lots of Options
"Willing partners. It was amazing how many times when I did have a steady girlfriend that I would suddenly get propositioned by random women or worse yet, my girlfriend's friends or sisters."
"Too many times to be a fluke."
"It was like they figured if you are in a relationship, you're worth pursuing."
"But when I was single, most times I couldn't get a woman's attention."
"So it was an ego boost, but ultimately, I decided to be a better person, and I met a person who I truly thought was 'the one.'"
"And to a certain extent I did, it just didn't last through no fault of my own."
- Patient-Quarter-1684
In Need of Validation
"When you grow up being in turn neglected and told you're not good enough, validation is like a drug, and intimacy is the ultimate validation."
"Sooooo much therapy to undo this."
- RowhammerBitflip
"This. I'm just recently realizing how I didn't receive enough attention and validation from my parents and how much it's influenced my choices. Meeting someone and having them be into me physically is the easiest validation boost I can find."
"People who grew up with parents actually interested in them and with an instilled sense of self-confidence don't know how good they have it."
"I don't inherently feel important or relevant so I'm always looking for someone to tell me otherwise."
- tellitothemoon
The Thrill of It
"Because I was a f**king a**hole 20-year-old who only thought of himself and getting some action. The high of it."
"I'm 37 now. No cheating since then."
- Temporary_Fault6402
The Real Joy
"My ex was done in the bedroom and even said they were no longer interested in me physically or sexually."
"I should have left at that point, but with kids and the financial hit of divorce, I just looked to fulfill that need."
"I later divorced, and it was a big financial hit, but oh my god, what a relief it was getting out. Getting out of an abusive relationship is where the true pleasure comes from."
- loomdog1
In Need of Attention
"My partner cheated on me shortly after I had his baby. I wanted to leave, but I convinced myself to stay. The logistics of having a baby and 24-hour care are challenging on your own. He refused to have sex with me."
"At some point, someone got me in a weak spot. Somewhere between exhaustion, low self-esteem, and the sheer opportunity of having an orgasm were too strong for me. I'm deeply ashamed."
"Shortly after I picked myself up, the relationship ended. I should have left sooner."
"Someone telling you that you are beautiful, talented, and special after being invisible can feel like a drug. I don't expect sympathy from anyone for my actions. But I do have a lot of sympathy for others now."
- throwawaythrowyellow
The Easier Option
"Because I chose a cowardly and easy path. Instead of going to therapy and ending my toxic relationship, I cheated on them with someone who I had convinced myself I was in love with and loved me."
"As it turns out, breaking up with someone is a lot less harmful to everyone involved than cheating."
- dodongosbongos
Devastating Choices
"Not me, but a guy friend cheated and the reason he gave was that he loved his fiancée but they had very different sex drives."
"He also said that when he brought it up to her (the difference in their sex drives and the problems it would cause) she begged him not to leave and insisted it wouldn't be an issue."
"He told her it already WAS an issue and, as a last resort, she said she would understand if SOME DAY he felt the need to look elsewhere…just as long as she never found out."
"The girl admitted to saying all this but explained that she would have said anything for them to stay together in that moment, she didn't think he'd actually be 'f**ked up enough to cheat' and she never imagined he would do it so soon."
- Dramiotic
The Perfect Combination
"A perfect storm of poor impulse control, untreated mental illness, and boredom."
"People on the moral high ground will tell you not to cheat for reasons like morality and integrity; from the moral low ground, I can tell you that the lifelong guilt, shame, and remorse are not worth it."
- LowCarbBeesechussy
Emotionally Done
"Because the relationship was done and I was already moving on emotionally. I just didn't care about her enough to care whether she was hurt or not. Honestly, in hindsight, I have zero idea why we were still together. It DID make the eventual breakup a lot messier."
"I was young and it taught me an important lesson. If you're done, just be done and leave. There's no point in dragging it out. If you're ready to start looking for another relationship, start by ending the relationship you're already in."
- codefyre
Ready to Make Up for It
"I had a perceived lack of affection. I felt ugly and disgusting and like I was just an emotional tampon."
"I would never do it again. In therapy, I learned a lot about the reasons I did what I did and in all honesty, if she would even entertain the idea of trying again, I'd spend every day making up for it and making sure she felt more love then can be imagined."
"I'm currently fulfilling into the man I know I can be. I just wish it took a more positive trigger in order to start that for me."
- Anthonys455
Let's end it -- the article, that is -- on a lighter note.
The Worst Kind of Cheating
"My wife wasn't around. The house was empty."
"I couldn't wait for her to get home, so I watched the next episode without her knowing."
"Honey, if you're reading this… I'm so sorry."
- six6sickx
"You're a monster."
- Efficient_Ad_8367
It's so hard to imagine what's going on inside someone else's head or why they might choose to do the things that they do, especially if it's something we don't agree with.
It's at least heartening to see that many of these Redditors used these experiences as learning opportunities and have since gone on to treat the most treasured people in their lives a little differently.
Making yourself feel at home takes work but not as much as you think.

Homeowners, for example, are apprehensive about renovations because of how much costs.
Even tenants renting a home can feel like they're stuck in a situation where they don't feel comfortable because of minor inconveniences they think requires major solutions to fix.
Cut to this Reddit thread, where the ideas for affordable home improvement options were shared that may make you wonder, "Why didn't I think of that?"

Curious to hear some tips from strangers online, Redditor Super_dupa2 asked:

"What small upgrade made a huge difference at your house?"
We tend to overcomplicate things when solutions can be simplified.
Taking Charge
"Methodically buying phone chargers with long enough cables to not have to ever move one again."
– ihadtowalkhere
"I am a pretty mellow dad (benign neglect parenting style for 5 kids) but I have two rules. Nobody messes with my bedside charger and nobody steals my two pillows."
"So, as such, I make many, long chargers available for everybody. It costs me a fortune:)"
– nicktam2010

Hello Darkness, My Old Friend
"Blackout curtains for sleeping. Such a game changer."
– blehbleh1122
"And they keeps my bedroom cooler."
– BunjaminFrnklin
"Insulated blackout curtains make a 10f difference in my living room on hot days."
– TryUsingScience

A Cool Idea
"Attic heat exhaust fan. Our attic used to get up to 140F on the hottest days, and on those days our ceilings were hot to the touch. The whole house was consequently uncomfortable. Now the attic fan is thermostatically controlled to 90 degrees, and the whole house is cooler."
– jermleeds
"I added a passive whirly bird that does the same thing. Heat rises and escapes before it can accumulate to those extreme levels. It also happens to be clear acrylic so now there's always light up there too which helps keep away any vermin.
– cantwejustplaynice

No major bathroom renovations are required to make tenants happy.
No More Slamming
"Soft close cabinets and toilet seats."
– AreWeCowabunga
"We have a soft close toilet seat at our home and every time I'm at a hotel, I completely forget that they aren't usually soft close and the slam startles me 😂"
– PinkHamster08

Nozzle Upgrades Can Do The Trick
"A better shower. If you can't redo the whole bathroom, just replace the head. This also works if you rent, just keep the old one in a box, so you can bring the nice one to your next house."
– maartenvanheek
"I'm a renter and I finally installed a better shower head this year, after just using the default head in all my apartments for almost 20 years. 10/10, highly recommend."
– Am_I_a_Guinea_Pig

Perfect Welcoming Gesture

"My wife and I own a smallish apartment complex . One of the things we do every time a new tenant arrives is replace the toilet seat. I learned that trick from my parents who had about a dozen single-family rentals. It's amazing the goodwill you receive from a tenant simplify giving them a new toilet seat. We actually put the box behind the toilet so they know it's new."
– YouInternational2152

Think Smart
"Smart outlets for Christmas lights, both inside and outside. I have them scheduled to turn on at sunset and turn off at midnight."
– Revolutionary-Try746
"Smart outlets are one of my favorite purchases. During Halloween and Christmas, we're using multiple outlets for inflatables, house lights, and tree lights. The smart outlets allow you to have everything synced so they all turn in at the same time."
– cppadam

Things Are Looking Bright
"Replaced dated lighting fixtures - fixtures are now properly grounded, the interior looks more updated, and there is more/better light."
– SnooCauliflowers9981

Energy Conservation Option
"Motion activated light switch for the laundry room. Never have to worry about turning off the light when leaving with an arm full of clothing."
– AmazingAsian

Creating an environment can make a huge difference.
Source Lighting For The Win
"Lighting can absolutely make a huge difference in the way you feel in your room. Get some shoulder height (when you are sitting) lamps for your living room. You will notice a shift in how much more relaxed you feel when you use those instead of the overheads."
– ShoesAreTheWorst

Home Art Gallery
"Spending a day mounting my artwork. It felt so much more like my home after that."
– GinGimlet
"Every time I've moved, I put that off for way too long, then finally break down and do it and the house feels so much better to be in."
– Triolion

One major upgrade was our VE hybrid tech water boiler and warmer we got from Japan.
The Zojirushi kitchen appliance uses VE, or vacuum electric, technology for very minimal electricity to maintain the water temperature at a constant 195° so we always have hot water at the touch of a button.

There's no more time wasted boiling hot water over the stove every time we want tea or the occasional instant cup noodles.
Game changer.

"Daddy's Girl, Daddy's Girl, I'm the center of Daddy's world..." ~ "Daddy's Girl" by Red Sovine
A lot has been written about the bond between fathers and daughters.
But there's always room for improvement, right?
And who better to offer constructive criticism than daughters?
Reddit user Bluemonday82 asked:
"Daughters of Reddit: what's the biggest mistake dads make with their daughters?"
Affection
"My dad and I recently talked about how he stopped showing physical affection when I hit puberty (20 years ago). He didn't know how to act because his sisters got treated inappropriately by others when he was young, and he wanted to be sure I never felt like that."
"It resulted in me never getting hugs or kisses on the cheeks anymore. He also didn't know how to talk about it in the past."
"But in the last years, he worked through so much of his rough childhood and really learned to express himself better. He apologized, and I said I understood and that his intentions came from a good place, that the only bad thing was all the hugs we missed out on."
"We hugged for a really long time after that, and we've been hugging extra tight ever since."
"So I guess what I wanna say is, don't treat your daughters differently when their bodies start to change. And always keep talking!"
"I'm so proud of my dad for the person he's become."
"For a while, I didn't wanna hug my dad either. Puberty was rough for me, and the adults in my life kept acting like it was just a phase."
"And I guess it was, but that doesn't mean it wasn't the most emotionally complicated and lonely period of my life. The feelings weren't less real."
"My dad and I struggled a lot. He didn't know how to express himself at all, and I was so overwhelmed I didn't know either."
"I also grew up with two autistic brothers who needed a lot of care and attention. I love them so much, but it resulted in me always looking out for them and never learning (until just a few years ago) to properly give space to my own inner turmoil."
"My brothers were never physically affectionate either. But once I got out of the heaviest puberty years, I did want that affection from my dad. For a while, male physical attention was a very complicated topic for me."
"A Christian upbringing also played a role in that cause as a young girl growing into a woman, it had a lot to say about how I should behave around men."
"Something important to add is that my dad's rough childhood not only made it hard to show love but also receive it. His journey started with the realization that he had no idea how to react to getting compliments."
"I think that's a thing that a lot of men (from his generation especially, but also younger ones) will recognize. Know that we are all deserving of love and kindness, especially from our loved ones, but even more so from ourselves!"
"My dad couldn't ever have grown this much without learning to really understand what that means. And diving into the withholding of love from his parents heavily impacted how he dealt with that himself."
"I'm so glad my dad and I could both grow and work through our issues. Even if he couldn't show or say it, I never really doubted his love for me."
"But I know he would encourage you all to learn how to show and receive appreciation! That man is my example for people never being too old to learn."
"I'm sending love and strength to all of you who struggle with this in one way or another."
"And to the fathers who feel like their young kids don't want their affection, just know that this will most likely change again over time. They might act like they don't wanna hear it, but keep letting them know you're there for them."
~ yuffieisathief
Showing Up
"The one mistake my dad made was not really being present. A lot of the memories I have of him are him watching TV or being on the computer and not having time to play with me."
"He always said he's too tired or he'll come play later but then he never did. So since we never really bonded when I was little we weren't all that close as I grew older either."
~ katie__kat
Communication
"Getting angry for something the kid doesn't know, and never teaching it. Not before and not even after getting angry.
"Doing something you know upsets the kid on purpose."
"Slamming doors and stuff in the house because you're angry."
"Not listening, and talking only to make themselves look smart and great parents rather than talking for helping."
~ yoyuayu
"I'll never forget the time my dad saw me put something metal in the microwave. I don't know how old I was, but I know I needed to push a chair to the counter to even reach the microwave."
"He SCREAMED at me for several minutes about how STUPID I was and how he couldn't believe I would do something SO INCREDIBLY DUMB and was I trying to start a fire??"
"I had no idea you weren't supposed to put metal in a microwave."
"I did learn a few things that day- don't put metal in the microwave and don't do anything wrong in front of Daddy. Oh, but you won't know if was wrong or not until too late..."
~ DrScarecrow
"Didn't have to look very far to find the description of my dad—especially slamming doors and hitting things loudly when upset while stomping all over the house."
"People always get a kick out of how jumpy I am (easily startled), but it's reflexive from anticipating loud bangs/crashing that would come out of nowhere every day."
~ ouija__bored
"My dad had such a short temper. He didn't necessarily hit me, but I got spanked til I was 9 years old and then my mom told him I was too old for that."
"But whenever he was angry (and that was a lot of the time) he'd scream and sometimes slam things."
"My husband slammed his hand onto the table a couple times during fights near the beginning, but realized he was wrong for acting like that, especially seeing how I'd immediately shut down. He's gotten much better."
~ Educational_Cat_5902
Being Your Child's Bully
"Singing in a falsetto voice and poking until your autistic kid is screaming at you to stop isn't 'fun' or teaching them to be less sensitive, it's why they don't ever want to hang out with you."
~ Redqueenhypo
"Making fun when your small daughter is having big feelings."
"I got so furiously frustrated when my parents wouldn't listen to what I was trying to tell them and my dad just loooooved to mock my crying or squeaky 'upset' voice back at me."
"It made me so f*cking hurt and angry to not only be ignored and patronized, but actively MOCKED when I tried to communicate."
"Now as an adult I don't bother trying to share anything with them."
"Another classic was when I was disappointed and said, 'aww, man' he'd scrunch up his face, raise his voice three octaves, and 'AwW mAn!!' back at me."
"So now I wasn't just sad and disappointed, but sad, disappointed, and humiliated!"
"Imagine choosing to be your child's first bully... 😞"
~ Not_a_werecat
Just a Girl
"Or from my experience—not even bothering to teach anything because Dad assumes his daughter wouldn't be interested because she's a girl."
"Worse—actively making sh*tty jokes about women not liking those things."
~ Cinnapuns
"Not having anything to do with their daughters because the dad 'doesn't have anything in common with a girl'."
"This goes double if a son shows up and the dad is really involved in the son's life."
~ Dangerous_Contact737
Puberty Isn't a Disease
"My dad basically bailed on parenting once I hit puberty."
"Like, you think I'm enjoying this? It would have been great to have another supportive adult around."
~ captain_flasch
"Same! What's up with that?"
"I remember having a good relationship with my dad as a child but he emotionally cut me off and stopped hanging out with me when the boobs came in."
"I would be lying if I said that I'm past it and it doesn't f*ck with my head still."
~ Pandapartyatmidnight
Know Nothing
"Literally knowing nothing about their daughters lives."
"Those 'funny' videos where they ask fathers basic questions—like what their daughter's birthday, or eye color, or school is—and the dads have no idea are not at all funny.
"I love my dad but he can't tell you anything about me—even the name of the place I've worked for over 6 years."
~ Lazylioness17
"One year when I was in elementary, my mom left a comically large piece of paper on the front door for my dad telling him not to forget to wish me a happy birthday."
"Not only did he not wish me a happy birthday, but he somehow didn't see the gigantic sign when he walked in the house from work. So I got to read it when I got home from school."
"Sometimes I think about calling him to check in but then I think of that (and other complete fumbles) and then I just don't."
~ TetonsTeaTin
"When I was in 4th grade, we did a Christmas recital where all the classes sung songs. My mom couldn't make it because she had work so she sent my dad with the camcorder."
"He recorded the wrong kid. Very awkward watching the tape that night."
~ myturtlebitme
The original poster shared their reason for asking his question.
"Wanted to add that I'm a dad of a teen and that motivated me to ask this. The replies are just heartbreaking."
"I'm reading every single reply and I really hope all the dads and parents and basically everyone is learning something."
~ Bluemonday82
"Dad of an almost 4 year old daughter with two older brothers…. I'm scouring this post like there is cash on it somewhere."
~ Feeling_Advantage108
"I'm doing the same thing, stepdad that adores both my boy and girl. Couldn't have kids myself. Searching for gold on this thread."
~ Numbthumbz
And the daughters appreciated it.
"This is healing my younger self—knowing that there are fathers trying to do right by their young girls.
"I'm 25 now and I think if he just would have asked me how I was doing (and meant it) it would have changed me a lot."
~ Loniceraa
"Same. My father was cartoonishly selfish, strict, controlling and mostly only saw me as a pretty, obedient mirror born to reflect his glory. What I thought, felt, liked, or wanted mattered very little and we seldom had what I would call 'real' conversations."
"Reading the posts of all the good fathers in this thread has been wonderful."
"I'm so happy there are tons of little girls out there with fathers who want to know them and see them for who they really are, who want to teach them things and bond with them."
"My father never wanted to get to know the real me, which is a shame because I'm a f*cking delight."
~ insolentpopinjay
As the OP stated, hopefully everyone has used this opportunity to learn something.
Is there anything you would add?