The internet's greatest mysteries explore not only the strangeness of technology, but also the strangeness of human nature itself. WhoPaid99Cents.com is one example of just such a mystery.
---
The website couldn't be more simple. You go to WhoPaid99Cents.com. You input your name (you can make one up if you like) and your credit card information. After you've paid 99 cents, you can see the names of everyone who's already paid 99 cents before you. No one makes you do this...but many people did anyway.
The website's fine print reads:
Your name will be public. Obviously. That's the point. Just use a fake one if you want. Your receipt will be emailed to you.
And, below that, it goes on:
All sales are final. Please don't sue us. No copyright intended.
Business Insider reports the names are mostly uninteresting, and include several Soundcloud links, a few tasteless jokes (such as "9/11 was an inside job.") and one user claiming to be HQ trivia.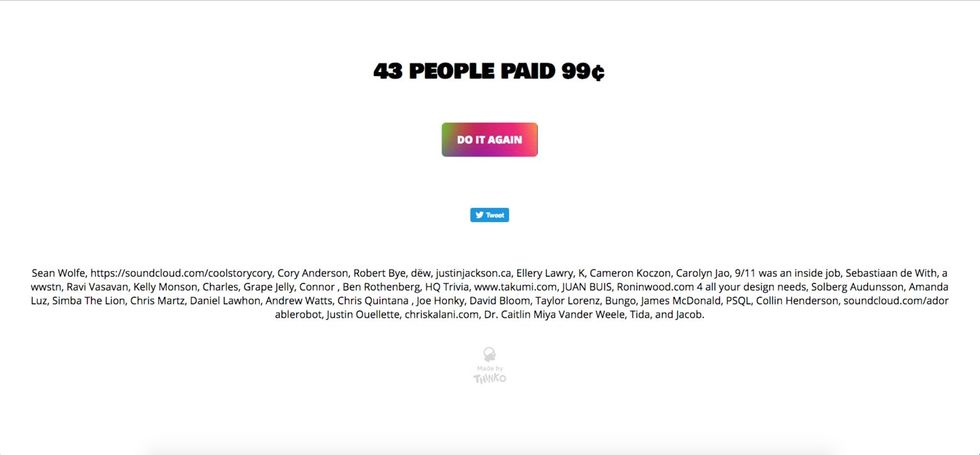 Business Insider
Sadly, to go back and check how many people have used the service since the last time you logged on, you must once again pay 99 cents.
The website was apparently built by Brooklyn-based computer entertainment studio Thinko, whose logo appears on the bottom of the site. When asked about the company's motivations for building such a pointless unique website, Pasquale D'Silva told Business Insider:
We like making computers do funny things. Computers have been used to do boring things forever.
...We pretty much build anything that makes us laugh at Thinko.
But why would people actually pay the 99 cents? D'Silva has an idea:
People are paying because it gives them something funny they can talk about. I think people like the feeling of making other people laugh too. It's just good energy. Especially given that it's at their expense.
Twitter wasn't sure how to feel about the website—many loved it, many gave it a hard pass.
Other internet users simply didn't get it:
Well, the website is certainly worth a laugh. And how will D'Silva and Thinko utilize all those sweet, sweet 99-cent payments?
Invest it in the next great internet comedy product. We have an endless queue of things. Ideally we fill the internet up with them, and everyone can laugh a little more.