What It's Like To Come Back To Life: Experiences Of People Who Were Declared Clinically Dead.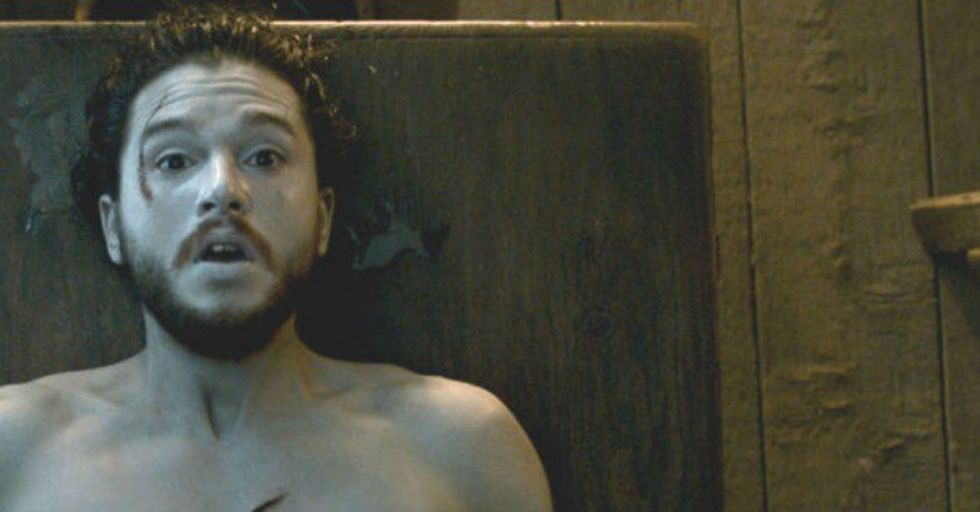 People who have been declared clinically dead and then been revived were asked: "What was your experience of death?" These are some of the best answers.
---
2/20 I died in 1995 after serious trauma. I panicked for what had to be no-time at all but felt like forever. Then it felt like a light went out. Then there was nothing. Nothing at all.
I came to several hours later in a recovery room. Remembering the panic, not even the pain could shake that panic. A few days later the doctors let me know I had "died" between the ambulance and the operating room. They weren't so clear, only that they weren't worried.
As for the accident, I was hit by a car going about 50-60 mph, it had swerved off of the interstate into a roadside stop. I went over the car and landed on the top. My right leg (tibia, fibula) and elbow (the entire joint) were broken. My hair caught in the windshield and I was basically scalped. My lip was torn in half, and my face was peeled around the chin. Skin hung there loose. I remember it swinging there. It felt like a damn wet rag. A warm wet rag. I don't remember how much it hurt at all, but I remember that gross wet rag feeling, and just wanting to tear it off, get it away. It was, however, attached to me.
My head was leaned in such a way that blood flowed down my face from the wound on my chin and puddled in my eye-sockets. The sun baked the blood and basically scabbed my eyes over, so I lay there blind for a while in the Texas heat while I waited for a helicopter, but they couldn't land it, so an ambulance arrived about 30 minutes later.
I remember everything up until that recovery room. Being alert, making jokes, then losing it more and more over time. Finally time blended into a long minute. Everything tasted like blood and grit (the grit were bits of my broken teeth). I begged for anything to stop the pain, an advil, anything. The neck brace pressing into that open chin wound. Not being able to see a thing.
Then my mom and aunt held my good hand while that long minute ended and the lights in my mind's eye went out.
40_watt_range
3/20 Heart failed during a procedure (to see what was wrong with my heart funnily enough) and they lost my vitals. All I remember was blacking out and then hearing music. The music sounded like something you would hear in the early 1900's. A woman kept saying to me it is going to be alright, and I needed to go with her. I kept saying I wasn't ready but she was insisting I come with her. I told her again, I wasn't ready I had [stuff] to do here, and she gave up. She said she would come get me again later, and that I was always welcome. Next minute, felt like I was punched in the chest and I woke up. 7 doctors around me and a very sore chest. Chilled in the hospital for a few days and now I'm healthy as a horse. I've only ever told a couple of people, as I hate feeling pretentious for telling people I died in the first place.
Na_mate
4/20 Heroin overdose. Twice it happened. Literally pulled the needle out, and I awoke in an ambulance with EMT's leaning over me saying welcome back. There was no tunnel, no white light or anything. Just blinked and I was in an ambulance. It took some struggling but I'm several months clean now.
ScrotumAcne
---
5/20 I went into septic shock and organ failure last year. I only remember being wheeled into the ER and then waking up the next day. It was like going to sleep but it feels like you've been fighting sleep for weeks (I found dying exausting weirdly enough). I had no feelings of euphoria, just blackness. I could feel myself dying. I always tell people that my vision was like one of the old fashioned tvs with tubes, so that when you turn it off it just kind of shrinks until the image disappears. I also remember breathing being something that I had to make myself do, no more autopilot until I couldn't anymore. I was also profoundly sad in that moment because I felt that I would be missing so much, also that I would never see my fiance's face ever again.
LadyDudeB
6/20 I had pneumonia really badly Christmas day in 1984, went to the hospital. I remember struggling very hard to breathe then suddenly I felt like it was effortless and felt a floating feeling. I felt like I was rising up to this point that opened up in the room and in this rift I could see three angels, just cause idk what else to call them, one was large and two were small. Even tho the small ones didn't seem like kids either. They were welcoming and soothing, more like giving off those vibes than doing or saying anything. I got scared and quickly snapped my head around and I could see the room from above and see my mom running to get help. I said nooooooooo and snapped back into my body. I regretted it almost right away as breathing was so painful. Then there was about two days I remember nothing, they put tubes down my throat and kept me knocked put basically. I went home two weeks after. I tried to tell some ppl what I experienced and they only made fun of me, so I don't tell anyone anymore.
Spiritofawoman
7/20 It happened during my first c-section. I was lying there talking with my husband, waiting to hear our baby girl's first cry, when I started to feel strange. I felt warm and my vision started to get fuzzy around the edges. I blinked my eyes a few times to see if that would clear my vision, but it did not.
All of a sudden it was like someone turned the volume up and I could hear my heart monitor perfectly clear. As I'm laying there I notice that the space between my heart beats are becoming more and more spaced out. Then I hear my husband asking me if I'm ok. He just kept saying "Baby are you ok?" over and over. I could not answer him though. I felt paralyzed. A few minutes before I had only been numb from the chest down. So I'm just looking up at the ceiling and notice that black started creeping in on my vision. I got this overwhelming feeling, and knew this was it. I was never going to get to hear my baby girl's first cry, never hold her, are watch her grow up. I would never get to see my husband again. Then I felt tears rolling down the side of my face. By this time my vision was almost completely gone. My husband leaned over and wiped my tears, kissed my forehead, then squeezed my hand. I still felt paralyzed, but somehow managed to squeeze his hand back. After that I slowly faded out to blackness.
Now up to this point it felt as if time had slowed considerably. Then it sped up. It felt like I was only out for a second before I snapped awake. You know like when you fall asleep on accident and then jerk awake? That is exactly what it felt like. I could see normally and the noise around me was back to a normal level. I could also feel the parts of my body that were not numbed due to the spinal block.
---
After that everything went fine. My baby girl was born, and I had to stay in recovery for three hours to monitor my blood pressure. My doctor said that I had a bad reaction to the combination of drugs that were put into my spinal block, and I was on my way to a flat line. My husband later told me that after I squeezed his hand, a nurse took him out to the hallway, and he was out there for almost ten minutes before they let him come back in. He said I was just starting to wake up when he came back in. For me it seemed like just a few seconds between being out and being awake.
I have had four other surgeries and, have had issue with my blood pressure every time. Never as bad as the first time though. The doctors and nurses were more prepared given my history.
flightlesspeacock
8/20 I remember absolutely nothing.
Hit by a car. Have weird memories of ambulance ride where people who could not have possibly been there were there. Don't remember the accident but I've been told the story so many times I have the constructed memory of events.
Seriously do not remember anything from when I was clinically dead (no idea for how long) to waking up several days later.
poisondonut
9/20 A few years ago, I was hit by a truck. My nose was broken, among other things, and my head hit the pavement so hard that I received mild head trauma. I began to seize in the middle of the street where I was laying. Because of some complicated medical [stuff] involving the bizarre angle of my head during aforementioned seizure and the blood coming from my nose going down my throw instead of out of my nostrils, I suffocated.

I was not conscience, but I was aware, and that's the best way I can describe it. I did not see myself from outside of my body. I did not see a light. I felt my brain feel like it was shrinking and I felt my eyes refuse to open. I could taste the blood but couldn't spit it out. My brain felt like Pinhead's face and I was so aware that I was unable to control my body. I then had the thought that this was it. I knew that my last words were "whatever tomorrow brings, I'll be there", because I was singing Drive with my friend, which was going to be the last song I had ever listened to. Everyone says that your life flashes before your eyes. I was only 14, and the only thing that flashed before my eyes was all the things i never got to do. It was terror and confusion and I was so painfully aware of it. Suddenly,the pains and the fear stopped. It felt like I had fallen asleep, but better. I felt relief. It felt like at every point in my body, there was a thread connecting it to a spiritual version of myself; I felt so many of those threads break. I felt my brain let go, lay down its burden, and feel okay.
Suddenly, I was awake. Waking up was honestly the worst part. Everything hurt, everything was loud, I wanted that medic to just let me go back. Dying was the most serene, peaceful, refreshing feeling.
wellmynameishaley
10/20 Lost most of my blood then heart stopped 3 times on operating table. Once for over 45 sec. While I was loosing my blood I'd lose consciousness then wake up again. Last time I drifted off it felt as though I was getting farther and farther from the scene. Sounds around me and of my own voice were getting fainter, room getting darker, images in front of my eyes getting smaller until it went all black.
When I woke up after my operation I knew where I was, knew the name of one my nurses and reminded her that my surgeon wanted to be notified when I woke up. I later told my surgeon about pieces of conversation he remembered having with other operating room staff while operating on me. I was under anesthesia the entire time of my operation. Weeks later I started having flashes of the operating room and seeing myself on the table with the staff working on me. Never checked to see if it was just my imagination or real images that were coming back to me. After the surgery I refocused my life on what was really important to me. I enjoy every bit of my life now. Carpe Diem describes it best.
rannieb
---
11/20 First year living in Japan, I was out drinking with my college aged students. And drinking a lot. I've never liked fish, due to growing up with southern parents who would fry it, and the smell alone made my friends and I leave the house for hours. But I was in Japan! When in Rome, y'know!? Sashimi didn't smell so bad. So I drunkenly started popping them in my mouth like I was eating popcorn. Hated... The taste! But I'm drunk! And in Japan! "Do you like it?! " I was asked, "Yes! " I lied in return. More was ordered. Sashimi. Beer. Whiskey. Sours.
I got really hot, and kept unbuttoning my shirt. Until I hit the point I realized I had thrown it off and was just in a white T-shirt. But why was my neck so tight? Panic hits me, and I just lie with my head back trying to focus on something besides my predicament. No go. The lights I'm looking at suck into my eyes and my memory from here on is gone...
Wake up in a hospital. Throat is in intense pain. I'm drunk. Surrounded by Japanese doctor staff, and only one female student stayed with me. She comes and says to me in English, tears in her eyes, hugging me, "You died sensei! You actually died!! " Apparently my throat swelled up, I stopped breathing and at some point I was dead for what I heard was only 18 seconds or so.
The doctor eventually musters up strength to eek out, "You. Uhhhh. Fish. Uhhhhh... Allergy. " Now I know I'm allergic to fish. Still in Japan!
TommyVillain
12/20 I remember almost nothing. I'm extremely allergic to peaches and I was at my friend's picnic and they forgot to tell me that they had peaches in their summer salad. (To be fair, i should have asked so that's on me.)
I remember my tongue swelling up and feeling like I was choking. My eyes watered up and a girl who was in nursing school realized what was happening and called 911. Apparently my heart stopped for all of a minute and a couple seconds thanks to anaphylactic shock.
But honestly I don't remember much other than waking up in the hospital with a lot of flowers. It makes for a good story though!
misenplasee
13/20 While I was deployed I took a IED while on a foot patrol. I was not knocked out after the explosion, I was quickly bleeding out and fading in and out. When I got to the point of being on the verge of death, everything started to slow down, my buddies screams turned into whispers, and this very relaxing feeling came over me.

It's a relaxed warmth I can not really describe. I found myself perfectly comfortable with the idea of passing away, I wasn't thinking of family or anything else other then the feeling. Then everything went black, woke up in a field hospital. They told me I had died twice but they were able to keep me alive.
[deleted]
14/20 I've had arrhythmia since forever. It makes my heart go all wonky at times and I have to stop what I'm doing and wait for it to settle. My heart has stopped a couple of times in the last few years and the best way I can describe it is as if you are weighted and slowly sinking into deep water. Everything gets cloudy and quiet, but it comes with an odd sense of... calm. I never felt panic when my heart stopped. It was more like "hmm my body is shutting down, interesting."
nejireta
---
15/20 Once my heart stopped pumping (I had an undiagnosed arrhythmia at the time). I slowly died while my heart stopped pumping.
It hurt. It hurt in a silent, whole, complete way I cannot describe. Everything went dark, I lost my hearing, then black.
And then, my heart started again, and I opened my eyes alive. That is it.
bilbiblib

16/20 When I was around 12 I got really, really sick. I don't remember what exactly I had, I'd have to ask my mother and we don't really talk very often. Whatever it was, my body felt super cold, like I was in a freezer or something, and I was shaking so violently that I remember a nurse offhand mention that I might need to be restrained.
I won't get into the gritty details, but in that moment I'm not sure if I actually 'legally died', but breathing got so hard that I lost consciousness and suddenly I felt really warm. Then I realized I was floating above my body, and I could see everything that was happening around me. I saw my parents, the doctors, and I could move around freely, even moving through walls. The craziest thing about it was that I flew down the hall towards the cafeteria where my older brother was, because I wanted to see him one last time.

Around this time, I felt like I was being pulled upward, like a magnet was drawing my upwards. Everything around me started to fade to black as I rose up toward the classic 'light at the end of the tunnel'. When I was a kid I was always afraid of dying. Sometimes even thinking about the idea of dying would make me start crying. Yet, in this moment I wasn't afraid anymore, and I accepted what was going to happen. When I got closer to the light something came up in front of me. I can't describe what it was like, almost like a cloaked figure, although the material of the cloak was translucent and shiny, and there was nothing underneath it. It spoke to me and told me that there was a mistake and that it wasn't my time yet. I then felt a falling sensation, you know like when you're having a dream where you're falling and then your body moves and reacts as if you were actually falling. That happened to me and I 'woke up'. The craziest thing about it is that like many others who have experienced this phenomenon almost immediately my condition started to improve and I was able to go home later that night.
UrsineKing
17/20 Intentional heroin overdose. It didn't feel like anything at all. One minute I was there, then I don't remember anything. I do have some recollection of feeling peaceful and calm, but I was, y'know, shooting up heroin. It's the coming back that was excruciating. I was told I was not breathing and had no heartbeat when the EMTs got there. They did stuff, I'm assuming narcan, maybe some compressions. I came to on the kitchen floor right under the light.

Intense eye pain, everything was so bright. It hurt to breathe, it hurt to move. Every muscle in my body was screaming and it felt like I had battery acid in my veins. And everything was so loud, it felt like everyone was screaming. I remember being sad that I was back, I think I cried. But then pain took over and I don't remember much until the hospital. I try not to think about it too much. Would not recommend.
eyeofdelphi
---
18/20 I OD'd on cocaine and my friend had to do CPR to me. She said I started to turn blue and she got really scared. I'm not sure if I were legally dead, but I would assume I was. My nail beds took a couple of weeks to turn the regular color again.
For me it was just like a light switch turning off. No lights or dead relatives inviting me into the afterlife. There was nothing. It was the blackest black I had ever seen. When I woke up it was like a dream. A very scary one.
_Bag
19/20 I was buried alive in Mexico when I was seven years old. We were digging tunnels in a sand wall on the beach. It rained the night before so the sand was a little wet. It all collapsed. Most kids were buried up to there knees, necks, ankles. My step brothers thought that my twin sister was lying when she said I came with them that day. They couldn't remember and kept telling her I stayed at home. Before we left the house that day, my sister told me randomly to yell her name (Ashley) if anything happened and she would hear me.
So I remember the tunnel I was working on collapsing, hyperventilating while simultaneously yelling for Ashley, passing out, SEEING THE WHITE LIGHT, more darkness, and waking up over my dad's shoulder. My sister says she heard me screaming. She ran home and got my dad. My dad got all the neighbors. They were all digging with shovels. My dad made them use their hands after a while so they wouldn't hurt me. They found me literally 6 feet under. I was coughing at the time of the collapse so I had no sand in my lungs because I was covering my mouth. They found my hand sticking up above my body first because I was throwing sand out of my tunnel. My twin sister saw me and I was blue. My step mom attempted CPR. The ambulance came and couldn't find a pulse. They used the defibrillator and brought me back to life.
pregnantinsomnia
20/20 Almost ten years ago, I was in a really rough place, I was extremely depressed, dealing with thoughts of suicide. I was heavily medicated (on four different types of anti depressants and "mood stabilizers" as the doctors called them). This was also during a time were you could fill a three month prescription it was just a few days after I got a refill. I cannot remember what caused me to say it, but I said [screw] it and I swallowed EVERY last pill those bottles contained, and I waited thinking that it would be you know really quick.
After about 15 minutes and just feeling really stoned, that survival instinct kicked in, and I called up my friend asking him to take me to the hospital and told him what I did. I did not want to call an ambulance cause I had my sister home and I didn't want her to know what I did. So I get to the hospital and they instantly take me in, made me drink charcoal I believe? It was this black disgusting drink and the last thing I saw was some of my closest friends at the door in tears and then I blacked out.
I went into a coma, and during that I ended up vomiting and I couldn't expel it all, so a large majority of it got into my lungs which stopped me from breathing and then stopped my heart for five minutes. Somehow the doctors managed to get my heart beating again but I remained on life support for another two days afterwards while still in a coma, and during that time I couldn't move,speak or even open my eyes. I was completely trapped in darkness, and felt like I was choking (after I woke up I found out the reason I felt like I was choking was because I was still on life support when my lungs were finally able to start breathing on their own).
GigantoMan
The only thing more satisfying than wiping the smirk off the face of some mean girl, mansplainer, or smarmy smarty pants is reading about it. And although some say revenge is a dish best-served cold, these Quora clap backs are comin' in very hot. In fact, you may want to pop an Ozempic before diving into all of this sweet, sweet revenge.
Whether or not we liked going to school growing up, we can likely all agree that we had one of those teachers who really didn't belong in the classroom.
From terrible tempers, little patience, and other bad behaviors, there are qualities that absolutely shouldn't be exhibited by a teacher.
But at least in some cases, the teacher gets caught in the act.
Redditor Ok-Discipline-4312 asked:
"How did that teacher get fired at your school?"
Creepy Phone Calls
"In the early 90s, a female student at my high school was receiving obscene phone calls."
"When police interviewed her, she told them, 'He sounds kind of like my history teacher.'"
" The police put a tracer on her phone, and the caller did turn out to be her history teacher."
- mythrowaweighin
Passing the Torch
"My high school had a notoriously stoney gym teacher, who was also hilarious. Every year, he did a miscellaneous object raffle during a random lunch hour. He basically just gave away whatever was in the lost and found box."
"Well, my junior year, one of the objects was a large and elaborate 'vase.'"
"Basically, he handed a student a giant f**king bong. He retired a few days later."
- Forever_Man
Rolling with the Punches
"A teacher used a sick day rather than a vacation day to fly to Japan to fight in MMA. He got caught and was fired for improper use of time off."
"He lost his fight and chose a different career path afterward."
- flickmypoodle
Questionable Drinks
"They used alcohol on the job. They had a bottle in the top left drawer."
"It took years to catch them, though."
- ray458
"I had a few teachers like that. One lady had a can of Tab every day (remember Tab soda? laughing out loud)."
"Some kid made a mark on the bottom with a pen or something and found out it was the same can every day. She was refilling it from a bottle in her car."
- AdWonderful5920
One Word: Embezzlement
"Embezzling from the students. For quite a few years, she would collect money for this 'senior trip' that never seemed to materialize."
"She was arrested a few years after I graduated. I wonder if she's out of prison yet?"
- Aeolian78
"Holy s**t, I just had a repressed memory pop up in my head. We had a 'ski club' when I was in 8th grade, and the teachers constantly collected money from us for our 'ski trip' that we never took. I wonder where all that money went?"
- whimsy_xo
All for the Prom Queen
"S**t, there was a vice principal that wanted her daughter, who went to the same school, to be the homecoming queen super bad."
"So she hacked into dozens of parents' district portal accounts and stuffed the ballot for her daughter."
"Not quite 'steal the money' or 'embezzle' bad, but still 'go to prison and never work in education again' and also 'your daughter isn't going to college now' bad."
- thewrongbakedpotato
A Sweet Future
"My middle school choir teacher was a closeted gay man. He had a long-term boyfriend but none of us knew about it, until one day a parent saw them at a HOUSE PARTY making out."
"They spread rumors throughout the school and multiple parents immediately removed their children from his class. The parents complained to the school and got him fired."
"The good news is, he eventually quit teaching and opened up a bakery with his partner, which did very well and got featured on 'Cupcake Wars.'"
- xain_the_id**t
Sprinkled with Annoyance
"A teacher threw a donut at an annoying student."
- AdEffective3077
"What a waste of a perfectly good donut!"
- No-Swing-2099
Possible Repercussions
"Because of me, I think. Once in primary school, I was messing around with a classmate, and she threw a sponge at me, making me chase her around the classroom."
"The teacher tried to stop me and grabbed me by the neck, making me fall on my back. It didn't hurt, but I was surprised."
"I don't remember how, but the principal and my parents got involved, and we never saw the teacher again after that. He was sort of a substitute teacher, and from what I can remember, he was pretty well-liked even by me."
- jeremydeoderant
Incredible Road Rage
"He cut off my grandpa in an explosive road rage incident, pulled him out of his truck, and beat him to the ground so bad that my grandpa was in the hospital for weeks."
"Thankfully, my grandpa was okay, but his job (and his marriage, and social life) didn't survive."
- NykxMarie
High School Drama
"At my school, the new French teacher started screwing the old computer teacher, who was married to the geometry teacher."
"At the end of it, just the geometry teacher had her job and all the other two teachers' money because she divorced the computer teacher and managed to sue the French teacher as part of an alienation of affection suit."
"Then she hooked up with the metal shop teacher."
- mama_bear_740
Three Strikes, You're Out
"The teacher called up a female student to work a problem on the blackboard. The student didn't want to participate. After some verbal back and forth, the student went to the blackboard and muttered something under her breath."
"The teacher grabbed the student's hair with both hands and proceeded to slam her head into the blackboard. 'You (slam) will listen (slam) to me (slam)!'"
"About three seconds later, the teacher realized what she was doing and released the student's hair. The student looked at her, said, 'You are sooooo fired,' and left the room."
"We had a new math teacher the next day."
- reference999
The Dispassionate Teacher
"My memory of this is kinda hazy since this happened 10 and a half years ago."
"She was telling at us, I don't remember if anything specific triggered her episode but she said s**t like, 'I don't give a rat's a** what you think,' and 'I wish I could use the paddle.'"
"Although the one thing I'll always remember was before she sat down, she said, 'I'm going on Facebook, I don't care what the h**l you do.'"
"I guess she got fired the same day, because we had a sub after lunch, and we had a new short-term sub every few days before we got a long-term sub for the rest of the year."
- mariofan426
That Would Do It
"He taught me physics for three years and became principal for two years."
"Then they realized he didn't even have the teaching qualification."
- pol9500
It's obvious why these teachers were quickly removed from their roles as teachers and unable to ever teach again.
But the thought that these things ever happened in a classroom are deeply unsettling.
Working at a job where you get along with coworkers is ideal.
Strong teamwork can establish efficiency, and good rapport at the workplace can inspire friendships.
But not even the kindest person can vibe with everyone despite good intentions, and it could be due to toxic personalities.
Those types of coworkers can be ones who are unfriendly, manipulative, super arrogant, or completely lacking in self-awareness.
Annoying right?

Curious to hear about the latter, Redditor Woodchipper_AF asked:

"Who is the most insufferable a**hole you've ever worked with?"
These individuals did not look forward to showing up, due to individuals who've made their lives miserable.
Sweet Revenge
"At my old job, my boss would give me difficult projects from difficult clients. When I finished the project, she would go into the system and add her initials (whoever does the work has to initial after every step) and take off mine."
"Then she would go to her supervisor and be like, 'Look what I did! Hehe!' And she would get all the credit. When I finally figured out she was doing that, I wouldn't let her know when I was done, and I would personally submit my work to her supervisor."
"His mind was blown that I just 'magically picked up the work so effortlessly,' and I got promoted lol."
– i_am_dean

New VP In Town
"Matt, the new VP of operations decided that everything about our company needed to change, including undermining my role, essentially taking over my team, and started implementing these incredibly micro managing processes that nearly halved our productivity, then blamed it all on me. He then proceeded to place our junior as the team lead and left me on my own island. It really felt like he was trying to get me to leave and well, he got what he wanted. F'k you, Matt."
– Corgon
Her Way Or The Highway
"Sierra. Sierra knew the answer to every single question, had better ideas than you, had done more than you had done, tried everything that you thought of, seen more a problems than you had, and just all around was an insufferable know-it-all. Everything had to be done exactly the way she wanted it to be done even if it didn't need to be done that way, it still had to be done that way because that's the way she wanted it. She micromanaged everyone around. I was so happy when she moved to a different job."
– edgarpickle

Major Hypocrite
"Sounds like my insufferable coworker. Except mine is also a f'king hypocrite who'll rat you out for bending a rule that is flexible while constantly breaking rules she's not supposed to because she's been working this entry level job for 30 years."
"I look forward to the day she gets fired but unfortunately this is a union job."
– sketchysketchist

Sometimes, things backfire.
Called Out
"I had a coworker who would sh*t all over my ideas in meetings and then offer up the same solutions I'd just offered like 5 minutes later. Everyone watched her do it and I don't know if she thought she was getting away with something or had some kind of mental block where she didn't even realize she was doing it. After a year or so we had this guy Dave get hired and the first meeting she did that he blurted out, 'wait a minute, 5 minutes ago Joe suggested that and you sh*t all over it.' And she was kind of like, 'Oh,' and like mumbled something while everyone stifled a giggle."
– Homerpaintbucket

The Saboteur
"Lady tried to get me fired and was totally harassing me - it backfired and she was escorted out by HR. I've been with my company for almost ten years now. See you never✌️"
– natureismyhappy

Gaslighting
"Yeah I just went through 2+ years of hell because of a total abusive gaslighting coworker a-hole. She would say abusive stuff to me when no one else was around and then completely deny it with management. She would create weird situations to make me look bad or crazy and would like daily attempt to turn coworkers against me. She would straight up mock me in front of coworkers and customers. Also, many incidents of her mocking me for being a guy and being 'too sensitive.' Sh*t like 'You are too sensitive. You should be able to handle what I say.'"
"She even knew I was sober (25+ years) and on a couple of occasions managed to make me feel like sh*t as if I was some total scumbag. It was unbelievably frustrating and I had no idea how to handle all this. I managed to kick alcohol and drugs a long time ago and survive a very rough childhood but had no tools to handle something like this. It was like the twilight zone. She successfully convinced management I was the problem and that I was making the whole thing up for a long long time. I felt completely defeated and hopeless."
"Massive stress for something like 2 years. I finally broke and told management do something or I will sue. They first hired a mediator who took us through the mediation process. I was not told what the mediator thought of the situation but I definitely get a sense the mediator told management yes you have a problem here."
"Then the company called in lawyers who investigated my claims. Took about 6 months but it turns out several of her own employees (we were both foreman) backed me up and from what I know the lawyers told my company they were in serious legal jeopardy. Every one of the women I work with said I am kind and never have I ever been mean, snapped or been rude to them."
"Several of them said they love working with me and some actually witnessed some incidents. I was kept in the dark as to the whole timeline of the investigation but one recent Friday management walked in and told her to gather her things and they escorted her out of the building. I literally had to step out and weep. Not just because it was finally over but why did any of this have to happen? I still don't really know why I was her target and I don't think I ever will. My stress levels are 1000 times better but yeah I think I need therapy. Still processing it all."
– Quinnjb
These are the kind of work colleagues you don't go out for drinks with afterward.
The Thing About Dave
"Dave."
"Dave is a guy who thinks he's much smarter than he is. He's been with the same company for 20 years and has worked his way up the ladder at a small company, where he now leads Operations."
"He's a control freak and micromanager and this job is pretty much all he has in life. He will do anything and everything to block progress and innovation and will ruthlessly stab anyone in the back who gets in his way."
"Sometimes I have pity on Dave because this job is as good as it's ever gonna get for him. I'm gonna leave this job soon and move on to better things, but Dave's gonna be doing Dave things until a heart attack or kidney failure takes him out eventually."
– rockit454

Can't Be Pleased
"Guy that I worked with on a cabinet door assembly line. One night we got done about 30min early and this guy throws a fit. How is he going to pay his bills if they send us home early ect ect. Two nights later we had to work about 45min late. This guy starts throwing a even bigger fit. No one helps us, whining we have to work overtime ect ect lol."
– Munson4657

Working Quitter
"Got a dude i work with who always claims he will quit when it comes to OT. Thing is, its never mandatory unless dire. We usually always have volunteers to fill in. Its been like seven years. Quitter still works there, claiming he's gonna quit."
– hobgoblinreacharound
I've been fortunate enough to have worked with amazing groups of people throughout my performing career.
But my first job experience as a 16-year-old was not a positive one. I worked in retail selling video games at the mall where I grew up.
My trainer who worked shifts with me behind the counter was the boss's girlfriend. She was condescending and would often abandon her job duties when things at the store was slow and go shopping around the nearby shops and department stores.
Of course, whenever she was gone, I dealt with mayhem. I had to figure out how to deal with exchanges, giving refunds, which I had yet to learn.
I also had to call security on a kid who wandered in unattended and swiped an item from behind the counter, then later dealt with his irate mother who had to leave her job to pick up her kid from the mall and yelled at me for accusing him of stealing.
After two weeks, I quit.