People Who've Attended A Wedding Where Someone Actually Objected Share Their Experiences
There's nothing quite like the drama that can arise at a wedding or in the days leading up to it.
But the moment people don't necessarily think about is the moment when the audience can choose to object if they so choose, and surprisingly, some people take advantage of this opportunity. It often doesn't go well.
---
Redditor AustinMakesStuff asked:
"Has anyone ever been to a wedding where someone actually objected, and if so, how did that go?"
Objection: Avoided
"I went to a wedding where they skipped that part because the bride's adult daughter was planning to object."
- mynameizgary
"How was this known? Had she pre-announced her intention, or was she just that kind of person and people had accurately predicted it?"
- UpsetMarsupial
"She told somebody, and they told the bride and groom."
- mynameizgary
Uncovering the Con Artist
"I feel like about half of weddings these days don't have that part, and not because of feared objections, just because it is outdated and weird. Premarital sex is a thing. Divorce is a thing."
"Weddings cost like over $10k; if you know reasons to stop a marriage (outside of movies), you need to intervene at the engagement or earlier, not during the ceremony."
"That said, one of my wife's college roommates canceled a wedding like a day or two days beforehand, right after graduating college, after being in a long-distance relationship with some guy for a year or so. Her family was quite well-off and she was dating a guy who lavished gifts and expensive dates on her whenever they were together, said he ran his own company, just bought them a fancy house, etc."
"It turns out he was just super in debt, working a near minimum wage job, and maxing out credit cards taken out fraudulently. He had a fake web page with other employees for his company that he set up for the sole purpose of keeping up the front. The house was only bought from grossly lying about income (pre-2007 housing crisis) on the mortgage application, and he was drowning in debt."
"The almost-bride's father got bad vibes about the guy (a few things didn't add up, like he had this fancy house but couldn't afford any furniture), and he hired a PI (Personal Investigator) who quickly uncovered the deception."
"(And she didn't break up with him because he wasn't rich, she broke up because he spent tons of effort to lie about everything and was completely conning her and just trying to get her roped into joint ownership of his debt via marriage that he expected the family to pay off.)"
- NoveltyAccountHater
Chosen Family
"My husband's first marriage. The brother of the bride stood up and said to my husband, 'Say no, you can still be happy!'"
"They went through with the marriage and wound up divorcing with a messy breakup."
"Brother-in-law is still best friends with my husband (as far as he's concerned, he gained a brother and lost a sister, and is better off for it), and he never lets him forget the fact that he was right and he should have bailed, lol (laughing out loud)."
- Amaevise
Marriage 2.0
"My auntie's fiance was already married (a lady stood up waving the marriage certificate), so the wedding didn't go ahead. The reception was on a long boat so we still went to that."
"The fiance went back to his home country to sort it out and never came back."
- Chiquita4eyes
The Mother-in-Law
"I worked a wedding where one of the moms objected, but I think the groom knew that the parent was going to say something, so they just responded with, 'Oh sit down, (parents name), we knew you didn't like this a year ago and clearly we're not going to change our minds today."'
"The wedding continued like nothing happened, but the mom was lowkey shunned and people avoided her at the reception."
- peeweekiwis
Going Separate Ways
"This was in America, and the wedding was in a Buddhist temple. The parents of the groom stood up and objected because they didn't believe the bride was of the same class. They spoke in another language so most of the English-speaking guests didn't know they were objecting."
"My husband was the best man and those closest to the couple knew this might happen. The Buddhist priest said he would handle it if the parents tried anything."
"After the parents spoke for a while, the priest said to the groom, 'You've heard what your parents had to say, what do you want to do?'"
"The groom replied, 'I want to marry my bride.'"
"So the priest asked the parents to leave."
"At this point, the rest of the guests are clueing in that this was not a nice part of the ceremony, and that the parents were actually objecting, so, as the parents walked out, some of the guests were berating them saying things like, 'You should be ashamed of yourself,' and 'How could you do that?' Even though the groom was not happy with his parents, that was very hard for him to hear."
"That was 30 years ago. The couple is still married. They have two beautiful, successful children. After the groom's mom passed away, the groom's father came around and was involved in their lives until he died."
- Bayou_Mama
Not Meant to Be
"A woman, in her twenties at the time, objected to her mom marrying my uncle. So she started yelling, 'Mom, don't marry him!' during the ceremony."
"The ceremony proceeded, and some family on the mom's side lead the daughter away to quit interrupting."
"I don't blame her. My uncle was a lying, lazy bast**d. The marriage didn't last."
- Rabies182
The Best Man Swap
"I went to a wedding where the best man was replaced a week before because he banged the bride. But the wedding still went ahead just with a different best man. They are divorced now."
- Tobias---Funke
Joke Gone Wrong
"I went to a Catholic wedding where, when the priest asked this question, one of the groomsmen did a VERY loud, long, throat clearing, which got everyone laughing."
"Everyone except for the bride's elderly Italian Grandmother, who marched out of her seat and angrily hit the groomsman with her handbag and shouted at him in Italian!"
- hundreddollar
Giving Away the Bride
"I objected. I took giving my sister away literally."
"I wasn't the brightest three-year-old."
- dookieshoes88
Wedding Invitation Revenge
"At my cousin's wedding, her friend said, 'I object,' because she was not invited to the wedding. She was kicked out of the wedding."
- SuvenPan
Hilarity Ensues
"Not quite the question as asked, but too funny to not share:"
"Priest: 'Any objections?'"
"Father of the bride: lets out the hardest, loudest, most complex-sounding sneeze I've ever heard in my life, completely with involuntarily saying, 'ACHOOOOOO!'"
"Mother of the bride, hammered on champagne: 'For f**k's sake, Jerry!'"
"It took a good five minutes for everyone to regain their composure."
- ibiacmbyww
The Bride Who Got Away
"I had a friend who was a minister, and the subject came up if he asked the question during ceremonies he officiated."
"He laughed and said no way. He basically tells the couple not to include it because it only invites a moment of anxiety at best, misery at worst."
"His best story (and one of the reasons he stopped including the question) was about a couple where in the lead-up to the wedding, the couple was obviously in love. The bride-to-be was very smiley and happy."
"But the day of the wedding, she was stone-faced. He (my minister friend) knew something is up because he'd never seen her like this and he asked if she was okay. She just said, 'I'm fine.'"
"Right before the service, he asked again, and 'I'm fine.'"
"He got to the question, 'Does anyone object to this union?'"
"The bride reached over, grabbed the Maid of Honor's hand, shoved her into the bride's spot, and said, 'You're screwing him, you marry him.'"
"Then she stormed out of the church."
- FDS_MTG
An Unforgettable Toast
"At his rehearsal dinner, a coworker's mother's toast included that his soon-to-be wife was a 'd**n dirty w**re who wasn't good enough' for her son. Folks were not happy. (The video ended so didn't see the whole thing.)"
"At the wedding which I attended, his mom started to say something at the 'speak now or' part but was silenced by her daughter. Mom left and didn't see the rest of the ceremony."
"Everything about that poor guy was drama."
- nebelhund
Period.
"Attended a wedding where the minister said something along the lines of, 'If anyone here objects to this marriage, you can keep your mouth shut. Today is not about you.'"
- Jinjoz
Bonus: Funeral Shenanigans
"Not a wedding, but at a funeral someone objected to the death."
"At my uncle's funeral, his ex-wife and a local church [cult] leader tried to raise him from the dead. We were all sitting there like normal people at a normal funeral and she walks up to the casket and starts yelling, 'James Lester, raise up!'"
"I didn't know she was there or I would've prepared myself for shenanigans. Also, I didn't know my uncle's middle name was Lester, so please imagine the confusion. So she and the cult leader are literally yelling at my uncle's body."
"Not surprisingly, my uncle refused to resurrect himself. They were escorted out."
"I've actually never told this story because it makes my family look insane."
- HughSteele
The last thing a person wants is for their to be drama on their wedding day, but like any other major event, sometimes something will come up. But having someone try to put a stop to the wedding, in front of everyone, certainly will add a terrible note to the wedding day.
"Reddit user lugulaga asked: 'What is the stupidest reason you went to hospital?'"
Everyone is a bit leery of hospitals.
Even people who have to work there would rather be somewhere else most of the time.
But sometimes, a trip to the hospital is unavoidable.
More specifically, a trip to the ER.
We humans can really get ourselves into some ridiculous health-related situations.
All you can do is try to laugh about it.
And be grateful you lived so you can tell the silly story.
Redditor lugulaga wanted everyone to fess about the times their ER visits were more embarrassing than painful, so they asked:
"What is the stupidest reason you went to the hospital?"
I do my best to stay away from the ER.
I'll even suffer in silence.
Especially if I'm being an idiot.
Intractable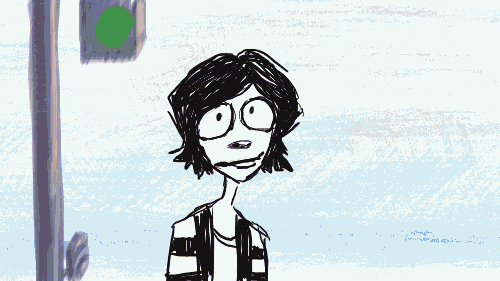 Giphy
"Hiccups that lasted 24 hrs, stopped right when the doctor stepped in the room. Lol."
stargill70
"I've seen this a lot. Had a guy last Monday. 'Intractable hiccups.' Fun note: we use Thorazine to treat it. As in the anti-psychotic."
W6RJC
Down the Hatch
"Not me but I had to pick up a mate who swallowed a 50c piece to win a $2 bet. If you don't know, an Australian 50c is quite large. They had to do an endoscopy to get it out. They let him keep the black corroded coin too."
honest-aussie
"My son did this but with an American 25¢ quarter. He had it in his mouth but inhaled it. It was stuck sideways in his airway so luckily he could breathe. They had to put him under and got it out via endoscopy."
"He spent 9 hours with it in his airway and hardly spoke at all. That is the quietest he has ever been since he learned to speak. He was about 9 when this happened, he is autistic, though very high functioning, and was sensory seeking which is why it was in his mouth."

kaismama
While I Sleep
"A bat landed on my head while I was asleep. Rabies shots all around!"
olda**hit
"Ugh, my child had a 'mystery bite' from daycare that we ignored until it started looking infected. Doctors asking about animals and specifying bats-- reminds me that LAST YEAR the daycare had bats removed that were living in the roof but had no sighting since then."
But I said it. So they had to do the rabies shots, including IGG injected directly into the infected bite... on a 2-year-old. Most traumatizing experience of my life... thank goodness she doesn't remember!"
overweightthrowaway3
A Hard WInd
"My husband went because he was in extreme pain and thought he was having a heart attack. Turns out it was wind. He just needed a good fart."
blueboatsky
"I took my 1-week-old son to urgent care because he had abdominal pain for hours and hours. He cried in the waiting room for a couple more hours, then farted three times and immediately fell asleep."
"They called us in about 10 minutes after that. The doctor said, "As long as you guys are here, let's see how he's doing" and gave him the standard well-baby check. I thought that was nice."
EvadingDoom
Not the Thumb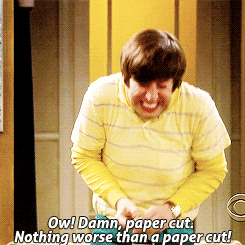 big bang theory paper cut GIF
Giphy
"When I was 8 I was bored so I got a bottle of Gatorade from my pantry and grabbed a kitchen knife then proceeded to stab it over the sink to see how easily the knife would go through the thicker plastic of the bottle… almost lost my thumb."
New_Moon_Lotus
Kids and kitchen knives, a most deadly combination.
Merry Nothing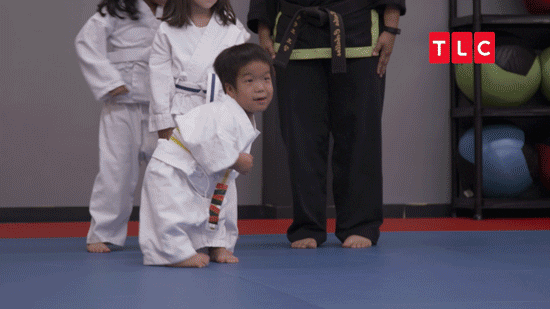 Freak Out Running GIF by TLC
Giphy
"Christmas Day, I dislocated my knee attempting to kick my brother during a sparring match. Needless to say, my martial arts career was over."
IDontThereforeIAmNot
Broken
"I was at a house party, all the bathrooms were full. Went outside, and decided I should crawl under the porch to pee. Everything went well until I tripped on the way out and rolled my ankle. Shrugged it off, limped back upstairs and someone said 'Your ankle is broken.' Sure enough, bone sticking out. DD took me to the hospital and got me ice cream on the way home. I miss you, Kyle. You're the best."
Ubermassive
Knobbed
"Butt cheek injuries caused by a door. I hate touching door knobs with my hands and always use my forearm to rub against the doorknob in a downward motion using friction to turn the knob. Was joking around with my gf saying I can open a door with my buttcheek exactly like how I use my forearm. Jumped at the door butt first and the little metal thing that guides the door cut my buttcheek (I think they call it strike plate or latch strike)."
"The cut wasn't a clean cut because the thing wasn't that sharp. 30+ stitches."
"After that, she had to stand behind me holding a bowl to cover my wound every time I take a shower so it doesn't get wet, and we live in a hot country so she has to do that twice a day for like a month."
Normal-Focus9248
We did Nothing...
"I'm an ER doctor. About once a year I see a very nice young female who comes to the ER with three or four family members because her fingers are blue. They have always googled all sorts of fancy and exotic diseases that they are worried about. 100% of the time the patient has brand-new blue jeans on."
"Without saying a word I just grab an alcohol swab and wipe the blue dye off of their hands, and then I do the same thing to their jeans to show them it's the same color. The collective sigh from the family is always what does it for me. Not surprisingly, half the time the patient doesn't believe me and is angry that 'we did nothing.'"
Dan-z-man
All Sewed Up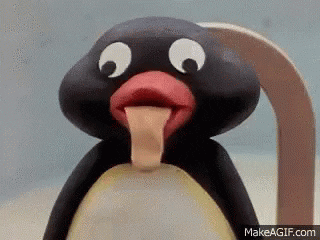 Tongue Out GIF by MOODMAN
Giphy
"When I was about 3, I was running up the stairs in my house and fell. I hit my chin on a step and bit my tongue nearly off. My parents took me to the local hospital where they sewed up the gash in my tongue without anesthetic. I still remember it to this day."
Salty_Fixer
I feel faint after reading all this.
Thank the Lord no one brought up any eye issues.
I'd be on the floor.
Personal preferences aside, there are some people that are almost universally recognized as physically attractive.
It's common in society for most people to comment on another person's looks.
But heterosexual men are generally discouraged from remarking on other men's appeal.
That doesn't mean they don't have man crushes though!
Reddit user winkeltwinkle asked:
"Straight men of Reddit who is the hottest man?"
But would heterosexual men respond?
"Society: Most men are insecure about their sexuality."
"Reddit: Straight men of reddit, who is the hottest man?"
"Most Men: OH f*ck yes, here we go!"
~ Zetawilky
"Bless this site and bless these men."
~ Fluffy-kitten28
Respond they did, with enthusiasm.
Viggo Mortensen
"Aragorn, son of Arathorn."
~ CHIM_Jim
"Every man will momentarily hesitate when scheduling a haircut, because deep down he feels like if he let his hair grow just a little longer, he could look exactly like Aragorn."
~ CaptainOverthinker
"Funnily enough Legolas was my favourite as a kid."
"Now I'm grown up, I realise how humble and headstrong Aragorn is. He's my favourite."
~ Le_Jacob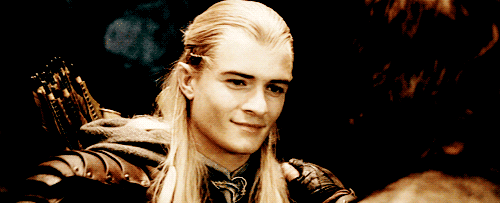 Giphy
Henry Cavill
"Henry Cavill. I'd gladly spend a day with him just talking about geek stuff."
~ Ockial
"Look I'm as straight as they come. Married with two kids and everything."
"But all I'm saying is if Henry Cavill wants to tie me down and whisper the specs to his new PC tower in his Geralt voice, who am I to say no?"
~ WaffleBlink
"Samehere, but he won't even need to tie me down."
"For him I'll switch teams willingly."
~ Centralredditfan
"I didn't say I would be tied down involuntarily."
~ WaffleBlink
"I usually couldn't tell you if some guy off the street is handsome or not. Like... am I the handsome one out of my group of friends or am I the ugly one? Somewhere in the middle? I have no clue."
"Henry Cavill, though, that dude is a 10. Even I can tell you that."
~ Ocksu2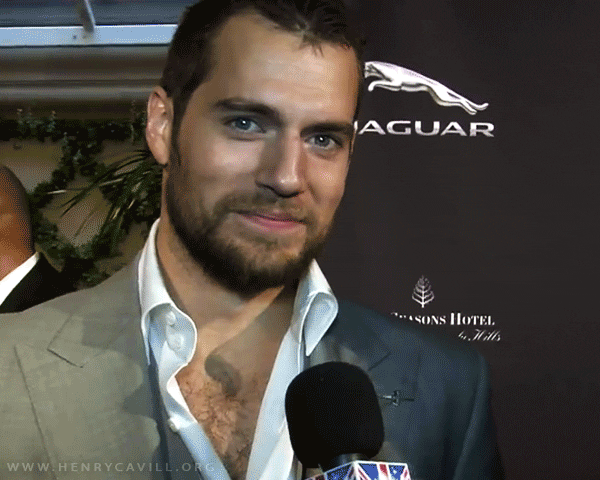 Giphy
Chris Evans
"I'm not gay, OK, I'm not. I like chicks."
"But if Chris Evans' Captain America needed to get off, like, to save the world from Hydra or something, and I was the only one around?
"Well I'm a patriot dammit! I'd let him [have sex with] me."
~ CheeseNBacon2
"Hell yeah brother, a true patriot you are."
~ daddydilly694-20
"I understood that reference."
~ imsorryisuck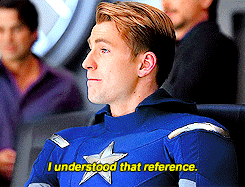 Giphy
Harrison Ford
"1980s Harrison Ford."
~ CurlSagan
"Specifically as Indiana Jones."
~ SuckItClarise
"Handsome face. Lean build. Shirt hanging open. Sweaty as f*ck. Littlebit of 'tude."
"Yes please."
~ Kalfu73
"Harrison Ford in Blade Runner is peak male form."
~ RubberRoads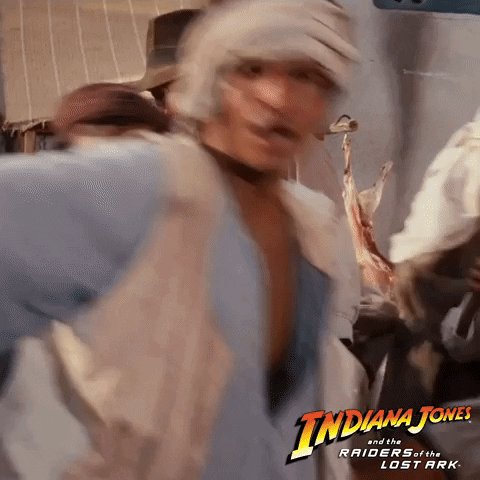 Giphy
Hugh Jackman
"I would totally go gay for Hugh Jackman."
"Good looking, great actor, great singer, great dancer and seems like an all around cool dude with a great sense of humor."
~ Krinks1
"Also loyal to his wife."
~ ukbeasts
"This is the one! He is beautiful and talented, inside and out."
"Humble, honest, caring, down-to-earth, and shredded as all heck."
"I thought I didn't have a homosexual bone in my body, but that scene where he comes popping out of the tank as Wolverine … something awoke inside of me."
~ monkeymanlover

Giphy
Great Guys
"I love that so many of the gruff and tough characters are usually played by such kind and fun men.
"Say what you will about the Fast and Familyous movies, but Vin Diesel looks like he would be fun to hang out with. And Dwayne Johnson looks like he would be able to make you enjoy getting into a workout routine."
~ Fyrrys
"[Hugh Jackman is a] super nice guy as well."
"I met him a few years ago while helping a friend to move, who incidentally was a Broadway actor. Hugh was there as well lugging boxes with the rest of us."
~ fulthrottlejazzhands
Ryan Gosling
"I went to Barbie for Margot Robbie, I stayed for Ryan Gosling."
~ Leemur89
"My straight male fiancé says the same."
"As soon as the 'I am Kenough' sweater appeared, he leaned over to me and almost tearfully whispered- 'I really need that sweatshirt'."
~ janet-snake-hole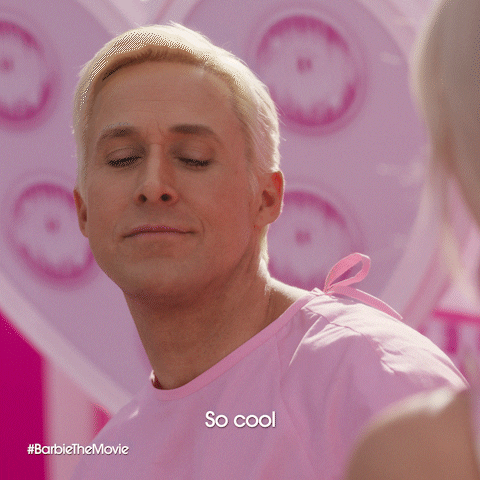 Giphy
​Jensen Ackles
"Jensen Ackles"
~ Aggressive_Finding_7
"The only time I thought my wife was going to legit fight her bestie was a group road trip to his brewery west of Austin, and they were arguing over who got 'dibs' if they spotted Jensen."
"I finally told them I did."
~ ATXGOAT93
"I'm a straight man and I binge watched Supernatural and I think it was the only time I was actually emotional when the show ended, like I genuinely missed Dean for a minute there."
~ Im-a-cat-in-a-box
"Deep voice, tall, perfect face genetics, total dork. I'd love to see him in something with Cavill."
~ sendabussypic
"I keep forgetting he's tall, considering he spent 15 years standing next to his moose of a brother/costar."
~ bluegiant85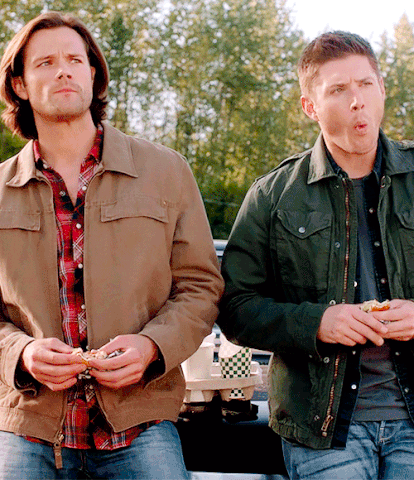 Giphy
Ewan McGregor
"Ewan McGregor. Surprised I haven't seen him mentioned."
"He looks good, has a Scottish accent, and seems genuinely nice and wholesome."
~ NuggetPilon
"My husband is straight but he would literally push me out of the way if it meant making eye contact with Ewan McGregor."
~ DoctorofFeelosophy
"I've had a man crush on Ewan McGregor since watching The Long Way Around."
"My wife understands I'd leave her for him if he asked me."
~ Calan_adan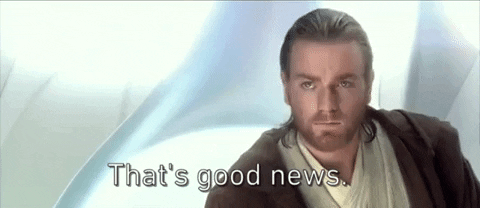 Giphy
Hollywood Legends
"Robert Redford in his younger years. The guy had an annoyingly winning smile that just reminded us all of what we'll never be."
~ bdbr
"Add Paul Newman to that list - the movies he did with Redford are gold. Great chemistry between those two."
~ TheTalentedMrTorres
"I know it doesn't need to be said, but a young Marlon Brando is probably the hottest actor of all time."
~ Reddit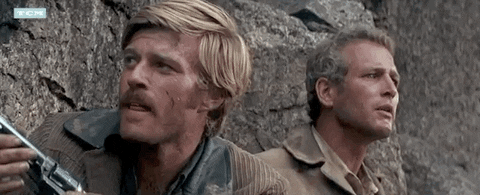 Giphy
Define Hottest Man...
"Power went out last night, so we don't have air conditioning."
"Not to brag, but it's me."
~ Dystopian_Divisions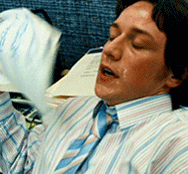 Giphy
We all have our personal preferences, but some men just seem to be almost universally admired.
So did your hottest man make the list?
Content Warning: True Crime Topics
It's hard to know what's going on in someone's head without having their mind ourselves, but we can make assumptions based on how they behave.
Some people have a serious vibe about them that other people know better than to mess with, with some of those vibes downright terrifying.
Redditor sludge_factory_777 asked:
"Who is the scariest person you have ever met?"
Jail Besties
"I got a DUI back in 2009 and was taken to the Placer County drunk tank. A guy with tattoos all over his face approached me..."
"He wanted to offer me his roll of toilet paper for a pillow. He introduced himself as the 'Sac City Psycho,' and he told me he would watch over me to make sure nobody f**ked with me, because he could tell I did not have much experience in jail."
"Now looking back on it, I guess for a few hours there, I was his b***h."
"Super nice guy, though. I 10 out of 10 would be his b***h again."
- NagoGmo
Innocent Until Feeling the Vibes
"I did an internship at a jail and met a dude awaiting trial on a triple homicide."
"The guy just had that vibe around him that just made you feel uncomfortable. Just being in his presence, you could feel the air change around you."
"Everyone in that room felt and respected it."
- throughthequad
The Magnetic Personality Type
"I once did one of those corporate mock jury panels. The little scientist analytics guy came out halfway through to shoot the breeze and holy h**l, I never understood what people meant by having a magnetic personality until then."
"We were clamoring over this dude. It was completely involuntary. He asked me a question and it was an out-of-body experience watching myself act like a golden retriever."
"I was so freaked out that I avoided him like the plague the rest of the panel. Nice dude. Seemed chill, but he could have started a cult with a snap of his fingers. Absolutely terrifying."
- Bridge-etti
Top-Notch Security
"I once as a medical student was doing a rotation in the state mental prison. We had to do a basic physical on this guy."
"There was a chair in the middle of the room, bolted to the floor. He had cuffs on his wrists and feet secured to the chair. Nine guards were in the room surrounding us, not more than five feet from the chair in a circle."
"He was off, just not there, and didn't want to cooperate. He looked at me, saw my coat, and said, 'That guy is from the university. I want to talk to him.'"
"I still don't know what he had done, but after a few months of the rotation, no one else had that degree of security for medical visits. No one else was even close."
- rykh7
Biker Aesthetic
"My cousin. He's a high-ranking member of a pretty well-known one-percent motorcycle club. The dude stands maybe five feet, seven inches tall, and he is of average build. He has no visible tattoos and is super soft-spoken."
"Everything about him says he should be a banker, not a biker. I have never seen him even raise his voice once but that dude scares the absolute s**t out of me. He gives off strong psycho energy."
- SignificantFix8218
Scary Dude with a Big Heart
"I live in New Mexico and met 'Big Dragon' from 'Beyond Scared Straight.' He does outreach like that with troubled kids."
"I was working as a teacher at YDDC, and they brought him down. The dude is no joke."
"I shook his hand, and you could just tell, the only reason he was not killing people was he didn't want to, because if he did, the guards would have not been able to do anything about it."
- Soundwave-1976
Murderous Besties
"I got arrested for public intoxication in the mid-to-late 90's and was put in a normal cell because the drunk tank was full. About ten minutes later, I was woken up and hastily moved to an adjoining cell."
"I visited with the guy in the first cell I was in for a few hours. When I was bailed out, I bumped knuckles with Gary, the guy in the second cell, and left."
"I later found out he was Gary Kleypas, and he was being held on first-degree murder... of a college student."
- TheJonnieP
Completely Out of Place
​"I was working at a bar in a pretty small town when we had a drifter come in on a random midweek night. The second he walked through the door, everyone I worked with and was at the bar said they felt cold."
"The dude had incredibly sunken eyes, pale white skin, dingy dirty hair, and visibly sharp-looking teeth. If I were to explain what a mako shark as a human would be, that's this guy."
"He said he was passing through and was looking for 'stuff ordinary people can't find' and then proceeded to show photos on his phone of odd areas he had been to previously. Nothing was off about the photos, but everyone I saw gave me more chills."
"Nothing was happening, no one was there, but everything had this feeling of 'I'm not supposed to be here.'"
" The dude left and asked me to follow him on Instagram, which I did. He posted last a few years ago up in Jackson Hole and said he'd be staying off for a while. Odd dude. We all were quite relieved when his cab showed up."
- Expensive_Change_893
The Doll Whisperer
"My grandpa's second wife, Angie. She was a hateful woman. I don't believe in people being 100% anything, but she was pure evil."
"She had a collection of porcelain dolls in a corner of their house when I was very young, and she would always try to talk to me through them, giving each of them their own creepy voices. One time, I touched a Pillsbury dough boy figure on her shelf, and she swatted my hand with a metal ruler."
"She was in her 70s when I was a young kid, and I'm 30 now. I heard from my aunt that she's still alive somewhere near where she lived with my grandpa (which makes me believe she is some kind of hag witch) and that she's committed insurance fraud, like, a lot."
- LepreConArtist
Constant High-Alert
​"I was at a bar and this guy walked in and immediately it felt like I was on alert. My spine turned to ice when I saw his eyes look at me, they were almost sunken into his face as if he was peeking out from behind a portrait. He moved like a cat stalking prey."
"Over time, he made his way over to me and made polite conversation, but his words felt disjointed, almost like he was translating them before speaking them. There was nothing aggressive or insulting about anything he was doing."
"In fact, he was quite polite. but everything about this guy was setting off every nerve I had. He was even smiling through most of it, but it felt as if his lips were stapled back."
- Cyanora
Reverse 'Breaking Bad'
"When I was pretty young, I was hanging out with an older friend, and I found out one of her close friends from school became a high-ranking member of a cartel. He got cancer and was allowed to sort of 'retire' from the cartel to spend the last few years with his family."
"I met him at a party of hers...He was very polite, but I had no intention of spending more time around him!"
- xain_the_id**t
Soldier Vibes
"A dude who hung out with a friend of mine back in the 1980s was a Vietnam vet, one of the advance forces guys or whatever they called them."
"He looked like he could bite the top off of a fire hydrant."
- Earthling1a
A Good Egg. Or Rock.
​"A p**sed off Dwayne 'The Rock' Johnson."
"Let me explain A few years ago, I was part of a charity event with Power of Pain (a family friend who I call my aunt, Barby, owns the charity for neuropathy and other immune disorders), and funnily enough, we somehow got Dwayne Johnson as a guest (we had contacted him but didn't expect him to actually come)."
"He was a f**king great guy. Honestly, best f**king dude in the world."
"Anyway, after the event, a lot of us went to a Denny's down the road to celebrate, not expecting him to be there, though he was invited. He showed up like 20 minutes after we all got there and he was having a blast hanging out eating Pancakes."
"Unbeknownst to the rest of us, there was a domestic dispute across the Dennys, a couple who seemed like they were about to break up, but more like the guy was just an abusive a**hole screaming at his girlfriend the whole time and her just in tears."
"Dwayne caught wind of what was going on, stood up, put on his 'Rock' persona, and had a f**king screaming match with this guy. The guy was just receding further and further into his shell and eventually he just f**king left."
"Dwayne paid the girl's bill, helped her stop crying, and walked her out to her car. He then came back in with a smile and continued having a good night and finished his Pancakes."
"He's a beautiful, kind-hearted man, but if you p**s him off, he WILL make you s**t yourself. Remember, they call him 'The Rock' for a reason."
"Best night of my life. Moral of the story: Be nice to people, because if you're not, you may find yourself in a situation you just can't win."
- Ok_Experience_6877
It's easy to see how these are the people that Redditors viewed as the scariest and most intimidating people that they had met. Even if a person hasn't done terrible things, sometimes people just have a vibe about them that makes you think they have the potential, or at least the power.