Something some people may not know about me is that I am a massive fan of thrift stores, as well as the dollar store. I have found some truly innovative items there for way less than you would find anywhere else. My husband found a pasta maker at Savers for only a few dollars, and now he uses it to make his own pasta. And it's gooooood.
Of course, you can find incredible, mind-blowing products anywhere for super cheap--you just need to know where to look. ToteMyRatchet asked:
What life changing item can you buy for under 100$?
You can really find some game-changers for cheap if you go to the right places.
​Be warned- these can work a little too well.
"Blackout curtains! I've never slept so well, and could kick myself for not doing this years earlier."
"Pair them with a blackout curtain rod, and it's next level. I'll never go back."

​Soooo worth it.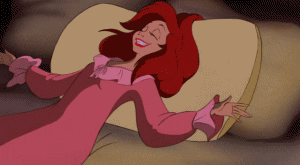 pillow GIF
Giphy
"A good pillow. Granted, bedding can be unreasonably overpriced, but $20 pillows at Target are not awesome. Invest in a good pillow. You spend 1/3 of your life on it."
"I bought an 'expensive' pillow from €100 to €50 in a sale. It makes so much difference! Any hotel I stayed couldn't offer the same comfort."

​A must-have.
"An emergency roadside kit for your vehicle."
"At Costco right now (in the US) you can get a CAT jump starter that's also a compressor to fill your tires as well as a power station with 120v, 12v, USB plug ins for $99.

Perfect for camping and if the power goes out as well."
Good shoes are a necessity.
"​A decent pair of shoes on clearance. Nice shoes, like Eccos, that are good for your feet. You might not think about it, but your feet and how you treat them are crucial for the health of you ankles, knees, hips and back. You're standing on those mfs all the time. They work hard for you, so get good shoes!
I'm not talking about designer bullsh*t or whatever is trendy."
Think of all the amazing stuff you can get for less than $100. That's cheaper than a night out!
​Ooooh this is a good one.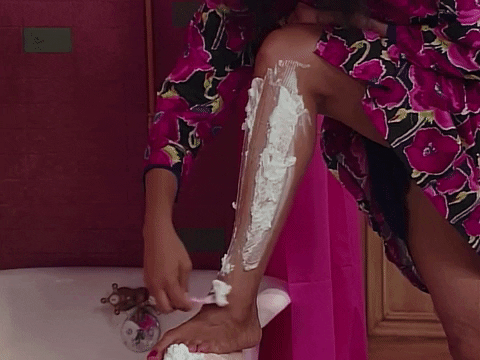 Season 1 Episode 6 GIF by Living Single
Giphy
"Ladies... get a shower stool. I have a teak Japanese style one.. Shaving is infinitely easier without having to do shower yoga. Also, I no longer almost fall and die while switching legs. And it's easier to dissociate under the water."
"I'm 1000% with you. I've had a chair in my shower for only a couple months and it makes everything easier. I also feel like I can sit in the shower and really REALLY tend to my feet without fear of slipping, falling, and dying lol"
​Life-changing af.
"A weighted blanket - my sleep life will never be the same."

"Weighted blankets are great for people who like to cuddle or snuggle up to something when they sleep."
​Grateful gums.
"Electric toothbrush. Your teeth and gums will thank you forever!"
"Can confirm. Was gifted an electric toothbrush and have been teeth ever since. Gums still send me holiday cards."
Of course, some things are much more crucial than others.​
​Much needed.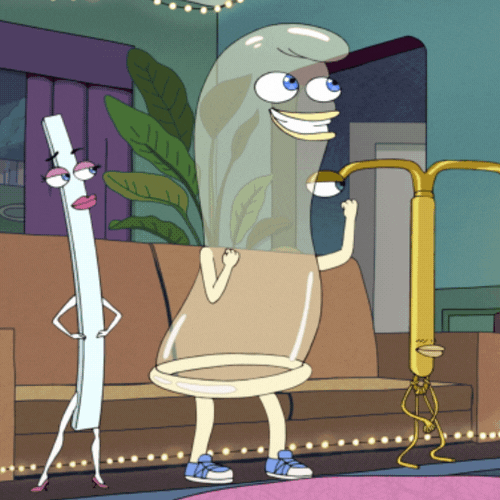 season 2 dancing GIF by NETFLIX
Giphy
"Condoms. Your life will change if you DON'T use them!"
"True. It won't be $100 anymore but your soul and your paycheck."
​A lot of useful info here.
"A good flashlight. The tl;dr here is that you need one more than you think, it's one of the most useful things you can own, and maglites and plastic crap are not even close in capability to what you can get these days.
Many of you have probably seen the feds recommending owning a dedicated flashlight- not the one in your phone. Which is absolutely good advice, because in the event you need a flashlight to see there's a good chance you're in a situation where you are not going to be able to charge your phone, and will have better uses for your phone battery.
And a lot of you are probably thinking "yeah no worries I have that plastic flashlight laying around here somewhere" or "oh yeah my dad's old maglite is in the garage." Guys, I love to break it to you, but the flashlight you have is probably terrible compared to proper modern flashlights.
And no, I don't mean the ones you get in the sporting goods section of WalMart- although some of those are reasonably okay, they're almost universally overpriced for what they are. And I sure don't mean this US MILITARY HIGH POWER EXTREME BEST FLASHLIGHT IN THE WORLD marketing traps you see on TV ads and kickstarters.
Nowadays you can get incredible flashlights that will light up your house better than your actual overhead lights, turn nighttime off in a 50 yard radius of you outside, or even fire a beam of light across a field or lake a mile away. For less than $100 bucks. Hell, in many cases, less than $50.
Now obviously I recommend heading over to r/flashlight if you want to do some research- although fair warning, you might catch the flashlight collecting bug and there's no coming back from that. But if you want my personal recommendation for some to check out-
The Sofirn SP36 is about the size of a soda can, and can put out about 100 times as much light as the flashlight on your phone in a big floody way that fills up rooms easily. Hovers around $60 on Amazon.
The Astrolux FT03: this is about as typical looking a flashlight as you can imagine, but the standard model can put out about 50 times as much light as your phone and will blast it out over 800 meters. About $35 if you're willing to sit around and wait for it to come from China in a couple weeks.
The Lumentop EDC18 is a pocket sized flashlight about the size of your thumb that can do over 50 times as much light as your phone. If you don't want a fancy user interface, go for the EDC18L. $50, or as little as $30 with a coupon on Amazon.
Anything from Olight, Sofirn, Convoy, Emisar, Noctigon, Nitecore, Wowtac, Thrunite, Surefire, Fenix, or Zebralight is going to blow your mind if you've not used a real modern flashlight before and will be probably be more than enough for a normal non flashlight fetishist. There are plenty of other companies I've forgotten to put in there I'm sure but I'll personally vouch for all of those."
​That sounds fantastic.
"Smart bulbs. Put one in a lamp in your bedroom and have it slowly brighten in the morning. It will change your life."
"I have them all over my house and love them. I set them up with Alexa so they turn on and off on a schedule, I can tell them to dim or brighten, you can go party mode with different colors that flash or brighten along with the music, they're LED so they'll last forever, and it's great "security" when I'm out of town to make people think I'm home. All for like $10/each. Worth every penny, my lighting matches my moods now"
​I hope all of you have added a few of these things to your shopping list. Put $100 aside from your next paycheck, and invest in a few of these truly life-changing item. You won't regret it.
Keep reading...
Show less
Being a truck driver sounds like a difficult task. As someone who doesn't drive, I can't imagine operating one of those big sixteen wheelers, so I have mad respect for those that do. Not to mention the fact that truck drivers barely get to sleep, and have to be on top of it at all hours of the day.
So a bunch of truck drivers took to Reddit to tell the world how we can make their jobs a little easier. Jamesjamesjames3 asked:
Truckers of reddit, what are some less common road courtesies that we can offer to you to make your job safer and easier?
Keep reading...
Show less
Oftentimes when we make mistakes as a kid, it's because we truly do not know better in that situation. Everything is a learning experience, whether we ask for it or not. But as an adult, there are some things we think about in our childhoods that make us cringe.
The mistakes we make as a child can be regrettable. Tiny222 asked:
What is the worst thing you did as a kid, and still feel guilty about?

​It's best to not beat yourself up about things you did in the past, but sometimes it's hard not to.
​Thank goodness he recovered.
"My friend and I discovered that a lighter and spray paint creates a flame thrower.
Anyway, I accidentally burned the side of my friend's face. He's recovered just fine but I'll never forget how loud my dad yelled at me when his mom came knocking on the door."
​She definitely knew.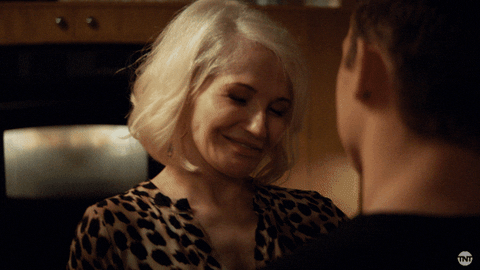 season 3 hug GIF by Animal Kingdom on TNT
Giphy
"Stole a quartz rock from my grandmother. I had one very similar and was convinced it was mine and that I had left it there. She told me it wasn't mine, gave me a hug and a kiss. And, as a six year old, I just fixated that it was mine. And I'm 99% sure it wasn't. Nothing is ever 100% but yeah. My grandmother, who did nothing but love me and shower me with love, affection, and attention, did not deserve to get her knickknack stolen by me.
By the time I was a teenager, it totally ate me up. I never confessed and I wished I had. After she died, I had a dream where she came back to see me and the first thing I did was cry and apologize."
​I'm sure the pigeon forgives you. 
"I once threw a rock at a pigeon. I didn't mean to hit him - I just wanted to see him fly off. He was pretty.
I hit the pigeon. I still feel bad about that."
We don't always understand as a kid.
"I have a mentally ill family member and as a kid I could never make sense of it or why my parents weren't doing more. It was difficult to deal with and I remember one day when I was like 7/8 years old I blamed my mom for it, raised my voice at her and everything.
Almost 15 years down the line I still feel very guilty about it. I don't remember exactly what I said but I can very clearly remember the look on my moms face."
​We all make mistakes when we're young, and sometimes we think they are unforgivable.
​Pickle head will be avenged.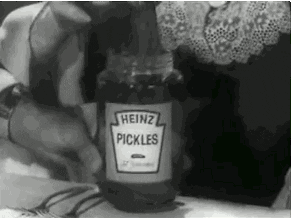 pickle GIF
Giphy
​​"My siblings and I called the only other kid at our bus stop "pickle head" because he always wore a green beanie. We were relentless, too, and teased the f*ck out of him. One day he tried wearing a different beanie (red one) and we ramped things up calling him "tomato head".
It's been almost 2 decades and I still don't know what the poor kid's actual name was."
​This is heartbreaking.
"Wrote sh*t like 'I hate you. You're the worst mummy ever and I hope you die. Have a terrible day' etc. all over my birthday card to my mum because she said I couldn't go out to play on my bike before we went out for dinner. She died a month later from a sudden brain aneurysm.
8 year old me knew it wasn't my fault and I hadn't meant what I'd said in a temper but I felt bad for wishing it on her all the same and cursed the horrible timing. I feel sad that we never got the chance to talk about it as adults and laugh about it together."
​At least they learned their lesson.
"I shot a bird when I was 5. My mom forced me to watch it die. That had a lasting impression and I became a huge animal lover."
"Reminds me of my cousin and I running around with a BB gun and we finally hit a bird and ran over excited to find it. It just suffocated slowly and we stood there bawling. Now he's killed humans so I guess it had a different effect on each of us."

​Luckily, usually when we mess up as a child, we almost immediately learn our lesson. Sometimes being an impressionable kid is a good thing.
​At least it didn't have money in it.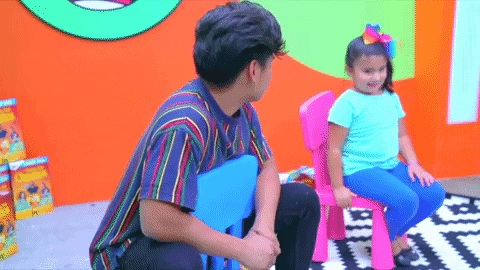 youtube kids GIF by Guava Juice
Giphy
"I stole from a friend of mine.
A while back Burger King had a line of toys with its meals and one of the "toys" was a wallet. I do not remember what the branding was, but I remember it being really really cool.
So one day I'm visiting a friend of mine and I see in his room that he has the wallet. I was insanely jealous so when he wasn't looking I took everything out of it, hid the contents around his room, and pocketed the wallet. I then spent the rest of the day hanging out and playing and at the end of the day left with my new prize."
Poor Knight Rider.
​"A poor large Irish family on my street gave one of their sons a black trans-am model car as his only present at Xmas. They told him it was from Knight Rider, his favourite show. It wasn't, but it was a cool model. Not a small one, but a decent sized effort with opening doors and the like. A good present basically.
We, although mainly me, then told him (on Xmas day) it wasn't Knight Rider. He was really young, like 7, while we were about 12. He got upset and insisted it was Knight Rider. We then told him to prove it. By throwing it, a lot, at the floor, wall etc. Knight Rider was bullet proof so it shouldn't get damaged...
In the end the model was scratched, dented, and doors and wheels were either hanging on by a thread or had fallen off. He was dead upset, and his family gave him hell. Always cringe and feel terrible for being a git at the time. I wasnt really a nasty kid but that was one time I deeply regretted being a bit of a sh*t just to get giggles from my friends."
It's kind of Lego's fault, tbh.
'When I was 8 I studiously watched how my dad filled out checks. So, when the moment struck, I Stole a check from my parents check book, crossed off their names and wrote mine, wrote it out for 80 dollars to Lego, signed my name, and fired it off in the mail with a order form for a giant Lego semi complete with warthog fighter plane.
I forgot all about it until a few weeks later it actually showed up.
What's astounding is that they not only accepted this TOTALLY fraudulent check, but mailed the item off.
Of course my parents were furious. My mom found out when the bank called, laughing. So what did she do? She contacted the police and staged things, took me down there and scared the sh*t out of me. They talked to me about stuff like JV, theft. Then my mom took me to meet the bank manager and I learned about fraud and how it could put me in prison.
What's killer is that Lego customer service tried to laugh it off, but they refunded my mom obviously. But holy hell, the worst part was my dad and mom, for the next for months, to years, would frisk me in check out lines. It was pretty extreme but we'll, I'm no thief and I now work in the fraud department at a bank!"
​If you're like these people and have a memory from something you did as a child that makes you cringe, do your best to forgive yourself. Kids are dumb, and you were dumb too.
Luckily, as we grow up, we learn from our mistakes. That's the beauty of becoming an adult.
Fashion can be inexplicable at times. It's hard to know where they begin, and why they happen. Like, whose idea was it to wear jeans under skirts back in the early 2000's? Now THAT was a fashion tragedy.
But bad fashion trends aren't just in the past. Here are some of the most hated modern fashion trends, courtesy of Reddit. Q-tipper asked:
What is a fashion trend you hate?
​You would think everyday fashion would be about convenience and comfort, but that just isn't so.
Why are these so hard to find?
"2x or 3x that is only wide, not long.
Big and TALL f*ckers! You forget the tall part."
"I f*cking swear, finding ANYTHING in 3XLT is impossible. I'm tall AND fat, godd*mnit."
You'd think work clothes would be a bit more comfy.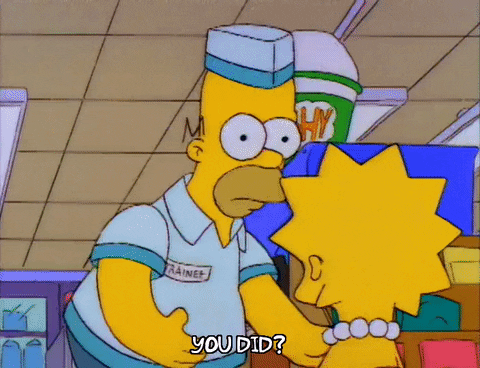 Season 3 Store GIF by The Simpsons
Giphy
"Making employees wear clothes that are easily stained."
'100% agree. I work at a truck dealership and they used to make us wear khakis. Even the warehouse and parts employees. It is impossible to get grease or coolant stains out of those. Before we just decided to ignore that rule everybody was walking around with all kinds of fun and dubious stains."

​The worst part about women's clothing.
"Fake f*cking pockets? To hell with them I say."
"The shorts I'm wearing right now have fake back pockets. I've tried putting my phone in my back pocket about 10 times today and am ready to just rip the shorts off my legs at this point."
​On the topic of women's clothing, here are a few examples of some truly weird trends.
We need longer sleeves!
"Long sleeves on women's clothing that are too short. Most long sleeves end well before my wrist and a few inches past my elbow. I'm not exactly Queen of the Long-Armed Amazons! I end up pushing the sleeves up on everything because I look like a kid after a growth spurt whose clothes no longer fit properly. WHO ARE THESE PEOPLE WITH IMPOSSIBLY SHORT ARMS?"
​It's a scam!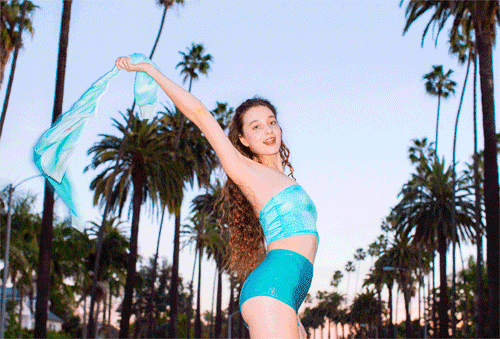 sexy american apparel GIF
Giphy
"As a woman, sheer shirts and dresses. I don't want to have to wear a cami under every d*mn shirt!"
"I think it's a way to get you to spend more money."

"Bow down and give your money to BIG LAYERING!

My wife refers to them as bobo's (buy one/buy one) because you can't pick up one without the other to match."
Things That Are Normal Where You Live But Crazy Anywhere Else | George Takei's Oh Myyy
This ruins the whole outfit.
"Clothes that are cute until you look up close and the back says something stupid like 'but first, coffee'."
"I always get those as gifts like, 'I knew this was your sense of humor'. Why are we friends?"
​To heck with cropped jackets.
"Women's jackets that stop just above the bottom rib. When I'm wearing a jacket, I'm wearing it because I'm COLD, not as a fashion statement!
The things people wear for the sake of brand names continue to make no sense to me (or these Redditors, apparently).​
​Definitely bad taste.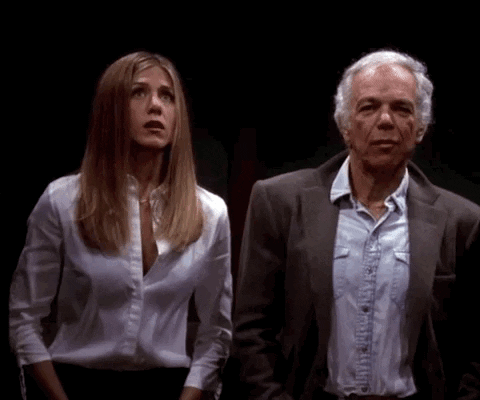 Ralph Lauren Elevator GIF by Friends
Giphy
"Large logos. Ralph Lauren is the worst. I'll see a shirt I like with an oversized polo man. It ruins the shirt."
"The back story behind large polo man is actually funny because it was entirely unintentional and just a business responding to customer demand.
Apparently Ralph Lauren was the apparel provider for one of the more prestigious tennis tournament (think US Open, Wimbledon, etc.) and they made one-offs for the ball boys to wear so that the logo would be visible on TV - there was apparently no initial intent to market them to the general public. People watching saw it and said I WANT THAT, and here we are with giant Polo logos now.
So yeah, oversized polo man is a result of consumers' bad taste."
​Why is this a thing?
"Stickers on hats."
"When I was young, I bought a hat and left the sticker on, because it was the thing to do. A few years later I realized it was dumb, and also peeling so I tore it of. Turns out the hat was more faded than I thought. So I stuck my own sticker on to hide the shame."

​To be fair, these are comfy af.
"Those leggings from TikTok that have that scrunch in the a**hole, so they literally suck into your a** crack. I hate it.
"They're the freaking worst! I got a pair without looking at the back just thinking it was a cool texture. They're just sitting in my dresser looking all sad and stupid."
As humanity continues to evolve, so does fashion. And soon enough, these weird fashion trends will die out, and make room for even more sh*tty trends.
Such is life. Now if you'll excuse me, I gotta go put on my TikTok leggings. Sue me, they're comfy.​
Keep reading...
Show less
There's nothing some people love more than drama. Not being involved with it, of course, but getting to witness it, and indulge in all the glorious weirdness of it. It's addicting. Don't lie, we all love to hear about it.
Sometimes the tension is too much to handle. Piebalddacshund asked:
What's your greatest, "you can cut the tension in the room with a knife" story
​Awkward moments are usually pretty d*mn cringey. Here are some of the wildest stories.
​A bad time for twerking.
"I bartended in college. The new manager, during the club rockin, at midnight, proceeded to cut off the music and tell 200 drunk college kids about how he was 120 days sober and showed everyone his coin. Then he preached about sobriety and him not having custody of his kids for about 4 minutes before putting Lil John back on so girls can twerk.
No one twerked."
​Now THAT'S awkward.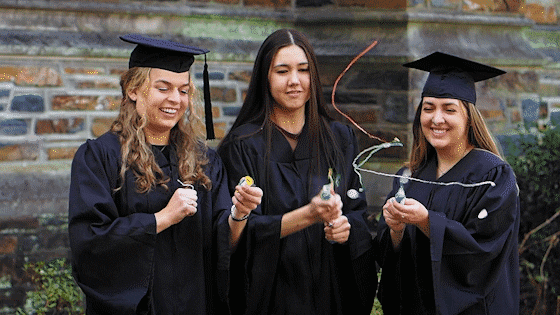 College Graduation GIF by Duke University
Giphy
"Graduation day at the college where I work. The commencement speaker, a famous journalist, is giving her inspiring speech, working in little bits of trivia about our school. But something seems off. And as she starts listing our famous graduates, we realize she's Googled the wrong college, and is talking about the hyper-conservative Christian school a thousand miles away that happens to have the same name.
But the speech goes on and on, fifteen minutes more, with more awkward details she looked up on the wrong Wikipedia. And nobody wants to tell her while she's onstage. A murmur goes around, even the graduates' parents have figured it out by now, and several thousand people slowly cringe themselves to death.
To her credit she graciously apologized on her TV show and gave the college a nice promo."
Yup, she REALLY did something there.
"At my sister's wedding, her "frenemy" showed up wearing a white dress... and to make it KNOWN she came upstairs to her room at the banquet hall before the "big entrance" (classic Italian wedding, you know?). She walked in and all of us bridesmaids and my sister were just slack-jawed. (she had zero reason to come upstairs except to show off her floor length white dress)."
[deleted]
"I just don't understand the mentality here. Is there a single person anywhere who would think 'wow, she really showed the bride' rather than 'that guest in the white dress must be a raging c*nt'? That just makes yourself look bad."

When family gets involved, that's when you know sh*t has REALLY gone down.​
​The husband handled that well.
"Several, it really makes you feel older and make your BP skyrocket.
My cousin (F) came out to our family during a party. In front of her husband of 5 years and their 2 kids. She confessed to seeing another woman behind his back and that they've been together for far longer than she'd been married and she was the true love of her life and the kids names were her idea.
She then introduces her to everyone and as the silence went on and the the color in our faces returned, her husband just stands up and shakes the woman's hand and tells his wife that the papers will be coming along.
Party ended right there and her parents were pissed, they didn't care about her being a lesbian but her cheating was a big problem.
I learned that her lover had been in and out of rehab and is in no condition to support her or the kids.
My cousin had her marriage annulled but she lost custody of her kids, and could not get any settlement. By the end she didn't have a house and was basically homeless.
She's still with her but her kids refused to visit or have anything to do with her. Her girlfriend acts as if she's the one who gave birth to them and sends hateful messages to the father."
This might win for the most tense.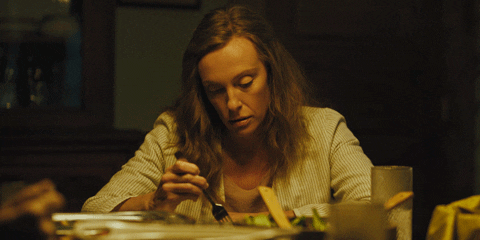 toni collette dinner GIF by A24
Giphy
"My dad was an amazing father but once, when I was about five, he was gone all weekend. It was not like him to do this. He was a great dad and we were all crazy about him and so was my mother. Mom was stressed beyond belief.
At the time, she didn't work and he was our sole provider. There were four of us. She was a devout Catholic and Friday night, she lit candles and had all of us kneel and pray for his safety. Saturday morning, she called the police and said he was missing. Sunday morning, they called and asked her to come and identify a body that matched the description she'd given.
She was f*cking rattled when she got back. Some guy who was my dad's height and weight had been murdered. I can only imagine what she felt going into that room and seeing THAT on the slab. She asked to see his arm that had a tattoo and it was the wrong tattoo.
Dad came home Sunday evening with some cock and bull story about being slipped a mickey (old school roofies). You would have needed a jack hammer to cut the silence between them.
My mother always brought his plate to the table first. That night she brought all of our plates first. When she put his down, it was SO HARD, I remember his food being about two inches in the air from his plate. He didn't say anything. She didn't speak to him for a good while. Let's just say it never happened again."
Things That Are Normal Where You Live But Crazy Anywhere Else | George Takei's Oh Myyy
​This is so sad.
"My mom died due to an overdose and without a will. At the funeral home, my stepdad, grandmother, aunt, brother and I were in the office to plan my mother's funeral.
My aunt and grandmother hated my stepdad. They said he enabled my mother, and didn't take care of her. My stepdad also owed my grandmother money.
My stepdad hated us all. My brother had stolen from him, he thought my grandmother and aunt were over-bearing, and he blamed me for my mother dying because I had cut off contact with her (it was for my own well-being).
My brother was just plain angry at everyone but me. He thought my grandma hadn't supported my mom. He also was in such denial that he thought my stepdad had murdered our mother.
My grandma also partially blamed me for my mother's death because of going no contact. My mother had been an addict for years, but apparently I was the reason she overdosed.
I was fuming angry that all of these people blamed me for the actions of someone else and I was being scapegoated again for my mother's actions. I was mad at my mom for not having a will, and for dying when I was 25.
I cannot imagine the tension that funeral director felt in that room, as all these people who detested one another tried to agree on funeral arrangements."
Friendships can be really fickle, especially when we're young. Definitely makes for a whole lotta awkwardness.
​That's karma.
"Back in highschool, my best friend was dating one of the most popular guys in school (not just our grade, the entire school). So it was a huge deal, and she gained a lot of popularity from it. This meant her getting invited to a lot of parties and I got to tag along to many of them.
During one of these parties, I was sitting with her boyfriend and another mutual friend of ours. I had gotten up to go inside and wash my hands, when I heard muffled sounds coming from the pantry in the kitchen. I went and looked, and my friend was in there hooking up with another dude. It wasn't just any dude either, it was the "weed guy" of our grade who was very awkward and weird.
Word spread around the party about this, and basically everyone knew what was going on but my friend's boyfriend because he had stayed sitting in the same spot for a while and nobody had the balls to tell him what was happening.
Finally after like twenty minutes, my friend comes out with the "snacks" she was getting and sits next to her boyfriend. You could've heard a pin drop as everyone got silent and stared at the two of them.
Worst part of it all, her boyfriend chuckles and says "you were in there for a while, what'd you do, lock yourself in the pantry?"
The tension was practically unbearable. Eventually he found out the truth, not sure how, but they broke up the next day and she basically became ostracized from hanging out with anyone that was even slightly popular. It never really blew over either, she had to transfer schools for the next school year and she deleted her social media accounts for several years."
​We've all been in this situation.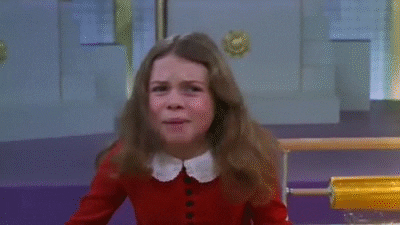 Willy Wonka And The Chocolate Factory Tantrum GIF
Giphy
"I had a friend back in middle school that invited me to spend the night at her house. I was there for maybe 1 hour when she asked her mom if we could order pizza and her mom said no. My friend then proceeded to have the absolute worst, over dramatic screaming temper tantrum at her mom and then started screaming at her that I wanted the pizza and they were being rude for not buying it. This carried on for the rest of night and I just sat on her couch beet red waiting for it to end."
​Awkwarddddd.
""When I was in 6th grade or so, I was invited to my friend's birthday sleepover party. She tells me to be there on Friday after school. So I show up with my overnight bag. Nobody else is there yet but I didn't think much of it. I just thought she wanted me to be there early to help set up and hang out. She says nothing. Her parents say nothing. But I could start to feel something was up when her mom takes us to Walmart to get things for the party. I said things like "we're going to have so much fun tonight!" that was met with awkward silent tension. I sat and watched TV with her family for a while and I could feel the whole room just go stagnant.
About an hour after we got back from the store, her mom started making dinner. I asked if I could help her, but that I thought she was going to be ordering pizza for the party. She finally told me that I was an entire day early for the party and that I needed to go home.
Edit: for those who asked, the party was terrible. She invited all the "mean girls" from school. It felt like Jenna's birthday party in 13 Going on 30 fr. I ended up leaving early after they started making tiny baby gay me uncomfortable by daring each other to kiss."
​Not the impression you wanna make.
"My ex's family camping trip. Her mom is talking to one of her daughters, and the daughter says something along the lines of "I don't think I've ever seen you actually angry" and my dumb*ss has to chime in, 'she was pissed at me once when I took your sis to two movies in a row and forgot to give her a heads up that we were gonna be back later' mom chimes in 'nope, I was pretty mad at you around thanksgiving a year or so back'.
I immediately grabbed my toast, downed a big ol glass of shut the f*ck up, and dipped out of that conversation. She was referring to when she found out I took her daughters virginity."
We've all been there, on every end of it. Awkward moments are just a part of being human. Just remember, "this too shall pass". Or something.
Tension passes. Don't forget that
Keep reading...
Show less