The internet is realizing we have much to learn from our elders and one Twitter user is sharing that lesson.
Writer Alex Alvarez, who goes by the name David Bynch on Twitter, shared a sweet moment with his grandmother that is warming hearts and giving inspiration to many. We can all take a page out of his grandmother's book when it comes to self-love.
He posted:

"tonight my abuelita whispered, "I want to show you the most beautiful girl in the world," solemnly leading me to a table packed with old family photos. with one, shaky finger, she pointed, slowly, to a photo... of herself"

"this is the energy i'm carrying with me into the new year"

tonight my abuelita whispered, "I want to show you the most beautiful girl in the world," solemnly leading me to a… https://t.co/yGGCBbaErM

— david bynch (@david bynch)1546229165.0
The tweet went viral, with over 90,000 likes.
@soalexgoes @ariellec Queen 👑

— The Ultimate Worrier (@The Ultimate Worrier)1546299243.0
@soalexgoes @morgendann https://t.co/GjVyj1hft5

— Katha. (@Katha.)1546339375.0
@soalexgoes @onlxn I love your abuelita, you are truly blessed to have her in your life. Do something nice for her… https://t.co/R0ccV2ej67

— Daisy (@Daisy)1546272909.0
"Hug that granny!"
@soalexgoes @saladinahmed ¡Abrazo a esa abuelita!

— Javier Moreno 💚 (@Javier Moreno 💚)1546276935.0
@soalexgoes @taetional Love ur abuela😭👏 https://t.co/J5CKUQxB1y

— Hobi💜 (@Hobi💜)1546314081.0
Others shared their own stories.
@soalexgoes Do all grandmas take a class on swag? Cause that is SO something my grandma used to do lol

— Kay Gus (@Kay Gus)1546392565.0
@soalexgoes When my brother was like, 3 or 4 he was sitting in my lap and staring into my eyes. He goes, "There's s… https://t.co/2DQdEc2Yay

— KCritts (@KCritts)1546265733.0
@soalexgoes @cafecitosounds This is like the time my uncle said he was going to take a picture of the best girl in… https://t.co/kOCEer4SAZ

— Rochele (@Rochele)1546230840.0
@soalexgoes My grandpa this Christmas wouldn't stop talking about how handsome he is 😒😂

— Shawn McKay (@Shawn McKay)1546360857.0
@soalexgoes @saladinahmed What a woman. My Baba thought the same thing-she was a gorgeous red head in her prime. ❤️❤️❤️

— Liz Hall (@Liz Hall)1546277211.0
@soalexgoes I think we have the same Abuelita

— 𝙰𝚕𝚒𝚌𝚒𝚊 𝙼𝚎𝚜𝚝𝚛𝚎 𝙱𝚛𝚞𝚌𝚎 (@𝙰𝚕𝚒𝚌𝚒𝚊 𝙼𝚎𝚜𝚝𝚛𝚎 𝙱𝚛𝚞𝚌𝚎)1546399948.0
And for this Twitter user, a little TMI.
@soalexgoes @MimiLikesBadTV Big mood. My grandma did this to me once but it was a boudoir photo of her in the 40's… https://t.co/PDrAtLlWMV

— Thornwolf (@Thornwolf)1546282540.0
Take a tip from one abuelita and show yourself some love.
Keep reading...
Show less
Chuck Franzke knows the key to staying young is to keep his dancing shoes on. At 96-years-old this WWII veteran isn't showing any signs of slowing down. Must be those smooth dance moves.
Franzke has become a bit of an internet sensation by showing off his current dance moves just in time for his birthday. The tradition started three years ago when the organization The Stars and Stripes Honor Flight posted his first birthday dance video. The organization is responsible for flying vets to Washington D.C to.visit war memorials.
This year Franzke decided to switch things up by "flossing" after he saw a video on YouTube. He tells Inside Edition:
"I was doing the Floss.I saw it on the internet. I did the same dance twice before and decided to branch out a little bit. "Many years, I Jitterbugged in the 30s and 40s."
96-Year-Old WWII Veteran Performs Floss Dance on Birthday www.youtube.com
ICYMI: Wisconsin #WWII #Navy pilot Chuck dances into the holidays to spread a little cheer on the eve of his 96th b… https://t.co/qxt3bl6wtx

— Honor Flight MKE (@Honor Flight MKE)1545429201.0
And here is last years boogie moves.
BIG NEWS...Chuck, our dancing #WWII #Navy pilot, is coming out with his third annual holiday dance video for his 96… https://t.co/KkE0Cdb0SH

— Honor Flight MKE (@Honor Flight MKE)1544398618.0
People love Chuck. He even has his own hashtag #GoChuck
@SSHonorFlight Best thing I've seen for a while! #gochuck

— Kayahs (@Kayahs)1545622712.0
@ShannonBream #GoChuck, happy birthday! born Christmas eve apparently. Your the twin of my dad who also is a 96 yr.… https://t.co/zVAAD7Ov70

— Charles M. Sandino (@Charles M. Sandino)1545719066.0
@SSHonorFlight Someone call the carpenter, cause he's tearing up the dance floor!

— Aaron Joel McKinney (@Aaron Joel McKinney)1544457464.0
@SSHonorFlight You deserve a dance, thanks for your sacrifice Chuck!!

— Mike W 🇺🇸 (@Mike W 🇺🇸)1545537857.0
@SSHonorFlight By the looks of it, probably has a good golf swing too. Merry Christmas sir and a heartfelt thank you for your service.

— Big Al (@Big Al)1545510221.0
@SSHonorFlight Go Chuck go! Thank you for your service. Thank you for sharing your amazing skills and awesome spiri… https://t.co/SwNbQ87VA2

— linda fisher (@linda fisher)1544537758.0
@SSHonorFlight @LPD_Chief Have a BLESSED birthday, as another year begins. Cheek to cheek on the dance floor w/you.… https://t.co/WoMaOhlrBg

— Giggy (@Giggy)1545489872.0
@SSHonorFlight Thanks Chuck for everything!!

— Chris Reinke (@Chris Reinke)1546039767.0
@SSHonorFlight What a delightful way to start the day, God Bless him. 👍🏻😇

— SLK (@SLK)1545670028.0
@SSHonorFlight @SandiTerford My kinda guy!❄️❄️

— Toni Hatton Park (@Toni Hatton Park)1545671084.0
@SSHonorFlight Thank you for your service. God bless!! Love your moves. I hope I can dance like that at your age. 👍 Merry Christmas

— karen MacGlashan (@karen MacGlashan)1545681264.0
@SSHonorFlight I had Bron-Y-Aur Stomp playing while I watched this. It works perfectly. Try it. God bless you Chuck!!!

— Angry_CEO (@Angry_CEO)1545669804.0
@SSHonorFlight Just imagining him, dancing with the pretty girls, at the USO, hours before a mission. Truly. The G… https://t.co/cCiJVmNX0C

— Himself. I learned to code a long time ago Winston (@Himself. I learned to code a long time ago Winston)1545669134.0
We can only imagine what his dance moves were like back in the day.
Keep reading...
Show less
Campbell told Independent.ie in 2017 that even after 30 years in the business she still experienced racism and colorism within the beauty industry, saying:
"I've never done one for anyone. People say, 'Oh, you've got beautiful skin', and yet I've never done one."
When asked by the reporter why this was the case, Campbell replied with a look that implied:
"You know why."
But now she is celebrating her contract with a gorgeous photo posted to her Instagram and Twitter accounts.
In the photo Campbell isn't wearing one of her signature wigs and instead is opting for natural braids.
She captioned the photo:
"Bare it all. 🙌🏽 done in Kenya 🇰🇪 #NAOMIAFRICA"
Campbell's fans love her "bare" look.
@NaomiCampbell Beautiful naturally!!!

— Toni (@Toni)1545690753.0
@Quietlytoni @NaomiCampbell She will always look this good👏🏽👏🏽👏🏽🇯🇲🇯🇲

— J A Princess (@J A Princess)1545691817.0
@NaomiCampbell Natural beauty 😍😍😍

— Silindile (@Silindile)1545683652.0
@NaomiCampbell Natural stunner !!!!!! I absolutely love it Omi dear

— Jamie Thomas (@Jamie Thomas)1545758688.0
@NaomiCampbell Yessss!!!!!!!!! So happy to see this hairstyle!

— Nene Aloka (@Nene Aloka)1545766014.0
@NaomiCampbell Natural beauty 💯

— Ken Karuri (@Ken Karuri)1545803296.0
@NaomiCampbell Stunning! 👑😇👑

— M. Stevens St Clair (@M. Stevens St Clair)1545763104.0
@NaomiCampbell Awumhle - you're beautiful!!!

— Ash K (@Ash K)1545726354.0
@NaomiCampbell You don't need the mask, this is the definition of a goddess.

— Morenikeji Davis Ijila (@Morenikeji Davis Ijila)1545717362.0
@NaomiCampbell You look good https://t.co/V4pvSNlDfM

— King Pitso Birdman 👑 (@King Pitso Birdman 👑)1545683235.0
She bares it well!
Keep reading...
Show less
Add "Hallway Harry" to the ranks of white people who take it upon themselves to police the activities of Black people going about their regular lives, along with "BBQ Becky," "Permit Patty" and "Cornerstore Caroline."
This latest viral video shows Chika Okafor, a sports producer at the Bleacher Report, in the lobby of his apartment building in New York City waiting with a friend for a Lyft ride. The two were headed to a holiday party for Okafor's company when an unidentified white man approached, asking what they were doing in the building and which unit Okafor lived in.
While his friend filmed the encounter, Okafor told the man nicknamed "Hallway Harry" he had lived in the building for over a year. The man responded:
"I've never seen you before. I've lived here 27 years."
Okafor, who maintained his composure during the exchange, posted the following to Twitter.
He also added the video.
Apparently, the man wasn't done patrolling the halls. A woman named Janah Reynolds had a run in with the same man, who refused to allow her into the building.
Reynolds commented on Okafor's Facebook post:

Facebook/Janah Reynolds
Reynolds, who is white, explained that the man had an issue with them temporarily renting a unit through Airbnb. After calling the police numerous time and waiting for over an hour to no avail, the man eventually let them in.
Many folks on Twitter felt the man was out of line for policing the building.
Some were calling for the man to be outed on social media.
Okafor, who sublets the apartment, told the New York Times what he found most upsetting:

"I felt insulted. I felt violated. To me, his behavior suggested that, one, because we were people of color we were a threat to their safety, and, two, because we are people of color we can't afford to live in that type of apartment complex. It's the Upper East Side. It's considered to be one of the wealthy parts of Manhattan. It's a nice apartment."
Some people thought the man wasn't necessarily racist but simply annoying for everyone in the building.
A couple of people even felt he was in the right.

But most people believed they knew the real reason he questioned Okafor.
Has "neighborhood watch" gotten out of control?
Okafor has taken the best approach, saying:
"I'm not going to change how I live my life based on this guy's inappropriate behavior."

He plans to renew his lease for another year.
Keep reading...
Show less
A police department in rural Alabama used their social media account to preach to their followers. People were not happy.
In a now deleted Facebook post from Tuesday, the Opp Police Department went on an all caps shouty rant declaring the crimes being committed in the county were due to the fact that folks have turned away from God and turned to Satan.
The since deleted post read:
THIS PAST SUNDAY, A YOUNG MAN WAS SHOT AND KILLED IN KINSTON. MONDAY NIGHT, A MOTHER WAS SHOT AND KILLED IN NORTHERN COVINGTON COUNTY. THERE HAVE BEEN FIVE MURDERS IN COVINGTON COUNTY IN 2018. THESE MURDERS HAVE BEEN DONE BY OUR YOUNG PEOPLE. THIS IS HAPPENING BECAUSE WE HAVE TURNED AWAY FROM GOD AND EMBRACED SATAN. WE MAY HAVE NOT MEANT TO DO SO BUT, WE HAVE. IT IS TIME TO ASK FOR GOD'S HELP TO STOP THIS. IT IS TIME TO BE PARENTS AND RAISE OUR CHILDREN, NOT HAVE THEM RAISE US. IT IS TIME TO FULLY SUPPORT LAW ENFORCEMENT AND STAND BY THE OFFICERS AND DEPUTIES THAT ARE FAR TOO OFTEN HAVING TO WALK INTO THESE DANGEROUS SITUATIONS AND CLEAN UP THE MESS. FRIENDS, IT IS TIME TO STAND UP AND BE RESPONSIBLE, GROWN UP LEADERS IN OUR COMMUNITY. BOTTOM LINE, THERE ARE SHEEP; THERE ARE WOLVES AND THERE ARE SHEEP DOGS. WHICH GROUP DO YOU BELONG TO ?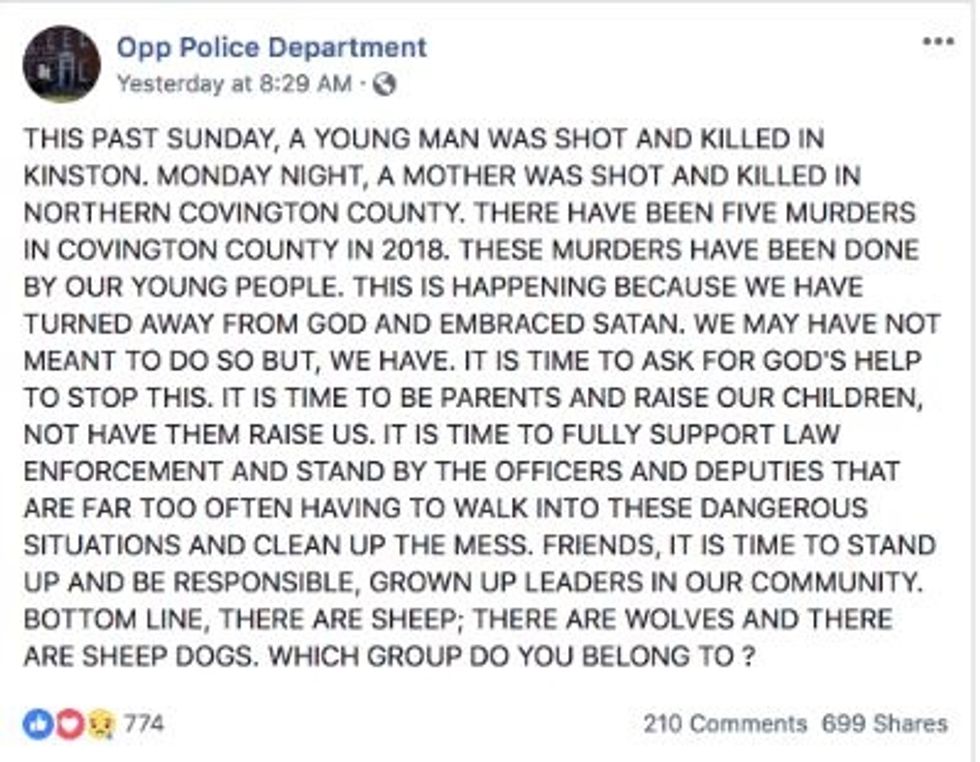 Facebook Opp Police Department
The non-profit organization Freedom From Religion Foundation spoke out against the post saying:
"It is highly illegal for a government entity, such as a police department, to endorse or deride religious belief. The Opp Police Department's post does both, urging readers to "ask for God's help" while blaming those who have "turned away from God" and "embraced Satan" for a rise in violent crime."
FFRF Co-President Annie Laurie Gaylor adds:
"This inappropriate post sends a chilling message to non-Christians and non-believers that they are presumed guilty."
Folks are speaking out against the post.
@FFRF All caps says it all, lol.

— Daniel DeSpain (@Daniel DeSpain)1545333762.0
@FFRF Unbelievable They are still in the middle ages. When will they try to burn a witch?

— Gwen (@Gwen)1545318911.0
@FFRF @MrAtheistPants Someone tell grandpa to get off the Facebook with his all caps using ass

— Who's Your Gaddy? (@Who's Your Gaddy?)1545385646.0
@aldotcom That's just stupid its happening because we failed our youth

— Douglas Speegle (@Douglas Speegle)1545406148.0
@aldotcom We have more churches here in Alabama than anywhere I have been. Blaming crime on Satan and not enough Go… https://t.co/PZJKWiX6Xt

— Liz Lewis (@Liz Lewis)1545410264.0
embarrassingly #christian in their bigotry and lack of knowledge, the Opp, Alabama police department blames Satan f… https://t.co/dT0kNeM6F6

— devils advocate (@devils advocate)1545419728.0
Someone may need a time out.

The person who runs the official Facebook page for the Opp, Alabama Police Department needs take a refresher course… https://t.co/c8OR5BCKwD

— TST-Arizona (@TST-Arizona)1545404883.0
The OPP police department in Alabama said that crime was up b/c "we have turned away from God and embraced Satan" T… https://t.co/bxljm1VYlM

— Keith (@Keith)1545353031.0
@AlBoeNEWS https://t.co/sj27hfUB2I

— Meatblanket (@Meatblanket)1545339196.0
@NewsBreaking Reliable witness ready to testify https://t.co/e72EEQ6sIP

— Johann (@Johann)1545363437.0
Very special indeed!
Keep reading...
Show less