Last year, a poll of 7,000 LGBTQ tech employees in Silicon Valley asked if they'd experienced homophobic harassment at work. 40% said yes.
But while that number is disheartening, the report made no mention of what the makeup of that percentile was.
Leanne Pittsford has an idea on how to address that.
After getting her master's in equity and social justice, Pittsford wanted to continue her work in LGBTQ activism. She began that work with Equality California. While there, she helped overturn the same-sex marriage ban in California but saw the win as bittersweet:
"I was managing the data in the campaign. I had a front-row to the sexism and the inequality that was even happening in the LGBTQ space everywhere I went. I worked in the Castro every day and I saw very few women. We did events and we tried to get women to be a part of the campaign. And not to say there weren't some incredible women, but every time you'd go to an event, every time we hosted our event, it would be somewhere between 80 and 90% male."
The LGBTQ tech industry's preferential treatment of gay men motivated Pittsford to organize. She founded Lesbians Who Tech, "a community of LGBTQ women, nonbinary, and trans individuals in and around tech (and the people who support them)."
"I felt like queer women specifically, and nonbinary folks were missing from the conversation."
A Common Theme
Andrea Breanna—wife, mother, and transgender lesbian—feels the same way.
Breanna is the founder and CEO of RebelMouse, "a creative agency with the best [content management system] in the world." RebelMouse arms its users with the tools it takes to grow and publicize online content.
"We're really excited about how we help media companies and brands that are genuine about their content really grow organic reach," Breanna says of her system.
Genuineness is the lynchpin of Breanna and RebelMouse's success story.
In 2017, Breanna began coming out as trans to her family and, a year later, her employees and clients.
"It's really hard to do," Breanna says. "But it's been really beautiful. I've thought about trying to understand how I could be helpful [for] people who want to come out and how it could go well."
She decided the best way was by setting an example in being her authentic self.
"Trans people need hope right now more than ever. They need to know that they can be successful if they're very good at their job. They need to know that people will follow a trans leader, sign deals with them, and allow them to grow their businesses," Breanna says.
A Common Hope
Pittsford agrees. And both see hope in numbers. Lesbians Who Tech now has over 50,000 members and dozens of chapters worldwide. RebelMouse has over 55 employees across 26 countries.
"I'd love to see us get to 100,000 people," Pittsford says. "I'd love to see us have more presence in some of the countries that need us the most. And I'd love to see, you know, more CTOs or CEOs who are LGBTQ women."
Breanna acknowledges her unique story. "I very much hope that the story of RebelMouse will not just be about how we helped the open web build a better product, but also about how we showed a different way to build an organization that cares about itself. What if Google and Facebook realized that three in 50 of its employees were trans?"
We're all still waiting on that answer.
Keep reading...
Show less
On this episode of "Oh Myyy Pod!" podcast, George Takei and co-host Todd Beeton sit down with experts to discuss the rise of "deep fakes" and other forms of manipulated media that further distort the truth to the detriment of democracy.
Listen below to hear PW Singer discuss how a deepfake video convinced a company to transfer $250,000 to a swindler who used voice manipulation software to sound indiscernible from the company's CEO.
And listen to our previous Season 2 episodes below.
On this episode of George Takei's "Oh Myyy Pod!" podcast, host George Takei and co-host Todd Beeton speak with experts on the rise of far right hate groups about how we can combat them online and off.
Listen below and find out how Melissa Ryan and her newsletter, Ctrl Alt Right Delete, are keeping others informed in the fight against far-Right hate groups.
And listen to our previous Season 2 episodes below
Even as the evidence corroborating President Donald Trump's corrupt dealings in Ukraine continues to pile up, it remains a near certainty that the Republican dominated Senate will acquit him at the end of his impeachment trial.
It remains to be seen, however, if at least four Republicans will break with the party and vote to hear additional witnesses.
Now, a speechwriter for former President George W. Bush is predicting what will happen if the Senate vindicates Trump—and it's not pretty.
Michael Gerson wrote in a recent column for The Washington Post:

"The president never views a near-miss as an opportunity for reflection and reformation. He sees it as permission to indulge his every urge, and his most consistent urge has been to seek unfair advantage in the upcoming presidential election. The months between Senate acquittal and the November vote will be fertile ground for further cheating."
Gerson's prediction that Trump will engage in further attempts to meddle with the 2020 election is far from baseless.
The President's now-infamous July 25 call, in which he urged Ukrainian President Volodymyr Zelensky to investigate former Vice President Joe Biden, occurred only one day after Robert Mueller testified before Congress that he didn't have enough evidence to charge Donald Trump for conspiring with Russia to influence the 2016 election.
Democratic House impeachment managers, while making their case to the Senate, have cited this in warning that Trump will continue to corrupt the Democratic process if he's not held accountable, with chief impeachment manager Congressman Adam Schiff (D-CA) saying:
"If we don't stand up to this peril today, we will write the history of our decline with our own hand."
With Republicans standing firm beside Trump, Gerson says in his column that there's only one road to accountability left:
"Trump avoided accountability after the Mueller probe. He is likely to avoid accountability for the Ukraine squeeze. That leaves one last source of accountability — the election in November. This will be a test, not of the Republican Party, but of the republic."
People agree with Gerson that Trump will only get worse if not held accountable.
Impeachment is about whether Trump can cheat again in the 2020 election. A Republican vote to keep him in office in… https://t.co/ebGSm89Aa6

— Joyce Alene (@Joyce Alene) 1579709372.0
Rushing through a sham impeachment trial without witnesses or documents will strengthen Trump's belief in his invul… https://t.co/LRbTDY9l1W

— Steven Beschloss (@Steven Beschloss) 1579578617.0
The GOP is forced into the "so what" argument because Trump won't concede he did anything bad. Because Trump won'… https://t.co/qiIGaRJMG6

— Eric Columbus (@Eric Columbus) 1579278026.0
When you give a corrupt, Pro-Russian President the power to be a Dictator, you must want Russia to hack our electio… https://t.co/MFUb2oOKAR

— Will Clemens (@Will Clemens) 1579891656.0
@kylegriffin1 Trump is corrupt and proud of it.

— Ken Smith (@Ken Smith) 1579707925.0
@washingtonpost The whole world will lose respect for American justice and country as a whole. Trump is being laugh… https://t.co/9Ih1Dckne6

— Lonemeteor (@Lonemeteor) 1579863157.0
Trump then enlists Ukraine to help him look for dirt on a political opponent - to help himself win in 2020. Once… https://t.co/Rj13imvmud

— SensibleThoughts (@SensibleThoughts) 1579837789.0
100% correct and you got caught! You tried to undermine the 2020 election. You ask for foreign interference in the… https://t.co/EybWyxQ9nm

— Tim Holmes (@Tim Holmes) 1579819382.0
A massive voter turnout in 2020 is vital to make Trump a one term President. You can register to vote here.
For further discussion about American democracy and election interference, listen to season two of Oh Myyy Pod.
Keep reading...
Show less
AirPods—Apple's signature wireless headphones—are super convenient.
There are no wires to get tangled, the sound is crystal clear and they feature the sleek, efficient design Apple is famous for.
They're also super expensive and super easy to lose.
New Yorker Ashley Mayer learned that the hard way when one of her AirPods fell onto the treacherous Manhattan subway tracks.
What followed was a saga for the ages.
The AirPod fell out of my ear several feet away from the edge of the subway platform, but I've never seen anything… https://t.co/V5eRKjmeYG

— Ashley Mayer (@Ashley Mayer) 1562715222.0
While I'm understandably shattered, I'm proud of myself for: 1) Not lunging after it and becoming the first ever A… https://t.co/zLPzdordiP

— Ashley Mayer (@Ashley Mayer) 1562716305.0
Ashley thought all hope was lost, but the AirPod was in the same spot the next day.
Omg you guys he's still down there 💔 (I had asked to have him rescued yesterday but it was going to take two hours… https://t.co/TMbBveVJbI

— Ashley Mayer (@Ashley Mayer) 1562802720.0
Jumping onto the tracks wasn't an option.
I think I need to rescue him 🤔 (Don't worry I won't jump down there.)

— Ashley Mayer (@Ashley Mayer) 1562802809.0
So Mayer got resourceful.
Game on. (The romaine is for dinner, not rescue.) https://t.co/3iqDCT7UFQ

— Ashley Mayer (@Ashley Mayer) 1562803232.0
The mission was on, with only a few hiccups.
Unintended suspense because the platform is super crowded and I need to wait for the incoming train to pass. 🙈

— Ashley Mayer (@Ashley Mayer) 1562804071.0
Security guard seems suspicious of my broom 👀

— Ashley Mayer (@Ashley Mayer) 1562804383.0
Though the feat occurred off-camera, Mayer put a wad of duct tape at the end of the broom to retrieve the treasured AirPod.

It worked!
He's filthy but he's mine (again)! 🏆 https://t.co/RXGuzTBGke

— Ashley Mayer (@Ashley Mayer) 1562804596.0
And though some were divided on whether she should put the subway AirPod back in her ear, she couldn't let her efforts be in vain.
I dedicate this selfie to the germaphobes. (You may be onto something, guess we'll see!) Verdict: he's working wo… https://t.co/yjhVB5qsZA

— Ashley Mayer (@Ashley Mayer) 1562810016.0
Soon, Twitter showered her with congratulations.
@ashleymayer she did what she had to do and I stan https://t.co/A7Sx8sNDvE

— brown curly girl (@brown curly girl) 1562810278.0
@ashleymayer Ashley, you just won Twitter today. Congrats, on being the MacGyver of AirPod rescuing

— Indy Sen 🏃🏾 (@Indy Sen 🏃🏾) 1562813297.0
@ashleymayer You'll die from some kind of exotic ear disease but we (us internet strangers) were entertained, so totally worth it.

— random_me (@random_me) 1562811759.0
@ashleymayer This is a profile in courage

— BPLewis (@BPLewis) 1562805536.0
@ashleymayer https://t.co/VzAI14RCoq

— 🎬 Jeremiah Warren 📷 (@🎬 Jeremiah Warren 📷) 1562804658.0
Happy listening, Ashley. You deserve it.
You can avoid a similar fate with your AirPods with this accessory pack for under $9! Including clips, ear hooks and tethers for your AirPods, the 12 piece set is available in 4 fashion colors here.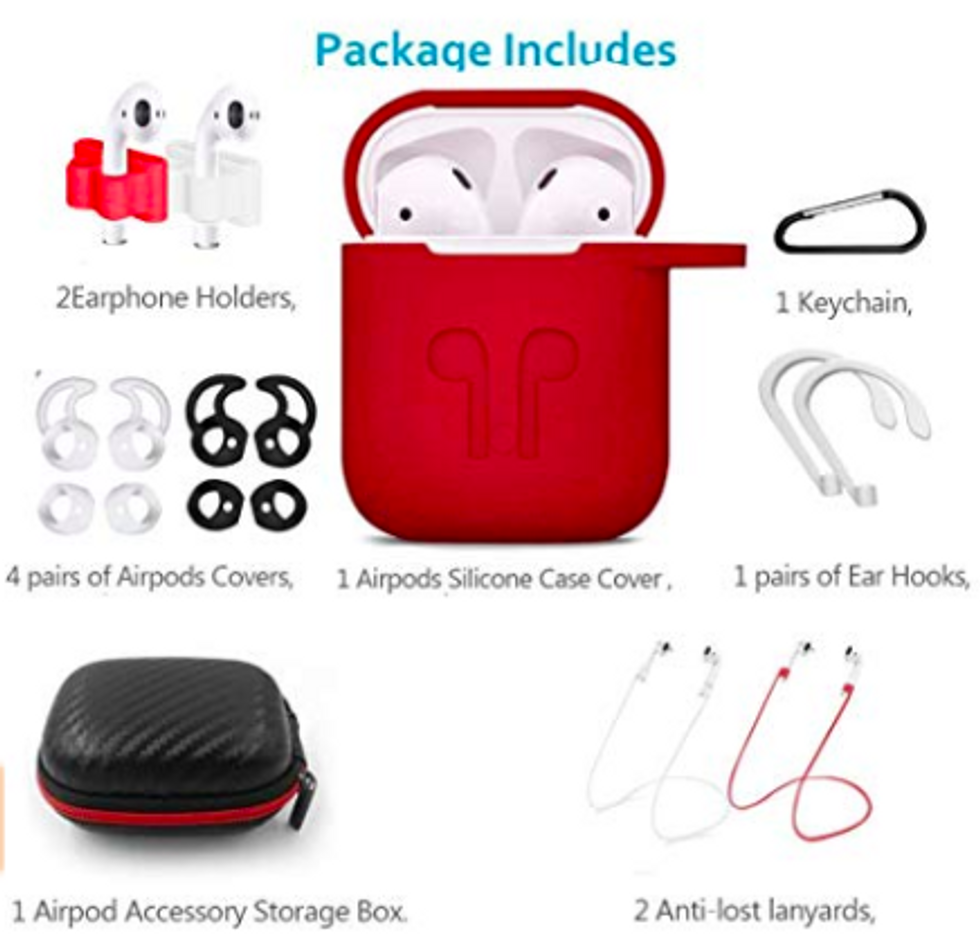 Amazon
Keep reading...
Show less