Frank Baez was only a teenager when he began cleaning rooms at New York University's Langone Tisch Hospital.
But after 14 years of hard work and dedication, Baez is now returning as a registered nurse.
At the age of 15 Frank Baez and his mother moved from the Dominican Republic to build a life in New York City. But it would be an uphill climb starting out for Frank who found work as a janitor at NYU's Tisch Hospital.
"I could barely speak English at the time when I started working at NYU," said Baez, though obstacles were no match for his determination.
Baez, 29 began working in housekeeping at the hospital—cleaning bathrooms, patient rooms and hallways
Frank developed an interest in the medical field and applied for a position as a patient transporter where he would chat with patients as he ferried them throughout the hospital.
Eventually Baez left NYU to finish his bachelor's degree at Hunter College. Frank always knew though that one day he wanted to return to NYU.
On Monday, Frank's wish came true.
Frank Baez was a teenager when he started working as a janitor at New York University's Langone's Tisch Hospital, c… https://t.co/U3gnAc3IaF

— ABC News (@ABC News)1558530121.0
According to Baez while he was still at NYU he was inspired by the nurses he worked alongside.

"I realized I wanted to be one of them," Baez said. "I learned how much they advocate for their patients and the passion they have for their job."
The nurses encouraged Frank to apply to the NYU Rory Meyers College of Nursing where Baez joined an accelerated program that earned him his nursing degree in just 15 months.
Soon enough Baez was graduating from the University where he had originally began working as a janitor over 14 years ago.
"I was never an A student," Baez said. "I just studied a lot and worked a lot"
In the end all of that hard work paid off.
"Frank didn't just kind of make the program, barely getting through. He flew through it with flying colors," said Natalya Pasklinsky, director of simulation learning at the college of nursing.
Baez graduated the program with a 3.6 GPA and in Pasklinsky's opinion is going to make an excellent nurse.
"The way he interacted with patients, to me showed a lot of compassion," Pasklinsky said. "In my mind, he's a star. I think he's going to be a fantastic nurse."
As far as feel good stories go it is hard to top Baez's inspiring tale of hard work and determination.
@ABC Wonderful! Finally...a feel good story of hope & determination!!

— Lisa (@Lisa)1558534154.0
@ABC I just can't "Like" this enough! Congratulations and on behalf of the patients and families who you will treat Thank you!

— Robert Blankenship (@Robert Blankenship)1558537610.0
@ABC He's done well. Massive congratulations to him for his tenacity and perseverance.

— Dominic Kwaku Obeng (@Dominic Kwaku Obeng)1558530843.0
@ABC This is some "Good Will Hunting" type stuff. Congratulations!

— gtz2bswt (@gtz2bswt)1558538387.0
@ABC Congrats 🎉🎊🎈! Welcome to the world of Nursing. Good luck on your career and I'm sure future education.

— judymccabe (@judymccabe)1558545700.0
@ABC @kmazza_RN https://t.co/FYZLsKF9tf

— Frank Cacace MD FACP (@Frank Cacace MD FACP)1558581661.0
@ABC From one nurse to another"congratulations, we need you!

— Valerie Susan (@Valerie Susan)1558611628.0
Baez's story is an incredible example of what people can accomplish when they put their minds to it.
And for those working hard towards their own goals Baez shared some simple advice.
"What I did was, I never gave up."
Keep reading...
Show less
Since the release of Captain Marvel LGBTQ fans have been excitedly speculating about Carol Danvers' sexuality and the possibility of the MCU's first queer superhero.
Now the film's directors are finally responding to fan's, but many aren't too happy with the answer.
Imagining the wider lives of our favorite characters outside their stories has been a part of fandom since the first "and they lived happily ever after."
But sometimes leaving it up to the fans' imaginations can seem like little more than a creative cop-out that leaves fans feeling let down.
In the case of Carol Danvers, aka Captain Marvel, speculation has been running wild about the character's sexuality, but despite frequent teases about the nature of her relationship with her female BFF the film never gave fans a definitive answer.
After weeks of speculation though the film's directors Anna Boden and Ryan Fleck have finally opened up and given fans the answer they've been asking for.
#CaptainMarvel certainly has the haircut for it. https://t.co/2triklsAdI

— PRIDE (@PRIDE)1558702800.0
After 22 films fans of the Marvel Cinematic Universe were finally able to celebrate the first openly gay character to appear in the franchise with Avengers: Endgame.
Although the non-hero character who appeared briefly in the film may have felt like a small consolation prize for those hoping for wider inclusion and representation from the MCU.
But the story of Marvel's newest blockbuster Avenger, Captain Marvel, teased fans with the possibility of the franchise's first queer superhero
Throughout the film Carol Danvers, played by Brie Larson, shares a number of "tension" filled moments with her best friend Maria Rambeau (Lashana Lynch) which was enough to get fans wondering about the relationship between the two characters.
And actress Brie Larson added fuel to fire of speculation when she retweeted fanart shipping her character with Tess Thompson's Asgardian warrior character Valykrie from Thor: Ragnarok and Avengers: Endgame.
We cute @TessaThompson_x https://t.co/7358yhTQlA

— Brie Larson (@Brie Larson)1552924774.0
And if all the hints and knowing looks weren't enough to convince fans Danvers' haircut was once piece of evidence that couldn't be denied.
I know for a fact that Captain Marvel is gonna be gay. I got that same haircut when I was figuring things out too d… https://t.co/ThalJfbIOS

— nicoolio (@nicoolio)1557878287.0
if they dont make captain marvel a lesbian after giving her THAT haircut....

— fake sasuke (@fake sasuke)1558673086.0
Captain marvel is a lesbian. You will not change my mind. Her haircut spoke for her, I would know.

— Pebble (@Pebble)1558597454.0
Captain Marvel's lesbian hair is stronger than Thanos. https://t.co/ptIN7LIoGg

— Tammie Brown (@Tammie Brown)1558609909.0
Hey if any of y'all forgot you were gay here's your reminder. (Feat. #YangXiaoLong and Carol/ #CaptainMarvel ) 💕 https://t.co/4BkDCtC9T7

— Amy (DragonLink) (@Amy (DragonLink))1558732477.0
Despite all the speculation though the film's directors, Anna Boden and Ryan Fleck, have been reluctant to give fans a definitive answer about the character's sexuality until now.
In an interview with ComicBookMovie.com the pair were finally put to the question and asked to settle what the movie left open about the hinted romance between Carol and Maria.
Fleck explained:
"That was one of those things when we were in the writing stage, and the sky was the limit and the movie could be anything, we were discussing: 'Are we going to get into any type of romantic relationship with this character?'"
"It wasn't like there was a philosophical opposition to pursuing that storyline; it just came down to real estate in the story we were telling. We knew we were telling a story of self discovery and we wanted friendship, and her friendship with Maria, to be a huge part of that."
According to Fleck though leaving things open about the relationship between the two characters was the best way to give all fans what they want.
"There was no room for any romantic storyline for us. I know people have made their own conclusions about that and I think that's part of the fun of making these movies is that they become the audience's movies and they get to create any kind of narrative they want for what's happening off the screen. For us, as storytellers, it's a friendship and a story about that and self discovery."
So in the end all that hopeful fans were left with was another non-answer "answer".
And in the push to achieve more representation in the MCU it's no wonder why many are feeling less than convinced by the choice to keep Captain Marvel's sexuality and open question for now
@gaytimesmag But somehow they can always find room for straight love interest, no matter how much it slows down the pacing of a movie.

— Ebrahim Allie 🇿🇦🏳️‍🌈 (@Ebrahim Allie 🇿🇦🏳️‍🌈)1558613185.0
Captain Marvel is set for home release on June 11 and can be preordered here.
Keep reading...
Show less
Amy Schumer can't ever catch a break from her numerous haters, but fortunately the raunchy comedian can always give as good as she gets.
Over the last nine month,s Amy Schumer has been giving followers a candid inside look at the heartwarming and often hilarious joys and discomforts of pregnancy.
From her one of a kind maternity photos to some truly worrying health scares, the brutally honest comedian held nothing back.
And finally, just two weeks ago, Schumer and husband Chris Fischer finally welcomed their beautiful baby boy Gene into the world.
The journey to motherhood had been pretty tough for Schumer who suffered from a condition known as hyperemesis which made her violently nauseous throughout her entire pregnancy.
At the end of it all though, Schumer shared an inspiring post saying it had all been worth it.

After such a challenging pregnancy, one might assume Schumer would take some much deserved time to recuperate.
But just two weeks later, the warrior mom was back out doing what she does best: making us all laugh.
This week Schumer shared an image of her first night back on stage post-baby with her followers on Instagram, announcing in the caption, "I'm back!"

amyschumer/Instagram
Supportive fans were astonished with how quickly Schumer made it back on stage.

therealaliwentworth/Instagram

robinfitz/Instagram

profemilyoster/Instagram

felicityward/Instagram
But of course haters were also there to mom-shame and call Schumer out for everything from her privilege to leaving her new baby too soon.

Ipearstrom/Instagram

tsegui1/Instagram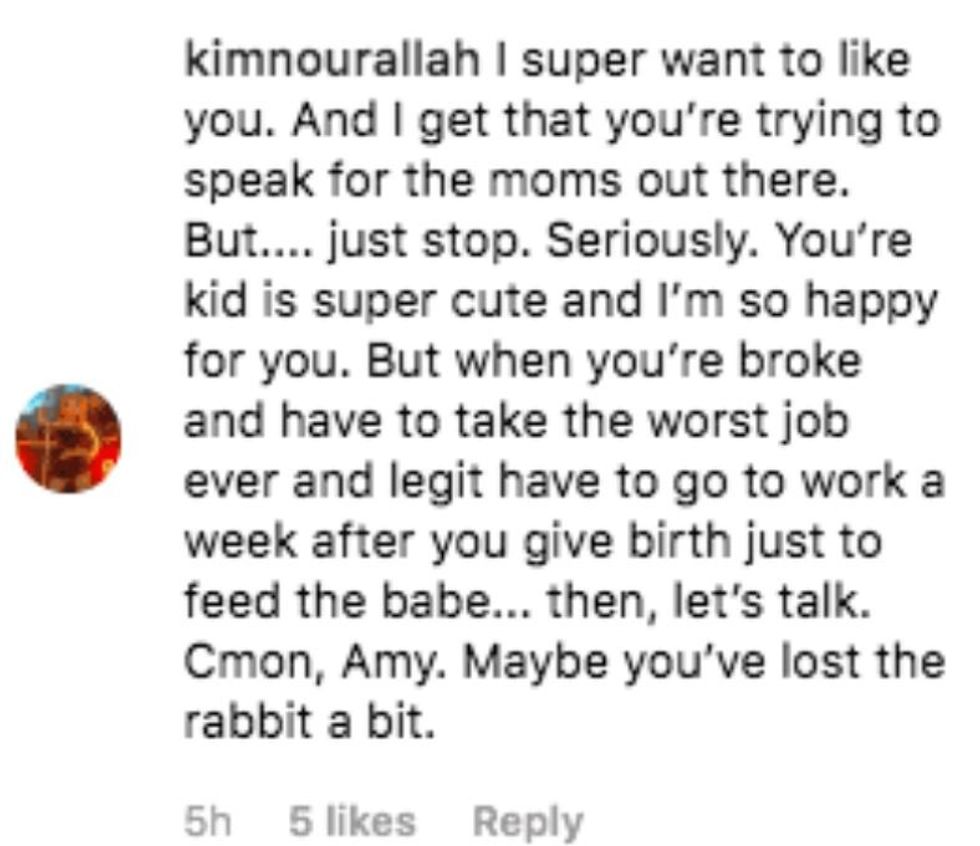 kimnourallah/Instagram

tcjackson2015/Instagram
In true Schumer fashion though Amy had a shout-out to all her haters up on Instagram the next day.
The candid post featured Schumer using her breast pump with a special message for all her mom-shaming critics out there.


amyschumer/Instagram
It was pure classic Schumer, and fans were of course there to cheer on the unstoppable new mom.

therealdebramessing/Instagram

j__vedder

melissamolinaro/Instagram

francesfischer/Instagram
It seems like nothing can stop Amy Schumer which is probably why we love her.
Now we're just dying to hear Schumer's hilarious take on parenthood in a few months.
Keep reading...
Show less
In April 1999, Austin Eubanks survived the mass shooting at Columbine High School, but the effects of the tragedy never left him. Now Eubanks' death is shinning a light on the pain shared by many survivors.
Eubanks, 37, was found dead early Saturday morning at his Steamboat Springs home in Colorado.
Routt County Coroner Robert Ryg has yet to determine the cause of death, but stated there were no signs of foul play.
During the 1999 shooting, Eubanks was shot twice, once in the hand and once in the knee. He was later prescribed opioids to manage the physical pain, but for Eubanks the drugs became a way to escape the emotional pain of the tragedy that took the life his best friend Corey DePooter and 12 others.
By the time his prescription ran out Eubanks was already addicted.
It was seven years before Eubanks admitted he had an addiction and began seeking help.
Columbine survivor Austin Eubanks, 37, dies at Steamboat Springs home www.youtube.com
After overcoming his own addiction Eubanks dedicated himself to helping others living with pain and addiction.
Unfortunately the one person Austin could not save may have been himself.
The world lost an incredible human this weekend. And I lost a dear friend. God bless you, Austin Eubanks. I will… https://t.co/fOLd4BvFZn

— Ryan Hampton (@Ryan Hampton)1558261251.0
@RyanForRecovery @mandystadt @eubanksaustin Austin Eubanks didn't ask for the hand that was dealt him, but he did t… https://t.co/diScCw5rj5

— Jess Clackum (@Jess Clackum)1558299847.0
@RyanForRecovery @eubanksaustin I am sorry for your loss. He was an inspiration to me, having survived my own traum… https://t.co/po9f5RA0G0

— Heather Callahan (@Heather Callahan)1558287135.0
If ruled a suicide Eubanks' death will add to a growing list of survivor deaths.

In the months following the Columbine attack a mother and a student both took their own lives. Recently there have been even more instances of survivor suicide, including Jeremy Richman, the father of a Sandy Hook shooting victim, and two Parkland students.
"We've lost so many people along the way: that isolation, that grief, that anger manifests in the worst possible ways," said Columbine survivor Zach Cartaya."
It's awful, it's devastating, but unfortunately it's not shocking."
Sadly Eubanks' death highlights that many mass shootings are still claiming victims years after they occurred. It's another tragic reason many are renewing the call to finely do something about gun violence.
We don't always get an accurate casualty figure in the immediate aftermath. Trauma is a patient predator. Sometimes… https://t.co/srgCQEofRi

— Laura Parrott Perry (@Laura Parrott Perry)1558262050.0
@lparrottperry Trauma is a patient predator. Well said.

— G's World (@G's World)1558290206.0
This is what senseless violence does. Even long after the initial act, it leaves scars for years to come, and takes… https://t.co/15Ijo3QL96

— Rexavia Stewart (@Rexavia Stewart)1558259851.0
Keep reading...
Show less
The internet was saddened to hear of the death of viral sensation Grumpy Cat on Friday, but in her passing fans are remembering the permanently frowning feline who brought smiles to millions across the world.
The beloved internet star Grumpy Cat is dead.
Her family knew her as Tardar Sauce, but in 2012 the crabby kitty took the internet by storm and became known worldwide as Grumpy Cat.
On Friday Grumpy Cat's family issued a statement on her official Twitter account informing fans the surly internet darling had passed away peacefully Tuesday morning.
"Despite care from top professionals, as well as from her very loving family, Grumpy encountered complications from a recent urinary tract infection, that unfortunately became too tough for her to overcome," the statement read. "She passed away peacefully on the morning of Tuesday 14, in the arms of her mommy, Tabatha."
"Besides being our baby and a cherished member of the family, Grumpy Cat has helped millions of people smile all around the world – even when times were tough," the family added. "Her spirit will continue to live on through her fans everywhere."

Back in 2012 Grumpy Cat rose to internet fame when her owner Tabatha Bundesen's brother shared a photo of her on Reddit.
Grumpy Cat had been born with a form of dwarfism that caused her adorable perpetual scowl.
After the original post the lovable sourpuss instantly rose to the realms internet stardom and soon became a pop-culture icon.
At the time Bundesen had been working as a waitress at a Red Lobster in Arizona, but days later was able to quit her job and establish Grumpy Cat Limited.
Over her lifetime some figures estimate Grumpy Cat may have raked in close to $100 million through appearances and merchandise bearing her famous frown.
But the internet will always remember Grumpy Cat for being the grouchy kitty who brought a smile to millions around the world.
Fans across the internet were hit pretty hard by the news of Grumpy Cat's death.
@TESOnline @RealGrumpyCat https://t.co/bxXEV6pec1

— Zouk ! (@Zouk !)1558106552.0
@AnisaJomha @RealGrumpyCat https://t.co/OwjFbIVkNg

— Catziilla 🦇 (@Catziilla 🦇)1558108239.0
@RealGrumpyCat https://t.co/mir2HGYjRf

— Astro (@Astro)1558126513.0
@RealGrumpyCat You brought so much joy into so many lives... rest in peace Grumpy Cat.

— That's Ms. Hath No Fury to you, thanks (@That's Ms. Hath No Fury to you, thanks)1558085310.0
@RealGrumpyCat https://t.co/QlP8N2iKmQ

— cast☆r (@cast☆r)1558125677.0
But many choose to remember Grumpy Cat as they knew her, the face that launched a million memes.
@nowthisnews Too soon.. RIP you adorable grumpy fluff ball.. https://t.co/uynUfafDQJ

— CD (@CD)1558117477.0
I was sad to hear the passing of #GrumpyCat, so to pay my respects, here are my 2 most faves from her... #RIPGrumpy https://t.co/UKsGBhHZPx

— Tina 🍿🍌 Bobina (@Tina 🍿🍌 Bobina)1558149547.0
@nowthisnews What do we say to the god of death? https://t.co/SF8lLUGBNu

— ᔕ£Ⓘn̴̢̯͕͓̉̀̈́͂̈́̌̆͆ͅ𝔾𝓉𝔴i̷ ᖶ (@ᔕ£Ⓘn̴̢̯͕͓̉̀̈́͂̈́̌̆͆ͅ𝔾𝓉𝔴i̷ ᖶ)1558129548.0
RIP Grumpy Cat. https://t.co/0l33Qfd1tJ

— Terri Irwin (@Terri Irwin)1558146005.0
Finally fans said farewell, comforted by the thought that Grumpy Cat was in a better place and hating every minute of it.
End of an era. Rip #GrumpyCat https://t.co/nobsv2Xxd0

— Mr Puddins 🐐🦁🐉 (@Mr Puddins 🐐🦁🐉)1558136740.0
R.I.P., Grumpy Cat. Say hi to Stan for us. https://t.co/QJ6LxCT6nN

— Suffering Sappho (@Suffering Sappho)1558105442.0
R.I.P. Grumpy Cat 😿#grumpycatRIP https://t.co/W37gFpMua4

— CristalL❤ (@CristalL❤)1558139419.0
All cats go to heaven 😇 Hope you don't hate it too much there, Grumpy Cat. 💔 Rest in Peace, @realgrumpycat. Thank y… https://t.co/vMckByHbx3

— Meowingtons (@Meowingtons)1558126500.0
Keep reading...
Show less