Karl Cruz is an 18-year-old high school student at Sweetwater Union High School in National City, California. She was recently voted homecoming queen by her classmates. When she won the honor she couldn't stop crying, and there's a really great reason why.
---
By being named this year's homecoming queen, Cruz made SUHI history.
She holds the honor of being their first-ever transgender homecoming queen.
Karl spoke out about her overwhelming emotions after being announced the winner.
"Everyone started cheering for me. I didn't really expect that from anyone. After the fireworks, I just started crying my eyes out."
She later took to Instagram to share her thanks for the overwhelming support she has received.

SUHI's principal, Maribel Gavin, also spoke out about how proud she was for her students to make such a gesture of inclusion and acceptance.
"I was extremely proud. I can't say I was surprised. Every single student should be accepted for who they are. They're all wonderful human beings that are here to learn."
Karl also told ABC News 10 that she knows not everyone accepts her for who she is.
"Every opinion is valid, but some opinions can be really harsh. So I would just say to keep it to yourself. If you have nothing nice to say, then don't say it at all."
Watch ABC News 10's full report here.

People from National City and far beyond have nothing more to say to Cruz other than, "yas queen!"
@IndyaMoore Hello gorgeous!! Can we retweet and show some love for my high school alma mater who just named the fir… https://t.co/9VnOnn02bO

— DisneyDoll76 (@DisneyDoll76)1537398029.0
This is what acceptance and equality look like. I'm so proud of the students of #SUHi They elected a transgender ho… https://t.co/W0ncP6UPKD

— Roberto Rodriguez (@Roberto Rodriguez)1537069157.0
What an amazing homecoming for Seeetwater High! Jonathan and Karl are amazing! It warms my heart that kids from SUH… https://t.co/BvAKd1yAAX

— JustATeacher (@JustATeacher)1537026623.0
@JustATeacher2 @SassyNeveragain My old neighborhood! Couldn't be prouder!!!! @SweetwaterHighChula - you rock!!! T… https://t.co/4ZL71FTE07

— Linda Lorraine (@Linda Lorraine)1537034753.0
@Imaginedragons @DanReynolds Welcome to San Diego! Sweetwater High School just elected its first Transgender Homeco… https://t.co/CIOFoYb39j

— The Liberal Diva (@The Liberal Diva)1537060026.0
This is awesome! Sweetwater High, in my district made a little history last night:they elected a transgender homeco… https://t.co/STEUvAwNUO

— Lorena (@Lorena)1537032239.0
Sweetwater High School created HISTORY by voting a queer homecoming king and a trans homecoming queen. Extremely pr… https://t.co/2mNZipnPpU

— AQUEERIUS (@AQUEERIUS)1536984981.0

Instagram

Instagram

Instagram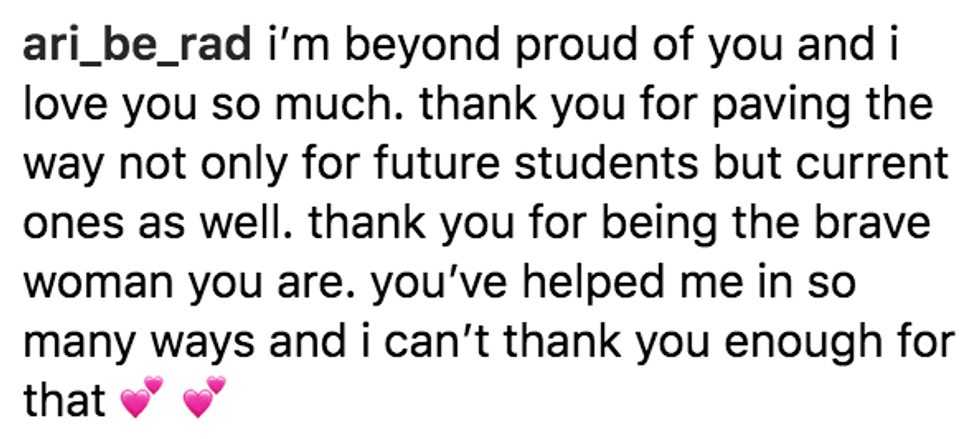 Instagram

Instagram
Sweetwater High's inclusivity wasn't just limited to Karl. Her counterpart of homecoming king went to her openly gay classmate, Jonathan. He, too, posted on Instagram to express his gratitude for such an accepting student body.
H/T: Instagram, Pink News, San Diego Gay & Lesbian News, YouTube