Here's a wild fact that might blow your mind: being a superhero isn't quite as glamorous behind the scenes as it is on camera.
For some Avengers, like Tom Holland, even taking a quick swig of water can be an awkward ordeal.
---
Fans always take a special interest in the behind-the-scenes lives of the Marvel heroes.
But it's not all fun brunches and hang-time!
During a press interview with the stars of the upcoming Spider-Man: Far From Home, Tom Holland (Spidey himself!) revealed the web-slinger's true nemesis: hydration.
'Spider Man Far From Home' Zendaya, Tom Holland and Jacob Batalon Full Interview youtu.be
With his costume obviously blocking his mouth during filming, it turns out that Holland has to get water by removing one of his eye-pieces and sipping through a tube that runs through his mask.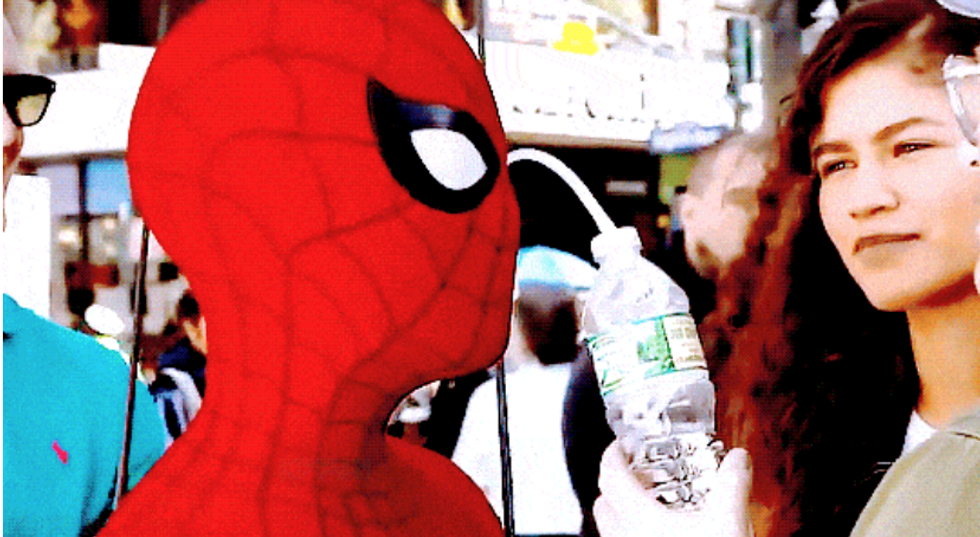 Sony/Entertainment Tonight
There's always a trade-off when you get superpowers...
@ThatEricAlper The spider bite had more side effects than we thought

— JeoMona✍(Commissions Open🔆) (@JeoMona✍(Commissions Open🔆))1561590612.0
@ThatEricAlper He has to hang upside down to kiss a girl.

— Craig Hall (@Craig Hall)1561586955.0
Naturally, Holland's revelation made front page news worldwide.
thanks google, i love staying updated on how tom holland drinks water! https://t.co/5hZccrIZFI

— johnny (@johnny)1561589193.0
The fact that Holland has to get his water through an elaborate apparatus gave everyone who saw it a case of the giggles.
Everytime they cut to @TomHolland1996. The only man I could watch drink water on a loop 😂 #SpiderManFarFromHome

— Holly (@Holly)1561601321.0
the content i never knew i needed https://t.co/O8agVAQkjx

— j🦋 (@j🦋)1561594601.0
BREAKING NEWS: Innovator @TomHolland1996 Learns to Drink Water From His Left Eye https://t.co/C55PTNNqzN

— lauren ✈️ TIME OUT (@lauren ✈️ TIME OUT)1561571905.0
Perhaps Spider-Man will wrestle with his ability to drink in his movie.
@people The cost of being iconic 🤷‍♀️ https://t.co/Bd2OwBMjoy

— Nakita Dozier (@Nakita Dozier)1561610658.0
If only Spider-Man's drinking method was the only eye-related headline inspired by the press for Far From Home!
It seems one of the designers for the movie's posters couldn't be bothered to remember which eye Nick Fury's patch is on.
Samuel L. Jackson furious over Nick Fury's eyepatch on right eye https://t.co/KyvwKDA30A #SpiderManFarFromHome https://t.co/vQENB5Tz6f

— Straits Times Life (@Straits Times Life)1561459495.0
Check out Spider-Man: Far From Home when it hits theaters on July 2!
Hopefully, Tom Holland is looking as quenched as ever thanks to the behind-the-scenes efforts of the entire Marvel team.
SPIDER-MAN: FAR FROM HOME - Official Trailer youtu.be