Just when you thought things couldn't get more emotional after the tearful goodbye between Andy and his outgrown toys in Toy Story 3, Tim Allen hinted that the next installment in the popular Disney-Pixar franchise will be even more of a tearjerker.
---
Allen, who's taken us to infinity and beyond with his memorable vocal performance as Buzz Lightyear in a franchise spanning more than two decades, didn't provide the panel of The Talk with any spoilers from the upcoming movie, so don't worry.

But he did tell co-host Sara Gilbert how emotional the experience of being back in the recording booth was.

Yes, I gotta resist getting emotional. I don't want to give it away, but this is an incredibly great story.
It is so emotional, it's so funny, it's so big, the idea they've come up with, I'm startled.
I couldn't even get through the last scene. I would love to be a Washington leaker.
The parting scene in the previous Toy Story film made grown men cry in theaters.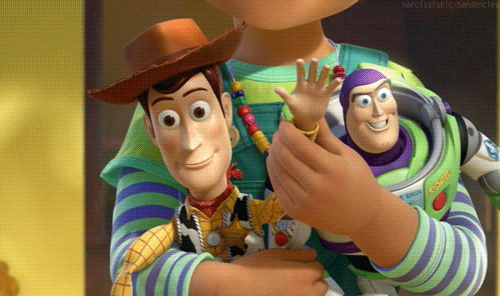 media0.giphy.com
@people Great. Toy story 3 made me ugly cry when Andy went to college.

— KB (@KB)1538048019.0
@people The best pixar film of all time

— Jose Perez (@Jose Perez)1538028069.0
But, according to the 65-year-old actor, there's more of that to come.

3 I thought was amazing. This one, I couldn't even get through the last scene, OK?

I just can't do it. I can't give any more away. They've got great characters but a couple of scenes toward the end were really hard to get through.
Toy Story 4 Ending Is Very Emotional, Says Tim Allen - https://t.co/pT2MJRunBQ https://t.co/lXw0Iu7nGZ

— Screen Rant (@Screen Rant)1538091308.0
Comicbook.com suggested Allen may have hinted at the high stakes from the film's fourth installment by comparing it to Avengers: Infinity War.

If you're at all a big superhero fan, Infinity War - I'm a big superhero fan - that didn't seem like it was going to work [but[ it was a lot of vignettes that all made sense.
@ComicBook Partner, I don't feel so good.... https://t.co/JZy2fFCTb6

— Grayson Nomad (@Grayson Nomad)1538075173.0
@ComicBook They all are gonna fade away OMG

— Edson Santana (@Edson Santana)1538074132.0
Allen added:

This Toy Story 4 [did that]. We've only been through it once, there will be several more incantations, but it is so emotional, it's so funny, it's so big the idea that they've come up with. I'm startled.
@people OMG.....I was wondering if there was another sequel to Toy Story and by golly there is......Tim, just so yo… https://t.co/eYY8576gV3

— Gayle Holmes (@Gayle Holmes)1538053526.0
Produced by Pixar Animation Studios, Toy Story 4 will be released by Walt Disney Pictures.

Tom Hanks, Tim Allen, Annie Potts, and Laurie Metcalf are returning to reprise their roles as Sheriff Woody, Buzz Lightyear, Bo Peep, and Andy's mom.
@people Anticipating millions of tears, with one of the most anticipated films 💔

— ~Joha (@~Joha)1538022027.0
@people Nooo I ugly cried watching Toy story 3 not sure I can take it 😭

— Natalie (@Natalie)1538068843.0
@people Dam it! The third one was hard AF and this one is harder ughhh 😭😭😭

— Arianna (@Arianna)1538069950.0
@people I'm just starting to be able to get through the ending of 3 without tears. This doesn't bode well for me. 😩

— Tracey Gossiaux (@Tracey Gossiaux)1538023961.0
The film is slated for a June 21, 2019, release, and it sounds like a box of tissues will be in order.