This Is What Your Zodiac Sign Says About You As A Family Member.
---
Thanks to Isabella L. at darkastrology for breaking down the zodiac for us.
Check out her site for more awesome content.
Aries
is the baby of the family. They cant stop screaming, cant stop crying, and they never sleep. When theyre upset, everyone must be upset too. Nevertheless theyre very charming and always get their way with people.
Taurus
is your aunt in her mid-thirties with no kids. She has flings sometimes, but she prefers the lack of emotional attachment. She looks like shes still in her twenties and works from home since cooking and gardening are her true loves.

Gemini
is your seven year old nephew. He comes home from school and hes so excited to share his newfound knowledge with his family. He wears glasses and has a chipped tooth, because hes always pulling dumb stunts. He gets straight As on his report card, but his teacher always complains about him talking too much.

Cancer
is the newly-wed, pregnant mom. Shes hormonal, shes flushed, and shes stressed, but shes so full of life. Shes got a lot going on and she manages to keep it together. She loves children and baking, and she gives the best advice.


Leo
is your 14-year old cousin. Hes caught between worlds. On one side hes selfish and arrogant and a brat, and on the other hes kind and protective. He wears a mask of confidence while the world beneath him is changing.
Virgo
is the tired, single mother of many. Her patience is worn thin and she swears shes cleaned this bathroom more than three times today. Before being wound so tightly, she was a writer living a fantasy life, but she preferred independence.
Libra
is your 19 year old cousin you see at your family reunion and you ask her for makeup advice. Shes nice on the surface but with a biting sarcasm to boot. Shes never dated anyone for very long, she cant seem to make up her mind.

Scorpio
is your 21 year old brother of your cousin. Hes got dark eyes and hes trying to get into med school despite him nearly flunking freshman year. You ask him about his friends, and he says he doesnt have many. Hes too busy chasing down his dreams to try to make up for the past.



Sagittarius
is your family friend that says he hasnt seen you since you were a wee child. Hes brought you some obscure artifact from his latest travels which youre pretty sure he obtained illegally. He later proceeds to get drunk and offer you marijuana.
Capricorn
is your stern grandmother. Shes raised many kids under her iron hand. Shes tough but fair. Shell always have cookies when you come over but shell reprimand you for having too many. When she was younger, she was a successful, self-made businesswoman.
Aquarius
is your 30 year old brother. He never had much motivation, but earns a decent living from being a writer and blogger. Hes the funniest guy in your family, if anyone could ever understand his jokes. He keeps trying to talk to you about how 9/11 was an inside job, and you try to explain memes to him.

Pisces
is your 18 year old sister. She just transferred colleges and decided she needed a change. Shes constantly cutting and dyeing her hair in attempts to find her real self. She drinks tons of tea and is vegan, but youre pretty sure she still eats Chicken Nuggets.
Check out more astrology posts at darkastrology.com
Don't forget to share.
Reddit user SafetySnorkel asked: 'What are some signs you should NOT become a parent?'
Some people are not cut out to be parents. Some are adamant about not having kids.
But when life circumstances change and a baby is all of a sudden presented in front of a skeptic, there could be the possibility of a 180. Did anyone watch Waitress?
Miraculous change of heart aside, there are plenty of people who are just not at all the parenting type and are not cut out to look after the life of an infant to see it through to becoming an adult.

Curious to hear from strangers online, Redditor SafetySnorkel asked:

"What are some signs you should NOT become a parent?"
These are the wrong reasons for people to decided to have kids.
Feeling The Pressure
"If you're doing it just because everyone else is."
– EllsyP0
"On top of that, if your religion really pushes for it, it's okay to say no thanks. Yes, children will bring great joy and blessings into your life, but uh, I like having free time. And if I think I'll be a bad parent, then why chance it?"
– stealth57

The Wrong Backup Plan
"if you do it in the hopes of 'saving' or 'advancing' your relationship, or if you wish to 'compensate' for perceived lack of personal achievements."
– Comprehensive_Day511

It's Teamwork
"Want to exacerbate the bad things in your relationship? Put a baby in the middle of it. If you weren't getting along before, you sure as sh*t aren't going to get a long better on half as much sleep and quadruple the stress."
– SeeYouOn16

Mental and emotional well-being were mentioned as a prerequisite to parenting.
First Things First
"If you can't look after yourself first."
– whetstonereek
"This is the most important one. You will have a hard time caring for someone else if you are struggeling with life yourself."
– MyNameIsMikeAswell

No Regrets
"In my 50s and life has been a roller-coaster. One thing which can cheer me up a bit when I'm at the lows is remembering: At leadt I don't have any kids. They would be messed up and angry and it's likely I'd be facing charges for neglect."
– LanceFree
If your fit the following descriptions, you're definitely not a parent-person.

The Wrong Approach To Raising Kids
"You view your child as a mould in which you can shape, alter, and control, pinning all of your failed aspirations and ambitions on them and forcing them to be something they are not."
"Rather than acknowledging your role as a guide, motivator, and a pillar of support to help them discover and forge their own identity and loving them even more because of it."
– SublimeVibe
Mind Is Made Up
"Not wanting kids."
– W-S_Wannabe
"I'll take it further:"
"If you aren't 100% sure that you want kids, and aren't willing to sacrifice most of your life to do so, even if they end up being special needs or difficult, then you shouldn't have them."
– justwalkingalonghere

Thinking About A Kid's Perspective
"I tell people this all the time. You need to really want to have kids. It's hard to be a good parent even if you want them, if you don't want them it's impossible. It's not fair to the children to bring them into this world without parents that are motivated to parent them."
– Salt_peanuts

This can breed resentment once a child becomes an adult.
A Caution
"If you're thinking of having kids so they can be your retirement plan then please. Don't."
– Pizzawithchickensoup
"Dealing with this right now with my in-laws. Damn glad husband has a spine though, but it's sad to hear the repeating arguments over and over again."
– kindadeadly

Discussing The Future
"Point blank told my dad to pick out his own nursing home and caregiving services when he retired so we would have a plan when he starts eventually declining. 'We are your daughters, not your caretakers.'"
– acc6494
The best barometer I've had indicating that I'm not capable of being a good parent is my gut reaction to kid tantrums in public.
I often see parents being paralyzed when a child is screaming at the top of their tiny lungs and are too afraid to deescalate the distressing situation for fear of being judged by others.
If you spank them, that's abuse. If you yell at them, you're an unfit parent. If you ignore the circumstances hoping the child would calm down on its own, you don't have a backbone and are regarded as a coward.
I've heard all three judgments mumbled by others who are watching. And I would definitely commit one of my reactions to a wailing kid in a grocery store with all eyes on me.
The fact that I'm too concerned about my disciplinary response, or lack thereof, and what people will think of me instead is a good indication that I still make it all about me.
Yeah, I'm not parenting material, and I'm not ashamed to admit it.

Finding the perfect job is a difficult, some might even say impossible task.
So, when people can't find a job that necessarily fills them with joy, they might find one that at least fills their bank account.
Making the fact that they aren't doing the work they dreamed they'd be doing their whole lives forgivable, as they can afford nice clothes and fancy vacations.
However, there are some jobs that some people will simply never do, no matter how much money they are offered.
Redditor syjfwbaobfwl was curious to hear which jobs people would never accept, no matter how high the salary offered was, leading them to ask:
"What is a job you would not do even if you were paid 150k a month?"
Safety First
"That's a hard question."
'Probably something to do with exposure to toxic chemicals in an uncontrolled environment."
"Anything that is an unavoidable and serious detriment to your health."
"Pretty much anything else."
"You could work for a year or two and live off the interest."- ScojuCarter
"Under The Sea..."
'Underwater ocean welding."- theassassintherapist·
How Deep Will You Go... Not Very.

"Underwater/Underground work."
"I could climb a tower for a large enough amount of money, I trust my body and my safety gear."
"But no amount of skill and safety can help me when I'm stuck a mile underwater/undergroud."- Rich-Egg-6130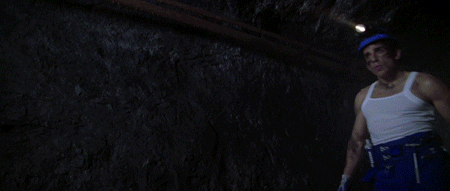 hd quality GIF
Giphy
Less Than Tantalizing Combination...

"Cave diving."
"F*cking nope."- Triairius
Just When You Think You Got It All Out...
"Anything where I get fiberglass on me."
"I've quit several jobs over that."- Much-Audience-5800
Hopefully, No One Else Will Either...
"Mission specialist on Oceangate Titan."- eagles16106
Buzzzzzzzzzz...

"Beekeeper."
"I'm allergic to bees."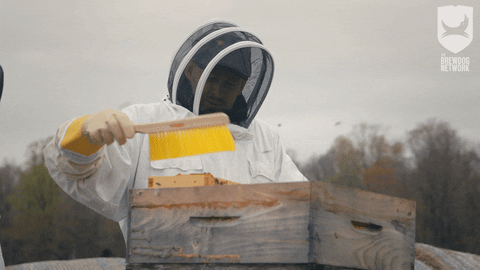 Honey Bees GIF by BrewDog
Giphy
Play That Picky Eater Card...
"Putins food taster."- ckFuNice
It Does Take A Special Kind Of Person
"Surgeon."
"I couldn't handle someone's life or death depending on me not making a mistake."- jwezorek
Maybe Money IS Everything...

"I read all the comments this post has so far and I'd do any of it for 150k a month."
"Idk what I wouldn't do for $1.8M a year."- GamesGunsGreens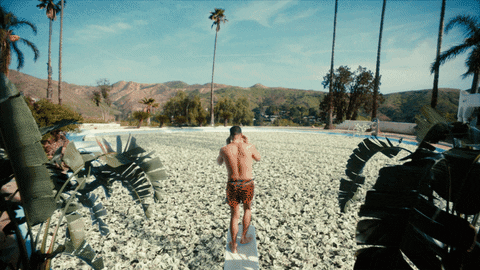 Super League Money GIF by Anderson .Paak
Giphy
Humane, But Heartbreaking

"Whoever's job it is at the animal shelter to put down the dogs."
"No way in hell I could do that for any amount of money."- TheProfessorPoon
Why Is It Always Snakes?
"Finding and removing poisonous snakes from crawlspaces...or anywhere for that matter."
'I know there's a huge Reddit community that loves all snakes, but I'm not one of them."- REUBG58
Some People Prefer Their Feet On The Ground
"One of those crazy jobs where they climb incredibly high to do maintenance."
"Not for $1m/hour."- FatGuyYellingOnARoof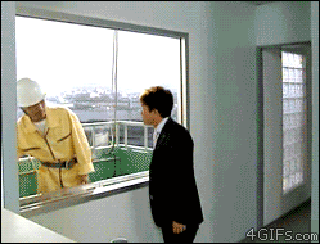 prank window GIF
Giphy
But Those Who Do, Are Heroes
"Child oncology."- PoorerBrightSun
Ethics First
"The kind of job that would make you knowingly screw or scam other people."
"I would never do that for any amount of money."
"I did have the opportunity once to benefit from something like that.'
"It was just an awful feeling, and my base instinct told me to GTFO out of there immediately haha."- Turbulent_Ad_4313
Everyone deserves to be paid a living wage.
At the same time, no one deserves to work a job that slowly sucks out their souls and makes them feel bad about themselves and the work they do.
If making over $1 million a year doesn't make you forget how unhappy you are at your place of work, it might be time to check the classifieds, or go back to grad school.
We all have that little voice inside of us that tells us what to do and warns us of impending doom. These Redditors listened to their spidey senses and got themselves out of some sticky situations. Keep reading to hear their harrowing tales; they will reaffirm that everyone should indeed trust their gut!