Holiday commercials tend to be tear-jerkers.
Every year we think we're ready for them, and for the most part we're okay... but there are always one or two that hit us right in the feels and leave us blinking back tears.
---
This year, John Lewis & Partners—a UK company—came out swinging. Their first holiday commercial of the season features Sir Elton John taking a look back at his life.
The commercial opens with Elton sitting at a piano and then flashes back through his life as a rock star, a struggling musician, a kid at talent shows and jamming out at home and finally a young boy receiving his first piano as a gift. The commercial then returns to present-day Elton and you realize the piano he is sitting at is the one his mother gave him as a young boy.
We'd love to say "cue the waterworks" but if we're honest we started crying the first time the commercial showed Elton's mom looking at him and beaming with pride, love and encouragement.
We did a this thing: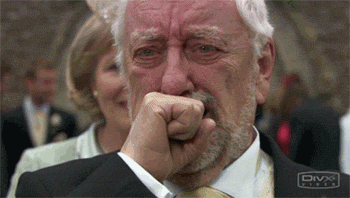 GIPHY
The commercial ends with a simple but profound thought:
Sometimes gifts are more than just a gift.
Where would Elton John be without that piano from his mom? Would he have eventually found this path?
Or would he have stayed the restrained Reginald and gone into accounting or something? Elton John has inspired musicians, the LGBTQ+ community, activists and more.
Without him, where would they be? Would the world really be a measurably different place had that first piano not been a gift?
John Lewis & Partners really knows how to frame the importance of a gift. No pressure. Jeez.
Now that we're done sobbing and we texted our mom to say thanks, we wanted to share the commercial so you could see for yourselves.
John Lewis & Partners Christmas Ad 2018 - #EltonJohnLewis 🎹 YouTube
Twitter hasn't stopped sobbing.
I've watched the Elton John commercial like 12 times today and I'm still not okay

— syd (@syd)1542382024.0
If the upcoming Elton John biopic #RocketMan ends up being 10% as effective as this commercial, then it'll be Best… https://t.co/XjjXYxs0Ze

— Unfiltered Lens (@Unfiltered Lens)1542405015.0
Everybody in my house is bawling at this Elton John commercial and that includes me and I'm also watching football

— Jason Isbell (@Jason Isbell)1542510323.0
"Hurt" by Johnny Cash is the best video I've ever seen as far as encapsulating an artist's life and legacy. But thi… https://t.co/nazHUcPmny

— Jeff Cobb (@Jeff Cobb)1542296565.0
At a stop light? Watch the Elton John commercial. Cry. Heating up food in the microwave? Watch the Elton John co… https://t.co/C11NOoRv8U

— Jenna Lou (@Jenna Lou)1542408181.0
Yo give an academy award to whoever made that Elton John commercial. Amazing

— DWN613 (@DWN613)1542377190.0
The Elton John commercial emotionally ruined me.

— Caitlin Tremblay (@Caitlin Tremblay)1542552111.0
@eltonofficial @jlandpartners As the proud mama of a very talented singer/actress I loved the scene of his mom watc… https://t.co/G8U6kJOYEI

— Mamma Rose (@Mamma Rose)1542375283.0
@AlexHolleyFOX29 OMG! Getting ready for work and the Elton John commercial has me ugly crying. Thanks guys!

— Karen (@Karen)1542378784.0
(see, it wasn't just us who had this reaction!)
Full disclosure, I've watched the Elton John commercial five times already this morning and I am flaming hot mess o… https://t.co/QgM0WnJLGc

— Ryan Moynes (@Ryan Moynes)1542294728.0
@allicatFL @ananavarro @eltonofficial I know, right?!😭

— Miss Cindy (@Miss Cindy)1542429404.0
@jaguar06_rick @JKCorden Thank god and Elton for showing us that boys play the piano and for god, for not letting you GO anwhere💕

— Corinne May (@Corinne May)1542405602.0
Thinking about the way Elton John's mom looks when she gives him the piano in the commercial. https://t.co/dwzQzRh45f

— MaddingMadMadMadWorld (@MaddingMadMadMadWorld)1542376574.0
But we think James Corden may have summed it up best with his simple tweet.
Holy shit. This commercial. https://t.co/aXewAG5C3i

— James Corden (@James Corden)1542267919.0
Holy sh*t indeed, James.