People Explain Which Things Are Acceptable In 2022 That Weren't When They Were Growing Up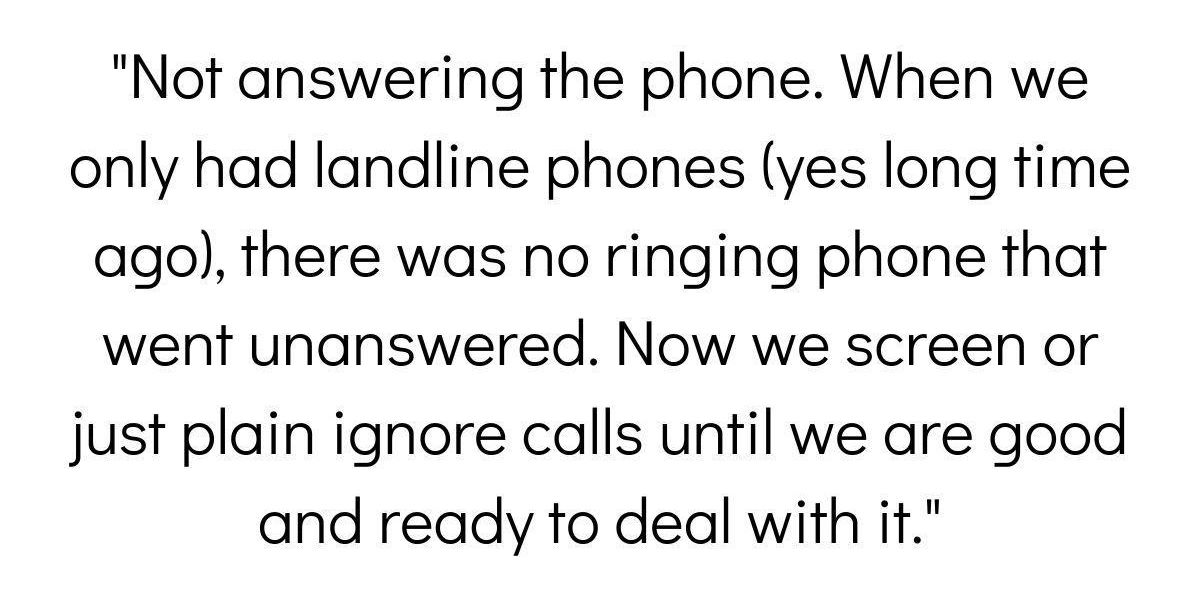 Societal norms gradually change over time, and it's not until a generation looks back and notices just how far they've come.

---
One of the major differences people from earlier generations find fascinating is how things were much more rigid compared to current times.

Curious to hear examples of this, Redditor FCFSDeals asked:
"What's now weirdly acceptable in 2022 that was not acceptable growing up in your generation?"
Prior to cellphones, calling protocol was vastly different once upon a time.
Answering The Call
"Not answering the phone. When we only had landline phones (yes long time ago), there was no ringing phone that went unanswered. Now we screen or just plain ignore calls until we are good and ready to deal with it."
– ekimlive
Respectful Hours
"Also, no one expected to reach you at any time, 24-7. I miss those days."
– techretary

Proper Etiquette
"But there was phone etiquette: no solicitation calls; no polls; and nobody called after 9PM unless someone was in jail or the hospital."
– Positive-Source8205
Appearance guidelines seemed to have shifted between generations.
Body Art
"People have already said tattoos, but body piercings also exploded in popularity. It used to be girls could get their ears pierced, and that was it. When I was in high school, some guys started doing the one earring look and tongue, nose and bellybutton piercings were starting to become popular."
– viderfenrisbane

Comfort Is Priority

"Wearing sneakers to work at a fortune 100 company."
"At the beginning of my career it was suit and tie, then business casual and now I wear stan smiths, jeans and an untucked polo in the most senior position of my working life."
– Big_Requirement_3540

Casual Political
"I worked for the US Senate in 2009 (in a totally non-political job for the Senate Curator). I wore clothes from Hot Topic on the Senate floor. Some days I wore old jeans with holes in the knees if I knew I'd be climbing ladders to clean artworks. One of the women on the team had a full chest tattoo and made zero effort to cover it up because no one cared. The day I met Senator Inouye to discuss what paintings he wanted in his office, I had on trainers."
– ballerina22

Benefits Of Letting The Hair Down
"They realized that they can't erode wages and expect us to look like we're on Mad Men at the same time. Allowing long haired freaky people has made them sh*tloads of money over the years."
– throwawayqw123456

Hair Coloring & Tattoos
"Any type of hair coloring would result in serious trouble at school. I also remember tatoos being frown upon as being found mostly on people that got out of prison."
– no_cause_munchkin
The advent of the internet was a huge game changer, and rules were made up as we went along.
The Bandwidth Situation
"2 people using the internet at the same time."
– ProfessorPanga

Phones In The Classroom
"Middle/high school students being allowed to have their cell phones in class. Being caught with our cell phone when I was a high schooler was an automatic detention etc."
– TrumpHairedHarambe

Consequences Of Having A Phone On Campus
"I graduated in the late 90's, and the president of my class got expelled one week before graduation for having a phone on campus. It was in his car, and this was after hours. It rang and a teacher heard it. They made an example out of him. He lost his admission to West Point."
"Now my 8th grader finds it super unjust that her science teacher makes all the kids put their phones in a box at the front of the room during tests, and feels super justified in never ever giving up her airpods to that sort of thing."
"Different world."
– electrolytesaregood

When I was a cast member at Disneyland in the early 2000s, we had to abide by the strict, clean-cut appearance guidelines required of all cast members–with different rules applying to each respective gender.
Men, for example, were not allowed to wear jewelry or have visible tattoos. We also had to maintain the length of our hair to not exceed past a certain length, and sporting facial hair was a major no-no.
Now, the "Disney Look" has changed, allowing all cast members to reflect their personalities through "gender-inclusive hairstyles, jewelry, nail styles and costume choices; and allowing appropriate visible tattoos," according to the Disney Parks Blog.
To the Mouse, I tip my hat for these awesome changes.

Reddit user newlymoneyedrapper asked: 'What is the worst excuse you've heard from someone who cheated?'
When it comes to the dating scene, we all know there are going to be rough moments, from awkward dates to being ghosted to heart-shattering breakups. But the thing everyone hopes will never happen is to be cheated on.
After all, if someone has the intention or inclination to cheat, why would they choose to date at all?
Already cringing at the thought, Redditor newlymoneyedrapper asked:
"What is the worst excuse you've heard from someone who cheated?"
Not 'Meant' for Monogamy
"When they get caught, they try to play the 'humans aren't meant to be monogamous' card."
"I'm like, 'If you don't believe in monogamy, why did you even marry in the first place only to cheat later? You could join a free love hippies commune at any time. But that's not what you did...'"
- fepivo6620
Coming Out as Polyamorous
"I know a girl that cheated, and when she was inevitably caught, said she was 'coming out' as polyamorous."
"She was dead serious and fully expected our support and everything."
- fxckfxckgames
"The difference between polyamory and cheating is informed mutual consent among all parties."
"It's not a sexual orientation, you can't just 'come out' as polyamorous. It's something your partner(s) have to know about and (willingly, not coerced) agree to. Otherwise, you're cheating and making excuses for your s**tty behavior."
- spla_ar42
"Lmao (laughing my a** off), get out of here. Actual poly people would know how important communication is beforehand."
"I would have laughed in her stupid, cheating face."
- kosherkitties
So, Grief Is An Aphrodisiac Now?
"She said, 'It was the anniversary of my cousin's death and I wasn't in my right mind. You know how upset I was. Blaming me is classic victim blaming. You should be COMFORTING me!'"
"This was AFTER I offered to stay with her for the night but she said she wanted to be alone."
"I wish I could say I immediately left her, but it took two months and a second cheating incident. That time she said she was upset over a bad grade (seriously)."
"I walked away. And I blocked her. The bizarre part is how she kept trying to contact me for four years after that. She even confronted me in the parking lot on my first day of work, begging me to take her back. Why f**k around so indiscriminately if you want to be with someone?"
"Anyway, I stopped trying to figure her out long ago."
"It was my first relationship (age 15 to 18), and I was a naive fool."
"I'm not jaded now, but I know a h**l of a lot better."
- midnightsonofab***h
"I am sure her cousin would have been very proud of her using his death as an excuse to cheat and then call herself the victim."
- Acceptable-Stay-3166
Everyone Hates Mercury Retrograde
"My ex was very into astrology. She cheated and later blamed the great American eclipse of August 2017."
- henoney389
"SORRY I KEYED YOUR CAR, LOL (LAUGHING OUT LOUD). I'M SUCH AN ASPARAGUS."
- Skwerilleee
"I think you mean the MOON is in GATORADE."
- Zmb7elwa
So Sweet of them
"'I didn't even enjoy it, because I was thinking about you the whole time, and I felt terrible."
- fepivo6620
Those Undeniable Needs
"He said, 'You were at the hospital for two weeks. A man has needs."
- Wichita_Falls_Texas
"My girlfriend had a contagious skin infection for several months, and the post-infection management was even longer. We put off sex for about a whole year, and not once did thoughts of cheating occur to me."
"I'm sorry you had to endure that. Not all men are like him."
- Expensive_Presence_4
Growing the Family, and the Relationship
"They said, 'My wife was pregnant, so I wasn't getting any.'"
- tefama5759
"If I remember correctly, pregnancy is the time or one of the times when women are cheated on the most."
- RBNrando
"This breaks my heart."
- LoreGeek
At Least It Didn't "Matter"
"They said, 'It's not like it meant anything.' Oh good, glad we cleared that up."
- fepivo6620
"Yet you threw our relationship away over it. So what I'm hearing is I mean less than nothing to you."
- LeRuseRenard
Increased... Appreciation
"He really said, 'I'm just on Tinder to confirm that there's nothing better out there. It helps me appreciate you more.'"
- tivige8195
Getting a Jump on Things
"My previous partner told me that he cheated because he insisted that he 'thought I was going to break up with him anyways,' so he started seeing other women."
"I believe this was just another one of his manipulation tactics to put the blame on ME for his actions. To this day, I cannot fathom the mental gymnastics he had to do to justify his decisions... Lol (laughing out loud)."
- cuteemogirlfriend
"I wonder if he's familiar with the term 'self-fulfilling prophecy'?"
- Browncoat85
"Well, he is now."
- cuteemogirlfriend
Cheat or Be Cheated On
"My last boyfriend said he cheated because he thought I had already cheated. But I did not cheat on him."
"He felt like an a**face when he realized I didn't... But he lowkey still thinks I did."
- _mel-issa
For the Sake of the Relationship
"My college roommate would cheat on his girlfriend a few times a semester, and then feel awful about it and realize how much he loved his girlfriend."
"He started to rationalize that 'you need to cheat to stay faithful.'"
- henoney389
​Opportunities to Cheat
"Oh, this thread reminds me of my ex, who was just a complete s**tbag."
"He didn't cheat, but he nearly did, and he told me about it and said 'Hey, I was really drunk and still didn't cheat, everyone around was so so proud of me and said I must really like you. They all thought I did amazing for not cheating on you even though I had a proper chance to do it, so I thought I'd tell you about it.'"
"I just raised my eyebrow at him. I remember that I did hang up on him a few times and told him that it wasn't massively impressive when he was being a d**k. He was very abusive so I couldn't safely leave him, though. If it was safe to do so, I would've dumped his a** right there and then."
"I know he's on Reddit so he'll likely see this, and good riddance because he's a complete t**t. If you see this, you know who you are, and I think you can go to h**l for what you did to me."
- Complete-Mess4054
All About the Rush
"The answer is because cheaters get off on cheating. It gives them a thrill that a 'normal' relationship can't give them."
"This is why I say cheaters will always cheat, because they crave the excitement of it."
"They don't give a s**t about monogamy or non-monogamy; they just find it fun to cheat. They also enjoy chasing after other people who are in relationships because it's more fun for them to chase after someone who's already taken rather than to find someone who's not."
"In other words, they're sociopaths who get off on causing misery to satisfy their own selfish desires."
- MissGrim66
It's clear why these Redditors thought these were the worst explanations for cheating.
Not only do some of them not make sense, but they're a total dismissal of the cheater's accountability in the relationship.
While realizing that a partner you loved was cheating is already bad enough, it seems that receiving a terrible, ingenuine reason for the act would only serve to make it worse.
Think about the last time you were sick; the ritual of checking WebMD, thinking you have a life-threatening illness, then finding out it was a harmless rash that was causing you all that stress. Regardless of the symptoms, we've all been there—but what of the unlucky few who actually did have some sort of ill-fated, isolated illness?
We may have many fond memories of childhood that center around food.
A favorite meal, a special celebration dinner, simple comfort foods, baked goods enjoyed with grandparents or holiday feasts.
But not everyone is blessed with culinary talents. And some cooking impaired are responsible for feeding children.
For those kids, memories of meals might be more trauma than beloved tradition.
Reddit user zZoZo- asked:
"What meal traumatized you as a kid?"
Asparagus
"My grandma's asparagus, it traumatized my dad more as it was the only way he had had asparagus until he met my mum."
"We would go out and harvest fresh asparagus when I was a kid, and my mum would grill it, sauté it, or make a salad."
"My grandma only made it for me once. Well my grandma would put it in a pressure cooker on a steam tray and cook it at pressure for 3 minutes."
"It would come out just holding itself together, she would slide it onto the plate, put slices of hard boiled egg on top, salt, and pepper. It was hot mush in a stringy tube with cold egg and no real seasoning or flavor left."
"Just a miserable symphony of textures that would stick in your mouth and teeth."
~ APe28Comococo

Giphy
Cantaloupe
"My grandma knew I hated cantaloupe but my sister loved it, so so when we would visit my grandma when we were kids she made me eat a piece of cantaloupe for every piece my sister ate."
"To this day I do not know why."
"I f'king hate cantaloupe."
~ SuitableBet2455
Liver
"My father would put raw liver in a juicer and make liver pancakes, no bacon no onion."
~ ThatWomanNow
"Your father seems like the type to have…secrets."
~ Winter-Egg94
"I'm wondering if fava beans and Chianti were involved."
~ 5hrs4hrs3hrs2hrs1mor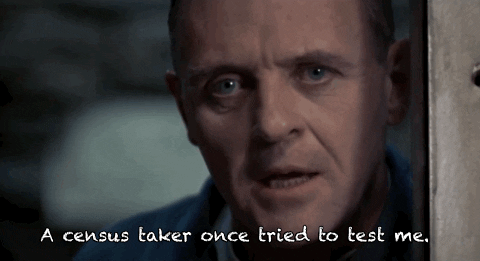 Giphy
Leftover Stew
"Mom had a habit of clearing the fridge of leftovers by tossing everything in a pot and serving it for dinner. Ugh."
"The most...ahem...memorable combination was: some old spaghetti sauce (not a bad start...) some baked beans (kinda weird, but okay...) some leftover tuna-noodle casserole (getting weirder...) some peas (gotta have a vegetable) and, I kid you not, the leftover cherry Jell-O (why, Mom? Why the Jell-O???)."
"I still have NO IDEA why it all had to go in a single pot."
~ candlestick_maker76
Mayonnaise
"I was forced to eat a mayonnaise sandwich at a sleepover once."
"It was so disgusting, and I wasn't allowed to leave the table until I was done."
~ rocky_2277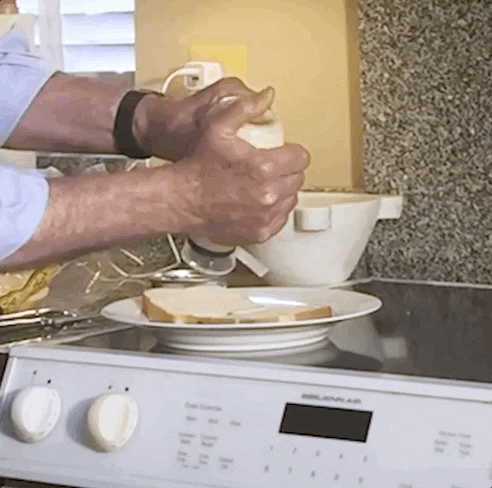 Giphy
Bribery or Extortion?
"Not traumatized, just salty. Mom took my brother and me to a restaurant with another one of her mom friends and her kids, that mom was really into making kids try new foods."
"She made me eat a stupid octopus or squid tentacle or something to get dessert, whereas my brother held out until all he had to try was some basically normal piece of cheese."
"Clearly I didn't know how to be stubborn."
~ never-at-grade
Hidden Veggies
"My mom found some 'hidden veggie' article that called for zucchini in brownies. Two bites in, something tasted off."
"I looked in the brownie and saw the green fibers of vegetable and my mom gleefully told me the secret ingredient. I protested and complained and refused the brownies and she said I wouldn't even notice."
"Mother, if I wouldn't notice, then why did I almost immediately notice?"
"Took a long time for me to trust her desserts after that."
"F'k those 'hidden food' recipes. Just learn to cook zucchini in an appetizing way and let me eat the zucchini for dinner and a normal brownie for dessert."
~ FormerLurker3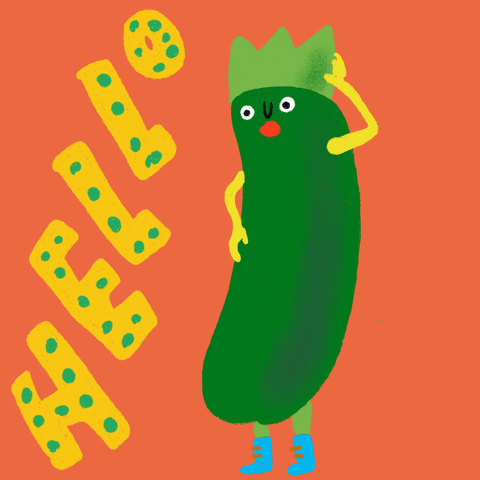 Giphy
Salads That Aren't Salads
"Oh God, this 'salad' my mom would make that was literally just frozen peas and cheese chunks coated in mayonnaise. I couldn't even be near it without gagging.
"Whenever she'd make it I'd start crying and hide under the bed (I was around 5 or 6). Thank Christ she eventually stopped making it."
"I still hate mayo. To this day even the smell of it makes me physically sick."
~ immedicable
"With my grandma it was green Jello, grapes, celery, walnuts, shredded cabbage and carrots in a Jello mold."
"When she unmolded it, she would fill the center with Miracle Whip and sprinkle it with paprika."
"Most disgusting side dish ever."
~ RubyNotTawny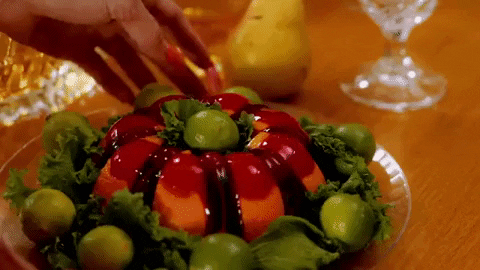 Giphy
Bland
"Meatloaf. My mom would force me to sit at the table and eat a bland meatloaf with no seasoning whatsoever."
~ VenusSwift
"My grandmother's cooking in general is always bland. Salt and pepper. That's it."
"So when I moved out with my boyfriend. It was a kick to the face cause he actually uses spices and seasoning."
"Love the woman, but damn. And I get it. She lived on a farm with 11 brothers and sisters. So taste wasn't really the point of eating."
~ Xeillan
"At least she uses salt. My MIL doesn't even use that!"
~ boxsterguy
"That's disturbingly common in some regions - especially the Midwest.
"I have family who deliberately don't add any salt as they're cooking, and then offer guests a salt shaker (which they, themselves don't use)."
"Holidays are agony. And the worst part is that I'm not sure if everybody is suffering in silence with me, or if they've all somehow been indoctrinated and just don't even want the salt."
~ The_Law_of_Pizza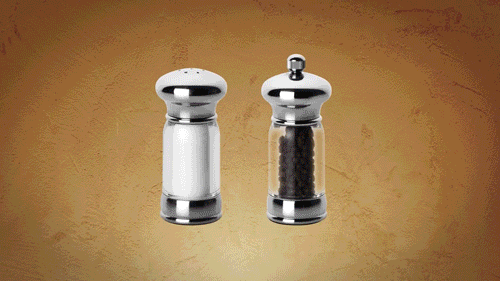 Giphy
Oysters
"I went to a wedding as a kid where they served oysters but not fresh ones. They were from a jar and then put back into shells."
Anyway I put it in my mouth and I wanted to spit it out, but my dad gave me one of those looks (death stares) so I had to swallow the snot like thing."
"I love seafood but have never been able to eat a fresh oyster since."
~ Redditor
Not Finger Lickin' Good
"Cow's tongue. I was 8 or 9. I sat at the table until 9 pm, refused to eat it, just sitting there crying as quiet as I could."
"I didn't want to get in more trouble."
"Finally my mother gave up and I got a cheese sandwich and sent to bed."
"I will never, never eat another mammal's tongue. Just typing that out made me gag."
~ crunchygravy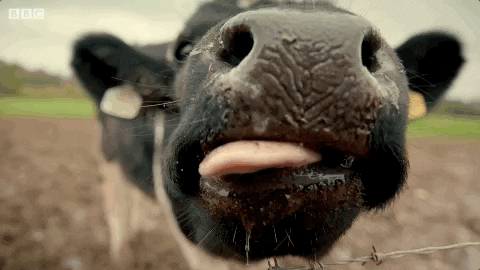 Giphy
Potatoes
"I was around 6 at the time. My dad used to season and roast baby potatoes. For some reason as a kid, I just couldn't stomach them."
"They made me want to throw up. After a few of them I would run to the toilet."
"One time, I thought I was clever by hiding them under the cushions of my seat. I got away with it for a few weeks."
"Until my mother was obsessively cleaning because she couldn't get rid of the smell of compost from the dining room."
"Eventually she lifted the cushion to see a heap of mouldy squashed potatoes."
"That day for dinner, my dad made an extra portion just for me. Apparently when I saw the plate I went pale."
~ Slight_Bodybuilder25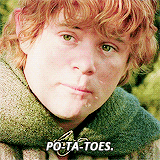 Giphy
Don't Name Dinner
"It's not at all fun to name and raise a chicken only for it to be served for lunch."
~ OinkMcOink
My Mother was not a good cook because she hated to cook.
She could reheat things from a can or make something from a box, but she had a tendency to add canned peas or cut up hot dogs.
Luckily I loved cooking and took over all family cooking duties as a child.
My only food trauma was a dish my Sister made: Polynesian liver. Yes, it was liver baked with pineapple rings.
None of us could eat more than one bite.
Do you have food trauma? Share your story in the comments.
Every unhappy family is unhappy in their own way, but these toxic families are all completely insane. Whether it's a controlling mother or an absent father, these Redditors had to find out the hard way that their families had ugly habits and dark secrets. They say you can't choose your family—and no one would choose these broods.