People Break Down Their Weirdest Meet-Cute Moments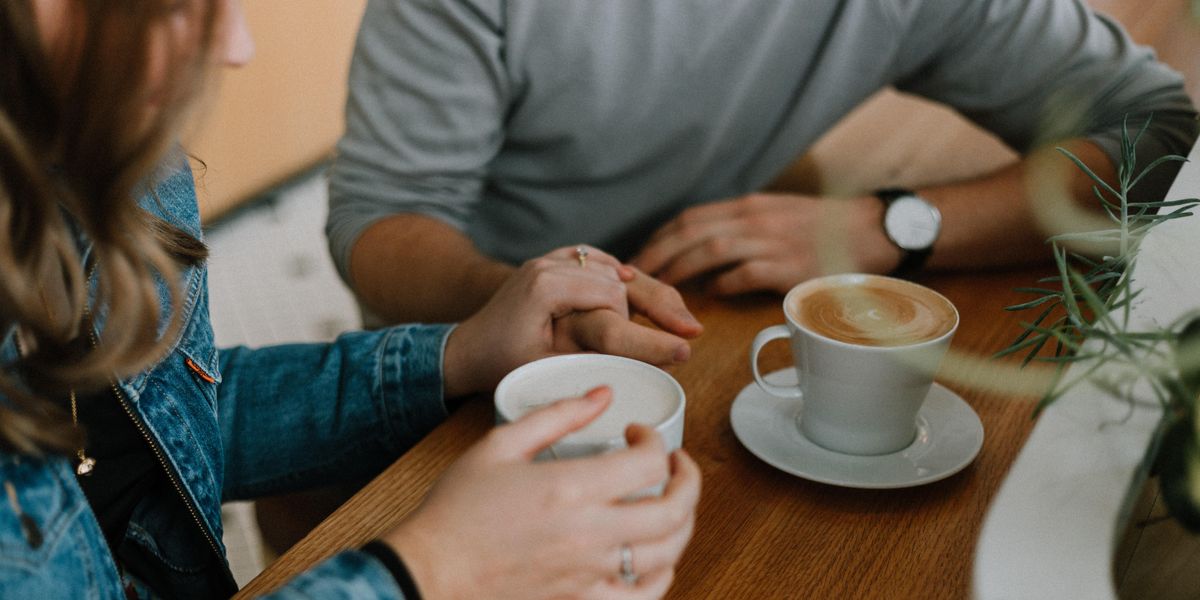 Priscilla Du Preez on Unsplash
Every couple's origin story is different.

And while the act of navigating through dating apps to meet a special someone seemsto be the normal standard now, it's certainly not the only way to new romantic beginnings.

---
Curious to hear strangers' dating experiences, Redditor HeloPeopelinos asked:

"What was the weirdest way you got into a relationship?"
Ready to get started? Okay, cupid.
These Redditors found a spark online.
Mutual Interest
"On the original Napster. She had a very rare live track I wanted, and I had the whole back catalogue of the same artist that she wanted.":
– kevinmorice

It Started With A Rant
"Craigslist used to have (might still have?) a rants and raves section. I posted a long pissed off open letter to how much winter in Chicago sucks."
"A woman answered it and sarcastically made light of just about everything I posted, and we went back and forth for a few emails before meeting up for drinks. Spent close to 3 years together."
– conipto
Chatting
"9GAG hat a chat app called 'Cookies' for a few months. It was basically Twitter for 9GAG and I only used it for a few days. When I posted something, I chatted with a guy for a bit and we found out that we were both from Germany."

"We kept talking on Whatsapp but I had some family and mental health issues which is why we didn't write with each other for over a year. When I wrote him again apologising for my distant behaviour we started talking again. We've been dating for over 5 1/2 years now."
– mrl_a
How Sweet And Tinder
"I erased my tinder because I wasn't into just hook ups and right before I erased it I matched with a cute girl and just said to text me if she wanted because I was going to erase my tinder. She did but only to be my friend and literally 2 months later we started dating. Now she's my best friend and girlfriend coming up to 3 years."
– Deftoones
Some people unexpectedly met their eventual significant others in person.
The Manifestation
"In school, I drew a lot and would often draw randomly made up people."
"Once, I doodled a pretty girl and the girl sitting next to me asked who she was."
"I told her she wasn't a specific person but she thought I was just too shy to say and kept pressing, as well as getting all of the other girls in our class involved."
"And one of them said she knew her. Some girl who went to a nearby school."
"So they asked me if that's who it was and if I'd like them to get her to come meet up with me."
"I said f'k it, yeah."
"We met up that weekend and ended up going out for a few months."
"So, I basically drew a girlfriend into existence."
– BadgerSituation

The Wave
"My ex wife was the consolation prize in a radio contest. Well...kinda."
"I used to co-host a morning radio show back in the 90s, and we did a version of 'The Dating Game' on the air. Just like the classic TV show, we'd have a woman choosing between 3 eligible bachelors, or a man choosing between 3 'bachelorettes.'"
"The winner would get a date paid for by the station, and the runners up would get a consolation prize. Part of my job was to coordinate everything between the contestants. This one day, we had the bachelor in the studio, and three women on the phone. He picked one for his date (it was tickets to a baseball game and dinner at a nice restaurant), and afterwards I got all the information from the runners up so that they could get their prizes."
"One of them sounded really fun on the phone, and we hit it off. Our studio window looked out over the station's lobby, and I told her that if she came in to get her prize while I was still on the air, she should turn and wave at the window."
"A few hours later, I looked out the window and saw her waving. My first thought was 'holy sh*t...she needs a date?' Turns out she was pretty hot...and it turns out that I had her phone number."
"So I called back later and asked her out. Relationship lasted 7 years."
– gogojack

In The Spirit Of Competition
"Was holding tryouts to join our clan in Starcraft around the year 2000."
"She joined our game and it was decided I would 1v1 her while the rest of our clan watched. I kicked her ass and we agreed she could join up with us if she still wanted to. Turned out I couldn't stand her and tried to avoid her like the plague."
"Somehow started talking over AOL instant messenger and ended up learning she was a 4-hour drive away in the state next door. Things fell into place and we ended up in a long-distance relationship at the tender age of 16."
"We celebrated our 18th wedding anniversary this last September. Can still kick her a** in video games. =D"
– Guinnessnomnom

Not every encounter is romantic.
Going Insane
"Met a girl while exploring a creepy abandoned insane asylum at 3am. We were both there with separate groups, neither group was aware of the other group's presence but we kept hearing one another moving around and scared half out of our minds because we each assumed the other was crazed hobos or criminals using the place as a hideout or something."
"Anyway our groups kept getting closer and closer to one another while trying to figure out how to get out. I turned a corner, saw a face, and nearly brained this poor girl with the baseball bat I was carrying before I realized it was just a bunch of scared college kids same as us. We had a good laugh about it, me and the girl hit it off, and ended up dating for a couple of years."
– KongUnleashed

Mistaken Identity
"Was at a party. Waved at a someone I knew. A girl standing between us who was visibly smashed thought I waved at her. She came over and tripped in the last meter. I caught her."
"That's 10 years ago and we're getting married in august."
– DaPino
Making A Mark
"She threw up in my bed after taking a nap there without asking me on my newyears party."
"Hard to say no to that."
– T0b3yy

The Trade-Off
"Work did a mandatory fun evening at a bar. My then gf came in with a good looking woman, walks past the group I'm with, goes to the bar and proceeds to order two shots of tequila and drinks them off her friends breasts. She then waves me over, some shenanigans happen and in the morning tells me I'm dumped but her friend is single. That lasted about a year. I got traded."
– throwaway198675543

These relationships started off with an apology.
Time Out
"It was an alien themed birthday party. I knew only the person who's birthday it was. I've also got a neurological condition which means sometimes I need to take a time out. So I'm sitting in a beanbag leaning against a wall in a full alien morph suit. My time out must have gone for a while, and people who arrived after me thought I was a decoration as I was motionless."
"This guy trips over my foot, so I moved it. He freaked, and then realised I was a person and came up to apologise. I just gave a thumbs up. Anywhos time passes and I go to get snacks. I take the hood part off and the guy that tripped on me is just staring open mouthed. He eventually comes up to say he first thought I was a decoration, then thought I was a dude. He then spent the rest of the night getting snacks for me."
"Lasted a few months."
– Grieie

NSFW Note
"There was phone number written on the back of a bus I was on when I was 14-15 and under it was written 'will suck dick for money' I was with a few mates and to be a little smart a** show off to my friends I called it and asked if she was for real."
"later that day I felt so bad for the girl I ended up texting her and apologising for being an a**hole and she was grateful for my message and explained that it was her ex that put it there. Anyway, we got texting and I ended up dating her for 3 years. Nice girl."
– braedn

Cupid persevered, regardless of the circumstances.
Oh, Deer
"Hit a deer going about 45, knocked one of my headlights out. The car was drivable, but it was dark and foggy in the country. My crush was with me that evening, and after cursing the deer for a solid 10 minutes, I asked if it was okay if she stayed with me that night instead of me potentially wrecking driving her home."
"She agreed. We got back to my dorm, and I had to use the restroom. I told her I'd fix the bed situation when I got out. I intended to pull the mattress cover off, and let her have the bed for the night while I used the floor."
"Yeah, she didn't think that. I came out of the bathroom to find her wrapped in my blankets. I asked where I should sleep and she said to just sleep next to her. We ended up cuddling all night and having a tasty campus breakfast date the next morning. We're still together 2 years later."
– Programmer-Boi

Pandemic Romance
"My ex and I got stuck together at his place on our first Tinder date. For 2 months. Met him during a layover I had where he lived and they closed all the borders a few hours before I was supposed to leave. 2020 was a wild time."
– ApprehensiveStatus13

It wasn't that bizarre, but years ago, I met someone as a straphanger on a packed subway in NYC.
Our train came to a halt in between stations, and we were held there for a good half hour. A fellow passenger sitting down in front of me decided to engage with me with some small talk, which I absolutely cannot stand.
But he was cute.
After exchanging numbers, we ended up having a brief fling. But much like our stuck subway car, we weren't going places, romantically. So I eventually got off that train to nowhere.
It just goes to show you never know the opportunity for a meet-cute could be there in front of you...as long as your eyes aren't glued to Candy Crush on your daily subway commute.

Want to "know" more?
Sign up for the Knowable newsletter here.

Never miss another big, odd, funny or heartbreaking moment again.
Reddit user cloudtdaz asked: 'What food have you tried liking but just can't?'
There's a misconception that some foods are so superb in flavor or quality that everyone will love them, but taste is extremely subjective. A person's sense of taste can vary greatly even within the same family.
There's also some debate about the capabilities of the human tongue.
Biology suggests human taste buds only detect four flavors:
sweet
bitter
sour
salty
But most culinary experts speak in terms of seven flavor profiles:
sweet
bitter
sour
salty
meaty/umami
cool/minty
hot/spicy
What one person tastes is likely not an exact match to what someone else does.
Some people love spicy foods while others feel physical pain when eating foods featuring chilis. Some people are sensitive to salt while others add extra salt to everything they eat.

Because our sense of taste is so individual, it's inevitable some popular foods won't be palatable to everyone. And that's not even considering texture, smell or appearance which can also turn a diner right off.
Curious about which foods left people disappointed, Reddit user cloudtdaz asked:
"What food have you tried liking but just can't?"
Peeps
"Peeps,the Easter sugared candy."
"I like to think I can digest anything covered in sugar BUT NOT THAT...."
~ Asapdustybraids
"They're best when they're stale. I can't eat them fresh."
~ Vicktrolia
"My grandmother would send them to my dad every single year. He would leave them in the cabinet for probably 2-3 years. When the new pack arrived on Easter he popped open the 3-year-old pack."
~ DrKennethNoisewater-
"He dry aged peeps. That's incredible and terrifying."
~ BeesNeverSting
"Peeps are some of the foulest creations that have ever hit the food realm. Whoever invented them needs to have their existence removed from history."
~ shatteredhelix42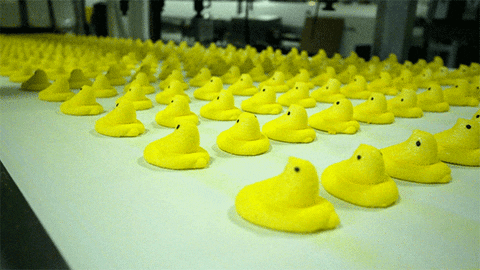 Giphy
Grape-Nuts
"Grape-Nuts."
"I hated them as a kid but as an adult I decided to try them again, thinking maybe my tastebuds had matured by then."
"Nope. They were still just as awful as I remembered."
~ kanna172014
"My grandpa used to eat them every morning with coffee instead of milk."
"I'm not sure if he was lactose intolerant or what but good grief, I can't imagine what that combination tasted like."
~ hornet_teaser
"As a kid, I never felt more lied to."
"I liked grape juice and grape flavored candy, so why wouldn't I like 'Grape-Nuts'?"
~ triton2toro
"Hate the cereal, but love the ice cream."
"Not sure if it's just regional, but here in Maine Grape-Nuts ice cream was around for decades. I think only Gifford's still makes it commercially."
~ LakotaGrl
Just Offal
"Intestines/innards of any kind and solid portions of fat on meat."
"One of my husband's favorite dishes is barbequed intestines (Japanese barbecue) and I can smell its appeal, but I physically can't deal with the texture."
"And it really saddens me because I've always wanted to eat menudo and I know the soup is bomb AF 😭."
"I think I have some sort of fat/chewy PTSD from when I was forced to eat gristle off of meat as a kid."
~ LeocadiaPualani
"Yeah I can't do innards either."
My mom loves that stuff because 'it was the cheap stuff back then" and they had a big family. I guess I'm glad I'm an only child."
~ ilovepeachpie
Black Licorice
"Black licorice."
"I've accepted my DNA just can't stand the stuff."
~ slimpawws
"My mom loves it. She makes it look so good."
"I'm 29 and I still think 'hmm maybe this time...'."
"Nah. It's like tar vomit."
~ lpcoolj1
"Same with my mom."
"Black licorice, black jellybeans. She loved 'em."
"I inherited exactly ZERO of her taste buds for that."
"It is the foulest flavor ever."
~ Retro_Dad
"Black licorice tastes like depression."
~ pr0f0undleader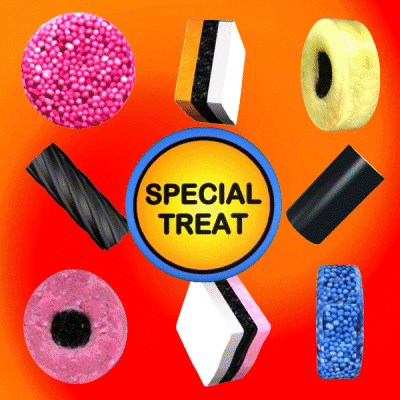 Giphy
Eggnog
"I can't drink eggnog."
"Every year I give it a shot and try to like it, but I just can't."
~ cyberzed11
"I mean , it's essentially drinking (sometimes alcoholic ) custard. So that's fair."
"I myself cannot be trusted with eggnog and should not be left unsupervised or I will put a straw in a half gallon container and slowly sip years off my life."
~ logicjab
"I've always thought it tastes like bad bubblegum so I've never really been a fan either."
~ Huntsvegas97
"Liquid snot."
~ SalesTaxBlackCat
"Yep this. I give it a shot every year to see if it's changed. It doesn't."
"I give it to someone else in my house who likes it; or pour it down the drain."
~ Electric_Leopard
"It's truly awful. Texture taste smell, all just bad."
~ ruffsnap
Liver
"Liver the smell alone makes me sick."
~ Redditor
"I just wonder how Humans get to that stage."
"They find something, it smells foul, cook it, still smells foul, AND THEN DARES TO EAT IT."
"We're glorious as a species."
~ xseodz
"I'm guessing when we first started eating liver, humans didn't smell very good either."
~ LakotaGrl
"I have tried it maybe 15 times, different preparations because people claim their recepie makes it not taste like sh*t."
"Lo and behold, it still tastes like funky iron meat."
"I don't even like foie gras for the same reason, that metallic taste comes through, ugh!"
~ doomLoord_W_redBelly
Kombucha
"Kombucha, smells like stinky feet and taste like vinegar to me."
~ -LordKromdar-
"Kombucha absolutely DOES taste like vinegar, coming from someone who loves it. Other kombucha enjoyers will try to deny the vinegar taste, I embrace it because I bloody love vinegar."
"I even have 'sipping vinegars' in my fridge in various flavors, to add to cocktails or to pour a shot glass of and sip on… just pure vinegar."
"Very strange of me, and I totally understand why other people would not like that flavor."
~ UnderwaterParadise
"Oooh people used to drink vinegary things a lot more because they were refreshing! Try raspberry shrub!"
~ lyan-cat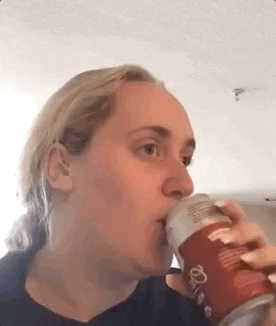 Giphy
Sparkling Water
"I know this is a drink, but sparkling water."
"I like some flavors, but I can't stand that after taste. Bleh!"
~ TruBluBritt
"The way I describe it: 'it's what tv static would taste like' or 'it's the same flavor as hitting your funny-bone'."
~ LazyLich
"We were given some flavored water at work and my employee said it tasted like 'a strawberry farted in the water'."
~ g-e-o-f-f
"My son calls LaCroix a piece of fruit waving to to a can of water."
~ pittipat
"I say with Perrier that someone yelled a flavour into the water."
~ structuredchronicles
"My favorite is 'someone placed a lime skittle next to some soda water'."
~ DosiMoe
Overnight Oats
"Overnight oats. They're basically lumpy, cold snot in my throat first thing in the morning."
"I gag just thinking about adding chia seeds."
~ DarkDesireX
"This comment has me literally confused as to if I actually like my overnight oats or just tell myself I do."
~ Lord_Knorr
"Oh man. I feel this."
"It just looks like refrigerated vomit to me. Absolutely not."
~ slmr38
"I tried to like overnight oats for a couple of weeks."
"Tried a bunch of different recipes, but they all ended up being disgustingly sweet slop."
"The only one I sort-of liked was the 'chai latte' one, which emphasized spices over sweets."
"Still not worth the effort to make them—I'd rather just make microwave oatmeal."
~ Noise_Cancellation
Wine
"Wine. Every year I'll try it around the holidays with family and it's still gross."
~ Redditor
"You can only appreciate wine after you have tasted the bitterness of life."
~ Spirited-Site-Hunter
"Once in my life I have tasted wine that I actually liked, and that was Golconda wine, which I tried in Darjeeling."
"After I got back to the USA, I decided that I would, for the first time in my life, actually spend money to acquire wine."
"Went to a wine shop. They had never heard of it."
"Turns out it's not exported, and if you want some, you have to go to India."
~ Wild-Lychee-3312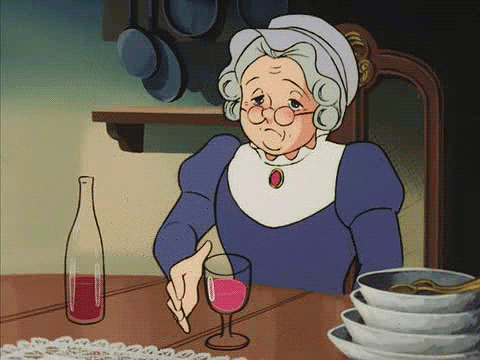 Giphy
Olives
"Olives. I've tried many varieties."
"I always try them because they look like they'd be good but they're just not."
~ TRIGMILLION
"As a bartender for over a decade, I'm constantly surrounded by olives."
"They always look good & once in a while I'm like 'do I like these yet?'."
"No. I still hate olives, & I hate myself more for trying again each time & expecting different results."
~ kandixchaotic2
Matcha
"Matcha ! Just tasteslike grass to me."
~ mulberrycedar
"I worked in a business park that had a matcha headquarters in it. They moved out and dumped big boxes full of matcha samples that they took to trade shows."
"Never tried it before but I was thinking what a treat I had found, I would be enjoying free matcha for at least a year if not longer."
"Boy was I wrong."
~ TiogaJoe
"Seriously, I do not get the hype about it at ALL."
"Like when people tell me matcha frappes at Starbucks are the best I'm just like 🥴🥴 bffr dude?"
"That sh*t tastes like creamier wheatgrass. Nasty."
~ SilverWorry8047
Mushrooms
"Any kind of mushroom."
"It's not the texture there is always a taste that i cant do for some reason."
~ Correct_Ad4937
"Taste and texture for me! It's the only food I absolutely hated since I was a child."
~ BelenadaSilva
"Same. I can eat them on a supreme pizza because they just get lost in everything else, but if I can taste them, I'm out."
~ notonrexmanningday
"Eating cooked mushrooms feels like chewing on rubber."
~ Icy_Ad_9134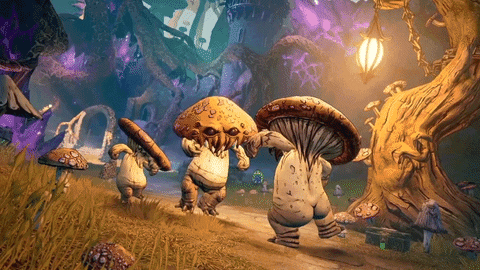 Giphy
Beets
"Beets. I just can't."
~ Many_Dirlam
"What got me to like cooked beets was a beet and goatcheese salad at an upperscale restaurant."
~ dilfybro
"Nope! Tried one of those and they still taste like dirt."
"I don't care how you prepare them, pickled, roasted, whatever the f'k, they taste like dirt."
~ vandelayATC
"Vile root.
"Wash them, peel them, boil them, add sugar, mix with sour cream, put in a salad, all you accomplish is different tastes to accompany the overwhelming flavor of DIRT."
~ logicjab
Okra
"Okra."
~ crablegsforlife
"Soggy fried okra is the dinner of my nightmares."
~ Bigsam1514
"Okra is an abomination."
"I like damn near all vegetables but that slimy bullsh*t can f'k right off back to the ectoplasmic bog it slithered out of."
~ An_Appropriate_Song
"Okra? She's not that bad."
"You have to at least admit she was generous with the audiences and she's a decent interviewer."
~ Redditor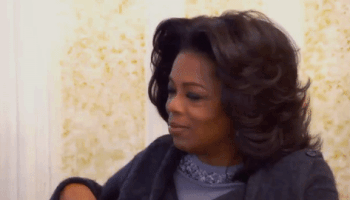 Giphy
I have two to add that weren't mentioned:
Which is embarrassing as both are culinary staples in my culture.
Lima beans are probably disliked by plenty of people, but salmon is on lots of restaurant menus. I've tried it over a dozen ways—poached, broiled, grilled, pan-seared, smoked, marinated, as sashimi, dried, loafed, baked—and I just don't like the taste of it.
Salmon is the only fish or seafood I've tried that I dislike and I've had both octopus and sea urchin. I'm sure my ancestors are mocking me.
Have you ever really wanted to like a popular food but ended up giving it a hard pass?
Share your experience in the comments!
We can all agree that first impressions are important. No matter what may happen after that first encounter, the first impression has a way of lingering.
But some bad first impressions are absolute deal-breakers. No matter how kind or awesome a person might seem, there's really no coming back from that...
Redditor Dizzy-Effort-1375 asked:
"What was the worst first impression you ever had with someone?"
Know Your Place
"When I went before the Judge, I was drunk and argued with him."
"That earned me 10 extra days for contempt of court."
"Fortunately, I'm now six years sober."
- TrailerParkPrepper
Cruelty Is Unattractive
"I met a girl at work. I thought she was cute until she bragged about purposefully hitting a bird with her truck because 'birds are stupid.'"
"There's nothing quite like some animal cruelty to kill your attraction level."
- Numerous_Share7920
Know-It-Alls Not Welcome
"A family friend wanted to introduce her new boyfriend to her friend group."
"The dude was a know-it-all. He talked over everybody, was very condescending, and was just a rude jerk."
"We gave him a do-over and he was even worse the second time."
"That was over 15 years ago and they're still together. I don't see my friend much anymore."
- dadobuns
How Rude, Indeed
"I went into a dealership to support my wife as she shopped for her car. A skeezy salesman came up, introduced himself to me, and immediately acted all buddy-buddy with me, and started calling me by my first name. He never acknowledged my wife."
"I told him she was actually the one car shopping, and he barely batted an eye and kept trying to sell to me."
"I politely reminded him, and he still refused to deal with her."
"We walked right out without a word. F**k that guy. And f**k Bob HowardToyota in North Oklahoma City."
- Misdirected_Colors
"More like 'Bob Howrude Toyota in North Oklahoma City'!"
- fueelin
Stop Micro-Managing Me
"I was 19 years old and just starting my first real full-time job. I was taken around by the foreman and introduced to my new co-workers."
"All was well until I was introduced to Walter, the resident old pr*ck, who was to be my supervisor. He took one look at me and said, 'When are you quitting?'"
"I never even got a chance. He rode my a** every day. He repeatedly told the boss I was no good and I should find another job."
"He got fired two months later for being a d**k to everyone. I lasted 36 years."
- Crazy-Rip-6496
He Probably Thinks The Moon Landing Was a Hoax, Too.
"I had to pick up a new coworker to drive to the location we'd be working for the week. After talking about the job for about 25 minutes, he asked, 'So what do you think about 9/11?'"
"I knew it was going to be a long week."
"I said the most non-committal thing I could imagine because we still had hours in the car. 'It was a thing that happened.'"
"He rolled his eyes and said, 'Oh, so you think it happened.'"
- YetAnotherZombie
The Impression That Sticks
"I was dating this girl in another town and I was there visiting her. We were walking around downtown and these six or seven guys cornered me in a dark parking lot."
"This one guy started shoving me, going on about how I was 'in his town' and he should kick my face in for being where I shouldn't."
"I was so p**sed. If he didn't have six other guys with him, it would've gone down very differently. He really embarrassed me in front of my girl. Thankfully, the cops showed up before it escalated though, with those 6 other guys there... I might be dead."
"20 years later, he married my sister. He's actually a really great guy, a great husband, and a great father to my nieces and nephew... but I still have a hard time getting past that first encounter. I HATE the fact that I have to think of him as a decent person."
- KingGuy420
The Worst Priorities
"I'm a nurse and when I worked on a ward for the elderly, I had to call and ask the family of a very lovely lady who was dying to come and see her."
"They only lived a few miles away from the hospital but took seven hours to arrive. By that time, the lady had passed away."
"I had to tell the family as soon as they arrived. I expected tears and sadness, but the daughter only said, 'It's okay. Mum had a great life insurance policy.'"
"No tears. No upset. They were all smiling and trying to hide it. I hated them."
- curiousopenmind22
That Hidden Sense of Humor
"My best friend. We met in middle school and she's blonde, gorgeous, and seemed super stuck up when I first met her. Obviously, I made assumptions about her."
"As it turns out, she's super socially awkward, and once I got to know her, I found out that she has a super bizarre sense of humor (which I love), but she doesn't show it to strangers."
"20 years later and we're still best friends."
- littlepinch7
The Entitled Parker
"I came to work one day when I knew a new person was starting. In the employee parking area was a car I'd never seen before using up two spaces."
"My first thought was, 'She's one of THOSE people.'"
"And she was."
- ctruemane
Troubling At Best
"I met a woman who went on to defend torture at length. Even when her arguments were debunked, she was still in favor of it."
- TheMoniker
Just So Humble
"A new hire I was supposed to train, let's call him Chad, because that's his name, came in on day one and said during introductions, 'Some people say they're a jack-of-all-trades, but a master of none; not me, I'm a master at everything I touch.'"
"And that was that, instant dislike. He was gone the next day, lol (laughing out loud)."
- cdaisycrochet
The Teen Cringe Is Real
"For me? I was 13, my brother brought home some college roommates with no warning, and I was (apparently) having a bad enough hair day to literally dive behind our couch to hide from them."
"My mom called me to come introduce myself, and I continued to hide, but when my mom sent my little sisters to find me, I was worried I'd get found, so I popped up out of nowhere and said hi, still standing behind the couch."
"To this day, my brother's roommates said that was one of the funniest things they'd ever experienced, lol (laughing out loud), and one of my cringiest memories. Haha!"
- ChewsOnRocks
No Point of Reference
"I guess it wasn't really bad, but it was weird."
"I was getting ready for work, went outside for a smoke, and my upstairs neighbor said 'Hey,' from her balcony."
"She wanted to introduce me to her visiting sister, so I said 'Hey there, how's it going,' and pointed at my name tag while saying, 'I'm Bob, of course.'"
"The sister looked at me a bit weird, but I didn't think much of it."
"Then I went back in to finish getting ready and realized I did not in fact have my work shirt on yet, so there was no name tag. So... as far as that lady knew, I just said my name and randomly pointed at my manboob. Like, 'Hey, I'm Bob... check THIS out.'"
"I mean, you can't go back and explain at that point. I have no idea what she thought of me but I am guessing it was somewhere between moron and weirdo, and I never tried to find out."
- Divayth--Fyr
The Lie of First Impressions
"It was an old school friend's partner I'd never met before. My friend's parents emigrated in the late 1960s and we were penpals after she went to New Zealand."
"Her partner was coming over alone for three weeks for some research to do with his MA at Otago University in Dunedin, and I said he could stay with us. This was back in the 90s."
"When he turned up at our door, he was in shorts and a vest and waving a bottle of spirits in one hand and a skateboard under the other arm. He was heavily tattooed (including his face) and dreadlocked."
"I maintained a friendly smile, but my heart did sink, I can't lie."
"I was so very, very wrong. He's a brilliant bloke. I didn't know he was half Maori and had never encountered Maori tattoos before. The spirits were for us (he's teetotal) and he was a great house guest."
"He always cleaned the bath after he used it, bought food and cooked really brilliant meals, very funny, the cats loved him, he took the dog for walks (who spent about three weeks gazing adoringly at him and slept at his feet) the kids and my husband loved him."
"He taught my kids the Haka. My kids got major kudos because the cool Maori skateboarder was staying at their house."
"When he left, he gave us a beautiful framed drawing he'd done of a native NZ bird on a Manuka shrub as a thank-you present."
"It taught me an important lesson. First impressions can be very misleading. I wish he'd been here for more than three weeks (although he's visited since)."
- PeggyNoNotThatOne
For the first impressions that were genuinely terrible, it's clear why these Redditors would not want to continue interacting with the people involved, or how they would not be surprised by people not wanting to interact with them.
But there are also reminders here of how first impressions, however lasting, can be wrong, and the relationship beyond the first impression can be wonderful if we manage to look past it.
The human race is supposedly touted as a superior species compared to other lifeforms on Earth.
Sadly, the generalization does not apply to everyone.
And while the notion that "nobody is perfect" is perpetually expressed to console those who've made regretful mistakes, that is not entirely true.
We see them in the news all the time.
Dimwits–which may include those with no social graces or lack of basic life skills in order to survive adulting through life–are among us.

Curious to those who've face-palmed in response to an individual's intelligence level, Redditor Joker101001 asked:

"Albert Einstein once said 'The difference between genius and stupidity is that genius has its limits.' What are some examples of this that you have experienced?"
People shared their observations about our intellect..or lack thereof.
Touché
"You shouldn't believe every quote you read on the internet. — Abraham Lincoln."
– _PM_ME_PANGOLINS_
"I think he was re-quoting Julius Caesar who made this comment the morning he was warned not to go out that day."
– Emergency-Ad-7002

Humbling Realization
"I think the more educated we become, the more we know how little we actually know, and it's humbling, but ignorant people really have no idea what they don't know, leading them to be confident about their ignorant stances."
– PuzzleHeadedNinny
Reaching Limitations
"Physics has kind of reached a point where we realized we don't know how anything works at a fundamental level. Every theory breaks down at tiny or gigantic scales. There is a crisis in cosmology, spinning glaxies have either disproven gravity or proven undetected dark matter, and the vast majority of matter and energy is undetectably dark. We don't know why matter exists (as opposed to antimatter, given their symmetries). We don't know how time and space work inside black holes, how many dimensions there really are, or whether space and time are quantized. We've kinda figured out ordinary matter at human scales, but that's it."
– turbotong
The Thing About Doubt
"There are limitations to human knowledge and our understanding of things. Rather than acknowledging these limitations, people fill them in with supernatural explanations. When you express uncertainty or doubt, you are mocked or they ascribe to a lack of self confidence."
"Doubt is the beginning of wisdom, not the end of it."
– RecalcitrantMonk

Knowledge Vs. Intelligence
"Knowledge is knowing a tomato is a fruit."
"Intelligence is combining the tomato with other ingredients to make something better."
"Knowledge is what we learn, intelligence is what we do with what we have learned."
https://pubmed.ncbi.nlm.nih.gov/7183572/
"Charisma is the exact opposite of what I just did - citing an academic paper on reddit."
– egregori3

People shared their most dullest interactions.
Dumbfounding Stupidity
"Oh boy. I once met a guy who was so stupid that he thought the ocean was alive and waves was it breathing. I remember one time in school he was doing homework for another class and asked the teacher "Where were the Canaanites from?" She jokingly said Nova Scotia. He asked how to spell it. This guy thought Beauty and the Beast was based on a true story about a girl and a bear. He would constantly make bets that he lost and never learned his lesson. He didn't know that chicken the food came from chicken the animal. I have met a lot of stupid people in my life but I have never met anyone quite so bafflingly stupid that I had to wonder if they, in high school, could even read."
– Not-sure-wtf-I-am

"A friend of mine once met a young woman who thought that fluttering leaves caused the wind to blow."
– Ancguy
"A former classmate of mine (in college, mind you) once said the sky was blue because it reflected the ocean."
"She thought the sky was blue everywhere, even hundreds or thousands of miles inland, because of the ocean."
– CrypticBalcony
Scam Fail
"I worked at an embassy. One day a guy came to me, completely explained a scam he did. It had failed and he wanted to know how I could help him "as we are countrymen".
"Called my colleagues at home and set them on his a** too."
– Dependent-Cress-948

Expected Expectations
"As a high school math teacher, I cringe when students hand in a test and say 'I think I aced it.' It's almost always an F."
– kasgar77
"One time I left a stats exam in college and texted my friend, "if I knew a test was going to kill me and I went anyway, is that suicide?" She said "I think it's more like when you walk through a bad part of town alone at night and get shot. It's not really your fault."
– FlockofDramaLamas

Kiwi Get A Clarification?
"When I was in middle school I convinced a girl that the kiwi birds laid the kiwi fruit as food for their babies. It wasn't that hard to convince her."
– ChaoticCauldron
Conspiracy Theorists
"Flat eathers. It is difficult to find more dumb."
– DrowningInMyFandoms
"These days, there's quite a bit of overlap there. Flat earthers tend to be very anti-establishment, but because they also tend to be very religious and Trump is supported by many fundies, there's a definite connection there. Plus, his support of conspiracies makes him seem like 'one of them'; some flat earthers thought Trump would be the one to expose NASA and the fake ISS, but that never happened."
– SyntheticGod8
I think COVID pulled back the curtain on the lack of intelligence on display.
Irrational mob mentality prevented US citizens from critical thinking and drawing irrational and false conclusions from sheer panic.
Remember the toilet paper shortage and the anti-vaxxer movement?
I was more terrified of our lack of humanity and compassion than the virus that was being allowed to spread thanks to ignorance.