'The Crew Members Got Stranded!' Crazy Behind-The-Scenes Stories From Castaway.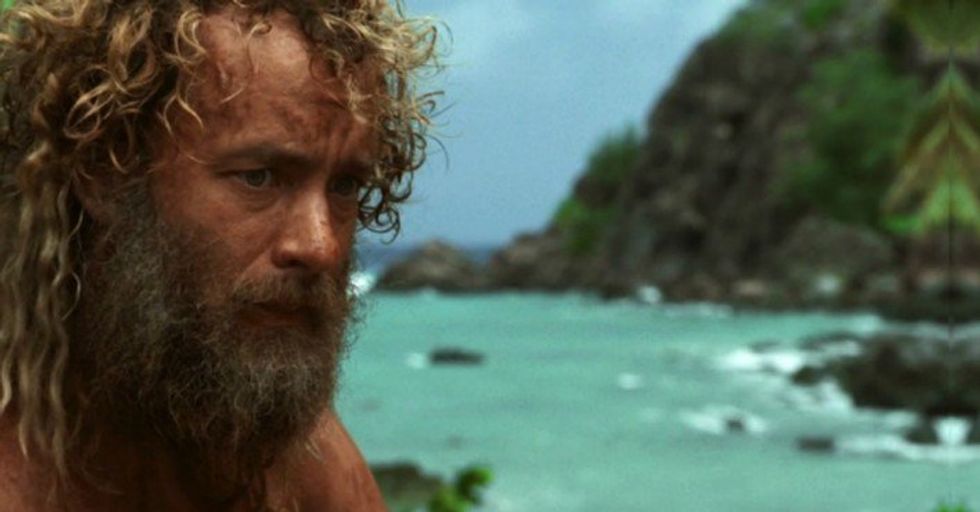 Cast Away, the 2000 American epic survival drama film directed and produced by Robert Zemeckis and starring Tom Hanks, Helen Hunt, and Nick Searcy, was one of Tom Hanks' highest grossing films of all time. And for good reason! This cinematic masterpiece lives on in our hearts forever as an ageless drama. Wilsoooooon!
---
1. To make himself look like an average out of shape middle aged man Tom Hanks didn't exercise and allowed himself to grow pudgy. Production was then halted for a year so he could lose fifty pounds and grow out his hair for his time spent on the deserted island.
2. Even though they obviously weren't said, actual lines of dialogue were written for Wilson the Volleyball, to help Tom Hanks have a more natural interaction with the inanimate object.
3. When Kelly is copying her dissertation, there is no paper being fed through the copier feeder or any printed pages going into the output tray.
4. Some crew members were left on the island for a few days to survive and learn some skills. They used some of their survival techniques in the movie for the character of Chuck. They were: having trouble lighting a fire, opening a coconut, talking to a volleyball, collecting packages washed up on the beach, and catching fish.
5. To see the island that Cast Away was filmed on, put -17.609277,177.0397 into Google Maps and zoom in all the way on satellite mode. The beach that Tom Hanks writes HELP on and sees from the peak is the eastern most part of Monuriki, Fiji.
6. One of the three volleyballs used in the film was sold in an auction for $18,400.
7. After Chuck Nolan (Tom Hanks) injures his hand and throws the volleyball "Wilson, in the following scenes pay close attention to the (Continued)
---
Continue reading on the next page!
box that the volleyball is in. One scene the box has a visible tear along the top rim of the box; then, before Tom Hanks opens the box to remove "Wilson" another box appears not torn.
8. Contrary to popular belief, FedEx did not pay the filmmakers anything for their presence in the movie. The director has made this clear in a number of interviews. While FedEx was very concerned when they heard about the project, they had no objections to the finished script and offered support during filming, with the company later stating that the movie was very good for FedEx business in general and in overseas markets in particular.
9. Virtually all the sound, including dialog, in the scenes on the island - about an hour and a half of screen time - had to be replaced in post-production. Sound man William B. Kaplan made a valiant attempt at getting usable sound on the island, but the nearby surf made it impossible, given that many of the scenes needed to be very quiet.
10. An early draft of the script had Chuck having two different personalities talking to each other, Good Chuck and Bad Chuck.
11. Most of the nighttime scenes on the island (except the creation of fire scene) were actually shot during the daytime. The darkness and night sky effects were added in post-production.
12. The ending had a bunch of different ways it could have gone. Tom Hanks and the screenwriter worked together to create all the different types of endings that could have happened before they landed on the right one. In an interview, Hanks said, "We did all of those scenarios of what happens to him when he comes back to the world: He was loaded with self pity; he was loaded with Rip Van Winkle, kind of like jeepers creepers, look how small the computers are, all of that kind of stuff. We thought, look, hed probably be (Continued)
---
Continue reading on the next page!
turned into some media celebrity and whats he going to do? Be sitting in the secret square [Hollywood Squares] with Susan Anton right next to him?"
13. Chuck Noland's name can be abbreviated as 'C. Noland' or "see no land".
14. Tom Hanks almost died while he was filming the movie. Before he left the production in Fiji, he received a cut and it got infected. Turns out he had a staph infection in his leg and it almost gave him blood poisoning. Hanks recalled, The doctor said to me, Whats the matter with you, you idiot? You could have died from this thing! And I was like, Oh, I dont know. But they literally had to take out a big chunk of the stuff in my leg. The infection was so severe that Hanks stayed in a hospital for three days. Then we had to shut down production for three weeks because the doctors said, No way is this kid getting in the water.
15. Tom Hanks said that the hardest part of losing so much weight was not eating any French fries for a long time, and the thing that helped him the most in this process was drinking a great deal of coffee every morning.
16. The scene in which Noland is talking with Stan by the fireplace of Stan's home is shot in 1 long take, with the camera rotating slowly around Noland. The shot lasts 3 minutes and 46 seconds.
17. Throughout the film, Tom Hanks has a dark lump above one of his eyebrows. This seems to come and go from scene to scene.
18. The production employed several local Fiji islanders in the surrounding archipelago, including the neighboring Mana Island about a mile away. The locals were allowed to keep some of the supplies and tools as tokens of their help.
19. As the plane hits the water, Chuck falls backward, toward the rear of the plane. This violates the physical law of momentum. In real life, he actually would have (Continued)
---
Continue reading on the next page!
In real life, he actually would have continued traveling forward toward the incoming water.
20. Almost fifteen years after the film's release, Tom Hanks jokingly "reunited" with Wilson the volleyball at a New York Rangers hockey game.
21. When Noland squats on the ground, contemplating an item that has washed up on shore, the shot is composed as an homage to 2001: A Space Odyssey (1968), reportedly Tom Hanks' favorite film.
22. Some of the 'desert island' footage was shot on the mainland with a highway in the background that had to be removed.
23. In the film, Chuck draws a picture of Kelly (Helen Hunt) on the wall of the cave. In the movie As Good as It Gets (1997), Simon Bishop tells Carol Connelly (also played by Hunt) 'you're the reason cavemen chiseled on walls'.
24. In the scene where Chuck is throwing coconuts at the rock, the sound of the coconut hitting the rock comes after the coconut actually hits it.
25. When Chuck Noland realizes a Russian FedEx van is stuck after being fitted with a parking boot, he immediately wrangles a crew of employees for a makeshift "sort" in the middle of Red Square. A Fed Ex sort is designed to separate packages into zones/trucks based on which part of the country they'll be routed to once they reach the airport. The process is so ingrained in Noland's psyche that even when marooned on the island, he gathers several Fed Ex packages from the ocean that have floated ashore, checks their routing destinations and performs a "sort" right on the beach.
26. When Tom Hanks cuts his hand and loses his temper, he picks up the volleyball with a bloody hand and throws it. When he picks it up, you can see that his (Continued)
---
Continue reading on the next page!
When he picks it up, you can see that his fingers are spread. When you see the handprint that he makes "Wilson" with, you can see that the fingerprints are together and parallel.
27. The paper that Chuck writes his note to Bettina Peterson is stationery from "Arrington Ranch" (a cattle ranch resort) that is the actual house where Chuck leaves the letter.
28. In the beginning of the movie, as the camera tilts down his fireplace,you can see the book "Sailing Alone Around the World" by Joshua Slocum.
29. The flight number of the crashed aircraft, FedEx 88, was at the time of filming a real flight number. It operated from Memphis to Penang, Malaysia with stops in between.
30. Castaway led to the creation of Lost, the television show. Lloyd Braun, who was the chairman of ABC Entertainment in the early aughts, wanted a writer to come up with a pitch based on his favorite film from 2000, Cast Away. According to Chicago magazine, in 2003 Chicagoan Jeffrey Lieber was picked to write the pilot for Cast Away-the Series, which centered around eight to 10 characters stranded on a Pacific island. Lieber named the pilot Nowhere, but Braun passed on Liebers script and gave the project to J. J. Abrams, who added the supernatural element to the plot. However, Lieber, the WGA, and the studio went to arbitration in order for Lieber to receive partial credit for creating the show, and he eventually won 60 percent of the created by credit. In 2005, his pilot received an Emmy nomination for Outstanding Writing for a Drama Series, and for the entire run of the show Lieber was listed in the credits.
31. Early in the movie Kelly gives Chuck a pocket watch for Christmas. She explains her grandfather used the watch on the Southern Pacific (Railroad). This is a foreshadow to (Continued)
---
Continue reading on the next page!
Chuck's later dilemma where he is stranded in the South Pacific.
32. As Chuck attempts to paddle off the island the first time he is wearing his underwear on his head you can clearly see he is wearing "Calvin Klein" underwear. Robert Zemeckis also directed Back to the Future (1985) where Marty McFly's "Calvins" were a running gag.
33. When Chuck is crawling on the floor of the plane to reach the watch, the compartment behind him where the raft was stored, you can see the stairs leading down into the set.
34. Several scenes are in reference to The Prisoner: Many Happy Returns (1967), in which Number Six, after building a makeshift raft to take him from the Village, washes ashore.
35. "Wilson" is the manufacturer of the ball used in the movie. But other Wilsons have played an important role in Tom Hanks life and career. Hanks' wife is actress Rita Wilson. And Hanks' first TV role was "Kip Wilson" in Bosom Buddies (1980).
36. The license plate on Chuck's car reads: KAZ 2AY.
In almost every interaction with a Karen, there will come a point where she (or he) will ask to speak to the manager. They seem to think that if they over others and just act a fool, they can get what they want—but the following managers REFUSED to let these Karens get away with their inconsiderate antics.
In the United States, it's no secret that sex education for minors is inconsistent at best.
But some people learned very unexpected stories about how babies were made, and those stories had a way of making a lasting impression.
Curious about other's stories, Redditor ILoveYourCat asked:
"How did you think babies were made when you were little?"
One Time's the Charm
​"I knew babies came from sex as a fairly young child. My parents never sugar-coated that. But for some reason, as a kid, I thought you only had to have sex once to have multiple pregnancies. I seriously didn't fix that misunderstanding until early middle school."
- Crazey1988
"At some point, when I finally accepted that you had to have sex to have a baby, I thought the only time people have sex was to make a baby, and it only took one time to get the job done."
"Then when I figured out teenagers were having sex, I thought you had to be married and have sex to make a baby, but then when my unmarried cousin got pregnant, I was just confused."
"But I was sure my parents only had sex four times, and then when my mom got pregnant with number five, I thought, 'Wow, they did it again.'"
- Raw_Combination_438
Stealing Storks
"A stork delivered them, of course. What the f**k, lol (laughing out loud)."
- Dells51
"Storks... I thought people trained them to steal babies from a factory and you would leave special treats on your doorstep as payment and encouragement for the stork to steal one for you."
"I was scared to death of birds for the longest time and would have a tantrum at the zoo when I saw a flamingo."
- No_Finish_3144
Young Conspiracy Theorist
"The government. I used to think that we lived in a totalitarian society and that the government was in complete control of everything."
- bebotak**t
"I thought the President sent people their babies when asked by mail."
- GustavoAlex7789
Scheduled Baby Delivery
"The women in my family explained to me at the age of six that a doctor calls you sometime after reaching adulthood at the age of 18 to schedule a baby delivery date."
"The husband either pays to schedule the appointment or the government does after verifying that you have been married and financially stable for quite some time."
- Lokikat00
Marital Kissing
"When two people kissed."
- Short-Reality7353
"I thought the same thing, but I understood that when my mom gave me a kiss, there was no risk. Being someone raised in a very Christian background, I assumed that when you got married, God made kissing a reproductive act."
"Since I made this assumption, I remember questioning why teenage pregnancy could possibly be an issue."
- meuserj
The Ultimate Christmas Gift
​"I thought Santa was bringing them."
- NorskoTheScorpion
"He was. I mean, Christmas comes but once a year..."
- Nouveauuuu
"I MAY NEVER ENJOY CHRISTMAS AGAIN."
- NorskoTheScorpion
A New Meaning to 'Forest Friends'
"When I used to ask my dad where I came from, he'd say he found me under a rock in the forest. Of course, I would go look for babies under rocks, too, but all I ever saw was dirt and those rolly-polly pill bug thingies."
"It was so gross thinking babies were just found THERE that I was actually relieved to find out how they were actually made!"
- melodie-artist
Pregnant By Proximity
"I thought women got pregnant by just being around a man, and I was always confused about what would happen if a woman still lived with her parents or dad after she's an adult."
- ILoveYourCat
Coming of Age Story
"I thought it was a 'just happens once you reach a certain age' sorta thing. As a woman, I was terrified because pregnancy sounds like the most awful thing, lol (laughing out loud)."
"(I know the end result is worth it but even as a 31-year-old, I'm like, nope.)"
- BansheeShriek
Sounds Plant-Based
"I thought they grew like a seed inside the mother's belly."
- maclaglen
"Technically, that's true."
- ManagementFresh4960
"Watermelon seeds."
- bravovice
"Well, not like that."
- ManagementFresh4960
The Power of Marriage
"My mum told me you couldn't have a baby if you weren't married. Note that she said 'couldn't', not 'shouldn't'."
"When my unmarried cousin was sleeping a lot my mum told my aunt 'she's having a baby'. I thought 'she can't be having a baby, she isn't married.'"
"A couple of weeks later she had an engagement party, quickly followed by a registry office wedding. She had a baby a few months later."
- MolassesInevitable53
Baby Trees
"I thought they grew on trees. True story."
- 8inchsalvatorre
"Baby trees, lol (laughing out loud)."
- ILoveYourCat
"I was surprised when I learned how it really happened, lol. I was like, 'You mean there are no trees?' And Mom just shook her head."
- 8inchsalvatorre
They Were Just There
"I don't recall a time where I gave the matter any thought without knowing the reality of it."
"Like, literally, until the day I was first introduced to the concept of birth, I don't think I cared where babies came from."
- N_Who
"Right, the little guys just EXISTED."
- Mizar97
Educated Is Best
"I asked my mom and she told me the truth."
"Educate your kids, folks. They can handle it."
- Bite_Me_23
Spontaneous Babies
"I didn't... They just showed up, honestly."
- badguywindow
"That's what I thought. I was terrified as a little kid that I'd wind up being a teenage mother because I thought it just happened spontaneously."
- dinosore
"Exactly what I thought would happen. Like one day you were just, boom, six months pregnant."
- badguywindow
While these responses might be funny, it's an important reminder of an area in the educational system that's often lacking.
But in the meantime, while the system's curriculum is getting sorted out, at least we can take comfort in the fact that we weren't alone in believing these tall tales.
What is it that makes people confess their deepest, darkest sins to millions of strangers on Reddit? While we may not know the answer, we do know that the following confessions run the gamut from funny to salacious to nasty nightmare fuel. In fact, you might want an Ouija board to send some of these skeletons back to the closets from whence they came.
One of life's many challenges to being successful and happy is to work hard and stay focused on our respective goals.
There are many obstacles that can discourage us, but persistence and a drive to overcome can be rewarding.
Unfortunately, there are some things that are simply beyond our control, and it has nothing to do with fate.
It's the qualities we're either born with or without that can impede us or prevent us from ever achieving what can only be seen as a pipe dream.
Curious to hear examples of one of life's cruelties, Redditor G00dR1ddance asked:

"How did your genetics f'k you over?"
These Redditors were unhappy with appearances.
Uncooperative Vision
"Lazy eye, and a total lack of depth perception."
– Crow_of_Judgem3nt
"Same. Do you struggle with driving? I just moved to a big city and I can't drive here bc navigating all the traffic is too hard with no depth perception. It's so scary!"
– Subnautica24

The Worst Parts
"Moms Family: Perfect teeth, male baldness. Dad's family: Terrible teeth, perfect hairline."
"Me: Sh**ty teeth, bald before 25. My 2 brothers: Perfect Teeth, Perfect Hairline."
"Feels FN bad."
– Yogannath
"They should all chip in for a trip for you to Turkey for a cheap hair transplant and dental work."
– turboprop123

Made For Farming
"All 4 grandparents were farmers. I look like I was bred to farm and f**k to make more little farm workers. Broad shoulders, big boobs, no waist, no @ss worth mentioning, and thick legs. I just look like I was bred to work forever until I die. 120 years ago."
– bwvdub

Stop With The Flattery
"I too am sturdily built. I am not tall but I am muscular and broad with the big boobs and the broad hips and sturdy legs. I could carry very heavy sacks of feed from when I was very small. My family nickname was 'the forklift truck', so that's.. nice."
– LibraryOfFoxes
Room For More

"My mother's OB said she had a pelvis 'you could drive a bus through'. I was a natural breach birth and share those genetics. You could host the last supper on my a** and have room for plus ones."
– Elephant_axis

These Redditors are living on borrowed time.
Cardiovascular Health
"Bad heart. I'm the first male in at least 4 generations to make it to 40. And that's only because I was finally properly diagnosed and treated. I wouldn't have made it to 35 if I didn't find the right cardiologist."
– socteachpugdad
"Bum ticker - dad's aorta exploded when I was 11 and my brother died from the second heart at 41. Just hoping to see my 60s."
– poontong

Being Kept At Bay
"I have a blood condition where I retain iron. It's slowly killing me. Destroyed my liver, pancreas, and led to a massive heart attack."
​"Fortunately, I live in the 21st century where modern medicine can keep me going with...bleeding."​
– Objective_Stick8335
"Sad Aspect" Of A Family
"Huntington's disease"

– alc1864

"My oldest uncle married a woman who had Huntington's, but they were very young and she wasn't symptomatic yet. In the 70s so no genetic testing or much public awareness. They had 5 daughters. My aunt and their eldest have long since passed away, and the remaining 4 are in various stages of the disease. It's always been a sad aspect of our family. A truly cruel disease."
– Wasyloosker12

BRCA Genes
"I'm BRCA2 positive, giving me roughly 74% chances of developing an incurable genetic breast cancer in my life. It also gives me about 22% of having an ovarian cancer."
"On the other side, double mastectomy lowers my chances to about 3%, but it should ideally be done before I reach 30. I will also need a hysterectomy in my 40s."
"I had 50/50 chance of getting the BRCA2 gene mutation so well, genetics did f'k me over!"
– PoutineMaker
Redditors share more of their crosses to bear in life after being blessed with these traits.
"I'm more attractive to mosquitoes than most people. If I'm out when mosquitoes are around, I end up covered in bites (which I'm also allergic to, so I end up with quarter sized welts that itch for daaaays after the fact)."
– p1013

It's sobering to realize the ailments your parents struggled with are starting to become our own to bear. ​
High blood pressure, arthritis, and predisposition to atherosclerosis are some of the undesirable parts of my family's genetic makeup that I never really thought about until I noticed how fatigued and in pain I've become with age.
Although I have so much gratitude for surviving every year I get to celebrate my birthday, getting old still sucks.