'He Randomly Bought Me A Taco!' Starstruck People Share Their Most Heartwarming Celebrity Encounters Ever.
Some celebrities are known to be funny. Others are outright jerks. But these celebrities will forever go down for their heartwarming acts of kindness. Thanks to everyone for sharing their stories.
1. I met Kesha in a pizza place. I was eating with some new friends and I was telling them about an experience I had with ghosts as a kid. They were making fun of me because they didnt believe. All of a sudden Kesha turns around and gets up from a table next to us. She walks up and says, Hey. Sorry for eavesdropping, but you caught my attention because you have the prettiest hair Ive ever seen. Also I totally believe you! Ghosts are real!
2. I met Jeff Goldblum years ago, before a performance of a play he was in. We stood on the sidewalk and he talked to my friends and me for about 15 minutes and was so incredibly friendly and funny. A few weeks later I was walking down the sidewalk when I heard someone say my name it was Jeff Goldblum! I couldnt believe he remembered me. He gave me a hug and we chatted for another minute and then he went into his theater to get ready for a matinee. It was absolutely surreal.
3. My sophomore year of high school I met Ed Sheeran. It was before he was famous in the US, so after he played this super-tiny venue I went out back to chat with him. He was the most down-to-earth and just kind human being Ive ever met. We talked for around half an hour and he even recorded my voicemail message for me! Now every time you call me and I dont pick up, youre greeted by Ed Sheerans voice.
4. Was walking down the street in LA and, next thing I know, Ben freaking Affleck comes along and starts walking next to me eating a Subway sandwich. Casual.
Actual conversation between him and I:
Him: Whatcha up to?
Me: *trying to not freak out* Just finished taking a dance class.
Him: You need food after doing physical activity like that. *hands me the rest of his sandwich* *walks away*
Long story short, got mother-henned by Ben Affleck, and the sandwich wasnt bad.
5. I was on a family vacation in a ranch in Montana and it turns out Stephen Moyer was there also with two of his kids. We ended up playing softball together and he literally (Continued)
---
Continue reading on the next page!
We ended up playing softball together and he literally saved me from crashing into a tree with my horse. It sounds fake, but I promise you its not.
6. Before a middle school play, a handful of us went to go grab Taco Bell for the cast. A Baldwin brother asked what all the tacos were for, found out about our play, came to our school, paid $20, didnt ask for change, and posed for a photo afterwards. Being 11, I was clueless. I thought it was cool he paid $20, which was a lot of money to me.
7. Tracy Morgan comes into the supermarket I worked at and he is the nicest guy ever and we consider each other friends. He is always very talkative and he always asks me how school is going and gives me advice sometimes when he sees Im in a bad mood. He will always stop and take pictures. He and I once had a 30-minute conversation on how boys should respect me and it honestly was amazing. He is the nicest celebrity ever.
8. On my 16th birthday I was in Vegas. We were staying at Caesars Palace and I was walking around the lobby, tripped and face-planted. I look up and Elijah Wood was standing there. He offered to help me up I was a huge fangirl at the time, so I panicked and quickly got up and ran away.
9. My mom met Kim Kardashian in an airport a few years ago. Kim didnt know it, but my mom was on her way to her best friends funeral. When my mom approached her, Kim was incredibly kind and gracious, and actually signed her boarding pass and gave it to my mom as a gift for my sister. Im sure Kim doesnt remember that random encounter in an airport in Alberta, but her kindness to my mom won her fans in all of us for life.
10. Im a server at a caf in Southern California and have had the chance to meet a bunch of celebrities. Matthew Gray Gubler is hands down the best. He took a photo with me, then sent the restaurant an autographed photo a month later as a surprise!
11. I was working on a movie with Miley Cyrus and Liam Hemsworth called The Last Song. During a break, I went into the restroom, which was totally empty except for Miley, who was (Continued)
---
Continue reading on the next page!
who was sitting up on the wall of sinks, and her makeup artist, just chatting. I really had to go, so I just sheepishly apologized and said I would be quick, in case I was interrupting. As I was heading into the stall Miley said, Do you want me to turn the water on for you?? I get SO pee-shy. Here, Ill just turn it on for you. I chuckled and said, It was OK, I lived in sorority house with 30 other women, you learn to get over that quickly! But thanks! As I washed my hands, she divulged how she wished someone had been there to turn the water on for her at the Grammys when Mariah Carey was in the stall next her.
12. I once met Tom Felton while hiking, and although I was really nervous about asking for a picture, he was super sweet and let me pet his dog and apologized for having wet hands because he was giving water to his dog. Even called me lovely. Made my little Slytherin heart swoon.
13. Colin Firth opened the door for me, nodded, and wished me a good evening.
14. James Franco taught me how to pump gas. I had just gotten my license like a week prior and was really struggling at the gas station. I heard an oddly familiar voice ask if I needed any help. I turned around, and there he was.
15. A few years ago, I was flying home for my birthday. My girlfriend was living in New Zealand at the time and was flying back to celebrate with me, but she could only stay for less than two days. Well, my flight was delayed, and I immediately sat down and started crying. I tried to be discreet, but it was very obvious that I was balling. A beautiful girl (both in looks and soul) sat next to me, offered me a tissue, and asked me if I was going to be OK. She sat and talked with me for almost a full hour, listened to me gush about my girlfriend, about my grandmother, and we talked about being queer. It wasnt until about a year later that I saw a picture Cara Delevingne and lost it over the fact that the gorgeous and amazingly kind woman I talked to was Cara freaking Delevingne.
16. A few years ago I had the pleasure of meeting Jennifer Hudson. Well, actually I was hired to do a home inspection for her. I was really amazed at how (Continued)
---
Continue reading on the next page!
sweet and humble she was. Even though Id just started learning to play the ukulele, I asked her if she wouldnt mind singing if I played her a song. I was floored when she agreed to it. She was more than happy to humor me and was gracious enough to do a duet with me. Dang, to this day it still gives me goosebumps thinking about how extremely talented she is. I was completely gobsmacked at how amazing her voice really is when you hear it in person. Which pales in comparison to how incredibly nice she is.
17. Luke Wilson was a regular at my old Starbucks, so I would always have his iced coffee ready by the time he got to the register. During the holidays he said, Here, Kiana, this is for you, and hands me $20. I still have it framed and never told anyone, since I wouldve had to have split it with my other co-workers.
18. Before the Kim era, my sister and I ran into Kanye at a movie theatre. Though he was a bit hesitant to take pictures, he did oblige. We had a short conversation and after all was said and done (and he did compliment my shoes), we were on the guest list for his show the next night front row, it turned out.
19. Catelyn Stark (Michelle Fairley) and Jon Snow (Kit Harington) came into the bistro I worked at and Michelle complimented my tattoos; Kit proceeded to tell me all about his first trip to Canada. They ended up doing cartwheels in the little garden that we had there. (They had drank some wine.) So lovely that such big stars are so down-to-earth. It was such a pleasure meeting them.
20. Im an enormous Survivor fan (read: watched all 32 seasons multiple times) and actually ran into Jeff Probst at Starbucks. This was my first actual starstruck experience, but I went up and just said, Hey, Im a huge fan and before I could get any other gibberish out, he got out of the line and immediately started (Continued)
---
Continue reading on the next page!
asking me questions about what I thought about this season, previous castaways, past seasons, etc. We talked for over 20 minutes and HE asked if we could take a picture. Dream. Come. True.
21. I was a seat filler at the first-ever Guys Choice Awards. There was free food and drinks, but the seat fillers werent allowed to partake in any of it. Will Ferrell was randomly seated at the table I was at he was so nice! He chatted with us and showed me pictures of kids. He ended up getting the waiter to bring the whole table of seat fillers multiple shots of tequila. Andy Samberg even stopped by to take a shot with us as well!
22. Met Carlos Santana in a Las Vegas mall. My mom said, You probably hear this a lot but you look like Carlos Santana. He chuckled, then my mom began talking to his wife (aka Lenny Kravitzs drummer). She told us he was in fact Santana himself. He was super cool, gave our family of five free tickets to his show, let us hang out backstage, and even gave my brother (whos a guitar player himself) an iPod loaded with never-before-heard live music.
23. Long story short, I was very, very drunk at a very fancy party, and it was definitely time for me to go home. As I walked to the door to leave, I could feel myself starting to fall over. I was drunk, I was wearing 5-inch heels There was no stopping it. I didnt even try, kind of just let myself fall until someone caught me. I looked up, and it was Sebastian Stan. Sebastian Stan caught me in his arms. Like something out of a movie. He looked down and me and laughed and said, Having a good night? and I have no chill at all and responded with a super-suave line: I am now.
24. I used to work for Disney World, and part of my duties included what we called PAC; Parade Audience Control. Basically my job was to go out there, set up the safety barriers, watch for kids trying to stampede out in front of floats, and also to provide a bit of amusement for the people while they were waiting. There's also a position called 'alcove' which is where celebrities sit for a better view. I happened to be on alcove duty one day, and lo and behold, up comes Shakira. I had a brief moment of sheer fanboy before my training kicked in, and we spent a good 20 minutes just talking and chatting the same way I would have with any guest. She's a very down to earth and friendly person, and I'm really glad that I got to meet her, especially in the way I did.
25. Just a couple weeks ago I saw Mara Wilson perform at a comedy club in Queens, and she hung around the bar after with all the rest of us "regular folk." I went up to her and told her (Continued)
---
Continue reading on the next page!
I was fan and would she mind taking a photo? She smiled and said, "Yes, why not? I'm wearing make up for once." We laughed and took the photo and then she said she loved my skirt. I beamed and blurted, "Thanks, it was 5 bucks at H&M!" She told me that made it even better. It was just a lovely interaction all around--thanks, Mara!
26. Before a Middle School play, a handful of us went to go grab Taco Bell to bring for the cast. A Baldwin brother asked what all the tacos were for, found out about our play, came to our school, paid $20, didn't ask for change and posed for a photo afterwards. Being 11, I was clueless. I thought it was cool he paid $20 which was a lot of money to me.
27. Ed Sheeran was opening for Snow Patrol (this was way before he was headlining sold-out arena shows lol) so my friend and I decided to go to the venue even though we didn't have tickets. Long story short, we waited outside with a security guard for two hours and he ended up bringing Ed out to see the two of us (this man is still our hero for helping us out). Ed brought out a Lego figure that he put together on his tour bus and gave it to us because he was so grateful for our support. He then made sure we were getting back home safe and suggested we go eat at a Greek restaurant nearby. Couple of months later, we go to a small show of his and he remembered us! Love that guy.
28. Don Sweeney, former Boston Bruins player and coach, Stopped a photo line to help me get my infant and toddler back in their stroller, and he called me "Super mom."
---
Sources to individual storytellers linked in their username.
Reddit user Old_Army90 asked: 'What's a little white lie you've told your partner to keep them happy?'
CW: eating disorders.
We can all agree that lying generally is not a good quality to discover in someone, especially someone we want to date.
But we've also heard the reasoning that a little white lie, especially when it's meant to make someone feel better, isn't such a bad to express every once in a while.
But where do we draw the line?
Redditor Old_Army90 asked:
"What's a little white lie you've told your partner to keep them happy?"
Better Sleep Hack
"My girlfriend can't sleep sometimes. I told her there is a pressure point on her lower neck that, if pressed, induces sleepiness. When she can't sleep, I will press on it to placebo her into getting tired and falling asleep."
- Iterations_of_Maj
Positive Distractions
"Her: 'Was that a dead dog on the road?'"
"Me: 'No, it was a trash bag.'"
"Alternatively me: notices a dead animal on the right side and points left: 'Hey, look at that! Aww, you missed it, it was a neat bird.'"
- schmwke
Regular Eating Schedule
"I don't know if this counts, but I tell my girlfriend I'm hungry so she'll also eat something."
- nobearpineapples
"I've employed this, too. My ex-girlfriend struggled with an ED (eating disorder) and had to be reminded to eat. It got easier when instead of saying, 'You need to eat something,' I said, 'Hey, I'm hungry, let's go eat.' It was a little more expensive but it helped in the long run."
- Katayette
Medical Concerns
"I insist that his old man phlegmy cacophonous sinus-clearing coughs in the morning don't bother me. He can't help it, but man, they are rough and gross to listen to..."
- yekirati
"My wife has nasal issues and hearing her attempting to clear her sinuses triggers me in a primal way that I can't explain in words, but I will never ever say anything."
- mrfenegri
An Invasive Species
"We live in an area where it doesn't rain frequently, but when it does, we get a ton of snails."
"He would get sad because we'd see some snails that had been stepped on, so I told him that they were an invasive species so he wouldn't feel so bad about them getting smushed."
- Vicious-the-Syd
Secret Sauce
"My girlfriend hates Dijon mustard. I have a personal sauce that I make for burgers."
"She asked if it has Dijon in it. I said no."
"She loved it and I've made it multiple times since then. She's even requested it a few times. (It has a decent amount of Dijon mustard in it.)"
- honeybeebryce
Quality Time with the Parents
"I tell her that I enjoy spending time with her parents. The truth is, I do like her parents, and it's always nice to see them... for a little while."
"After the fourth day in a row of listening to them bicker about how the forks were sticking up in the dishwasher when FIL (Father-in-Law) knows they're supposed to be put in with the tines down, I'm ready to go home and sit in total silence."
- urinetherapymiracle
Their First Steps
"Our child took their first steps when she and I were visiting my parents a few hours away while my husband was at work. Later that evening, he got home shortly after we did and our daughter took a few steps toward him when he came in the house."
"He got extremely excited thinking those were her first steps, so I just went with it and got excited too. She's 14 now. I've never told him the truth."
- worthlesscommotion
The Mini-Me Kids
"I say, 'The kids are looking more and more like you every day.'"
"But she spent nine months creating each of them inside her womb, enduring sickness fatigue, and torture, and the little f**kers came out looking like clones of ME."
- rawbface
"I watched my wife birth our baby. I'm pretty sure they're hers. I'm SURE they're mine."
- Shporpoise
A Hedgehog Family
"We have hedgehogs in our garden. Lots of them come to visit and we had a small guy two weeks ago. We have him some cat food and water and then he buggered off in the hedge and we didn't see him again."
"I found him dead a few days later."
"The wife thinks he's just out and about and I told her I saw him again. He's wrapped in a bag in the bottom of the bin and it will kill her if she knows."
"The next small one we saw out in the day, we weighed him and he was only 167g, so we took him to the local rescue center. They will release him back to our garden when he is strong enough."
"I love our little hedgehogs. They make me so happy to see them wandering about the garden."
- section4
Picky Eater Problems
"He's a chef and I'm a picky eater. I don't want to complain because he still took the time to make it and I can't cook for s**t."
- NiceNCozyCouch
"As a former picky eater, let me tell you, it does get easier. You'll start to develop tastes for things that you wouldn't expect. Keep forcing yourself to be at least a little adventurous with food sometimes, and you'll slowly start to realize that the pickiness is going away."
- honeybeebryce
Epic Meme-Sharing
"Every time they show me something they watched or a meme, I act like I've never seen it and laugh my a** off."
- TillNatural4341
"I should try and do this more."
- DemonHunter7865
Appreciated Gift
"I asked for a cast iron griddle for my birthday. My oldest friend got me a huge one and gave it to me early. My fiancée gave me a smaller one on the day. She was so upset her thunder got stolen, even though it was unintentional."
"I put them both in the pantry until she'd sorta forgotten, then I pulled out the big one. I told her it was the one she gave me. I cook breakfast on it every day."
- KiwiSuch9951
Growing Old Together
"I say, 'You haven't aged since I met you.'"
"While I believe it to be true, many people ask me how old my partner is, and when I tell them, they're shocked."
"I'll admit that she does have features of an 'older lady,' and I know it gets to her, but I love her all the same and will do anything to make her happy."
- SheepishlyBruh
"My husband is 30 now, and he's definitely aged since we met. I love it. I think he is just the cutest thing on earth and I love the wrinkles he's getting around his eyes. I've told him this before and it makes him happy."
- mishyfishy135
Dancing Shenanigans
"I've never told my husband what a horrible dancer he is. HORRIBLE. Think Elaine on 'Seinfeld.'"
"He always wants to dance, but I usually tell him I'm tired or my feet hurt. If the dance floor is crowded, I'll dance with him but in the middle of the dance floor, surrounded by people."
"Love that man to death, though; he has a million amazing qualities and I'm the luckiest woman alive. Also, I'm pretty sure he could name quite a few things about me that he's not too fond of…"
- Safe_Document_1140
It's clear that each of these Redditors had the best of intentions in making their partners feel better about something, whether it was their cooking abilities or the status of a beloved forest friend.
The important thing to remember, though, is the balance. While these things were said to make their partner feel happy, it shouldn't become an excuse to tell lies about bigger, more impactful situations.
Young couples in love aspire to cement their adoration by taking a walk down the aisle.
And while many happily-married couples don't have any regrets about exchanging vows, it doesn't mean a spouse never reflects fondly on a time when they were single.
In all deference to those who are married, there's nothing wrong with a spouse feeling nostalgia every now and then.

Strangers online who are married shared their thoughts about a former status when Redditor Dramiotic asked:

"Married people of Reddit, what do you miss about being single?"
One thing that annoyed Redditors was misplaced items.
Disappearing Objects
"Things being where I left them."
– dramioneff
"That is one thing my wife does that is a head scratcher. I wear contacts and it is very important to her that my empty contacts case is in the cupboard under the sink. For the longest time, I wore shoes that even though they had laces, i could just slip my feet into them. My new shoes need to be tied and untied. I'll put my old shoes on the basement steps for when I need to quick run out garbage, but she'll always take them down to the basement at the bottom of the stairs. Why can't I just leave those things there? It's a small inconvenience, so I just let her have her quirks, but I don't fully understand it."
– OffTheMerchandise
Comb Caper
"When I was younger, I used to wear my hair longer. I also went to work early, which meant that I'd shower and be gone before my wife (and kids) got up."
"My only request was that there be a comb in the bathroom so I could comb and straighten my hair after my shower in the morning. If I can just have that, I'll shower, get dressed, and be out the door without waking anyone. Please dear, can you just leave the comb in the bathroom? Please?"
"But too many mornings I'd get up early, take a shower, and then be without a comb. I'd have to come out of the bathroom and start turning on lights, making noise looking for a stupid comb in my wife's purse or somewhere else in the house, while my hair is all frazzled and I'm half dressed and everyone is still sleeping."
"To mitigate this, I tried making sure there was a comb in the bathroom the night before. I'd buy a pack of 10 combs and put them in the bathroom, but they would all be gone within a few days. I'd hide one comb with my stuff in the bathroom. But 9 times out of 10 there would be no comb anywhere in the bathroom when I needed it."
"The only solution that worked was for me to hide a comb in my sock drawer. And I hid a backup in my underwear drawer. Worst case I could quietly go from the bathroom, grab the hidden comb, take care of my hair, and return it, without waking anyone up."
– 15all

Another added factor complicates things.
Not Getting Anywhere
"Being able to go somewhere ten minutes after I decide I want to."
– Certain_Note8661
"That's my only regret. It's not marriage that stopped it though. It's the kids."
– mysteriousbloodfart

On Their Time
"Incredibly impossible. Whatever their schedule is, that's your schedule. Wife's on a night shift tonight and is getting ready to leave in a few minutes. Pre-kids if she was on a night shift I'd essentially be able to do whatever I wanted. These days, one has school tomorrow and the other's at daycare. So I have to cook dinner now (as soon as I submit this post actually), and then as soon as that's done it's shower time, then bedtime."
"And once they're asleep, I get to clean the house so it can be destroyed again tomorrow afternoon when they get home."
– _ficklelilpickle
Delays And More Delays
"The Bluey episode, Sticky Gecko, encapsulates it perfectly. Bluey's mom spends nearly the entire episode trying to get the kids ready to go the park, and the she is trying to be on time because the other mom they are meeting with is a stickler about being late. Finally Bluey's mom snaps and says they aren't going because nobody is getting ready. The girls finally get ready and they start heading out the door, when Bluey's mom gets a text from the other mom saying they are running late."
"The show is really amazing because while it is ultimately a kids show, there are tons and tons of separate parent themes in basically each episode."
– 6BigZ6

Sole Decision
"Not having to consider anyone else when making a decision."
– Haunting_Assistant66
Quiet time is valuable and is often missed.
Enjoy The Silence
"Being able to come home from work and not speak a single word."
– Dull-Pickle4040
Working Out A System
"Both my husband and I have very socially demanding jobs so we've come to the agreement that the first hour (some days, hours) we sit in silence together (or separately) and just do our own thing. Usually it's zoning out redditing on the couch on our own devices and we just end up sending memes and screenshots to each other. Quietly. It's wonderful."
– addisonclark

Cancelling The Noise
"Long comfortable silences are golden."
"My wife and I both grew up in absolute chaotic households. Her parents hated each other, divorced, but nobody ever left the house. Her dad was a worthless drunk, so her mom had to work full time plus, which meant that my wife had to be the caretaker of the other children and her drunk-@ss dad. There was constant yelling, fighting, and drama. My wife got robbed of being a child and a teenager."
"My parents never divorced, they just loathed each other, and took all of their frustration out on me, the only kid. The only respite I got was school. There were times I wouldn't come home for days because of the screaming and other bullsh*t."
"So, it turns out that my wife and I really enjoy the quiet. Of course we talk, and genuinely have great conversations, but we can go for hours just being comfortably silent together hanging out. We'll sit at opposite ends of the couch, feet touching each other, and just be. I love her, and I love it."
– ka_tet_of_one

Some things just take some getting used to.
And being married and adusting to one another's quirks is no exception.
For me, getting married didn't change a thing, since we already ironed out any issues that come with living together.
After 15 years of being in a relationship, my husband and I both said "I do," and nothing dramatically changed for better or for worse.
Maybe there is something to not rushing into things.

When people visit the United States of America for the first time, they often have a list of places to see and things to do (and eat!).
Get a hot dog in New York City before attending a Broadway show, take in the spectacular views of the Grand Canyon, or soak in the sunny beaches of Florida.
Of course, like anywhere on Earth, there are also some places and things which should be avoided at all costs.
Then too, not all guidebooks can give you all the information on things to be wary of in the most visited places in the country.
Some of which might save you a dollar or two, and some of which might actually save your life.
Redditor AMGBOI69420 was curious to hear all the advice the Reddit community had to offer to first-time visitors to the US, particularly regarding what to avoid, leading them to ask:
"Americans of Reddit, what places in America should foreigners avoid at all cost?"
Those Signs Are Not Just Decorations
"If you go to a national park and you disregard the signs, you're going to die."
"It's not a joke."
"Treat buffalo like field puppies?"
"You're going to die."
"Try to pet the brown bear?"
"You're going to die."
"See that moose and want to feed it?"
"You're probably already dead."
"Oh look, a rattlesnake! "
"*dead*"
"Want to swim in Old Faithful?"
"You're going to die painfully and completely dissolve into a soup."
"Sh*t is dangerous here and if you don't respect it you'll be lucky to die quick."- Xanza
"If you're in a National park, listen to what the caution signs say and don't venture off of paths."
"One is because of wildlife and the other is because humans don't need to ruin everything in nature, just to get a photo."
"Also, don't fall into the Grand Canyon." - Yawheyy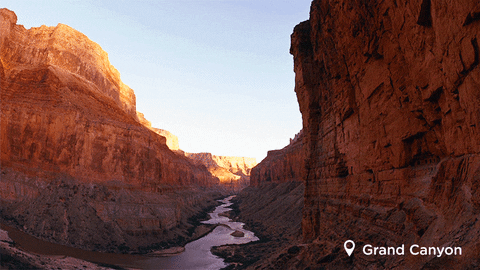 grand canyon arizona GIF by Go USA Jp
Giphy
Know Your Limits And Be Prepared
"Don't hike into the wilderness of Colorado (especially 14ers) without knowing wilderness survival and responsibilities."
"Tourists die on our mountains and in Rocky Mountain National Park all the time."
"Do your research!"
"Altitude is no joke."- eyjafjallajokul_
Some Things Are Worth The Added Expense...
"Not American but as a visitor trying to travel on the cheap, I made the mistake of booking a greyhound bus ride."
"There's a reason why it was cheap lol."- toadkarter1993
The Name Should Be A Clue
"Death Valley in the summer especially if you consider yourself a strong hiker, and live in a cooler climate."
"It has that name for a reason."- FabFrench
death valley documentary GIF
Giphy
Or Even Dip Your Toes...

"The hot springs in yellowstone are not hot tubs do not swim in them."- needs_grammarly
"Steaming Acidic hot springs in Yellowstone."- SuvenPan
Every City Has One...

"Anywhere with a Rainforest Cafe and a Wax Museum on the same street is a tourist trap."- Klytus_Im-Bored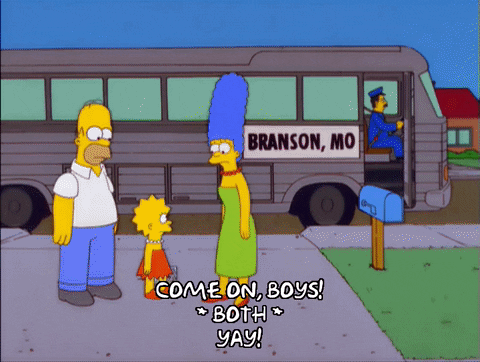 homer simpson episode 13 GIF
Giphy
Maps Exist For A Reason
"Avoid going to one location thinking another location across the country is a short trip."- Jebediah_Vorbeck
So Much For "Brotherly Love"

"The Kensington area of North Philadelphia."
"Don't."
"Just don't."- amhildreth
Even If You're A Night Owl

"Most of Downtown Los Angeles at night."
"When the streets get quiet and the locals go home, that's your cue to go back to your hotel or a more popular hotspot."- muststayawaketonod·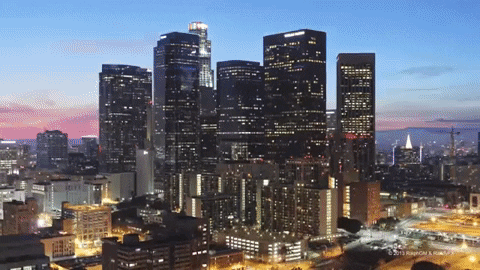 los angeles city GIF by The Broad Museum
Giphy
Aracnaphobia!
"Pueblo Colorado."- External-Traffic-916
"F*ck Peublo and its mass Tarantula Migration."- paustulio
Not The Where, But The What
"It's not 'places' as much as 'situations' that you should avoid."
"Depending on where you're from, you'll have some of these instincts, but not others."
"It's not all or nothing."
"But here's some situations I can see happening to a European, as an example."
"Getting stranded in the desert."
"Whether you're hiking without water, or driving too far on a single tank of gas, there's a real risk of being stranded without very immediate help, and no cell reception."
"Underestimating travel time."
"You're not going to see NYC and LA on the same trip."
"They're three time zones apart."
"They are exactly as far apart as London, England and Baku, Azerbaijan."
"You'll either be driving for a week, or flying."
"Even things that seem close, like NYC and DC, are not actually that close."
"It would be about 6 hours of driving or train to get from one to the other."
"Trespassing."
"It is taken VERY seriously here, and you could wind up shot if you are on the wrong person's land."
"We do not have the right to roam."
"And we do have the right to bear arms."
"Some states even have 'castle laws' which considers trespassing to be sufficient reason to shoot someone in 'self defense'."
"Any places people are mentioning are places that Americans wouldn't go to either if they could help it."
"But if I can say one place in particular, it would be Camden, NJ."
"It's just across the river from Philadelphia, and has a couple of tourist draws like the Aquarium or the concert venue, but anywhere that's not those specific places is incredibly unsafe."- pHScale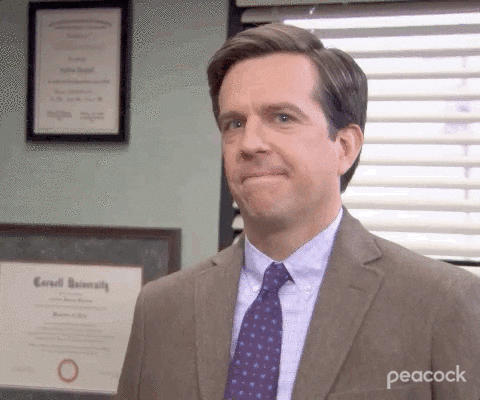 Season 9 Reaction GIF by The Office
Giphy
Like any country, America has its fair share of underwhelming and unsafe destinations.
Thankfully, most of these places aren't written up in guidebooks, and won't be high on the list of any foreign visitors.
Sadly, guidebooks still might not stop them from shelling out loads of money for very mediocre food at a noisy theme restaurant...
Our ancient ancestors had their own habits; some were strange and bewildering, others were nearly identical to those we practice today. Looking back through history, one might be surprised to find the daily lives of the ancients weren't so unrecognizable. But then again, there are still plenty of ancient habits that leave us scratching our heads.